We're blissfully ignorant of how we put ourselves at risk online.
According to the 2019 Official Annual Cybercrime Report, businesses fall for ransomware attacks every 14 seconds.
Many people ignore standard security practices that significantly reduce their chances of being attacked, such as disabling their computer's microphone and camera.
Establishing better cyber security practices is a matter of unlearning bad habits, and creating better ones.
The sheer number of massive data breaches and known security vulnerabilities online today should be enough to scare us into better data safety practices. However, though these issues seem to consistently elicit gasps and condemnations by talking heads and private users, little else is done. It's not about turning office and personal computers into Fort Knox, really, it's about using common sense and exercising caution.
According to the 2019 Official Annual Cybercrime Report, businesses fall for ransomware attacks every 14 seconds. Cybercrime is also on the rise, with some estimates putting the cost of online crimes at roughly $6 trillion by 2021. In this increasingly risky landscape, it makes sense to invest heavily in antivirus, anti-malware, and overall protection tools. However, these applications can only take you so far.

At some point, the problem isn't that hackers are too smart for us, but that we, in a false sense of security, believe we can let our guard down, which leads us to ignore standard security practices that significantly reduce chances of our being attacked. Here are some no-brainer security steps that we constantly overlook but should start keeping in mind.
Browsing the web via VPN
While it may seem like an endless amusement park with everything you've ever wanted to find, the internet is a much darker than we'd like to imagine. Although it is undoubtedly a great tool and has significantly enhanced quality of life the world over, the internet also means our personal data is now exposed every time we browse the web or open an application online. Often, sites and bodies we see as the "safest" are often themselves invaders of our privacy such as internet service providers, governments, and giant tech companies.
Connecting to an unknown network can be dangerous — something nearly 92 percent of those who use public WiFi networks ignore. Undeniably, many have started to limit their activity online as their concerns about privacy (rightfully) grow. Yet, many people still happily browse the web without a care and continue to leave trails of data everywhere, creating noteworthy problems when their information is scanned and compromised.
According to Harold Li, Vice President at ExpressVPN: "In an era when we conduct the most crucial and sensitive parts of our lives online, a VPN is a critical tool for protecting both digital privacy and security. They increase your anonymity online, shield your online activity from monitoring by ISPs and governments, and defend your data from hackers on shared networks such as public Wi-Fi." Even so, most of us continue to neglect VPNs. In fact, according to VPN Mentor, only 5 percent of internet users in the U.S. have a VPN.
Protecting Google docs
As we become increasingly reliant on the cloud, one of the first things we've migrated is our ability to do work. McAfee's 2019 Cloud Adoption and Risk Report found that for the past six years running, the "file sharing and collaboration services" category — services such as Google Docs — has been the leading driver of cloud use in business, accounting for nearly 21 percent of services in use at the average company.
According to the study, today, some 83 percent of organizations store sensitive data in the cloud, and about 8 percent of all cloud-shared documents include sensitive information. Moreover, we're sharing these files more than we used to, with significant year-over-year rises in documents set for open access to "anyone with a link."
This is problematic for two reasons. On one hand, the ease with which we can share documents increases the likelihood that they will be intercepted. On the other, as user bases stratify around services they use, SaaS platforms gain access to sensitive corporate assets unbeknownst to even the IT team. This is what's known as "shadow IT."
In remarks to Techopedia, Uri Haramati, the CEO of SaaS management platform company Torii , noted that "Considering the rampant threat of cyberattacks, security risks are definitely something companies have to be wary of."
On the other hand, "The fact that they are trying out new tools, means that they want to be better at their work," according to Haramati. "Why should management dampen such a positive attitude? Instead, leaders should value their employees' drive to be better and find out how their existing processes can be improved upon."
Disabling your microphone and camera
Recently, video conferencing service Zoom was revealed to have major flaws that allow hackers to theoretically take over unsuspecting users' webcams with a single URL. This may seem like a less threatening incident than having data stolen, but it can be just as damaging. A malicious third party with unfettered access to your webcam can discern much about your personal habits and can potentially witness and record damaging or embarrassing situations. In the U.K., for instance, there have been recorded incidents of hackers capturing these moments and threatening to upload them to social media unless a ransom is paid.
The problem is similar with microphones, which can be used to track your communications even when your devices are "off." Most A.I.-based assistants today, for instance (such as Siri, Alexa, and Google Home) are constantly listening, and companies have people on the other side listening to these recordings, as was discovered recently with Siri. Simply turning off your microphone manually can give you significant protection.
Using Encrypted Communications
It may sound straight out of a James Bond movie, but encryption is quickly becoming one of the most important technology fields in our digitized world. Even with a VPN and robust protection, it's still not impossible for someone to access our communications while they're in transit between us and the recipients. In fact, as our messaging applications expand in number and importance, governments, law enforcement and nefarious actors' interest in them is rising.
Many services do offer powerful encryption tools and features, but people often remain on the most popular chat apps because of convenience and familiarity. Facebook Messenger remains one of the most popular tools (despite belonging to a decidedly anti-privacy corporation), while Chinese apps like WeChat and Tencent's QQ Mobile are also main players despite the fact that they're both heavily monitored by the Chinese Government.
Facebook's Messenger, for instance, only offers optional end-to-end encryption (even though WhatsApp, which Facebook also owns, provides E2E by default). This doesn't even account for emails, which remain the most popular online communication method. Even when sending sensitive data, we're more than happy to send it via Gmail or Yahoo! and completely ignore the fact that there is little we can do once those emails leave our inboxes to protect the information we've shared.
Start small
Establishing better cyber security practices doesn't require a computer science degree and a military budget. What it needs is attention to detail, unlearning bad habits, and creating new ones. As the number of vectors available to hackers, scammers, data miners and governments continue to expand, it won't be big things that cause breaches, but rather something as small as leaving a webcam on, forgetting a password, or sending a compromising email without considering who may view it.
ScienceDebate.org sent 20 fine-tuned questions to the presidential candidates. 3 out of 4 of them responded. Here's where they stand on key science issues.
ScienceDebate.org, a nonprofit that promotes science and technology discourse in the public sphere, came up with 20 questions to ask the leading candidates for U.S. Presidency. The questions were crowdsourced and refined by dozens of scientific organizations. Despite the unpredictable nature of the current elections, aside from the Libertarian Gary Johnson, the candidates actually answered.  
Here is the rundown of where they stand on some of the major science and tech issues:
1. INNOVATION/RESEARCH
Hillary Clinton (D) sees "education, research, and commercialization" as core components of American success and plans to focus on all three as president. She supports universal preschool, debt-free college, training programs, STEM programming in every school. As president, she would work to make sure that research gets appropriate government funding, allowing for "multi-year planning" and "exploration of emerging research areas". She sees the U.S. currently "underinvesting in research". 
To support commercialization, she would open access to government-funded research, develop "collaborative consortia" to help create new industries, and invest in "Make it in America" partnerships to keep manufacturing in the country.
Throughout her life, Clinton has been inspired by the space program and would look to continue American leadership in this field as president, supporting NASA and advancements towards putting humans on Mars.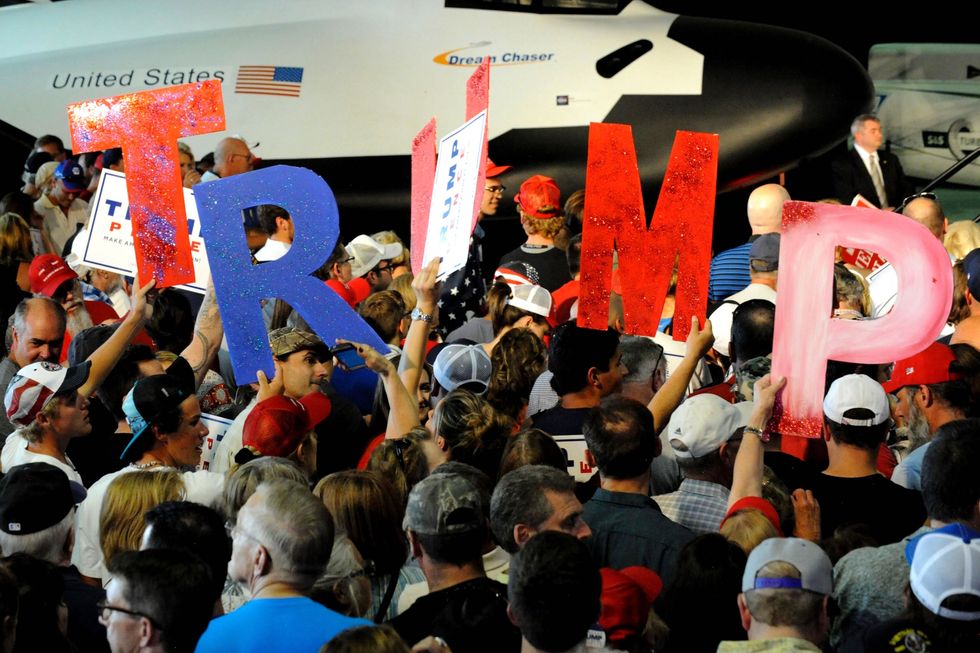 Supporters of Republican President candidate Donald Trump cheer during his address at the Wings Over the Rockies Air & Space Museum in Denver, Colorado on July 29, 2016. (Photo by JASON CONNOLLY/AFP/Getty Images)
Donald Trump (R) is less detailed on this subject (as he is on other subjects) but sees innovation as "one of the great by-products of free market systems". He would reduce impediments for products to enter the market, creating a fair trade environment. He thinks that there is a need to get a grip on spending, but does see the federal government playing a role in encouraging space exploration and investing into research and development across academia.
When asked about long-term research funding in particular, he again pointed to the space program as well as "institutional research," saying it's something we must have. He reiterated his support for space exploration when asked about it directly, recognizing many positive effects of a "vibrant space program". He sees "exploring beyond our own space neighborhood" as a priority.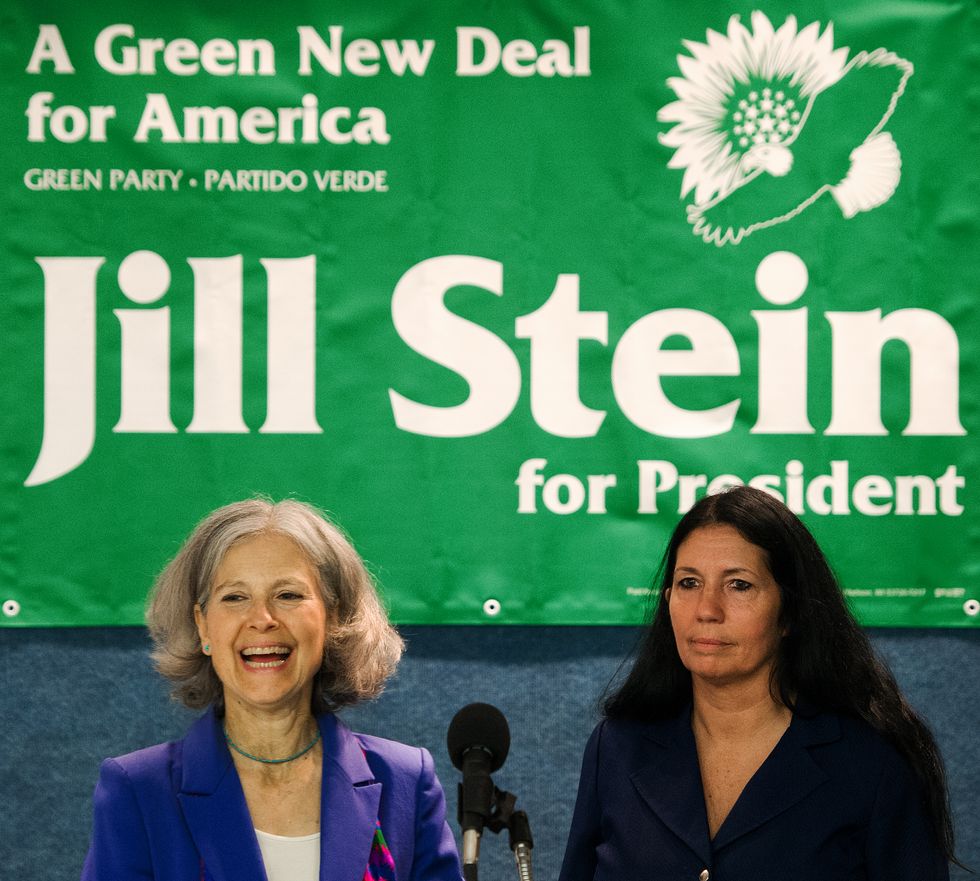 US Green Party presidential candidate Dr. Jill Stein (L) delivers remarks after announcing Cheri Honkala (R) as her US Green Party vice-presidential choice during a press conference July 11, 2012, in Washington, DC. (Photo by PAUL J. RICHARDS/AFP/GettyImages)
Green Party's Jill Stein regards her party's platform as very focused on innovation, with proposals on climate change, free public education from pre-school to university, cancellation of student debt and Medicare for All. She would reduce Pentagon spending and invest freed resources into public R&D.
She sees "a just economy" as the cornerstone of innovation. The greatest challenge facing us, according to Stein, is climate change, and she would look to science and technology to contain greenhouse gases and create "a resilient society" that could adapt to the inevitable climate changes.
She would also take a look at how well some government-funded institutions like the National Science Foundation are functioning, preferring to make science policy more in line with what average people would need and want.
Her views on the space program focus on re-orienting it from military and corporate interests towards helping solving Earth-bound problems like climate change.
2. CLIMATE CHANGE
Hillary Clinton very much believes in climate change and sees it as "an urgent threat" that needs to be addressed. She would look to continue Obama's policies that cut down on pollution by greenhouse gases.
She gets more specific in offering 3 goals that we should achieve within 10 years to make America "the clean energy superpower". The goals feature generating half of the country's electricity from clean sources and installing half a billion solar panels in her first term. She'd also cut energy waste and reduce oil consumption by making vehicles more efficient and the fuels cleaner.
She would also launch a $60 billion Clean Energy Challenge to spread the clean energy practices throughout the country. 
Donald Trump, on the other hand, believes that we don't know everything about "climate change" (an expression he puts in quotation marks, hinting that he doesn't necessarily trust it's real). Instead, he would focus on more concrete problems like clean water, diseases like malaria, and increasing food production to keep up with the world's growing population.
He does mention that we should focus on developing energy sources that would make us less dependent on fossil fuels. In his response about energy policy, he expands that it should be the country's goal to achieve "energy independence". That would include trying solar energy, nuclear power and bio-fuels, with the winner decided by market forces. 
Expectedly, Green Party's Jill Stein makes climate change a central issue, calling it in no uncertain terms "the greatest existential threat that humanity has ever faced". She proposes a number of measures to combat it, including a so-called Green New Deal that would not only curb climate change but revive the economy and make oil-related wars unnecessary.  She would transition the country to 100% clean renewable energy by 2020, creating 20 million jobs. One way to do that would be to build a smart electricity grid that would pool and store energy from various renewable sources. 
Stein is the only candidate to explicitly come out against fracking, offshore drilling, natural gas pipelines and uranium mines. She would halt investment into "fossil fuel infrastructure" and phase out fossil fuel and nuclear power plants, which she considers unsafe and "dirty".  
3. THE INTERNET
Hillary Clinton would make sure the internet remains a place where people could equally and freely exchange knowledge and ideas. She would also invest in cybersecurity, building on President Obama's policies. If cyber-attacked, she promises the U.S. would be "ready with serious political, economic and military responses". 
Donald Trump also talks tough about a potential cyber-attack, saying such a "provocative act" would be met with a proportional response that would ultimately eliminate the threat.
Jill Stein would protect freedom on the internet by opposing the Online Piracy Act, defending net neutrality, and supporting public broadband. As far as cyber-security, she would ban cyberwarfare via an international treaty and look to the U.N to create a new agency for identifying cyber attacks. 
4. MENTAL HEALTH
Hilary Clinton sees this as a very serious issue that affects millions of Americans. She points to her recently released mental health plan, which focuses on measures like early diagnosis and a national initiative for suicide prevention. Among other proposals is prioritizing treatment over jail for non-violent offenders and investing into brain and behavioral research. 
Donald Trump also considers the issue vital, calling it "one of the great unfolding tragedies in America today." He would address it via reforms, investment, and allowing family members more involvement in the care of the mentally ill. 
Jill Stein regards mental health care as a fully-funded part of the single-payer Medicare for All universal health care system that she advocates. She also points out the government's responsibility in addressing PTSD and other conditions suffered by veterans as well as mentally ill prisoners.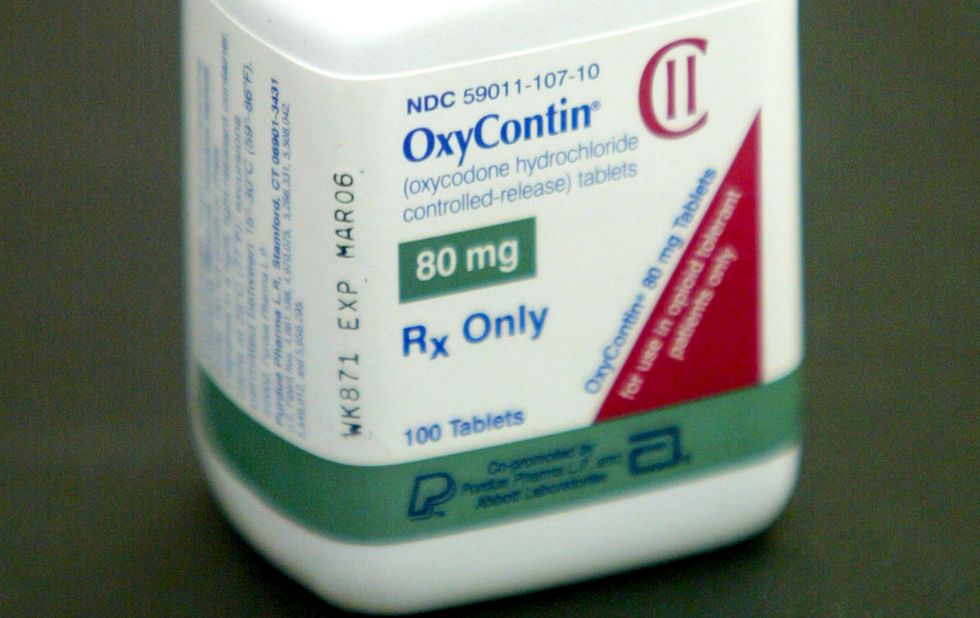 Photo by Joe Raedle/Getty Images
Hillary Clinton recognizes that the country is in the midst of a "quiet epidemic of drug and alcohol addiction," focusing particular attention on 52 million Americans who have misused prescription drugs. She proposes a $10 billion initiative to fight substance abuse. 
Donald Trump views the "inflow of opioids" into America as the issue to tackle. He sees investment into stopping this problem as a way to increase American productivity.
Jill Stein would end "the war on drugs" and use the available funds for research, education and treatment. 
Here's where you can read the full questions and answers by the candidates.