What history can teach us about refugees.
An Afghan refugee girl carries her brother at a refugee camp on the outskirts of Islamabad on February 1, 2018. (Photo: AAMIR QURESHI/AFP/Getty Images)
In the late 17th century, small bands of refugees began making their way into Spanish Florida. At first, they arrived in small numbers, carrying little more than the clothes on their backs, and without generating much interest. The material demands they might place on the Spanish state were at best modest. Yet these refugees and their experience in Spanish Florida would raise nettlesome political questions. Refugees have a special power to unsettle political communities, one that far outstrips their claim on practical resources.
The refugees to Spanish North America came from all over what is now Florida and Georgia, and headed primarily to St Augustine, the region's Spanish hub. By 1700, St Augustine was more than a century old, and had endured starvation, invasions, slaving, disease, pirates and isolation. Refugees were not in any unequivocal way its most obviously dangerous challenge. But that would soon change.
During the first decade of the 18th century, the War of the Spanish Succession, known as Queen Anne's War in the English colonies, reached the American colonies. By the end of the war, indigenous refugees had helped challenge Spanish control of Florida. These small, sporadic groups morphed into a stream of people trying to escape from attacks and slaving raids in their Apalachee, Timucua, Chacato, Yamasee, Ais, Mayaca and Jororo homelands. The movement of hundreds of refugees from native communities supposedly under Spanish protection undermined Spanish claims to the land, and raised doubts about the stability of their empire. If the Spanish could not control their borders or protect their subjects, what claim did they have over the land?
The war is better known in North America for the related 1704 raid on Deerfield, Massachusetts, one of the most studied events in colonial American history. But it had a profound impact in the American South. As Spanish, French and English interests competed to control the region's geopolitics, they also caused large civilian casualties and the displacement of the native populations. By the early 18th century, there were more and more desperate refugees in Spanish Florida than ever before. In January 1704, a force of Creek, Yamasee, Apalachicola and English soldiers attacked Apalachee, the most western province in Spanish Florida. These attacks proved incredibly brutal – burnt and dismembered bodies, impaled women and children, and mutilated cadavers terrorised the survivors. Apalachees fled their homes in horror, adding to the influx of refugees.
Apalachees were different from earlier refugees, who had limited or no previous interactions with the Spanish. They were Spanish subjects. Helping them was not a matter of benevolence. If Spain couldn't take care of its subjects, the authority of the empire would come into question. In 1706, within two years of the first wave of Apalachee refugees, San Luís, the main Spanish garrison and mission in Apalachee, was overrun. Unable to defend, house or even feed the displaced Indians, the Spanish had to abandon their missionising efforts in the region. It was the English and their allies, particularly the Yamasees, Creeks and Apalachicolas, who attacked Spanish holdings. But it was native refugees who destabilised Spanish power. Unable to take care of those under their protection, the Spanish lost Indian subjects and allies, and without these allies Spanish imperial claims carried little authority. San Luís became a large garrison defending no one.
The Spanish had previously seen the refugees as menacing. Chacato Indians, who were some of the early refugees of English violence welcomed in Apalachee, were regarded as outsiders. Chacatos were often blamed for crime and disorder. But when English forces reached San Luís and destroyed most of Apalachee, members of the wealthiest Spanish families found themselves suddenly displaced. Spanish officials could no longer ignore the problem of refugees because they had become them.
The Spanish then began describing refugees as an asset, a way to counter the enemy. They would not only increase the size of the Spanish garrison, but also held no sympathies for the English or their Indian allies. In this moment of war and scarcity, the Spanish realised that turning away refugees only strengthened their enemies. Every one of them who found a welcome with the Spanish was potentially one less enemy to combat in the future. Apalachee refugees demanded protection and support. They wanted peace and their livelihoods returned. And with these basic human needs they tested the limits of Spanish imperial resolve.
Refugees are an especially potent symbolic challenge to political authority. In 18th-century Spanish Florida, welcoming refugees placed a real stress on already strained resources, but denying access outright to forcibly displaced people was seen as an unsustainable long-term strategy.
Today's refugee crisis is fundamentally different from the early-modern one, and not merely in terms of the scale and violence. The point is not to compare the Apalachee Province with Syria, or to look back at a time when refugee crises could be managed with simple resource distribution and the opening of borders. The point is to see early-modern empires and refugee crises developing alongside each other. These mobile and politically feeble outsiders pushed Florida officials to reconsider who got to be included and protected by the Spanish Crown, and on what terms. Could an expanding empire simply disregard the people it displaced? Did the fate of refugees matter? Were clearly demarcated and defended borders the solution?
Control of people, not borders, became the real test for 18th-century Florida officials. Apalachees might have been a tiny spec in the larger Spanish empire, but they exposed a much larger struggle of authority and self-determination. That is what refugees do after all: they show us the messy, deep and often quite violent connections that bind our world together – even when it seems like it's falling apart.

Alejandra Dubcovsky
--
This article was originally published at Aeon and has been republished under Creative Commons.
Girl babies may have one distinct advantage over boy babies. But what is it?
Credit: Getty Images.
We know that women live longer than men on average, no matter what culture or region of the world we focus on. In many places, they live a full decade longer. And this isn't a newly discovered phenomenon. Historical records state this was so throughout history. Several studies have looked into it. But scientists are still wondering, is there a biological reason? Or does it have to do with how women are socialized?
Some studies have focused on women being more connected to others. Since it's more socially acceptable in many cultures for women to divulge their problems to each other and gain emotional support, this has been shown to reduce stress, which could lead to or contribute to longevity. But that's not the whole story.
A dual Danish-American study recently took a different approach to try and answer these questions. They looked at populations which had suffered a terrible crisis, such as a severe famine, epidemic, or who had been subject to slavery. In these settings, as one might expect, the mortality rate is extremely high. Even then, women tended to live longer than men. Researchers said that rather than focusing on fully-grown adults, they found that the greatest advantage was due to female babies surviving harsher conditions better than males.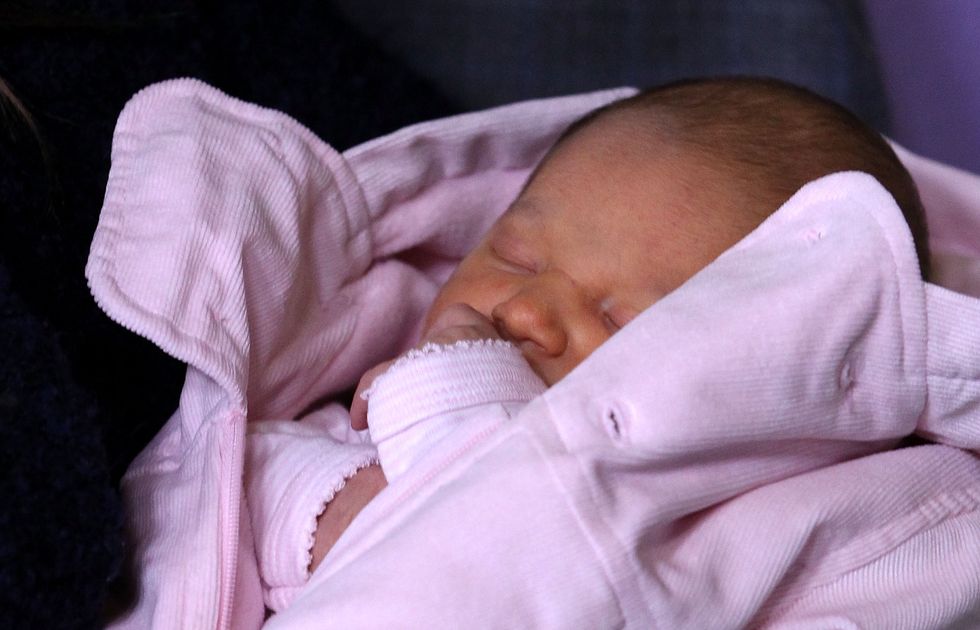 The difference may have to do with a discrepancy in infant mortality rates between the sexes. Credit: Getty Images.
Previous research looked at Mormons, cloistered monks and nuns, and other populations where males are generally protected from risk factors that would otherwise threaten their longevity, such as smoking, drinking, or reckless behavior. Still, even in these settings, women live longer than men.
"Excess male mortality is also found among newborns and infants," researchers write, "when behavioral differences are unlikely to play a crucial role and social factors may be neutral or favor male survival." The reason they looked at such extreme settings was, "A finding that men and women have similar life expectancies under these conditions would challenge the notion that the survival advantage of women is fundamentally biologically determined in all environments."
Although there are anecdotal incidents of crises where women were more likely to survive than men, no empirical data had been sifted through on the subject, until now. Researchers analyzed the mortality data to see what they could glean about the differences in the sexes and how they endure such crises.  Using historical data can sometimes be problematic. But here, researchers say the information used had been published before in peer reviewed journals. They looked at data going back 250 years and surrounding some of the worst disasters in history.
These included: the transport of former slaves to Liberia (1820-1843), plantations slaves in Trinidad in the 19th century, the Ukrainian famine of 1933, the Swedish famine (1772-1773), the Icelandic measles epidemics of 1847 and 1882, and the Irish famine (1845-1849).
Former slaves brought to West Africa in the 1800s had some of the highest mortality rates in history, mostly due to having little resistance to the tropical diseases found there. 40% died within the first year. While infants born during this time rarely reached age two.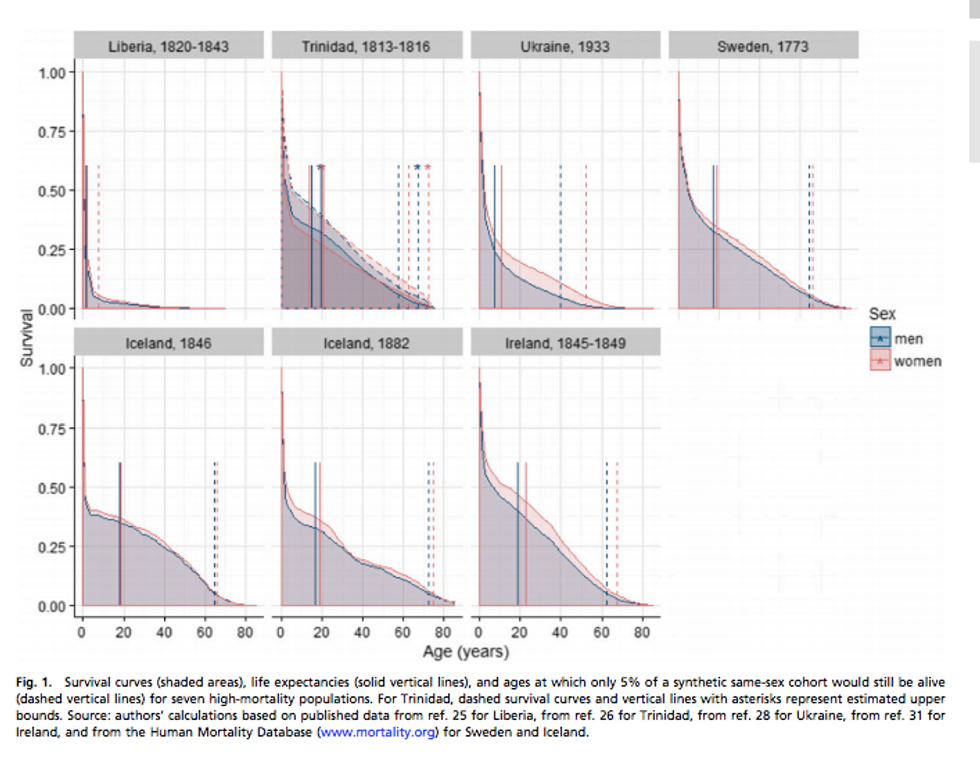 Credit: the Proceedings of the National Academy of Sciences (PNAS).
During the Irish famine, life expectancy went from 38 years-old for both sexes, to almost 19 for men and 22 for women. Girls born during the Ukrainian famine of 1933 lived on average around 10 years and boys, seven. Research Professor James Vaupel at Duke University led the American team, while Assistant Professor Virginia Zarulli at the University of Southern Denmark, led the Danish one. Together, they found that even in environments where mortality is severe, women still outlive men by an average of six months to four years.
Once mortality was broken down by age group, the researchers found that most of the difference came down to female babies being more likely to survive infancy than males. Rather than social reasons, researchers say the root of the discrepancy must be biological. Now whether its genetics, hormones such as estrogen, or differences in how male and female immune systems work, will have to be sorted out in future studies.
To learn more about why women live longer than men, click here:
China's expanding middle class is changing the world. The results are a global recycling dilemma.
Credit: Getty Images.
Most of us don't think of what happens to the plastic items we put in the recycling bin. It's a matter of out of sight, out of mind. Some believe manufacturers turn them all into new products, but is that the case? What really happens after that plastic bottle leaves your hand? In truth, only 9.5% of all plastic in the U.S. is recycled. Surprisingly, 15% is burned for electricity or heat.
About one-third is exported. Of that, half ends up in China, but not for long. The rest goes to landfills, where it can take up to 500 years to breakdown. As it does, it turns into toxins which poison our land and water. Over time, a lot of our plastic makes its way into the ocean—8.8 million tons of it enter our oceans every year, to be exact. By then, it's become microplastics, tiny beads mere millimeters long. These are a significant threat to the environment and are also very difficult to clean up.
Pretty soon, America may be putting a lot more of its own plastic into landfill. Beginning January 1, 2018, China plans to ban the import of yang laji or "foreign garbage," including certain plastics and other materials that are unable to be recycled. The ban was filed this summer with the World Trade Organization. Beijing has listed 24 waste products that it says are a threat to China's environment and public health.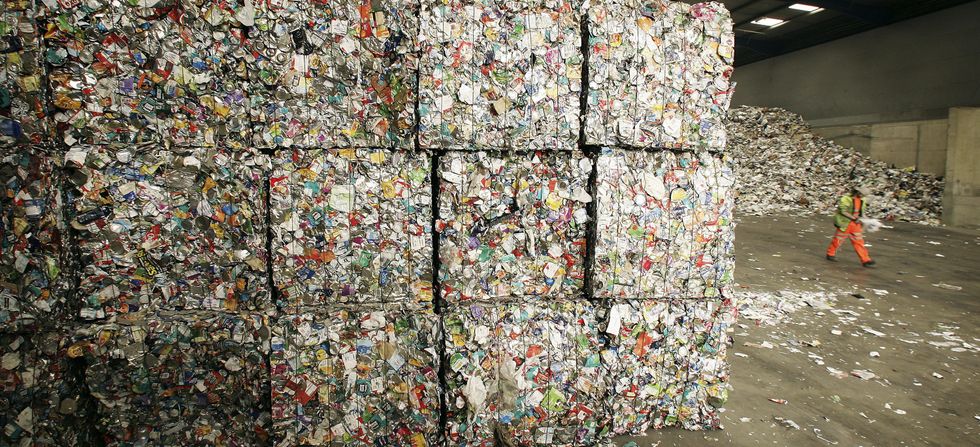 As of Jan. 1, China is banning the importation of "foreign garbage." Credit: Getty Images.
As a manufacturing powerhouse, China has imported waste materials from other countries to help fuel its economic rise for several decades. It turned these plastics from abroad into resin, which was made into carpeting, plastic bottles, pipes, and all other manner of items. But now, a robust Chinese middle class with more Westernized consumption habits produce enough material to fill China's needs from within.
As such, Beijing filed its ban with the WTO last July, which includes certain plastics, textiles, and mixed paper. It isn't only America that'll have to make other arrangements. China is the world's biggest importer of such waste. It took in 7.3 million metric tons of plastic last year. This accounts for 51% of the world's total plastic scrap.
The West Coast of the US has been particularly hard hit. In many cases, recyclers have nowhere to put these materials. Some operations are hauling them off to landfill to dump. Steve Frank of Pioneer Recycling in Portland, Oregon, told NPR that once China shuts down operations completely, it'll become a serious problem. "The rest of the world cannot make up that gap," he said.
Hopes for an End to Plastic
Rather than burning plastic refuse and contributing to global warming, storing it until a market opens up, or sending it to the landfill, many in recycling and environmental sciences believe this could be a watershed moment where we finally change our relationship with plastic. Bans on disposable plastic are one route. Some cities, states, and even whole countries are banning plastic bags, for example, producing or selling plastic bags is now illegal in Kenya, with a fine of $40,000 as a consequence. An awareness campaign to steer consumers away from plastic and toward other, more sustainable options might also make an impact.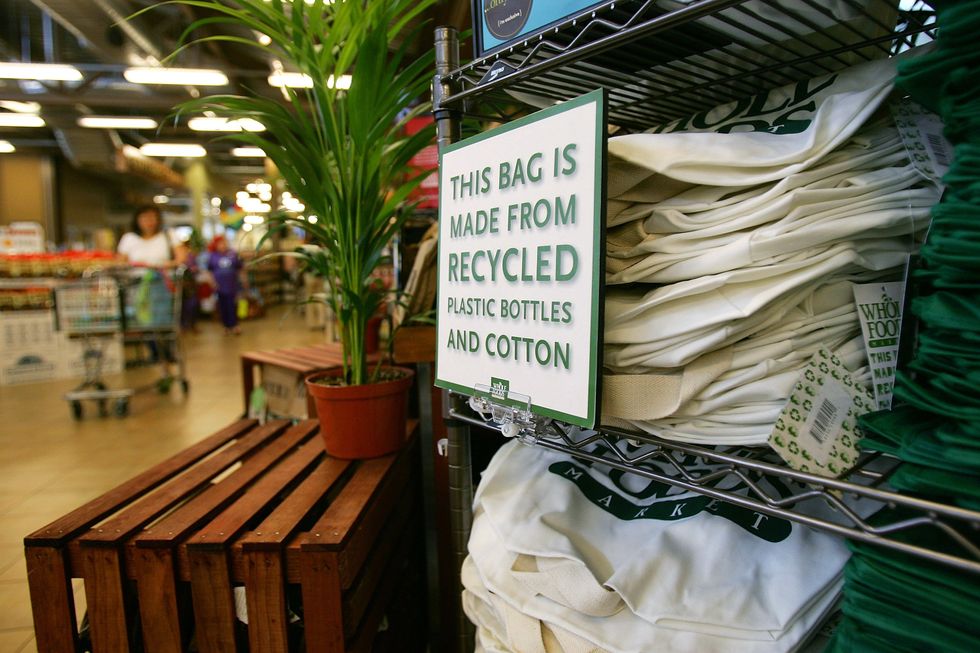 Many believe it's time for us to change our relationship with consumer plastics. Credit: Getty Images.
The U.S. Response? Produce More Plastic
Rather than a problem, the U.S. chemical industry may see it as an opportunity, at least somewhere down the line. One solution for all this waste nobody wants, is to break down discarded plastic into its chemical components for use by the petroleum industry. Others such as aviation, transportation, and food packaging might also find uses.
The U.S. fracking boom has made natural gas incredibly cheap for the moment, which makes the U.S. one of the cheapest places in the world to produce plastic. The chemical industry is looking to capitalize, investing $185 billion to expand its capacity, according to the American Chemistry Council. Four new U.S. plastics plants will be operational by the end of 2017. The industry is planning to produce and ship high quality resin to China for profit, as the nation is shifting to a preference for "virgin" plastics, rather than plastic scrap that must be cleaned, processed, and so on. Ultimately this means more plastic in the world, not less, as profit opportunities are prioritized over long-term consequences. 
What Can You Do?
Look at what plastic you buy and throw out on a daily or weekly basis and try to replace those items with sustainable alternatives. For instance, opt for reusable water bottles, sandwich bags, food storage bags, shopping bags, and other such things. When it's time to buy something, try to purchase items made from natural materials such as bamboo, wood, cloth, or glass.
Repurpose and reuse as many things as possible before throwing them away (if you must). Remember the mantra: Reduce, Reuse, Recycle. And check with your town's department of public works about what items are and aren't recyclable. Though we assume so, not all plastic is. In fact, many aren't. To find out which is which, click here.
Lastly, write to three (or more) of your favorite brands, restaurants, or cafes and ask them to change their packaging to use less plastic. Let them know it is important to you, and encourage friends and family to do the same. Evolving habits and consumer pressure matters to companies that want to remain competitive.
Should we shoot our garbage into space and solve the problem that way? See what Bill Nye thinks:
Two-thirds of the achievement gap for American children is due to the "summer learning loss". Here's how we fix that.
Is America's achievement gap crisis caused by long summer vacations? "In lower income neighborhoods, kids forget anywhere from two-and-a-half to three-and-a-half months of what they learned during the school year over the summer, while their middle-class peers break even or even make gains," says Karim Abouelnaga, CEO of Practice Makes Perfect. This startling statistic is why he started a different kind of summer school, one based on a chain of near-peer mentors, where kids are connected with college students and college students are connected with teaching professionals. "This model, where everyone is sort of a participant but also a beneficiary, creates this win-win-win situation for everyone, making summer school a lot more fun and exciting." Why do some eighth grader students only have a fourth grade reading level? Theoretically speaking, they've only been in school for half the time, says Abouelnaga. To find out more, visit practicemakesperfect.org.
Overpopulation is often viewed as a nightmare, but what if it's a dream come true?
You have seen it here before: overpopulation is a key problem for our age. With the world population currently standing at 7.5 billion people, one-sixteenth of all the humans that have ever lived are alive now.
Think about that: for each one of us, there stand 15 ghosts. When you consider how long humanity has been around, however, that number seems to be rather low. Indeed, the ratio has fallen from 30 ghosts for each living person in 1968 – as noted by Arthur C. Clarke in 2001: A Space Odyssey – as the population has since doubled.
By any measure, we have a lot of people around. The problems of feeding, housing, employing, and educating everybody are going to get harder. While we don't appear to be on the edge of Malthusian catastrophe, the problems we do face are unpleasant.
But is there a plus side to this?
While we often focus on how to deal with so many people, we ignore the fact that more people means more opportunities for great minds and ideas. Paul R. Ehrlich, author of The Population Bomb, suggested that in an overpopulated world we would have "a dozen Beatles and a few Shakespeares" at any given time.
Dr.Toby Ord, philosopher at Oxford, argues that:
 "These upsides may even outweigh the downsides, making a larger population a good thing overall. One example is the rapidly growing information economy. If someone makes a hammer, only a few people get the benefit, but if someone records a new song, writes a computer program, or invents a new technology, everyone can benefit. These activities thus produce more value the more people we have. With twice as many people doing jobs like these, we could all get roughly twice the benefits (more art, culture, science, technology), or they could work roughly half as many hours. A larger population thus has the potential to make life much better, so long as we can find the resources to support it."
The idea here is simple: more people equals more productive work. Or at least more people that can do specialized work. In our information age, we can all benefit from a great deal of this activity directly. Provided, of course, that we can manage to feed that many people. That's the catch.
There are those who are not so sure about the benefits. Dr. Ehrlich himself pointed out that the presence of more great artists was only a consolation prize for enduring what he predicted, in the 1970s, would be worldwide famines. To this day he is still advocating for population controls, arguing even just a few years ago that families should have fewer children.
Thomas Malthus, the original worrier about overpopulation, noted pessimistically that only a wealthy few would be able to endure a population crisis, with the rest of society living in poverty and misery. Not much reason to think we would benefit from a slew of artistically minded people, in that case.
Today, the idea of overpopulation is discussed much less than it was in the 1970s. The concern for environmentalists has moved on from the number of people to their consumption patterns. Dr. Ehrlich famously lost a bet on the price of metals going up as resources depleted; they in fact all went down. The overall population had little effect on the prices, it was the rates of consumption that mattered.
The man who won that bet, economist Julian Simon, was also optimistic about population growth, suggesting that increased population will not lead to crippling losses in resources, but may be a blessing instead.
"Resources come out of people's minds more than out of the ground or air," he says. "Minds matter economically as much as or more than hands or mouths. Human beings create more than they use, on average. It had to be so, or we would be an extinct species."
So, is the brave, new, overpopulated world we inhabit going to be great? Full of artists, computer programmers, culture, and digital goods for all? Or will it be a washout, where all those artists are starving in the streets for lack of enough resources to feed us all? While the prospect of immediate catastrophe seems lower now than it did then, the question of what an increasing population means for us is still as relevant as ever.