Elon Musk publishes a visionary paper on his company's plans to colonize space.
Tesla CEO Elon Musk speaks during an event to launch the new Tesla Model X Crossover SUV on September 29, 2015 in Fremont, California. (Photo by Justin Sullivan/Getty Images). Rocket on Enceladus. Credit: SpaceX
Having previously teased that he'd like to put one million people on Mars, tech billionaire and serial enterpreneur Elon Musk released the specifics of his plan to colonize space. His paper "Making Humans a Multi-Planetary Species" outlines what kind of technology humans will need to make that dream a reality, including how to build a city on Mars, as well as the timeline for this endeavor.
Musk proposes that it's a necessity to make humans a space-faring civilization, citing the inevitable "doomsday event" that will befall us sooner or later. One big goal in making us a "multi-planetary species" would be to create a city on Mars that works not just an outpost but as a self-sustaining settlement that will drive the planet's colonization.
The SpaceX, Neuralink, and Tesla Motors CEO sees Mars as the best destination for such a city because it has conditions better suited for a human colony than other planets - it has atmosphere, it's rich in resources, its day is 24.5 hours, similar to Earth's. In fact, the red planet is so similar to Earth that "if we could warm Mars up, we would once again have a thick atmosphere and liquid oceans," writes Musk.
Here's how Musk compared Earth and Mars head to head:

The big problem in getting people to Mars now? Exorbitant costs of about $10 billion per person, if we were to use traditional "Appolo-style" approaches. Musk wants that number to go down by 5 million percent. If the number is closer to $200,000 per person (a median house price in the U.S.), Mars colonization would become a reality. Musk sees this number dropping even lower eventually, to below $100,000 per person.
How would Musk bridge that gap? Most of the improvement would come from rocket reusability, while other cost savings would lie in figuring out how to refill in orbit and produce propellant on Mars. Choosing the right propellant is also important. Musk says methane would be easier and cheaper to harvest on Mars than, for example, hydrogen.
Getting people to Mars and other planets would be the job of the Interplanetary Transport System, which will feature a booster and a spaceship powered by the Raptor engine, currently in development by SpaceX. It will be 3 times more powerful than the engine currently powering the Falcon 9 rocket from SpaceX.
The booster, which Musk aims to make reusable up to a 1,000 times, would have 42 Raptor engines, making it the most powerful rocket in history. The booster would also be capable of launching 300 metric tons into low Earth orbit. Compare that to NASA's Saturn V moon rocket which could lift 135 metric tons.
Here's how the whole system that SpaceX is looking to implement would operate: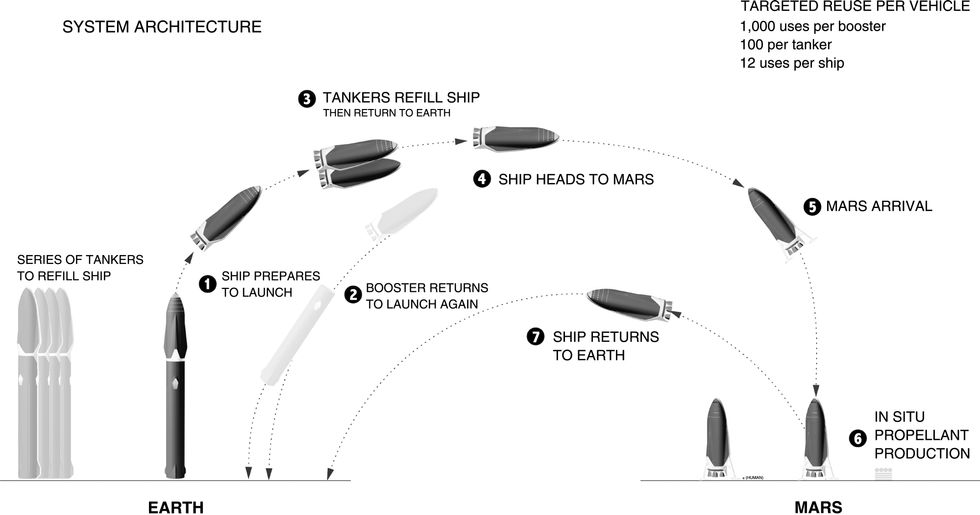 Musk also gives some details on how a trip to Mars aboard one of his ships would look like - a trip he estimates would take about 115 days. It's important to make such a journey "fun and exciting," with zero-gravity games, movies, lecture halls, cabins and a restaurant, Musk writes.
Once we figure out how to get humans to Mars in an efficient and consistent manner, Musk imagines that the colony there would need a million people for a self-sustaining city. To get them there would require 1,000 ships, each carrying 100 people. With travelling to the red planet possible every 26 months thanks to having to wait for favorable alignment with Earth, the whole process of colonizing Mars would take about 40-100 years after the first ship goes, which is currently planned for 2023.
Musk also considers going to other parts of the solar system by envisioning a system of planet or moon hopping. Besides creating and improving spacecraft, the key for further colonization of space would be to establish propellant depots in the asteroid belt or the moons of Jupiter or Saturn. That would enable flights to these and other planets.
How realistic are Musk's plans? The prolific enterpreneur has a proven track record in methodically carrying out his visions. He also sees the colonization of space as such a personal priority that he says he's making money primarily for that purpose:
"I should also add that the main reason I am personally accumulating assets is in order to fund this. I really do not have any other motivation for personally accumulating assets except to be able to make the biggest contribution I can to making life multi-planetary," writes Musk.
Scott Hubbard, the editor-in-chief of New Space, a peer-reviewed space exploration journal that published the paper, thinks Musk's paper is a great jumping-off point for further discussion:
"In my view, publishing this paper provides not only an opportunity for the spacefaring community to read the SpaceX vision in print with all the charts in context, but also serves as a valuable archival reference for future studies and planning. My goal is to make New Space the forum for publication of novel exploration concepts–particularly those that suggest an entrepreneurial path for humans traveling to deep space," said Hubbard.
Students at an English university have demanded that their curriculum be "decolonized". What does that mean?
A woman looks at a giant sculpture featuring a pile of books by famous German writers and philosophers opposite Berlin's Humboldt University. (Photo credit JOHN MACDOUGALL/AFP/Getty Images)
Name a few philosophers. I'll wait. You probably named a few Greeks, maybe a German or two. More frequent readers may have included an Arab or a Persian. But can you name many, or even any, thinkers from Africa? How about South Asia? Can you name a non-white philosopher from the last century at all?

Many people will say no, and a group of students at a University of London college thinks that is a problem. The student union of School of Oriental and African Studies (SOAS) is requesting that a majority of philosophers studied at the college be of an Asian or African background at the expense of more commonly studied European philosophers.
Now, before you get too riled up. The student union's statement is to the effect of increasing diversity rather than the outright banning of white philosophers. They also seek to have philosophers be viewed in the context they lived in. In addition, they want to highlight how colonialism may have influenced what ideas are seen as "canon" and what is seen as "marginal" thought.  All this is as part of a "decolonization" of the curriculum that the student union supports.  
Also the university claims it is "the only higher education institution in Europe specialising in the study of Asia, Africa and the Near and Middle East". So mere desire to increase the number of non-European thinkers included in the curriculum would seem reasonable to most.
Now, some philosophy clearly reflects the times it was devised in. John Stuart Mill, utilitarian, liberal, and feminist philosopher, argued often for imperialist practices. Not surprising for a man living in England at the height of the Empire and employed for decades by the East India Trading Company.  Other examples exist, often on a more positive note. It is unlikely that we would have heard of the radical thinker Spinoza had he not lived in the tolerant Dutch Republic, where his writings would get him excommunicated, but not imprisoned.
However, in a strictly academic sense. One cannot toss out a key philosopher from their education and hope that it does not ruin the process. The impact of Immanuel Kant on later thought is difficult to overstate. To remove or reduce him on anti-colonial grounds, which philosopher Sir Roger Scruton has dismissed as absurd, would harm students' ability to understand later thought, ranging from relativity and quantum mechanics to modern political philosophy.
Of course, non-European thought is often underrepresented in philosophy. The rich histories of India, China, the Islamic world, and Africa are often seen as footnotes and side ventures to the thinkers of Europe. While European thought is of great use, the influence of African ideas on Freud, the influence of Maoism on many French philosophers, and the refinement of Greek ideas by Islamic thinkers cannot be denied.
Does philosophy need to be decolonized? The student union as SOAS thinks so. Its desire to reduce the focus given to the mainstays of European philosophy has earned it the ire of many online news sources. However, the union raises a fair point. If students in a globalized world are going to understand the world they live in, should they not be armed with the ideas and philosophies of that world? Even at the cost of the traditional curriculum?