Researchers tracked academic achievement, social cognition, executive function, and creativity in a longitudinal study of kids across the socioeconomic spectrum. 
Researchers and educators have identified early childhood as one of the most important developmental periods in a person's life, setting in place patterns that can predict life outcomes. This is not surprising given the fact that the human brain goes through profound changes in the first six years, most of which appear to be permanent.
In addition, economic analyses have shown that educational interventions aimed at preschool programs have the highest return on investment. Yet, there is little consensus on what kinds of programs should be widely implemented and have the most positive effects.
A new longitudinal study from the University of Virginia has been published in the journal Frontiers in Psychology comparing the Montessori educational method to regular preschool education. The results show marked differences between the two approaches, with the Montessori education leading to better performance on several measures and, importantly, to more equalized outcomes between groups of children coming from different socioeconomic backgrounds.
The Montessori method was developed by Dr. Maria Montessori in the first half of the 20th century and stemmed from Montessori's observations on how children developped in their natural environment. Central to the method is creating an environment with specialized educational materials in which the child learns through discovery rather than direct instruction and is free to make constructive choices.
Some major differences from regular schooling methods are lack of exams and grades as well as a multi-age classroom in which children can choose whether to work alone or with peers. Sergei Brin, Larry Page, Jeff Bezos, and Jimmy Wales have all attended Montessori schools, which are thought to be better at developing creativity.
The newly published study is one of few on the Montessori method that has overcome study limitations, such as good controls, sample sizes and program quality. It lasted for three years, and included a total of 141 children (starting at age 3) who were randomly assigned via a school lottery to a Montessori (70) or another preschool (71).
The children were tested four times over the three-year period on several cognitive and socio-emotional measures: academic achievement, theory of mind and social skills, executive function, mastery orientation, relative enjoyment of school, and creativity.
This is also the first study to examine the potential of Montessori education to close the income achievement gap, which is the difference between children's academic outcomes predicted by their family's income level. This difference is noticeable from preschool and persists throughout the entire schooling experience.
Although there were no differences between the two groups at the first test point, by the end of the third year Montessori children fared significantly better on measures of academic achievement and social cognition, were more likely to have a growth mindset (a belief that intelligence is not fixed and one can master new challenges by putting effort into developing new abilities) and had a relatively more positive attitude towards school activities. There were no significant differences between the two groups on measures of creativity or executive function.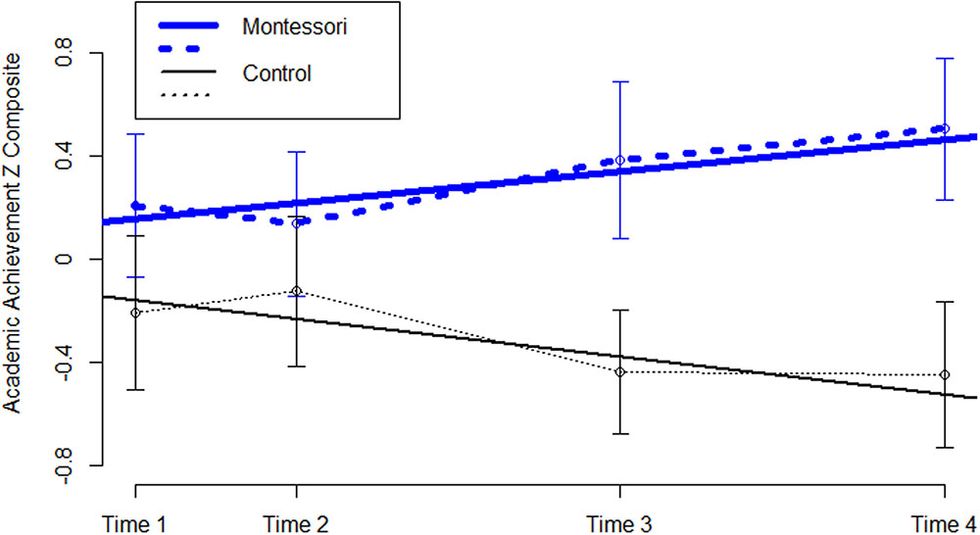 Academic achievement across preschool by school type. The figure shows significantly greater growth in academic achievement across preschool for children enrolled in Montessori preschool (dashed blue lines, n = 70) than waitlisted controls (dotted black lines, n = 71) / Credit: Frontiers in Psychology
The Montessori group also made substantial headway in closing the income achievement gap. While at the beginning of the study, kids from low-income families were performing significantly worse than those from high-income families, after three years of attending a Montessori preschool this difference had statistically disappeared. In comparison, the achievement gap was preserved in the control group.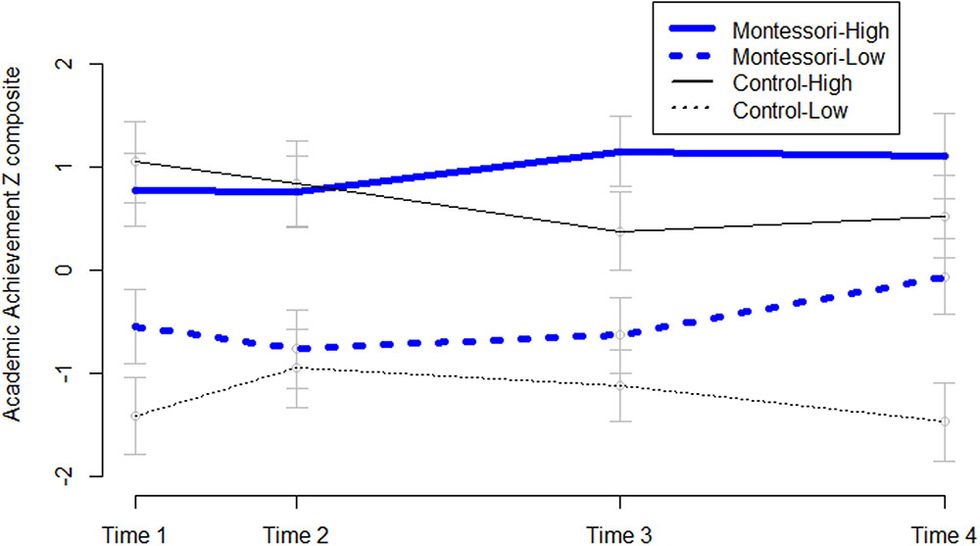 Academic achievement across four time points by school condition and income group. Although equal to the lower income control children at Time 1, by Time 4 the lower income children in Montessori showed a strong positive trajectory towards closing the achievement gap with the higher income children in control and Montessori schools. / Credit: Frontiers in Pscyhology
The researchers point out that further studies are needed to determine the exact causes of the different outcomes of the two groups. Montessori schools and regular schools vary in many dimensions. For example, teacher training may be a significant factor, or the quality of educational materials. In addition, the program quality between different Montessori schools can vary significantly.
Angeline Lillard, a psychology professor and one of the authors of the study commented on the importance of the findings:
We have persistently failed to figure out a way to help people who are born into poverty more reliably get out of that situation. Education is widely heralded as the best possible way, and yet our conventional school systems don't seem to be a lot of help. You see the cycle of poverty over and over again. People who are born into it, stay in it; if we could find a different way to school children that could make a difference, we might be able to make some headway on this age-old problem.
A new study shows that being (and remaining) overweight and having type 2 diabetes is neurological nightmare.
We know what happens to the bodies of people suffering from type 2 diabetes. Your cells cease to respond to the hormone insulin, which is tasked with carrying sugar out of your bloodstream. Your blood sugar levels rise, which causes your pancreas to produce more and more insulin—over time a futile effort. Your pancreas eventually becomes exhausted; your blood sugar remains permanently elevated. The cascade of deleterious health effects ensues, resulting in, if untreated, death. 
Sugar is first to mind when contemplating this disease these days, alongside the fact that type 2 diabetes is an avoidable disease. In the three decades following 1975 worldwide rates increased sevenfold. Yet it is not only sugar doing the damage. The accumulation of visceral fat and lack of exercise are also implicated in the onset of diabetes. Over time your chances of heart disease, blindness, and kidney failure increase. 
But what is going on in your brain during this process? We know the risk of dementia increases, but why? A new study in the journal Diabetologia addresses this question. 
While obesity increases your risk of developing type 2 diabetes, a team led by Dr. Sujung Yoon wanted to know how being overweight affects the brains of those with this form of diabetes. They specifically looked at how the cognitive functions of early-stage patients were affected. 
Fifty overweight and fifty normal-weight sufferers between the age of 30 and 60, all of whom had received their diagnosis in the last five years, underwent MRI scans alongside tests of memory, planning, and reaction time over multiple years. The results were stark. As the NY Times reports: 
Compared with the controls, those with Type 2 diabetes had more severe thinning of the cortex and more white matter abnormalities. Overweight people with diabetes had more brain deterioration than diabetic people of normal weight.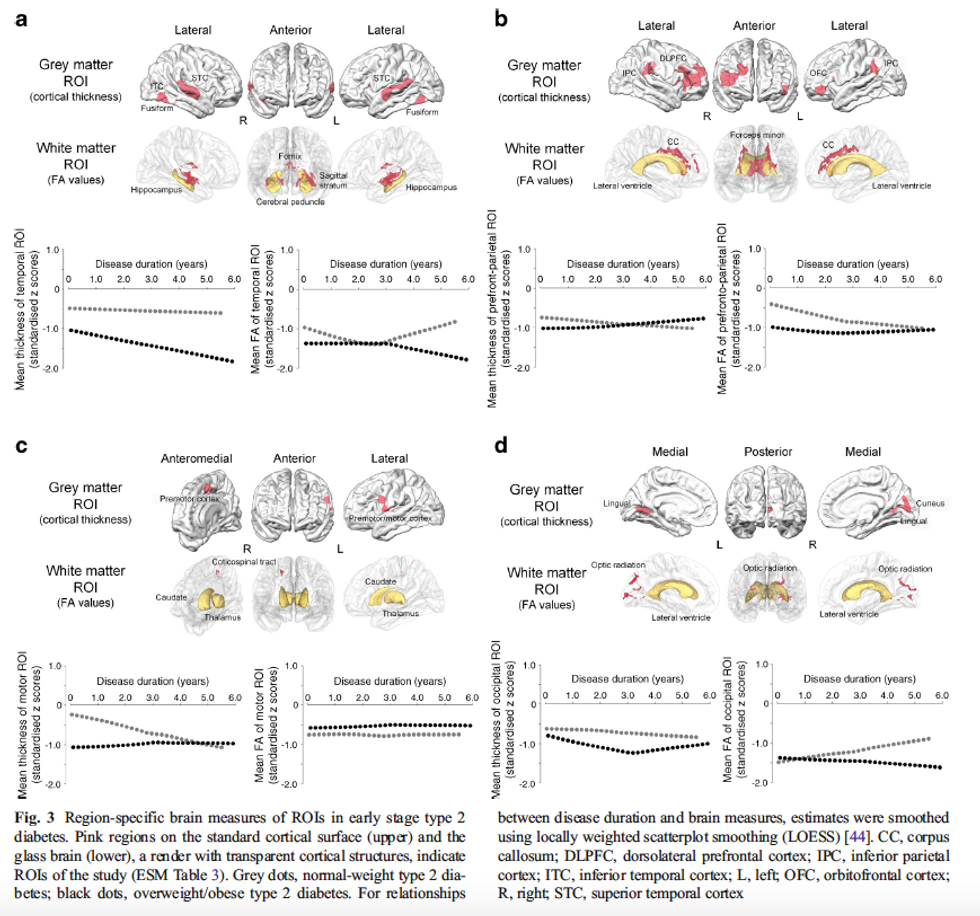 The researchers discovered that cognitive dysfunction may accelerate, and dementia risks may increase in diabetes sufferers. While the exact mechanism for why this is remains unknown, the team writes: 
... several metabolic dysfunctions including insulin resistance, poor glycaemic control and inflammation have been suggested to be involved.
While differences in executive function were not statistically significant between the overweight and normal weight groups, the overweight group had a thinner cortex in the temporal and motor regions, along with decline in memory and psychomotor speed. Cortical thinning and disrupted white matter were more prominent in the overweight group, leading researchers to believe the combination of obesity and type 2 diabetes increases the risk of diseases of dementia, including Alzheimer's. 
This problem is especially daunting to those who do not manage their diets. People with abundant visceral fat and fatty livers are at increased risk of developing insulin resistance. Diets that lead to high levels of triglycerides in the blood promote this disease. Interestingly, people with more visceral fat around the abdomen, rather than the butt and thighs, are also at increased risk. The quickest route to storing fat in this region is through the intake of sugars from soda, juices, and other foodstuffs that contain rapidly digestible glucose. 
The researchers did note that overweight people without type 2 diabetes were not included in this study, making it difficult to discern what effects diabetes specifically have on cognitive risks in the overweight population. Still, this study shows that obesity creates more neurological problems in sufferers of type 2 diabetes. This fact alone is an important reminder of why weight management is critical in managing this disease. 
Unfortunately a number of people do not act until the disease sets in, making such management challenging. As weight loss is possible for those suffering from type 2 diabetes, nutritional counseling alongside exercise should be implemented to help cognitive functioning remain strong. 
--
Derek's next book, Whole Motion: Training Your Brain and Body For Optimal Health, will be published on 7/4/17 by Carrel/Skyhorse Publishing. He is based in Los Angeles. Stay in touch on Facebook and Twitter.
A new study finds that even one season of football can affect a child's brain. But soccer isn't safe, either.
Most children are expected to play team sports, whether they are athletic or not. Usually, sports are thought to instill character traits like fair play, grit, teamwork, and hustle. Not only that, but in the US and indeed many nations around the world, childhood obesity is a serious and growing problem. You would think sports were the best way to combat this. Some studies have even pointed to physical activity and recess helping to soothe the symptoms of ADHD, anxiety, depression, and more.
But sports aren't a panacea and, in some instances, they can make a child's life worse, and not just in the social sense, say the ridicule for performing badly, or the mortification that comes with being the last one picked for a team. 250,000 children and teens are sent to emergency rooms each year for serious sports-related head injuries, according to the CDC. These were either concussions or traumatic brain injury (TBI).
Much has been reported lately on the irreparable damage done to the brains of professional football players in the aftermath of their careers. A concussion can have aftereffects that echo on for months, even years afterward. But children and adolescents have developing brains, which may be more fragile. A new study out of the Wake Forest School of Medicine in North Carolina, finds that a child's brain is altered after playing just one season of football.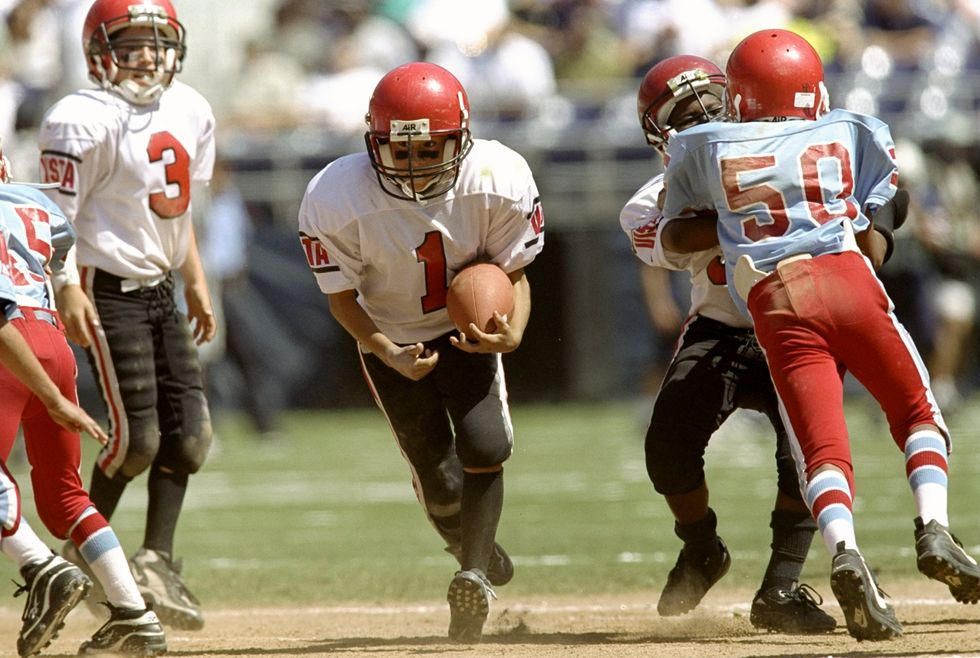 Alterations in a child's brain occur with multiple impacts to the head. But are these permanent?
Dr. Christopher Whitlow is the chief of neuroradiology there, and was the lead researcher in this study. He and colleagues recruited 25 football players between the ages of eight and thirteen. This was a look at repeated impacts to the head that don't end in concussion. According to Dr. Whitlow, hundreds of such blows occur in just a single season, during normal play.
To conduct the study, each participant was fitted with a special helmet to track how many impacts to the head they received over the course of a season. They also underwent MRI testing at the onset and the end of the study. The more impacts a child received, the greater the changes to the white matter of their brain, researchers found. White matter interacts with other parts of the brain. Damage to it can result in cognitive dysfunction, and personality or behavior changes.
So far, the team has proven that such impacts change white matter. How they change it and if it leads to any issues is unknown. Whitlow and researchers aren't sure how long such alterations last. "We don't know if a couple weeks after the season ends, they go away," he said. These changes are very subtle and wouldn't have even been recognized if MRI's from before and after the season were not compared. Follow-up studies will see how long these changes last and if they alter the player's personality or cognitive abilities. A long-term study, lasting five years, is required to acquire that data, according to Whitlow.
Should you take your child out of football and put him or her into say soccer instead, a sport with little contact? Not necessarily. "Football is a physical sport, and players may have many physical changes after a season of play that completely resolve," Whitlow said. "These changes in the brain may also simply resolve with little consequence. However, more research is needed to understand the meaning of these changes to the long-term health of our youngest athletes."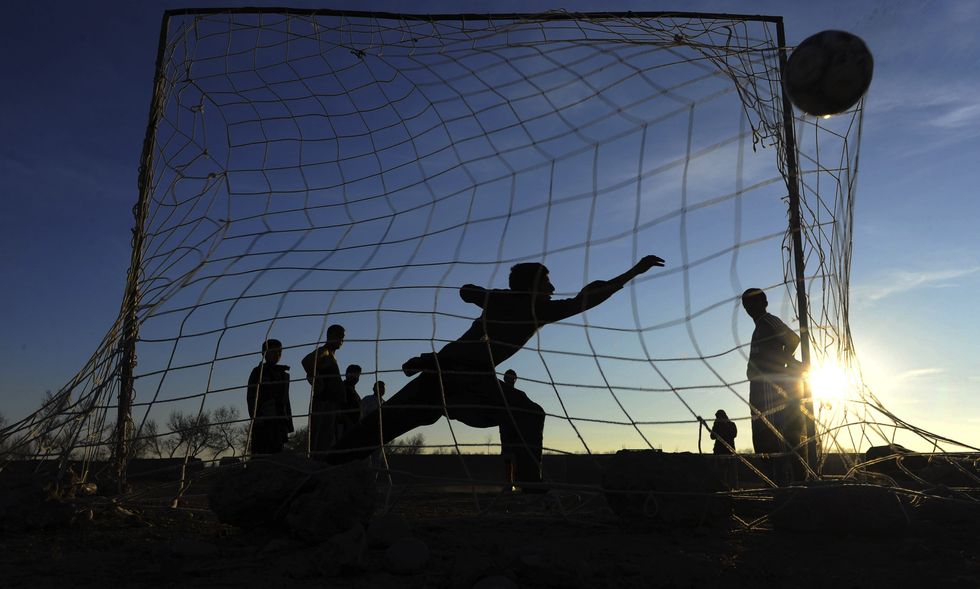 Though soccer may seem safer in some ways, it is by no means safe.
Soccer isn't exactly safe either. A new study finds that heading the soccer ball may also impair a player's brain. Published in the journal EBioMedicine, researchers discovered that heading can result in temporary memory impairment and even an imbalance in brain chemistry.
Recruited players each had to hit a soccer ball with their head 20 times. The ball was fired from a machine meant to give the same velocity and force as a corner kick. Afterward, scientists used transcranial magnetic stimulation to measure the participants' brain chemistry. The biochemical GABA responsible for motor skills was suppressed. They also ran a series of tests to understand the effect on memory and cognitive functioning.
Memory performance reduced 41-67%. But this wasn't permanent. Each player's memory returned to normal within 24 hours. Unfortunately, researchers don't know the long-term effects of multiple impacts, say over the course of a season. The next study will use brain scans to see if there is any temporary or even long-term damage to structures of the brain.
So does that mean children shouldn't play soccer either? By and large, soccer is a safe game. Children and teens should perhaps be discouraged from heading the ball. But there certainly is not enough evidence to block children from playing these sports outright. In comparing the two, soccer is perhaps the less prone to repeated blows to the head. For the most part in soccer, heading can be avoided. While with football, running at someone headfirst at full speed repeatedly is sort of the point.
To learn more about how youth football is changing, watch here: 
An America where marijuana is legal could be right around the corner. It's a cross-generational cause that is finally starting to have its day on the ballot.
Fast Eddy Aki'a of Hawaii smokes a joint as thousands gathered to celebrate the state's medicinal marijuana laws and collectively light up at 4:20 p.m. in Civic Center Park April 20, 2012 in Denver, Colorado. Colorado goes to the polls November 6 to vote
Many of us, as well as our parents and grandparents, have been waiting for this moment: a day when marijuana becomes legal. But if legalization of marijuana is right around the corner, we need to start asking ourselves how we want to regulate this drug.
"You have to make policy based on: does this hurt you? Does this hurt other people? And that's where harm reduction comes from," says Maia Szalavitz, a journalist fluent in the most recent neuroscience research.
Paul Armentano, deputy director of the National Organization for the Reform of Marijuana Laws, told The Washington Post in an email. "Most Americans agree that the responsible adult use of cannabis ought not to be criminalized. The battle now is finding consensus regarding the details of how best to regulate this market."
Most will argue there should be an age restriction on marijuana use, as with most recreational drugs (save coffee). However, a new study may start the conversation prior to the vote this November.
The findings indicate that early marijuana use "may have an abnormal effect not only on brain function, but also on IQ," said Dr. Elizabeth Osuch, a scientist at Lawson Health Research Institute. The Institute further reported: "those participants who used marijuana from a young age had highly abnormal brain function in areas related to visuo-spatial processing, memory, self-referential activity and reward processing." It should be noted this study had a small number of participants, so it will take further research to prove a solid connection and causation.
In a new and interesting twist, the study found that those who began marijuana use early carried a gene that may predispose some to start marijuana use early on.
It's too soon to say anything concrete about how early marijuana use affects our well-being. However, this pilot study does warrant a more intensive, larger study to see how policymakers should move forward, as marijuana becomes more widely legal.