Let noted cognitive psychologist and linguist Steven Pinker introduce you to psychology.
Credit: Steven Pinker / Harvard
Harvard University professor Steven Pinker is offering free lectures from his Harvard psych course online.
Pinker is a celebrated thinker, author, experimental cognitive psychologist, and linguist.
The lectures are being shared via Twitter and you can start on one right now.
Steven Pinker, the noted Canadian-American cognitive psychologist and linguist, is offering lectures from his spring Harvard psych course for free online. If you ever wanted to get into psychology, now is your chance, as Pinker has already shared the introductory lecture via his Twitter.
The course is titled "Psy 1 - Introduction to Psychological Science" and as its description states, it has been redesigned in 2021 as a survey of "the scientific study of human psychology." It will introduce students to such subjects as perception, consciousness, and cognition, as well as how to we make decisions that drive our social behavior, what are emotions, motivations, and psychopathology. Adapted for online learning, students will be watching recorded lectures on their own time, while contact with the professor will take place twice a week. You'd have to be taking the course at Harvard to participate in these sessions of asking questions and diving deeper into the material with Professor Pinker.

Obviously, assignments and tests are also not available unless you're a student, but the great knowledge from a world-renowned expert is definitely there.
Recognized as an important thinker, Steven Pinker is known for a variety of contributions across scientific fields and as a popular author on language, mind, and human nature.
His research on vision, social relations, and language has won a plethora of prizes from the National Academy of Sciences, the Cognitive Neuroscience Society, the American Psychological Association, the Royal Institution of Great Britain, and other institutions. He has eight honorary doctorates, teaching awards from MIT and Harvard, and many prizes for his books like "The Better Angels of our Nature".
Steven Pinker: Linguistics as a Window to Understanding the Brain 
Pinker's current research looks at the role of common knowledge in language and social phenomena, studying trends in violence, psycholinguistics of writing, the neurobiology as well as genetics of language and more.
Spending time in green spaces seems to yield many health benefits, most of which researchers are only beginning to understand.
Pixabay
The longitudinal study examined the development of pairs of twins growing up in various parts of Belgium.
The results revealed a positive relationship between growing up near greener spaces and having a higher IQ.
The differences were especially significant on the lower end of the intelligence spectrum, suggesting that policy changes could make a significant difference in intellectual development.
Early reading experiences play an important role in brain development.
Recent studies have shown that children who grow up with books at home have increased literacy, numeracy, and information communication technology skills in adulthood.
Bookstores and libraries are great, but according to researchers, early exposure at the parental home matters because "books are an integral part of routines and practices that enhance lifelong cognitive competencies."
While age doesn't necessarily dictate reading level, here are titles suitable for children from a few months old up to 17 years.
A new study finds that naps bring cognitive benefits.
Getty Images
Researchers find that daytime naps help your brain deal with unconscious information.
A short sleep can improve brain processing speed.
Scientists looked at how subjects performed on tasks they were not consciously aware of.
Maybe you knew this already, but daytime naps are good for you. But why exactly? A new study that measured changes in people's brains before and after naps found that there are clear cognitive benefits to sleeping on it. A nap can help with how we process and react to information.
Researchers from the University of Bristol in the U.K discovered that even a short period of sleep allows our brains to interpret unconscious information that is not part of our usual awareness.
For the study, the scientists recruited sixteen participants of varying ages. Since prior research established that sleep helps problem solving, the researchers probed whether a conscious mental process is necessary before or during sleep to help with that.
In the experiments, the participants were shown information very briefly, effectively "masking" it to avoid conscious perception. But this information, which consisted of specially-chosen words, was processed subliminally in the brain, allowing the scientists to zero in on whether this hidden knowledge interferes with consciously perceived info.
The participants carried out their main task – the masked prime task – and a control task, where they had to react if they spotted red or blue squares on a screen. After their tasks, the subjects were made to either take a 90-minute nap or stay awake before performing the same tasks again.
Scientists studied how the brains of the participants reacted using an EEG and saw that sleep improved the processing speed of the masked prime task. The same effect was not observed for the control task. This indicated that sleep was responsible for inducing improvement in tasks that were processed unconsciously.
The researchers conclude that even a bit of sleep can go a long way in helping us deal deeper with information that comes at us during waking hours.
The study was carried out by Netasha Shaikh and Elizabeth Coulthard from the University of Bristol.
Dr. Coulthard, who is the Consultant Senior Lecturer in Dementia Neurology at the University of Bristol Medical School, remarked that their "findings are remarkable in that they can occur in the absence of initial intentional, conscious awareness, by processing of implicitly presented cues beneath participants' conscious awareness."
Check out the new study published in the
Journal of Sleep Research.
For older adults, playing video games isn't just a way for older adults to keep in touch with the younger generation — it might be also be a way to stay in touch with memory itself.
The perennially awesome Mario and the antagonist Bowser, about to duel.
For older adults, playing video games isn't just a way to stay in touch with the younger generation — it might also be a way to stay in touch with perception itself.
A new study published in the journal PLOS ONE showed that regularly playing Super Mario 64 for six months seemed to improve memory and increase the amount of grey matter in the brains of older adults, ages 55 to 75. The findings could someday improve treatment options for cognitive impairment and Alzheimer's disease.
In the study, researchers divided 33 participants into three groups: one played Super Mario 64, one took online piano lessons, and one served as a control group that did neither activity. The video game and music lesson groups completed at least 30 minutes of training for five days per week. Some participants completed more training than was required. In fact, two participants in the video game group beat Super Mario 64 in its entirety and went on to play Super Mario Galaxy, a similar game.
In the paper, the researchers hypothesized that 3D-platform games can boost cognition and memory by serving as something like a mental workout. They referenced past research on young adults that showed how playing Super Mario 64 increased grey matter in the cerebellum. This new study, however, is the first to explore whether 3D-platform games can have similar effects on the neural structures of older adults.
But why Mario instead of, say, a racing game?
In 3D-platform games like Mario, players must familiarize themselves with a virtual world to succeed. They must build  "cognitive maps" of the world as they play, memorizing landmarks and other salient features. These kinds of spatial learning processes take place in the hippocampus, one of several regions of the brain examined in the study.
The researchers proposed that playing Super Mario 64 for 6 months would increase the grey matter in several parts of the brain:
Hippocampus —  "The relationship between the hippocampus and 3D-platform games is thought to be driven by the fact that 3D-platform games require the use of spatial memory processes to build a cognitive map of in-game environments and therefore requires learning that depends on the hippocampus."
Cerebellum — "Because of Super Mario 64's requirement for fine motor coordination, we also expected 3D-platform training to increase grey matter in the cerebellum."
Dorsolateral prefrontal cortex — "Super Mario 64 requires ample planning and the internal storage and manipulation of in-game information. We therefore predicted that training would increase grey matter in the dorsolateral prefrontal cortex (DLPFC)." The researchers also suggested video game training would boost cognitive performance among the older adults.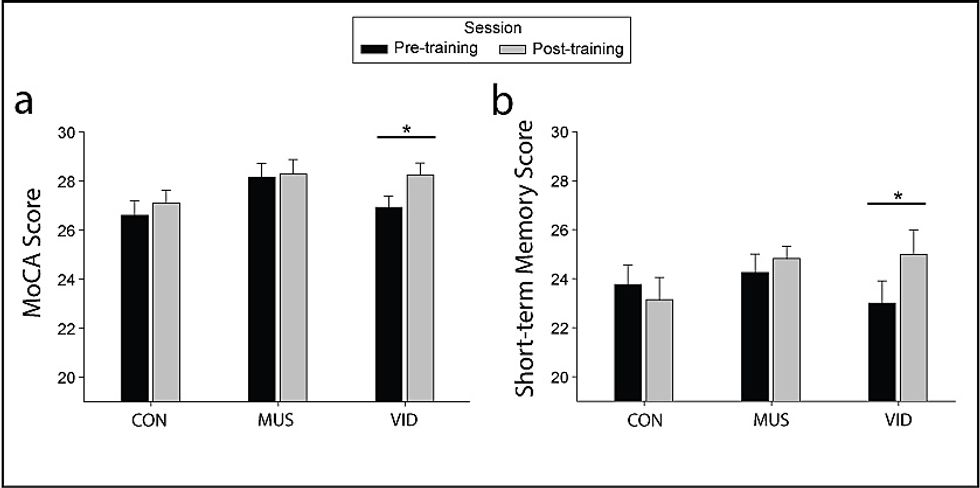 The results showed that participants who spent the six months playing Mario experienced improved short-term memory and showed increased grey matter in the cerebellum and hippocampus. Participants who took music lessons showed increased grey matter in the dorsolateral prefrontal cortex and cerebellum. 
However, the control group, composed of adults who did neither video game or music training, showed atrophy in the three regions of the brain researchers examined.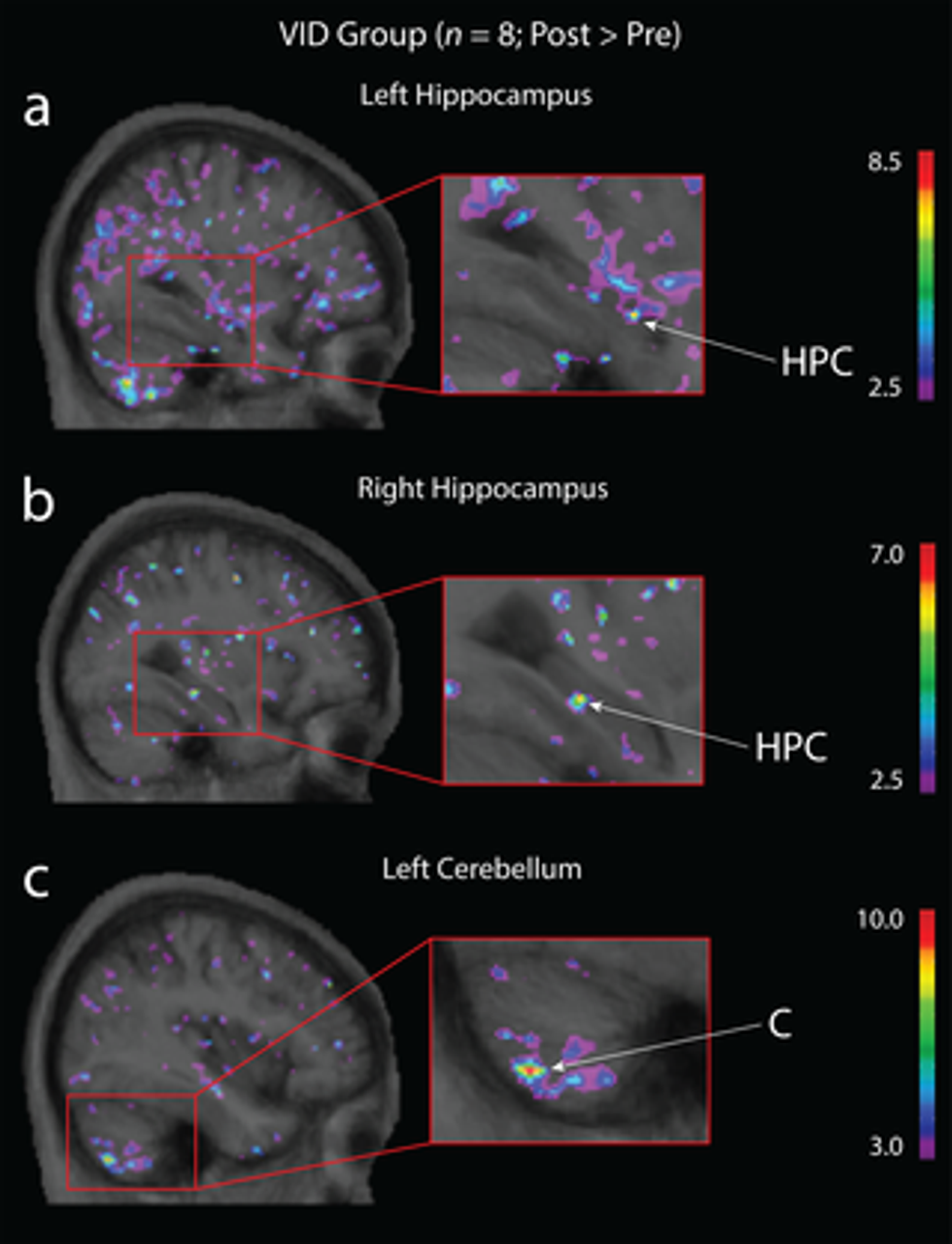 Increased grey matter seen here in MRI scan of video game group adult after six months
The researchers can't yet say for sure whether it's 3D-platform video games or simply learning something new that staves off the degradation of grey matter and memory. One reason is because the size of the study was relatively small, which limits the conclusions that can be reasonably drawn from it. Still, study author Gregory West, an assistant psychology professor at the University of Montreal, thinks the results are promising for the treatment of cognitive impairment and Alzheimer's disease.
"The good news is that we can reverse those effects and increase volume by learning something new, and games like Super Mario 64, which activate the hippocampus, seem to hold some potential in that respect," West said.