A new study delivers the dark financial reality of cancer.
Photo: Ken Treloar / Unsplash
62 percent of cancer patients report being in debt due to their treatment.
55 percent accrue at least $10,000 in debt, while 3 percent file for bankruptcy.
Cancer costs exceed $80 billion in America each year.
Rebecca Meyer was diagnosed with glioblastoma when she was 5 years old. She fought bravely for 10 months before dying on her 6th birthday. The total cost of of her treatments during that time? $1,691,627.45.
Cancer is costly, emotionally and socially. But it's especially pricey in terms of money. The stress of being unable to pay for treatment doesn't help your immune system while going through chemotherapy or radiation. It's impossible to relieve yourself of tension when your medical costs are bankrupting you and your family.
This is more common than you might imagine. A new study, published this month in The American Journal of Medicine, discovered that 42 percent of patients deplete their life savings during the first two years of treatment. There's good reason the term "financial toxicity" is in the name of this report.
Of the 9.5 million cancer diagnoses studied between 2000–2012, researchers discovered that 42.4 percent of patients (median age 68.6±9.4 years) spent all of their money, averaging $92,098. This follows disturbing news from earlier this year that 40 percent of Americans can't afford to pay $400 in case of an emergency. The math is not adding up.
Financial toxicity led Fumiko Chino to co-write a research letter in JAMA Oncology last November. After her husband surpassed his insurance policy's $500,000 lifetime limit, Chino drained her savings to pay for his treatment. When he died, she was left hundreds of thousands of dollars in debt.
In her study of 300 cancer patients, Chino and team discovered that over one-third of them had to pay more than expected for their care, which put a strain on their decision-making process.
Facing unexpected treatment costs was associated with lower willingness to pay for care, even when adjusting for financial burden. This suggests that unpreparedness for treatment-related expenses may impact future cost-conscious decision making.
A 2016 systematic review of 45 studies, published in Journal of the National Cancer Institute, found that up to 62 percent of patients report being in debt due to treatment. Another study of over 4,700 patients from that year discovered that 55 percent accrued at least $10,000 in debt, while 3 percent filed for bankruptcy.
Cancer costs exceed $80 billion in America each year. Over half of all cancer patients "experienced house repossession, bankruptcy, loss of independence, and relationship breakdowns." Up to 85 percent of patients have to stop working for up to six months, putting further strain on their finances.
On October 16, cancer patients in New Zealand petitioned Parliament for treatment funding. Photo by Hagen Hopkins/Getty Images
The financial toxicity study above comes to possibly the only conclusion imaginable:

As large financial burdens have been found to adversely affect access to care and outcomes, the active development of approaches to mitigate these effects among already vulnerable groups remains of key importance.
Health care remains one of the most important issues in this election cycle — it always seems to be an issue, sadly. Seventy-two percent of all political ads that ran in Washington during September mentioned health care in some capacity, while 50 percent of national ads run by Democrats have used this talking point (compared to 28 percent of national Republican campaigns). We need to figure this out.
As a cancer survivor, I deeply empathize with this problem. There is no easy answer, as cancer treatment is expensive. Funding is needed to keep researchers searching for cures and better treatments. Hospitals need to stay in business, and cancer happens to be one of the more expensive widespread diseases to treat.
But we've also set up our society in such a way that these high costs are passed on to those who can afford it least. This study is just one example of a culture that continues to divide its wealth to such extremes. That might not be the country we wanted, but it's what we've got. Where we go from here is up to us, and a sizable piece of this puzzle will be put into place on November 6.
--
It neutralized not only the tumor it was injected into but malignancies all over the body.
Woman with cancer looks at her head in the mirror. Credit:Getty Images.
Current cancer therapies have terrible side effects and aren't always effective. And with things like radiotherapy and chemotherapy, the number of treatments one needs to endure makes side effects progressively worse over time. A new technique developed by researchers at Stanford University uses two agents which when combined, alert the body's immune system to the presence of cancer, in order to eliminate it.
Just one injection can be effective for a solid tumor. Such a targeted approach could limit nasty side effects and may even be more effective than current therapies. These results were published in the journal Science Translational Medicine. Dr. Ronald Levy was the study's senior author. He told Medical News Daily, "When we use these two agents together, we see the elimination of tumors all over the body."
Dr. Levy and colleagues injected minute levels of two "immune-stimulating agents," into malignant solid tumors in mice. The most remarkable thing is that it treated not only the tumor it was injected into, but distant malignancies at other locations inside the body. Researchers believe it'll be able to treat all different kinds of cancer. Using T-cells to kill cancer has long been a driving focus of immunotherapy.
Although T-cells already have incredibly powerful cancer-fighting properties, cancer cells have certain "tricks" to circumvent them, until they've multiplied enough to overwhelm the immune system entirely. Immunotherapy seeks to boost the immune systems capabilities, in order for it to recognize the cancer and neutralize it.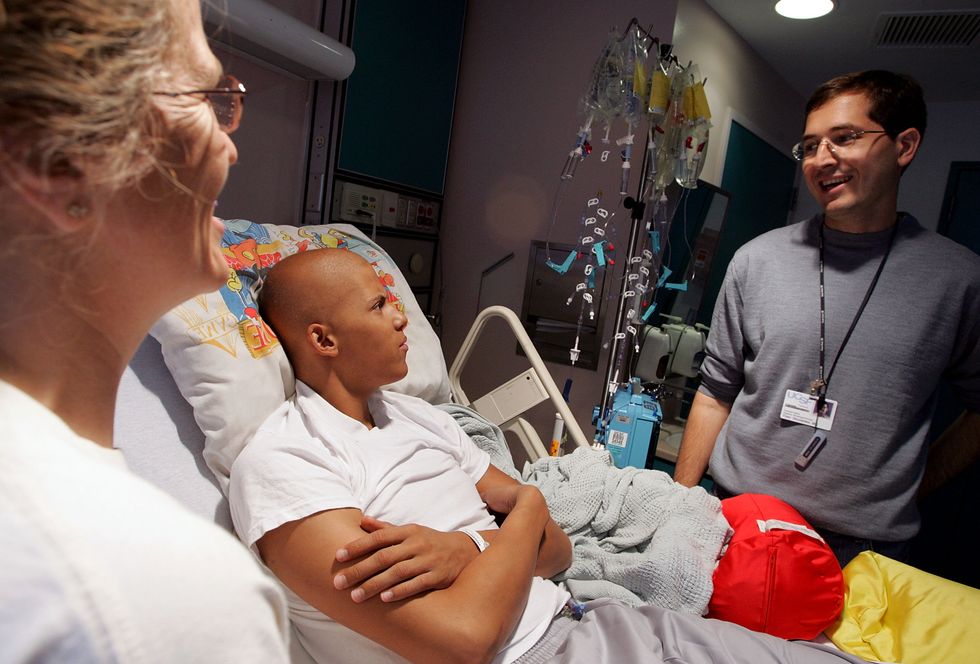 While current therapies can have increasingly severe side effects, this one is administered only once. Credit: Getty Images.
Clinical trials are currently underway, to see if the same effect occurs in humans. 15 patients, all with low-grade lymphoma, are taking part. Those with this particular type of cancer were selected because lymphoma is essentially a disease of the immune system and so, should show the strongest response to the therapy.
One of the agents has already gained FDA approval, while the other is part of an ongoing clinical trial as a treatment for lymphoma. This has helped streamline the process a bit. What's also exciting is, in addition to being effective, the agents are inexpensive. "This method can 'teach' immune cells how to fight against that specific type of cancer," Dr. Levy said, "which then allows them to migrate and destroy all other existing tumors."
There are several different immunotherapy approaches in use today. Some activate the immune system everywhere in the body. Others remove the patient's own immune cells and genetically engineer them to kill cancer. And others still turn off switches in immune cells which limit their cancer fighting abilities.
The drawbacks are that many of these experimental therapies are expensive or time consuming, or cause terrible side effects. According to Dr. Levy, "This approach bypasses the need to identify tumor-specific immune targets and doesn't require wholesale activation of the immune system or customization of a patient's immune cells." The dual injection includes just one microgram (one-millionth of a gram) of each substance.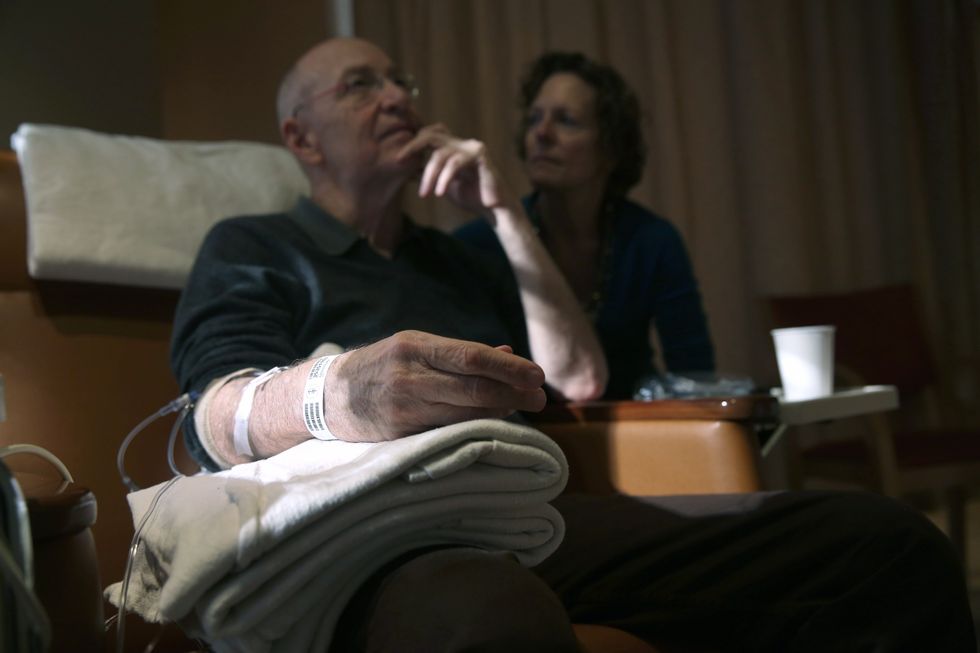 This therapy proves to be easy to administer, less expensive, and maybe even more effective than chemotherapy and radiotherapy. Credit: Getty Images.
The makeup of the injection includes a short, synthetic piece of DNA called CpG oligonucleotide. This binds to the receptor OX40, found on the surface of T-cells. The other is an antibody which binds to a T-cell and activates it. Once they make short work of the tumor, these energized T-cells travel elsewhere throughout the body, eliminating all of the same kind of cancer cells.
To test out the treatment, researchers injected 90 mice who had lymphoma with the mixture. 87 out of 90 became completely cancer-free. When tumors did recur in the remaining three, a second injection eliminated them completely, with no further recurrence. Mouse models with breast, skin, and colon cancer showed similar results. 
One stipulation, the T-cells can only target the type of cancer they first experienced. Mouse models that had lymphoma and colon cancer saw only the lymphoma eliminated. The T-cells get trained to take out a particular type of cancer, and that's what they focus on.
Should this therapy be successful in humans, Dr. Levy and colleagues foresee it being injected after the surgical removal of a solid tumor, to make sure the cancer doesn't recur. It might even take out any budding tumors that occur due to a genetic mutation. Dr. Levy said there's no cancer it couldn't treat, just so long as the immune system can infiltrate it.
To learn about other cutting-edge cancer treatments, click here.
Researchers are studying the use of sperm cells as micromotors for delivering chemotherapy to cervical cancer patients.
Sperm on the hunt (TATIANA SHEPELEVA via SHUTTERSTOCK)
One of the obvious problems with conventional chemotherapy is that it's essentially poison formulated to kill cancer cells without killing the patient. While chemo is often the only available treatment option, it's extremely rough on patients, causing debilitating exhaustion, weakness, and nausea. As a result, it can only be administered in limited doses. In addition, chemo can be diluted by body fluids and be broken down and weakened by enzymes. Now a team of scientists at Leibnitz Institute for Solid State and Materials Research are exploring a new way to aim cancer medications with greater precision directly at tumors while reducing side effects, thus making it safe to administer higher, more effective doses. That new way? Sperm cells.
The team, led by Haifeng Xu, is interested in the use of sperm as a delivery mechanism in the female reproductive system, starting with cancer, and in time perhaps addressing other conditions such as ectopic pregnancies and endometriosis. Their research has just been published in ACSNANO. It explains why they're interested in sperm cells as a potential delivery mechanism: "…sperms are excellent candidates to operate in physiological environments, as they do neither express pathogenic proteins nor proliferate to form undesirable colonies, unlike other cells or microorganisms. Overall, this sperm-hybrid micromotor is a biocompatible platform that can be used in gynecological healthcare, treating or detecting cancer or other diseases in the female reproductive system in the future." It also notes, that, of course, "sperms are naturally optimized to efficiently swim in the female reproductive system." 
The team's first experiment targeted mini-cervical cancer tumors in a dish. Sperm cells were infused with doxorubicin hydrochloride (DOX-HCl), a frequently used form of chemo. It collected in the cells' heads, with an average of 15 picograms of DOX-HCl per cell. The researchers then released the sperms into the medium, and they swam toward the tumors, delivering the drug and killing an impressive 87% of their cells in just three days.

The effect of the sperm-delivered chemo on in vitro-grown tumor steroids over three days (ACSNANO)
The second round of tests involved something even more surprising. The team enclosed DOX-HCI sperm cells within minuscule tetrapods — four-armed magnetic harnesses — so the spermbots could be guided to tumors using magnets.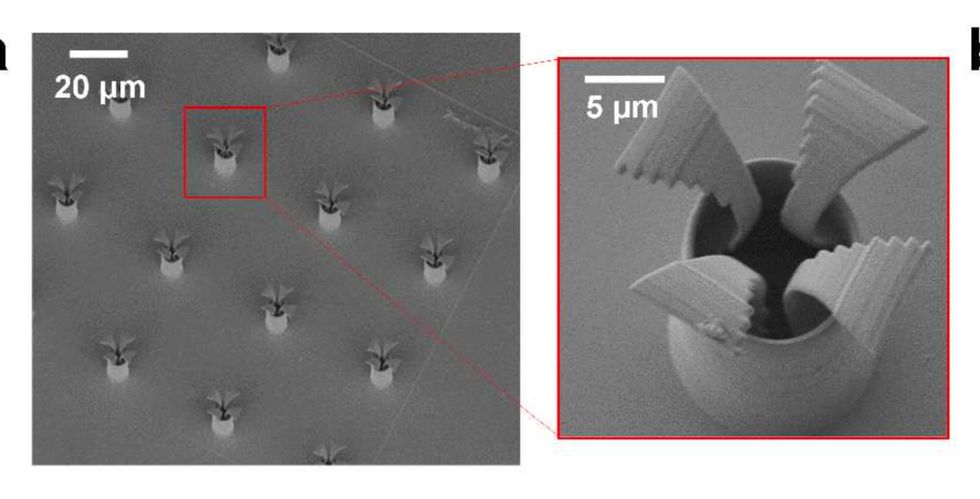 Scanning electron microscopy images of the harnesses (ACSNANO)
In experiments, when a spermbot bumped into a tumor, the impact bent the four arms, causing them to open and loosen their grip on the cells that then carried the DOX-HCI-laced cells into the tumor.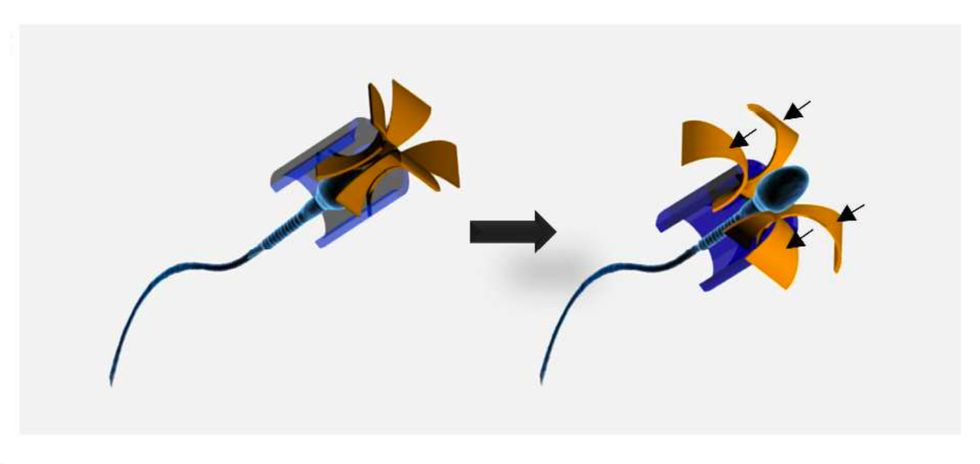 Schematic illustrating the mechanical release mechanism (ACSNANO)
With the sperm providing propulsion and the magnetic tetrapods their guidance system, the researchers see "sperm-hybrid micromotors" as offering intriguing advantages for chemo delivery over synthetic micromotors being developed by others. To start with, sperm's ability to fuse with somatic cells protects medications from dilution and breakdown. Also, they can "swim through complex environments" due to their beating tails and membrane biochemistry that make the female reproductive system a comfortable environment. In addition, can last longer in the body since they're less likely to be in conflict with the patient's immune system due to proteins and prostasomes on sperm cells' membranes.
This could end the days of suffering through cancer treatment.
Nanomachine destroying a prostate cancer cell. Notice the cytoplasm bubbling out. Rice University.
Anyone who has gone through cancer treatment or known someone who has, has seen how detrimental the side effects can be. My mother happens to be going through chemotherapy right now for breast cancer. Although it was an aggressive variety, they caught it early. It was surgically removed and she's going through chemo only to avoid recurrence. Though I'm thankful for that, the chemo still makes her dreadfully nauseous and weak.
There are drugs to offset its effects, but unfortunately she, like many others, can't take them. The side effects were so severe that now, she's getting half the dose originally prescribed. If they stuck with the full dose, she might not survive, the doctor said. My mom is halfway through and after four more treatments, she'll have radiation to look forward to. Fortunately, her doctors have given her a 90% chance it won't come back. Others are not so lucky.
The problem is that treatments like chemo and radiation attack healthy and malignant tissue indiscriminately. Because of this, researchers have been seeking out ways to target cancer cells while leaving healthy ones alone. Photodynamic therapy is one approach. Here, an inert drug is usually inserted inside a tumor then activated by light or a laser, destroying the cancer while minimizing collateral damage. Another method just starting to be explored is employing nanotechnology.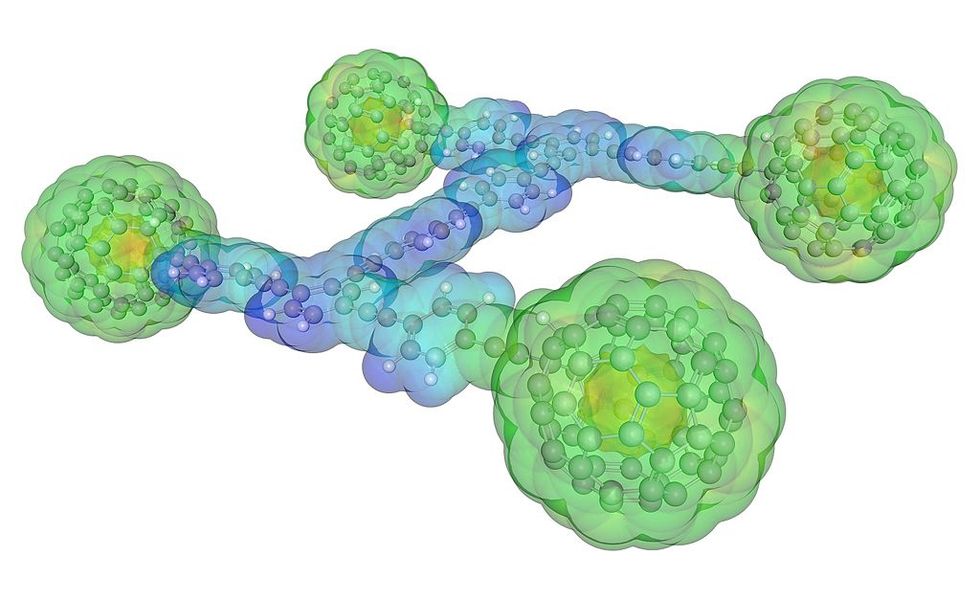 Nanocar designed by Rice University. Edumol Molecular Visualizations. Wikimedia Commons.
Now, a collaborative effort among researchers at Rice, Durham, and North Carolina State Universities is getting a lot of attention. Their novel method could eliminate the suffering cancer patients go through today. They've developed molecular machines which can drill into and destroy cancer cells, leaving health ones untouched. The results were published in the journal Nature. These drills are miniscule. 50,000 of them end-to-end would equal the width of a human hair. They're also photodynamic.
The way they work is, once in place, the nanomachines are activated via ultraviolet light. They drill down into a cancer cell, killing it. It was only last year that Bernard Feringa won the Nobel Prize for creating the world's first electric drill on a nanoscale. These researchers built theirs off of that design. Feringa's was a thousand times smaller than the diameter of a hair, which although still impressive, seems huge by comparison.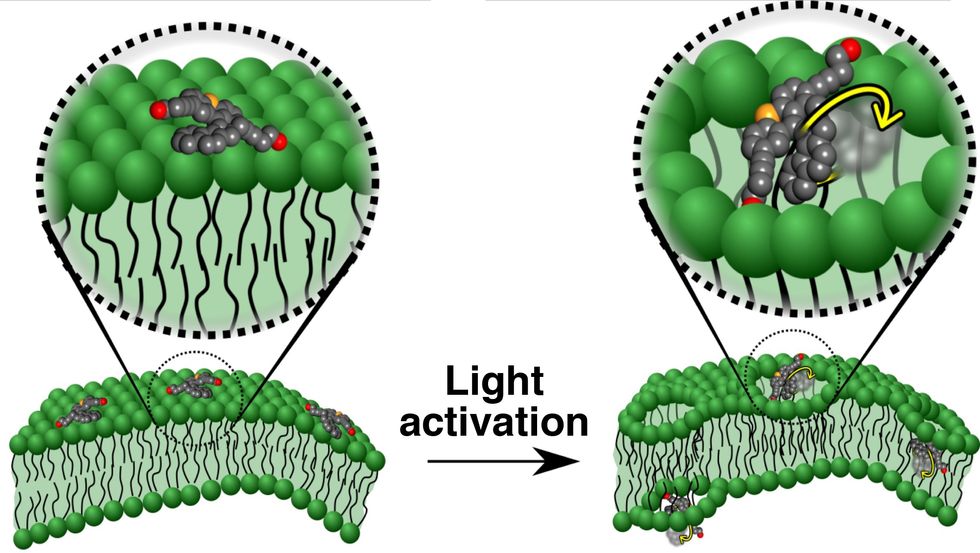 On the left, the nanodrill sits atop a cell membrane. On the right, it's been activated. Rice University.
These latest nanomachines are each a single rotor which completes 2-3 million rotations per second. Previous prototypes spun slower, but they had a hard time overcoming Brownian motion. This is the forceful erratic movement of microscopic particles within fluid, due to a constant bombardment on many sides by surrounding particles.
Besides its powerful drilling capability, each nanomachine carries a certain peptide with it to ensure the cancer's demise. These nanodrills were tested on prostate cancer cells. It took between one to three minutes for the drill to break through each cell's membrane and demolish it.
See them in action here:
Dr. Robert Pal led the study. He hails from Durham University in the UK. "Once developed," he said, "this approach could provide a potential step change in non-invasive cancer treatment and greatly improve survival rates and patient welfare globally." Not only would it be used to treat a wide variety of cancers, it could end the days of suffering through side effects.
So far, tests on human and animal cells have been successful. But years of further research lie ahead, before these nanodrills are introduced into the clinical sphere. Next will be tests on microbes and small fish, followed by mice and rats. If all goes well, human trials will follow. Researchers say that not only are these nanomachines useful for killing cancer, in the future, such machines may also engage in cell repair as well.
Nanotech, when it really comes of age, is likely to disrupt not only medicine but the energy sector and others as well. Could nanotech lead to a kind of utopia, free of pollution, disease, and even want?
See what one theoretical physicist thinks here: