1,500 study participants play Spot the Cheater
Male philanderers faces give them away slightly more often than female faces do.
Study tests idea of being able to spot competition as an evolutionary aid to protecting our relationships.
The most reliable — though not very reliable — cue is sexual dimorphism.
It's become a standard TV and movie trope. One friend looks at another and suddenly blurts out, "You just got some!" In real life, though, it's not so easy to tell, apparently. This goes double for cheaters, even if you might think you can just look at someone's face and know if they're unfaithful — it's fun to make snap judgements and talk trash, right?
Researchers from the University of Western Australia wanted to know just how good people are at keeping their little secret a secret, and have published the results of their study in the journal Royal Society Open Science. It turns out that it's hard to tell if someone's cheating or ready to poach your partner based on their appearance alone. If you can tell, though, it's more likely you're looking at a man — women's faces are even harder to read.
189 possibly faithful people scrutinized
The researchers recruited 1,500 heterosexual white participants and asked them to fill out questionnaires in which they picked out the cheaters from 189 photographs — 101 men and 88 women, each of whom had let the researchers in on whether or not they'd been philandering. The participants also answered some questions to help the researchers understand each their reasons for tagging a photo model as a cheater.
The study cites previous research that suggests that "women, and to a lesser degree, men, show above-chance accuracy in judging sexual unfaithfulness from opposite-sex faces." This conclusion was borne out in the new study, though this wasn't the main objective.
One aspect of protecting one's relationship is the ability to spot competitors, and so the new research looked at our ability to spot a tendency toward infidelity in same-sex candidates who might poach our partners.
Image source: View Apart/Shutterstock
Good guesses, bad guesses
It turned out that men and women were both more accurate with their judgement of men's faces when it came to spotting a likelihood of cheating or poaching. Women's faces, on the other hand, pretty much baffled everyone. In terms of detecting same-sex cheaters, men did better identifying untrustworthy men than women did spotting female philanderesses. "We found very little evidence of any accuracy in impressions of faithfulness from women's faces," says the study.
Still, we're not so good at this game overall, it turns out. The study finds, "Even though accuracy for men's faces was statistically significant, the level of accuracy was modest at best." Over 80% of participants exhibited a less-than-chance accuracy level in their conclusions. For men's faces, only 14.1 to 18.0% of participants did better than chance. For women's faces, the percentage of good guessers was even lower: 0.9 to 4.0%.
Image source: pathdoc/Shutterstock
Visual cues that affected opinions and how useful they were
The researchers asked participants about the importance of three characteristics as cues of unfaithfulness:
sexual dimorphism — essentially the physical size of the person being judged
attractiveness — the visual appeal of the person's face
untrustworthiness — whether or not the face simply looked untreatable
All three led participants to decide a man was likely to be a cheater or poacher. In assessing women, attractiveness and trustworthiness were factors.
As to whether these three indicators were of any use assessing a propensity for infidelity or poaching, the story was a bit different.
"The face plays an important role in human mate choice as a signal of various aspects of quality, including genetic quality, diet, fertility, aggressiveness, and parental care," says the study. Nonetheless, attractiveness turned out not to have been a reliable indicator of cheating in the study's data. According to the the photo models' self-reporting, good-looking people were no more likely to be unfaithful than others.
As it turns out, only dimorphism accurately indicated mate cheating/poaching.
Image source: from study
And so?
The study concludes, "In summary, our results suggest that there might be some kernel of truth in impressions of unfaithfulness from men's faces. This above-chance accuracy for men's faces is consistent with the evolutionary prediction that accuracy in our judgements of unfaithfulness from strangers' faces might represent an evolved adaptation for identifying potential male cheaters/poachers." At the same time, the high level of inaccuracy means — in a devastating blow to trash-talking — "we should not rely on our first impressions to make diagnostic judgements of unfaithfulness in everyday situations."
Hasbro is releasing a Cheaters Edition Monopoly that encourages players to get ahead in any way they can.
The Cheaters Edition Monopoly is out in fall 2018.
The classic board game Monopoly has undergone countless special editions over the years, with themes ranging from Star Wars to World War II. Every one of these iterations has been built on the assumption that players will be honest and follow the rules. But that's over.
This fall, Hasbro will release a Cheaters Edition Monopoly that encourages players to get ahead in any way they can: by skipping spaces, stealing extra bills from the bank, dodging rent payments, or removing another players' hotel when they're not looking.
If the news alone doesn't make you ask "is nothing sacred?" then listen to how Hasbro got the idea to create the new edition:
"A recent study conducted by Hasbro revealed that nearly half of game players attempt to cheat during Monopoly games, so in 2018, we decided it was time to give fans what they've been craving all along—a Monopoly game that actually encourages cheating," Jonathan Berkowitz, senior vice president of Hasbro gaming, told INSIDER.
The goal of the game is still the same: crush your opponents and end up with the most property and cash. But the new game structure required upending some of Monopoly's long-standing rules.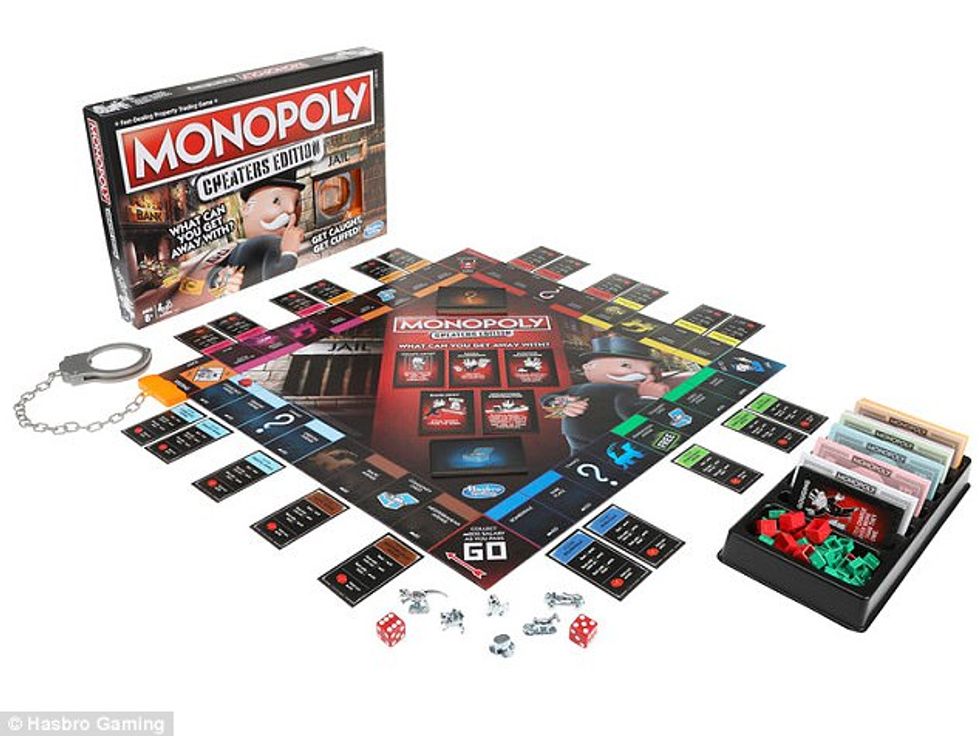 "For the first time in Monopoly history, there is no designated Banker," Berkowitz told Insider. "Players are in control of the Bank on their turn, and pass it to the next player when their turn is over, making it easier to pull of "cheats" such as a the Bank Heist."
But with great vice comes great consequence: cheaters who get caught have to fork over cash or even get chained to the board game with the pair of plastic cuffs that comes with each set.
"We've finally decided to embrace our less-than-honest fans by encouraging them to partake in those iconic (yet sometimes unspoken) Monopoly moments that occur during family game nights," Berkowitz told Insider. "We're excited to see what fans can get away with and how they'll react to the new sneaky twists in the game."
The game will sell for $19.99 this fall.
Monopoly's secret history
Cheating runs deep in Monopoly—and not just in the game, but arguably right down to its creation.
At the beginning of the 20th century, when board games were becoming increasingly popular, a left-wing feminist and teacher named Lizzie Magie spent years infusing her political observations and ideology into a board game she called the Landlord's Game.
"It is a practical demonstration of the present system of land-grabbing with all its usual outcomes and consequences," she wrote in a political magazine. "It might well have been called the 'Game of Life', as it contains all the elements of success and failure in the real world, and the object is the same as the human race in general seem[s] to have, i.e., the accumulation of wealth."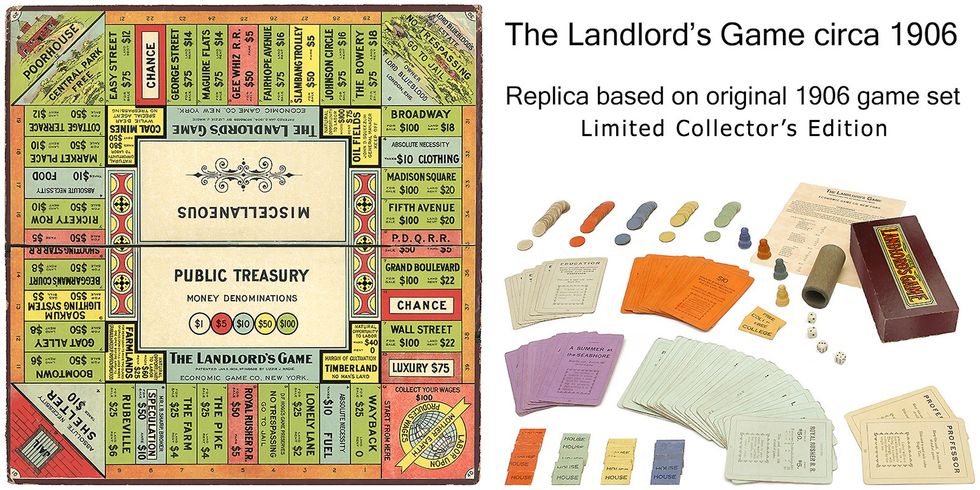 She patented the game and it became popular over the following decades, especially in left-wing academic circles, who perhaps saw it as a somewhat satirical commentary on wealth inequality and the competitive nature of capitalism.
A man named Charles B. Darrow eventually discovered a modified version of the game and brought it to Parker Brothers, the toy manufacturer that was eventually purchased by Hasbro. The company bought Magie's patent and two of her other game ideas for $500, a figure which probably didn't cover the costs of developing and patenting the Landlord's Game.
Hasbro went about tweaking and repackaging the game, which would become a worldwide hit in the years to come. For introducing the game to Hasbro, Darrow would go on to make a fortune from Monopoly through royalties that lasted the rest of his life.
It wasn't until years later that Magie realized she had lost the real-world game of capitalism by making a bad deal. But it's arguably in legacy where she was cheated.
On the Hasbro website, a history of Monopoly begins in 1934 when Darrow "presented a game called MONOPOLY to the executives of Parker Brothers." Magie's name is never mentioned.
When The Guardian asked Hasbro about Magie's role in creating the game, the toy company responded with a brief comment: "Hasbro credits the official Monopoly game produced and played today to Charles Darrow."
In an interview with the Washington Post about her short-end deal from Hasbro, Magie said "There is nothing new under the sun."
Here's Ta-Nehisi Coates on how formative Dungeons and Dragons was for him:
What are the true motivations of people who cheat, and why do even happy spouses do it?
We all know what infidelity is, but a universal definition is difficult to carve out—especially in the digital age. Is watching porn cheating, or is it only cheating if the person on the other side of the screen is live? Each scenario is subjective, but psychotherapist Esther Perel crystalizes the three elements that lie at the heart of all cheating: secrecy, sexual alchemy, and emotion—even if the person don't think so. Cheating is typically interpreted as a symptom of a bad relationship or of something lacking in a partner, however one of the biggest revelations for Perel in researching her latest book, The State of Affairs, was that happy people also stray. Even people in satisfying relationships find themselves crossing the line they never thought they would. So what gives? "They often stray not because they want to find another person but because they want to reconnect with a different version of themselves," she says. "It isn't so much that they want to leave the person that they are with as much as sometimes they want to leave the person that they have themselves become." Esther Perel is the author of The State of Affairs: Rethinking Infidelity. See more at estherperel.com.
One reason: women perceive men with tattoos as more likely to cheat. 
A tattooed man.
Most of us are aware that women, at least on some level, are attracted to the "bad boy." Evolutionary anthropologists tell us this is because a woman in the Stone Age competed for the attention of a male who could protect her and their young, and provide for them. Today however, society has changed. And in fact, many times it is the sociable and intellectual male who turns out to be the best provider, while those who are aggressive, rebellious, and uncompromising, often have a tougher time. Many women date the rebellious archetype in their teen or young adult years, usually thinking they can change him, only to end up with a broken heart. According to this new study, that experience might be a steep learning curve.
A cohort of men out there with tattoos think women are attracted to them partly because of their ink, as it projects a masculine air. Think about that tattooed guy you know who can't wait to take his shirt off in the summertime when women are around. A tattoo is the calling card of a bad boy, regardless of the fact that today, fathers, mothers, and businessmen have them. Though some men may believe the myth, and think it helps make them more competitive in the dating market, women aren't actually more attracted to men with tattoos. At least, that's the results of a new Polish study, published in the journal Personality and Individual Differences.
Researchers Andrzej Galbarczyk and Anna Ziomkiewicz began by recruiting 2,584 straight Polish men and women. Each participant was made to view images of men shirtless. Sometimes the photos were modified by adding a small tattoo on the arm. Male participants ranked each photo with a tattoo as more attractive to women. Women meanwhile, were more likely to label non-tattooed men as attractive.
One interesting find is that women rated men emblazoned with tattoos as healthier. This is actually a common trend in such research. It is considered a symbol of strength. Generally speaking, our species looks for signs of attractiveness not as an end onto itself, but as a biological trait, as it telegraphs healthfulness and good genes. Mother Nature programmed us to look for partners who would provide healthy offspring. Since tattoos are considered a sign of toughness and masculinity, it is thought that those who have them have higher testosterone levels, and therefore are more fertile.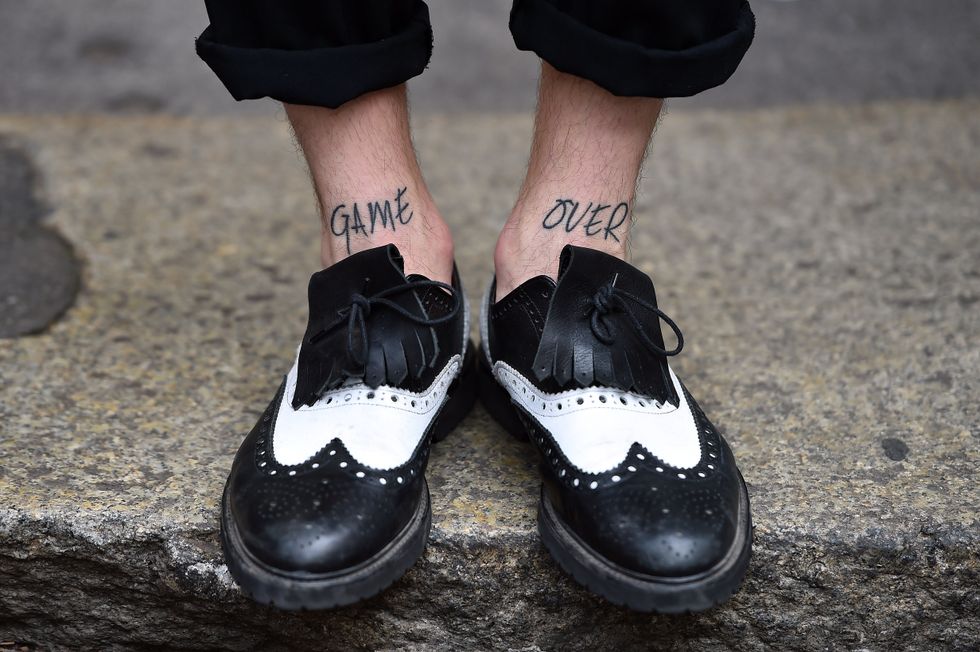 Men whose testosterone levels are too high may carry traits that make them less than desirable mates.
That's one reason why we see so many Hollywood heartthrobs donning a five o'clock shadow. They are telegraphing testosterone. Beards however are considered by many women as unattractive. It may be the same reason why tattoos don't flip their switch.
Too high a testosterone level is considered a turnoff. It equates, at least on a biological-evolutionary level, to a higher likelihood of him having an affair. Ten years ago, a breakthrough study at the University of New Mexico discovered that men with low testosterone levels tended to remain in committed relationships. While other research has found that those who received more testosterone in the womb are more likely to lead promiscuous, polyamorous, or serial monogamous lives.
Men with elevated testosterone could also be more prone to dominance and even domestic violence, although upbringing and other factors are also at play. "The dark side of testosterone-related features perfectly explains why women assessed tattooed men as worse potential partners and parents," researchers wrote. The male hormone is also responsible for motivation, the sex drive, and a positive attitude. It's thought that those with a higher testosterone level are also more confident. And as everyone knows, confidence is sexy. Perhaps this also plays a part in the affair risk factor.
A woman's opinion of a man was more influenced by tattoos than a man's was, researchers found. So this means that tattoos are equated in both sexes with a higher testosterone level. Now, listen up fellas. If you want a tattoo, get it for the right reason; though it may make you the envy of men, it won't garner you any extra dates.
To hear what real women have to say about men with tattoos, click here:
How open are you to your partner having sex with other people? The answer may depend on your age.
Photo: Unsplash / @an_taylor
How open are you to your partner having sex with other people? The answer may depend on your age.
A new poll from YouGov.com indicates that young Americans are more likely to accept non-monogamous relationships than their elders. Nearly a fifth of people under 30 had some kind of sexual activity with someone else while their partner knew about it. This is not to say that the youngsters are rejecting monogamy outright, as 56% of them still think it's the only way to go. That number rises to 74% for people between 45-64 and 78% in folks 65+. 
Perhaps this is not very surprising as people under 30 are less likely to be married and are still looking for a partner. It's even less surprising once you consider the rise of what has been described as "hookup culture", courtesy of the proliferation of apps like Tinder, which streamline the process of finding a temporary sexual partner.
Notably, the median age for marriage in 1970 was 21 for women and 23 for men. By 2010, that's risen to 27 and 29, respectively. Marrying later certainly increases the opportunity for premarital sexual encounters. On the larger scale, a bit over half of Americans are not married at all, so that creates quite a few singles.
The overall number of Americans who are not ok with their partner stepping out on them is at 68%. Still, some certainly do it. About 11% of Americans report having had sexual relations with someone else with their partner's consent, and 19% have done so on the sly (basically, cheated).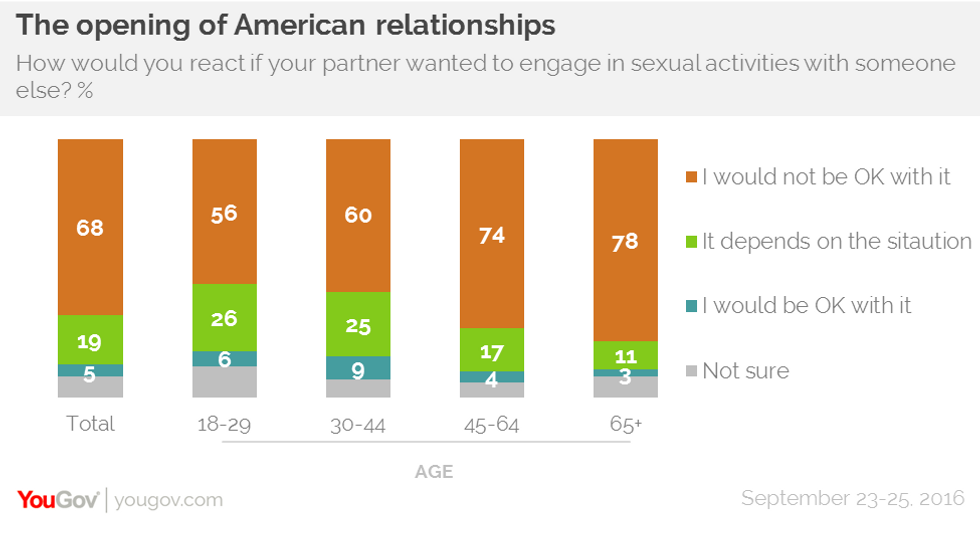 Again, younger Americans are more likely to cheat, with 17% of under-45s reporting such activity, while only 3% of over 65s admitted to having sex with someone without their partner's knowledge. This last statistic can also be explained by generational mores. It's likely the older folks aren't as open about such behavior as the much more open younger generation, which grew up in the era of social media and reality TV.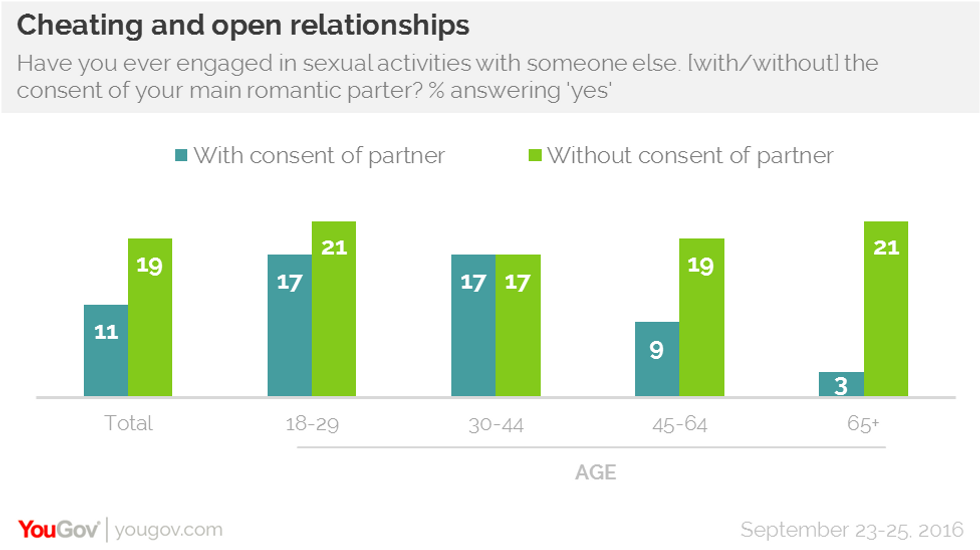 Other studies have found that, puzzlingly, even though millennials may have a more open attitude towards sex than their parents, the average number of sexual partners for Americans has actually decreased. The number of sexual partners for baby boomers (born between 1946 and 1964) was mostly the same, clocking in at 11.68, as the number of partners for those born in 1980s and 1990s. This number for millennials? 8.26.
If you are in a non-monogamous relationship, what rules should you follow to make it work for you? Certainly, each situation is different, but research has shown that key components of what's being called "ethical non-monogamy" should be trust and communication.
Without honesty, such a relationship is just cheating, and openness can go a long way towards defining the boundaries of what is acceptable to you and your partner. Non-monogamous partners are less likely to experience jealousy if the situation is properly discussed. They know that what their partner finds in another relationship (especially if it's merely sexual) may be the kind of fulfillment they are not willing or able to provide.