A well-known cosmologist comes out with very stark warnings about particle accelerators.
Getty Images
Respected astrophysicist Martin Reese has serious misgivings about the safety of the Large Hadron Collider.
The collider could destroy us in 3 different ways, warns Reese.
Despite the dangers, innovation should continue but with caution.
The Large Hadron Collider (LHC), the world's biggest scientific instrument, is also the planet's most powerful particle accelerator. And that makes it a potential danger not just to itself or its immediate surroundings in Switzerland, but to Earth and maybe even our reality itself.
This warning comes not from an incorrigible luddite but the influential British astrophysicist Lord Martin Rees, who sees three ways in which the collider could cause a disaster of cosmic proportions.
1. A BLACK HOLE SUCKS US IN
For one, cautions Rees in his new book On The Future: Prospects for Humanity, it's possible for the experiments conducted at the LHC to form a black hole which would "suck in everything around it".
2. EARTH GETS SHRUNK
And if apocalypse by way of black holes doesn't come to pass, it's also conceivable that Earth could get compressed into a "hyperdense sphere about one hundred metres across," as writes Lord Rees, the Emeritus Professor of Cosmology and Astrophysics at the University of Cambridge.
That could happen due to the subatomic quarks generated by the Large Hadron Collider, which smashes particles against each other at super-high speeds to study the fallout. The quarks could reassemble themselves into appropriately named (and currently hypothetical) particles called strangelets, which, in turn, could transform everything in their way into a new highly-compressed form of matter. So Earth would become no larger than a football field.
Aerial view of CERN'S Large Hadron Collider.
3. SPACETIME GETS RIPPED
There is, unfortunately, a third way towards unimaginable disaster courtesy of the LHC and other particle accelerators like the new one being built in China which would be twice as large and 7 times as powerful as CERN's. Martin Rees thinks that there's a chance the colliders could cause a "catastrophe that engulfs space itself". That's certainly nothing to take lightly.
Rees explains that contrary to what might be popularly imagined, the vacuum of space is not really full of mostly nothing but emptiness. The vacuum, says Rees, has in it "all the forces and particles that govern the physical world." And it's possible that the vacuum we can observe is actually "fragile and unstable."
What this means is that when a collider creates concentrated energy by crashing particles together, it can cause a "phase transition" which would tear the fabric of space. "This would be a cosmic calamity not just a terrestrial one," notes Rees.
Professor Baron Martin Rees of Ludlow, speaks during a news conference in London on July 20, 2015.
Photo credit: NIKLAS HALLE'N/AFP/Getty Images
So, can it happen?

While dramatic fears have circled around the Large Hadron Collider from the start, the LHC has always maintained that the work carried out there is safe. CERN, which runs the LHC, states on its website that according to a 2003 report "LHC collisions present no danger and that there are no reasons for concern."
In fact, points out the European nuclear research organization, there's nothing being done at the lab that nature hasn't already "done many times over during the lifetime of the Earth and other astronomical bodies."
The LHC staff goes even so far as to specifically refute the threat from strangelets. They turn to a study done in 2000 that "showed that there was no cause for concern." The statement goes on to observe that the collider "has now run for eight years, searching for strangelets without detecting any."
"The second scary possibility is that the quarks would reassemble themselves into compressed objects called strangelets," writes Rees. "That in itself would be harmless. However under some hypotheses a strangelet could, by contagion, convert anything else it encounters into a new form of matter, transforming the entire earth in a hyperdense sphere about one hundred metres across."
Still, an argument that there's nothing to fear just because they haven't found anything too strange and extraordinary is not completely comforting.
What would Lord Rees, who sees such dangers, do to the collider? The scientist, known for carrying out important theoretical work on a variety of subjects – from black hole formation to extragalactic radio sources and the evolution of the Universe – is not necessary calling for the LHC to be shut down.
Rather he reminds that "innovation is often hazardous." That doesn't mean you shouldn't innovate but that "physicists should be circumspect about carrying out experiments that generate conditions with no precedent, even in the cosmos." Words to live by when nothing less than the continual existence of the world is at stake.
BASE particle physicists have discovered a very precise way to examine antimatter.
The Veil Nebula. Credit: By Jschulman555 - Own work, Wikipedia Commons.
Thank your lucky stars you're alive. It's truly a miracle of nature. This has nothing to do with spirituality or religion and everything to do with science. Life itself may not be the miracle. Although we haven't found it elsewhere yet, our galaxy alone is so replete with Earth-like planets that, mathematically speaking, one of them must hold life, even if it's just the microbial variety. Intelligent life may be another matter.
What CERN scientists say as a result of their latest experiment is: the universe itself is a miracle, as it shouldn't exist at all. This is of course taken in reference to the Big Bang theory. Though the prevailing one, it's not the only theory to explain how all and everything came into being. Still, in this view, it all starts with the singularity.
According to the Big Bang, the universe began as a point the size of a grain of sand that was unimaginably hot, unfathomably dense, and packed tight with matter and energy. Then of course it exploded, sending its contents sailing out and eventually, forming the universe as we know it. There's a few problems with this theory. For one, there's the increasing rate of universal expansion, known as the Hubble Constant. According to the Big Bang, things should be slowing down, or even contracting. Dark energy is the conventional explanation, even though we can't prove it exists.
There's another problem and here's where the CERN scientists come in. The environment that produced the particles that make up the universe, as we know them now, should have created equal parts matter and antimatter. Yet, the latter is surprisingly rare. Not only that, a 50-50 split would've seen each particle uniting with its polar opposite, creating a burst of unimaginable energy and leaving nothing behind, save a vast howling void of a cosmos. And yet, here we are.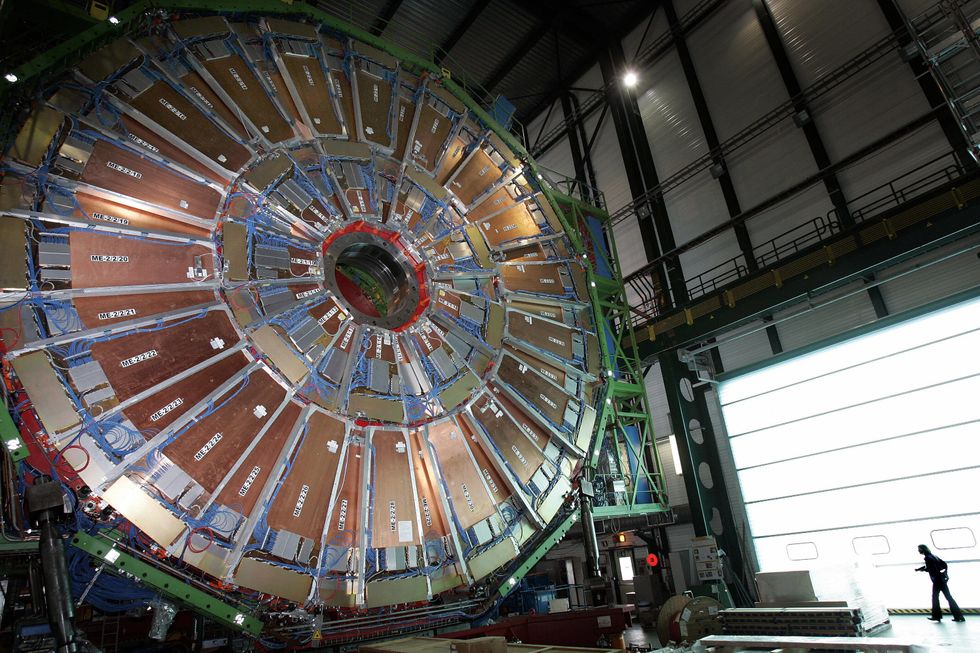 Particle physicists in the BASE collaboration at CERN have been investigating the matter-antimatter imbalance. Credit: Getty Images.
One theory is that matter and antimatter must in some way be radically different. But the latest CERN experiment does not find this is the case. According to the Standard Model of physics, a  manual for every known particle in the universe and how it operates, each type of atom has its polar opposite, its antiparticle, with the same mass, but with an opposite electrical charge.
In this study, CERN scientists tried to discern what fundamental difference such particles should have, to validate the existence of the cosmos. They came up empty. Physicists in the BASE collaboration at CERN, studied the magnetic properties of protons and antiprotons with uncanny precision. Some good news: the findings did support the Standard Model, as the particles behaved just as it predicts.
The matter-antimatter imbalance, as it's called, is a popular topic among particle physicists these days, with many teams around the world looking into it. CERN researcher Christian Smorra was on the team who conducted the most recent experiment. He told Science Alert, "All of our observations find a complete symmetry between matter and antimatter, which is why the Universe should not actually exist."
He added, "An asymmetry must exist here somewhere but we simply do not understand where the difference is. What is the source of the symmetry break?" He and his colleagues' findings were published in the journal Nature.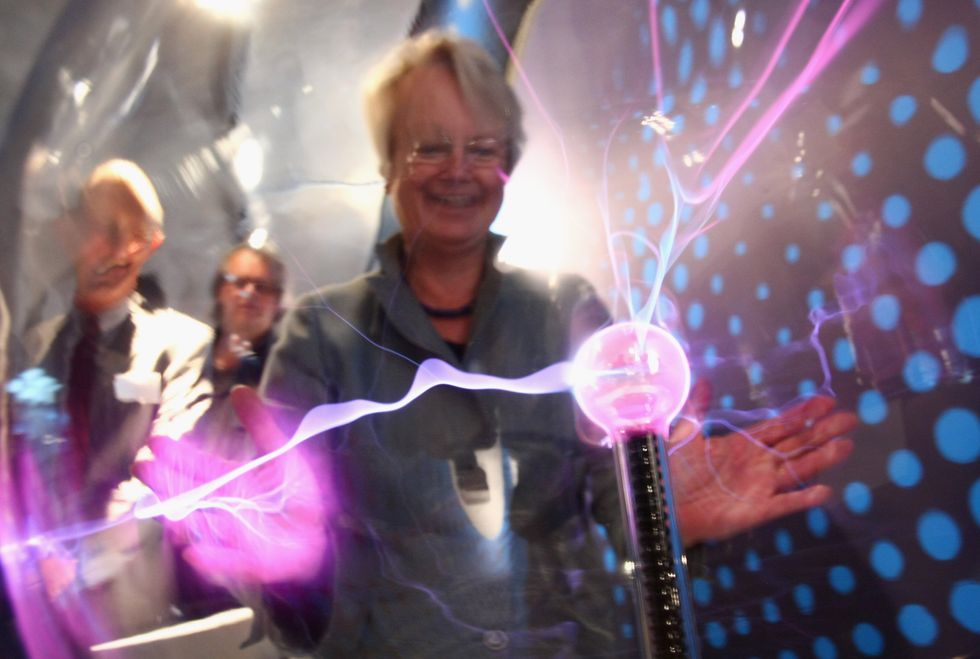 When matter and antimatter particles collide, a burst of pure energy is the result. If these were perfectly balanced in the early days of the universe, how could the cosmos exist at all?  Credit: Getty Images.
Protons and antiprotons were the last holdout when it came to particles which could explain the matter-antimatter imbalance. Scientists from Mainz University in Germany devised a manner to assess the magnetism of a particle of antimatter that is 350 times more precise than the previously method. The readout was incredible, to nine places!
-2.7928473441 nuclear magnetons. A proton has the same level of magnetism, only it's positive. Although the study failed to explain our universe's extreme prejudice towards matter, it did give us a far better understanding of an antiproton's magnetism.
Antimatter doesn't last long. As such, it needs to be contained. Researchers used two Penning traps, which are devices that retain antimatter particles using an electrical and a magnetic field. Stefan Ulmer, spokesperson for the BASE collaboration at CERN, said in the press release:
"The measurement of antiprotons was extremely difficult, and we had been working on it for ten years. The final breakthrough came with the revolutionary idea of performing the measurement with two particles. This result is the culmination of many years of continuous research and development, and the successful completion of one of the most difficult measurements ever performed in a Penning trap instrument."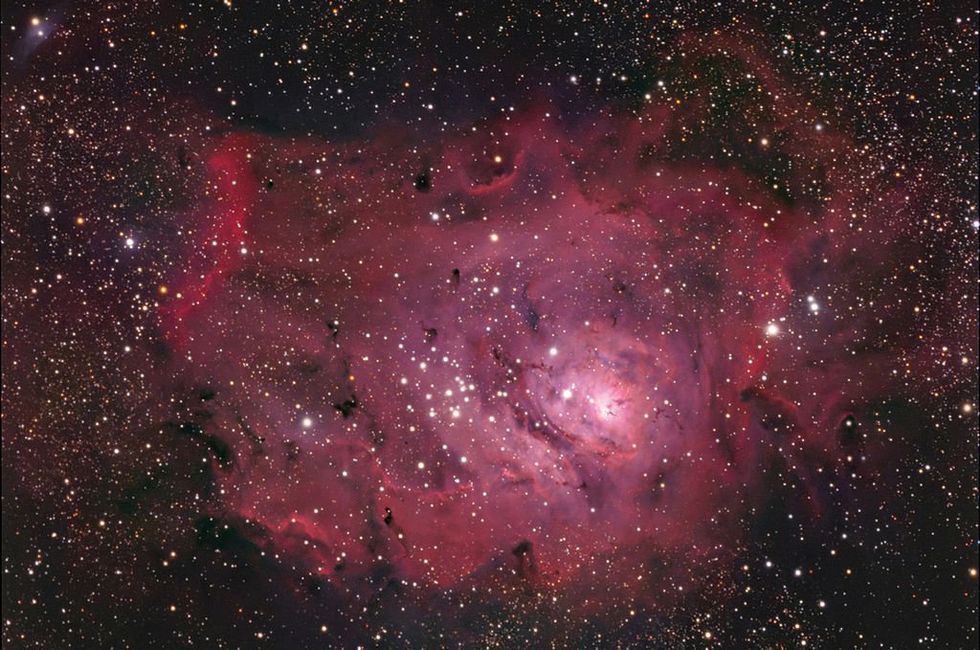 New plans in the works may unveil the secrets of the matter-antimatter imbalance. Pictured here: The Lagoon Nebula in Sagittarius. Credit: Hewholooks, Wikimedia Commons.
Up until now, scientists have probed the differences between particles and their opposites by comparing their electrical charge, magnetism, and mass. Next, this team plans to investigate them in terms of gravity, to see if a discrepancy exists there. Another international collaboration based at CERN, called ALPHA, will be studying what asymmetry, if any, exists between hydrogen and antihydrogen atoms. The BASE team meanwhile, also plans on further examining antiparticles magnetically.
Another important development at CERN, a new linear accelerator introduced at the facility in May, will allow the Large Hadron Collider (LHC) to reach greater luminosity by 2021. CERN Director General, Fabiola Gianotti, said at its unveiling, "This high-luminosity phase will considerably increase the potential of the LHC experiments for discovering new physics and measuring the properties of the Higgs particle in more detail." Perhaps discoveries made here will help unravel the secret behind the matter-antimatter imbalance.
To learn more about antimatter, click here:
Scientists work out methods for finding the difference between the magnetic moments of protons and antiprotons and see that they're the same.
(BASE)
Why are we here, anyway? No, not in the what's-the-meaning-of-it-all sense, but why haven't matter and antimatter completely obliterated each other, the universe and us? In nature, two identical things that are 180° out of phase with each other — as matter and antimatter seem to be — cancel each other out. So, um, why are we here?
In audio, for example, two identical sound waves that are out of phase in this way produce silence: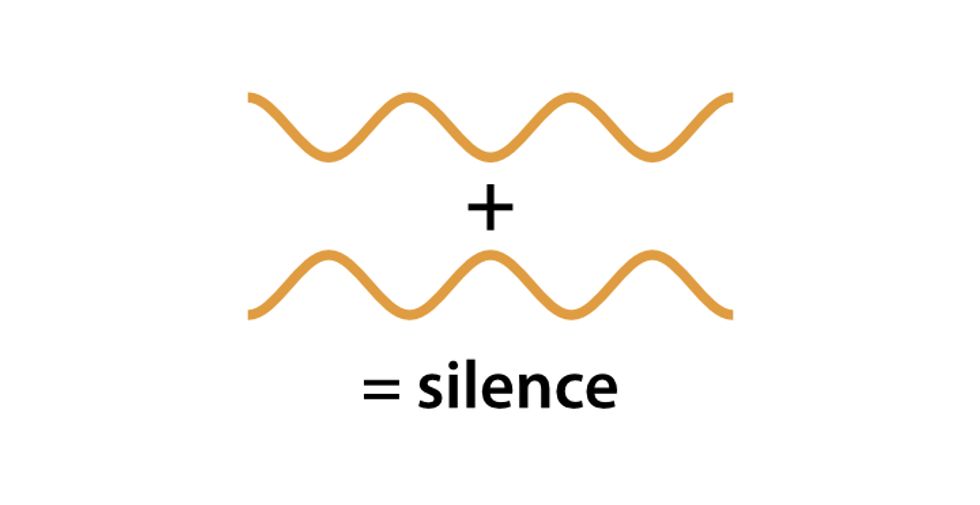 (OMEGATRON)
So even if, say , you're talking about identical recordings of something loud like a car horn, you get:
honk +
honk = 
no honk
So we've got a problem with matter and antimatter not doing this, or rather, we should have a problem. Physics' standard model says that when the universe came into being at the Big Bang, an equal amount of matter and antimatter was generated that should have — in our current understanding — wiped each other out, preventing the universe as we know it from forming.
Scientists have been thinking there must be something we haven't come across yet that makes matter and antimatter not truly identical. A just-released study in the journal Nature reveals the frustrating outcome of a recent search for that difference at CERN. Christian Smorra, a physicist with their Baryon–Antibaryon Symmetry Experiment (BASE) collaboration, says, "An asymmetry must exist here somewhere but we simply do not understand where the difference is," because, "All of our observations find a complete symmetry between matter and antimatter, which is why the universe should not actually exist."
Previously, scientists have tried to find some difference other than polarity in matter and antimatter, measuring their mass and electric charge, and with a study last year of the properties of hydrogen and anti-hydrogen atoms: Nothing.
One aspect scientists haven't been able to compare precisely before were the magnetic moments of the proton and antiproton — there's been simply no way to do it. ( A magnetic moment is a measurement of an object's tendency to align with a magnetic field.) So ten years back, a team at BASE began trying to work out how they could.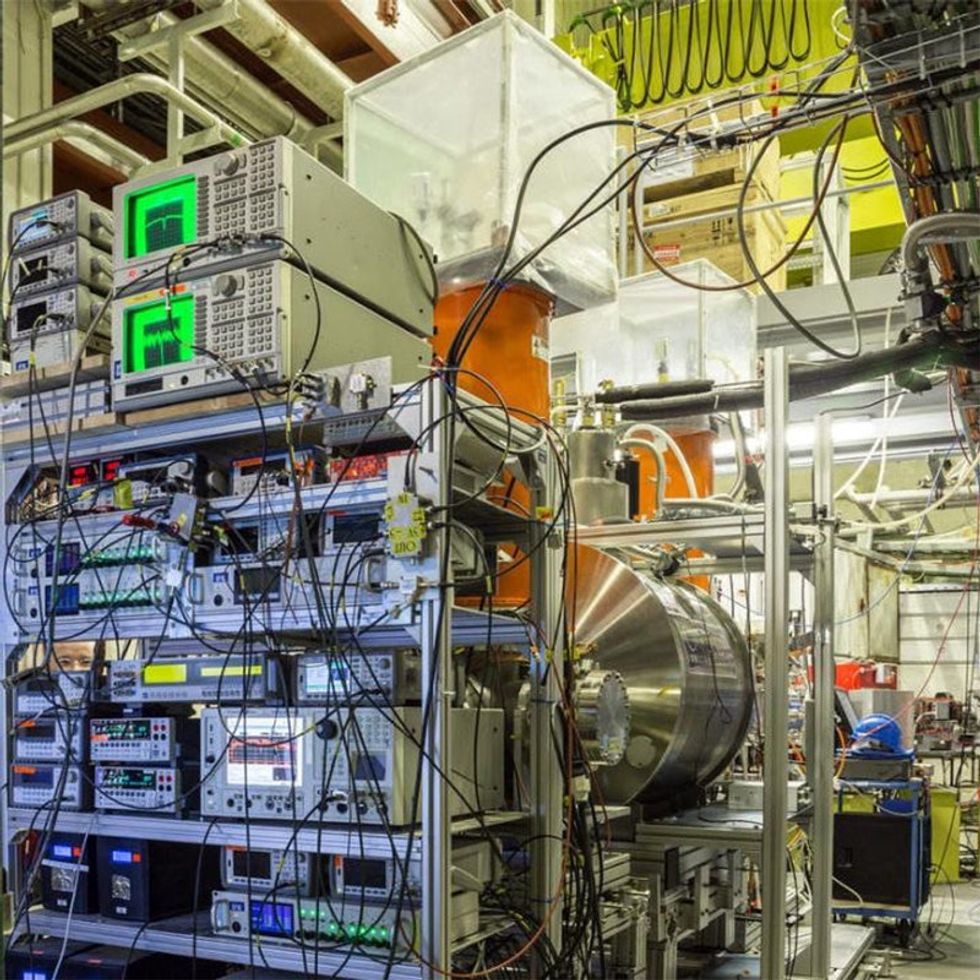 BASE's antiproton decelerator at CERN (STEFAN SELLNER, FUNDAMENTAL SYMMETRIES LABORATORY, RIKEN, JAPAN)
In 2014, BASE announced their first breakthrough: They could measure the magnetic moment of protons by trapping them in a magnetic field and inducing quantum jumps in the field's spin using a separate magnetic field.
Tricky as that was, performing the same measurement in antiprotons was even thornier, since antiprotons are immediately destroyed when they come in contact with regular matter, such as one of the scientists' containers.
The team figured out how to increase the the lifespan of antiprotons by holding them in an innovative, purpose-built iridium-sealed copper cylinder.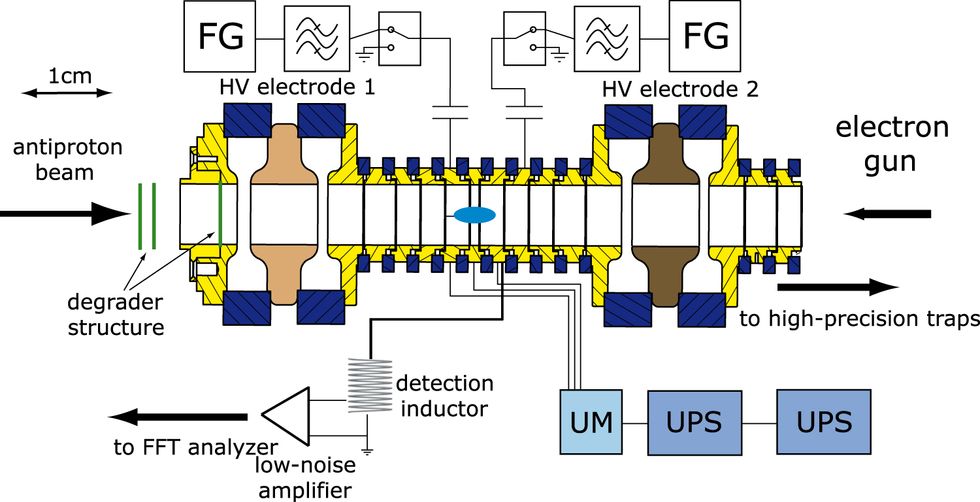 The chamber is said to look not unlike a Pringle's can. (SELLNER, ET AL)
CERN describes the operation of the chamber, the most effective antimatter container ever made: 
The reservoir trap is inside a cylinder with a volume of 1.2 litres. The particles are trapped by two overlying magnetic and electric fields, which keep the particles in a small volume in the centre of the trap. On one side of the trap there is a metal window, thin enough to allow the antiprotons to pass through but strong enough to ensure complete insulation from the outside. All the other sides of the trap are made from solid copper. The cylinder is then cooled to about 6 K (-267 °C) with liquid helium, so that an almost perfect vacuum is created.
A stream of antiprotons was fired into the frigid container on November 12, 2015, and the team was able to hold them there for an impressive 405 days. 
During that time, they were able to run the magnetic moment measurement procedure they used for protons.
The new research documents the results of their efforts: the magnetic moment of an antiproton, out to nine places, is −2.7928473441 μN (μN is the symbol for micronewton force). And guess what? That's identical to the magnetic moment of a proton. Could the difference lie somewhere beyond nine mathematical places?
Maybe, but, as Stefan Ulmer, leader of the BASE team avers, "This result is the culmination of many years of continuous research and development, and the successful completion of one of the most difficult measurements ever performed in a Penning trap instrument."
So, for now, the puzzle continues, and scientists will keep sleuthing in hopes of solving this fundamental mystery : Why are we here?
There are many scientific explanations for ghost sightings. This is the first ever to involve CERN. 
CERN.
40% of Americans believe in ghosts. For them, a remark by a famous leading scientist, regarding the large hadron collider (LHC), at CERN, may provide consternation. On the border of Switzerland and France, 300 ft. below the picturesque suburbs of Geneva, lies a vast, underground facility, five miles across and seventeen miles in circumference. This is one of science's greatest achievements.
Using super-conducting magnets, scientists pit protons against one another in a subatomic game of chicken, smashing them together at nearly the speed of light, and thus creating tiny versions of the Big Bang. Scientists record what new particles result from the collision.
The LHC has yielded some amazing discoveries, including insights into particle decay, and the discovery of the Higgs boson or "God particle," which lends everything mass. The particle was hinted at. But its discovery, which garnered the Nobel Prize, fills a unique hole and allows scientists to further close the gap between relativity and quantum mechanics.
Not only is CERN a success story in terms of science, but also in international cooperation. In an age of resurgent nationalism, 10,000 scientists from 100 different countries work together there in peace and harmony. Of course, those believing in the same overarching system can get along regardless of origin, while the relationship between the religiously minded and the scientifically prone seems to be on the outs once again.
Religion and science haven't exactly gotten along over the centuries. And controversies between the two have flared up from time to time. Yet, it seems confidence in science and its principles, at least in the US, has been relatively constant from the middle of the 20th century, up until the last couple of decades or so.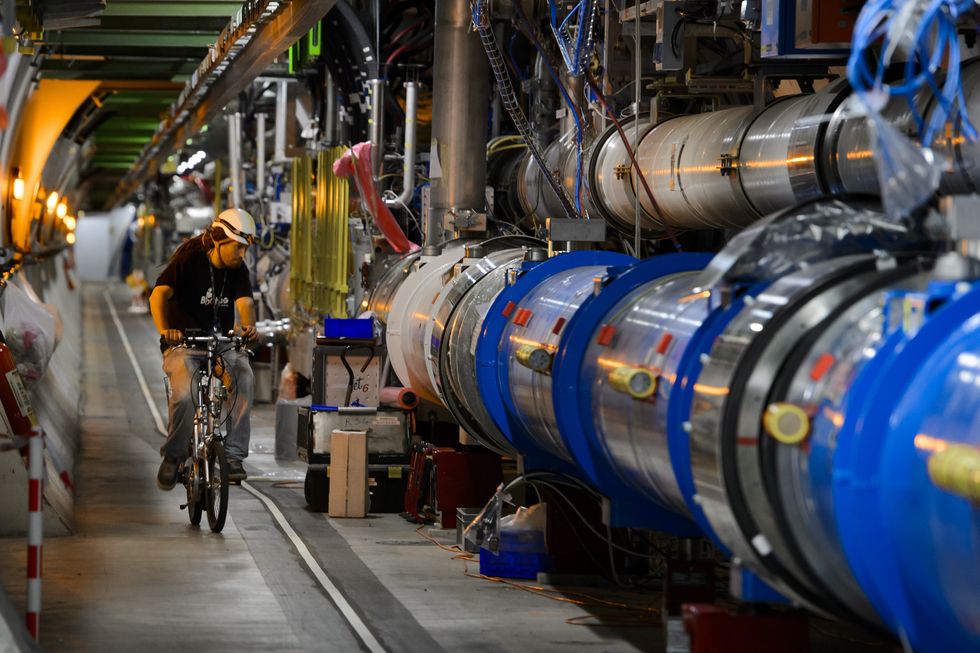 Photons need a long space in order to reach the kinds of speed necessary to create a mini-Big Bang.
Today, science is once again under scrutiny by segments of the population. Evolution, climate change, and even vaccines have been skewered by skeptics. CERN isn't safe. A ridiculous hoax on the internet appeared in August, alleging that CERN scientists took part in a satanic human sacrifice.
This shift is so pronounced, that the new dean of Harvard Medical School, George Q. Daley, warned in a recent Washington Post interview, that we are moving into a pre-Enlightenment era, where ideology molds reality rather than facts. This announcement about ghosts and CERN may act as a driving wedge, forcing these two camps even further apart.
So who said what? University of Manchester particle physicist and media personality, Brian Cox, may have sparked off a controversy. He said, during BBC Radio Four's, The Infinite Monkey Cage program, "I want to make a statement: We are not here to debate the existence of ghosts because they don't exist."
He went on to explain:
If we want some sort of pattern that carries information about our living cells to persist then we must specify precisely what medium carries that pattern and how it interacts with the matter particles out of which our bodies are made. We must, in other words, invent an extension to the Standard Model of Particle Physics that has escaped detection at the Large Hadron Collider. That's almost inconceivable at the energy scales typical of the particle interactions in our bodies.
Astrophysicist and media personality Neil deGrasse Tyson, who was also a guest on the show, clarified by saying, "If I understand what you just declared, you just asserted that CERN, the European Center for Nuclear Research, disproved the existence of ghosts."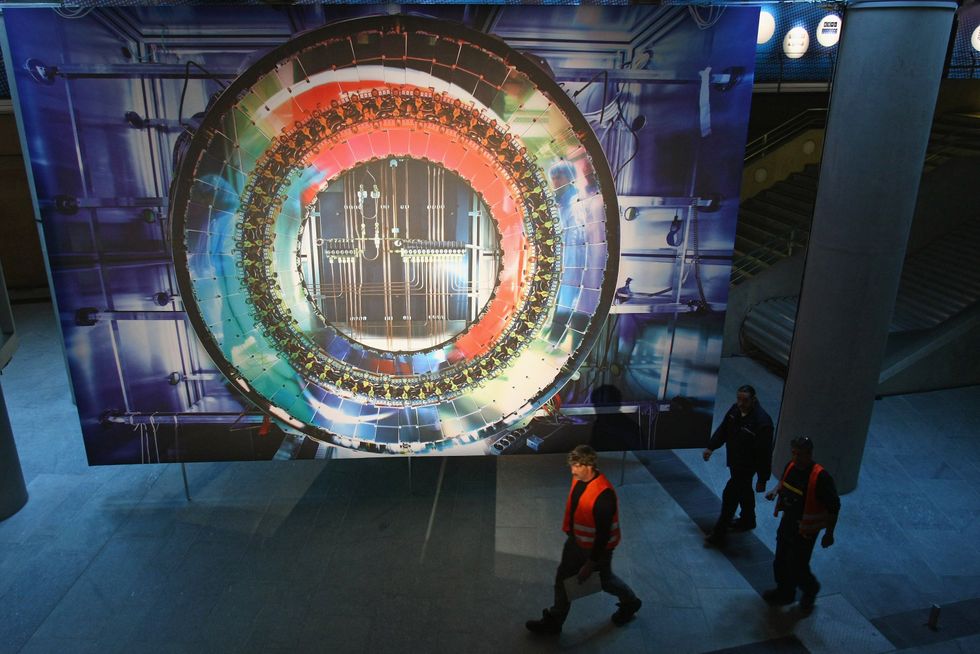 Rumors about CERN abound online, including fears that experiments there may accidentally open a gate to hell.
Cox said yes. If ghosts were real, he posits, they would have a certain frequency or particle associated with them, corresponding with the human or body, with which it was once attached. If that was the case, we would be able to detect them. After all this time and with all our advanced instruments, we haven't picked up anything close.
Cox went on, "I would say if there's some kind of substance that's driving our bodies, making my arms move and legs move, then it must interact with the particles out of which our bodies are made. And seeing as we've made high precision measurements of the ways that particles interact, then my assertion is there can be no such thing as an energy source that's driving our bodies." So, according to Cox, there's no ghost in the machine or our body, as well.
Other physicists say, Cox is being a tad presumptuous. After all, the search for supersymmetric particles is still on, as well as for axions, the assumed particles that make up dark matter. Bob Jacobsen is a professor of physics at the University of California, Berkeley. He's worked on projects trying to detect dark matter. Jacobsen told Gizmodo, "We still don't know whether axions exist. How do you know ghosts aren't made out of axions?"
There have been other explanations for ghost sightings that true believers may not like, including magnetic fields, exposure to toxic mold, infrasound—tones so low we can't hear them, carbon monoxide poisoning, and much more. Whether or not this announcement by Dr. Cox causes an uproar is yet to be seen.
To learn more ways science has debunked the existence of ghosts, click here:
CERN researchers make a major step in understanding antimatter by trapping antihydrogen atoms and controlling them with lasers.
Antimatter is a concept that oozes sci-fi, evocative of amazing engines, time travel and most likely destruction of the whole universe. Or maybe it's a parallel-worlds-are-everywhere-around-us type of thing. In any case, this idea comes to us from the law of physics that predicts that there should be an antimatter particle for every particle of regular matter. But if the two shall ever meet, there'd be a release of energy, annihilating both.
This goes to the heart of the mystery of how our universe was created. If equal amounts of matter and antimatter were produced by the Big Bang, how did everything not just explode or just vanish? Why are we even here? 
To study this, scientists have been trying to understand antimatter, looking for decades to compare its properties to matter. And a new report from CERN in Switzerland confirms that for the first time ever researchers were able to control an antimatter particle of the hydrogen atom, manipulating it long enough with lasers to allow for measurement and comparison with the regular matter hydrogen atom. 
In particular, scientists from the ALPHA experiment at the CERN laboratory were able to hit the antihydrogen atoms with a laser to observe the light they gave off as positrons in the atoms returned to lower energy levels.
"Using a laser to observe a transition in antihydrogen and comparing it to hydrogen to see if they obey the same laws of physics has always been a key goal of antimatter research," said Professor Jeffrey Hangst, spokesperson of the ALPHA collaboration.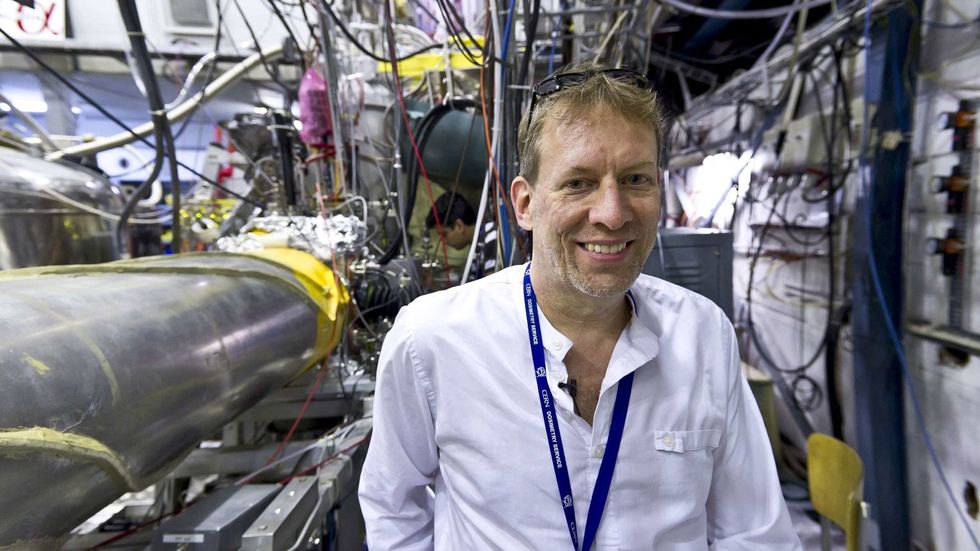 Professor Jeffery Hangst. Credit: CERN
This result is the culmination of 20 years of work for CERN's antimatter team. Unable to find antihydrogen atoms in nature, scientists worked on creating them in the lab. The challenge has been to trap enough of them for long enough to be able to study them. Previous efforts averaged 1.2 antihydrogen atoms trapped every 15 minutes. The new method created about 25,000 antihydrogen atoms every 15 minutes  and trapped about 14 of them. 
If you think your job is hard, try working with antimatter. 
"What you hear about in science fiction — that antimatter gets annihilated by normal matter — is 100 percent true," Hangst told NPR, "and is the greatest challenge in my everyday life."
In other words, his test subjects would constantly disappear.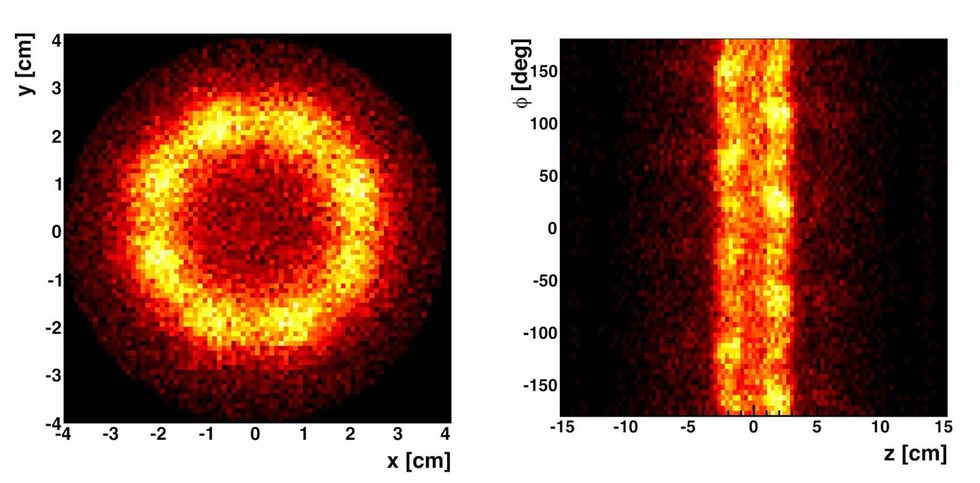 Images show anti-hydrogen atoms annihilating as they come into contact with the ordinary matter walls of the ALPHA experiment. Credit: CERN
Interestingly, the researchers concluded that under the same test conditions, the antihydrogen atoms gave off the exact same light spectrum as regular hydrogen atoms.
"It's long been thought that antimatter is an exact reflection of matter, and we are gathering evidence to show that is indeed true," Tim Tharp from ALPHA said to Gizmodo.
To go back to the question of why the universe didn't just collapse in on itself, with matter and antimatter cancelling each other out -
"Something happened, some small asymmetry that led some of the matter to survive, and we simply have no good idea that explains that right now," explained Jeffrey Hangst to NPR.
Further study of antimatter might yield the answer, especially as the work by Hangst and the team at ALPHA points the way towards a whole new field of antihydrogen spectroscopy.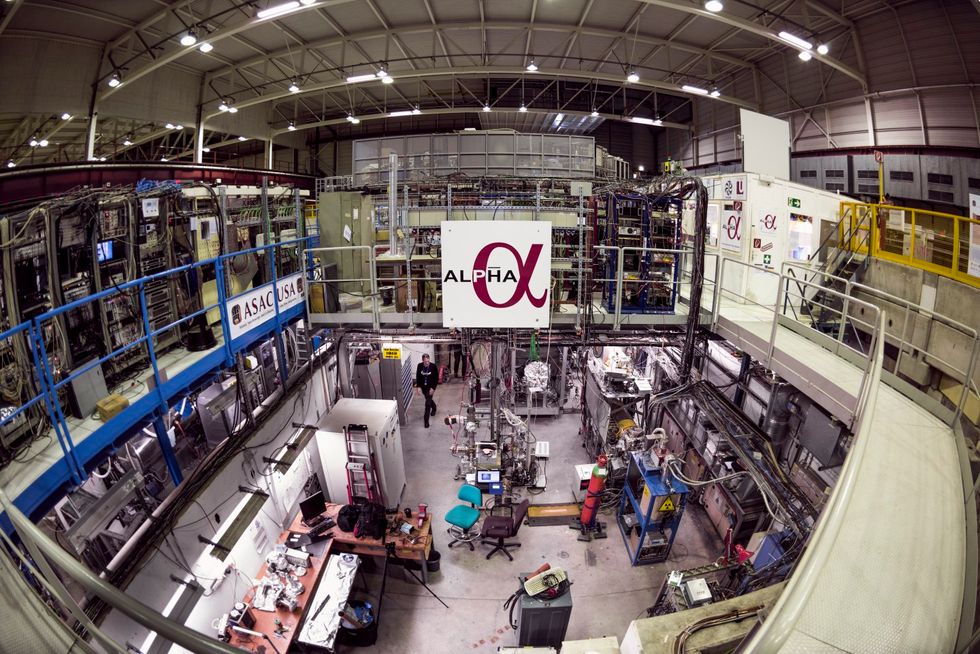 CERN's Alpha lab (Image: Maximilien Brice/CERN)
But what about making antimatter in a lab environment - could that blow us up eventually?
"The amount of antimatter involved in this experiment and created by the history of mankind is such a small amount that it poses no threat to anyone," Tim Tharp reassured Gizmodo.
We'll have to take his word for it. In the meantime, let's dream about this antimatter rocket -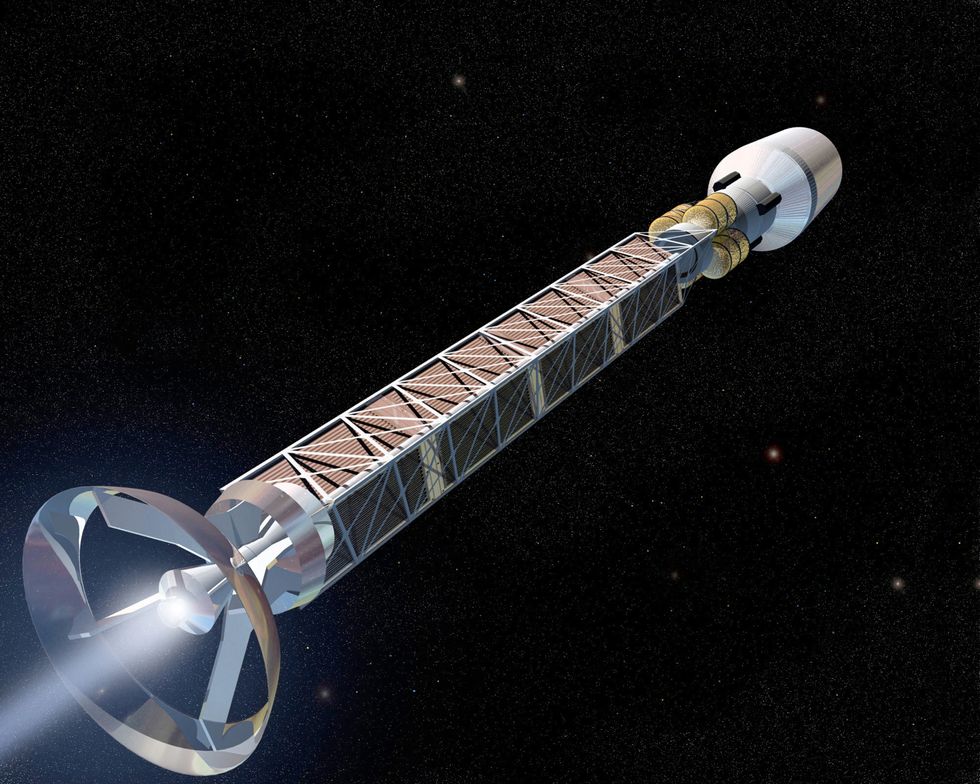 An antimatter propulsion system. 199. Credit: NASA.