Researchers figure out the infectious periods of coronavirus on cardboard, metal and plastic.
Photo By BSIP/UIG Via Getty Images
A new study tested how long coronavirus stays infectious on surfaces like plastic, cardboard and metal as well as air.
The results show that the virus can live from hours in air to several days on steel.
The research underscores the importance of cleaning household and hospital areas and objects.
A new study provided some valuable information about how long coronavirus survives on different surfaces, showing that it stays alive for quite a long time on some common materials. As the disease spreads through air and contaminated objects, the findings help understand the measures that need to be taken to contain it.
For the study, the researchers tried to duplicate how a virus could be spread on surfaces by an infected person in a home or hospital setting. They dispensed an aerosol of microscopic droplets on surfaces that could end up contaminated through coughing or touching.
Here's a list of the finding by the scientists, showing how long the coronavirus survives:
AIR (aerosols) - 3 hours
COPPER - 4 hours
CARDBOARD - 24 hours
PLASTIC - 2 to 3 days
STAINLESS STEEL - 2 to 3 days
The study's co-author James Lloyd-Smith, a UCLA professor of ecology and evolutionary biology, cautioned that the virus is very hard to contain because it is easily "transmissible through relatively casual contact," adding "If you're touching items that someone else has recently handled, be aware they could be contaminated and wash your hands."
Regularly cleaning and disinfecting surfaces around your house and public spaces is also of paramount importance. Neeltje van Doremalen from the National Institute of Allergy and Infectious Diseases, which was also involved in the study, recommended using cleaning solutions with diluted bleach as an additional possibility.
6 Steps to Prevent COVID-19
Take steps to lower your risk of getting sick with COVID-19. Here are some things you should do.
The study's full list authors includes UCLA, the National Institutes of Health's National Institute of Allergy and Infectious Diseases, the Centers for Disease Control and Prevention, and Princeton University.
Check out this research in the New England Journal of Medicine.
What You Need To Know About Handwashing
A harrowing new report by the CDC should serve as a wake-up call.
Image source:
MinDof
/Shutterstock
STD rates have risen every year since 2013, with 2017 showing the largest increase.
Syphilis passed from mothers to babies is causing easily preventable infant deaths.
STDs are easy to cure so far — the key is getting regularly tested.
Every year from 2013 through 2017 the number of STD (sexually transmitted diseases) has gone up. 2017 was the worst of all, with 200,000 more cases than the previous year, according to new information published by the CDC. (2018 data has not yet been analyzed.) All three of the major STDs — gonorrhea, chlamydia, and syphilis — have experienced significant increases in the number of case reported.
While STDs and the more broadly defined STIs (sexually transmitted infections may not produce symptoms) are often considered little more than a distasteful inconvenience, untreated they can lead to serious health consequences. Perhaps the most tragic increase in recent years is a 22% increase in infant deaths from congenital syphilis that can be unknowingly passed to newborns from mothers unaware of their own infections.
According to Jonathan Mermin of the CDC, "We are sliding backward. It is evident the systems that identify, treat, and ultimately prevent STDs are strained to near-breaking point." What is going on?
Gonorrhea, chlamydia, and syphilis
The statistics are sobering in the period from 2017 to 2018 alone. The CDC reports:
Gonorrhea cases have increased 5%, to more than 580,000 cases. This is the highest number of infections reported since 1991.
Chlamydia has set a new record, more than 1.7 million cases, an increase of 3% throughout 2017.
There were 115,000 cases of syphilis. The STD is most infectious during its primary and secondary stages, and these increased by 14% to 35,000 cases. During 2017, syphilis in newborns rose to 1,300 cases, an increase of 40%. Underscoring its source is that syphilis among women of child-bearing age went up by almost an identical amount, 36%.
Gonorrhea, chlamydia, and syphilis, the most common sexually transmitted infections, can be cured with antibiotics (for now). Left untreated, the STDs can lead to transmission to other people, as well as "adverse health outcomes such as infertility, ectopic pregnancy, and increased HIV risk," says the CDC.
And of course, there's the congenital syphilis killing babies. Most states in the U.S. have reported cases, though 70% of them are concentrated in just five states: Texas, California, Florida, Arizona, and Louisiana.
The heartbreaking loss of newborn life is easily avoidable. Gail Bolan of the CDC says, "There are tools available to prevent every case of congenital syphilis. Testing is simple and can help women to protect their babies from syphilis — a preventable disease that can have irreversible consequences."
It's for this reason the CDC recommends that all women get tested the first time they visit their healthcare provider upon becoming pregnant, and — if they live in high-risk areas — they should get tested a second time at the start of their third trimester and again before delivery. This advice applies even to expectant mothers who aren't currently sexually active. In addition to being transmissible through genital, oral, and anal sex, there are plenty of other ways to quietly pick up an STD infection.
There's good reason not to put off getting an STD and STI checkup. Gonorrhea is one of the worrying bacteria becoming increasingly resistant to antibiotics, according to both the CDC and the World Health Organization, who report that it currently afflicts about 78 million people worldwide each year. According to the WHO's Teodora Wi, "The bacteria that cause gonorrhea are particularly smart. Every time we use a new class of antibiotics to treat the infection, the bacteria evolve to resist them."
Image source: CDC
Why are STD rates on the rise
The CDC cites three likely reasons:
Drug use, poverty, stigma, and unstable housing, which can reduce access to STD prevention and care
Decreased condom use among vulnerable groups, including young people and gay and bisexual men
Cuts to STD programs at the state and local level — in recent years, more than half of local programs have experienced budget cuts, resulting in clinic closures, reduced screening, staff loss, and reduced patient follow-up and linkage to care services
The subtext of the CDC's third bullet point about local programs being cut is that there's a compelling statistical intersection between the increase in drug use — particularly meth — and heterosexual syphilis. The CDC proposes new collaborations between STD control programs and substance-use disorder services providers — not cutting back such programs as seen recently.
Finally, the stigma attached to having an STD or STI is real, and many would simply prefer to assume they don't have one. This is despite the estimate that among sexually active people, some 80% will have an STI (with STDs being a subset of these) at some point in their lives. Since many of these infections, especially STIs, present no symptoms, it's easy to opt out of testing.
This is obviously a bad idea. It's much smarter to get tested regularly and, if necessary, treated. Encourage your partners and friends to get tested — without making fun — and be forthcoming and honest if you have an infection. Use condoms religiously, and when your healthcare provider inquires about your activities, be honest.
Image source: celiafoto/Shutterstock
A study finds an increasing number of Americans live with serious mental issues and their access to healthcare is getting worse.
Credit: Pixabay.
A new study raises alarms about the rising amount of people suffering from mental illnesses in the U.S. and the many who are not getting the care they need. Researchers found that more than 8.3 million adult Americans (or 3.4% of the population) are battling serious psychological distress (or SPD).
The study, carried out by researchers from the NYU Langone Medical Center, analyzed a federal health database, looking at 200,000 participants of surveys from 2006 to 2014.
The CDC, which manages the surveys, defines SPD as a combination of emotional states like sadness, worthlessness and restlessness that severely affect a person, requiring treatment. 
The number of people impacted by mental illness appears to be rising, with previous surveys putting the figure at 3% or less, and their access to healthcare is getting worse.  
"Although our analysis does not give concrete reasons why mental health services are diminishing, it could be from shortages in professional help, increased costs of care not covered by insurance, the great recession, and other reasons worthy of further investigation," said the study's lead investigator Dr. Judith Weissman.
The study specifically points to how the poor with mental issues are often prevented from getting treatment. People with SPD are three times more likely to be unable to afford general health care. Similarly, Weissman found that 9.5% of people needing help did not have the kind of insurance that would give them access to a psychiatrist. Around 10% had delays getting help due to mental health coverage issues or could not afford to pay for necessary medications.
"Based on our data, we estimate that millions of Americans have a level of emotional functioning that leads to lower quality of life and life expectancy," said Dr. Weissman. "Our study may also help explain why the U.S. suicide rate is up to 43,000 people each year."
She pointed out that access to treatment for mental illnesses deteriorated despite implementation of the Mental Health Parity Act of 2008 and Obamacare's provisions for increasing medical coverage in such cases. It also bears noting that in its current form, the American Health Care Act aka Trumpcare could result in loss of coverage of over a million people dealing with mental illnesses.
In Weissman's opinion, the recession from 2007 to 2009 probably contributed to the worsening mental health picture. Many people who needed care got left behind and are still paying the price. 
"There is this generation of middle aged adults that are really suffering right now and if policies change, if we increase access to mental health care and we increase coverage for mental health care, we can save the next generation," she added.
Overall, there's an estimated 43.4 million adults (18+) in the U.S. who live with some form of mental illness. This is according to 2015 stats from the National Institute of Mental Health. That's about 17.9% of all American adults.
You can read the study here, in the journal Psychiatric Services.
Danger is at hand, and you may have voted for it. Science educator Bill Nye weaves a passionate argument for the importance of science literacy in a country's elected leaders.
It's not unusual to hear someone openly say that they can't do math at all; that they can't figure out the percentage to tip on a bill. If someone said that chemistry hurts their brain and they can't even look at an equation, or that they have no idea how a certain part of the human body does what it does, that wouldn't be too surprising. These are usually light-hearted statements that go down well – many of us would sympathize, nod and say: yeah, me too.
But turn the tables and imagine someone announcing jovially they can't read words that are over 3 syllables, or that a certain sentence is too beyond them to even try. That wouldn't be considered funny. En masse, we'd raise our brows and say: Excuse me?
The ignorance involved in both scenarios is comparable, but the shirking of effort when it comes to science and math is so normalized we don't always catch ourselves.
This is the bee in Bill Nye's bonnet today. An engineer by origin, he wants science literacy to be a national priority so that people can understand that the daily magic around them every day – all the technology, medicine, and innovation that makes our lives easier, isn't some kind of wizardry – it's cold, hard science. Understanding the way things work, from the basics to a minute level, is so profoundly important to a country's progress and its citizen's health and daily lives. As an example, Nye looks at the spread of a disease like Ebola in North America compared to Africa; the education levels about how germs are transmitted corresponds directly to the amount of deaths from this terrible illness. Understanding basic concepts like bacteria and hygiene saves lives.
Nye goes on to make an interesting point about some of the U.S.'s elected officials and their fluctuating stance on science. Those who panicked about Ebola – rightly so – and implemented preventative measures take a very different approach when it comes to a crisis such as climate change. Here, the U.S. has failed to make meaningful change and start measures to look out for the future. Nye also points to officials who cut funding to the Center for Disease Control, which demonstrates a serious lack of literacy about the nature of infectious disease. The Spanish Flu of the early 20th century killed an estimated 20-50 million people – even at its most conservative estimate, that's more than all the deaths in WWI. In Nye's words, cutting disease research is "not where you save your money, Congress!"
There is also a general mistrust of science among civilians and leaders, and unfortunately shady science practices, such as the sugar industry buying off Harvard scientists to write negative studies focusing on fats while omitting research that would hurt the sugar industry, does a lot of damage to the public perception of scientific method. Those stories make it a little easier to believe scientists can be bought, and therefore that science as a whole can be doubted.
But science largely stands strong, and research by Dan Kahan at Yale University shows that those with the strongest views tend to have the greatest scientific literacy. Kahan asked 1,540 Americans to rate the severity of climate change as a global threat on a scale of zero to ten. Interestingly those that rated it closest to zero or closest to ten had the highest levels of science comprehension.
That middle ground proves to be a dangerous place because the greatest sin in science is to not ask questions, and not challenge conventional wisdom. That's the whole point of scientific enquiry, but dismissing it or failing to understand it really is a crime, especially when you trace it to the tangible cost of human life from increasing natural disasters and preventable contagions. This idea is perhaps expressed best by Canadian-American physician and Nobel Laureate Charles Huggins, who said: "Nature can refuse to speak but she cannot give a wrong answer." Science, when not corrupt, works as nature's translator. We have to trust it, not be blindly skeptical.
Bill Nye has spent his life promoting science education and while here he is visibly frustrated by this high-level mistrust of science in the U.S., another famous champion of science, astrophysicist Neil deGrasse Tyson, brings reinforcement in the form of optimism. Tyson recently said to the Wall Street Journal: "Science is being born into public consciousness in a very big way, for the first time. And we're doing it on the shoulders of those who struggled to get it going in that regard. I look forward to the impact it could have on the 21st century, where we have a next generation of people who only know science literacy as a fundamental part of an educated citizenry."
Bill Nye's most recent book is Unstoppable: Harnessing Science to Change the World.
One researcher called the rule an "oversimplification."
Sour candy spilled on the floor.
I remember one incident with an ice cream cone when I was a small child. Ecstatic to receive it, as soon as I brought it closer to my lips, it swayed then tumbled onto the ground with a plop. I looked up at my father with big eyes. He quickly yelled at me and refused to buy me another. I cried. Then, I pouted all the way home. By nature I'm a clumsy oaf. There's no denying that. Since that time and with more suitable fare, I've cleverly evoked the "five-second rule."
It's a comforting thought. After all, it does take some time for bacteria to reach the food, once it's fallen onto the floor, doesn't it? Really, that begs the question: is there really such a window? And is it really safe to eat, in that timeframe? Fortunately for us, Rutgers University researchers have some answers.
In a recent study, Prof. Donald Schaffner—a food science specialist, attempted to find out. Schaffner found that bacteria can transfer to food in less than one second. But transfer depends on a number of factors, such as the surface it hits, how much moisture is found there, and how long the food makes contact for. Schaffner said that although the five-second rule is popular in our culture, actual, peer-reviewed research behind it was limited.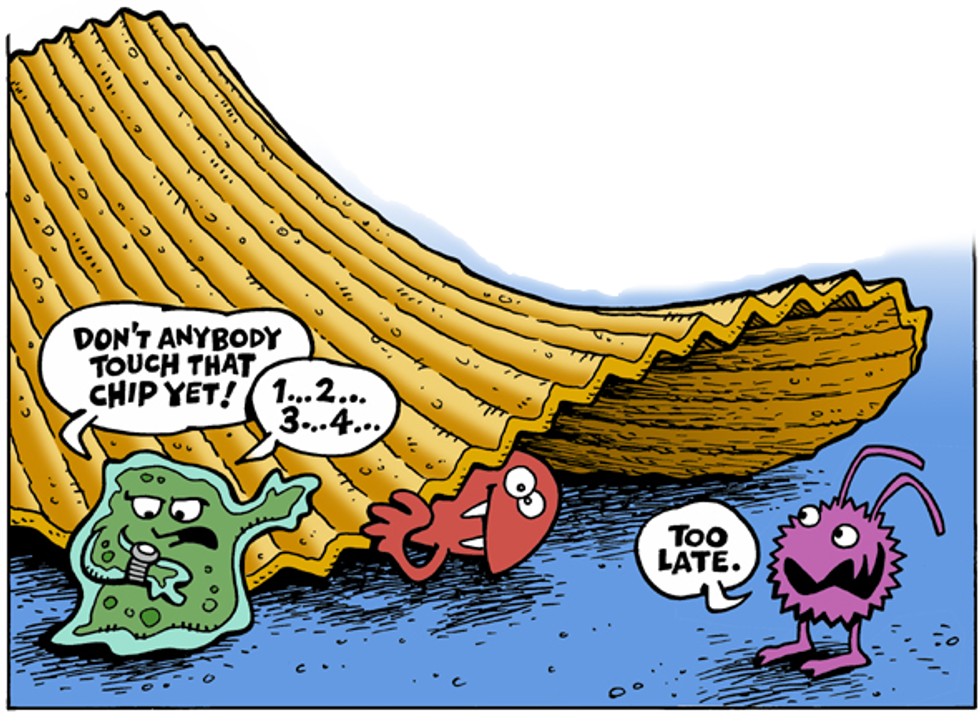 By: Greg WilliamsDerivative work: Pengo - Five second wikiworld.jpg, CC BY 2.5.
Even though the topic is considered "light," the results could be useful, particularly since the practice is so widespread. According to the CDC, one in six Americans are sickened with some type of food borne illness each year, equaling around 48 million all told. 128,000 are hospitalized annually with such an illness, while 3,000 die from one.
Schaffner and graduate student Robyn Miranda decided to tackle the topic in his laboratory. Four surfaces were tested. These were wood, carpet, ceramic tile, and stainless steel. Four different foods were chosen: strawberry gummy candies, watermelon, plain white bread, and bread and butter. Lastly, four different contact windows were gauged—one second, five seconds, 30 seconds, and 300 seconds.
Researchers first grew a safe bacteria called Enterobacter aerogenes, a "cousin" of Salmonella. All the surfaces were then exposed to the bacteria. They were allowed to dry before the food was dropped, and left there for the aforementioned time periods. 128 scenarios in total were run. Each was repeated 20 times, totaling 2,560 measurements. The surfaces and the food were analyzed after each drop. The end result, gummy candies were the least likely to be contaminated, while watermelon was the most likely.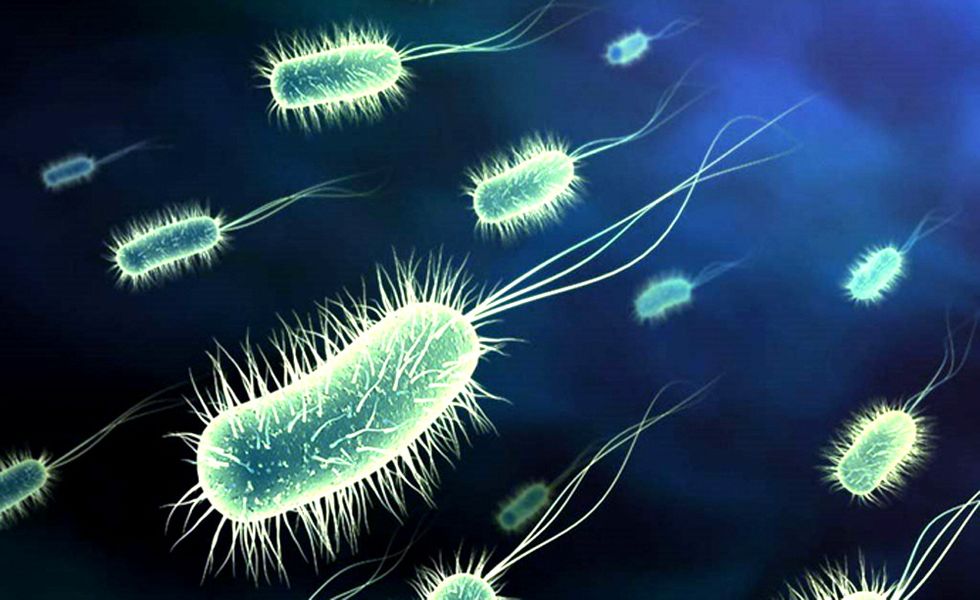 Bacteria racing across the floor to infect your food.
According to Schaffner, "Transfer of bacteria from surfaces to food appears to be affected most by moisture." He went on, "Bacteria don't have legs, they move with the moisture, and the wetter the food, the higher the risk of transfer. Also, longer food contact times usually result in the transfer of more bacteria from each surface to food."
As for surfaces, stainless steel and tile had higher transfer rates than carpet. With wood, it depended on several variables. Schaffner said that the surface and the type of food were the most important factors in the amount of bacteria one might pick up. But the longer the food spent on the floor, the more likely it was to make contact with bacteria.
So in this sense, there is some truth to the five second rule. But Scaffner called it an "oversimplification" of the matter. "Bacteria can contaminate instantaneously," he said. This research is sure to ruin childhoods and the social standing of clods everywhere. But at least we know the truth.
To see how the Myth Busters approached the subject click here: