A theorhetical physicist returns to Penrose and Hameroff's theory of "quantum consciousness."
One of the most important open questions in science is how our consciousness is established.
In the 1990s, long before winning the 2020 Nobel Prize in Physics for his prediction of black holes, physicist Roger Penrose teamed up with anaesthesiologist Stuart Hameroff to propose an ambitious answer.
They claimed that the brain's neuronal system forms an intricate network and that the consciousness this produces should obey the rules of quantum mechanics – the theory that determines how tiny particles like electrons move around. This, they argue, could explain the mysterious complexity of human consciousness.
Penrose and Hameroff were met with incredulity. Quantum mechanical laws are usually only found to apply at very low temperatures. Quantum computers, for example, currently operate at around -272°C. At higher temperatures, classical mechanics takes over. Since our body works at room temperature, you would expect it to be governed by the classical laws of physics. For this reason, the quantum consciousness theory has been dismissed outright by many scientists – though others are persuaded supporters.
Instead of entering into this debate, I decided to join forces with colleagues from China, led by Professor Xian-Min Jin at Shanghai Jiaotong University, to test some of the principles underpinning the quantum theory of consciousness.
In our new paper, we've investigated how quantum particles could move in a complex structure like the brain – but in a lab setting. If our findings can one day be compared with activity measured in the brain, we may come one step closer to validating or dismissing Penrose and Hameroff's controversial theory.
Brains and fractals
Our brains are composed of cells called neurons, and their combined activity is believed to generate consciousness. Each neuron contains microtubules, which transport substances to different parts of the cell. The Penrose-Hameroff theory of quantum consciousness argues that microtubules are structured in a fractal pattern which would enable quantum processes to occur.
Fractals are structures that are neither two-dimensional nor three-dimensional, but are instead some fractional value in between. In mathematics, fractals emerge as beautiful patterns that repeat themselves infinitely, generating what is seemingly impossible: a structure that has a finite area, but an infinite perimeter.
This might sound impossible to visualise, but fractals actually occur frequently in nature. If you look closely at the florets of a cauliflower or the branches of a fern, you'll see that they're both made up of the same basic shape repeating itself over and over again, but at smaller and smaller scales. That's a key characteristic of fractals.
The same happens if you look inside your own body: the structure of your lungs, for instance, is fractal, as are the blood vessels in your circulatory system. Fractals also feature in the enchanting repeating artworks of MC Escher and Jackson Pollock, and they've been used for decades in technology, such as in the design of antennas. These are all examples of classical fractals – fractals that abide by the laws of classical physics rather than quantum physics.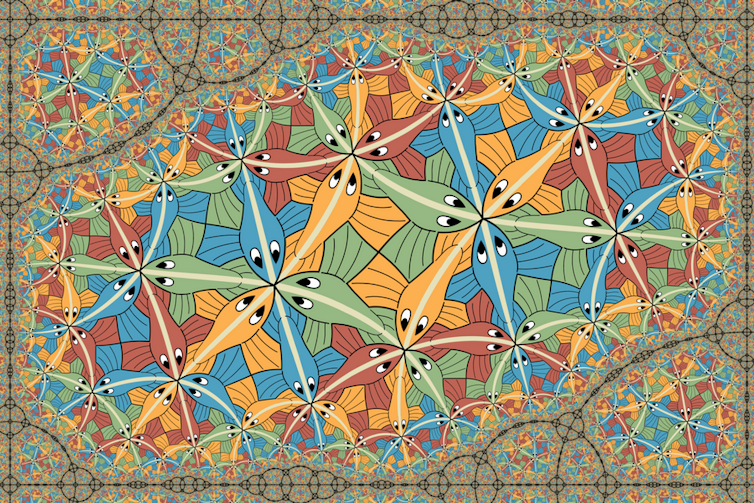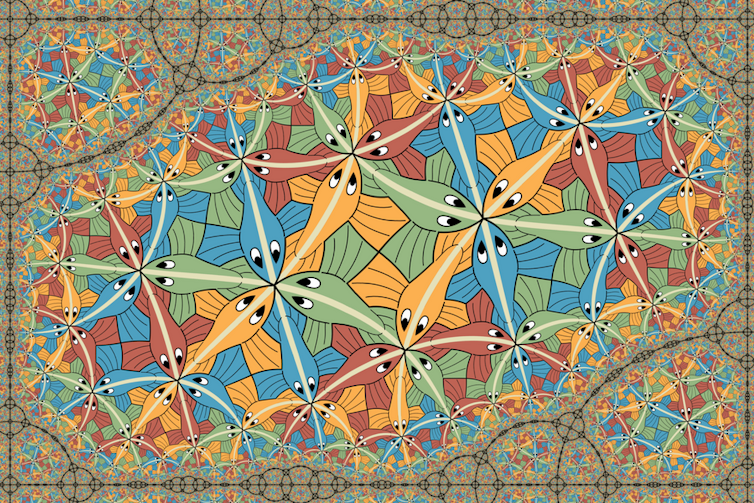 This extension of Escher's Circle Limit III shows its fractal, repeating nature. (Vladimir-Bulatov/Deviantart, CC BY-NC-SA)
It's easy to see why fractals have been used to explain the complexity of human consciousness. Because they're infinitely intricate, allowing complexity to emerge from simple repeated patterns, they could be the structures that support the mysterious depths of our minds.
But if this is the case, it could only be happening on the quantum level, with tiny particles moving in fractal patterns within the brain's neurons. That's why Penrose and Hameroff's proposal is called a theory of "quantum consciousness".
Quantum consciousness
We're not yet able to measure the behaviour of quantum fractals in the brain – if they exist at all. But advanced technology means we can now measure quantum fractals in the lab. In recent research involving a scanning tunnelling microscope (STM), my colleagues at Utrecht and I carefully arranged electrons in a fractal pattern, creating a quantum fractal.
When we then measured the wave function of the electrons, which describes their quantum state, we found that they too lived at the fractal dimension dictated by the physical pattern we'd made. In this case, the pattern we used on the quantum scale was the Sierpiński triangle, which is a shape that's somewhere between one-dimensional and two-dimensional.
This was an exciting finding, but STM techniques cannot probe how quantum particles move – which would tell us more about how quantum processes might occur in the brain. So in our latest research, my colleagues at Shanghai Jiaotong University and I went one step further. Using state-of-the-art photonics experiments, we were able to reveal the quantum motion that takes place within fractals in unprecedented detail.
We achieved this by injecting photons (particles of light) into an artificial chip that was painstakingly engineered into a tiny Sierpiński triangle. We injected photons at the tip of the triangle and watched how they spread throughout its fractal structure in a process called quantum transport. We then repeated this experiment on two different fractal structures, both shaped as squares rather than triangles. And in each of these structures we conducted hundreds of experiments.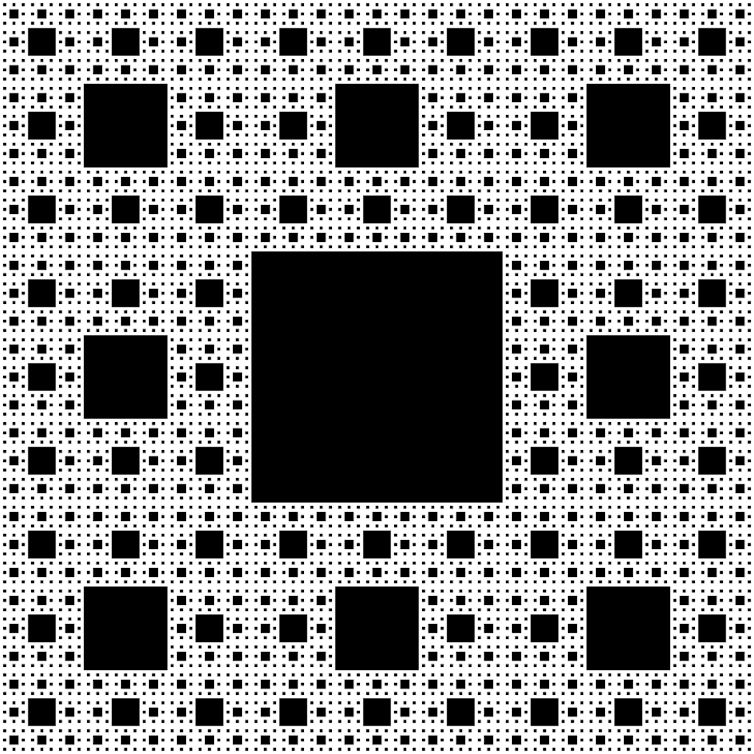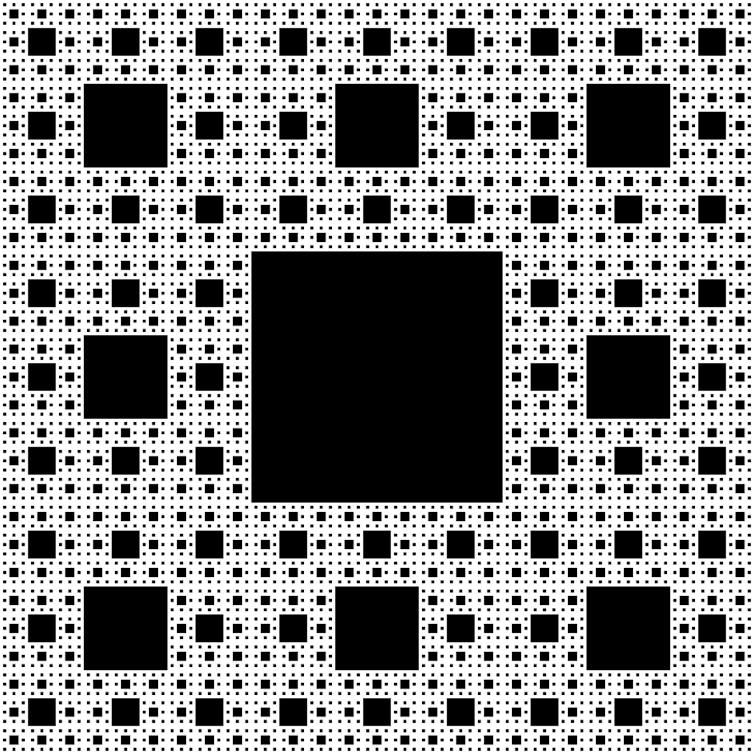 We also conducted experiments on a square-shaped fractal called the Sierpiński carpet. (Johannes Rössel/wikimedia)
Our observations from these experiments reveal that quantum fractals actually behave in a different way to classical ones. Specifically, we found that the spread of light across a fractal is governed by different laws in the quantum case compared to the classical case.
This new knowledge of quantum fractals could provide the foundations for scientists to experimentally test the theory of quantum consciousness. If quantum measurements are one day taken from the human brain, they could be compared against our results to definitely decide whether consciousness is a classical or a quantum phenomenon.
Our work could also have profound implications across scientific fields. By investigating quantum transport in our artificially designed fractal structures, we may have taken the first tiny steps towards the unification of physics, mathematics and biology, which could greatly enrich our understanding of the world around us as well as the world that exists in our heads.

Cristiane de Morais Smith, Professor, Theoretical Physics, Utrecht University
This article is republished from The Conversation under a Creative Commons license. Read the original article.
Why your brain wants you to follow the crowd.
What can monkeys teach us about stock market bubbles? It turns out that monkeys make decisions much like investors on the trading floor—they develop a herd mentality, mimicking the behavior of others until overinflation and the eventual pop.
"This tendency to follow the herd emerges from our social brain networks," explains Michael Platt, professor of neuroscience at the University of Pennsylvania. This network allows us to learn and adapt based on information from those around us. But these learnings are not always positive.
In the context of money and the stock market, following the herd could result in bad financial decisions. The key, Platt says, is learning to take a step back and resist impulses, which in some ways goes against our evolution and the way our brains work. "There's a trade off between speed and accuracy in decision-making," he says. "If we could slow people down, that would allow more evidence to accumulate, and they're more likely to make a better decision."
Some scientists believe that DMT could revolutionize the treatment of depression.
Psychedelic therapy shows promise where other mental health treatments have failed.
DMT, an incredibly powerful drug, may be particularly useful in conjunction with therapy.
The use of DMT is still highly experimental and possibly dangerous.
As psychedelic research returns to the mainstream of medical science, several lesser known drugs are being seen as possible therapies for mental illness. One of these is DMT, which is the subject of a slew of new studies about its potential use in treating depression.
What is DMT?
DMT is the common term for N,N-dimethyltryptamine, a powerful psychedelic drug. Its chemical structure is similar to that of serotonin and melatonin, and it is believed to bind to certain serotonin receptors in the brain.
Since the 1960s, scientists have thought that some mammals may produce DMT in their bodies. Its presence in the brains of rodents has been reported, and trace amounts have been found in the human body and cerebrospinal fluid. Exactly what naturally occurring DMT is doing remains a subject of investigation.
Because DMT is also found in a variety of plants, teas containing the drug have been consumed by many native peoples of South America for at least 1000 years, often for religious purposes. It only received serious scientific attention as a therapeutic drug beginning in the 1950s.
Dr. Stephen Szára, a Hungarian psychologist working in the mid-20th century, was denied access to LSD by the Western companies that then produced it. At the time, LSD was considered a powerful tool with applications in spycraft, so neither communist countries nor their biomedical scientists were allowed access to it. Unable to work with that psychedelic, he turned to DMT as an alternative.
Eventually moving to the U.S., he continued to work with DMT and explored its possible applications as well as those of other psychedelics.
What does DMT do?
Unlike the more famous LSD or psilocybin, DMT trips are often quite short, sometimes lasting as little as five minutes. The short duration is more than made up in its intensity, however, with users reporting extremely vivid hallucinations. Typical doses lead to visions of complex, multicolored geometric patterns, ego death, and altered thought patterns.
DMT has another unique feature: high doses of it can lead to an occurrence called a "breakthrough," at which point the user no longer perceives themself as being in the same plane of existence. The new location can be truly phantasmagoric, ranging from hyperspace to non-Euclidean realms. These strange places are often populated by even stranger creatures known as "machine elves."
The machine elves, named by the ethnobotanist Terence McKenna who popularized DMT in certain circles, have been reported by users since Dr. Szára's experiments. Reports of the elves can vary dramatically, especially in appearance, but users tend to agree that the hallucinated creatures are intelligent and benevolent. The frequency with which these beings are reported may explain the use of DMT as a religious tool for contacting the spirit world. Though some users have speculated if these beings are real, author and psychedelic authority James Kent stresses that they are hallucinations.
Is DMT legal?
Generally speaking, DMT is not legal. The Convention on Psychotropic Substances, an international treaty signed in 1971, bans the drug but not the plants that contain it. Many countries have their own bans on the substance or the plants from which it can be extracted. However, many jurisdictions have exemptions for the use of DMT-containing products (like ayahuasca) by certain religious groups as part of their rituals. Some American cities have recently decriminalized the drug.
What is ayahuasca?
Typically, DMT cannot be consumed orally. It must be smoked or, as is common in medical studies, injected. If it is combined with a monoamine oxidase inhibitor, it can be consumed in tea. Variations of this tea, some including different hallucinogenic substances, are often known as ayahuasca from one of the names given it by indigenous South Americans.
While the production and consumption of ayahuasca go back millennia, it has only recently become popular with Western psychonauts. An entire industry of ayahuasca tourism has formed in South America, focused around northeastern Peru, with more than a few psychedelic tourists and celebrities shelling out for a chance to drink the tea in a ritual setting.
By all accounts, a trip on ayahuasca is similar to a DMT trip but with a much longer duration. It also prominently features the purging of the contents of the participants' stomach and bowels. Some practitioners consider this part of the purification process. However, tourists looking for an "authentic" experience may be getting high on hype.
Can DMT be used as medicine?
Current studies focus on how the drug works in the brain and how it might be used to treat mental illness. As Dr. Carol Routledge of Small Pharma explained to Freethink, the extreme effects of this drug might be exactly what some patients need, especially when more common drugs like SSRIs have failed:
"A lot of the mental health disorders like depression, like post-traumatic stress disorder, even OCD, have this real negative cycling thought process which leads to ingrained neuronal processes. And it's almost impossible to get out of those, and I think that's why SSRIs don't really even attempt to do that. What psychedelics do is they break that pathway, they break those neuronal connections, and then they increase neuronal connectivity and synaptic connectivity."
Early reports from Small Pharma suggest that DMT, in conjunction with therapy, can be used to help break away from undesired behavioral patterns. Other studies also suggest that it could prove useful in helping with depression and anxiety. Dr. Routledge suggests that the stimulated connectivity among neurons allows the brain to "reset." As a result, these conditions can be more effectively treated. There is also discussion about how the mystical experiences triggered by the drug might help those with mental health problems to examine the root causes.
Whatever the outcome of this research, definitely don't try this at home. At least a dozen tourist deaths have been associated with the consumption of improperly brewed ayahuasca. These poor souls have permanently relocated to a different plane of existence.
Attempts to normalize abnormal development could prevent individuals in need of help from seeking it.
There's been a recent push to label those with abnormal neuropsychological behaviors as "neurodiverse" rather than "autistic" or "dyslexic."
This is an attempt to both remove the stigma attached to these abnormalities and also to call into question whether there is any such thing as a normal brain.
The problem with getting rid of neuropsychological labels, however, is that it risks ignoring those individuals with developmental issues who need help.
"Neurodiversity" is an umbrella term that encompasses several complicated learning issues, such as those in communication (autism), reading (dyslexia), math (dyscalculia), motor function (dyspraxia), and attention (ADHD). It even includes certain mental health conditions.
The notion of neurodiversity, mainly developed by those working in the autism advocacy movement, is said to be preferable to "disability" or words with a similarly negative connotation. Before looking briefly at the educational context, we should be aware that there are political angles, too.
Pathological or just different?
There is an increasingly vocal movement that argues that we shouldn't imply that certain neurodevelopmental disorders are inherently pathological. Instead, we should adopt a social model of disability, in which we see societal barriers as the main issue. After all, dyslexia is only a "disorder" in a society that prizes literacy.
While we can acknowledge the well-meaning intent behind "neurodiversity," it is still much more helpful to include the various descriptors we have available — dyslexic, dyspraxic, autistic, and so on.
This has led some to use the concept of neurodiversity to represent the idea that there is no "healthy" type of brain or mind. There is no "right" style of neurocognitive functioning, rather like there is no "right" gender, race, or culture. In other words, the neurodiverse are not disabled but simply different.
In psychological terms, neurodiversity attempts to frame the entire range of differences in individual brain function and behavioral traits as belonging to a spectrum of normal variation in the human population. (The idea is actually taken from autistic spectrum disorders.)
The differences in our brains
Credit: Natasha Connell via Unsplash
We all have brains that work a certain way because of how they are structured. If we were being pedantic, every single human alive is "neurodiverse" in the sense that we each have a unique brain composition. But "normality" is determined by an average or a standard across a certain population (which can be defined by any parameters we choose, for example, male/female or young/old). Against this backdrop, we can see the various ways a brain can develop abnormally — that is, outside a certain expected range.

Let us take one example: dyslexia. For dyslexics, the pathways for processing phonological information (which are vital for reading) are different, and this leads to delays in learning the alphabet and other skills. For instance, they will score poorly on their working memory tests but well on reasoning ability.
Indeed, all of the "neurodiverse" labels in use (like autism, ADHD, etc.) can be shown to have underlying brain function explanations like this. Different cognitive processes lead to differences in observed behavior. Importantly, this does not mean that we cannot change the behavior. Teaching a dyslexic child to read changes their brain pathways, just like teaching any new skill.
While this kind of neuropsychological explanation is possible in all cases, not many of the diagnoses we give to people are based on comprehensive brain scans. And so, the neurological differences of neurodivergent people are very often not seen but inferred on a case by case basis.
What should we call it?
Some argue that the term "neurodiversity," in an effort to avoid labeling people as "disabled," is not useful. This is because some "neurodiversities" result in considerable difficulty — functional illiteracy, an inability to communicate, problems with fine motor skills, an inability to pay attention, and so on. To imply that these conditions are entirely benign ignores the very real, and sometimes severe, consequences these individuals live with.
There is also, among some advocates of neurodiversity, an assumption that there is a gifted component rather than simply cognitive difficulties or differences. While there is some evidence for this (for example, dyslexics may have better spatial skills), most research indicates a full range of skills in the "neurodiverse" from very low cognitive ability to very high – much as you would see in the general population.
On the other hand, referring back to the original autistic spectrum idea, it is sadly the case that many individuals with severe autism are not "high functioning" (like the archetypal introverted, non-communicative scientist) but have severe learning difficulties and require a specialist school or care.
Well-meaning but flawed
It seems that, while we can acknowledge the well-meaning intent behind "neurodiversity," it is still much more helpful to include the various descriptors we have available — dyslexic, dyspraxic, autistic, and so on.
If someone scores poorly on a standardized test compared to others in the population, we can say that this is clearly "different." But is it not better to face up to the fact that this might be the result of a learning difficulty? Also, most importantly, using a descriptive label can then allow us to prescribe the correct educational response, for example specialist teaching, classroom adaptation, appropriate expectations, and so on.
Saying someone is neurodiverse is, in short, far too vague. In an attempt to remove the stigma from psychological abnormalities, it removes too the benefits of being diagnosed. By simply saying, "Well s/he is a bit different," we potentially deny them access to the support mechanisms they need.
Jonny Thomson teaches philosophy in Oxford. He runs a popular Instagram account called Mini Philosophy (@
philosophyminis
). His first book is
Mini Philosophy: A Small Book of Big Ideas
The opening of jars, while impressive and often used to illustrate octopus intelligence, is not their most remarkable ability.
So why is it that they seem to show such peculiar similarities with humans, while at the same time appearing so alien? Perhaps because despite their tentacles covered with suckers and their lack of bones, their eyes, brains and even their curiosity remind us our own thirst for knowledge.
In ethology, the study of behaviour, we explore this intelligence, which we classify as individual "cognitive abilities". These are the mechanisms through which information from the environment is perceived, processed, transformed, remembered and used to take decisions and act.
From a behavioural point of view, the flexibility with which an animal can adapt itself and adjust its behaviour to novel situations is a good indicator of its cognitive abilities. Numerous studies indicate the octopuses possess great flexibility in their behaviours, whether they express them in their natural environment or inside a tank in a laboratory.
Armed and dangerous
So what makes octopuses so smart?
Let's focus first on their defence mechanisms. Faced with multiple predators – including fish, birds and whales – octopuses are masters of camouflage. They can imitate their environment by modifying the colour and even the texture of their skin.
Without a shell, octopuses are vulnerable, and always try to remain hidden in a shelter such as a cavity or the space beneath a rock. Some species maintain their shelter by removing sand and adding pebbles and shells. Some prefer to wrap themselves in shells and pebbles, while others transport their shelter in their arms. This is the case for the coconut octopus, which, true to its name, has been observed carrying coconut shells around to hide within in case of danger.
Octopuses are also formidable predators themselves, and their attack mechanisms are suited to the wide variety of prey they consume, including seashells, crustaceans, fish and even other cephalopods. They can use their vision and camouflage skills to hunt, and their arms to explore, touch and taste their environment to seize every bit of food within reach.
The octopus is a thoughtful hunter. It can cooperate with other species such as groupers to hunt hidden prey. It can learn to avoid crabs bearing poisonous anemones or find a way to cautiously attack them while avoiding being stung.
Octopuses use different techniques to consume seashells and molluscs, either pulling apart the shell by force and placing a small stone inside to keep it open, or drilling into the shell to inject a paralysing toxin which will make the prey open up. This toxin is injected into a very precise muscle under the shell, and octopuses learn and remember the drilling site of each seashell they consume.
Boneless, not brainless
We can test the cognitive abilities of octopuses in the lab. In our EthoS laboratory, we are currently working on the memory and future planning abilities of the common octopus. They are complex animals to study, because of their astonishing abilities.
Their incredible strength allows them to easily destroy our lab tools: be careful with underwater cameras, they can open the waterproof box to drown them! And because octopuses are boneless, they can easily escape their tanks through the smallest of openings. They are also extremely curious and will spend their time catching hands, nets or any other object introduced to their tank. From there, it is up to them to decide when to release their catch.
The opening of jars, while impressive and often used to illustrate octopus intelligence, is not their most remarkable ability. This is mostly a matter of dexterity and gripping, and octopuses are quite slow when executing this task: even when over-trained, an octopus always takes more than a minute to open a jar. A better example of their impressive intelligence is their ability to manipulate an L-shaped object so it can pass through a small square opening in a wall.
Octopuses also excel in discriminative learning: confronted with two objects, they learn to attack one of them in exchange for a reward, basing their choice on characteristics such as colour, shape, texture or taste, and they can retain this information for several months. They can also generalise, a complex thought process in which they need to spontaneously apply a previously learned rule to new objects. For example, octopuses who have previously learnt to attack a real ball can go on to attack a virtual ball on a screen.
Octopuses can also use conditional discrimination, that is, they can modify their choice depending on the context. For example, they can learn to attack an object only in the presence of bubbles. They can also use spatial learning, and find an hidden shelter by remembering its position, or use visual cues to know how to orient their arm inside an opaque T-shaped apparatus.
Last but not least, octopuses can learn by watching other octopuses carry out tasks, such as choosing one specific object over another. This is surprising, because they are mainly solitary creatures.
Grade: sea minus
Octopuses meet every criteria for the definition of intelligence: they show a great flexibility in obtaining information (using several senses and learning socially), in processing it (through discriminative and conditional learning), in storing it (through long-term memory) and in applying it toward both predators and prey.
Despite their obvious abilities, octopuses are oddly erratic in their responses, especially in visual discrimination tasks, in which they carry out the correct response around 80% of the time, while other animals succeed almost perfectly.
And do not be mistaken: octopuses may be clever, but in the classroom of cephalopods they would be the bright but unruly pupil, and the cuttlefish would be top of the class.
The humble cuttlefish is less familiar, but is the subject of numerous research projects worldwide. Less disruptive than octopuses, they possess exceptional learning abilities, can pick up complex rules in no time and apply them perfectly.

Lisa Poncet, Doctorante en neuroéthologie, Université de Caen Normandie
This article is republished from The Conversation under a Creative Commons license. Read the original article.