We constantly seek new information to keep our mind's sharp.
We've all been bored on the job at least once in our lives, but that boredom is actually very old human wiring. We constantly seek out new information to keep our minds sharp, and when tasks get repetitive we get bored and move on. But what if you can't move on? What if the tasks are your job and you have to repeat them day after day to keep a roof over your head? That, says London Business School professor Dan Cable, is why boredom has become an epidemic. Our brains aren't used to staying in their lanes, so perhaps that boredom is not a bug after all, but a feature. Dan's new book is Alive at Work.
Being bored is great. It's where we come up with our best ideas, and how we become better people by being able to mentally solve our biggest personal problems. So why are we destroying boredom with our phones?
Are cell phones destroying creativity? Podcast host, author, and relentless examiner of the modern human condition Manoush Zomorodi believes that they are. When we are bored, the brain enters what is called "default mode"—think about the way your mind wanders when you're in the shower or doing the dishes. This might not seem like valuable time but our creativity really kicks into high gear. We now use up a lot of that boredom-time by poking at our phones, and in doing so are starving ourselves of a main source of inspiration. This boredom issue goes beyond simple creativity: boredom is also useful for autobiographical planning and being able to solve big problems. Manoush posits that maybe we should put down the phones and start being bored more often. Her latest book is Bored and Brilliant: How Spacing Out Can Unlock Your Most Productive and Creative Self .
Boredom has benefits. New research finds that device-free solitude deactivates high arousal emotions while reducing stress and promoting relaxation.
If you want to know the state of a nation, we generally look no further than online. A proper portrait, that does not yield. Look, instead, at the line in front of you, waiting for a cappuccino or to pay for groceries. Look into the cars surrounding you at a red light. Look around anywhere in the public space, except at your phone. Then you'll get a sense of where our heads are at. 
Our heads are down, perpetually angled at the screen, whenever a moment of potential boredom arises. Waiting for a meal? Barista taking too long? Or even the proper amount of time—those 30 seconds are crushingly dull. Caffeine is a secondary stimulation, a little jolt to turn your attention so that it can immediately be pulled into the innumerable waves of inattention on Instagram.
Where did boredom go? What happens when we stop allowing ourselves the habit of staring into space, letting our minds wander? Instead of a deluge of constant information, can we, as Michael Harris writes in The End of Absence, "engineer scarcity in our communications, in our interactions, and in the things we consume?" 
Research recently published in Personality and Social Psychology Bulletin suggests that might be a good thing. According to lead researcher Thuy-vy Nguyen at the University of Rochester, 15 minutes of device-free solitude deactivates high arousal emotions while reducing stress and promoting relaxation. Boredom has benefits. 
Maybe solitude just needs rebranding. As the research team writes, it is often related to social rejection, withdrawal, and isolation, with being shy and lonely. Why suffer any of these fates when a friend can beckon you from your pocket? Yet, ironically, being virtually connected triggers many of these very conditions. We never feel so lonely as when engulfed by our virtual friends.
To set the stage in the four studies included in this research, the team writes:
We operationalized solitude as an experience of being alone without any communication with others, without any other activities, and without other types of active stimuli present. We then examined how having other people present, doing activities such as reading, or thinking particular kinds of thoughts might affect people's experiences of being alone.
The four experiments: comparing solitude with social interactions; comparing solitude with being alone during an activity, like reading; comparing solitude with being alone thinking certain types of thoughts; understanding how daily solitude impacts affective experiences by utilizing diary data. 
In the first study 75 students sat by themselves in a comfortable chair, while the control group of 39 students talked to a research assistant. Each group was handed a questionnaire before and after the session. Solitary individuals showed a "deactivation effect." Both positive and negative emotions were reduced. Follow-up experiments showed similar deactivation results: 
It seems solitude doesn't have a simple emotional effect that can be caricatured as good or bad; rather, it changes the intensity of our inner experience, both positive and negative: accentuating low-key emotions, while dialing down our stronger feelings.
The same occurred with the groups that were asked to jot down evening diary entries for two weeks. Those writing after a device-free 15 minutes showed a reduction in positive and negative emotions. 
Is this necessarily a good thing? Not if you think reducing positive emotions is beneficial. Yet it would be interesting to know the levels of contentment that followed these boredom sessions. Did the calmness and reduced stress make the students more at ease? Is feeling content in the moment better than being joyous? It is an arguable point, considering the superfluous nature of emotions and the stability of a disciplined contentment. 
The real value here appears to be affective control. Instead of being carried away by emotional responses—something the Internet, at times, seems designed for—the students who spent time alone were better able to decide how to respond to stimulation. As the team writes:
The set of studies thus suggested that people can use solitude, or other variations on being alone, to regulate their affective states, becoming quiet after excitement, calm after an angry episode, or centered and peaceful when desired.
We all need breaks from arousal, not only when sleeping. Being constantly stimulated keeps us on edge throughout our day and even affects our unconscious hours. Allowing breaks for boredom, for being alone with our thoughts, is a helpful ally to combat life's stresses. Regulation is worth the price of deactivation. It is then we see transience clearly, better equipped to deal with the rigors of our inner terrain. In the words of the researchers:
It is clear that solitude can play a role in the self-regulation of affective experiences, and it also appears to be the case that having positive thoughts and making choices or being volitional in solitude can enhance people's positive experiences.
--
Derek is the author of Whole Motion: Training Your Brain and Body For Optimal Health. Based in Los Angeles, he is working on a new book about spiritual consumerism. Stay in touch on Facebook and Twitter.
Kids say the darndest things. They're also far more adept at workflow management than adults are. What can we learn from them?
Most likely, you don't need to be convinced in the utility of perseverance - the ability to stick to a boring task, despite the fact that the Facebook tab is blinking with notifications in your browser. Implementing tactics that help us resist distractions in order to work towards long-term goals is crucial for success. Now, researchers have found an interesting strategy that has been proven to work for kids - imagining they're Batman. The study was published in the journal Child Development.
With the onset of early childhood and attending preschool, increased demands are placed on the self-regulatory skills of kids. Children need to start completing tasks that may be much less interesting than the myriad of entertaining distractions around them. Researchers have been interested in how to develop self-control and perseverance in children by teaching them tactics like averting their attention away from distractions. 
Another strategy they have found effective is called "self-distancing"— the ability to look at your own situation from an outsider's perspective. Doing this helps people distance themselves from their current feelings and the particular distractions of the moment and instead reflect on the situation more objectively, with the long-term goal in a sharper focus. In a more scientific language, this sounds like "transitioning from stimulus control to volitional control of one's thoughts and behaviors" and is what we need to be able to self-regulate successfully.
This same tactic appears to work for kids as well. In an interesting experiment, researchers found that when kids (ages 4 and 6) are asked to imagine they are Batman (or another exemplary character) they perform markedly better on a test designed to measure their perseverance. 
The researchers simulated a typical grown-up dilemma: choosing between working on something that is beneficial in the long-run but tedious in the moment (completing a boring task on a computer but being a "good helper") or giving in to immediate gratification in the form of playing a game on an iPad. 
The children were separated into three different groups. The first group was asked to reflect on the task from a first-person perspective, the second was asked to reflect on the task while referring to themselves by name (third-person perspective), and the third group was encouraged to reflect on the task from the perspective of a character like Batman or Dora the Explorer. The "encouragement" came in the form of a question the kids had to ask themselves: "Am I working hard?" vs. "Is [child's name] working hard?" vs. "Is Batman working hard?"
As expected, the older kids persevered longer on the work task than the younger kids as they've had more time to develop self-control. However, the extent to which the children were self-distanced affected their performance regardless of age, with the kids in the Batman group spending the most time on the tedious task.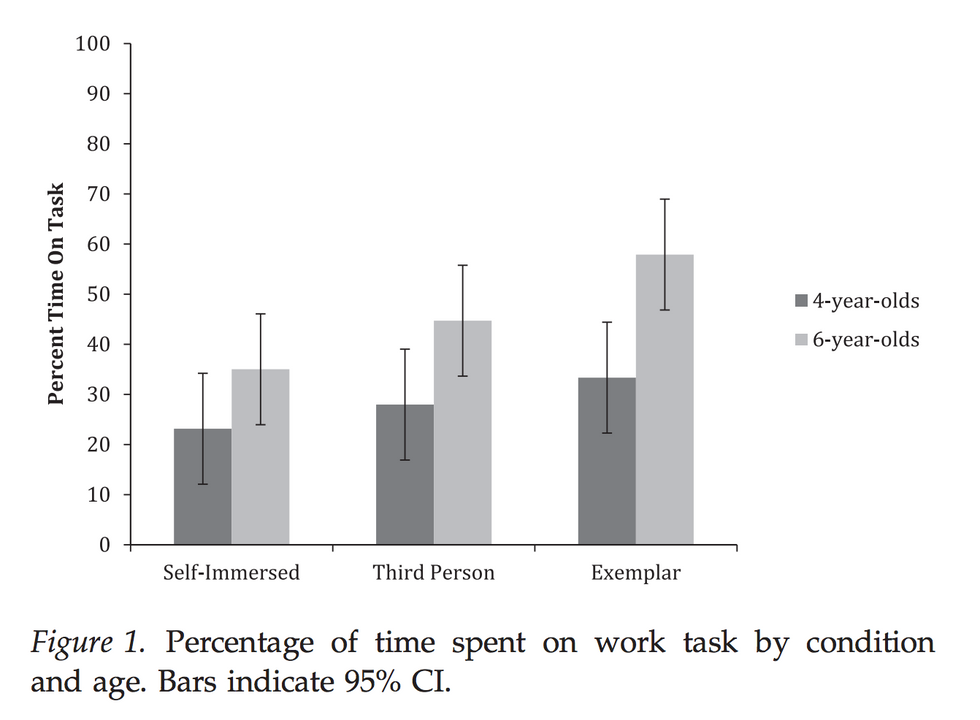 Credit: Child Development / The "Batman Effect": Improving Perseverance in Young Children
In addition to the self-distancing theory, the researchers suggest several other potential reasons why this tactic works for kids. One is that the kids were able to identify with powerful features of the impersonated character and the other is that role-playing in general is considered a fun and familiar activity at this age. 
The researchers conclude that: 
Perseverance can pave the pathway to success. The current research suggests that perseverance can be taught through role play, a skill that is accessible to even very young children.
So, who is ready for a role-playing day at work?
Is there such a thing as boredom, or is it an all-encompassing term for a variety of root causes like apathy, frustration, or depression?
Is this the look of boredom, or is it something else?
Eleven times every week I teach yoga and fitness classes in Los Angeles. Both formats feature varying levels of intensity, though the last few minutes in each are dedicated to shifting into parasympathetic mode to calm the flood of hormones and neurochemicals keeping students' nervous systems prepared for action. No matter how challenged they are during class, this stretch of time proves to be the hardest for many.
Humans are wired for movement; you can say we evolved as animals in part thanks to our genetic thrust to keep seeking. During the end of class so much movement is already happening: the slow elongation of muscles, the deeply gratifying opportunity to observe your breathing, the gentle drift into active recovery and relaxation. Yet this is when unnecessary fidgeting and staring around the room occurs. Inevitably the darkened room lights up with blue screens mere seconds after class commences, so necessary is that dopamine fix provided by screen stimulation.
Are people simply that bored? A recent article out of Harvard challenges the notion. Researchers noticed children grow increasingly less engaged as the years from kindergarten to high school progress. One Gallup poll reveals that only 2 percent of eleventh graders are "never bored." There are many educational arguments as to why this is, but what if boredom doesn't even exist? The writer frames it this way:
What we call "boredom" might be just a "grab bag of a term" that covers "frustration, surfeit, depression, disgust, indifference, apathy." Todd Rose, Ed.M.'01, Ed.D.'07, a lecturer at the Ed School and director of the Mind, Brain, and Education Program, says the American education system treats boredom as a "character flaw. We say, 'If you're bored in school, there's something wrong with you.'"
These potential root causes certainly warrant consideration, though I'd add an important one in adults: inattention, or rather a cognitive inability to develop attentional skills. Our habits shape then define us. If we have difficulty concentrating on the task at hand that's going to translate across all of our duties and even into downtime. The less we're able to focus, the worse this trend becomes.
Our brain is in either one state or another at all times: default mode, which is daydreaming, or central executive, focusing on a task or idea. It's impossible to be in both states simultaneously. Either we're engaged or not.
Both of these states have evolutionary value. The ability to concentrate is critical in acquiring skills, learning languages and motor patterns, basically any sort of career. Letting loose and daydreaming is also valuable, especially in problem solving and emotional regulation. Benefits accrue when we're in the right state at the right time.
The problem is suffering from the inability to toggle between the two. The quick dopamine fix we get every time we surf social media exploits neural systems designed for deep attention. We're unable to concentrate for a sustained period of time when we constantly itch for the next neurochemical jolt.
Yet this doesn't mean we've slipped into a healthy default mode either. There's a stark emotional difference between lying back and letting your mind loose and scrolling through an Instagram feed, especially whenever you pull up to a red light. Anxiety mounting from the insistent need for distraction affects both networks, creating an emotional and cognitive dependency not unlike a host of controlled substances.
Of course we're frustrated and depressed when we can no longer successfully surf our own brain's two modes. Like any dependency, the chemical rush of a social media feed eventually wanes. You keep returning for stimulation even though the reward is not as great. An addiction is created. Moments removed from that cheap source of pleasure create the lethargic mental state we call boredom.
A sense of purpose is one antidote to boredom—or the many frustrations and anxieties that result in what we mean by that word. This is why I suspect a lot of religious followers are generally happier with their lives: they believe their toil is worth something in the end. A goal is a valuable ally. The emotional comfort one receives from belief keeps their mind engaged and focused.
Goals are not the only prescription, however. The simple practice of mindfulness—simple to understand, not always to implement—is another means for acquiring the skill of navigating brain states. Various schools of meditation teach differing styles, but at root mindfulness is observing your mind at this very moment. It could be done in meditation, but it can also be accomplished while doing anything. Paying cognitive and emotional attention to what's in front of you is extremely valuable in an age of distraction.
We love distractions, though, which will keep boredom in rotation for some time. Imagine scrolling through a Smart TV with a thousand channels and near infinite variety of content and thinking, there's nothing to watch. This world is so vast and dynamic that one can spend an entire lifetime exploring its incredible diversity and still only learn a tiny percent of available knowledge. Boredom does exist, but it's a mask for deeper frustrations. Being mindful of what those are is the first step in engaging life fully. To begin that practice, stop and observe.
--
Derek's next book, Whole Motion: Training Your Brain and Body For Optimal Health, will be published on 7/4/17 by Carrel/Skyhorse Publishing. He is based in Los Angeles. Stay in touch on Facebook and Twitter.