New research brings nuance to the concept of being nice by illuminating the personality traits that underlie it, dividing the quality into two related but distinct components.
What exactly does it mean to be nice? Is it about being fair and respectful, or is it more about helping people in need? Both?
New research explores that question by illuminating two related yet distinct personality traits that underlie niceness: compassion and politeness.
In personality psychology, the quality of being nice falls under a broad category called agreeableness. This trait – one of five dimensions in the Big 5 model of personality – refers to how well an individual gets along with others. For example, people who are high in agreeableness might also be described as kind, forgiving, trusting, friendly, warm, modest and patient. The broadness of this category raises some questions, though. Kun Zhao, a personality psychologist at the University of Melbourne, asks in an article she wrote for The Conversation:
"Are there exceptions to this cluster of 'nice' personality traits? What about your big-hearted but foul-mouthed friend, or a well-mannered but distant acquaintance?"
The answer is that agreeableness can divided into two related but distinct components: compassion and politeness.
Compassion refers to our tendency to be emotionally concerned about others. Politeness is defined as our tendency to demonstrate good manners, adhere to social norms and avoid aggression. 
"Another way to think about it is politeness is more about not doing harm, and compassion is more about helping others," Zhao said, noting that the way psychologists conceptualize the terms is slightly different than how they're commonly defined.
(Interestingly, research has shown that compassion tends to be positively associated with liberal political ideology, while politeness is linked to conservative ideology.)
Zhao, along with researchers Eamonn Ferguson and Luke Smillie, conducted two studies to examine the ways in which compassionate people and polite people make social decisions. The first study measured altruism with the dictator game, a task in which an individual is asked to divide a sum of money with a stranger.
"Our results showed that traditional economic predictions were wrong on two counts," Zhao wrote. "Not only did people not behave selfishly, they behaved in different ways depending on their personality."

"Notably, polite people were more likely to split the money fairly than their rude counterparts. Surprisingly, we did not see this for compassion, which may indicate that sharing money with a stranger doesn't necessarily arouse emotional concern."
The second study measured social decision-making with a third-party recompensation game, in which a bystander witnesses an unfair division of money between two people and is given the opportunity to give their own money to the victim. 
"Here, compassionate people gave away more money than their cold-hearted counterparts," Zhao wrote. "Polite bystanders were not selfish per se — we know this because they were willing to part with their money in the dictator game just moments earlier. But they were no more likely than anyone else to intervene when bearing witness to the mistreatment of others."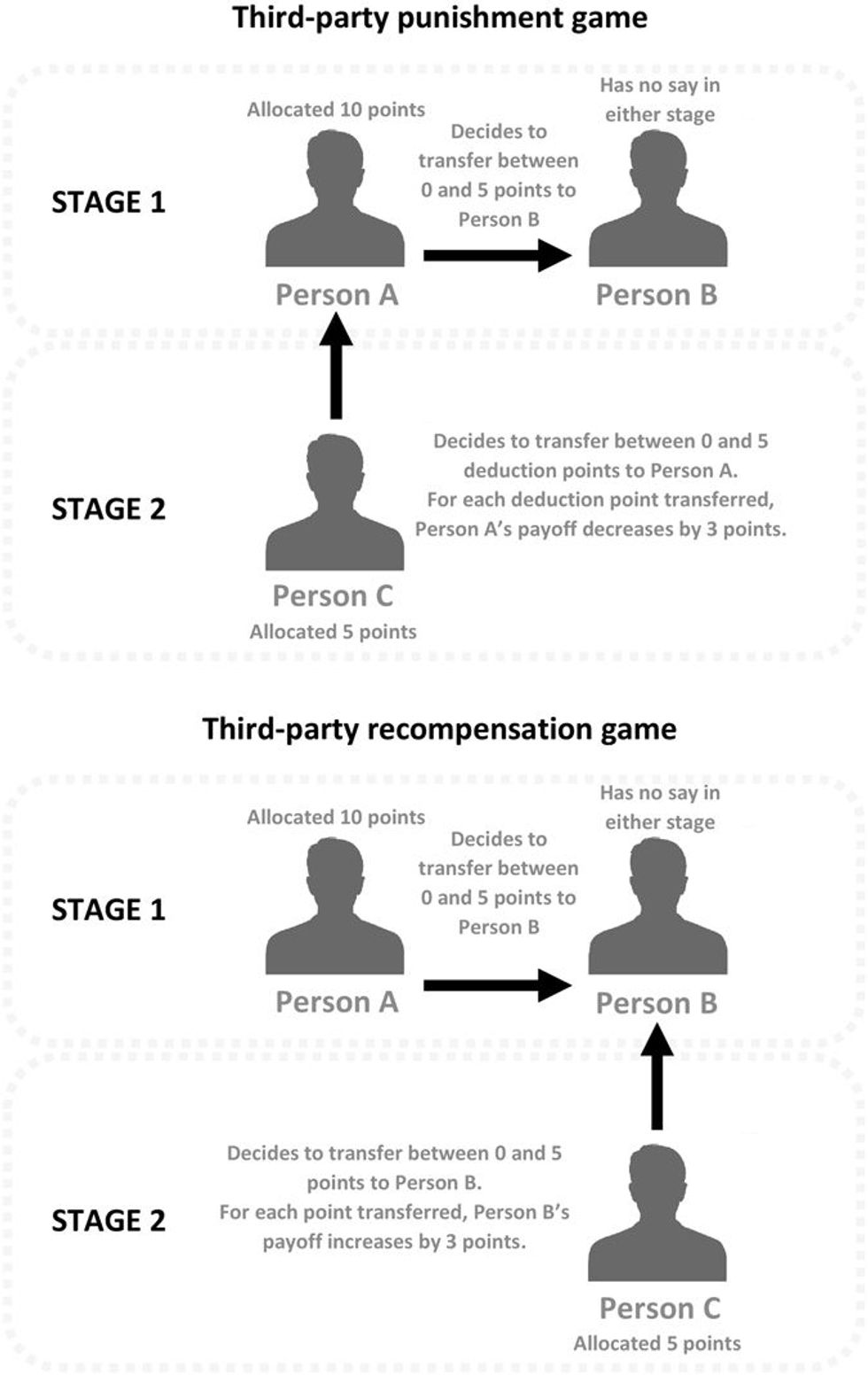 The researchers offered a good way to conceptualize the results: Compassionate people behave like good Samaritans, while polite people act more like good citizens. The question is: can a good citizen work toward becoming a good Samaritan, or vice versa?
Cultivating compassion and politeness 
A growing body of research shows that personality traits can, at least in part, be changed through intervention. Zhao referenced a 2011 study that measured the effectiveness of short-term "compassion training."
"The interesting finding is that compassion training increased prosocial behaviour in a compassion-relevant economic game (the Zurich Prosocial Game), but not the dictator game – which was the first economic game we used (and where we did not see a unique relationship with compassion.)"
Another study found that compassion training seemed to increase altruistic behavior.
"This is consistent with our second study where we find it was related uniquely to compassion too," Zhao said.
Zhao noted that politeness and compassion aren't mutually exclusive, and that both have utility.
"You can be high in one and high in another, or low in one and low in another," Zhao said. "And they're correlated, that's why they're classified under the category of agreeableness."

 "I think all of these traits serve some sort of purpose depending on the scenario. You don't really want to go into the extreme on any of them."
Looking deeper into the Big 5 model
Agreeableness isn't the only dimension of personality that's been shown to have related yet distinct components. Psychologists have spent years looking beyond the surface of each of the Big 5 dimensions, searching for clearer definitions. 
"What they find is that, for each of these five broad summary traits, we can further separate them into two narrower personality traits," Zhao said, referencing a 2007 study.
As far future research into agreeableness, Zhao's curious as to what the biological sciences might tell us about personality.
 "There's a lot of interest in the neuroscience of personality," Zhao said. "I'd be really interested in future work linking these personality traits, and the distinction between these personality traits, in the biological systems that create variations in our behavior. That's a bit of a hot topic at the moment."
Recent research suggests what we thought we knew about social trust judgements may be all wrong.
Social trust, the expectation that people will behave with good will and avoid harming others, is a concept that has long mystified both researchers and the general public alike. Trust and cooperation is critical to social success, with neuroscientist Kelly Clancy suggesting that life operates by an undercurrent law of Survival of the Friendliest: evolution is about more than just rivalry, we need relationships. So, how trusting are you? Would you let a stranger borrow your phone in an emergency? Would you lend your friend money if they couldn't make rent? Have you ever been kinder to a stranger than you are to your sibling?
Many of us have undoubtedly sat in contemplation of what molds our trust in friends and strangers. What makes us inclined to give some people the benefit of the doubt, but occasionally cast a skeptical eye on others. And is there a relationship between how closely we trust people and how well we know them?
In 2016, Markus Freitag and Paul C. Bauer published their study, 'Personality Traits and the Propensity to Trust Friends and Strangers' in The Social Science Journal. Substantial research has already been conducted in the realm of social trust, however, Freitag and Bauer contend that endemic methodological shortcomings have consistently yielded inconclusive data.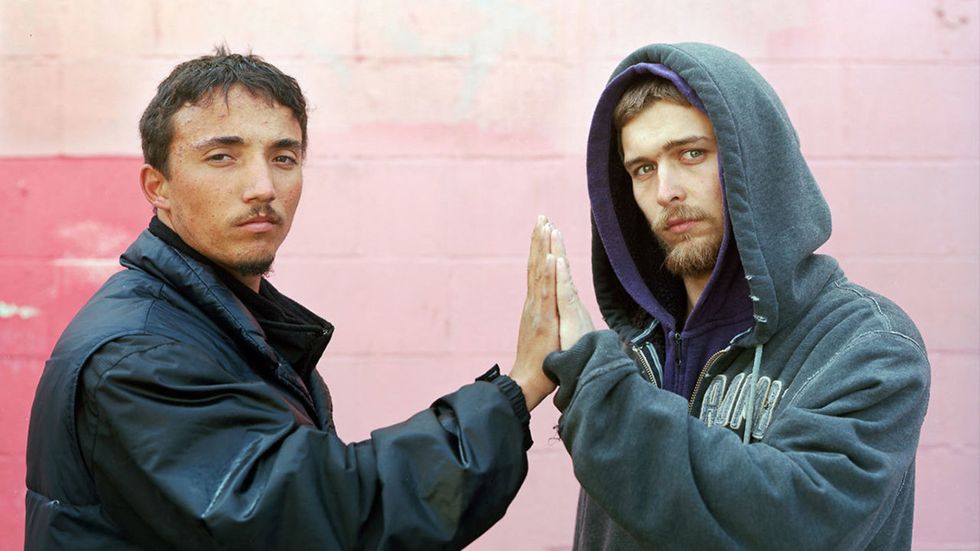 Photo by Richard Renaldi, from his 'Touching Strangers' photo project.
To avoid these recurring pitfalls and place our understanding of this phenomenon on a more empirically illuminating trajectory, Freitag and Bauer initiated an investigation which examined the role of personality on individuals' levels of exhibited social trust, rather than merely looking at environmental factors and prior experiences as drivers of social trust.
Deviating from common research designs which plied respondents with unspecific lines of questioning that often clouded the distinction between generalized trust (strangers) and particularized trust (friends, neighbors, co-workers), Freitag and Bauer implemented a process that clearly differentiated classes of trustees, posed realistic and relatable questions, asked respondents to answer using numerical probabilities, and defined personality values using psychology's "Big Five" personality traits (agreeableness, openness to experience, extraversion, conscientiousness, and neuroticism-emotional stability) which were tailored to individual respondents. Moreover, they erected controls for sex and age.
Through randomly surveying 1,157 Swiss adults via computer-assisted telephone interviews, researchers asked respondents, "Please imagine a probability scale running from 0 to 100%. 0% means that the event will certainly occur. Imagine losing your wallet (with identity card) containing, among other things, 200 Swiss Francs. On a scale from 0 to 100%, how likely is it that the wallet will be returned to you if it is found by... a friend; a stranger that you don't know?"
So what steers our trust judgements? The study results showed that people often trust total strangers more than they trust their friends. Why? Essentially because we know better. When people know the trustee they base their decisions on their prior history with that person. When people don't know the trustee, there is no bank of information to draw from, so their judgements are a reflection of their personality traits. The study indicated that of the 'big five' personality traits, conscientiousness and openness were important attributes for determining trust in both strangers and friends, but agreeability played a significant role in determining the level of trust invested in strangers. If you're generally agreeable (defined as believing the best of others and rarely suspecting hidden intents, cooperative, warm, kind, and avoid conflicts) you will assume the best in others. The authors write:
... Our empirical analyses show that the effect sizes of the personality traits are larger for trust in strangers than in the case of trust in friends. Thus, in the absence of information about the trustee, our trust judgments seem to be contingent on our personality... If we agree that personality traits are, to a certain extent, rooted in biology and that certain personality traits affect trust judgments, it also means that trust is also inherited to a certain degree.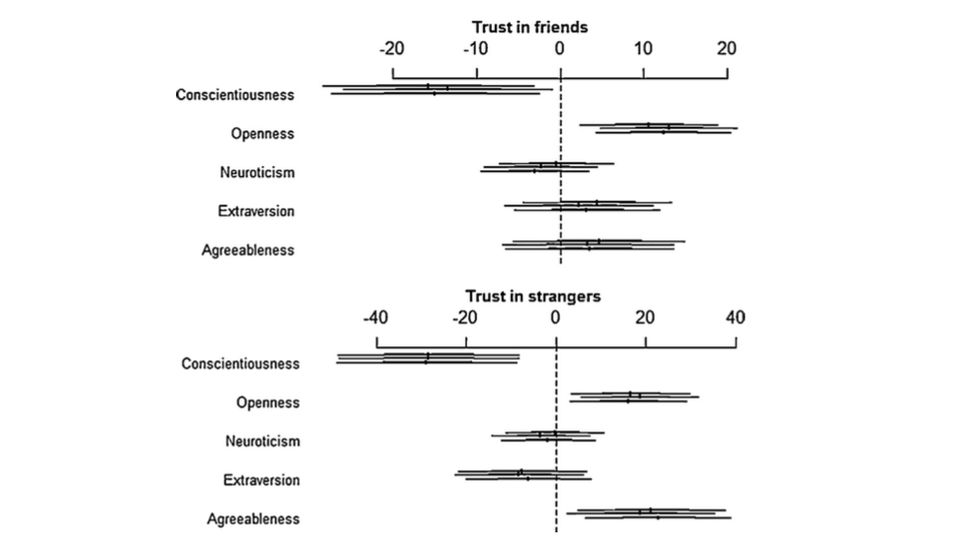 Fig.1. Regression coefficients for personality traits on trust in friends and trust in strangers (with and without controls).
Freitag and Bauer did highlight the limitations of their research. They expressly cautioned that the role of education, our networks, and our trust in institutions, matter and cannot be underestimated. Prior studies have clearly indicated that social trust correlates to corruption and crime, which demonstrates that environmental factors do indeed influence levels of social trust. To that end, the authors reiterate that their study is but an initial single nation foray into a grossly underdeveloped facet of social trust research, and that if our understanding of this societal issue is to evolve, theorems and empirical analyses need to further explore and account for personality and biological impacts.
If you want to know how a stranger might perceive you, here's psychologist Heidi Grant Halvorson on first impressions: