Mindfulness meditation works wonders for people with internalizing disorders, such as anxiety and depression. But what about people with externalizing disorders?
Four years ago I attended a Prison Yoga Project (PYP) training. James Fox is a valuable outlier in the yoga world. In 2002 he decided to devote his life to bringing yoga to at-risk communities, leading programs in juvenile detention facilities and inner-city community programs in Chicago. After moving to the Bay Area he started donating his time teaching prisoners yoga in San Quentin, which eventually led to PYP.
There are many approaches to a physical yoga practice. I teach a rigorous form of Vinyasa, in which you lead the class through a flowing series of postures and exercises to eventually cool students off with stretches, meditation, and relaxation. You fire up their nervous systems in order to slow them down. This is the exact opposite approach that Fox teaches. 
Prisoners, Fox told us, are always on edge. Their nervous systems never turn off. There is so much stimulation inside of the facilities that any opportunity for quiet is welcome. In prison yoga, you're taught a stretch-based format with lots of breathing and even more compassion. Parasympathetic mode is the only goal; turning off the monkey brain, as they say in Buddhism.
Compassion requires understanding that not all prisoners are going to be able to even shut their eyes. This is not dissimilar from victims of sexual assault, who during the final relaxation posture sometimes suffer the same fate. There is a certain sense of trust required to close your eyes in public, one which not everyone is capable of. You cannot force someone to relax; you can only create the conditions in which relaxation is possible. 
A new paper published in Personality and Social Psychology Bulletin investigates the potential "dark side" to one such technique, mindfulness meditation. This is not a new concept. For thousands of years there have been cases of meditation gone awry in the psychologically and emotionally unstable. And if there's any environment in which you might suffer such a fate, it's prison—one of the populations the authors, led by June P Tangney, a clinical psychology professor at George Mason University, focuses on.
For this paper the researchers recruited 259 male inmates and 516 undergraduates. They focused on mindfulness meditation and Criminogenic Cognitions Scale (CCS), which is a measurement of thought patterns with criminal behavior, which include:
... feeling more deserving and entitled than other people, a failure to accept responsibility, a negative attitude toward authority, a tendency to focus only on short-term outcomes, and being fairly insensitive to the impact of criminal behavior.
This is where it gets interesting. Like many forms of mediation, and like yoga, mindfulness is taught in different ways. For this study the researchers studied two approaches: emotional regulation and non-judgmental awareness. 
The first deals with recognizing and understanding your emotional patterns in an attempt at changing habitually damaging patterns. For example, you might feel as if you're dating the same person over and over again, believing yourself to be a terrible partner. Yet you are likely creating the conditions for this pattern to emerge without even realizing it. It's not the individual; it's how you treat your partner under certain stimulation causing a repetitive chain of reactions. Mindfulness can help you recognize your patterns and then, if you are hoping for a successful relationship, change them. 
In this regard, both prisoners and undergraduates experienced an expectable correlation between mindfulness and CCS: regulating emotions reduces the likelihood you'll engage in criminal behavior.
The second layer is fascinating. As someone with a daily mindfulness practice, I was taught to reserve judgment on the thoughts that arise. Recognition, in this sense, does not always lead to change. You're taught to observe your patterns as if watching passersby on the street. A sense of detachment ensues when you do not pass judgment on yourself. Suddenly your actions seem less impactful, less dangerous. 
While the undergraduates experienced a negligible increase in their CCS score by this measure, the inmates experienced a much higher CCS response—enough to cancel out any benefit received from emotional regulation. 
The researchers continue:
This may be true for people suffering from internalizing disorders, such as anxiety and depression—the kinds of disorders typically addressed by mindfulness interventions. This level of nonjudgment and acceptance may not be as beneficial for people suffering from externalizing disorders marked by higher levels of impulsivity. Externalizing disorders are common among an incarcerated population who may benefit from some self-scrutiny in reducing patterns of criminal thinking and behavior.
The United States has the highest rate of incarceration in the world. Inmates are often cast out of society for long periods of time, with little to no transition back into society. Valuable lessons can be taught while inside for a better integration process. Studies like Tangney's are necessary in helping us figure out which methods work and which might do more harm than good. While more research is needed, so far mindfulness's dark side rears its ugly head under such circumstances. 
--
Derek is the author of Whole Motion: Training Your Brain and Body For Optimal Health. Based in Los Angeles, he is working on a new book about spiritual consumerism. Stay in touch on Facebook and Twitter.
A study reveals the unexpected financial benefits of joining a fraternity.
Cast of the film "Animal House". 1978. Credit: Universal Pictures.
Fraternity culture has been under attack for incidents of hazing and excessive drinking but there are some unexpected benefits that come from joining a frat. That's the conclusion of a new study by economists from Union College in Schenectady, New York. They found that being in a fraternity may lower the GPA of its members by an average of 0.25 points, but may raise their future income by as much as 36%. 
How is that possible? The paper titled "Social Animal House: The Economic and Academic Consequences of Fraternity Membership" suggests that while frats may have a deserved reputation for partying and binge-drinking, being in one can boost your social capital, "which more than outweigh(s) its negative effects on human capital for potential members."
The benefits provided by the Greek life include academic support and social connections that last a lifetime.
To arrive at their conclusions, the researchers Stephen Schmidt, Lewis Davis and Jack Mara analyzed a survey of one Northeastern college, given to 3,762 alumni which had questions related to income, employment, social activities while in college, personal characteristics and academic performance. 
"In spite of the strong negative effect on human capital accumulation, fraternity membership increases expected future income by approximately 36%," write the scientists. This suggests that the negative effect of fraternity membership on human capital accumulation is more than offset by its positive impact on social capital formation. For this reason, joining a fraternity may be a rational decision that improves the long-term prospects of an individual student despite its damaging effects on that student's grades.
The researchers found no similar benefits for women who pledged to sororities. 
You can read their paper, published in the journal Contemporary Economic Policy here.
Get lost in a good book. Time and again, reading has been shown to make us healthier, smarter, and more empathic.
Fitness headlines promise staggering physical results: a firmer butt, ripped abs, bulging biceps. Nutritional breakthroughs are similar clickbait, with attention-grabbing, if often inauthentic—what, really, is a "superfood?"—means of achieving better health. Strangely, one topic usually escaping discussion has been shown, time and again, to make us healthier, smarter, and more empathic animals: reading.
Reading, of course, requires patience, diligence, and determination. Scanning headlines and retweeting quips is not going to make much cognitive difference. If anything, such sweet nothings are dangerous, the literary equivalent of sugar addiction. Information gathering in under 140 characters is lazy. The benefits of contemplation through narrative offer another story.
The benefits are plenty, which is especially important in a distracted, smartphone age in which one-quarter of American children don't learn to read. This not only endangers them socially and intellectually, but cognitively handicaps them for life. One 2009 study of 72 children ages eight to ten discovered that reading creates new white matter in the brain, which improves system-wide communication.
White matter carries information between regions of grey matter, where any information is processed. Not only does reading increase white matter, it helps information be processed more efficiently.
Reading in one language has enormous benefits. Add a foreign language and not only do communication skills improve—you can talk to more people in wider circles—but the regions of your brain involved in spatial navigation and learning new information increase in size. Learning a new language also improves your overall memory.
In one of the most fascinating aspects of neuroscience, language affects regions of your brain involving actions you're reading about. For example, when you read "soap" and "lavender," the parts of your brain implicated in scent are activated. Those regions remain silent when you read "chair." What if I wrote "leather chair?" Your sensory cortex just fired.
Continuing from the opening paragraph, let's discuss squats in your quest for a firmer butt. Picture the biomechanics required for a squat. Your motor cortex has been activated. Athletes have long envisioned their movements—Serena Williams's serve; Conor McGregor's kicks; Usain Bolt's bursts of speed—to achieve better proficiency while actually moving. That's because their brains are practicing. That is, they're practicing through visualization techniques.
Hard glutes are one thing. Novel reading is a great way to practice being human. Rather than sprints and punches, how about something more primitive and necessary in a society, like empathy? As you dive deeper into Rabbit Angstrom's follies or Jason Taylor coming of age, you not only feel their pain and joy. You actually experience it.
In one respect novels go beyond simulating reality to give readers an experience unavailable off the page: the opportunity to enter fully into other people's thoughts and feelings.

This has profound implications for how we interact with others. When encountering a 13-year-old boy misbehaving, you most likely won't think, "Well, David Mitchell wrote about such a situation, and so I should behave like this," but you might have integrated some of the lessons about young boys figuring life out and display a more nuanced understanding in how you react.
Perhaps you'll even reconsider trolling someone online regarding their political opinion, remembering that no matter how crass and inhumane a sentiment appears on screen, an actual human is sitting behind the keyboard pecking out their thoughts. I'm not arguing against engaging, but for the love of anything closely resembling humanity, argue intelligently.
Because reading does in fact make us more intelligent. Research shows that reading not only helps with fluid intelligence, but with reading comprehension and emotional intelligence as well. You make smarter decisions about yourself and those around you.
All of these benefits require actually reading, which leads to the formation of a philosophy rather than the regurgitation of an agenda, so prevalent in reposts and online trolling. Recognizing the intentions of another human also plays a role in constructing an ideology. Novels are especially well-suited for this task. A 2011 study published in the Annual Review of Psychology found overlap in brain regions used to comprehend stories and networks dedicated to interactions with others.
Novels consume time and attention. While the benefits are worthwhile, even shorter bursts of prose exhibit profound neurological effects. Poetry elicits strong emotional responses in readers and, as one study shows, listeners. Heart rates, facial expressions, and "movement of their skin and arm hairs" were measured while participants listened to poetry. Forty percent ended up displaying visible goose bumps, as they would while listening to music or watching movies. As for their craniums:
Their neurological responses, however, seemed to be unique to poetry: Scans taken during the study showed that listening to the poems activated parts of participants' brains that, as other studies have shown, are not activated when listening to music or watching films.

These responses mostly occurred near the conclusion of a stanza and especially near the end of the poem. This fits in well with our inherent need for narrative: in the absence of a conclusion our brain automatically creates one, which, of course, leads to plenty of heartbreak and suffering when our speculations prove to be false. Instead we should turn to more poetry:
There is something fundamental to the poetic form that implies, creates, and instills pleasure.

Whether an Amiri Baraka verse or a Margaret Atwood trilogy, attention matters. Research at Stanford showed a neurological difference between reading for pleasure and focused reading, as if for a test. Blood flows to different neural areas depending on how reading is conducted. The researchers hope this might offer clues for advancing cognitive training methods.
I have vivid memories of my relationship with reading: trying to write my first book (Scary Monster Stories) at age five; creating a mock newspaper after the Bernard Goetz subway shooting when I was nine, my mother scolding me for "thinking about such things"; sitting in the basement of my home in the Jersey suburbs one weekend morning, determined to read the entirety of Charlie and the Chocolate Factory, which I did.
Reading is like any skill. You have to practice it, regularly and constantly. While I never finished (or really much started) Scary Monster Stories, I have written nine books and read thousands more along the way. Though it's hard to tell if reading has made me smarter or a better person, I like to imagine that it has.
What I do know is that life would seem a bit less meaningful if we didn't share stories with one another. While many mediums for transmitting narratives across space and time exist, I've found none as pleasurable as cracking open a new book and getting lost in a story. Something profound is always discovered along the way.
--
Derek is the author of Whole Motion: Training Your Brain and Body For Optimal Health. Based in Los Angeles he is working on a new book about spiritual consumerism. Stay in touch on Facebook and Twitter.
The benefits of actively playing chess are supported by numerous studies.
Want to transform your brain and make better decisions? Learn chess, a game synonymous with intelligence and brain power. It's been proven by numerous studies to help a variety of mind skills and has been growing in popularity around the world. 
According to a World-Chess-Federation-sanctioned YouGov polling study from 2012, 70% of adults have played chess at some point in their lives, with the number of worldwide chess players estimated to be above 605 million. The percentage of active chess players stood at 15% in the US, 23% in Germany, and 43% in Russia. A whopping 85 million played chess in India, buoyed by the popularity of the former world chess champion Viswanathan Anand. 
Some more recent stats from the organizers of the 2014 world chess championship report that 1.2 billion viewers watched that competition. 
How do you play chess? To be very brief: it's a board game played by two opponents, each with 16 pieces, who use strategic thinking to put the opponent's king piece under an attack from which it cannot escape, called a "checkmate". 
Chess is an ancient game, at least 1500 years old. It likely originated in India, derived from the strategy game chaturanga. Chess went through a number of forms but eventually its rules were standardized and world championships began to be held in the 19h century. The current world chess champion is Norwegian Magnus Carlsen, who recently defended his title against the Russian Sergey Karjakin. The women's chess champ is Hou Yifan from China.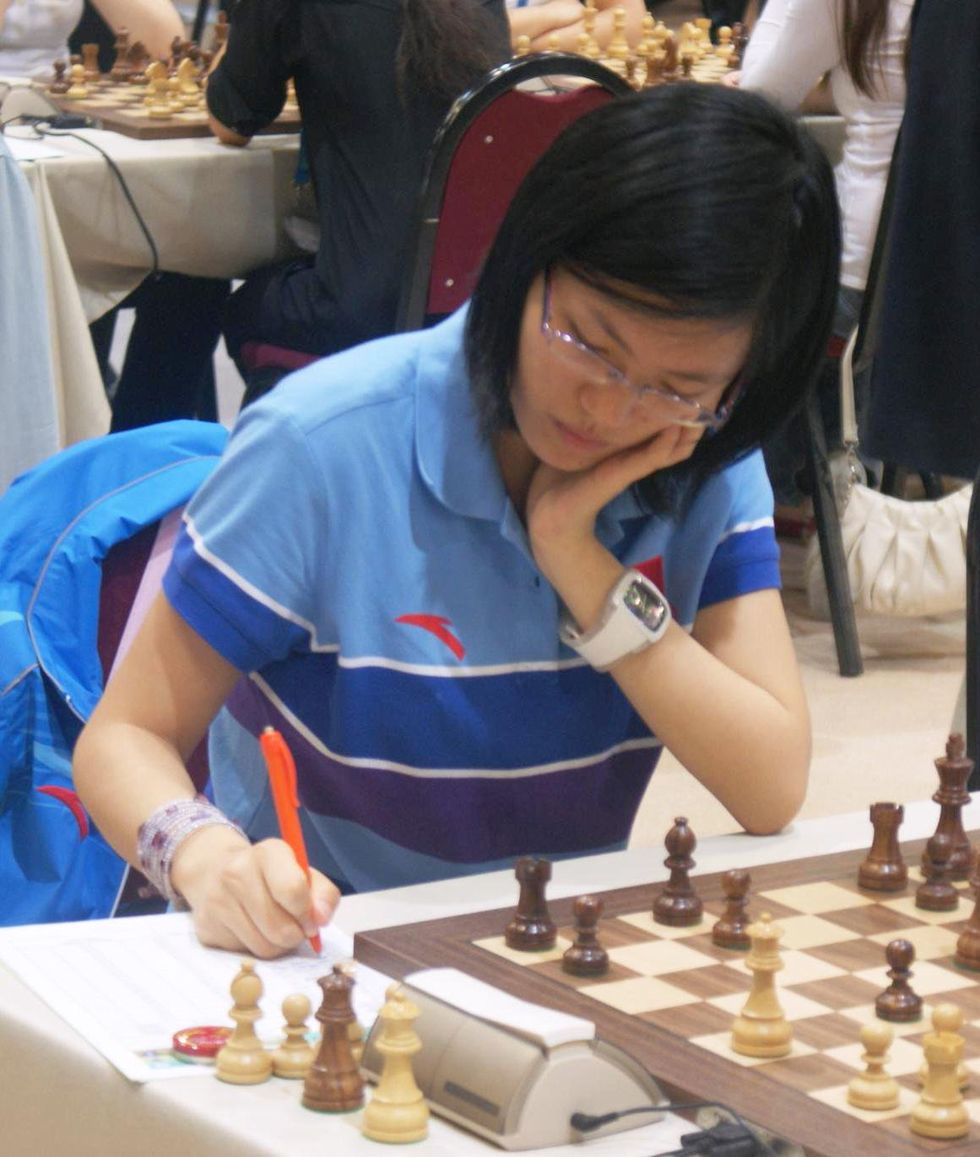 Hou Yifan at a Chess Olympiad in Istanbul, Turkey. 2012.
It's worth noting that chess champions are often some of the smartest people in the world, with the recent world champion Garry Kasparov, who has contributed to Big Think, reportedly having an IQ of 190, while the female champion Judit Polgar, who became a grandmaster at 15 has an IQ of 170.
If you needed more convincing, here are five reasons why you should find a place for chess in your life: 
1. Chess improves key thinking skills
As a game based on logic and processing of numerous potential combinations of moves at once, it is tailor-made for engaging your brain functions. There are a number of studies that show how chess can enhance your thinking powers. One way has to do with pattern recognition. Studies of the former world champion Garry Kasparov showed how quickly a player of his caliber recognized patterns.
It has also been shown that better chess players use both sides of the brain to make decisions, engaging the visual information processing part of the brain to find patterns and the analytical side to pick the best logical move.
Other studies highlight the interesting fact that the brains of elite players are actually smaller compared to the non-experts, possibly pointing to "localized shrinkage" in order to increase neural efficiency.
2. Chess can improve your memory 
Chess is an excellent memory exercise because it encourages remembering moves for various strategical purposes. The better players fill their memories with possible combinations. A study showed how the brains of grandmasters worked by recalling thousands of moves.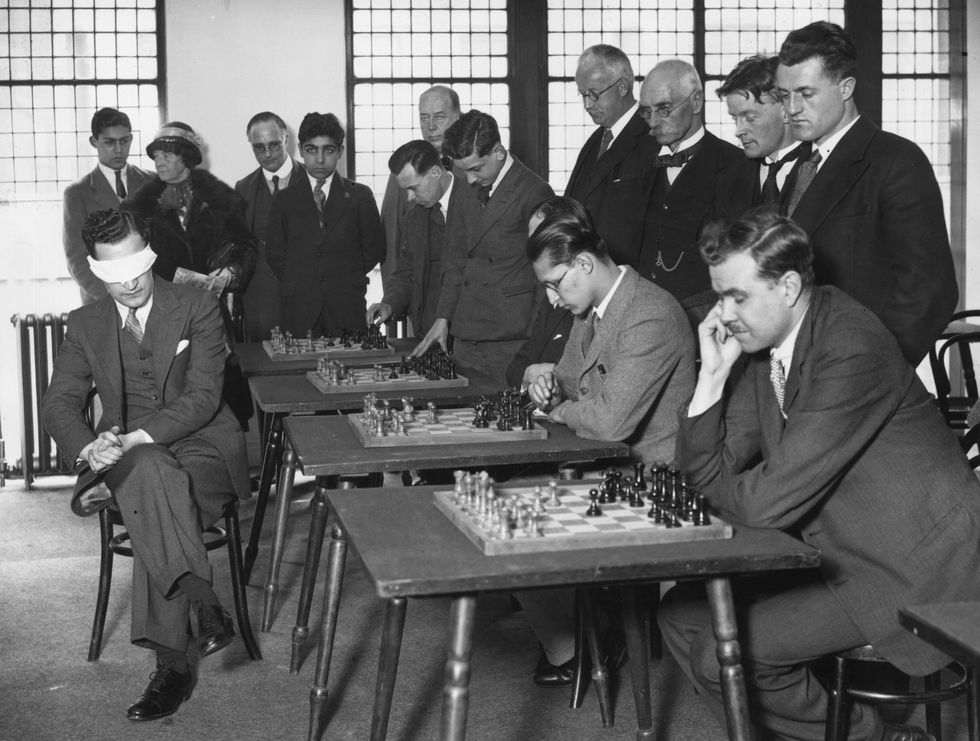 World blindfold chess champion G Koltanowski playing chess blindfolded against ten opponents at the Empire Chess Club in Whiteleys, Bayswater, London. (Photo by H. F. Davis/Topical Press Agency/Getty Images)
3. Chess players are successful
The 2012 YouGov poll also found a clear relationship between being a regular chess player and various measures of achievement and success. 78% of active chess players are university graduates. 20% of households making above $120,000 regularly play chess. Chess players are 5 times more likely to read in-depth analysis and high-brow publications. They are also likely to be affluent, 40% more likely to purchase luxury items. 
Peter Thiel, a prominent venture capitalist, co-founder of Paypal, and a major figure in the 2016 Presidential election is an avid chess player. 
And he's not alone among the famous. Microsoft's founders Bill Gates and Paul Allen have been known to play each other as do other Silicon valley titans. Acting legends Humphrey Bogart, Lauren Bacall, Marilyn Monroe, and Marlon Brando were lifelong chess aficionados. As was John Wayne. So was directing great Stanley Kubrick. Other celebrities known for their chess prowess include Arnold Schwarzenegger, Nicholas Cage, Ray Charles, Ben Affleck, Bono, Will Smith, and Howard Stern.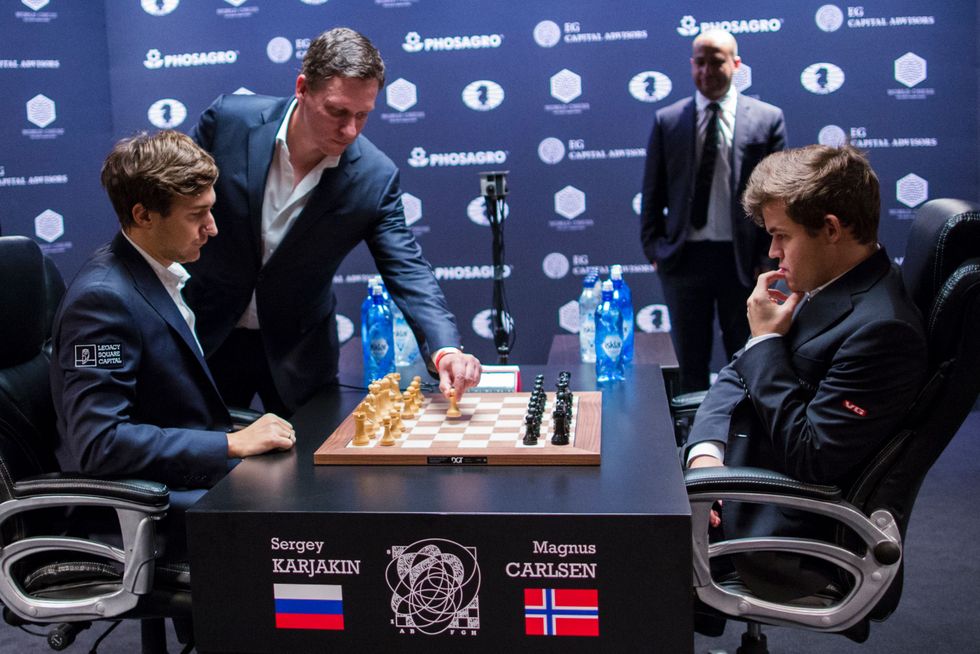 Businessman Peter Thiel (C) makes the honorary first move during the game between Magnus Carlsen, Norwegian chess grandmaster and current World Chess Champion, and Sergey Karjakin, Russian chess grandmaster during First of Two Tie-break rounds of the World Chess Championship on November 30, 2016 in New York. (Photo credit: EDUARDO MUNOZ ALVAREZ/AFP/Getty Images)
4. Chess can make your kids smarter. 
Several studies have been done to show that playing chess (in one case for 18 weeks) increased the IQs of the children involved. Other studies show chess improves the analytical and critical thinking skills as well as visualization abilities of kids in all stages of school, enhancing their development. Chess has also been shown to boost kids' math, reading and verbal skills.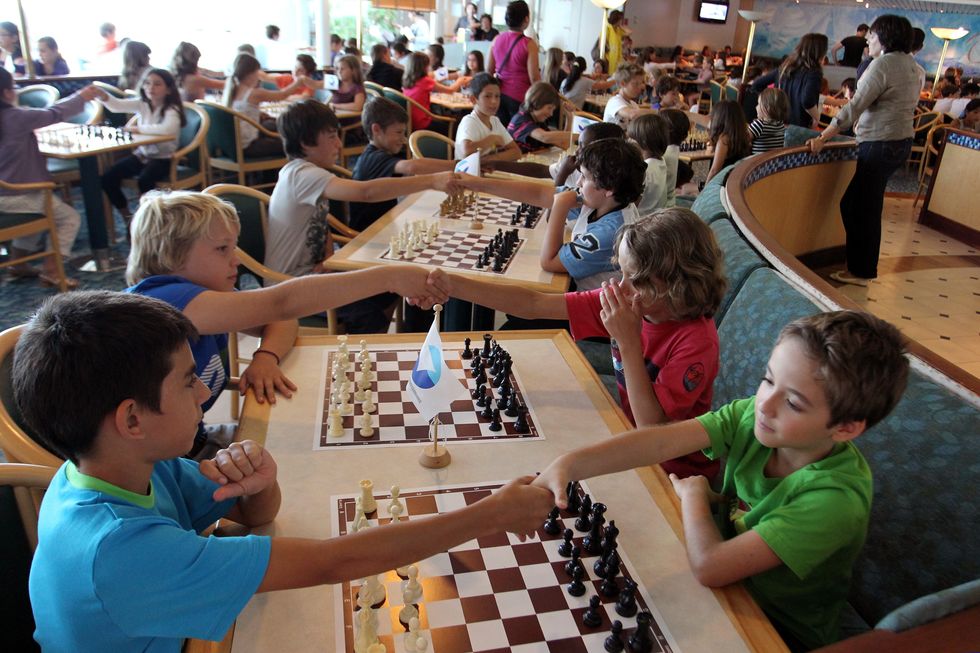 French primary school children between six and eleven years old, shake hands prior to competing in a chess tournament. (Photo credit: PASCAL POCHARD-CASABIANCA/AFP/GettyImages)
5. Chess can keep an aging brain sharp
 The game has been shown to protect the elderly from degenerative brain diseases like Alzheimer's disease and dementia.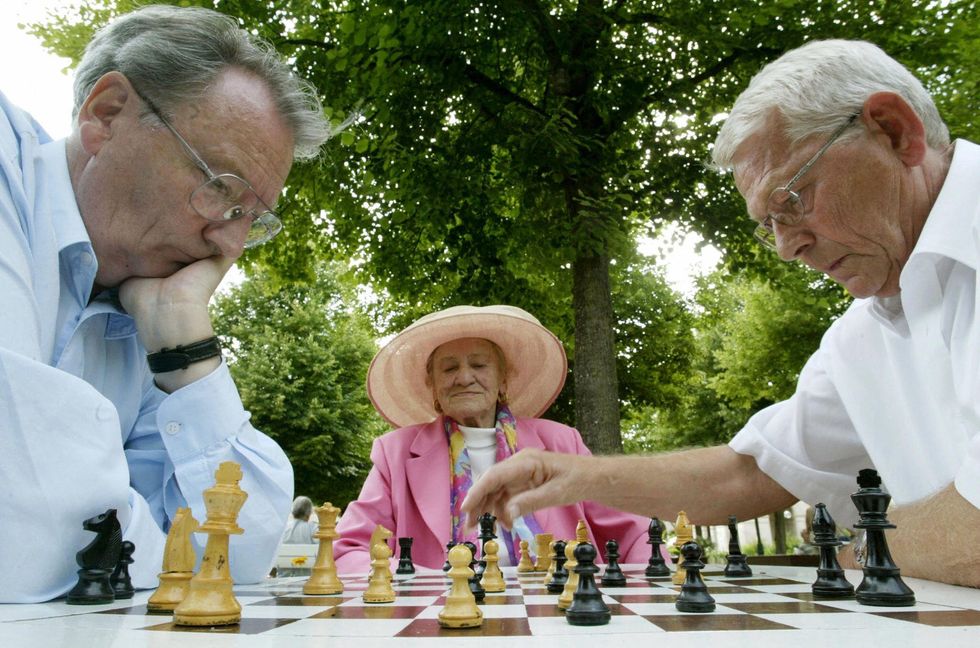 German senior citizens playing chess in Bad Kissingen. (Photo credit: OLIVER LANG/AFP/Getty Images)
And if you are looking for something more exciting, combining the brain and the brawn, you can partake in chessboxing as this photo illustrates: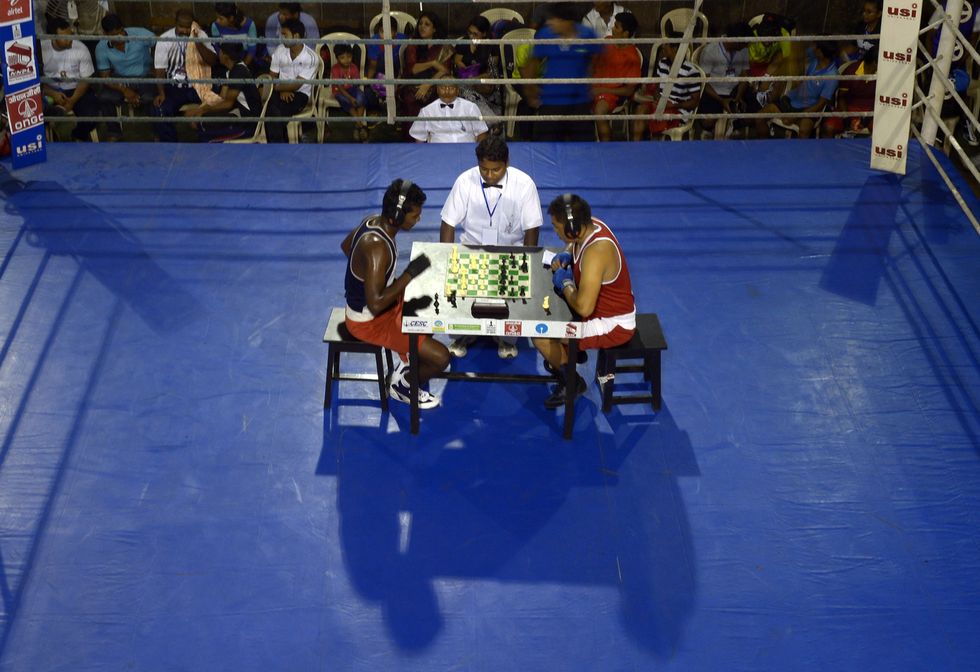 Indian chessboxers play a round of chess during the boxing round of The National Chess Boxing Championships in Kolkata. Chessboxing is a hybrid sport combining the mental workout of chess with the physical challenge of boxing. A chessboxing fight consists of 11 rounds, 6 rounds of chess and 5 rounds of boxing. Chess and boxing rounds alternate, beginning and ending with a round of chess, Chessboxing is particularly popular in Germany, Great Britain, Russia and France and now catching up fast in the Asian countries like China, Iran and India. (Photo credit: IBYANGSHU SARKAR/AFP/Getty Images)
Do you want to learn to play chess? You can start here. 
Watch the 12th world chess champion Anatoly Karpov talk to Big Think about the beauty in chess:
Watch Tim Ferriss explain how the chess strategies go beyond the game board, into life and business.