Dyslexia makes letters float, rotate, and flip on a page. It turns M's into W's, q's into p's, and so on. Changing the font-face might be able to help keep the letters in place on the page.
Child asleep holding book (Wikimedia)
The debate between which is better, eBooks or page turners, has been going on for a few years. The paper books smell better, the aesthetic growing as the pages turn yellow and the ink smudges from where the stories made the reader cry.
The latest bonus in the electronic books versus printed debate is the ability to change fonts. Dyslexic-designed fonts are said to allow for more people to read with ease. There are a few options. OpenDyslexic, Dyslexie, Dyslexia Unscrambled, are just a few.
Dyslexia Unscrambled is a Google Chrome app with more than 1,000 users, and a 4.5 star rating. Dyslexie and OpenDyslexic are more well known. These fonts are designed to keep the letters from floating over a page or screen, by 'weighing them down' in their place. The letters are formed thicker in certain places and thinner in others that make it easier to read, make letters like p, q, d, and b easier to tell apart.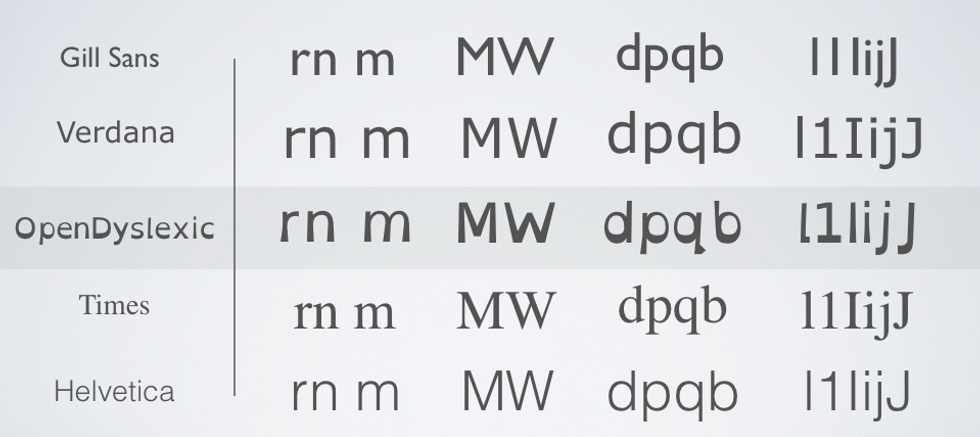 Currently there are no formal studies that state success with the fonts. However, many people cheer on the endeavors to help those with dyslexia have an easier time reading. Dyslexie was featured in Istanbul Design Biennial in November, 2014, and creator Christian Boer's work was featured on several news outlets like NBC. Boer was a graphic design student, and has posted a lot of information about how he designed each letter. Boer has presented his typeface and how it could help in a TedTalk, describing how the slight changes in 'gravity' helps the reader along. OpenDyslexic's creator Abelardo Gonzalez is upfront with the lack of research and solid results that dyslexic-fonts have. In his FAQ, he even references the question of if the typeface would work for 'everyone.'
"No, and I wouldn't imagine it would. It works for a significantly large amount to warrant continued work on OpenDyslexic. Some people like Comic Sans, Gill Dyslexic, or Verdana more. OpenDyslexic is another option that can be used if it helps you."
But what OpenDyslexia does is continue updating. The page links a reader to all the research that has been done, and Gonzalez promises to update the fonts with this research. PNAS.org released a study stating that "large letter spaces" helps with dyslexia, and currently OpenDyslexia does have the same spacing practice.
Currently, Dyslexie has over fifteen thousand likes on Facebook; coupling that with the newer OpenDyslexia, these fonts have reached and helped many people in their endeavor to read. It seems that while some don't see an improvement, many do and that is what keeps these creators going. The users of the apps have a fair amount of praise for them, so they must be doing something right. 
Watch Diamond Dallas talk about his dyslexia:
Don't work with children or animals? Sir David Attenborough laughs in the face of danger.
Animated Attenborough. (Image: CBeebies 'Storytime' app, illustrated by Will Rose)
Sir David Attenborough's adventures are being retold. His time in nature exploring the nooks and crannies of wildlife will now be featured on Storytime, an app with 2.4 million downloads, that is designed for toddlers. With Attenborough's narration, the Storytime app run by CBeebies (a BBC television network for the under six age group) aims to help young children learn how to read on their iOS and Android screens.
Attenborough has plenty of great stories to tell young children, including the moment where a gorilla sat in his lap. His love of animals and the natural world was exemplified in his creation of the BBC documentary series Zoo Quest, in 1954. Before Zoo Quest, if shows wanted to educate their audiences about animals, the featured creatures would be brought onto a lit stage, uncomfortable and out of their natural habitat. Attenborough wanted that to change, and did so by bringing his show into the animal's natural domain instead, forever changing the dynamic. His mission and popularity grew exponentially, and he later headlined Eastwards with Attenborough and Life on Earth. Narrating his life's work through an educational app is an important step in cultivating the next generation's interest in preserving biodiversity on our planet.
So how will toddlers take to a story featuring Attenborough? He is, after all, a 90-year-old man and his target audience is usually those a little older than six. However, some educational studies say this is a good thing. Sesame Street, the educational program that was proven to stop children from falling behind their grade level in school, has always had guest stars that appease parents more than the kids. The show runners explain why on their workshop site.
"Research and long experience shows that when parents are involved in education, children simply learn better."
This conclusion is everywhere, and in Children's Learning From Educational Television: Sesame Street and Beyond, it was claimed by Thomas Cook and other critics of Sesame Street that any study of the show's effectiveness were skewed by the parents watching with the children.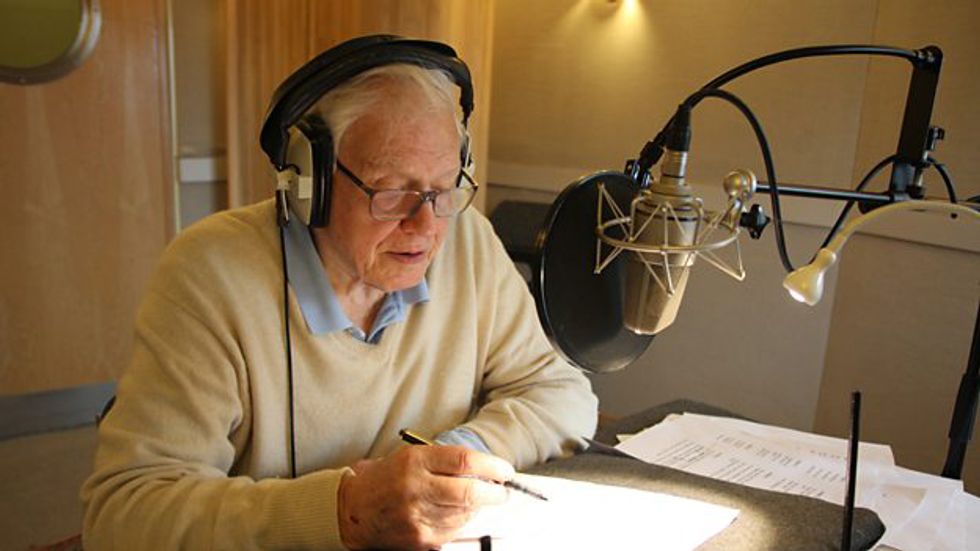 That is where Sir David Attenborough comes in. While its recognized that the young children may not know who he is, his stories can intrigue them, and their parents will remember being enthralled by him themselves. Enthusiasm is contagious. Both parents and children can be delighted at his stories of lyrebirds, gorillas, komodo dragons, and sloths. It's interactive too—the kid in your life can help Sir Attenborough "pack his adventure kit, move plants aside for him and by tracking the gorillas' path through the jungle," according to the BBC. 
The 5-part miniseries is illustrated by Will Rose, giving it a bright, colorful and happy aesthetic, and the entire Storytime app is directed by Kay Benbow. Benbow expressed the desire to make a full series rather than the resulting miniseries. Sir Attenborough is just too busy of a man for that, so all the energy was focused on the episodes they had time for. 
Sir David Attenborough is no stranger to being on the screen, and now he's being introduced to a brand-new generation. The man is used to being thrown in the wild, next to things that snap, bite, and sting. Teaching children to read should be no challenge at all.
There's an app that detects manterruptions—but we round up the research to find out which groups of people are really doing the most interrupting.
Photo: Woman Interrupted App
Introducing our word of the day – "manterruption". It's a pretty self-explanatory term, describing a behavior when men interrupt women unnecessarily, which leads to a pretty serious imbalance in the amount of female vs. male contributions in a conversation.
The phenomenon of women's voices being heard less for one reason or another has been studied and discussed. Indeed, early studies "seem to indicate a larger tendency on the part of men to interrupt in cross-sex conversations." Men also tend to talk more readily than women. A 2004 study on gender issues at Harvard Law School found that men were 50% more likely than women to volunteer at least one comment during class and 144% more likely to volunteer three or more comments. 
Another study from Brigham Young University and Princeton found that during board meetings men dominate 75% of the conversation, which as a consequence leaves decision-making mostly to men. Interestingly, when the researchers instructed the participants in the study to decide by a unanimous vote, the time inequality disappeared and more importantly the group arrived at different decisions. Meaning, women's voices bring a different and valuable perspective in a conversation and should be heard more.
To raise awareness about this issue, a Brazilian ad agency created the Woman Interrupted APP. The app tracks the amount of times a woman is being interrupted by men during a conversation. It uses the mic on the phone to analyze the conversation (without recording it) and based on female and male voice frequencies as well as personal voice calibration, it creates a graph of interruptions, including the time that they happened. Furthermore, daily, weekly and monthly statistics can be produced.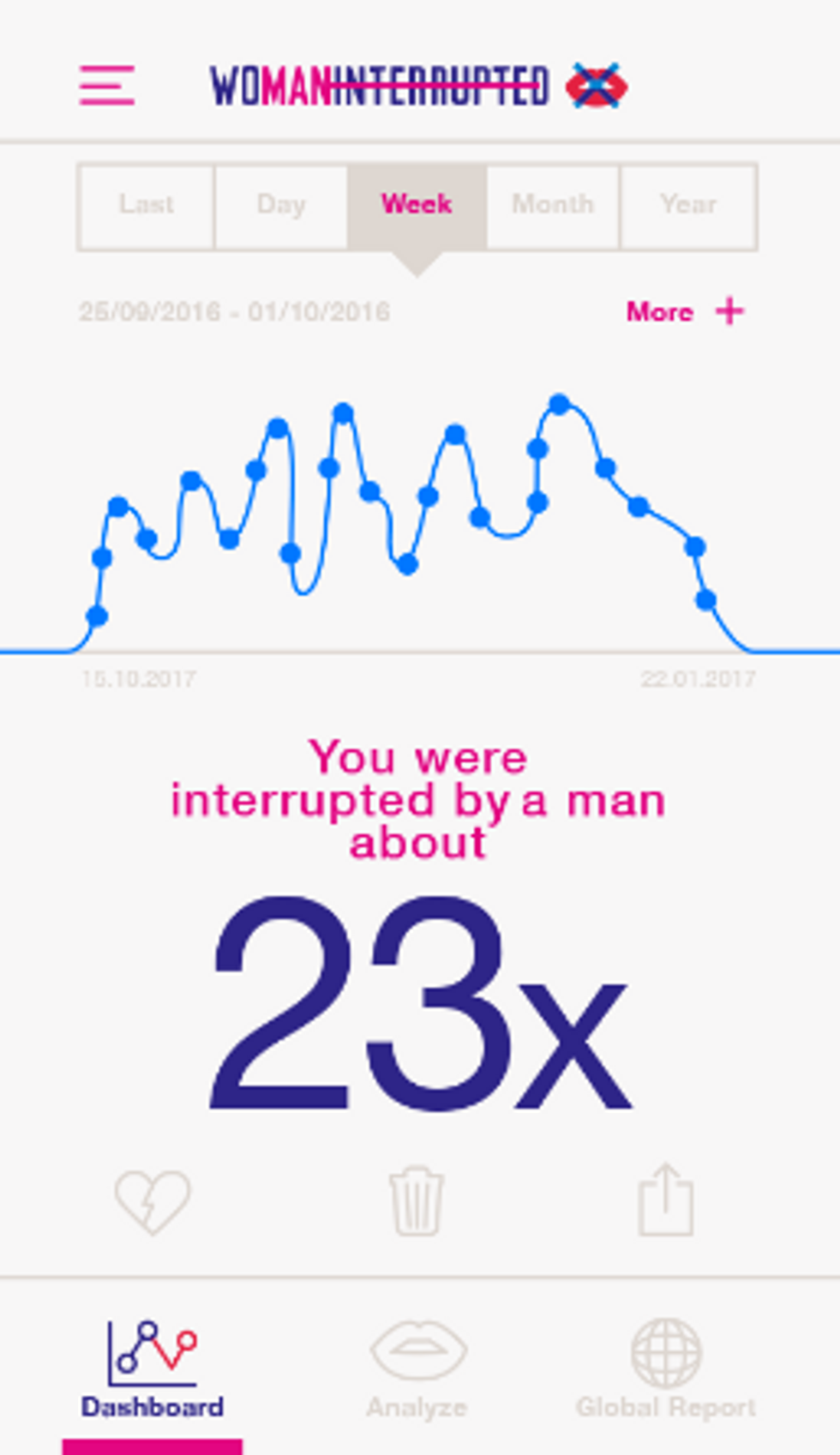 The app launched on International Women's Day together with a beautiful collection of posters from artists around the world, who created them to promote the fight against manterruption.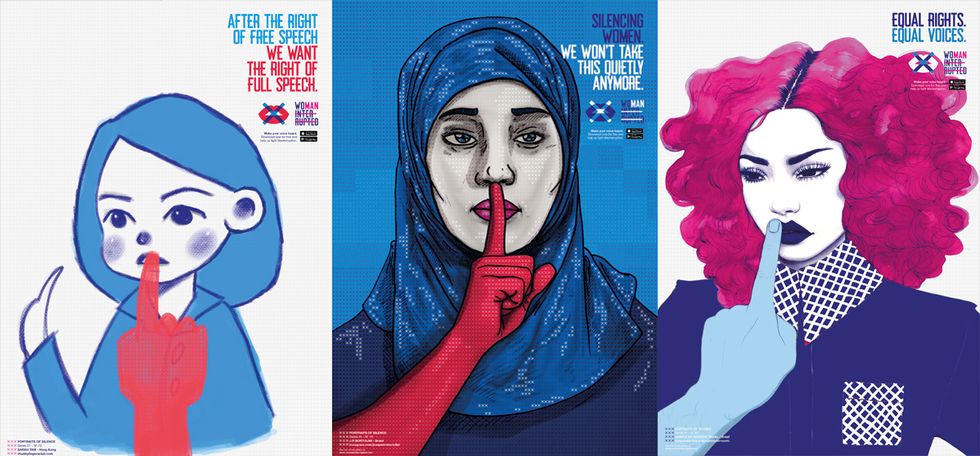 Here's the thing, though: while fighting for the cause of hearing the female perspective equally in all matters of business, government, and life is definitely worthwhile, blaming it all on interrupting men doesn't seem fair. Because it is not just men who interrupt women, women do it too. As a matter of fact, a study done in a tech company showed that 87% of the time that women interrupt, they are interrupting other women.
There are also other dynamics at play, for example, seniority. It is still more likely that men will hold a more senior position in a professional environment and, generally, people with a higher rank tend to interrupt more and be interrupted less. In that same study, it turned out that when women hold more senior positions they also tend to interrupt more men and women.
Hearing the voices and perspectives of both genders equally is incredibly important, but we should make sure we are addressing the right root causes and are not antagonizing those who need to be on the same side for progress to be made. 
Photos: Woman Interrupted App
Mathematics professor Po-Shen Loh has created Expii, a free education tool that democratizes learning by turning your smartphone into a tutor.
Po-Shen Loh is a Hertz Foundation Fellow, Princeton-educated mathematician, Carnegie Mellon professor, the head coach of the U.S. International Math Olympiad team, and now he's adding start-up entrepreneur to his knock-out resume. Loh has created Expii, a math and science education tool that aims to turn every smartphone into a tutor. With the support of the Fannie and John Hertz Foundation, he pursued a PhD in combinatorics at the Pure Math Department at Princeton University.
The Hertz Foundation
mission is to provide unique financial and fellowship support to the nation's most remarkable PhD students in the hard sciences. Hertz Fellowships are among the most prestigious in the world, and the foundation has invested over $200 million in Hertz Fellows since 1963 (present value) and supported over 1,100 brilliant and creative young scientists, who have gone on to become Nobel laureates, high-ranking military personnel, astronauts, inventors, Silicon Valley leaders, and tenured university professors. For more information, visit
hertzfoundation.org
.