In a world driven by technological progress, many impoverished communities are bucking the trend by successfully turning to "low-tech" and unorthodox treatments.
A closeup of fish scales. ERNESTO BENAVIDES/AFP/Getty Images.
Tucked away in northeast Brazil's seaside city of Fortaleza, an unusual medical advancement has been discovered. As reported by STAT, researchers and physicians based out of the region's burn center, the José Frota Institute, have begun testing the use of fish skin as dressings for patients suffering from second- and third-degree burns.
Throughout history, we've seen that windows of acute desperation have produced some of the most remarkable medical breakthroughs. The physically grievous casualties generated during World War II forced advancements in the purification, stabilization, and mass production of penicillin. During the height of the AIDS crisis in the 1980s, researchers turned to a former cancer drug, AZT, to successfully treat the decade's most fearsome disease.
Today, Brazil's medical community faces a uniquely desperate situation. The country's three operational skin banks are only able to meet approximately one percent of the nation's needs. Moreover, alternatives to human skin, such as pig skin and synthetic skin substitutes—materials commonly available in the United States—are virtually unobtainable.
Unlike their American counterparts, material and supply shortages have forced some Brazilian burn centers to deviate from the standard medical practice which advocates for early skin grafts, instead being relegated to using traditional gauze-and-silver sulfadiazine cream dressings. While such a method of treatment is time-tested and effective in preventing infection in burn wounds, the dressings necessitate daily and excruciatingly painful changes, which can delay recovery.   
Enter fish skin—namely that of tilapia. What was once simply thrown in the trash after harvesting has now become a critical therapeutic agent. After undergoing a thorough cleaning process, the sterilized tilapia skins are applied directly to the wound. For superficial second-degree burns, the skins are left in place until the burn naturally scars over, more severe burns with deeper wound cavities require a few changes over the course of several weeks. While the testing of this technique has been somewhat limited, the consensus amongst attending physicians is that the use of tilapia skin bandages reduces healing time and significantly decreases pain levels in patients.
The project's lead plastic surgeon, Dr. Edmar Maciel, commented on the unexpected superior healing properties of tilapia skin, stating, "We got a great surprise when we saw that the amount of collagen proteins, types 1 and 3, which are very important for scarring, exist in large quantities in tilapia skin, even more than in human skin and other skins. Another factor we discovered is that the amount of tension, of resistance in tilapia skin is much greater than in human skin. Also the amount of moisture."

Video produced by Nadia Sussman for STAT.
While experts argue that we're unlikely to see such fish skin bandages in American hospitals, they may very well revolutionize burn care in the medical resource-depleted developing world, where desperation warmly embraces unorthodoxy.
This trend doesn't end with tilapia skin. In recent years, resource-barren medical professionals have reached back centuries and even millennia in order to find solutions to the mounting challenges posed by the modern age.
Researchers in Nottingham have replicated a Medieval eye salve that has proven capable of destroying 90 percent of antibiotic-resistant MRSA bacteria. Honey, whose medicinal value was held in high regard in antiquity, has recently been heralded by contemporary scientists for its now-proven antimicrobial properties.
Most of us would laugh off notions of leech therapy providing any true medical benefit, yet leech therapy has been firmly incorporated into cosmetic and microsurgery practices for some time now, with the FDA approving its medicinal use in 2004. Moreover, scientists are working diligently to harness the anticoagulant properties of leech saliva for use in the treatment of cardiovascular disease. In another surprising throwback to an ancient era, maggot debridement therapy has been found to be effective in the treatment of diabetes-associated wounds, those often prone to the development of gangrene.
The past has always been an inspiration for the future. We may not see fish skin bandages in US hospitals, but we've already—even if quietly—increasingly incorporated the use of other "low-tech" medical treatments in desperate situations. Striding forward with cutting-edge medical advancements has been one of our era's crowning glories, but making technologies equally accessible throughout the world is the step that's been missed—hopefully that changes. Until then, necessity will breed invention.
They may have even kissed our ancestors.
Artist rendition of a Neanderthal man.
Though the care for and concern about teeth has a long history, the modern practice of dentistry has its roots in the 18th century, and quickly developed the century after that. No Neanderthal had a dental plan, and we should be thankful. That's because a recent study of Neanderthal teeth gives us a glimpse of what life was like tens of thousands of years ago. The results, published in the journal Nature, give us unique insights into, as the authors put it, our "closed known, extinct hominin relatives."
UK archaeologist Keith Dobney, at the University of Liverpool, and palaeomicrobiologist Laura Weyrich, at the University of Adelaide in Australia, co-led the study. They examined the plaque from jawbones taken from three separate Neanderthals who lived in Europe around 50,000 years ago.
Though we have some indications of how Neanderthals and our ancestors interacted, including interbreeding, we know very little about the Neanderthals themselves. Testing was performed on three specimens. One was found in Spy Cave in Belgium and the two in El Sidrón Cave in Spain. Researchers performed genetic testing on calcified plaque or calculus, found on the teeth. What they discovered was that Neanderthals were highly adaptable. Their diet varied considerably, depending upon where they lived.
The Belgian Neanderthal ate a meat-heavy diet, likened to that of polar bears and wolves. Researchers found traces of mouflon or wild sheep and wooly rhinoceros. Besides these animals, the bones of mammoths, reindeer, and horses were found inside the cave. This jives with previous research, which has shown that Neanderthals were highly carnivorous. However, it wasn't strictly meat. There is some evidence that they may have eaten wild mushrooms, and other plants too.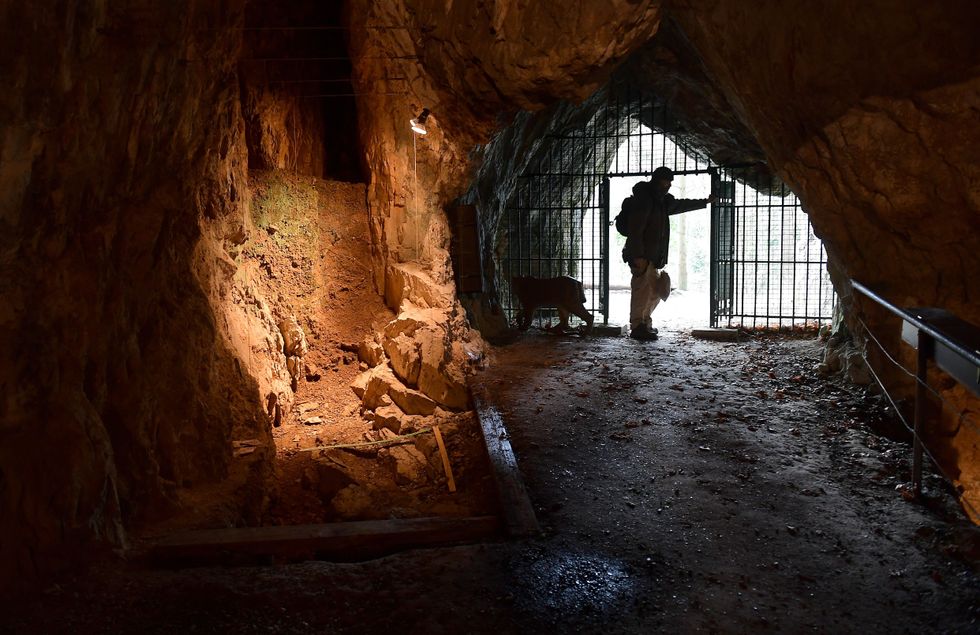 Spy cave. The Belgian excavation site. Getting Images.
Those found in Spain ate not a trace of meat. A diet of pine nuts, mosses, tree bark, and mushrooms, suggest that they gathered vittles from the forest for their supper. While this might sound like a placid existence to some, it's important to note that evidence of cannibalism was found at the Spanish cave site. Whether this was due to some sort of religious ritual, a case of dogged survival during a time of famine, absorbing the warrior spirit of a rival, or for some other reason, remains a mystery.
Belgian Neanderthals occupied a large grassland, filled with grazing animals, while the Spanish group lived in a heavily forested region. Performing genomic testing on the remnants of microbiota or oral bacteria, that once inhabited these hominids mouths, indicated their diet. Over 200 species were identified, which means this study may garner results for bacteriology as well.
Micro-wear analysis on the teeth also gives us clues as to what they ate. The diet consumed depended on food availability. An analysis of starch granules found in the dental calculus suggests that plants may have been an important part of the Neanderthal diet, no matter where they lived. Previous research of Neanderthal fossils near Gibraltar, finds the eating of seals and even the baking of mollusks.
Seems Neanderthals appreciated a good clam bake. But the takeaway is, it was their adaptability that made them survive and thrive in a variety of different environments, across Europe and Asia. This trait may have been passed on to early humans when they began invading these continents, after migrating out of Africa.
The researchers' approach not only tells us what Neanderthals ate, but also quite a bit about their health, including the conditions they experienced and their medicinal practices. Evidence of ancient aspirin was found, in the form of poplar bark, which contains the painkiller's active ingredient, salicylic acid. They also found a rudimentary form of penicillin, a mold from which the antibiotic derives.
"It's pretty phenomenal that these guys were so in tune with their environment and to know what was going on and how to treat things," said Weyrich. It was a boy, found in the Spanish cave, who was eating the mold and poplar bark, in order to get better.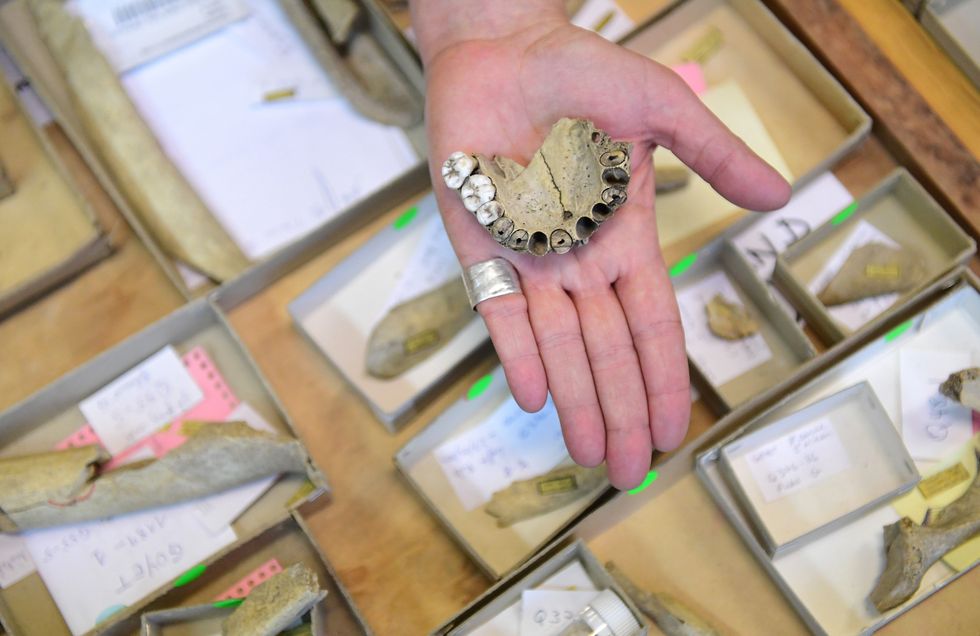 A jaw bone found at the Belgian cave site. Getting Images.
He suffered from a tooth abscess that must have been painful. The young Neanderthal also had a terrible stomach ache, because they found traces of a stomach bug, a bacteria known as Microsporidia. He was probably nauseas and experienced intermittent bouts of vomiting and diarrhea. Since he was found around a group of females, researchers believe they were caring for him. "It really paints a different picture, almost of their personalities, of really who they were," Weyrich said.
There is some evidence to reveal something interesting about these ancient hominid's love lives. Enter the ever-controversial interspecies dating. We know homo sapiens and Neanderthals interbred. At least 20% of modern human DNA is Neanderthal. Weyrich says that before this study, it was thought to be a rough, primitive, violent encounter.
However, the presence of a certain bacteria which causes gum disease in modern humans, tells a different story. Since Neanderthals and humans branched off about 100,000 years ago, researchers believed it must have been passed somehow, from humans to the Neanderthals, whose fossils were then discovered.
Weyrich said, "If you're swapping spit between species, there's kissing going on, or at least food sharing, which would suggest that these interactions were much friendlier and much more intimate than anybody ever possibly imagined." You know this is going to breed some type of movie, either Romeo and Juliet caveman style or perhaps a Disney-esque prehistoric love story, bringing us our very first Neanderthal Disney princess.
More importantly, learning more about interactions between early humans and Neanderthals, and the genetic implications, may help in the fight against certain medical conditions. As one Harvard study found, "Remnants of Neanderthal DNA in modern humans are associated with genes affecting type 2 diabetes, Crohn's disease, lupus, biliary cirrhosis, and smoking behavior."
To learn how studying teeth reveals so much, click here: