There are four main stages. Each has its own particular set of advancements and challenges. 
Don't you wish you could predict your child's behavior with 100 percent accuracy? Any realistic parent knows it's an impossible daydream, but an appealing one nonetheless. Kids will always surprise you. There are so many factors that go into behavior, not to mention the fact that internal and external forces can sometimes make kids act out of character.
What you can do is come to understand the stages of their neurological development and what it means for their learning and behavior. Turns out, those parents who get a good grip on how we develop neurologically, are better able to guide their children toward positive outcomes. Here's a rundown of the stages of neurological development and what they mean for parenting.
The first is the sensorimotor stage. This takes places between birth and two-years. A child at this stage is getting used to experiencing the environment through their senses. Through trial and error and from experiences with objects and sensations, they begin to master the world around them. Around age one, the child learns object permanence, the concept that an object continues to exist, even when it's left the field of vision.
According to Sarah Lytle, PhD., from the Institute for Learning & Brain Sciences at the University of Washington in Seattle, what many parents don't fully realize is that babies are also developing socially and emotionally. As such, they usually look to their parent for support. If you've ever engaged with a baby you didn't know, you'll notice the child usually turns to their parent to gauge how to respond. This act is called social referencing or social cognition. Be sure to be supportive when the child does this. This allows for more confidence and independence.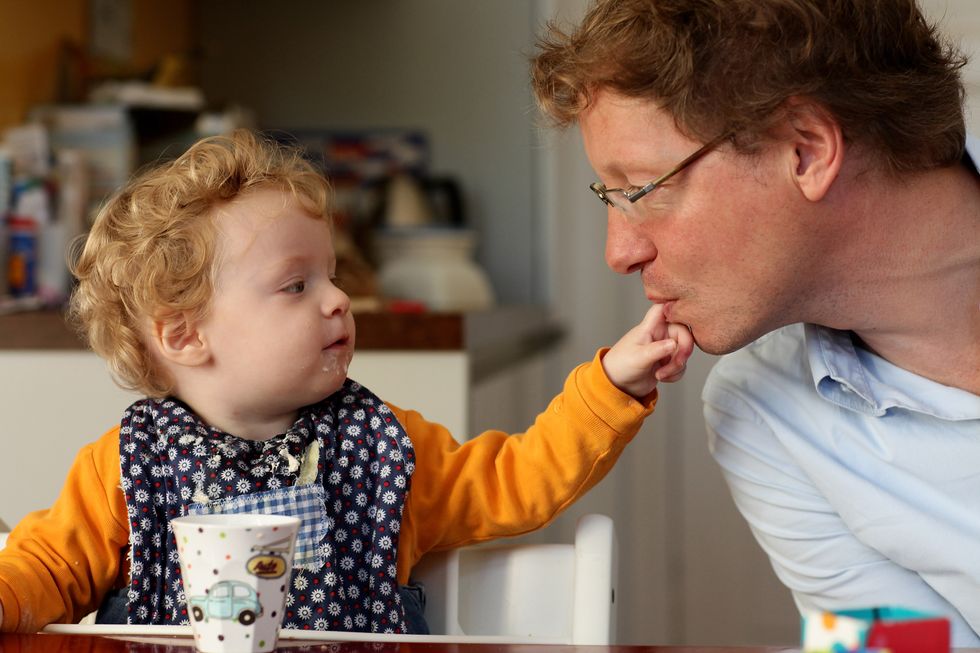 Young children understand the world through interaction with their senses. Getty Images.
A child's first word is uttered around six months of age. To help a baby develop language skills further, remember that they follow your gaze. Emphasize with your eyes by moving them slowly when introducing a new word. According to Dr. Lytle, it's okay to use a baby-talk tone. We're actually genetically programmed to talk that way. But make sure you use words correctly, in full, and in complete, grammatically correct sentences.
From age two to six or seven, a child enters the preoperational stage. Here, language skills ramp up. The child can start to think in terms of symbols, develop a numerical understanding, and begin to grasp the distinction between past and future. Children at this age do well with concrete situations. Abstract concepts, however, are difficult to grasp.
It's at age two that humans become amazed by the idea that others don't see the world quite like they do. As the parents of two-year olds are all too well aware of, this self-centered viewpoint makes it difficult for the child to share and care about others. Although a 2016 poll showed that most parents think two-year olds can control their emotions, psychologists say quite the contrary. Having a toy that they love on hand to distract them when they pull a temper tantrum is probably the best strategy.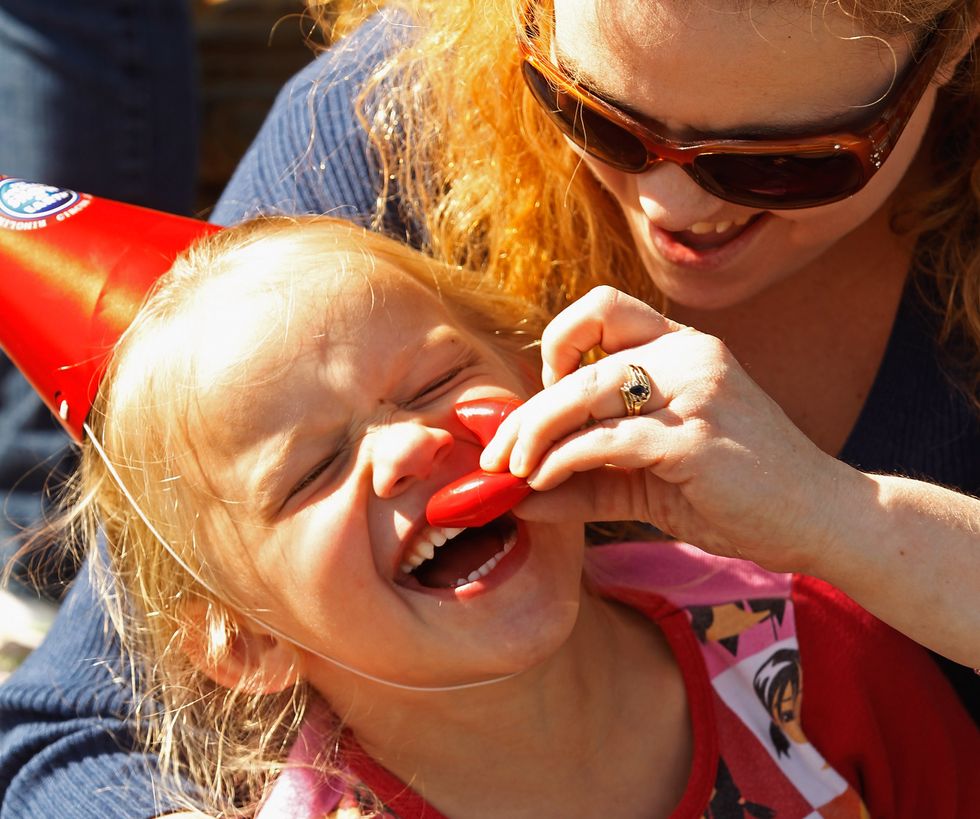 Two year-olds can't control their emotions very well. Luckily, they're distracted easily. Getty Images.
To help build empathy, parents can work at developing a child's theory of mind. This is coming to understand the perspective of others. Note this doesn't develop until the child is three or four. One famous example is the "Sally-Anne test."
Here, a child is told that Sally has a basket and Anne a box. Sally puts an object in her basket, then goes for a walk. Anne takes the object and puts it in her box. The child is asked, "Once Sally returns, where will she look for the object?" If the child understands Sally's point of view, they will say, "In the basket." Another tactic it to read them stories where they have to put themselves in a character's shoes.
From age six or seven to 11 or 12, a child enters the concrete operations stage. Seven is supposed to be the age of reason. Here, he or she can grasp abstract concepts, understand sequences of events, and empathize with others whose experiences are different from their own. Children at this stage can learn abstract mathematical concepts, but they aren't good at breaking down complex problems which require systematic reasoning. Lytle suggests keeping in mind a child's emotional development at this stage. Parents often don't realize how affected their children are by marital spats or a parent suffering something like a bout of depression.
From age 12 throughout the teen years, the child enters the formal operations stage, where he or she develops greater capacities for hypothetical thinking, abstract reasoning, and deductive reasoning. Generally, people have a good grasp of these by age 15. Moral issues like social justice and abstract ideas, such as probabilities, can be understood. Although for parents, few stages can be quite as challenging.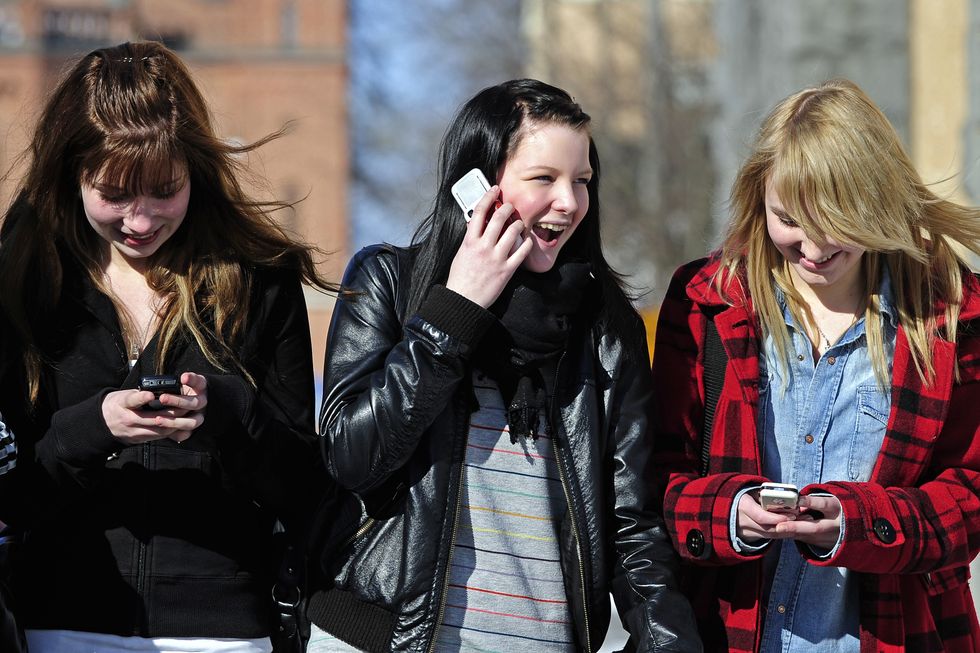 Dealing with teens is challenging because of how their brains work. Getty Images.
Teens are often moody and hypersensitive. This is usually chalked up to hormones, but it's also because their midbrain is highly active in this stage. The brain develops from back to front.
The midbrain is responsible for memory, emotion, and sexuality. It may surprise you to know that the rational part of the brain, the prefrontal cortex, isn't fully developed until around age 25. This is responsible for things like decision-making, planning, impulse control, and risk avoidance.
Teens are more likely to evaluate situations with their amygdala or emotional center. This is why they tend to get overwhelmed by their emotions, but might have a hard time expressing them. It also explains their intermittent bend toward risky behavior. Make sure to talk to them often about drugs and alcohol, the risks of unprotected sex, and so on, and give them vocabulary they can use to avoid social pressures. When a teen does make a mistake, instead of scolding or lecturing, use it as a teachable moment. Walk them through it logically. Find out in their own words what they should have done differently. This can help them develop decision-making skills.
Also, work on giving them frontal lobe tasks or doing it with them. Give them opportunities to practice problem-solving, make judgment calls, or to plan things out. Do it together or debrief once they've completed the task. Sure, raising kids is far from easy, but knowing a little neuroscience can make a real difference.
Do children develop a moral compass earlier than we think? See what one expert thinks here:
Research on ghost sightings reveal underlying manifestations that affect us in weird ways.
Once, in middle school, a gang of boys and I were lured to a spot behind the Dunkin' Donuts in our town. We went after dark, to a place where a kid from school witnessed a paranormal experience. Once there, we saw nothing. We chided our classmate until suddenly, a column of white light appeared out of nowhere. We scattered.
It sustained itself for a few minutes. Then suddenly, it cut off. A few moments later, just as mysteriously, it went on again. We stayed there quietly studying it, scared out of our minds. Until someone in our group finally pointed out a streetlight overhead. The bulb was getting old. That was the last time I believed in ghosts.
Do you? If so, you're in good company. 45% of Americans do. In one poll, 28% of them admitted they'd had contact with one, personally. Senior research fellow at the Committee for Skeptical Inquiry Joe Nickell is the world's sole, full-time, scientific paranormal investigator. After five decades of research, he hasn't turned up a shred of evidence that points to the existence of ghosts. Magicians Harry Houdini and James Randi arrived at a similar place.
It's not for lack of trying. In a video for Vox, Nickell says he's employed blood pattern analysis, linguistic analysis, aspects of psychology, and more. It isn't just him. Not one haunting or ghost sighting has ever rendered any evidence.
One of the problems is, it's hard to grab raw data. All we usually have is a personal account. And these vary widely. One person will interact with an actual human figure, while another will observe mere objects flying across the room. There are a few grainy, blurs in some photos. But it's hard to extrapolate from that.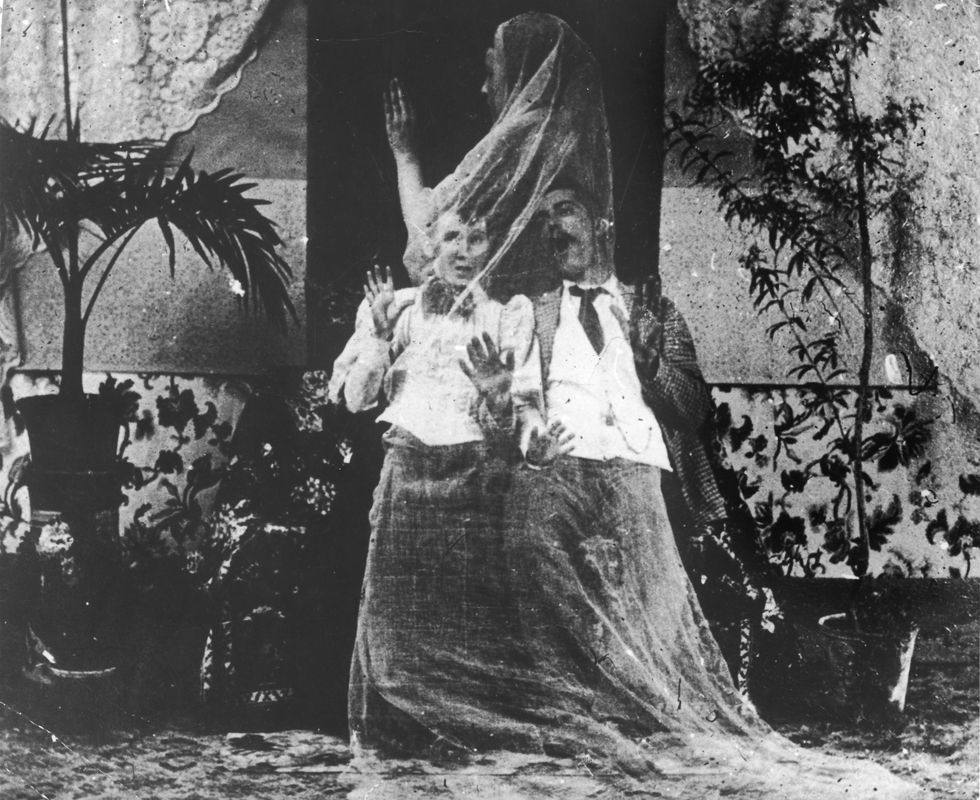 Photographic evidence such as this isn't enough to go on. Getty Images.
Though electromagnetic field (EMF) meters have been made popular by movies like Ghostbusters and TV shows such as Paranormal Lockdown and Ghost Hunters, there's no scientific proof of any link between supernatural phenomenon and the magnetic field. Despite a general lack of evidence, such experiences feel poignant and real.
In a recent TED talk, Carrie Poppy explains her brush with the paranormal, how it made her feel, and later on, what she came to realize about it. She's the co-host of the popular podcast Oh No Ross and Carrie, which explores and demystifies spiritual, religious, and paranormal topics, among others, through a scientific lens.
At the time her ghost sighting occurred, she was alone in her house. Suddenly, she felt a presence. Poppy felt like she was being watched. The feeling grew and grew and as it did, a pressure began to build inside her chest. The feeling increased slowly over the course of a week and rose to a fever pitch. She started to hear whispering sounds and became convinced that her house was haunted. Poppy tried to do a cleansing by burning a sage stick and other things. But no matter what she tried, the pressure on her chest got worse. It was also growing painful.
Finally, she took to the internet and arrived on a ghost forum for skeptics. She told them what she was experiencing and one of them said she had the symptoms for carbon monoxide poisoning. These include pressure on the chest and auditory hallucinations. The utility worker who rectified the problem, told her that if she hadn't of gotten it fixed when she did, she wouldn't have been alive the next morning.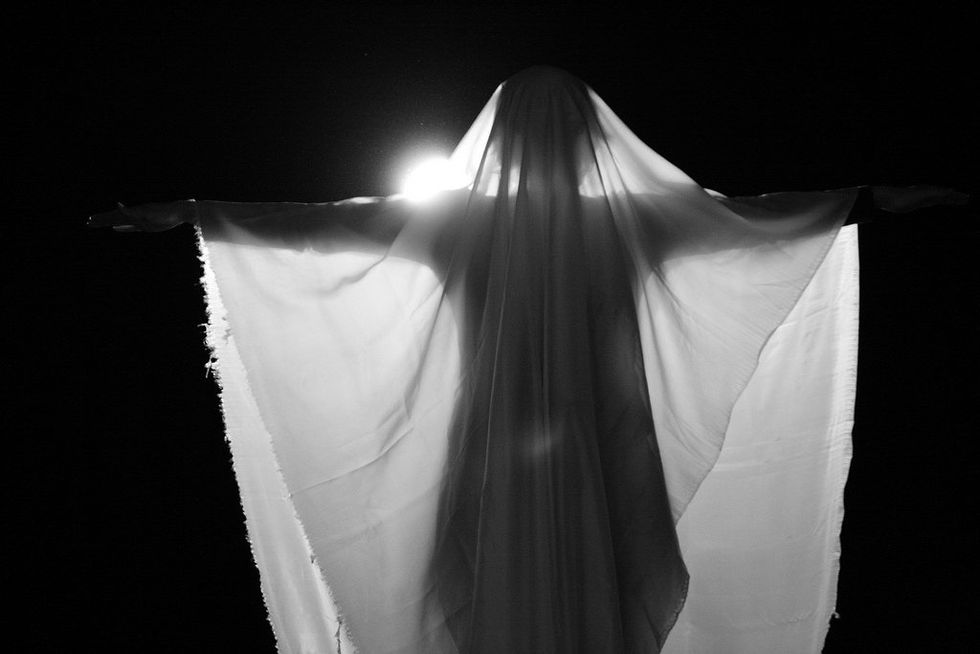 There are many scientific explanations for ghost sightings. Ghost. By: Jordi Carrasco. Flickr.
The process by which one experiences something that isn't there is called misperceived self-representation. So what else might induce this, besides carbon monoxide poisoning, brain damage, or an episode related to mental illness? Well, several things actually. There is a condition called sleep paralysis for one, also known as waking dreams.
This affects around 8% of the population. It usually occurs in the twilight hours of the morning, when one is between a waking and dreaming state. You can't move your body and sometimes experience visual hallucinations. Grief also tends to increase the chances of a ghostly encounter. Psychologists say it might be a way for the mind to process and deal with loss. Usually, the person they see is a comforting figure who appears serene.
Another ghost-inducing phenomenon is called infrasound. This is a vibration that occurs below our normal range of hearing. That's below 20 hertz (Hz). Certain machinery (like engines), whales, and extreme weather can all cause infrasound.
Some studies suggest that it can result in symptoms including feelings of depression, the chills, and the sneaking suspicion that someone is watching you. According to Hayden Planetarium director and astrophysicist Neil deGrasse Tyson, infrasound at 18 Hz vibrates at such a rate that the eye can pick it up, which might cause visual hallucinations.
So if you or someone you know claims to have seen a ghost, believe them. But also, look for what evidence or phenomenon might be behind the sighting. You could end up finding a faulty lightbulb was the culprit all along.
To learn about the science behind ghost sightings, click here: 
Is the technology of the future more radical than the technology of the past? Alison Gopnik provides some historical perspective.
Kids in waiting rooms and on transport are kept placid with smartphones and earphones, pressed into their developing canals. Six-month olds already know they need to swipe to unlock an iPhone. Information darts in and disappears just as quickly on smartboards in classrooms. Our attention spans are shot. Our collective impatience is at its historical peak. Will it stunt early development? Is anyone thinking of the children? Well, It'll be 20 years before we really know the effect that current technology is having on them, but there is no doubt it will change them. This doesn't cause a swell of anxiety within developmental psychologist Alison Gopnik, because a look through our history as animals reveals that's exactly how we've always operated, and in fact it's what sets us apart as a species. We use tools, we reshape our physical world, and our inner one. When the printing press and the telegraph were introduced, there were similar dystopian predictions of terrible change – and the world was transformed, certainly, but not for the worse. Our love of stability and familiarity is coming into conflict with the acceleration of technological innovation. Adults worry because it may not be intuitive to them, says Gopnik, but young minds learn differently. There may be trade-offs in the way things have always been but in history, by and large, the benefits outweighed the harms, and they will continue to do so. It's as human to continually advance as it is to grapple with what is new. Alison Gopnik's most recent book is The Gardener and the Carpenter: What the New Science of Child Development Tells Us about the Relationship Between Parents and Children
Alison Gopnik's most recent book is The Gardener and the Carpenter: What the New Science of Child Development Tells Us about the Relationship Between Parents and Children.
Whatever you do, don't look behind you – because the answer isn't there, says psychologist Alison Gopnik. The real ghosts are glitches in your brain, and in a way, that's even scarier.
According to a 2009 Pew Research survey, 18% of adults in the U.S. say they've seen a ghost or at least felt its presence. An even greater number (29%) say they have felt in touch with someone who has died.
Humans have felt presences for at least as long as we have recorded history and, naturally, where there is mystery there are scientists poking and prodding to get to the bottom of it.
So how does this supernatural phenomenon hold up under scientific scrutiny? Developmental psychologist Alison Gopnik tells us a spine-chilling story this Halloween, where a bunch of scientists from University Hospital of Geneva ran a neurological study to examine the popular claim of spirit-world sensations. Through a very interesting method, what they found was that patients with a particular kind of damage to their frontoparietal cortex where especially likely to have this ghost sensation, and that our brain can dupe us into feeling things that really aren't there – we may literally feel a touch on our back due to a brain glitch.
That's not so scary, right? That's kind of comforting. Well, Gopnik's 'boo!' moment in this tale comes in the form of a pensive and introspective twist: the frontoparietal cortex is the same brain region that lets us sense our own bodies, and be aware of our own kinesthetic motions. If it can be duped, how do we know that it's always reliable? How sure are you that your hand is holding a mobile phone, that your thumb is scrolling on the screen, and that you're tucking it away in your pocket? It feels real, your frontoparietal cortex tells you that's very real, but this experiment suggests it could very well be an illusion. How confident are you that your sense of your own body is real? It's something we haven't got to the bottom of yet.
Alison Gopnik's most recent book is The Gardener and the Carpenter: What the New Science of Child Development Tells Us about the Relationship Between Parents and Children.
Narcissists aren't born – they're made, says development psychologist Alison Gopnik. She takes issue with the popular notion that children need to unlearn brashness and learn civility, when neuroscience shows that it tends to work in the reverse.
Parents of a newborn baby no doubt look at the bundle in their arms and flash-forward to what their child might grow up to become. Will he or she be an economic genius like Warren Buffet? Or maybe an artistic visionary like David Bowie? What about their heart and mind – will they be happy and funny and kind? And then, somewhere on a lower rung of thought, there are all the fears you don't let fully materialize: like will he or she grow up to hurt and spite others? What are the chances that they will take after that one sour, twisted relative in the family tree? Psychopaths and narcissists have parents too, some subterranean part of a parent's mind may worry.
According to Dr. Alison Gopnik, a developmental psychologist working at the University of California, Berkeley, infants and young children are not the blank slates we think they are; they are not clueless balls of dough waiting to be shaped. New neuroscience research has flipped that long-held belief on its head – babies aren't ego-centric wildlings that have to be tamed into civility, and they don't have to learn how to be good humans from scratch, because from as young as 18 months they are already displaying genuine moral intuition. "The youngest children have a great capacity for empathy and altruism. There's a recent study that shows even 14-month-olds will climb across a bunch of cushions and go across a room to give you a pen if you drop one," Gopnik says.
Recently, she read an article by a New York Times columnist who likened Donald Trump's behavior to that of a two-year-old, and found herself deeply offended – on behalf of the two-year-old. Narcissism, egotism and a lack of empathy don't belong to infants, she says, they're grown-up conditions that happen somewhere in the passage from childhood to adulthood.
The best parents can do is try to encourage children's natural tendencies towards altruism, without falling into the trap of tribalism that typically comes with that lesson. What Gopnik means by this is that often, children are taught to care about one thing by contrasting it against something they don't have to care about, for example family and friends vs. everyone else, or caring about your country, but not the country next door. The great challenge of raising a child is to present a complete worldview, where empathy doesn't hit a tribal barrier – or should we say, a wall.
Alison Gopnik's most recent book is The Gardener and the Carpenter: What the New Science of Child Development Tells Us about the Relationship Between Parents and Children.