You are going to die. So am I. These are facts.
Photo: Eduardo Mineo via Flickr
You are going to die. So am I. These are facts.

The question of how to deal with the reality of death is one as old as mankind. Billions of people, living and dead, have put their hopes on an afterlife. The promise of Heaven, Valhalla, Elysium, reincarnation, or even a decent hell makes death but an inconvenience.
For atheists, however, there is no such benefit to death. It is merely the end of the one and only existence that can be confirmed. Death can take on an extra aura of fear without the benefit of an afterlife. The realization of death's finality can be unsettling for the non-believer, and is one reason why the religious feel confronted by atheists.

Luckily, many great minds in history had thoughts on how to face death without the comfort of an afterlife.
Many philosophers who did believe in the divine, such as Epicurus, did not believe in an afterlife. While the end of existence troubled them, the idea of being dead did not. Mark Twain, the deistic author of Adventures of Huckleberry Finn, wrote in his autobiography that:
"Annihilation has no terrors for me, because I have already tried it before I was born — a hundred million years — and I have suffered more in an hour, in this life, than I remember to have suffered in the whole hundred million years put together."

That is to say, in death you stop existing so you can't be bothered by it. There is no longer a "you" to be bothered.
Epicurus shared that sentiment, saying, "Death is nothing to us; for that which is dissolved, is without sensation, and that which lacks sensation is nothing to us." Epicurean philosophy focused on life, rather than death, and practitioners strove to not fear it.

Socrates weighed in too. In Plato's The Apology, Socrates supposes that he will either live on after death and debate the great heroes of Greek History, or cease to exist. He agrees with Epicurus that ceasing to exist can't be painful, as he would no longer exist to feel pain. The lack of debate in this scenario probably did disappoint him though.
This kind of skepticism about the chances of an afterlife can be healthy, as Michael Shermer explains in his recent Big Think interview.
Okay, so non-existence might not be unpleasant, but I really don't want to stop existing in the first place!

Well, most people don't like the idea of eternal oblivion. However, if it is the case then we had best figure out how to face it. The science on the matter is pretty definite too; the current neuroscientific view is that brain death causes the annihilation of consciousness and nothingness forevermore. So, we might be out of luck.

For the existentialists, particularly Martin Heidegger, acceptance of death was a key part of living. In the face of death each choice in life becomes an important one. They took the end of existence as a motivation to value existence all the more. The existentialists push you to accept your inevitable demise, remember it, and use it as a reason to embrace life. Such a positive view on oblivion is hard to find elsewhere.

Philosopher Luc Bovens offers us a more modern view on how to approach death secularly in his Big Think interview.
What about the cosmos? The idea that the universe still cares after I die sounds enjoyable, can I have that if I give up the afterlife?
The same science that supports the idea that death is the final end can give us comforting words too.
American physicist, comedian, and author Aaron Freeman wrote Eulogy from a Physicist describing how death can be viewed from a scientific worldview. A eulogizing physicist would remind a mourning family that:
"No energy gets created in the universe, and none is destroyed. You want your mother to know that all your energy, every vibration, every Btu of heat, every wave of every particle that was her beloved child remains with her in this world."

Even if we are not immortal, many of our component elements are. Even if we die, parts of us never will, those parts can affect every part of the universe long after we are dead and gone. That is the comfort science can offer.
Death is unpleasant to think about. Our search for ways to make it easier to handle or even avoid it entirely goes back as far as human history. With the death of God, and the increasing number of atheists around the world, trying to help people deal with the idea of death may be a bigger task than ever. As Ernest Becker wrote in The Denial of Death: "To live fully is to live with an awareness of the rumble of terror that underlies everything."
For those who don't believe in an afterlife, viewing death without smoke and mirrors can be a great comfort. Reflecting on how people have faced oblivion in the past can help us all face it in the future, whenever it comes — and come it will.
John Cleese was in super sarcastic form during his recent Reddit AMA.
John Cleese as Basil Fawlty, Graffiti in Lisbon, Portugal.
When Bill Maher asked John Cleese how he treats fans, his response was not exactly suited for print on this site. "Awful fawning creatures," he started in. Maher teed him up well, saying that once you've reached 60 you're allowed to be cranky in public. Cleese, 75 during this particular show, agreed. 
john-cleese-advice-to-novice-actors-and-writers
Yet Cleese loves Americans, or at least America, his home away from the UK because, as he told The Nightly Show, his bucket list is down to one item: "Never being cold again." On top of that the 77-year-old writer, actor, "and tall person" finds it easy to make a lot of money in the States due to how much we love Monty Python. He isn't wrong about that. 
Whether or not he loves or hates his fans, he replied with good cheer to a recent Ask Me Anything on Reddit in preparation for the 2017 Monty Python tour. Below are a few of the highlights. 
John Cleese on Confirmation Bias 
Q: Hi John. I saw your recent talk in Dublin. I completely agree with what you say about confirmation bias, so I thoroughly enjoyed it. On that subject, are you aware of tools like 'DuckDuckGo' — an alternative to Google that explicitly does not tailor its results to what it thinks you personally are most likely to click? How do you educate yourself about view outside your 'bubble'?
A: That is a very good joke, but the bozos reading all this won't get it. Secondly, I don't think you should educate yourself outside your bubble, because it would confuse marketing people.
Confirmation bias is a growing problem in the digital information age. As Daniel Levitin writes, our brain is a "giant pattern detector." If we read something that coincides with what we already believe we're more likely to give it credence, while the opposite is not true. Thinking critically about a topic, as Cleese suggests, also makes us terrible consumers, with companies and marketing agencies preferring to easily predict our patterns. 
John Cleese on Superstition
Q: Mr. Cleese, What do you think is the most IMPORTANT joke you've ever written?
A: This is the most important joke I've ever heard. Niels Bohr, the founder of Quantum Physics, had a friend to dinner. As the friend left, he noticed a horseshoe nailed above Bohr's front door. He said to Bohr, accusingly, "Niels, you're a great scientist. You can't believe in superstitions." Bohr answered, "I don't, but apparently it works anyway."
As with confirmation bias, we tend to lean toward superstitions that benefit us, as this last season of Game of Thrones proved. Proof of efficacy? None needed. Otherwise they wouldn't "work."  And as astrophysicist Neil deGrasse Tyson likes to say: "The good thing about science is that it's true whether or not you believe in it."
John Cleese on Death 
Q: Greetings, John the Entertainer! What request would you like to have honored at your own eulogy, and by whom?
A: I would like to do my own eulogy, and then shoot myself and then get in the coffin.
George Carlin once called for an uprooting of all cemeteries (and golf courses) to make room for low-cost and homeless housing. Cleese appears to want to visit the underworld, however, perhaps as a harbinger of the next question. Though, we have to ask, maybe he could come back as a reef ball?
John Cleese on the Afterlife
Q: Can you tell us something about yourself that we may find surprising?
A: Yes. I believe there is an afterlife. But don't ask me for details.
Think you're coming back? You'd have to figure out who "you" are first, which is a whole other can of worms. Michael Shermer is skeptical this is possible, for three reasons. 
John Cleese on Anxiety
Q: Hi Mr. Cleese, A lot of us redditors suffer from some form of depression & Anxiety. Have you ever experienced this? And if so, what did you do to see the brighter side of life?
A: Never. And I wish you wusses would stop whining about your unhappiness. I'm really fed up with it. Pour yourself a scotch and pull yourself together. Go out and shoot something!
Apparently Cleese is a "pull yourself up by your bootstraps" person. Very British of him. In this instance, Americans could probably learn a lot from our cousins across the pond. Too bad Cleese didn't recommend which Scotch, though. Further commenters noted Cleese's own Americanness in his final sentence. For those wondering how to deal with anxiety and depression, the first thing to consider is what you're putting into your mouth. 
John Cleese on Bitcoin
Q: What is your take on Bitcoin and decentralization of financial power?
A: 10 percent.
Cleese might not have too much to say on the topic, but John McAfee does. He's come out as a strong proponent for cryptocurrency since Jamie Dimon called it a "fraud." After an initial drop last week Bitcoin prices are climbing, for all you crypto advocates. 
John Cleese on The Princess Bride
Q: Is there a project you passed on that you wish you had taken, or vice versa? Thanks for all the years of entertainment!
A: There are three roles I was asked to do that I really regret not taking. The Robin Williams role in The Birdcage, the butler called Stevens in The Remains of the Day and the clergyman in charge of the marriage service at the end of The Princess Bride.
We all regret him not being The Impressive Clergyman. No disrespect to Peter Cook.
John Cleese on Monty Python
Q: Will there ever be a Python movie again?
A: Only when the others are dead. Then I will make the definitive one.
But I thought there was an afterlife? Python will never be dead, and Cleese knows it.
john-cleese-on-political-correctness
--
Derek is the author of Whole Motion: Training Your Brain and Body For Optimal Health. Based in Los Angeles, he is working on a new book about spiritual consumerism. Stay in touch on Facebook and Twitter.
Polygamy has been denounced by the Mormon church for more than 100 years. So why does the stereotype persist?
Brides on the warpath in Zoetermeer. Photo by Zoetnet on Flickr (www.flickr.com/photos/zoetnet)
Sex has never been easy for humans. In practice, perhaps, but add in a layer of ethics and suddenly how, when, and with whom we share our bodies with has long been contentious. Some argue that promiscuous primates reveal our true nature, while others declare that monogamy is the godly way. In his behavioral tour-de-force, Behave, neuroendocrinologist Robert Sapolsky says we're actually somewhere in between: animals that spread and receive seed broadly, and animals that devote themselves to only one other. 
Makes sense that religion would take up the role of how we use our bodies, even if certain mandates put more emphasis on suppression over exploration. Humans are curious animals. Tell us an act is prohibited and you ensure participation. Much confusion has resulted from this intersection between faith and desire. 
The Mormon church has long dealt with this conundrum. Shortly after Joseph Smith founded the religion in 1830 he had a vision of his deceased brother, Alvin, prancing around in heaven. Due to this vision, he invented the concept of "sealings" in 1836, which states that family members reunite in heaven by undergoing certain rituals during life. It just so happened that in its early days Mormonism appealed to men more than women, so the rules favored that gender. 
Enter polygamy. Smith used the Bible whenever it served his purposes, as most offshoots of Christian, Muslim, and Jewish faith do to this day. He turned to Abraham for guidance. Since men were the drivers of early Mormonism, Smith figured that women and children could be "sealed" through them. As Mormon scholar (and Mormon herself) Joanna Brooks writes: "Smith taught that a righteous man could help numerous women and children go to heaven by being "sealed" in plural marriage." The more women a man could seal, the better.
By 1843 Smith privately overlooked plural marriages among church leaders even as the 1844 edition of the faith's Doctrine and Covenants explicitly supported monogamy. Smith always publicly denounced plural marriages. Yet after his death it was revealed that he had between 29-48 wives besides his public wife, Emma. Emma swore none existed. Plenty of evidence shows otherwise.
In 1844, Smith was murdered. His successor, Brigham Young, took up the cause. His stated reservations did not stop him from taking multiple wives—51 in total, having 56 children with 16 of them. Other leaders partook in what they termed "spiritual wifery." In 1852 polygamy became an official Mormon Church practice, and the shift was announced in the group's new home, Salt Lake City. In 1876 polygamy was included in the Doctrine and Covenants.
In the years between 1852 and 1890, somewhere between 20-30 percent of Mormons practiced polygamy. In 1890, the church's fourth president, Wilford Woodruff, expressed concerns. Just like Joseph Smith supposedly received a divine revelation in the form of golden tablets, which led to the formation of Mormonism, Woodruff claimed he had his own discussion with God, resulting in the church's "Manifesto." Polygamy was out:
The Lord showed me by vision and revelation exactly what would take place if we did not stop this practice. If we had not stopped it, you would have had no use for ... any of the men in this temple ... for all (temple sacraments) would be stopped throughout the land. ... Confusion would reign ... and many men would be made prisoners. This trouble would have come upon the whole Church, and we should have been compelled to stop the practice.
Mormons had always faced social and political persecution, but things really ramped up in 1856 when the Republican party platform related polygamy with slavery. Mormons were in a bind. Church leaders wanted to stay true to Smith's teachings, but they also wanted to not be persecuted. Behavioral rules, such as a ban on smoking and drinking and a conservative view on sexuality, became required of the faithful to save face.
Then, in 1878, the Supreme Court banned polygamy across the United States. By 1887 the government was seizing Mormon church assets for their continued practice. Woodruff officially abolished the practice upon realizing his church was in danger of being shut down.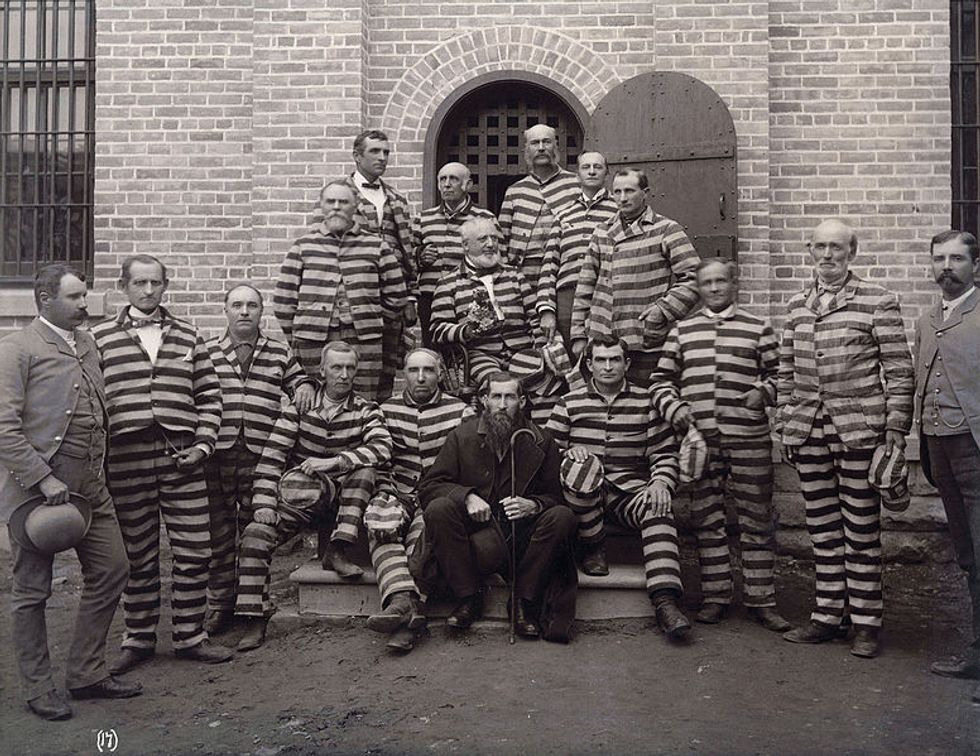 Portrait of Mormon polygamists in prison, at the Utah Penitentiary, circa 1889.
Some men were not happy. Polygamy wasn't new to the world. Historically plural marriages were social contracts. If a man had enough resources to support multiple wives, it made sense that he would look after them. By the 20th century, views on women's roles at home and in the workforce were rapidly changing. Many echoed the sentiment that polygamy was in fact a form of enslavement. 
A rogue group of Mormons fled to Mexico to escape what they perceived as ungodly regulations. A wave of fundamentalism kicked off around the time of the Great Depression that persists today. If polygamy was good for Smith, it certainly is good for these believers. In 1904 church president Joseph F Smith disavowed polygamy in front of Congress, issuing yet another manifesto. This created an even larger schism in his church. 
Today, the LDS Church continues to promote monogamy, and while polygamy is illegal in the United States, small pockets of Mormons exist in the Rocky Mountains, where they freely practice what they refer to as "the Principle." These groups of fundamentalists believe they're staying true to Joseph Smith's revelation. 
Earlier this year, Lyle Jeffs, at the time leading one of those 1930s era offshoots, the Fundamentalist Church of Jesus Christ of Latter Day Saints, was arrested for a food stamp fraud and money laundering. His brother, Warren, was convicted of child sexual assault in 2011 after marrying 12- and 15-year-old girls. Warren had dozens of wives, while Lyle was tamer, marrying just nine times. In both of these cases their polygamy dominated headlines.
So while the Mormon Church publicly denounces polygamy, it lives on. Joanna Brooks says this is in part because the doctrine supporting it was never officially changed. In a kind of spiritual loophole, it is a mainstream Mormon belief that polygamy is part of the afterlife.  
The LDS Church publicly renounced the practice of polygamy in 1890, but it has never renounced polygamy as doctrine, as evidenced in LDS scriptures. It has always permitted and continues to permit men to be married in Mormon temples "for the eternities" to more than one wife.
As long as this rift between public banishment and private winks and nods continues, the question of plural marriage will continue, regardless of what laws are being enforced. Old habits are hard to break. 
--
Derek is the author of Whole Motion: Training Your Brain and Body For Optimal Health. Based in Los Angeles he is working on a new book about spiritual consumerism. Stay in touch on Facebook and Twitter.
Does the thought of death make you anxious? A new study suggests that the fear of mortality isn't really about the afterlife at all.
Pope Francis and Richard Dawkins, both positively cheery in the face of death.
Socrates warned against fearing death. He thought it irrational—the fear of death causes you to believe you're wiser than you actually are. "No body knows death; no body can tell, but it may be the greatest benefit of mankind; and yet men are afraid of it, as if they knew certainly that it were the greatest of evils," he concluded. His real aim may have been the religious who expressed faith in an afterlife with utmost certainty, a trend still going strong today. 
No mere mortal knows what occurs after death, yet that hasn't stopped many from speculating. Though Socrates expressed unkind words toward the religious, turns out those who strongly believe in religion fear death less than the less religiously inclined—until you get to atheism, that is. A new study published in Religion, Brain & Behavior discovered a U-shaped curve toward contemplating death, with the most religious and atheists enjoying the least fear of mortality.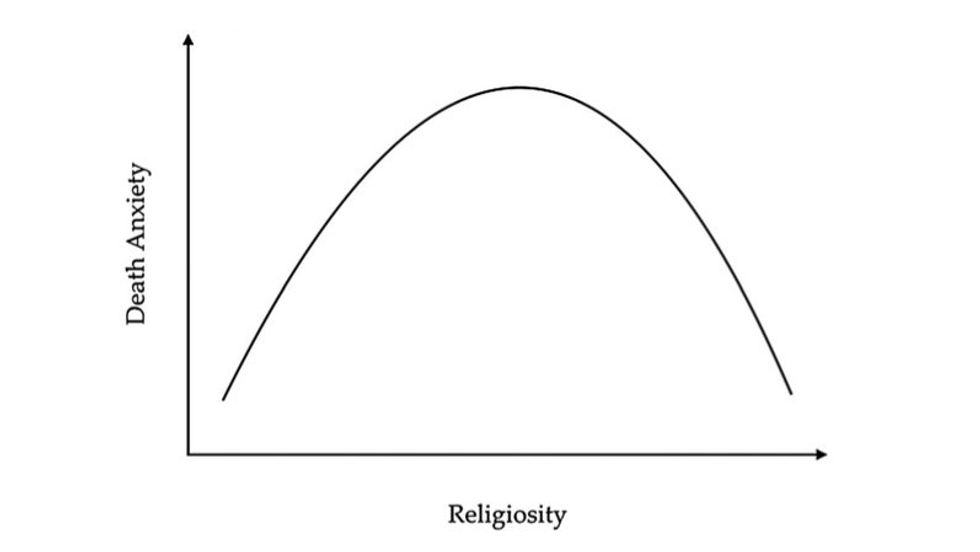 Figure 1: Predicted inverted U-shaped curve. Both religious and atheistic worldviews may serve to mitigate death anxiety.  
A team led by Coventry University research fellow Dr. Jonathan Jong scoured a hundred data articles over a half-century period representing over 26,000 people to uncover who feared death most, and least. At heart, this study is more about fear than death, as Jong makes clear in his proposed relationship between religion and fear:
First, that fear motivates religious belief, and second, that religious belief mitigates fear. 
Jong and team cite Ernest Becker, whose 1973 book, The Denial of Death, was awarded a Pulitzer the following year—ironically, two months after the author died from cancer. Becker postulates that civilization is actually a defense system against mortality, with our numerous rituals invented to offer an illusion of permanence. Perhaps what humans crave, he wonders, is a guarantee of eternity, a craving filled by dualism, the belief that a separate essence exists beyond flesh and fascia.
Becker understood that we desire a glimpse of eternity, some sort of contract that persists when blood stops flowing. Instead of confronting the illusion that drives societies forward, we create even more elaborate ruses:
Modern man is drinking and drugging himself out of awareness, or he spends his time shopping, which is the same thing. As awareness calls for types of heroic dedication that his culture no longer provides for him, society contrives to help him forget. 
Enter botox. Enter resveratrol. Enter the afterlife. Jong points out that Becker calls religion "the 'best' illusion under which to live," and that all preceding illusions are "functional facsimiles" to a belief in forever after. 
Yet our forever afters are suspect considering how varied they are. In some circles it's good form to poke fun at the idea of being promised dozens of virgins upon entering the afterworld, a notion scoffed at in a country where the predominant number of people think a beatific paradise built of gold will soon be theirs.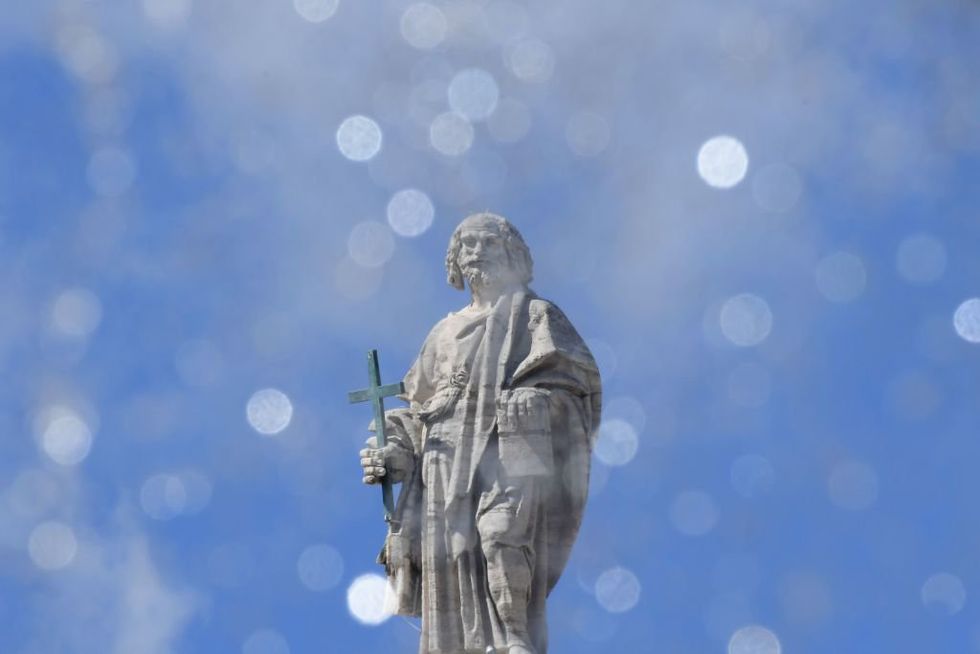 Joseph Campbell famously expressed that he didn't believe people are looking for a meaning to life but rather an "experience of being alive." We miss that point when focusing too far ahead. Jong and team found that complete cessation is the real issue: that once life ends there is, well, nothing at all. "I" stop existing—an approach actively encouraged in systems like certain forms of Buddhist meditation. While the fear of actual death—painfully, slowly—is apparent, the existential crisis encountered at the prospect of nothingness appears to cause the most anxiety. 
An active acceptance to death appears to be healthy. In Elementary Forms of Religious Life, French sociologist Emile Durkheim writes that collective mourning helps alleviate the trauma of losing a loved one and bonds the community together. Such an acceptance of death might help explain why atheists fear it less than the religiously uncertain: when you do not fear transience, life is no longer so frightening — or serious. This is a longstanding link between Buddhism and atheism, which is why those two systems are not dissimilar in certain regards. 
To be more discerning, Jong differentiates between extrinsic and intrinsic religiosity. Those displaying extrinsic religiosity partake in rituals more as a buffer between their lives and potential oblivion rather than as a matter of deep faith, which is expressed by the intrinsically religious. Unfortunately existential anxiety is not alleviated when only going through the motions. Much the same can be said for agnosticism. 
Which, ironically, leaves the edges of religious thought as the least fearful. While Socrates might disagree with the approach, certainty appears to help the extremely faithful and those who don't think much about faith at all. While the distance between these two approaches is vast, there's no denying the power of confidence. 
Jong and team acknowledge shortcomings in their research. It was mostly focused on America, with contributions coming from the Middle East and East Asia. Nearly half the work researched showed no link between religiosity and death. As our relationship to death is usually more cultural than personal (though it might not feel that way) a broader study could shed more insight on the best approach to contemplating death. "More cross-cultural data are required before we can make general claims about the relationship between death anxiety and religion," says Jong. 
Blaise Pascal famously wagered that it's better to believe than not believe, just in case. This is an extrinsic argument. Perhaps a better wager would be to enjoy every moment as it happens, which is more aligned with Buddhism. Sure, there might be something to clean up after all is said and done, but since all we are truly certain of is the present, a less fearful approach to the short time we have here together might be in all of our best interests.
--
Derek's next book, Whole Motion: Training Your Brain and Body For Optimal Health, will be published on 7/4/17 by Carrel/Skyhorse Publishing. He is based in Los Angeles. Stay in touch on Facebook and Twitter.