Take one long stroll, four times a week.
Doctors in Shetland, Scotland can now give nature prescriptions to their patients.
It's believed to be the first program of its kind in the U.K., and it comes with a year-long calendar of outdoor recommendations.
The evidence for the benefits of nature on mental and physical health are numerous.
Since October 5, doctors in Shetland, Scotland, have been authorized to prescribe nature to their patients. It's thought to be the first program of its kind in the U.K., and seeks to reduce blood pressure, anxiety, and increase happiness for those with diabetes, a mental illness, stress, heart disease, and more.

There is a whole leaflet of nature prescription suggestions that accompanies the program, filled with amusing, charming, sometimes seemingly off-kilter suggestions: in February, you can make a windsock from a hoop and material to "appreciate the speed of the wind"; in March, you can make beach art from natural materials or "borrow a dog and take it for a walk"; in April, you can "touch the sea" and "make a bug hotel"; in May, you can "bury your face in the grass"; in July, you can "pick two different kinds of grass and really look at them"; in August, you can summon a worm out of the ground without digging or using water; in September, you can help clean the beach and prepare a meal outdoors; in October, you can "appreciate a cloud"; you can "talk to a pony" in November, "feed the birds in your garden" in December, and do so much more. All on doctor's orders.

The evidence for the benefits of nature on mental and physical health are numerous. If you spend 90 minutes of your day outside in a wooded area, there will be a decrease of activity in the part of your brain typically associated with depression. Spending time in nature not only reduces blood pressure, anxiety, and increases happiness, but it reduces aggression, ADHD symptoms, improves pain control, the immune system, and—per a summary of research regarding the health benefits of nature—there's much more we don't know and are figuring out every day.
In Landmarks, the writer Robert Macfarlane bemoaned the disconnect between the landscape and the words used to describe and engage with that landscape, as well as all that disconnect implied. The book attempted to serve as something of a catch-all for words Macfarlane worried were being lost. There are Shetlandic words in the book, including grumma (mirage caused by mist or haze rising from the ground), flaa (hunk of turf, matted with roots of heather and grass, torn up by hand without a spade and used in thatching), skumpi (clumsy, lumpish peat; outermost peat in each row as the peats are cut out of the bank), dub (very deep bog or mire), yarf (swamp), iset (color of ice: isetgrey, isetblue), and others.
One could imagine that someone encouraged to spend more time in nature by their doctor won't just feel better—they might think about tearing a flaa out of some skumpi before turning around and heading back home. They'll spot some isetgrey ice. And, as they reconnect with nature, they will reconnect with the language of nature, a language that is frequently site-specific and carries with it a quiet institutional memory of its own, a memory worth recalling as the world faces development, urbanization, and climate change.
Elon Musk announces that SpaceX will fly two private citizens on a mission around the moon in 2018.
Elon Musk continues to make splashy news, with his company SpaceX announcing that it is planning to send two private citizens on a circumlunar mission by the end of next year. The 2018 trip would mark humanity's return to the moon after over 40 years and will last about 5 days.
The journey would involve flying past the moon, just above its surface, reaching as far as 400,000 miles away from Earth, going into deep space until gravity finally turns the spacecraft around, bringing it back to our planet. This would be the farthest in space humans have ever been, as the current record is 248,655 miles away, set by the Apollo 13 mission.
The two would-be astronauts have not been identified yet, with much speculation about who they are. What we know is that they are very wealthy as they already paid a "significant deposit" towards the more than $100 million the trip will likely cost.
In 2017, the company plans to conduct health and fitness tests of the passengers and begin initial training. The moon trip will be undertaken on its new Falcon Heavy rocket, which will be launched on its first test this summer. The new rocket promises to be two thirds as powerful as Saturn V, which has taken astronauts to the moon previously. The Falcon Heavy is designed to have 5 million pounds of liftoff thrust. The spacecraft to be involved in the moon mission is SpaceX's Dragon 2 capsule.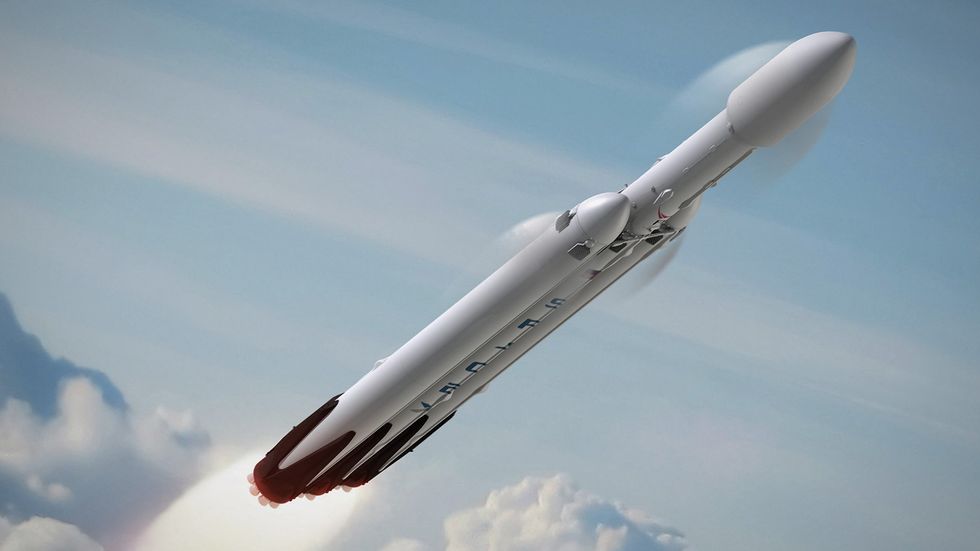 An artist's rendering of the SpaceX Falcon Heavy rocket. Credit: SpaceX
This will be the first time that SpaceX will fly people. As it did have two of its rockets blow up, Musk acknowledged the risks:
The two passengers "are entering this with their eyes open, knowing that there is some risk here," said Musk. "They are certainly not naïve. We'll do everything we can to minimize that risk. But it's not zero."
Still, he feels good about their chances, saying SpaceX's "success rate is actually quite high."   
Musk's plans could fit in well with President Trump's emerging space program, yet to be laid out in detail. There have been many indications that a return to the moon would receive Republican support and the success by SpaceX in this lunar tourist venture could bode well for its future cooperation with the government. SpaceX already works closely with NASA, which itself has been planning a crewed mission to the moon in 2019, but might change its plans if the SpaceX mission continues as currently announced. 
Some doubt whether SpaceX can pull off such a technical feat on such an ambitious schedule, especially as the company has not yet flown humans. Still it would be hard to bet against Musk with any grand ventures. SpaceX recently dazzled with another drone barge landing, while Musk has been getting attention for starting a tunnel-digging business, claiming we are already cyborgs and chiming in on the future of humanity.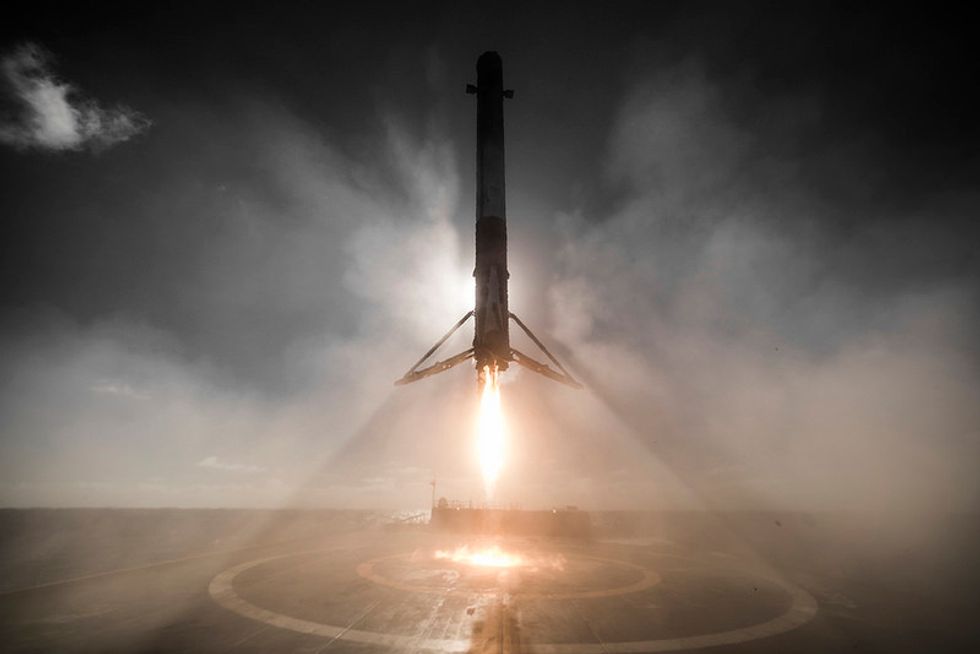 Falcon 9 rocket just before landing on a barge in the Pacific Ocean, on January 14, 2017. Credit: SpaceX
SpaceX sees the circumlunar mission as an exciting step for all of us here on Earth, stating that "Like the Apollo astronauts before them, these individuals will travel into space carrying the hopes and dreams of all humankind, driven by the universal human spirit of exploration."
Cover photo: An artist's illustration of a crewed Dragon spacecraft in space. Credit: SpaceX