Despite what Trump suggests, America still is an export superpower
America is the world's #2 exporter - and that makes trade wars everything but "good and easy to win"
02 July, 2018
China, the U.S. and Germany are the world's top exporters. Number four: Japan. Number five? The Netherlands
According to Donald Trump, "When (the USA) is losing many billions of dollars on trade with virtually every country it does business with, trade wars are good, and easy to win".
---
Few economists agree with the second part of that statement, and this map indicates that there may be something wrong with the first part that presidential tweet as well. Yes, China is by far the biggest exporting nation in the world. But the U.S. is still a solid second. Which makes the trade wars unleashed by @POTUS potentially a lot worse than Trump thinks, and a lot easier to lose.
Based on WTO data for 2017, this world map shows the value of goods exported by countries across the world. It's worth noting, too, that the map focuses on tangible exports, excluding services, which are immaterial. The countries are placed about where they would be on a regular map, but their size is skewed: the map doesn't reflect their actual physical size, but the value of their exports.
On a normal world map, Russia, Canada and China would be the first to third-biggest countries, here it's China, the U.S. and Germany (in that order).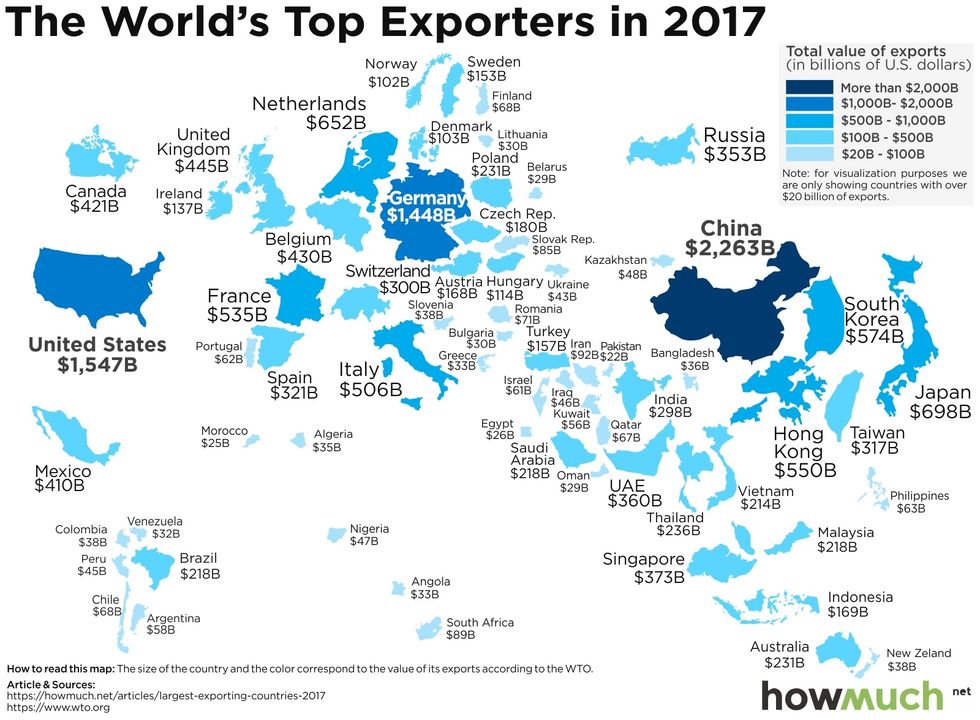 Their color further indicates the total value of the goods exported:
Darkest blue: more than $2 trillion. Only China is in this category;
Next shade of blue: between $1 and $2 trillion. The U.S. and Germany;
Middle shade: between $500 billion and $1 trillion. Japan, the Netherlands, South Korea, Hong Kong (i.e. also China), France and Italy; 
Second-lightest shade: between $100 and $500 billion. 18 countries, half of which are in Asia/Oceania (including India, Australia, and Saudi Arabia), six in Europe (UK, Belgium, Russia, among others) and three in the Americas (Canada, Mexico, Brazil);
The lightest shade of blue: between $200 and $500 billion. Nine countries, apart from Indonesia and Turkey all in Europe (including the three Scandinavian countries, Ireland, Austria and Hungary).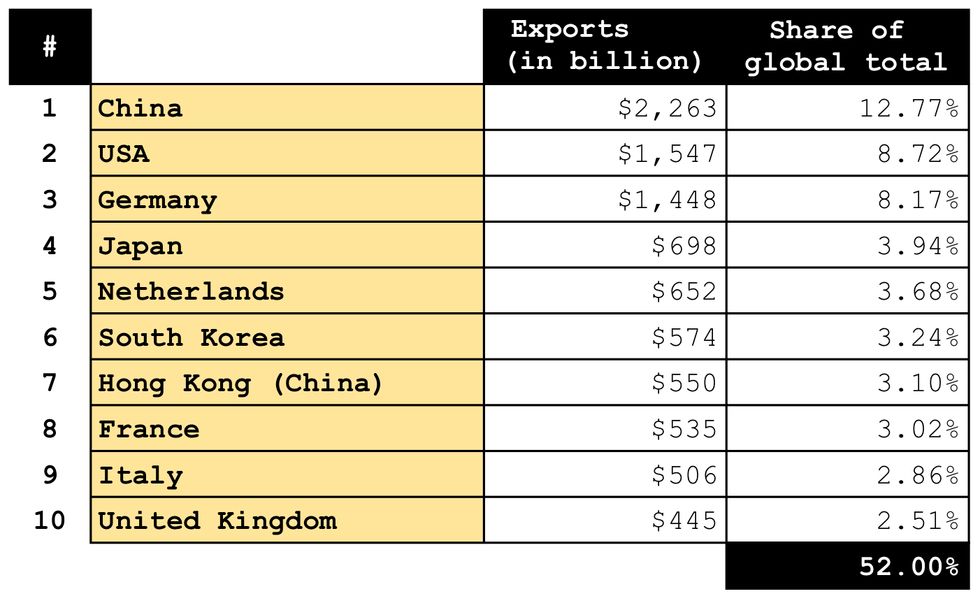 The map excludes countries with exports of goods less than $200 billion, hence the absence of the Caribbean, Central America and most of Africa.
According to the WTO, the total value of all exports in 2017 (including by those countries exporting less than $200 million) amounted to just under $17,730 billion (or, in a slightly more compact notation: $17.73 trillion).
China exports half more than the second-biggest exporter, but that's not all: the figure for Hong Kong, counted separately but part of China, should be added to the figure, which then amounts to $2.81 billion (or almost 16% of the global total).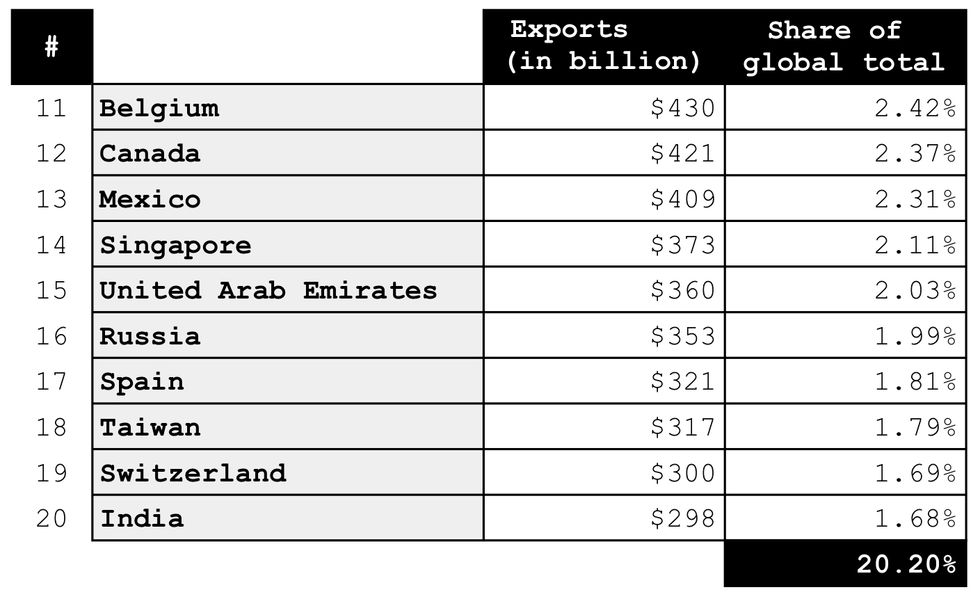 That's almost double America's exports. Still, only Germany is in the same league as the U.S.  which also means that both countries together represent the same export power as China plus Hong Kong. The seven other countries in the Top 10 each export less than half of the figure for the U.S. (or Germany). Together, they export almost $1.3 trillion less than the Top 3 added up.
Still, the entire Top 10 combined represents more than half of the world's exports. The next ten barely manages 20%.
Surprisingly (or perhaps not), geographic nor population size correlate with export prowess. The Dutch, at #5 the highest-ranked 'small' nation, out-export both the British and the French. The Belgians export more than either the Canadians or the Mexicans. Singapore bests Russia. Tiny Taiwan outperforms enormous India.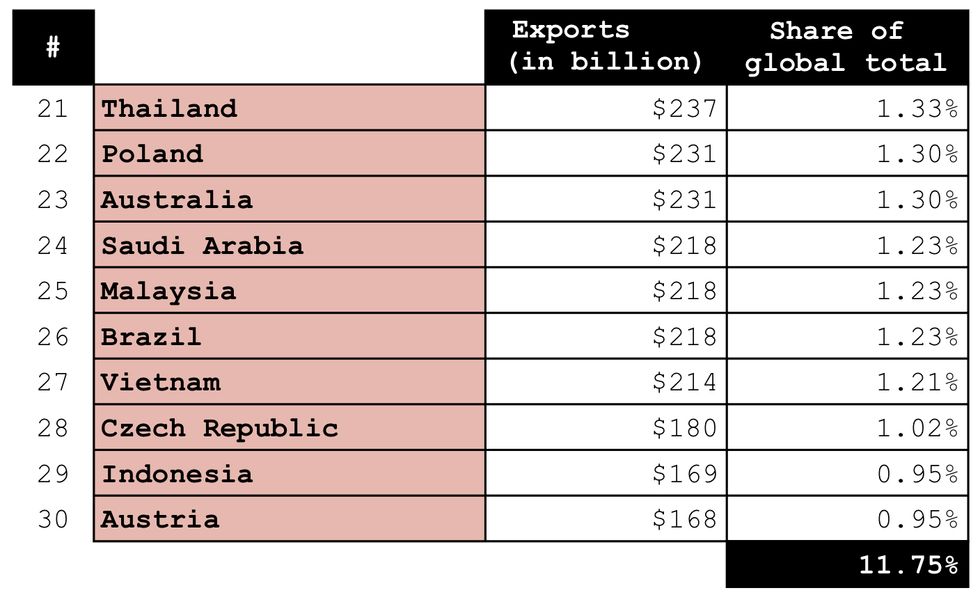 Map and dataset found here at HowMuch.
Strange Maps #918
Got a strange map? Let me know at strangemaps@gmail.com.
Universities claim to prepare students for the world. How many actually do it?
Sponsored by Charles Koch Foundation
Many university mission statements do not live up to their promise, writes Ben Nelson, founder of Minerva, a university designed to develop intellect over content memorization.
The core competencies that students need for success—critical thinking, communication, problem solving, and cross-cultural understanding, for example—should be intentionally taught, not left to chance.
These competencies can be summed up with one word: wisdom. True wisdom is the ability to apply one's knowledge appropriately when faced with novel situations.
This is what the world will look like, 250 million years from now
On Pangaea Proxima, Lagos will be north of New York, and Cape Town close to Mexico City
Surprising Science
To us humans, the shape and location of oceans and continents seems fixed. But that's only because our lives are so short.
SpaceX's momentous Crew Dragon launch is a sign of things to come for the space industry, and humanity's future.
Photo:Joe Raedle/Getty Images
Politics & Current Affairs
SpaceX was founded in 2002 and was an industry joke for many years. Eighteen years later, it is the first private company to launch astronauts to the International Space Station.
Today, SpaceX's Crew Dragon launched NASA astronauts Bob Behnken and Doug Hurley to the ISS. The journey will take about 19 hours.
Dylan Taylor, chairman and CEO of Voyager Space Holdings, looks at SpaceX's journey from startup to a commercial space company with the operating power of a nation-state.
A new study may help us better understand how children build social cognition through caregiver interaction.
Personal Growth
Scientists speculate imitation helps develop social cognition in babies.
A new study out of Lund University shows that six-month-olds look and smile more at imitating adults.
Researchers hope the data will spur future studies to discover what role caregiver imitation plays in social cognition development.
Surprising Science
Researchers at UT Southwestern noted a 47 percent increase in blood flow to regions associated with memory.
Scroll down to load more…