Despite what Trump suggests, America still is an export superpower
America is the world's #2 exporter - and that makes trade wars everything but "good and easy to win"
02 July, 2018
According to Donald Trump, "When (the USA) is losing many billions of dollars on trade with virtually every country it does business with, trade wars are good, and easy to win".
---
Few economists agree with the second part of that statement, and this map indicates that there may be something wrong with the first part that presidential tweet as well. Yes, China is by far the biggest exporting nation in the world. But the U.S. is still a solid second. Which makes the trade wars unleashed by @POTUS potentially a lot worse than Trump thinks, and a lot easier to lose.
Based on WTO data for 2017, this world map shows the value of goods exported by countries across the world. It's worth noting, too, that the map focuses on tangible exports, excluding services, which are immaterial. The countries are placed about where they would be on a regular map, but their size is skewed: the map doesn't reflect their actual physical size, but the value of their exports.
On a normal world map, Russia, Canada and China would be the first to third-biggest countries, here it's China, the U.S. and Germany (in that order).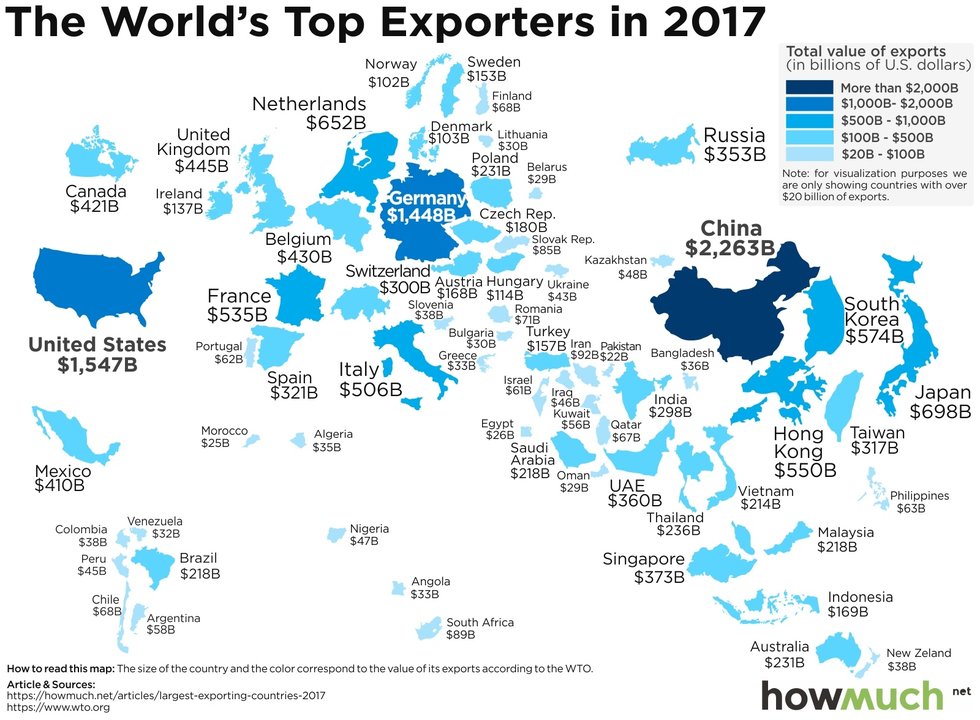 Their color further indicates the total value of the goods exported:
Darkest blue: more than $2 trillion. Only China is in this category;
Next shade of blue: between $1 and $2 trillion. The U.S. and Germany;
Middle shade: between $500 billion and $1 trillion. Japan, the Netherlands, South Korea, Hong Kong (i.e. also China), France and Italy; 
Second-lightest shade: between $100 and $500 billion. 18 countries, half of which are in Asia/Oceania (including India, Australia, and Saudi Arabia), six in Europe (UK, Belgium, Russia, among others) and three in the Americas (Canada, Mexico, Brazil);
The lightest shade of blue: between $200 and $500 billion. Nine countries, apart from Indonesia and Turkey all in Europe (including the three Scandinavian countries, Ireland, Austria and Hungary).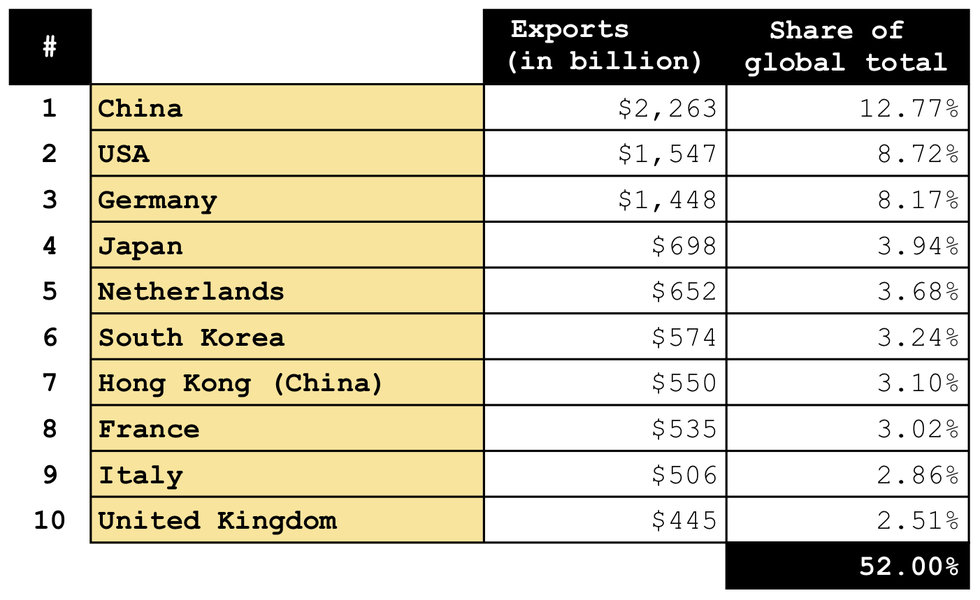 The map excludes countries with exports of goods less than $200 billion, hence the absence of the Caribbean, Central America and most of Africa.
According to the WTO, the total value of all exports in 2017 (including by those countries exporting less than $200 million) amounted to just under $17,730 billion (or, in a slightly more compact notation: $17.73 trillion).
China exports half more than the second-biggest exporter, but that's not all: the figure for Hong Kong, counted separately but part of China, should be added to the figure, which then amounts to $2.81 billion (or almost 16% of the global total).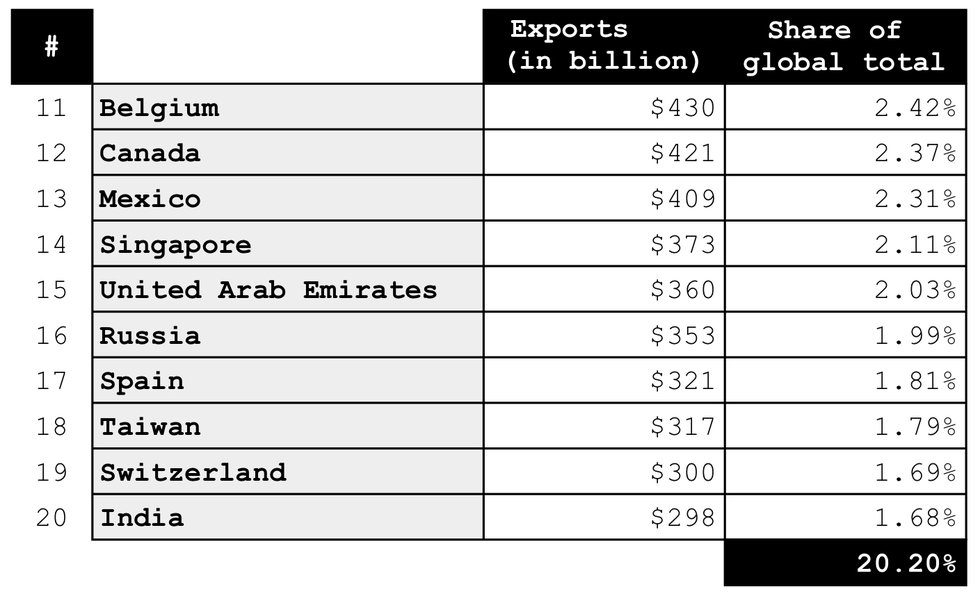 That's almost double America's exports. Still, only Germany is in the same league as the U.S.  which also means that both countries together represent the same export power as China plus Hong Kong. The seven other countries in the Top 10 each export less than half of the figure for the U.S. (or Germany). Together, they export almost $1.3 trillion less than the Top 3 added up.
Still, the entire Top 10 combined represents more than half of the world's exports. The next ten barely manages 20%.
Surprisingly (or perhaps not), geographic nor population size correlate with export prowess. The Dutch, at #5 the highest-ranked 'small' nation, out-export both the British and the French. The Belgians export more than either the Canadians or the Mexicans. Singapore bests Russia. Tiny Taiwan outperforms enormous India.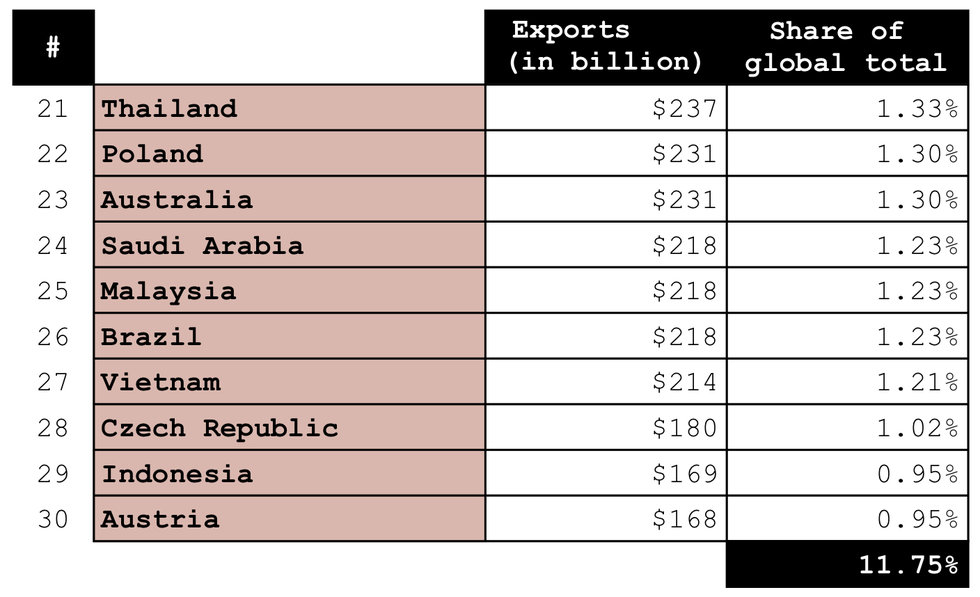 Map and dataset found here at HowMuch.
Strange Maps #918
Got a strange map? Let me know at strangemaps@gmail.com.
Sharon Salzberg, world-renowned mindfulness leader, teaches meditation at Big Think Edge.
Image: Big Think
Big Think Edge
Try meditation for the first time with this guided lesson or, if you already practice, enjoy being guided by a world-renowned meditation expert.
Sharon Salzberg teaches mindfulness meditation for Big Think Edge.

Subscribe to Big Think Edge before we launch on March 30 to get 20% off monthly and annual memberships.
The navigation tool has placed a school in the sea, among other things.
Strange Maps
Google has apologized for the sudden instability of its maps in Japan.
Errors may stem from Google's long-time map data provider Zenrin – or from the cancellation of its contract.
Speculation on the latter option caused Zenrin shares to drop 16% last Friday.
They didn't know it, but the rituals of Iron Age Scandinavians turned their iron into steel.
Shutterstock
Culture & Religion
Iron Age Scandinavians only had access to poor quality iron, which put them at a tactical disadvantage against their neighbors.
To strengthen their swords, smiths used the bones of their dead ancestors and animals, hoping to transfer the spirit into their blades.
They couldn't have known that in so doing, they actually were forging a rudimentary form of steel.
A new computer model solves a pair of Jovian riddles.
(NASA/JPL-Caltech/SwRI/MSSS/Kevin M. Gill)
Surprising Science
Astronomers have wondered how a gas giant like Jupiter could sit in the middle of our solar system's planets.
Also unexplained has been the pair of asteroid clusters in front of and behind Jupiter in its orbit.
Putting the two questions together revealed the answer to both.
Big think's weekly newsletter.
Get smarter faster from the comfort of your inbox.
See our newsletter privacy policy
here
Most Popular
Most Recent
Big think's weekly newsletter.
Get smarter faster from the comfort of your inbox.
See our newsletter privacy policy
here
© Copyright 2007-2018 & BIG THINK, BIG THINK EDGE,
SMARTER FASTER trademarks owned by The Big Think, Inc. All rights reserved.