Despite what Trump suggests, America still is an export superpower
America is the world's #2 exporter - and that makes trade wars everything but "good and easy to win"
02 July, 2018
According to Donald Trump, "When (the USA) is losing many billions of dollars on trade with virtually every country it does business with, trade wars are good, and easy to win".
---
Few economists agree with the second part of that statement, and this map indicates that there may be something wrong with the first part that presidential tweet as well. Yes, China is by far the biggest exporting nation in the world. But the U.S. is still a solid second. Which makes the trade wars unleashed by @POTUS potentially a lot worse than Trump thinks, and a lot easier to lose.
Based on WTO data for 2017, this world map shows the value of goods exported by countries across the world. It's worth noting, too, that the map focuses on tangible exports, excluding services, which are immaterial. The countries are placed about where they would be on a regular map, but their size is skewed: the map doesn't reflect their actual physical size, but the value of their exports.
On a normal world map, Russia, Canada and China would be the first to third-biggest countries, here it's China, the U.S. and Germany (in that order).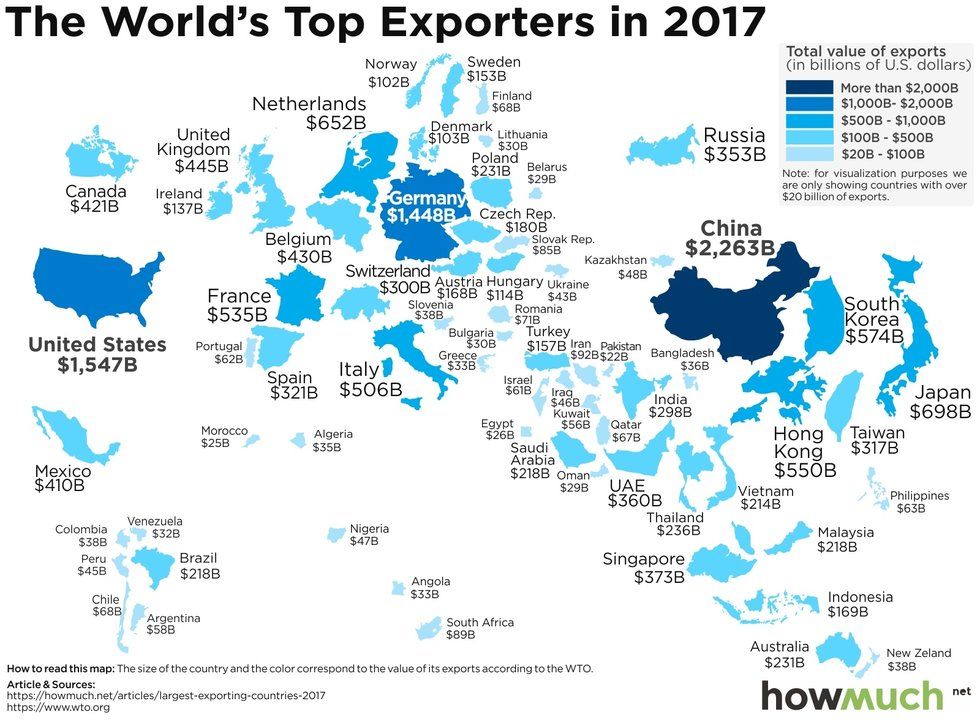 Their color further indicates the total value of the goods exported:
Darkest blue: more than $2 trillion. Only China is in this category;
Next shade of blue: between $1 and $2 trillion. The U.S. and Germany;
Middle shade: between $500 billion and $1 trillion. Japan, the Netherlands, South Korea, Hong Kong (i.e. also China), France and Italy; 
Second-lightest shade: between $100 and $500 billion. 18 countries, half of which are in Asia/Oceania (including India, Australia, and Saudi Arabia), six in Europe (UK, Belgium, Russia, among others) and three in the Americas (Canada, Mexico, Brazil);
The lightest shade of blue: between $200 and $500 billion. Nine countries, apart from Indonesia and Turkey all in Europe (including the three Scandinavian countries, Ireland, Austria and Hungary).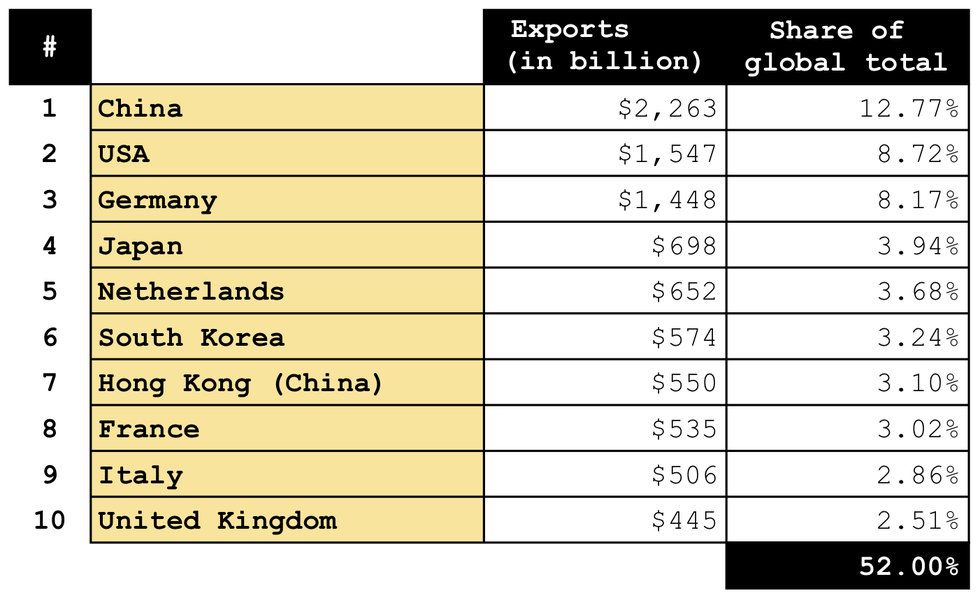 The map excludes countries with exports of goods less than $200 billion, hence the absence of the Caribbean, Central America and most of Africa.
According to the WTO, the total value of all exports in 2017 (including by those countries exporting less than $200 million) amounted to just under $17,730 billion (or, in a slightly more compact notation: $17.73 trillion).
China exports half more than the second-biggest exporter, but that's not all: the figure for Hong Kong, counted separately but part of China, should be added to the figure, which then amounts to $2.81 billion (or almost 16% of the global total).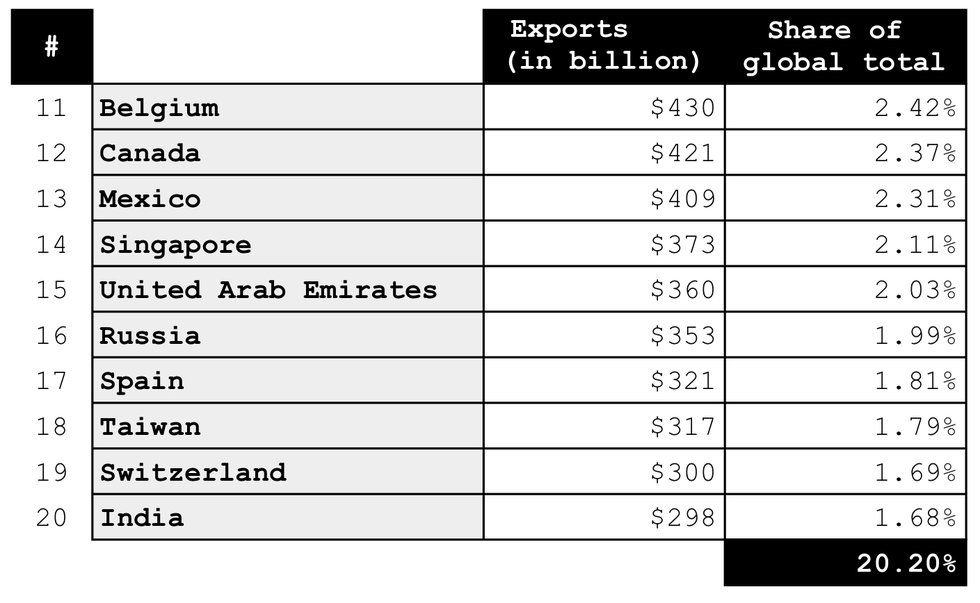 That's almost double America's exports. Still, only Germany is in the same league as the U.S.  which also means that both countries together represent the same export power as China plus Hong Kong. The seven other countries in the Top 10 each export less than half of the figure for the U.S. (or Germany). Together, they export almost $1.3 trillion less than the Top 3 added up.
Still, the entire Top 10 combined represents more than half of the world's exports. The next ten barely manages 20%.
Surprisingly (or perhaps not), geographic nor population size correlate with export prowess. The Dutch, at #5 the highest-ranked 'small' nation, out-export both the British and the French. The Belgians export more than either the Canadians or the Mexicans. Singapore bests Russia. Tiny Taiwan outperforms enormous India.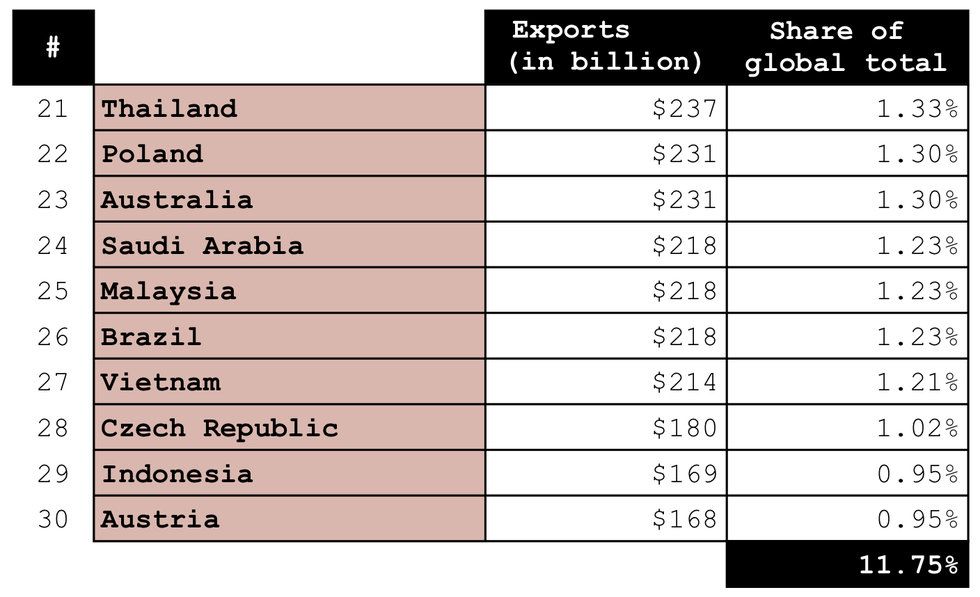 Map and dataset found here at HowMuch.
Strange Maps #918
Got a strange map? Let me know at strangemaps@gmail.com.
As religious diversity increases in the United States, we must learn to channel religious identity into interfaith cooperation.
Sponsored by Charles Koch Foundation
Religious diversity is the norm in American life, and that diversity is only increasing, says Eboo Patel.
Using the most painful moment of his life as a lesson, Eboo Patel explains why it's crucial to be positive and proactive about engaging religious identity towards interfaith cooperation.
The opinions expressed in this video do not necessarily reflect the views of the Charles Koch Foundation, which encourages the expression of diverse viewpoints within a culture of civil discourse and mutual respect.
Two Apollo 11 astronauts question NASA's planetary safety procedures.
Credit: Bettmann, Getty Images.
Surprising Science
Buzz Aldrin and Michael Collins revealed that there were deficiencies in NASA's safety procedures following the Apollo 11 mission.
Moon landing astronauts were quarantined for 21 days.
Earth could be contaminated with lunar bacteria.
Here's why you might eat greenhouse gases in the future.
Technology & Innovation
The company's protein powder, "Solein," is similar in form and taste to wheat flour.
Based on a concept developed by NASA, the product has wide potential as a carbon-neutral source of protein.
The man-made "meat" industry just got even more interesting.
When it comes to sniffing out whether a source is credible or not, even journalists can sometimes take the wrong approach.
Sponsored by Charles Koch Foundation
We all think that we're competent consumers of news media, but the research shows that even journalists struggle with identifying fact from fiction.
When judging whether a piece of media is true or not, most of us focus too much on the source itself. Knowledge has a context, and it's important to look at that context when trying to validate a source.
The opinions expressed in this video do not necessarily reflect the views of the Charles Koch Foundation, which encourages the expression of diverse viewpoints within a culture of civil discourse and mutual respect.