UK heatwave reveals unknown archaeology sites
The heatwave scorching Britain is revealing the outline of ancient buildings – some previously unknown to archaeologists
09 July, 2018
"The bones of our past sticking through the flesh of the present", is how historian Tom Holland on Twitter described a curious phenomenon currently manifesting itself in Britain.
---
The heatwave scorching the country's fields and meadows is revealing the outline of stone-age forts, Celtic settlements and Roman farms – some previously unknown to archaeologists.
The hottest temperature in England this year so far was recorded last Sunday in Gosport, Hampshire, where the mercury hit 32°C (90.3°F). The provisional UK record for 2018 is held by Porthmadog, in Wales, which reached 33°C on 28 June.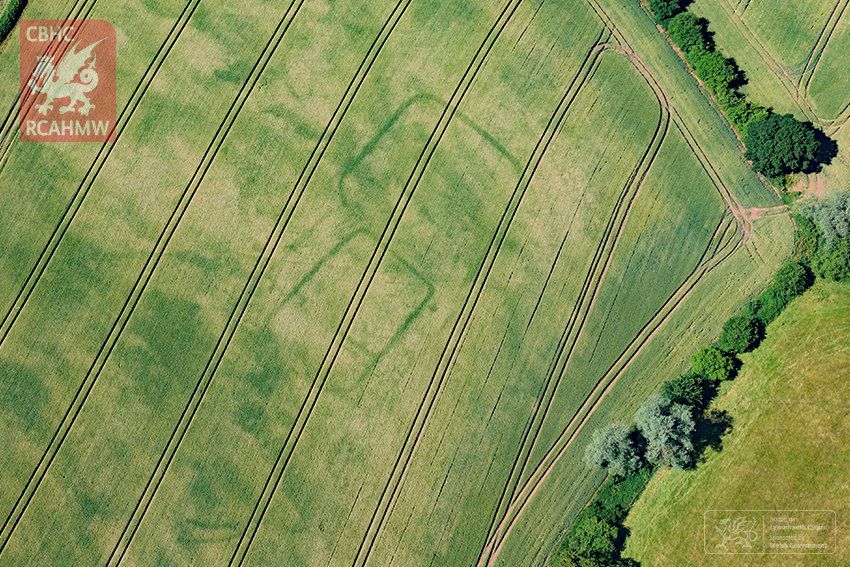 Newly discovered crop marks of a prehistoric or Roman farm near Langstone, Newport, south Wales.
This Monday is likely to be the 16th consecutive day in the UK with temperatures rising above 28°C, making it the longest heatwave since 2013, when there were 19 days above 28°C. A cool front moving south from Scotland from Tuesday could ensure that record remains unbroken.
Nevertheless, weather watchers already predict 2018 will be one of the UK's five warmest summers since 1910. It's also one of the driest summers on record. The hottest summer in living memory remains the one of 1976, when there were 15 consecutive days of at least 32°C in the UK.
Now as during that legendary summer, high temperatures and scorched fields are revealing some never-before-seen images of Britain's past.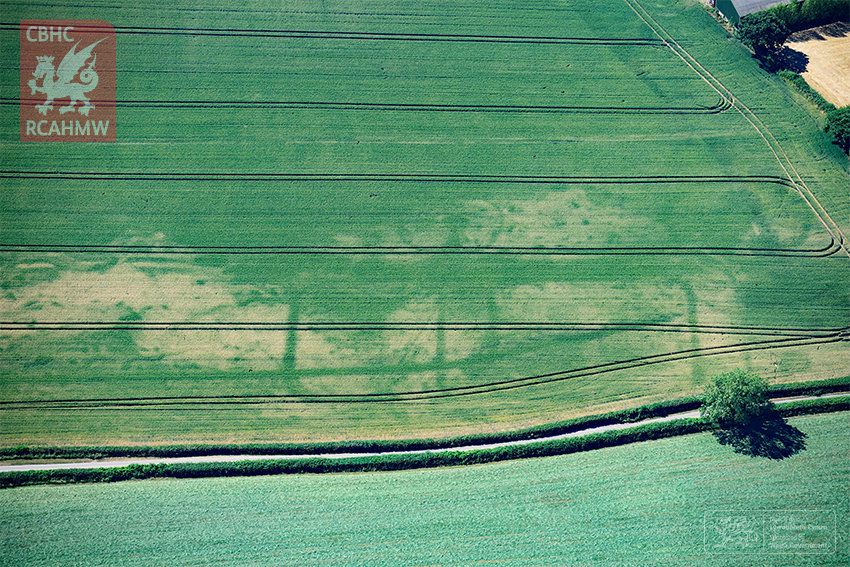 A newly discovered Roman fortlet near Magor, south Wales, emerging in ripening crops.
Even thousands of years after the buildings have gone, the soil still retains elements of their foundations. As a result, the grass on these patches changes colour at a different pace from elsewhere. Which means that the outlines of those buildings, from Britain's prehistoric and Roman past, have now become visible – often for the first time.
"Scores of long-buried archaeological sites have been revealed once again as 'cropmarks', or patterns of growth in ripening crops and parched grasslands", writes the Royal Commission on the Ancient and Historical Monuments of Wales (RCAHMW) in a news bulletin.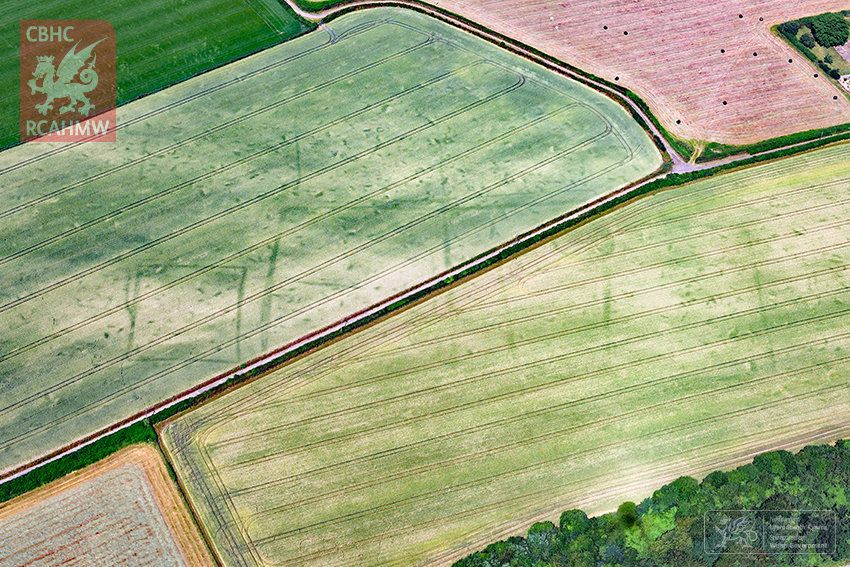 Aerial reconnaissance during the heatwave of 2013 suggests this farmstead near Caerwent in south Wales dates either from the Iron Age or the Romano-British period.
In early July, the Royal Commission's aerial investigator, Dr Toby Driver, documented both known sites and hitherto lost monuments across southern and central Wales.
"Toby will be surveying right across north and south Wales in a light aircraft to permanently record these discoveries for the National Monuments Record of Wales, before thunderstorms and rain wash away the markings until the next dry summer", the RCAHMW website states.
Below: How crop marks form, in three phases.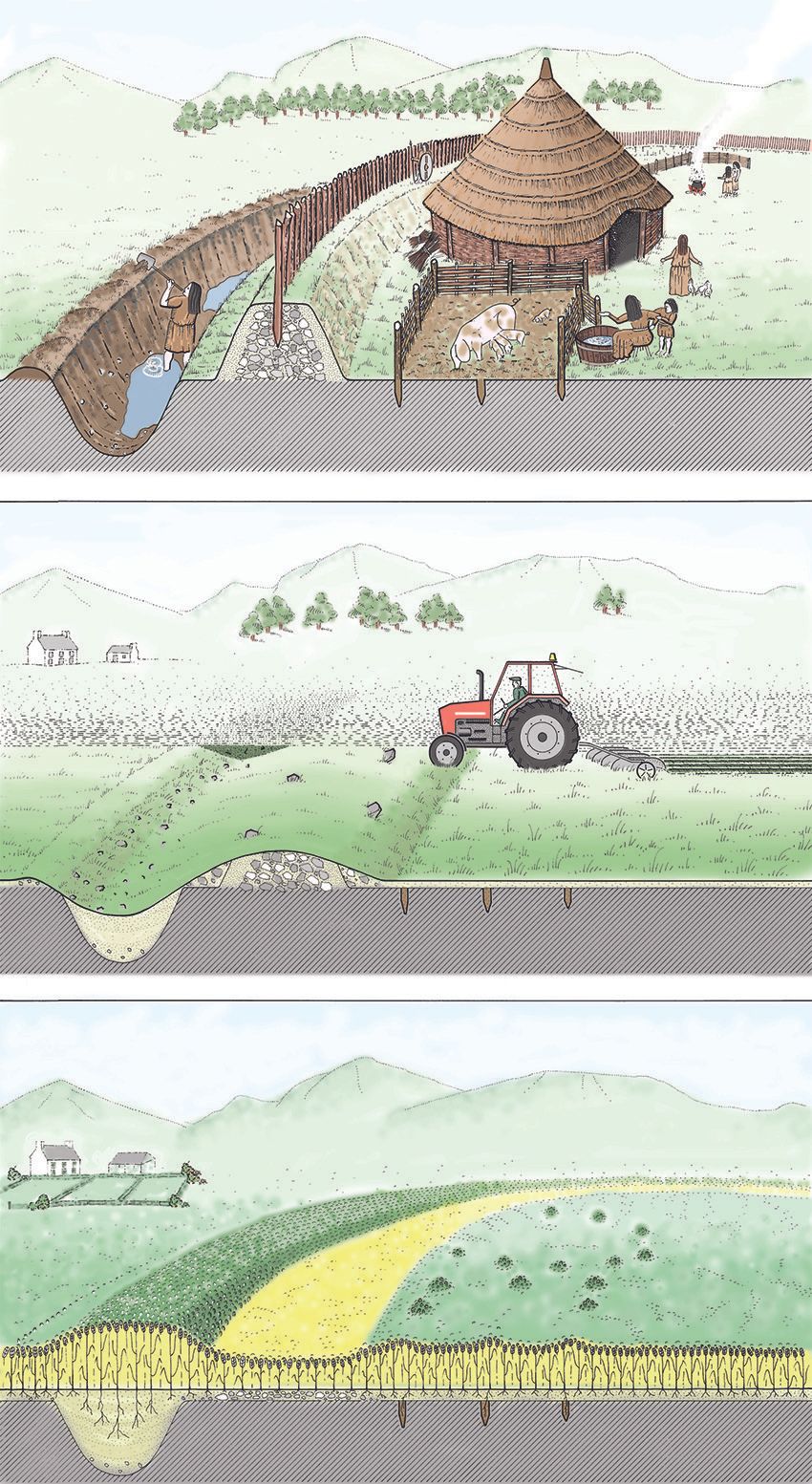 Images found here at the RCAHMW website. 
Strange Maps #921
Got a strange map? Let me know at strangemaps@gmail.com.
As religious diversity increases in the United States, we must learn to channel religious identity into interfaith cooperation.
Sponsored by Charles Koch Foundation
Religious diversity is the norm in American life, and that diversity is only increasing, says Eboo Patel.
Using the most painful moment of his life as a lesson, Eboo Patel explains why it's crucial to be positive and proactive about engaging religious identity towards interfaith cooperation.
The opinions expressed in this video do not necessarily reflect the views of the Charles Koch Foundation, which encourages the expression of diverse viewpoints within a culture of civil discourse and mutual respect.
Two Apollo 11 astronauts question NASA's planetary safety procedures.
Credit: Bettmann, Getty Images.
Surprising Science
Buzz Aldrin and Michael Collins revealed that there were deficiencies in NASA's safety procedures following the Apollo 11 mission.
Moon landing astronauts were quarantined for 21 days.
Earth could be contaminated with lunar bacteria.
Here's why you might eat greenhouse gases in the future.
Technology & Innovation
The company's protein powder, "Solein," is similar in form and taste to wheat flour.
Based on a concept developed by NASA, the product has wide potential as a carbon-neutral source of protein.
The man-made "meat" industry just got even more interesting.
When it comes to sniffing out whether a source is credible or not, even journalists can sometimes take the wrong approach.
Sponsored by Charles Koch Foundation
We all think that we're competent consumers of news media, but the research shows that even journalists struggle with identifying fact from fiction.
When judging whether a piece of media is true or not, most of us focus too much on the source itself. Knowledge has a context, and it's important to look at that context when trying to validate a source.
The opinions expressed in this video do not necessarily reflect the views of the Charles Koch Foundation, which encourages the expression of diverse viewpoints within a culture of civil discourse and mutual respect.