To Map a Mockingbird
Maycomb is not on any map of the real world, but that doesn't mean it can't be mapped.
09 September, 2015
Modern classics don't come any more classic, or more modern, than To Kill a Mockingbird. Told from the naive perspective of a small girl, this tale of institutionalised racism in a small Southern town in the 1930s still resonates in today's America — and beyond. First published in 1960, it has sold over 40 million copies worldwide. In 2009, Mockingbird was voted "most inspirational book ever," beating the Bible into second place.  
---
The story is set in Maycomb, a fictionalised version of author Harper Lee's hometown of Monroeville, Alabama. Maycomb is not on any map of the real world, but that doesn't mean it can't be mapped. There are plenty of topographical clues in the book. Inspired perhaps by James Joyce's boast that "if Dublin suddenly disappeared from the earth, it could be reconstructed from my book (Ulysses; see also #518)," someone has taken those clues and reconstructed Maycomb as what it may have looked like in the writer's mind. 
And here are all those places so familiar to readers of the book, now all together in one map: the Finch house, hemmed in between the houses of Miss Stephanie Crawford and Miss Rachel Haverford. Next, the Radley place, backing out onto the schoolyard. Down the road, toward the town centre, the Maycomb County jail, flanked by Tyndal's hardware store and the offices of the Maycomb Tribune. On the other side of the town square, the Maycomb County Courthouse features prominently (as it does in the book). Across the railroad tracks — and on the wrong side of the tracks, socially speaking — are the church and the quarters of Maycomb's black residents. The map even marks off the outer limits of the area wherein the Finch children were allowed to play.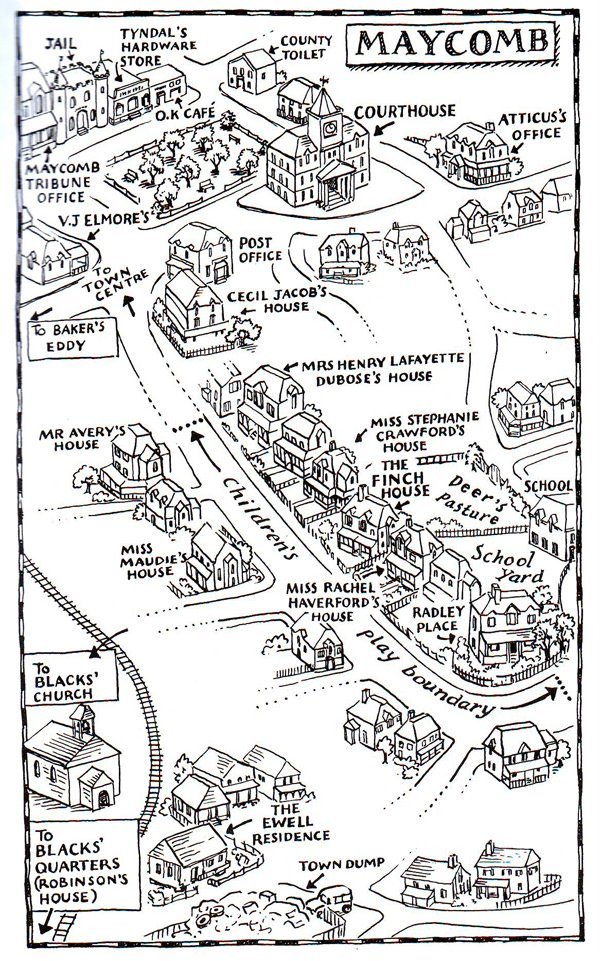 If you're not a literary purist, you could also reconstruct Maycomb from the movie version of To Kill a Mockingbird (1962), starring Gregory Peck as the saintly attorney Atticus Finch. Universal Studios considered shooting the movie in Monroeville, but the town had changed too much since the mid-1930s. So the studio created a "more authentic" version of Maycomb on its own lot. Location scouts found a collection of "Southern-looking" clapboard houses in L.A. in just the right state of disrepair. They were about to be demolished to make way for a freeway extension. Universal dismantled them just in time, rebuilding them on the studio lot.
The courthouse interiors used in the movie were a duplicate of those in the actual Monroe County Courthouse in Monroeville — now a museum dedicated to Mockingbird. In total, this movie version of Maycomb consisted of over 30 buildings — just a few less than on this map. The final fate of that fictional town is not known; in all likelihood, it was demolished after filming, perhaps a few buildings were recycled for later productions. If any bird's eye view survives, let me know. It would be nice to see how it compares to this "literary" map of Maycomb.
Map found here at the Mockingbird page of GGCA English.
Strange Maps #738 
Seen a strange map? Let me know at strangemaps@gmail.com.
Lumina Foundation is partnering with Big Think to unearth the next large-scale, rapid innovation in post-high school education. Enter the competition here!
Good science is sometimes trumped by the craving for a "big splash."
Videos
Scientists strive to earn credit from their peers, for grants from federal agencies, and so a lot of the decisions that they make are strategic in nature. They're encouraged to publish exciting new findings that demonstrate some new phenomenon that we have never seen before.
This professional pressure can affect their decision-making — to get acclaim they may actually make science worse. That is, a scientist might commit fraud if he thinks he can get away with it or a scientist might rush a result out of the door even though it hasn't been completely verified in order to beat the competition.
On top of the acclaim of their peers, scientists — with the increasing popularity of science journalism — are starting to be rewarded for doing things that the public is interested in. The good side of this is that the research is more likely to have a public impact, rather than be esoteric. The bad side? To make a "big splash" a scientist may push a study or article that doesn't exemplify good science.
Moans, groans, and gripes release stress hormones in the brain.
popular
Could you give up complaining for a whole month? That's the crux of this interesting piece by Jessica Hullinger over at Fast Company. Hullinger explores the reasons why humans are so predisposed to griping and why, despite these predispositions, we should all try to complain less. As for no complaining for a month, that was the goal for people enrolled in the Complaint Restraint project.
Participants sought to go the entirety of February without so much as a moan, groan, or bellyache.
Two space agencies plan missions to deflect an asteroid.
ESA's Hera mission above asteroid 65803 Didymos. Credit: ESA/ScienceOffice.org
Surprising Science
NASA and the European Space Agency (ESA) are working together on missions to a binary asteroid system.
The DART and Hera missions will attempt to deflect and study the asteroid Didymoon.
A planetary defense system is important in preventing large-scale catastrophes.
Big think's weekly newsletter.
Get smarter faster from the comfort of your inbox.
See our newsletter privacy policy
here
Most Popular
Most Recent
Big think's weekly newsletter.
Get smarter faster from the comfort of your inbox.
See our newsletter privacy policy
here
© Copyright 2007-2018 & BIG THINK, BIG THINK EDGE,
SMARTER FASTER trademarks owned by The Big Think, Inc. All rights reserved.