To Map a Mockingbird
Maycomb is not on any map of the real world, but that doesn't mean it can't be mapped.
09 September, 2015
Modern classics don't come any more classic, or more modern, than To Kill a Mockingbird. Told from the naive perspective of a small girl, this tale of institutionalised racism in a small Southern town in the 1930s still resonates in today's America — and beyond. First published in 1960, it has sold over 40 million copies worldwide. In 2009, Mockingbird was voted "most inspirational book ever," beating the Bible into second place.  
---
The story is set in Maycomb, a fictionalised version of author Harper Lee's hometown of Monroeville, Alabama. Maycomb is not on any map of the real world, but that doesn't mean it can't be mapped. There are plenty of topographical clues in the book. Inspired perhaps by James Joyce's boast that "if Dublin suddenly disappeared from the earth, it could be reconstructed from my book (Ulysses; see also #518)," someone has taken those clues and reconstructed Maycomb as what it may have looked like in the writer's mind. 
And here are all those places so familiar to readers of the book, now all together in one map: the Finch house, hemmed in between the houses of Miss Stephanie Crawford and Miss Rachel Haverford. Next, the Radley place, backing out onto the schoolyard. Down the road, toward the town centre, the Maycomb County jail, flanked by Tyndal's hardware store and the offices of the Maycomb Tribune. On the other side of the town square, the Maycomb County Courthouse features prominently (as it does in the book). Across the railroad tracks — and on the wrong side of the tracks, socially speaking — are the church and the quarters of Maycomb's black residents. The map even marks off the outer limits of the area wherein the Finch children were allowed to play.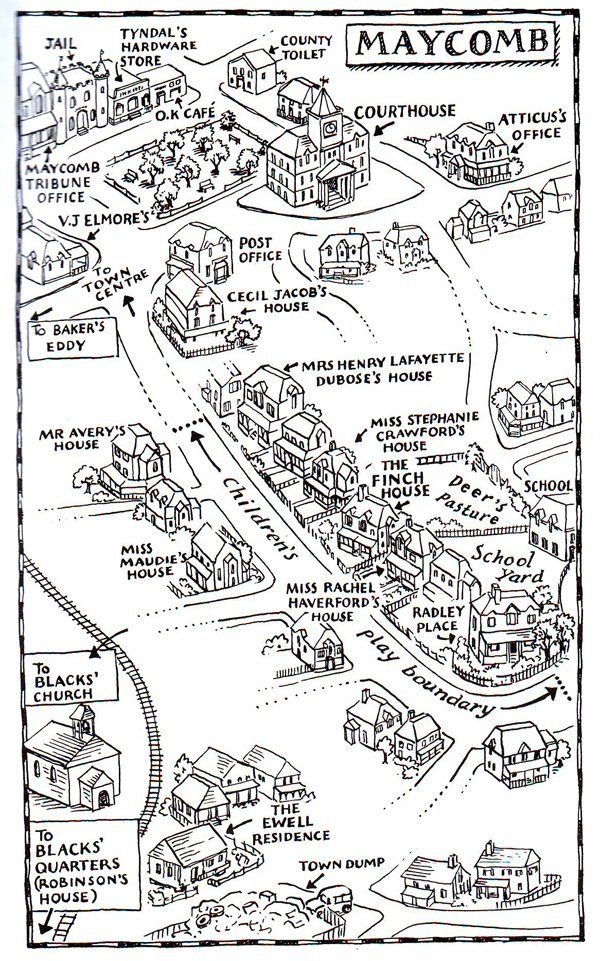 If you're not a literary purist, you could also reconstruct Maycomb from the movie version of To Kill a Mockingbird (1962), starring Gregory Peck as the saintly attorney Atticus Finch. Universal Studios considered shooting the movie in Monroeville, but the town had changed too much since the mid-1930s. So the studio created a "more authentic" version of Maycomb on its own lot. Location scouts found a collection of "Southern-looking" clapboard houses in L.A. in just the right state of disrepair. They were about to be demolished to make way for a freeway extension. Universal dismantled them just in time, rebuilding them on the studio lot.
The courthouse interiors used in the movie were a duplicate of those in the actual Monroe County Courthouse in Monroeville — now a museum dedicated to Mockingbird. In total, this movie version of Maycomb consisted of over 30 buildings — just a few less than on this map. The final fate of that fictional town is not known; in all likelihood, it was demolished after filming, perhaps a few buildings were recycled for later productions. If any bird's eye view survives, let me know. It would be nice to see how it compares to this "literary" map of Maycomb.
Map found here at the Mockingbird page of GGCA English.
Strange Maps #738 
Seen a strange map? Let me know at strangemaps@gmail.com.
Step inside the unlikely friendship of a former ACLU president and an ultra-conservative Supreme Court Justice.

Sponsored by Charles Koch Foundation
Former president of the ACLU Nadine Strossen and Supreme Court Justice Antonin Scalia were unlikely friends. They debated each other at events all over the world, and because of that developed a deep and rewarding friendship – despite their immense differences.
Scalia, a famous conservative, was invited to circles that were not his "home territory", such as the ACLU, to debate his views. Here, Strossen expresses her gratitude and respect for his commitment to the exchange of ideas.
"It's really sad that people seem to think that if you disagree with somebody on some issues you can't be mutually respectful, you can't enjoy each other's company, you can't learn from each other and grow in yourself," says Strossen.
The opinions expressed in this video do not necessarily reflect the views of the Charles Koch Foundation, which encourages the expression of diverse viewpoints within a culture of civil discourse and mutual respect.
French newspapers report that the trial hasn't lived up to expectations.
Image source: Charly Triballeau / AFP / Getty Images
Technology & Innovation
The French government initially invested in a rural solar roadway in 2016.
French newspapers report that the trial hasn't lived up to expectations.
Solar panel "paved" roadways are proving to be inefficient and too expensive.
Erik Verlinde has been compared to Einstein for completely rethinking the nature of gravity.
Photo by Willeke Duijvekam
Surprising Science
The Dutch physicist Erik Verlinde's hypothesis describes gravity as an "emergent" force not fundamental.
The scientist thinks his ideas describe the universe better than existing models, without resorting to "dark matter".
While some question his previous papers, Verlinde is reworking his ideas as a full-fledged theory.
Scientists make an important discovery for the future of computing.
Pixabay
Surprising Science
Researchers find a new state of matter called "topological superconductivity".
The state can lead to important advancements in quantum computing.
Utilizing special particles that emerge during this state can lead to error-free data storage and blazing calculation speed.