To Map a Mockingbird
Maycomb is not on any map of the real world, but that doesn't mean it can't be mapped.
Frank Jacobs
From a young age, Frank was fascinated by maps and atlases, and the stories they contained. Finding his birthplace on the map in the endpapers of Tolkien's Lord of the Rings only increased his interest in the mystery and message of maps.
While pursuing a career in journalism, Frank started a blog called Strange Maps, as a repository for the weird and wonderful cartography he found hidden in books, posing as everyday objects and (of course) floating around the Internet.
"Each map tells a story, but the stories told by your standard atlas for school or reference are limited and literal: they show only the most practical side of the world, its geography and its political divisions. Strange Maps aims to collect and comment on maps that do everything but that - maps that show the world from a different angle".
A remit that wide allows for a steady, varied diet of maps: Frank has been writing about strange maps since 2006, published a book on the subject in 2009 and joined Big Think in 2010. Readers send in new material daily, and he keeps bumping in to cartography that is delightfully obscure, amazingly beautiful, shockingly partisan, and more.
09 September, 2015
Modern classics don't come any more classic, or more modern, than To Kill a Mockingbird. Told from the naive perspective of a small girl, this tale of institutionalised racism in a small Southern town in the 1930s still resonates in today's America — and beyond. First published in 1960, it has sold over 40 million copies worldwide. In 2009, Mockingbird was voted "most inspirational book ever," beating the Bible into second place.  
---
The story is set in Maycomb, a fictionalised version of author Harper Lee's hometown of Monroeville, Alabama. Maycomb is not on any map of the real world, but that doesn't mean it can't be mapped. There are plenty of topographical clues in the book. Inspired perhaps by James Joyce's boast that "if Dublin suddenly disappeared from the earth, it could be reconstructed from my book (Ulysses; see also #518)," someone has taken those clues and reconstructed Maycomb as what it may have looked like in the writer's mind. 
And here are all those places so familiar to readers of the book, now all together in one map: the Finch house, hemmed in between the houses of Miss Stephanie Crawford and Miss Rachel Haverford. Next, the Radley place, backing out onto the schoolyard. Down the road, toward the town centre, the Maycomb County jail, flanked by Tyndal's hardware store and the offices of the Maycomb Tribune. On the other side of the town square, the Maycomb County Courthouse features prominently (as it does in the book). Across the railroad tracks — and on the wrong side of the tracks, socially speaking — are the church and the quarters of Maycomb's black residents. The map even marks off the outer limits of the area wherein the Finch children were allowed to play.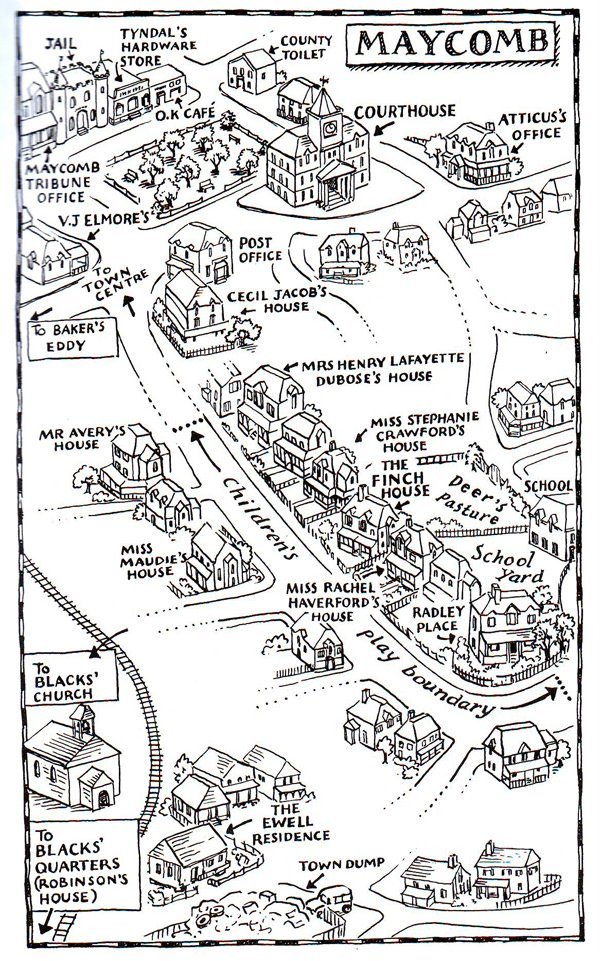 If you're not a literary purist, you could also reconstruct Maycomb from the movie version of To Kill a Mockingbird (1962), starring Gregory Peck as the saintly attorney Atticus Finch. Universal Studios considered shooting the movie in Monroeville, but the town had changed too much since the mid-1930s. So the studio created a "more authentic" version of Maycomb on its own lot. Location scouts found a collection of "Southern-looking" clapboard houses in L.A. in just the right state of disrepair. They were about to be demolished to make way for a freeway extension. Universal dismantled them just in time, rebuilding them on the studio lot.
The courthouse interiors used in the movie were a duplicate of those in the actual Monroe County Courthouse in Monroeville — now a museum dedicated to Mockingbird. In total, this movie version of Maycomb consisted of over 30 buildings — just a few less than on this map. The final fate of that fictional town is not known; in all likelihood, it was demolished after filming, perhaps a few buildings were recycled for later productions. If any bird's eye view survives, let me know. It would be nice to see how it compares to this "literary" map of Maycomb.
Map found here at the Mockingbird page of GGCA English.
Strange Maps #738 
Seen a strange map? Let me know at strangemaps@gmail.com.
Progressive America would be half as big, but twice as populated as its conservative twin.
Image: Dicken Schrader
Strange Maps
America's two political tribes have consolidated into 'red' and 'blue' nations, with seemingly irreconcilable differences.
Perhaps the best way to stop the infighting is to go for a divorce and give the two nations a country each
Based on the UN's partition plan for Israel/Palestine, this proposal provides territorial contiguity and sea access to both 'red' and 'blue' America
The lawsuit claims the administration violated the First Amendment when it revoked the press credentials of reporter Jim Acosta.
(Photo by Al Drago - Pool/Getty Images)
Politics & Current Affairs
CNN reporter Jim Acosta's press credentials were revoked following a heated exchange with President Donald Trump on November 8.
The network filed a lawsuit against the administration on Tuesday, claiming the administration has violated multiple amendments.
The White House may only revoke the press credentials of journalists for "compelling reasons," not for reasons involving content.
The ability to speak clearly, succinctly, and powerfully is easier than you think
Former U.S. President Barack Obama speaks during a Democratic Congressional Campaign Committee rally at the Anaheim Convention Center on September 8, 2018 in Anaheim, California. (Photo by Barbara Davidson/Getty Images)
Personal Growth
The ability to communicate effectively can make or break a person's assessment of your intelligence, competence, and authenticity.
Big think's weekly newsletter.
Get smarter faster from the comfort of your inbox.
See our newsletter privacy policy
here
Most Popular
Most Recent
Big think's weekly newsletter.
Get smarter faster from the comfort of your inbox.
See our newsletter privacy policy
here
© Copyright 2007-2018 & BIG THINK, BIG THINK EDGE,
SMARTER FASTER trademarks owned by The Big Think, Inc. All rights reserved.