The Cockneysphere and Other Sound Maps of London
Londoners are defined by the sounds of their city — and here are the maps to prove it.
22 February, 2016
Turn off the music and mute the videos, and the Internet goes eerily quiet. Google doesn't creak or hum. Where on the web are the ambient noises that surround and define our daily lives?
---
The Internet is skewed toward just one of our five senses. Fair enough that we can't feel, smell or taste our way around the World Wide Web — not yet, anyway; perhaps later this century. But audio is as technologically feasible as video. Yet sound is a virtual afterthought.
The online experience is all about seeing and reading. And always has been (1). Webcams were one of the first marvels of the digital age: Look — a coffee pot, live, in Cambridge (2)! Those online peepholes are still around, but nobody, then or now, seems to have thought of their auditory pendant.
So there is no network of web-mics, piping in random decibels from across the globe. Nor is there an audio version of Wikipedia, cataloguing the world's murmurs and clangs.
Some attempts at audio archiving do exist, though. One of the cooler ones is the London Sound Survey. Part random collage of the city's sounds, part systematic archive of London's bruitage, it is a glorious record of the capital's audible aura.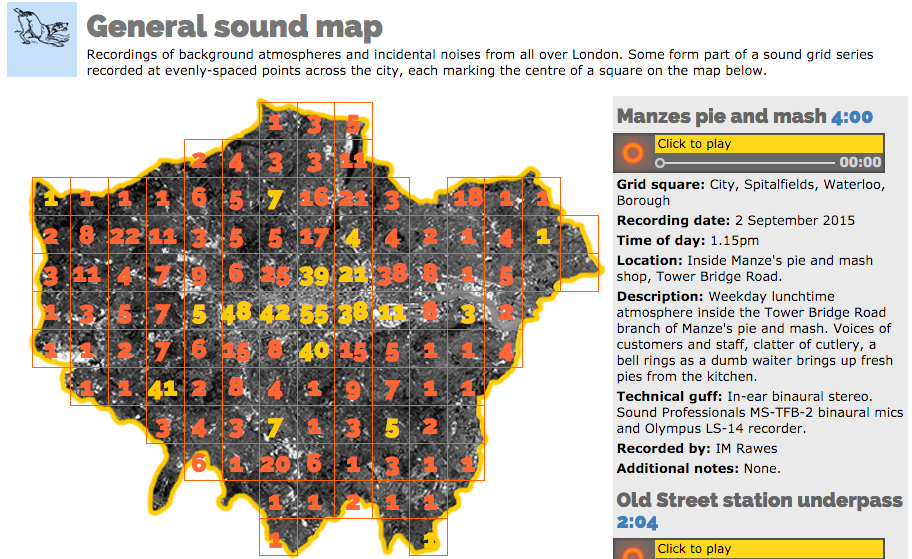 The LSS is the brainchild of Ian M. Rawes, formerly of the British Library's sound archive. Mr. Rawes has been called the "Alan Lomax of London psychogeography," after the famous American field collector of folk music. His archive consists of more than 1,000 bits and bobs of London sounds, many recorded by himself, others over a century old. 
It has birdsong and babbling brooks, the din of traffic and the cacophony of pub talk, the ever-present background noise of planes descending over the city toward Heathrow, and almost every other sound imaginable perceived throughout the vast metropolis. Over time, the sounds of the city change, Mr. Rawes notes. As street vendors disappear, the volume of human voices in the sonic mix shrinks; but female voices have become more prominent — especially in public and transport announcements.
How do you present and preserve something as ephemeral as an urban sound? You could do worse than pin them on a map. Marrying the fleeting quality of noise to the more fixed familiarity of the city's cartographic body grounds the sounds in geography, and animates the map in delightfully unexpected ways. 
The London Sound Survey contains several maps. The "General Sound Map" divides Greater London in grid squares 2.5 miles (4 km) across. The squares are not numbered: Those figures denote the amount of sound clips contained in each of the squares. Some of the outer ones are still virgin territory. Those in the centre have the highest number of soundings.
There is, for example a recording from Manzes pie and mash shop on Tower Bridge Road. Like all other recordings, this one is meticulously referenced, citing grid square; recording date, time, and location; technical data; recording engineer; and a general description of the tape. All you need to be transported to the shop is to press play, and for exactly four minutes, it's as if you were there yourself, at a quarter past one in the afternoon on 2 September 2015.
Each recording illustrates an extraordinary or exemplarily ordinary location, and the "found poetry" of the recording is often matched by the poetic quality of the description:
Escalator Liverpool Street (2:15)
"Loud metallic squeaks and squeals from the escalator; automated platform announcements; faint hubbub of voices; a man cries out once."
Tower Bridge bascule chamber (1:00)
"Bascule chambers are large, closed spaces low down inside each of Tower Bridge's two main towers. In shape, they're each like a 90-degree segment cut out of a millstone and stood on edge, about 50 feet high and perhaps 60 feet wide. They accommodate part of the roadway, which tilts down into the space when the bridge is raised. You can hear traffic passing overhead and water splashing onto a tarpaulin."
St Bartholomew the Great (2:00)
"The quiet inside the church is broken by occasional beeps from a tourist's camera."
Gents toilets London Bridge station (1:45)
"Toilet ambience with sounds of men urinating; footsteps; a man apologises needlessly then farts a short while later; drone of the hand-drier."
Graffiti subway Waterloo (1:00)
"Youths rattle paint spray-cans and add to the already considerable quantity of graffiti and tags decorating a subway beneath Waterloo station. A speaker in an armoured cage mounted high up plays monastic plainsong, maybe to encourage a peaceful attitude. Sounds of traffic passing outside on Lower Marsh."
Whispering Gallery St Pauls (1:00)
"Indistinct murmuring of visitors' voices from the cathedral floor below, occasional coughs, echoes."
And so on, for each of the squares where field work has been done.
Other sound maps include a "Layered London," which combines recordings from the General Sound Map and the Sound Actions section into a single interface. Different historical map layers can be selected in turn as backgrounds to the modern-day sounds of the city, such as in this case — a somewhat incongruous mashup of the 1898 Booth map of London with the sounds of the Notting Hill carnival.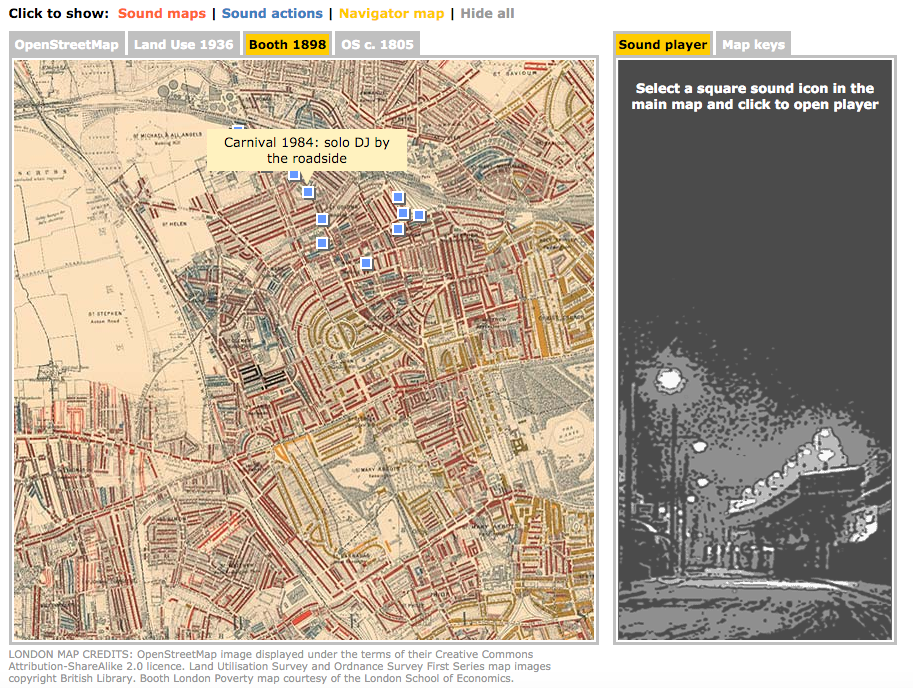 A "Waterways" map borrows the look and feel of Harry Beck's world-famous map of the Underground for a clickable tour of London's canals, such as the Grand Union and Regent's Canals, and its lesser rivers (see also #285 on London's Lost Rivers).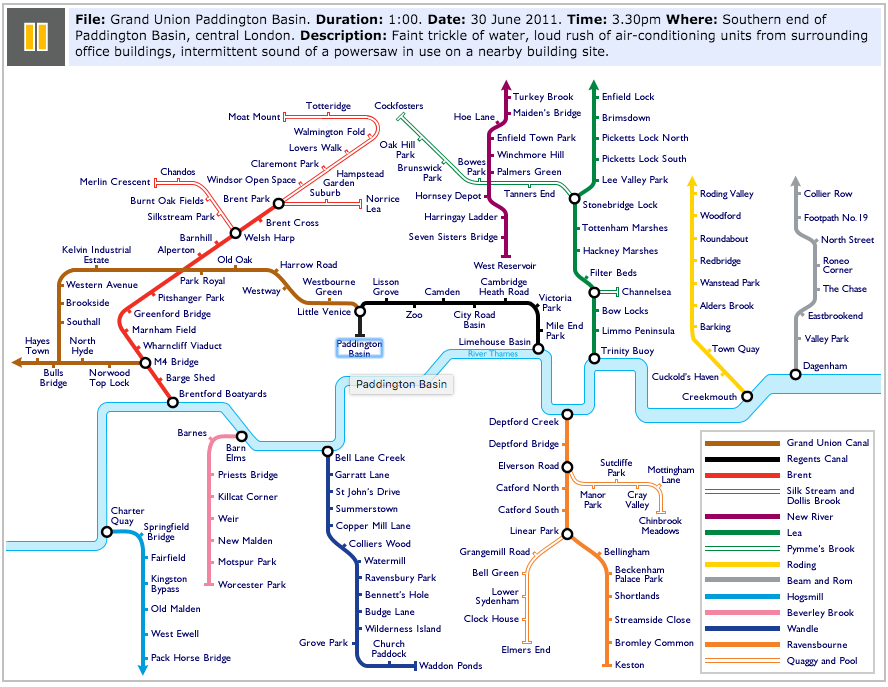 The "Thames Estuary Sound Map" follows the river toward the sea, picking up sounds from either of the distancing banks — from a cuckoo at Cupid's Corner on the northern side to a bowling alley in Sheerness in the south, and with Caribbean worshippers at Canvey Island in between.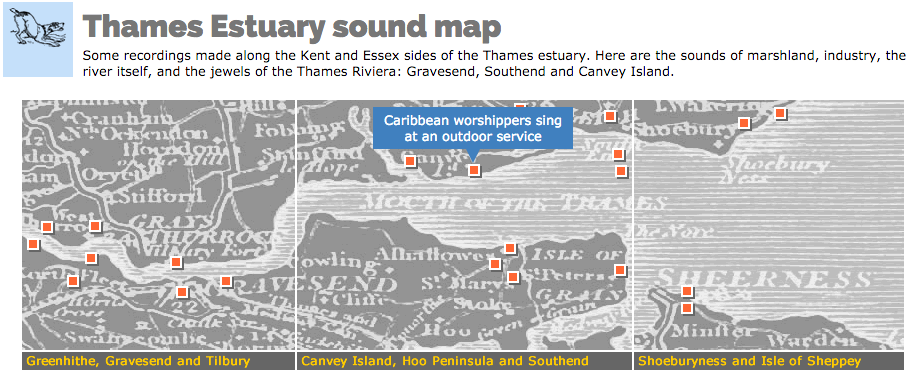 "Edgelands" is a more abstract map, gathering the sounds of the interzone, that orphan/bastard of city and country.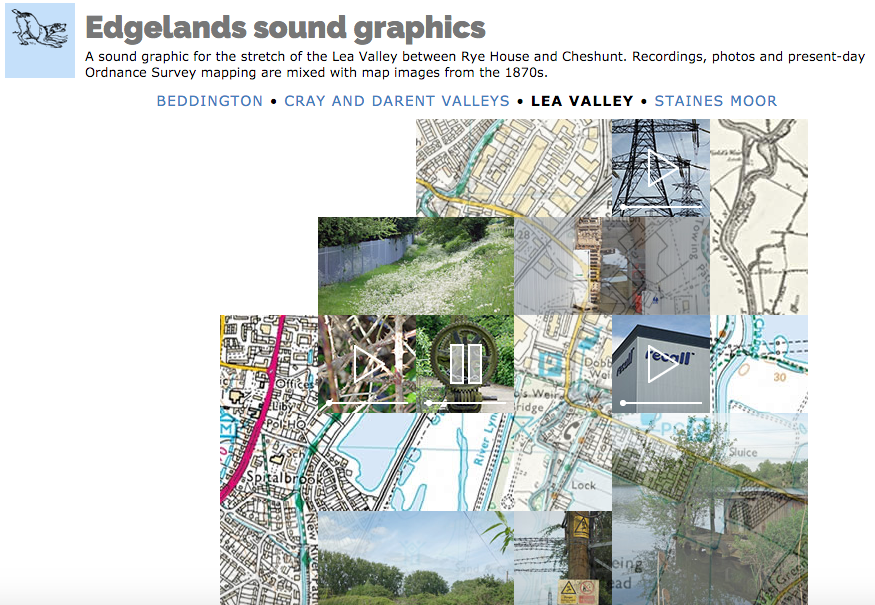 "Andrés London" is an idiosyncratic collection that teaches us a thing or two about London: He loves the Tube, Notting Hill Carnival, and the sound of church bells.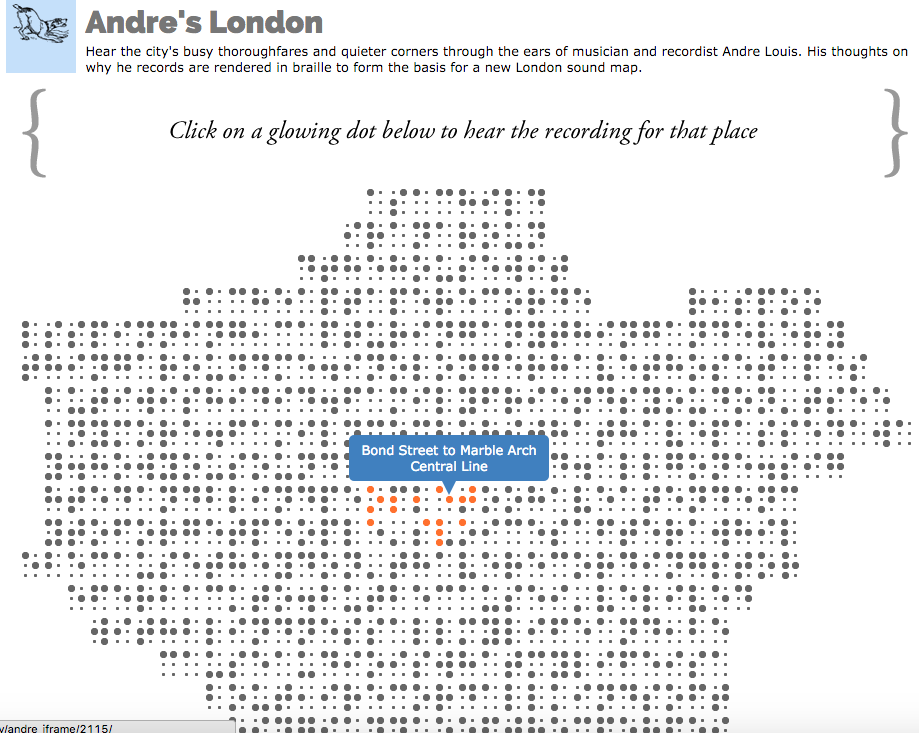 By no means is the London Sound Survey the only such project. There are the Montréal Sound Map, the Beijing Sound History Project, and the Danube Sound Project (3). But in its scope and size, it is unparalleled. Is it too far a stretch to attribute the amplitude of that obsession to London's unique relationship to sound?
I think not. Just look at this map: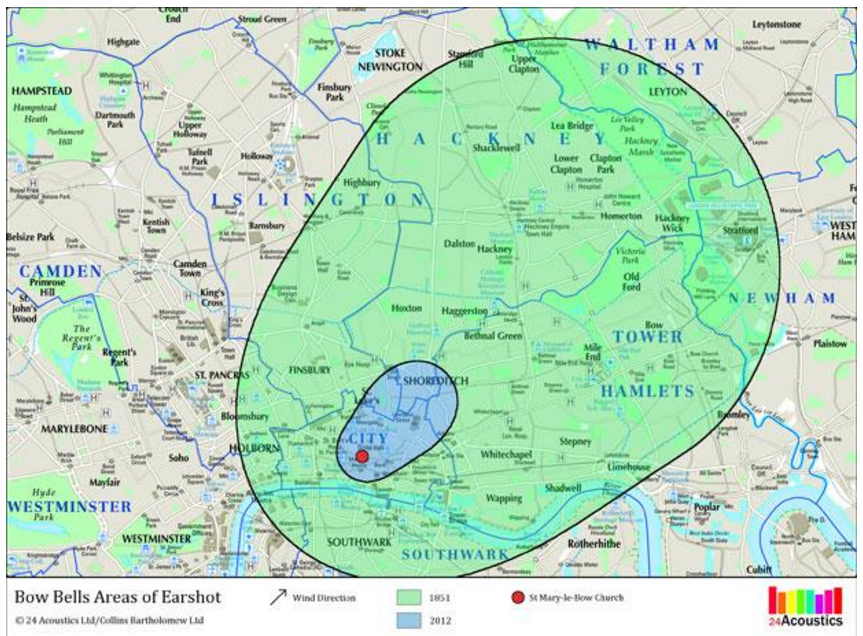 It shows the areas within earshot of the church bells of St-Mary-le-Bow (red dot) in 1851 (green area) and 2012 (blue area).
That area determines who is a true Cockney. Originally a pejorative term, the word "cockney" was re-appropriated as an honorific by and for the working classes in 19th century London. Its definition was not ethnic, hereditary, or religious, but auditory. You were considered a Cockney on one condition only: that you were born within earshot of "Bow Bells."
As the map shows, the "area of earshot" around St-Mary-le-Bow, in Cheapside, has shrunk considerably between 1851 and 2012. The bells have been muted by the high buildings that have gone up throughout the city, and by the traffic that has grown louder in the intervening century and a half.
The "original" area of earshot covered eastern parts of Westminster and Camden, much of Islington and Tower Hamlets and most of Hackney and Tower Hamlets, as well as bits of Waltham Forest and Newham and a slice of London south of the river. By 2012, the "cockneysphere" had shrunk so much that it didn't even cover the entire City of London anymore, and only a small part north of it (little corners of Islington, Hackney, and Tower Hamlets).
The present-day area of earshot is so small that it no longer contains a hospital with a maternity ward, and so little residential housing that home births are exceedingly rare there. So you could say that audio pollution has helped kill off the Cockney.
However, in true make-do-and-mend spirit, the vicar of St-Mary-le-Bow, in 2012 told the Evening Standard that he had put an MP3 of the church's chimes online. The reverend George Bush (sic) hoped that this digital version of "Bow Bells" could give rise to a new generation of "global Cockneys."
Sadly, that recording seems to have gone offline again. And strangely, the Bow Bells don't seem to figure yet in the London Sound Survey either. For the sake of global cockneydom, hopefully they soon will.
Visit the London Sound Survey here. For the Bow Bells map and more, see here in the Evening Standard.
Strange Maps #767
Got a strange map? Let me know at strangemaps@gmail.com.
(1) define "always" as "since the early 1990s."
(2) see the Trojan Room coffee pot. No, really. 
(3) click for more on the Montréal Sound Map, the Beijing Sound History Project (here), Sound Maps of the Danube and the Hudson (both by Annea Lockwood), and of Edinburgh's Water of Life.
Malcolm Gladwell teaches "Get over yourself and get to work" for Big Think Edge.
Big Think Edge
Learn to recognize failure and know the big difference between panicking and choking.

At Big Think Edge, Malcolm Gladwell teaches how to check your inner critic and get clear on what failure is.

Subscribe to Big Think Edge before we launch on March 30 to get 20% off monthly and annual memberships.
Neuroscience research suggests it might be time to rethink our ideas about when exactly a child becomes an adult.
Mind & Brain
Research suggests that most human brains take about 25 years to develop, though these rates can vary among men and women, and among individuals.
Although the human brain matures in size during adolescence, important developments within the prefrontal cortex and other regions still take pace well into one's 20s.
The findings raise complex ethical questions about the way our criminal justice systems punishes criminals in their late teens and early 20s.
Three scientists publish a paper proving that Mercury, not Venus, is the closest planet to Earth.
Strange Maps
Earth is the third planet from the Sun, so our closest neighbor must be planet two or four, right?
Wrong! Neither Venus nor Mars is the right answer.
Three scientists ran the numbers. In this YouTube video, one of them explains why our nearest neighbor is... Mercury!
A new method of growing mini-brains produces some startling results.
(Lancaster, et al)
Surprising Science
Researchers find a new and inexpensive way to keep organoids growing for a year.
Axons from the study's organoids attached themselves to embryonic mouse spinal cord cells.
The mini-brains took control of muscles connected to the spinal cords.
Big think's weekly newsletter.
Get smarter faster from the comfort of your inbox.
See our newsletter privacy policy
here
Most Popular
Most Recent
Big think's weekly newsletter.
Get smarter faster from the comfort of your inbox.
See our newsletter privacy policy
here
© Copyright 2007-2018 & BIG THINK, BIG THINK EDGE,
SMARTER FASTER trademarks owned by The Big Think, Inc. All rights reserved.