Rival Maps of India and Pakistan
All's fair in love and cartography
Frank Jacobs
From a young age, Frank was fascinated by maps and atlases, and the stories they contained. Finding his birthplace on the map in the endpapers of Tolkien's Lord of the Rings only increased his interest in the mystery and message of maps.
While pursuing a career in journalism, Frank started a blog called Strange Maps, as a repository for the weird and wonderful cartography he found hidden in books, posing as everyday objects and (of course) floating around the Internet.
"Each map tells a story, but the stories told by your standard atlas for school or reference are limited and literal: they show only the most practical side of the world, its geography and its political divisions. Strange Maps aims to collect and comment on maps that do everything but that - maps that show the world from a different angle".
A remit that wide allows for a steady, varied diet of maps: Frank has been writing about strange maps since 2006, published a book on the subject in 2009 and joined Big Think in 2010. Readers send in new material daily, and he keeps bumping in to cartography that is delightfully obscure, amazingly beautiful, shockingly partisan, and more.
27 August, 2017
Pakistan and India are such quarrelsome twins that they don't even agree on their birthday. Both countries were born from British India, but Pakistan celebrates 14 August 1947 as its independence day; for India, it's 15 August. 
---
In either case, that's just over 70 years ago. The media attention for those conjoined anniversaries earlier this year focused mainly on how the joy of independence remains indelibly mixed with the trauma of separation. 
But there are many other stories to be told about this vast subcontinent. Here are two sets of maps that provide a different angle on the two nations, celebrating instead life's rich pageant through two categories for which the region is rightly famous – textiles and food. 
In western media, the map of Pakistan is used mainly for three things: to highlight Taliban activity in the frontier zone with Afghanistan, to illustrate tensions over the disputed border with India, or to locate a terrorist attack in one of the country's big cities.
It's as if the shape of the country itself can be the harbinger of nothing but misery and death (1). Well, here's a long-overdue corrective: a map of Pakistan showing the rich diversity of its regional textiles.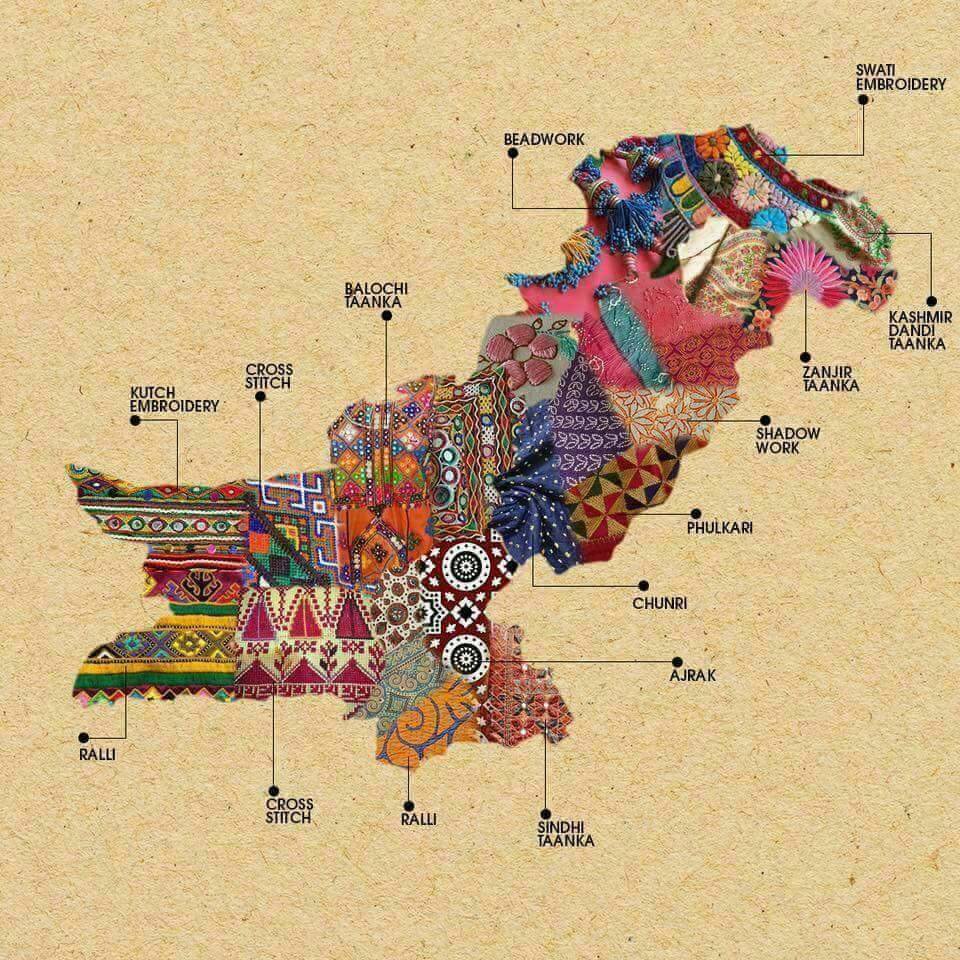 Only colour and beauty here, from the traditional Ralli quilts made in southern Balochistan over the eye-catching Phulkari - embroidered shawls and head scarfs – from Punjab to the Dandi Taanka embroidery of Kashmir in the north, and much in between.
But even the non-political act of weaving fabric is not immune to subcontinental rivalry. As it turns out, this textile map of Pakistan is the twin of a similar map of India, plotted on the same principle: showing the richness of textile variation throughout the country. Only, in India's case, the mapmaker has made the effort to zoom in on each state's particular kind of fabric.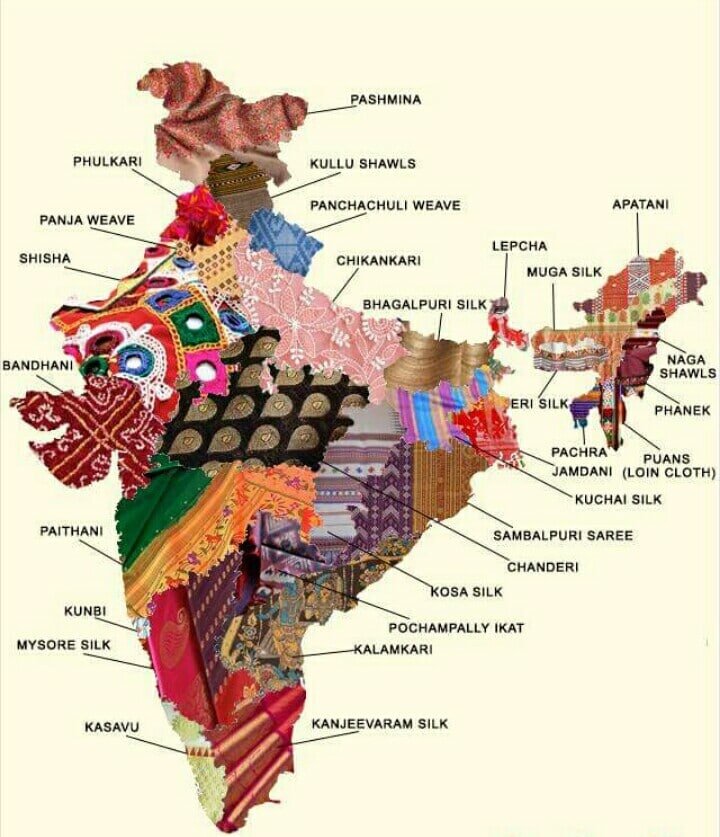 Muga silk, for example is produced only in the eastern Indian state of Assam, and is known as the 'golden fibre' – the lustre of its naturally yellow-gold tint increasing with every wash. Bandhani is a tie-dye textile made by the Khatri community of Gujarat, and is characterised by white dots forming patterns on yellow, red, blue, green and black background colours. Kasavu refers to the off-white and gold saree worn by women of the Malayali community in Kerala on the occasion of Onam, an annual summer harvest festival.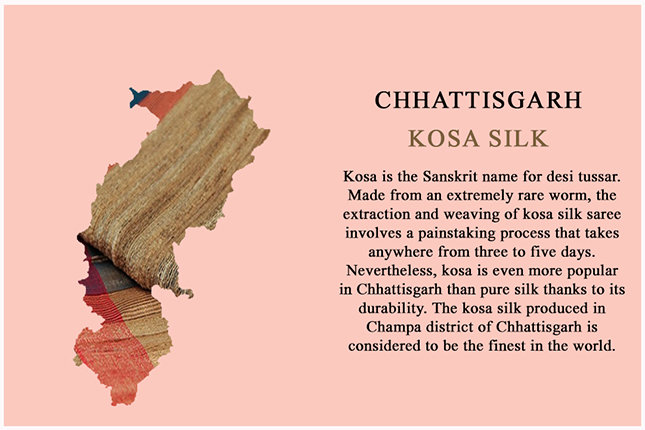 According to Hindu mythology, the Chanderi, the traditional saree of Madhya Pradesh, was first introduced by Lord Krishna's cousin Shishupal. As in Pakistani Punjab, the Indian part of Punjab is know for the Phulkari, the embroidery of floral motifs on fabric.  
The rich variation of this map brought to mind a similar one sent in earlier, detailing the regional origins of the cornucopia of India's culinary delights.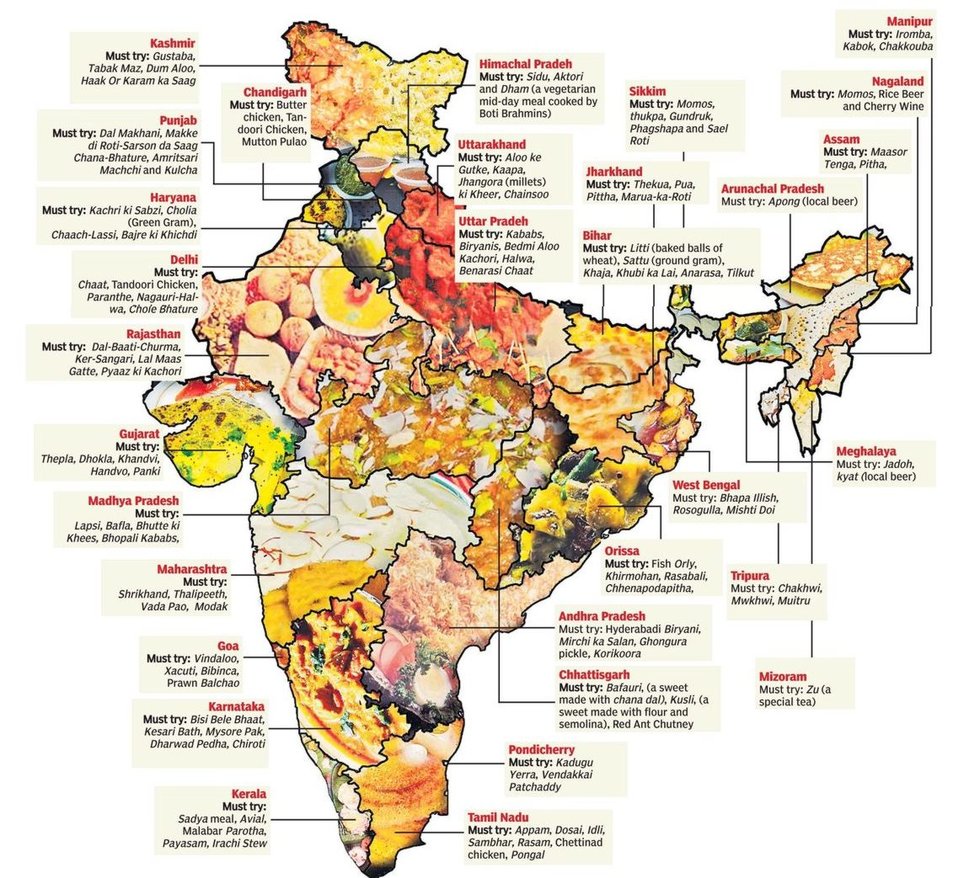 If you're in Tamil Nadu, you should try the Appam and/or the Pongal, if you have room after the Chettinad chicken. Don't leave Rajasthan without trying the Dal-Baati-Churma, or the Ker-Sangari, or at least the Pyaaz ki Kachori. When in Delhi, try the Tandoori chicken, or why not the Nagauri-Halwa. In Nagaland, wash your Momos down with rice beer and/or cherry wine. 
Of course Indo-Pakistani rivalry being what it is, there is a corresponding map of regional foods on the other side of the border.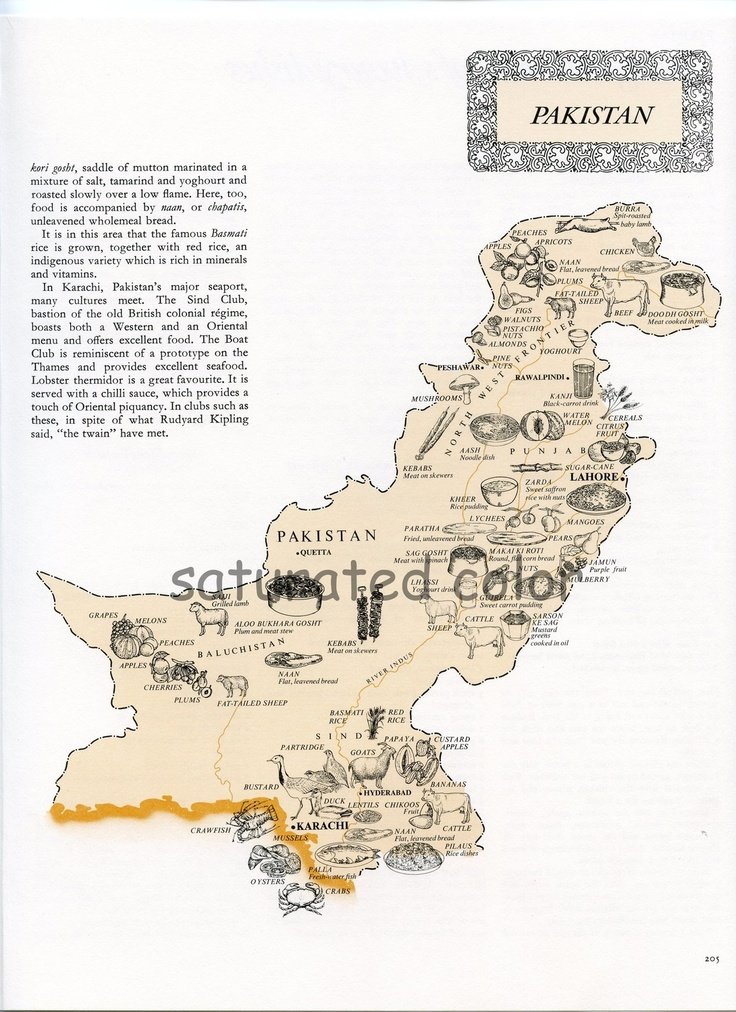 Mussels may rhyme with Brussels, but they're pretty popular in Karachi too. Balochistan is fruit country, famous for its melons, peaches, cherries and plums. The latter are a key ingredient in Aloo Bukhara Ghost, a local stew. Go to the other side of the country for Sarson Ke Sag, a dish of mustard greens cooked in oil. Slake your thirst in Rawalpindi with a glass of Kanji, or black-carrot drink. 
Now, wouldn't it be nice to show a map of the regional textiles (or foods) of both countries on one map? Or is that too soon, even 70 years on?
Many thanks to Robert Capiot, who sent in the Pakistani textile map (found here); and to Sunil Maisuria, who provided the India food map (here). Click here for the India textile map, and here for the Pakistani food map. 
Strange Maps #853
Got a strange map? Let me know at strangemaps@gmail.com.
 (1) Although with some imagination you could detect in the boundaries of the country the name of the Prophet Muhammad,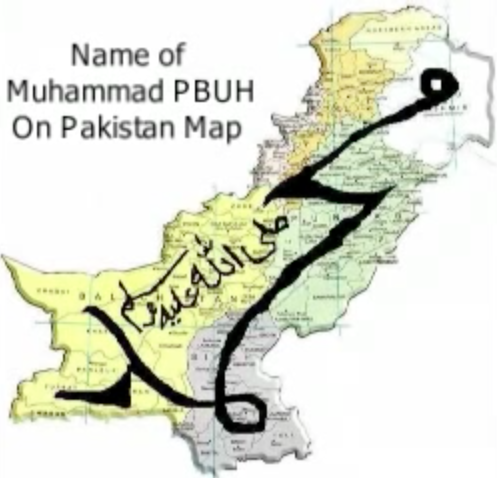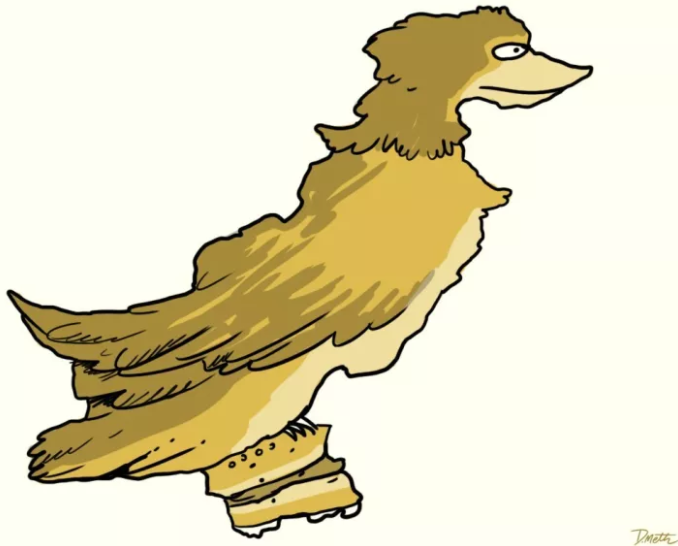 or even a (badly drawn) dinosaur.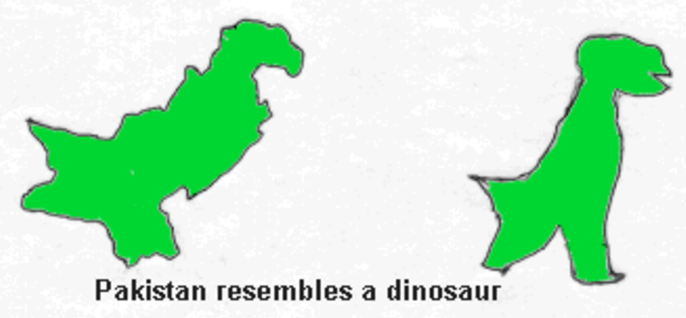 India, for its part, looks like a Ghandi in a cape (see #361), or Bharat Mata (Mother India – see #473 for another country coterminous with its mythical female representation).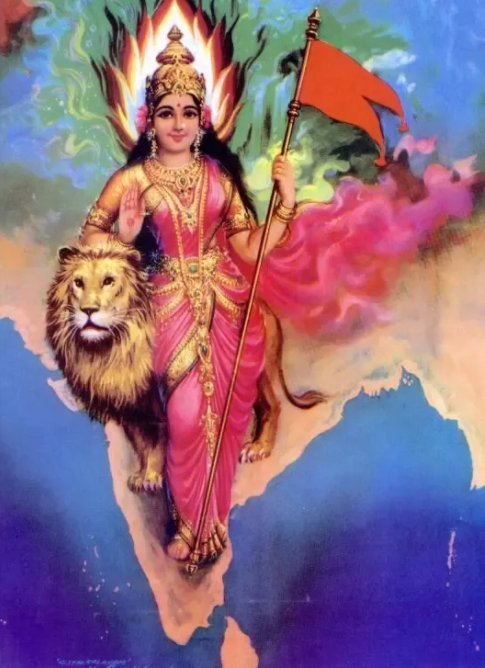 Delay, deny and deflect were the strategies Facebook has used to navigate scandals it's faced in recent years, according to the New York Times.
(Photo by Chip Somodevilla/Getty Images)
Politics & Current Affairs
The exhaustive report is based on interviews with more than 50 people with ties to the company.
It outlines how senior executives misled the public and lawmakers in regards to what it had discovered about privacy breaches and Russian interference in U.S. politics.
On Thursday, Facebook cut ties with one of the companies, Definers Public Relations, listed in the report.
Protected animals are feared to be headed for the black market.
(VL.ru)
Politics & Current Affairs
Russian news network discovers 101 black-market whales.
Orcas and belugas are seen crammed into tiny pens.
Marine parks continue to create a high-price demand for illegal captures.
Dogs' floppy ears may be part of why they and other domesticated animals love humans so much.
Surprising Science
Nearly all domestic animals share several key traits in addition to friendliness to humans, traits such as floppy ears, a spotted coat, a shorter snout, and so on.
Researchers have been puzzled as to why these traits keep showing up in disparate species, even when they aren't being bred for those qualities. This is known as "domestication syndrome."
Now, researchers are pointing to a group of a cells called neural crest cells as the key to understanding domestication syndrome.
Big think's weekly newsletter.
Get smarter faster from the comfort of your inbox.
See our newsletter privacy policy
here
Most Popular
Most Recent
Big think's weekly newsletter.
Get smarter faster from the comfort of your inbox.
See our newsletter privacy policy
here
© Copyright 2007-2018 & BIG THINK, BIG THINK EDGE,
SMARTER FASTER trademarks owned by The Big Think, Inc. All rights reserved.