Revealed: Dutch are least hygienic Europeans
Half of Holland does not wash hands after going to the bathroom. The Bosnians are the cleanest Europeans.
19 February, 2018
Fifteen October is Global Handwashing Day. By which we don't mean: wait until then to lather up your paws. Now that would be counterproductive! Because unwashed hands spread diseases – often deadly diseases. 
---
Consider the fact that washing hands with soap reduces infant mortality for pneumonia (and other respiratory diseases) by up to 25%, and for diarrhea (and other intestinal diseases) by up to 50%. And consider the grim toll of those two eminently preventable diseases: they kill 3.5 million under-fives each year. In other words, improving hand hygiene is the easiest, cheapest and most effective way to reduce the mortality of young children.
Wash your hands before eating, and after going to the toilet. That is the simple message of Global Handwashing Day, which was first held in 2008. It's a noble and worthwhile cause – even if it is rather self-servingly sponsored by some of the world's largest soap-producing companies (1).
The Day, every year on 15 October, is focused mostly on developing countries like Ethiopia, Nigeria, India and the Philippines, where basic hygiene (or a lack of it) is a more critical factor in determining whether children survive than in the developed world. Improving hand hygiene requires an increase in awareness, the application of peer pressure, and a change in culture.
But it's not just the developing world that needs cleaner hands. As this map shows, some countries in Europe too have a definite problem with (not) washing hands. The map shows the result of a Gallup poll from 2015. Question: Do you automatically wash your hands with soap and water after going to the toilet?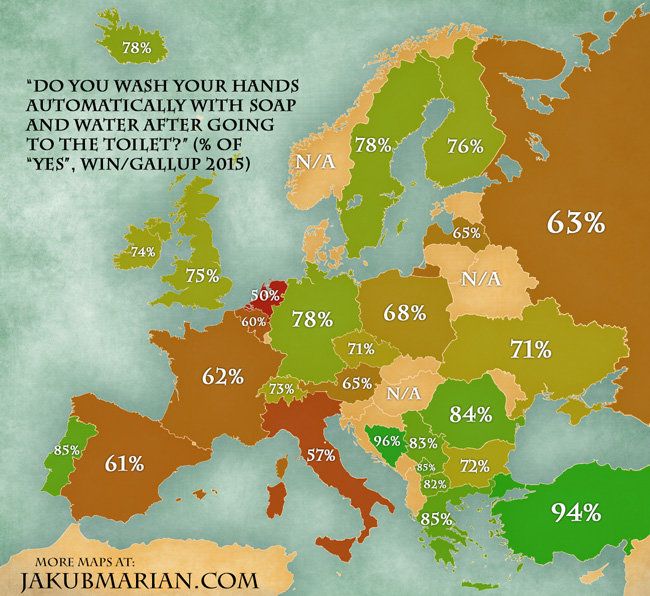 Cleanest respondents are the Bosnians (96%), followed by the Turks (94%). These high scores are no doubt relatable to wudu, the Islamic procedure for washing hands (and mouth, nostrils, arms, head and feet) as a means of ritual purification, for example prior to prayer. 
Other Balkan peoples are among the most hygienic in Europe, but quite a bit below the Bosnians and Turks: Kosovans (also mainly Muslims) are at 85%, equalled by the Greeks and followed by Romanians (84%), Serbians (83%) and Macedonians (82%). The only other European people with this level of post-bathroom cleanliness are the Portuguese (85%). 
The next batch of countries is again about 10 percentage points lower, in the seventies. Iceland, Sweden and Germany lead the pack (78%), then come Finland (76%), the UK (75%), Ireland (74%) and Switzerland (73%). Bulgaria (72%) is a relatively dirty spot in the otherwise clean Balkans. The Czech Republic (71%) is less eye-catching, surrounded by schmutzig Central Europe. And Ukraine, also 71%, seems spotless, compared to those (relatively) filthy Russians. 
Dropping to the sixties, Poland has the highest score (68%); followed by Estonia (65%) and their slightly dirtier neighbour Russia (63%). France (62%), Spain (61%) and Belgium (60%) are all languishing at the bottom of the sixties. Austria (65%), surrounded by cleaner neighbours on almost all sides, can look down on Italy (57%).  
But who is the dirtiest of them all? Surprise, surprise: it's the Dutch. They generally benefit from a reputation for order and cleanliness, but as it turns out, that is largely undeserved. As this poll shows, fully half of all Netherlanders do not wash their hands with soap when returning from the bathroom. No other country in Europe does worse (to be fair: not all countries were surveyed). It would seem the Dutch could benefit from this device, as invented by cartoonist Gary Larson.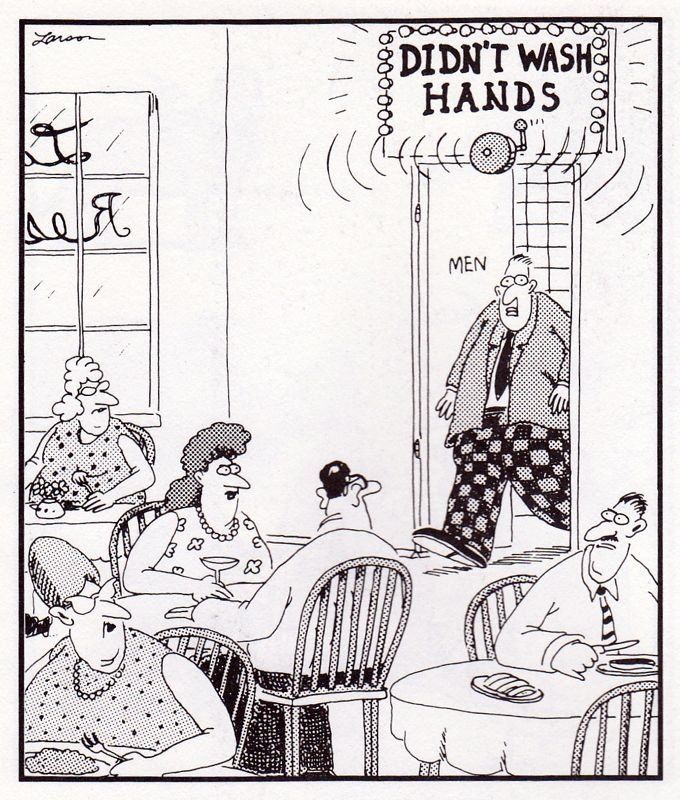 Handwashing map of Europe found here at Jakub Marian's excellent cartography website. Gary Larson cartoon found here on Pinterest. 
Strange Maps #886
Got a strange map? Let me know at strangemaps@gmail.com.
(1) Procter & Gamble, Colgate-Palmolive, Unilever – but also UNICEF, USAID and the London School of Hygiene and Tropical Medicine, among others. 
As religious diversity increases in the United States, we must learn to channel religious identity into interfaith cooperation.
Sponsored by Charles Koch Foundation
Religious diversity is the norm in American life, and that diversity is only increasing, says Eboo Patel.
Using the most painful moment of his life as a lesson, Eboo Patel explains why it's crucial to be positive and proactive about engaging religious identity towards interfaith cooperation.
The opinions expressed in this video do not necessarily reflect the views of the Charles Koch Foundation, which encourages the expression of diverse viewpoints within a culture of civil discourse and mutual respect.
Two Apollo 11 astronauts question NASA's planetary safety procedures.
Credit: Bettmann, Getty Images.
Surprising Science
Buzz Aldrin and Michael Collins revealed that there were deficiencies in NASA's safety procedures following the Apollo 11 mission.
Moon landing astronauts were quarantined for 21 days.
Earth could be contaminated with lunar bacteria.
Here's why you might eat greenhouse gases in the future.
Technology & Innovation
The company's protein powder, "Solein," is similar in form and taste to wheat flour.
Based on a concept developed by NASA, the product has wide potential as a carbon-neutral source of protein.
The man-made "meat" industry just got even more interesting.
When it comes to sniffing out whether a source is credible or not, even journalists can sometimes take the wrong approach.
Sponsored by Charles Koch Foundation
We all think that we're competent consumers of news media, but the research shows that even journalists struggle with identifying fact from fiction.
When judging whether a piece of media is true or not, most of us focus too much on the source itself. Knowledge has a context, and it's important to look at that context when trying to validate a source.
The opinions expressed in this video do not necessarily reflect the views of the Charles Koch Foundation, which encourages the expression of diverse viewpoints within a culture of civil discourse and mutual respect.