Big ideas.
Once a week.
Subscribe to our weekly newsletter.
Raw Data from the Meat Atlas
Warning: these maps might leave a strange taste in your mouth
25 March, 2017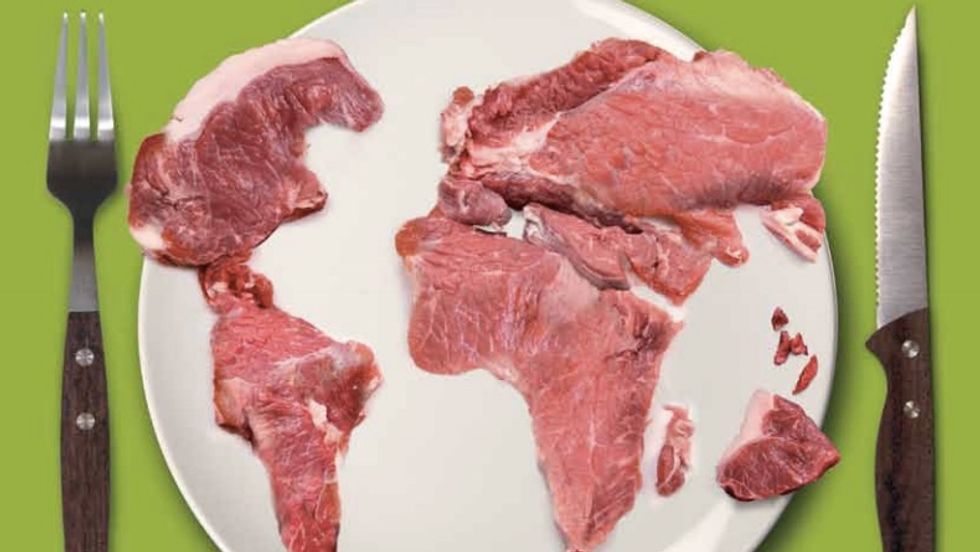 Most people eat meat, but few meat-eaters have a clear understanding of the industry that provides their food. If they did, they would eat better-produced meat, less meat, or no meat at all. 
---
But meat-eaters – like vegetarians – are understandably emotional and defensive about their eating habits. The rituals of such an intimate part of daily life are unlikely to be swayed by cold, hard facts alone.
Perhaps maps can do what those facts alone cannot. Cartography, an older language than writing, bypasses the inner critic who allows agreeable facts to add to our bias and labels disagreeable ones as 'fake news'.
The maps shown below are a selection from the Meat Atlas, a study produced by Friends of the Earth Europe and the Heinrich Böll Stiftung, a foundation allied to the German Green Party. 
The Atlas is not anti-meat. It merely aims to illuminate a global industry that is remarkably obscure, considering the major impact it has on our daily lives, and on the planet as a whole. Alternatives to the agro-industrial complex are mentioned. Yes, vegetarianism is one of them. But so is responsible, organic farming.
Along the way, the study is packed with amazing stats. Such as the fact that livestock produce nearly one-third of the world's greenhouse gases. Or that in 2012, India overtook Brazil as the world's biggest exporter of beef – if you count buffalo as beef. If you do, about a quarter of the beef on the world market is now in fact buffalo meat from India, which is a dollar a kilo cheaper to produce than beef.
But we promised you maps. Here is a selection to make you reconsider the next slice of convenience meat :
World's Ten Biggest Meat Producers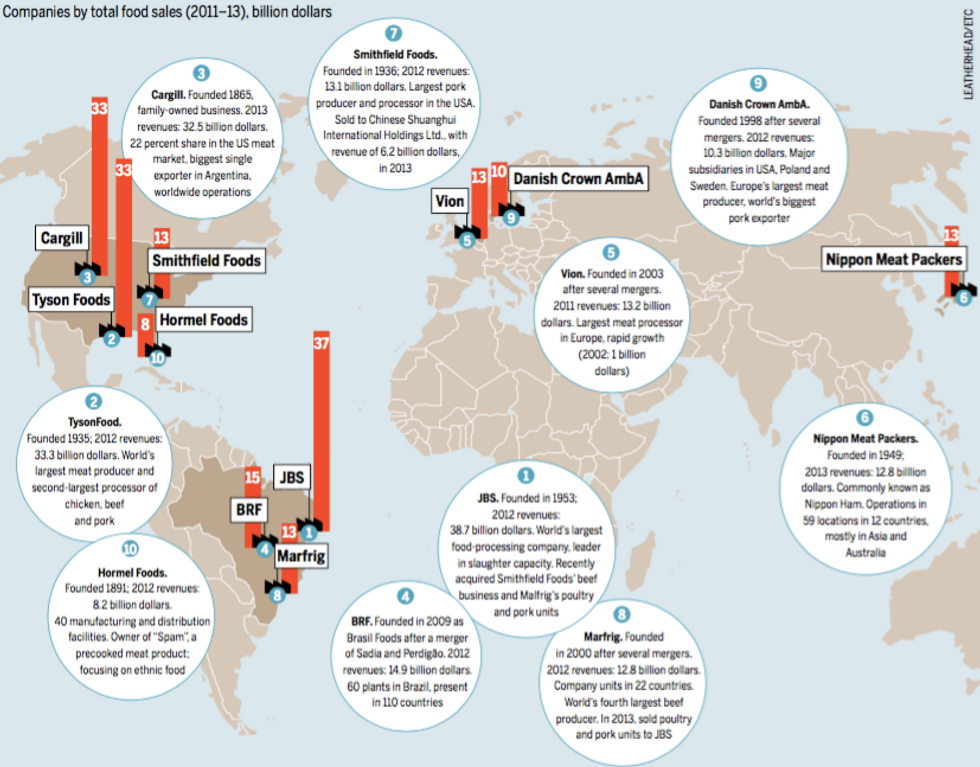 Vion? Hormel? Tyson Foods? This world map shows the world's ten biggest meat-produdcing companies. None are household names. Take JBS, the world's biggest producer of beef and of chicken. JBS has the capacity to slaughter 85,000 head of cattle, 70,000 pigs, and 12 million birds per day. With food sales of $38.7 billion in 2012, it had more revenue than more client-facing food manufacturers such as Unilever or Danone.
Most Slaughtered Animals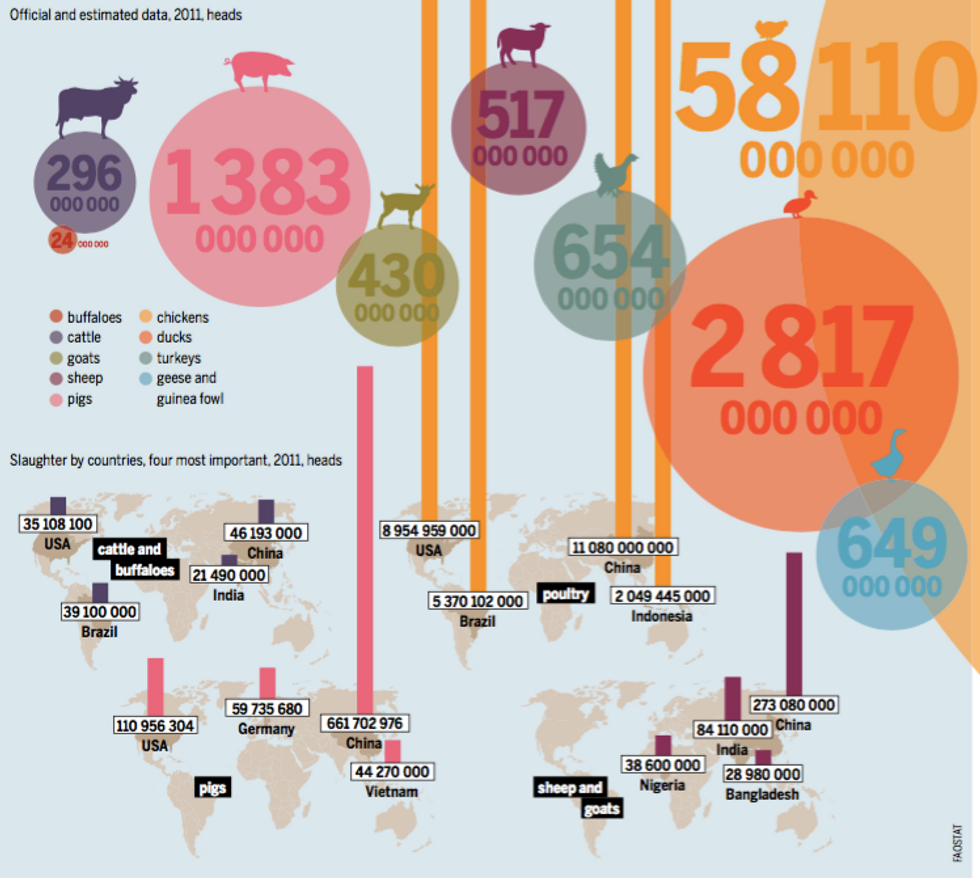 In 2011, an estimated 58.1 billion chickens were slaughtered around the world – more than any other animal. Ducks were a distant second, at 2.8 billion, followed by pigs (almost 1.4 billion), turkeys (654 million) and geese (649 million). Next were sheep (517 million), goats (430 million) and cattle (296 million), trailed at a long distance by buffaloes (24 million). China is the world's biggest producer and consumer of meat. It leads the world in the number of animals slaughtered for the four leading categories.
State-supported Slaughter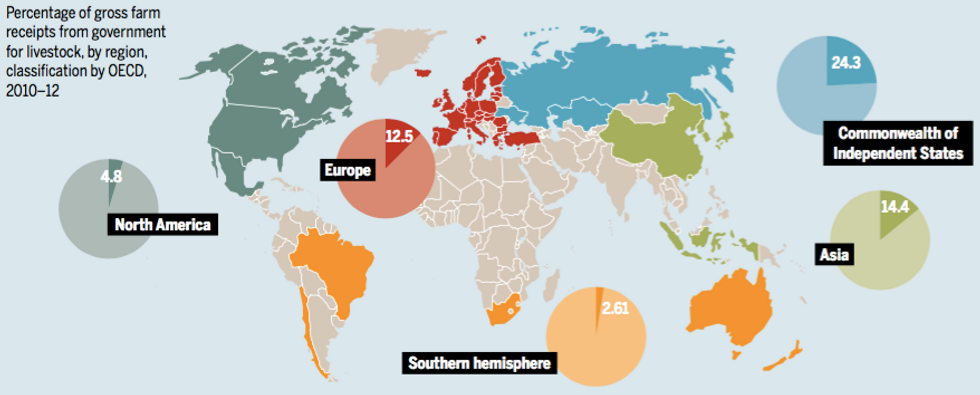 Around 1.3 billion people live from animal husbandry, most in developing countries. In the developed world, meat is produced by an ever smaller group of farmers, in ever larger factory farms. In the U.S. for example, the number of pig farmers in the U.S. fell by 70% from 1992 to 2009, while the number of pigs sold per farm per year rose from 945 to 8,400. The meat industry is heavily subsidised. In Russia and neighbouring countries, up to 24.3% of farm turnover for livestock consists of government subsidy. In Europe, it is 12.5%, but even in North America it is almost 5%.
Death by nitrogen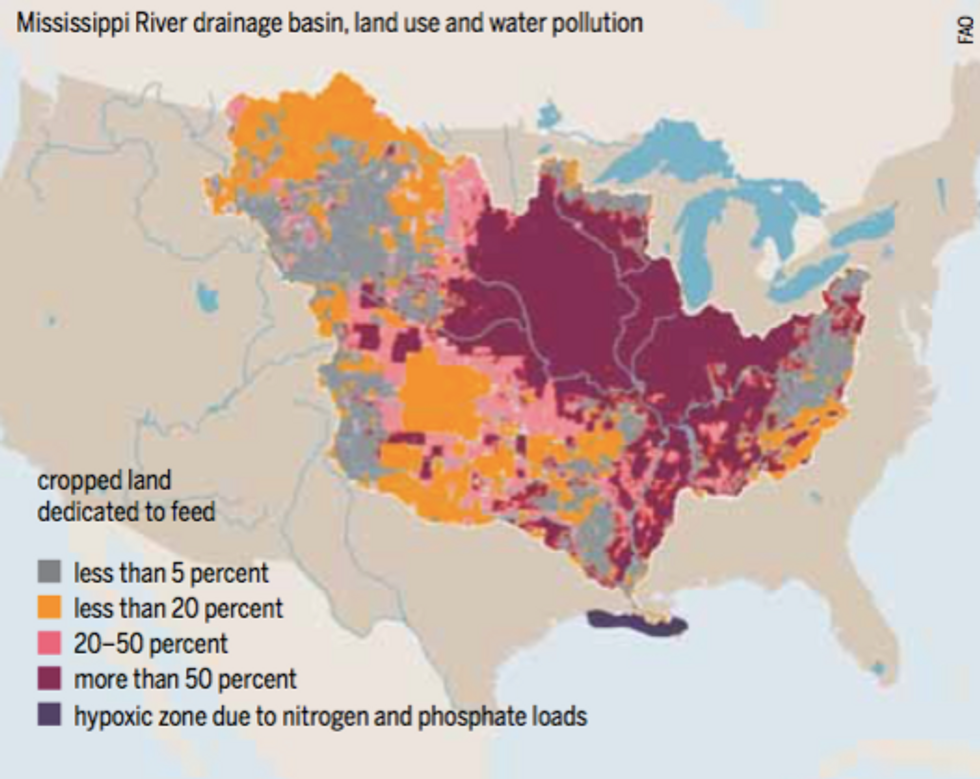 Intensive livestock production releases nitrogen compounds into the atmosphere, which contributes to climate change. In groundwater, nitrogen can cause cancer. In coastal waters, it leads to oxygen-starved dead zones, as has happened to an area about 20,000 sq. km large around the mouth of the Mississippi. Here, a litre of seawater holds less than 2 milligrams of dissolved oxygen. The norm is about 7 milligrams. No fish or shrimp can survive in this nitrogen desert, the result of the over-fertilisation of the Mississippi basin. Worldwide, there are about 250,000 sq. km of these coastal dead zones.
America, Home of the Chicken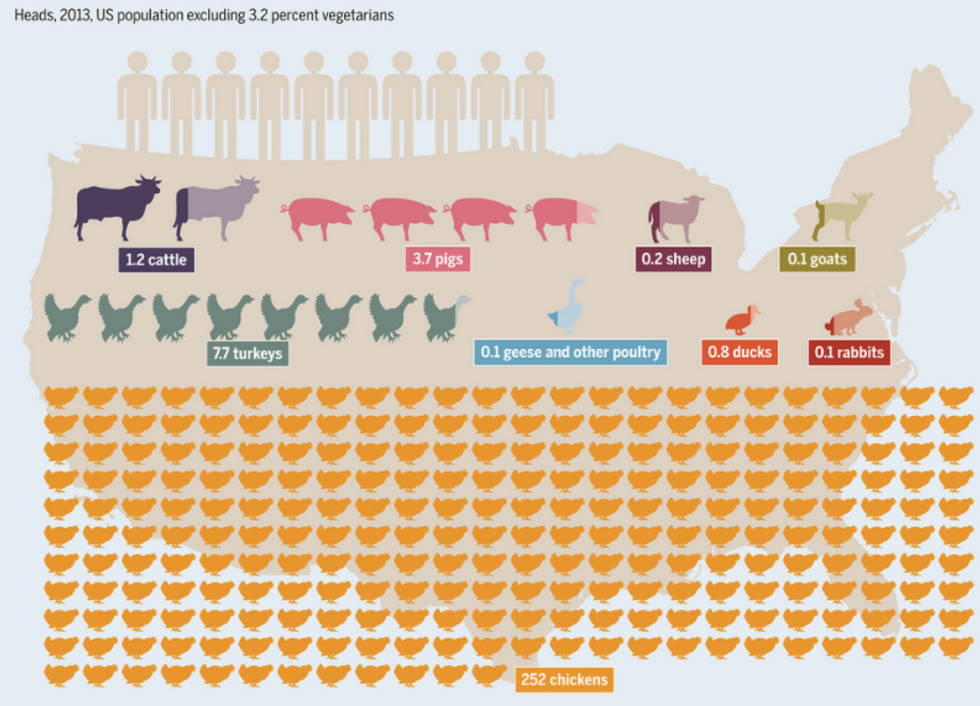 How much meat do you eat? Excluding vegetarians, this is how many animals are slaughtered to satisfy the food requirements of ten Americans. Why ten Americans instead of one? Because one American would consume just 0.01 rabbit per year, and that seems unfair on the other 99% of that rabbit, even if it is a merely statistical one. Pity the chickens, though: I bet you never realised how many of those you (and nine other Americans) got through in a year. 
Stagnating Demand in the Developed World....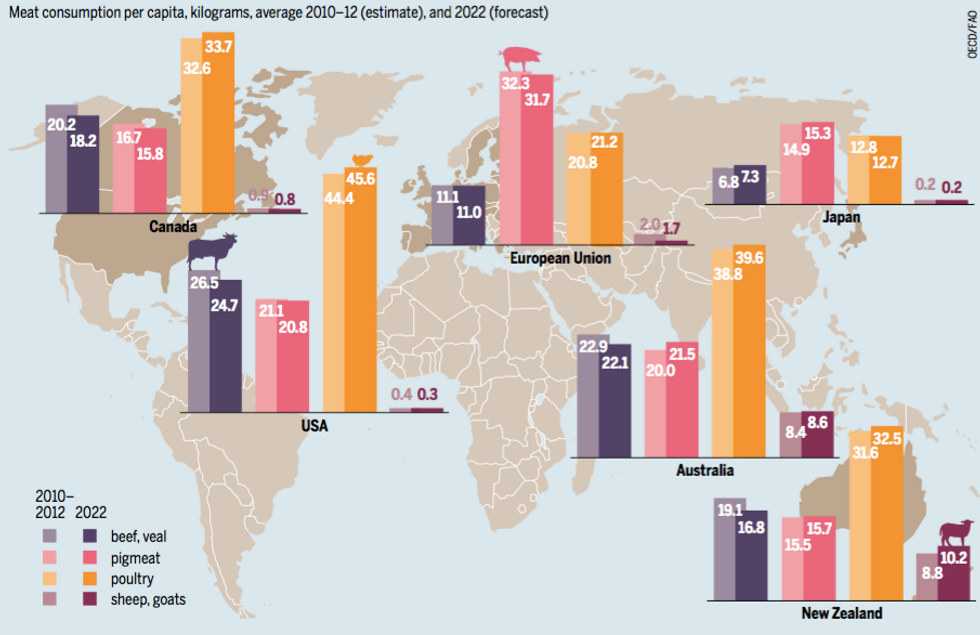 We've reached peak meat in North America, Europe and other parts of the developed world. Industry scandals and concerns about animal welfare and the environment are pushing consumers towards alternatives to mass-produced food. As this map shows, the consumption of beef and veal, sheep and goats, and pig is projected to be lower in 2022 than ten years earlier in the U.S., Canada and the EU. Poultry consumption will be up slightly, but not enough to compensate the fall in consumption for the other categories. The projected figures for Japan, Australia and New Zealand are also grossly stagnant.
… Versus Booming Demand Elsewhere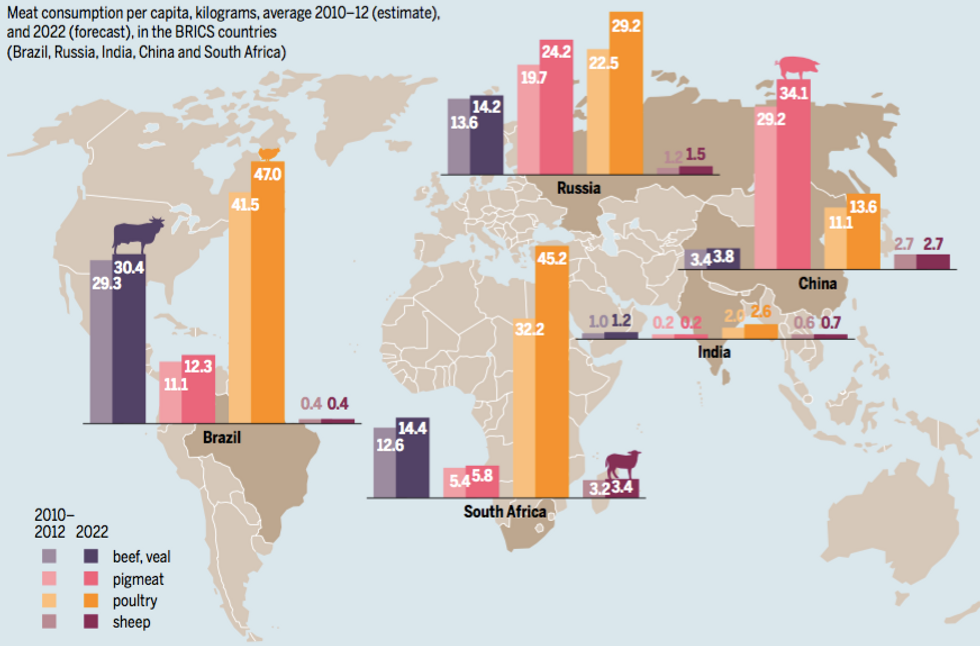 The fast-developing economies of Brazil, Russia, India, China and South Africa – the BRICS for short – together account for 40% of the world's population. As they get richer, their people add more meat to their diet. Between 2003 and 2012, their meat consumption rose by 6.3% a year. It is expected to rise by another 2.5% a year between 2013 and 2022. That pattern is likely to be repeated in other countries as incomes rise and the urban middle classes grow.
The UN's Food and Agricultural Organisation assumes that by 2050, emerging markets will cover 29% of their caloric intake with animal products (meat, eggs and dairy). To keep up with that demand, meat output needs to rise from 300 million tonnes now to 470 million tonnes by 2050. Feed grain production will have to double, from 260 to 515 million tonnes a year worldwide – and that will require either dramatically higher yields per hectare or more land used for agriculture, or both.
Requiem for pastoralism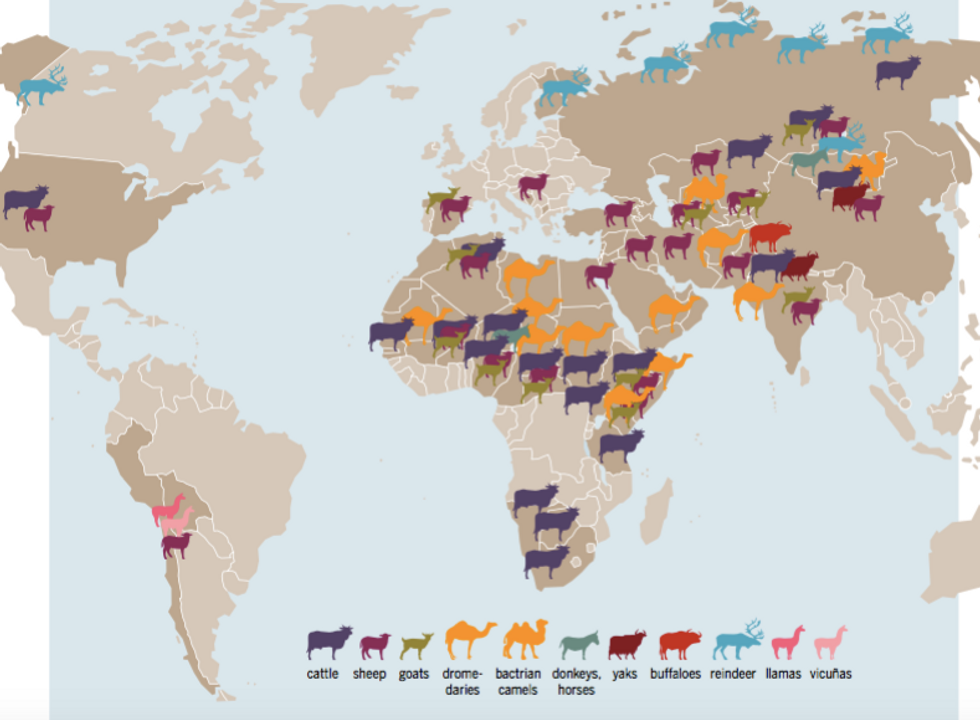 Over 40% of the world's land surface is unsuitable for crops, giving pastoralists the opportunity to use these areas for raising their herds. As landscapes differ widely, so do the animals suited to the varying climates. As this map shows, they vary from reindeer in the arctic over camels and dromedaries across the deserts of Central Asia and Northern Africa to the llamas and vicunas of the Andes.
The high degree of adaptation means this type of farming can be both very sustainable and highly productive. However, it is declining together with the migratory lifestyle that it requires. Estimates for the number of pastoralists worldwide vary from 120 to 200 million, with smallholder farmers – most of them with at least some livestock – estimated up to 600 million globally.
Finally, a Map of Vegetarianism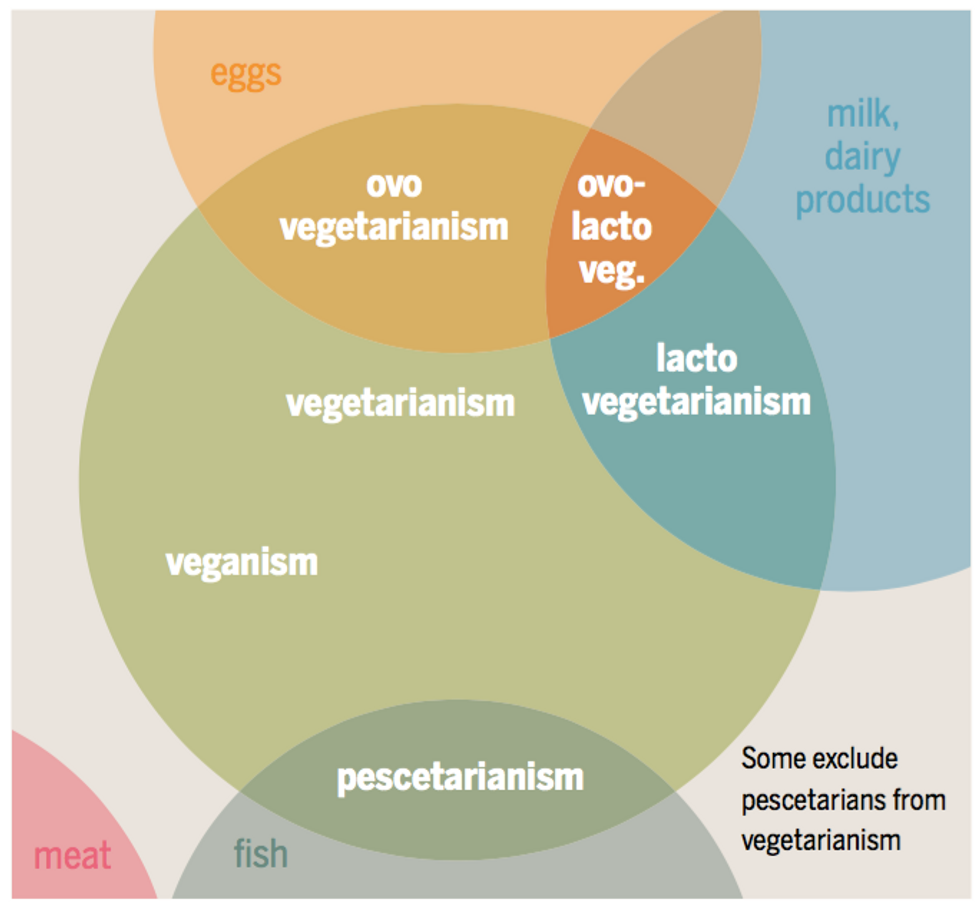 If you can't tell a vegan from a vegetarian or if you think a pescetarian is someone who affects a belief in the Flying Spaghetti Monster, this map is for you. People become vegetarians for a variety of reasons: religious, ethical, medical, ecological or sentimental, and sometimes a combination of any of these.
The types of vegetarianism are varied as well: abstain from all animal products, and you are a vegan. Include dairy: lacto-vegetarian. Include eggs: ovo-vegetarian. Include both: ovo-lacto-vegetarian. Eat fish, and you are a pescetarian (and not a pastafarian). This last category is sometimes excluded from the vegetarian club. As are flexitarians: people who sometimes eat meat.
About 2% of Americans describe themselves as vegetarian. In India that figure is just over 30%, because of certain religious tradition in Buddhism and Hinduism. As a result, average meat consumption per person in India is one-tenth of that in China. Other religions partially forego meat. Jews and Muslims abstain from pork, a religious interdiction probably due to the risk of trichinosis, a disease caused by parasitic worms in infected pigs. Christians of various stripe observe periods of abstinence from some or all types of meat.
Going organic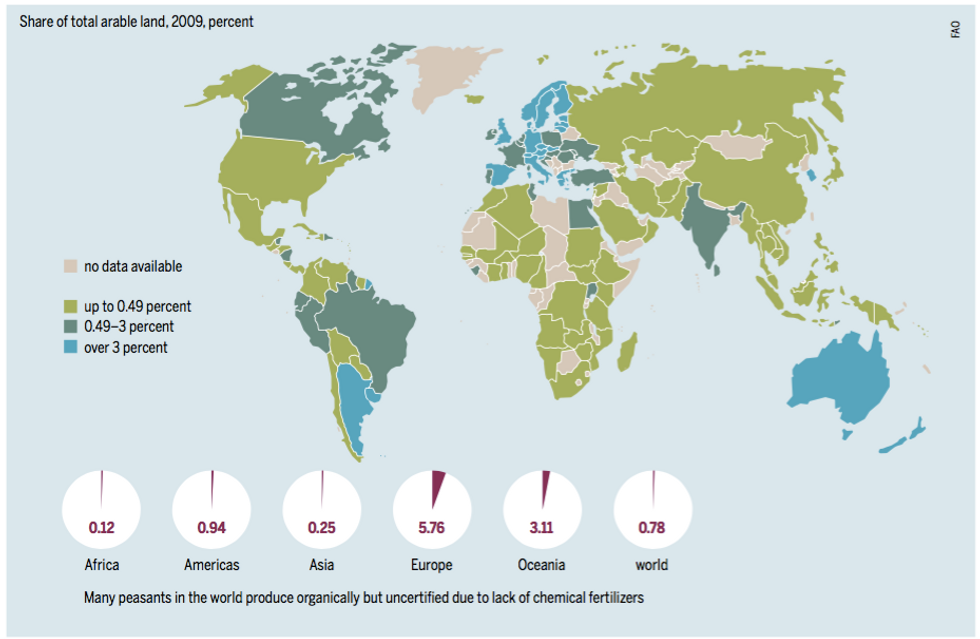 Good-quality meat, ethically produced: it can be got. At a price of $250,000 for the first lab-grown hamburger, it will be a while before artificial meat is within the reach of the ordinary consumer.
A more immediately viable solution, which is also better for the environment long-term, is organic farming. If less than 2% of meat sold in the industrialised world is organically produced, it is at least partly about price: it costs nearly twice as much to produce as conventional meat. But only if we ignore the cost of conventional meat production to animal welfare, human health, and the environment – and in government subsidies to the agricultural industry.
Going organic requires commitment from the consumer: they must be willing to pay more, and must make the effort to find organic meat in the first place: disputable sourcing and labelling and limited availability are some of the biggest obstacles.
And yet, over 5% of arable land in Europe is already being used for certified organic agriculture. The other continents are lagging far behind, though, with only Oceania exceeding 1%. 
Nevertheless, even in the U.S., the system of community-supported agriculture is booming. This is when buyers pay in advance for all seasonally-available produce from a farm, be it meat, dairy, vegetables, etc. This secures an income for the farmers, who can then concentrate on responsible, organic production.
Care for some cricket, ma'am?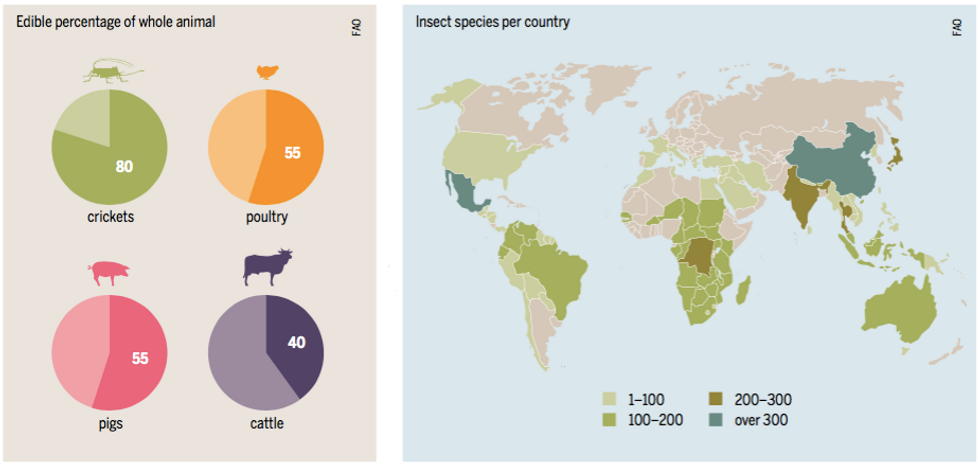 Flexitarianism needn't be synonymous with weak-willed vegetarianism. An active choice for less meat could improve animal welfare, human health and the biodiversity of the planet. One of the many ways to achieve this is to consume protein made from insects, as suggested by a recent UN report. A comparable volume of insects emits 80% less methane than cattle and contains twice as much protein as chicken or steak. And there is plenty of choice. As shown by this map, the Mexicans and Chinese have the choice between more than 300 edible species of insects. Japan, DR Congo, India and Thailand are also insect-rich, but even in the U.S. and Europe, there are more than 100 species to choose between.
Many thanks to Orion Jones for pointing out the Meat Atlas, found here.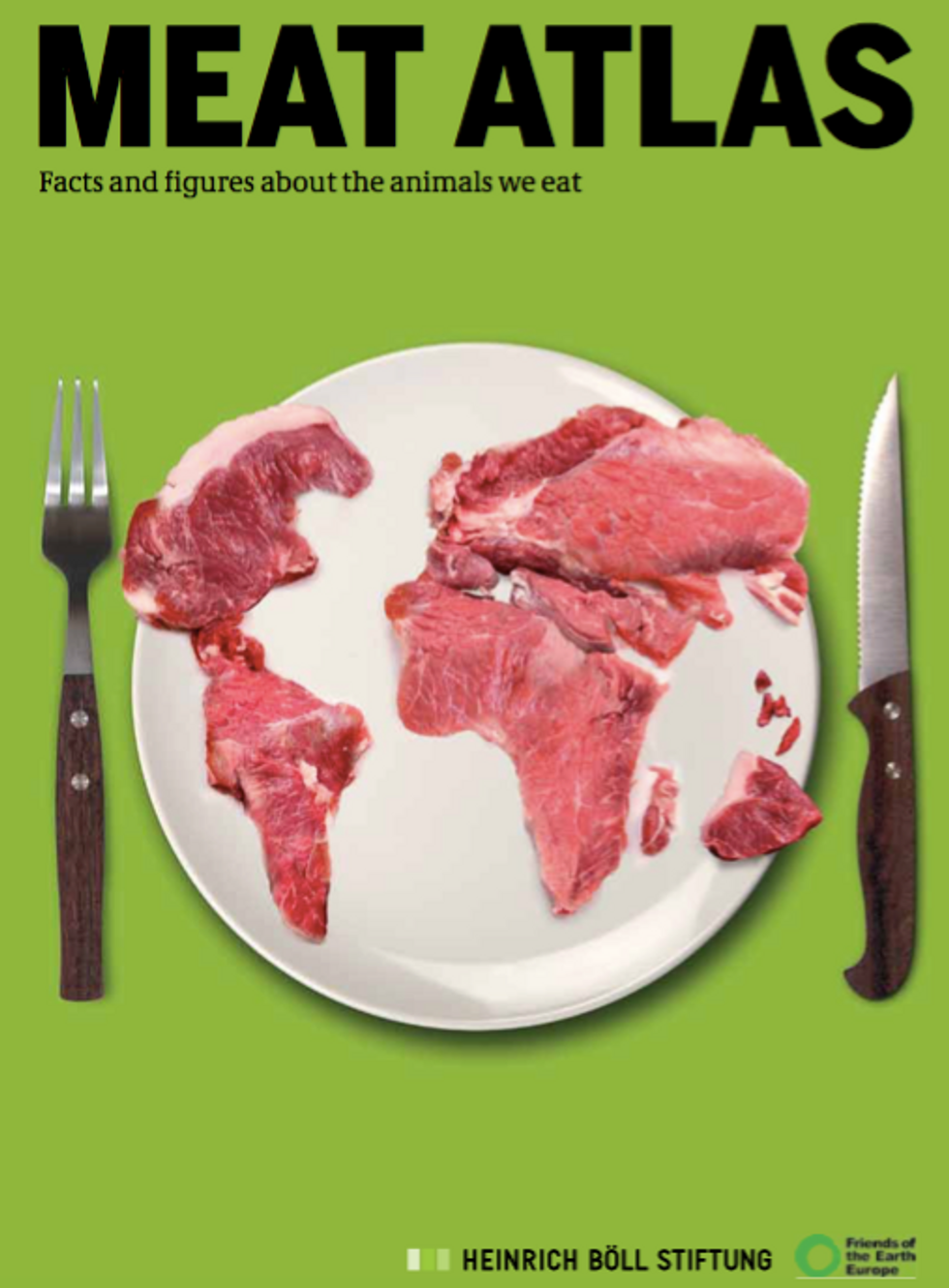 Strange Maps #829
Got a strange map? Let me know at strangemaps@gmail.com.
Inventions with revolutionary potential made by a mysterious aerospace engineer for the U.S. Navy come to light.
Credit: Getty Images
Surprising Science
U.S. Navy holds patents for enigmatic inventions by aerospace engineer Dr. Salvatore Pais.
Pais came up with technology that can "engineer" reality, devising an ultrafast craft, a fusion reactor, and more.
While mostly theoretical at this point, the inventions could transform energy, space, and military sectors.
The U.S. Navy controls patents for some futuristic and outlandish technologies, some of which, dubbed "the UFO patents," came to light recently. Of particular note are inventions by the somewhat mysterious Dr. Salvatore Cezar Pais, whose tech claims to be able to "engineer reality." His slate of highly-ambitious, borderline sci-fi designs meant for use by the U.S. government range from gravitational wave generators and compact fusion reactors to next-gen hybrid aerospace-underwater crafts with revolutionary propulsion systems, and beyond.
Of course, the existence of patents does not mean these technologies have actually been created, but there is evidence that some demonstrations of operability have been successfully carried out. As investigated and reported by The War Zone, a possible reason why some of the patents may have been taken on by the Navy is that the Chinese military may also be developing similar advanced gadgets.
Among Dr. Pais's patents are designs, approved in 2018, for an aerospace-underwater craft of incredible speed and maneuverability. This cone-shaped vehicle can potentially fly just as well anywhere it may be, whether air, water or space, without leaving any heat signatures. It can achieve this by creating a quantum vacuum around itself with a very dense polarized energy field. This vacuum would allow it to repel any molecule the craft comes in contact with, no matter the medium. Manipulating "quantum field fluctuations in the local vacuum energy state," would help reduce the craft's inertia. The polarized vacuum would dramatically decrease any elemental resistance and lead to "extreme speeds," claims the paper.
Not only that, if the vacuum-creating technology can be engineered, we'd also be able to "engineer the fabric of our reality at the most fundamental level," states the patent. This would lead to major advancements in aerospace propulsion and generating power. Not to mention other reality-changing outcomes that come to mind.
Among Pais's other patents are inventions that stem from similar thinking, outlining pieces of technology necessary to make his creations come to fruition. His paper presented in 2019, titled "Room Temperature Superconducting System for Use on a Hybrid Aerospace Undersea Craft," proposes a system that can achieve superconductivity at room temperatures. This would become "a highly disruptive technology, capable of a total paradigm change in Science and Technology," conveys Pais.
High frequency gravitational wave generator.
Credit: Dr. Salvatore Pais
Another invention devised by Pais is an electromagnetic field generator that could generate "an impenetrable defensive shield to sea and land as well as space-based military and civilian assets." This shield could protect from threats like anti-ship ballistic missiles, cruise missiles that evade radar, coronal mass ejections, military satellites, and even asteroids.
Dr. Pais's ideas center around the phenomenon he dubbed "The Pais Effect". He referred to it in his writings as the "controlled motion of electrically charged matter (from solid to plasma) via accelerated spin and/or accelerated vibration under rapid (yet smooth) acceleration-deceleration-acceleration transients." In less jargon-heavy terms, Pais claims to have figured out how to spin electromagnetic fields in order to contain a fusion reaction – an accomplishment that would lead to a tremendous change in power consumption and an abundance of energy.
According to his bio in a recently published paper on a new Plasma Compression Fusion Device, which could transform energy production, Dr. Pais is a mechanical and aerospace engineer working at the Naval Air Warfare Center Aircraft Division (NAWCAD), which is headquartered in Patuxent River, Maryland. Holding a Ph.D. from Case Western Reserve University in Cleveland, Ohio, Pais was a NASA Research Fellow and worked with Northrop Grumman Aerospace Systems. His current Department of Defense work involves his "advanced knowledge of theory, analysis, and modern experimental and computational methods in aerodynamics, along with an understanding of air-vehicle and missile design, especially in the domain of hypersonic power plant and vehicle design." He also has expert knowledge of electrooptics, emerging quantum technologies (laser power generation in particular), high-energy electromagnetic field generation, and the "breakthrough field of room temperature superconductivity, as related to advanced field propulsion."
Suffice it to say, with such a list of research credentials that would make Nikola Tesla proud, Dr. Pais seems well-positioned to carry out groundbreaking work.
A craft using an inertial mass reduction device.
Credit: Salvatore Pais
The patents won't necessarily lead to these technologies ever seeing the light of day. The research has its share of detractors and nonbelievers among other scientists, who think the amount of energy required for the fields described by Pais and his ideas on electromagnetic propulsions are well beyond the scope of current tech and are nearly impossible. Yet investigators at The War Zone found comments from Navy officials that indicate the inventions are being looked at seriously enough, and some tests are taking place.
If you'd like to read through Pais's patents yourself, check them out here.
Laser Augmented Turbojet Propulsion System
Credit: Dr. Salvatore Pais
The experience of life flashing before one's eyes has been reported for well over a century, but where's the science behind it?
Mind & Brain
At the age of 16, when Tony Kofi was an apprentice builder living in Nottingham, he fell from the third story of a building. Time seemed to slow down massively, and he saw a complex series of images flash before his eyes.
As he described it, "In my mind's eye I saw many, many things: children that I hadn't even had yet, friends that I had never seen but are now my friends. The thing that really stuck in my mind was playing an instrument". Then Tony landed on his head and lost consciousness.
When he came to at the hospital, he felt like a different person and didn't want to return to his previous life. Over the following weeks, the images kept flashing back into his mind. He felt that he was "being shown something" and that the images represented his future.
Later, Tony saw a picture of a saxophone and recognized it as the instrument he'd seen himself playing. He used his compensation money from the accident to buy one. Now, Tony Kofi is one of the UK's most successful jazz musicians, having won the BBC Jazz awards twice, in 2005 and 2008.
Though Tony's belief that he saw into his future is uncommon, it's by no means uncommon for people to report witnessing multiple scenes from their past during split-second emergency situations. After all, this is where the phrase "my life flashed before my eyes" comes from.
But what explains this phenomenon? Psychologists have proposed a number of explanations, but I'd argue the key to understanding Tony's experience lies in a different interpretation of time itself.
When life flashes before our eyes
The experience of life flashing before one's eyes has been reported for well over a century. In 1892, a Swiss geologist named Albert Heim fell from a precipice while mountain climbing. In his account of the fall, he wrote is was "as if on a distant stage, my whole past life [was] playing itself out in numerous scenes".
More recently, in July 2005, a young woman called Gill Hicks was sitting near one of the bombs that exploded on the London Underground. In the minutes after the accident, she hovered on the brink of death where, as she describes it: "my life was flashing before my eyes, flickering through every scene, every happy and sad moment, everything I have ever done, said, experienced".
In some cases, people don't see a review of their whole lives, but a series of past experiences and events that have special significance to them.
Explaining life reviews
Perhaps surprisingly, given how common it is, the "life review experience" has been studied very little. A handful of theories have been put forward, but they're understandably tentative and rather vague.
For example, a group of Israeli researchers suggested in 2017 that our life events may exist as a continuum in our minds, and may come to the forefront in extreme conditions of psychological and physiological stress.
Another theory is that, when we're close to death, our memories suddenly "unload" themselves, like the contents of a skip being dumped. This could be related to "cortical disinhibition" – a breaking down of the normal regulatory processes of the brain – in highly stressful or dangerous situations, causing a "cascade" of mental impressions.
But the life review is usually reported as a serene and ordered experience, completely unlike the kind of chaotic cascade of experiences associated with cortical disinhibition. And none of these theories explain how it's possible for such a vast amount of information – in many cases, all the events of a person's life – to manifest themselves in a period of a few seconds, and often far less.
Thinking in 'spatial' time
An alternative explanation is to think of time in a "spatial" sense. Our commonsense view of time is as an arrow that moves from the past through the present towards the future, in which we only have direct access to the present. But modern physics has cast doubt on this simple linear view of time.
Indeed, since Einstein's theory of relativity, some physicists have adopted a "spatial" view of time. They argue we live in a static "block universe" in which time is spread out in a kind of panorama where the past, the present and the future co-exist simultaneously.
The modern physicist Carlo Rovelli – author of the best-selling The Order of Time – also holds the view that linear time doesn't exist as a universal fact. This idea reflects the view of the philosopher Immanuel Kant, who argued that time is not an objectively real phenomenon, but a construct of the human mind.
This could explain why some people are able to review the events of their whole lives in an instant. A good deal of previous research – including my own – has suggested that our normal perception of time is simply a product of our normal state of consciousness.
In many altered states of consciousness, time slows down so dramatically that seconds seem to stretch out into minutes. This is a common feature of emergency situations, as well as states of deep meditation, experiences on psychedelic drugs and when athletes are "in the zone".
The limits of understanding
But what about Tony Kofi's apparent visions of his future? Did he really glimpse scenes from his future life? Did he see himself playing the saxophone because somehow his future as a musician was already established?
There are obviously some mundane interpretations of Tony's experience. Perhaps, for instance, he became a saxophone player simply because he saw himself playing it in his vision. But I don't think it's impossible that Tony did glimpse future events.
If time really does exist in a spatial sense – and if it's true that time is a construct of the human mind – then perhaps in some way future events may already be present, just as past events are still present.
Admittedly, this is very difficult to make sense of. But why should everything make sense to us? As I have suggested in a recent book, there must be some aspects of reality that are beyond our comprehension. After all, we're just animals, with a limited awareness of reality. And perhaps more than any other phenomenon, this is especially true of time.

Steve Taylor, Senior Lecturer in Psychology, Leeds Beckett University
This article is republished from The Conversation under a Creative Commons license. Read the original article.
Might as well face it, you're addicted to love.
Sex & Relationships
Many writers have commented on the addictive qualities of love. Science agrees.
The reward system of the brain reacts similarly to both love and drugs
Someday, it might be possible to treat "love addiction."
Since people started writing, they've written about love. The oldest love poem known dates back to the 21st century BCE. For most of that time, writers also apparently have been of two (or more) minds about it, announcing that love can be painful, impossible to quit, or even addictive — while also mentioning how nice it is.
The idea of love as an addiction is one that is both familiar and unsettling. Surely it can't be the case that our mutual love with our partner — a thing that can produce euphoria, consumes a great deal of our time, and which we fear losing — can be compared to a drug habit? But indeed, many scientists have turned their attention to the idea of "love addiction" and how your brain on drugs might resemble your brain in love.
Love and other drugs
In a 2017 article published in the journal Philosophy, Psychiatry, & Psychology, a team of neuroethicists considered the idea that love is addicting and held the idea up to science for scrutiny.
They point out that the leading model of addiction rests on the notion of a drug causing the brain to release an unnatural level of reward chemicals, such as dopamine, effectively hijacking the brain's reward system. This phenomenon isn't strictly limited to drugs, though they are more effective at this process than other things. Rats can get a similar rush from sugar as from cocaine, and they can have terrible withdrawal symptoms when the sugar crash kicks in.
On the structural level, there is a fair amount of overlap between the parts of the brain that handle love and pair-bonding and the parts that deal with addiction and reward processing. When inside an MRI machine and asked to think about the person they love romantically, the reward centers of people's brains light up like Broadway.
Love as an addiction
These facts lead the authors to consider two ideas, dubbed the "narrow" and "broad" views of love as an addiction.
The narrow view holds that addiction is the result of abnormal brain processes that simply don't exist in non-addicts. Under this paradigm, "food-seeking or love-seeking behaviors are not truly the result of addiction, no matter how addiction-like they may outwardly appear." It could be that abnormal processes cause the brain's reward system to misfire when exposed to love and to react to it excessively.
If this model is accurate, love addiction would be a rare thing — one study puts it around five to ten percent of the population — but could be considered a disorder similar to others and caused by faulty wiring in the brain. As with other addictions, this malfunction of the reward system could lead to an inability to fully live a typical life, difficulty having healthy relationships, and a number of other negative consequences.
The broad view looks at addiction differently, perhaps even radically.
It begins with the idea that addiction exists on a spectrum of motivations. All of our appetites, including those for food and water, exist on this spectrum and activate similar parts of the brain when satisfied. We can have appetites for anything that taps into our reward system, including food, gambling, sex, drugs, and love. For most people most of the time, our appetites are fairly temperate, if recurring. I might be slightly "addicted" to food — I do need some a few times per day — but that "addiction" doesn't have any negative effects on my health.
An appetite for cocaine, however, is rarely temperate and usually dangerous. Likewise, a person's appetite for love could reach addiction levels, and a person could be considered "hooked" on relationships (or on a particular person). This would put love addiction at the extreme end of the spectrum.
None of this is to say that the authors think that love is bad for you just because it can resemble an addiction. Love addiction is not the same as cocaine addiction at the neurological level: important differences, like how long it takes for the desire for another "hit" to occur, do exist. Rather, the authors see this as an opportunity to reconsider our approach to addiction in general and to think about how we can help the heartsick when they just can't seem to get over their last relationship.
Is "love addiction" a treatable disorder?
Hypothetically, a neurological basis for an addiction to love could point toward interventions that "correct" for it. If the narrow view of addiction is accurate, perhaps some people will be able to seek treatment for love addiction in the same way that others seek help to quit smoking. If the broad view of addiction is correct, the treatment of love addiction would be unlikely as it may be difficult to properly identify where the cutoff of acceptability on a spectrum should be.
Either way, since love is generally held in high regard by all cultures and doesn't quite seem to be in the same category as a bad cocaine habit in terms of social undesirability, the authors doubt we'll be treating anyone for "love addiction" anytime soon.
Politics & Current Affairs
A brief passage from a recent UN report describes what could be the first-known case of an autonomous weapon, powered by artificial intelligence, killing in the battlefield.
Scroll down to load more…