One angry Paris resident is mapping rat sightings to shame the city into action
All big cities have rats, but Paris seems to have a more serious rodent problem than most.
Frank Jacobs
From a young age, Frank was fascinated by maps and atlases, and the stories they contained. Finding his birthplace on the map in the endpapers of Tolkien's Lord of the Rings only increased his interest in the mystery and message of maps.
While pursuing a career in journalism, Frank started a blog called Strange Maps, as a repository for the weird and wonderful cartography he found hidden in books, posing as everyday objects and (of course) floating around the Internet.
"Each map tells a story, but the stories told by your standard atlas for school or reference are limited and literal: they show only the most practical side of the world, its geography and its political divisions. Strange Maps aims to collect and comment on maps that do everything but that - maps that show the world from a different angle".
A remit that wide allows for a steady, varied diet of maps: Frank has been writing about strange maps since 2006, published a book on the subject in 2009 and joined Big Think in 2010. Readers send in new material daily, and he keeps bumping in to cartography that is delightfully obscure, amazingly beautiful, shockingly partisan, and more.
15 June, 2018
On an almost daily basis, Parisians can see rats scurry through the city's parks, in the metro stations and along its fancy boulevards. When the Seine floods, or when construction work forces them from their underground lairs, the furry creatures roam nearby streets in intimidatingly large gangs. The foreign press regularly features horror stories of Parisian rats attacking tourists (1).
---
Experts estimate there are 1.5 to 2 rats for each inhabitant of the city, which would mean there could be close to 5 million rats for the 2.3 million people who live within the Paris city limits. Dératisation is a verb every Parisian is familiar with, but the City's efforts to get rid of the rodents don't seem equal to the size of the problem.
Paris launched a €1.5-million 'war on rats' last year, promising more traps and cleaner streets, and regularly closing parks to eradicate local rat concentrations. But the war doesn't seem to make a dent in the rat population (2).
Geoffroy Boulard has had enough of the half measures. He heads the council of the 17th Arrondissement, one of the 20 administrative subdivisions of Paris, in the northwest of the city.
Work on a new courthouse and a metro line extension has forced a lot of rats to the surface, but his calls to City Hall for sanitation crews to deal with the problem have largely gone unanswered. He accused Paris mayor Anne Hidalgo of not taking the problem seriously. The case of a children's playground infested with rats was the proverbial straw for him.
Realising that complaining was not enough, Mr Boulard set up signaleunrat.paris ('report a rat'), a website to collect rat sightings in the 17th Arrondissement. Whenever they spot one or more of the beasties, residents can enter their encounter on a map, where it is marked by a little rat logo (on its back if it's a dead one).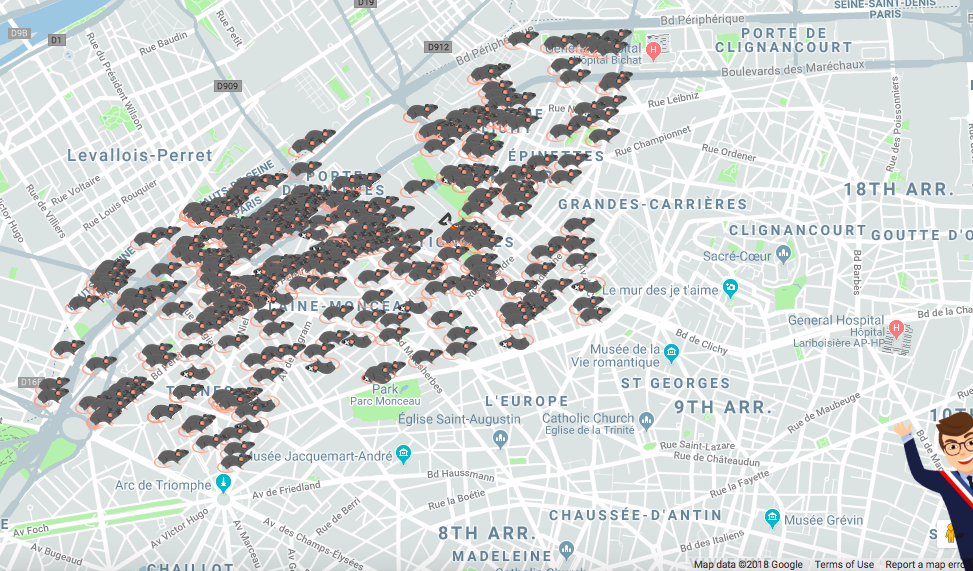 Mr Bollard said each sighting would stay on the map until authorities respond, at which point the rats will be replaced by shovels. As of now, the map shows more than a hundred sightings, mostly live ones, and not a single shovel.
Here's a sample of the sightings reported on signaleunrat.paris.
12 Rue Déodat de Séverac
"A rat running after people and attacking them! Help!"
Rue des Batignolles
"I have it on picture and film if you need it."
4 Rue Hélène
"Rat leaving the Monoprix supermarket at 5.45 pm on 12 June '18."
Rue Davy
"Leaving my building, a rat passes suddenly in front of my 2-year-old daughter and me! There are plenty of them in our street. It's a real problem, especially in the evening".

25 Rue Cino Del Duca
"Every evening I come across dozens of rats the size of small dogs that run into the buildings!"
42 Rue des Acacias
"A rat enters into 42 rue des Acacias every night! I live at this address and I must admit that I'm fed up with it".
To be continued – à continuer...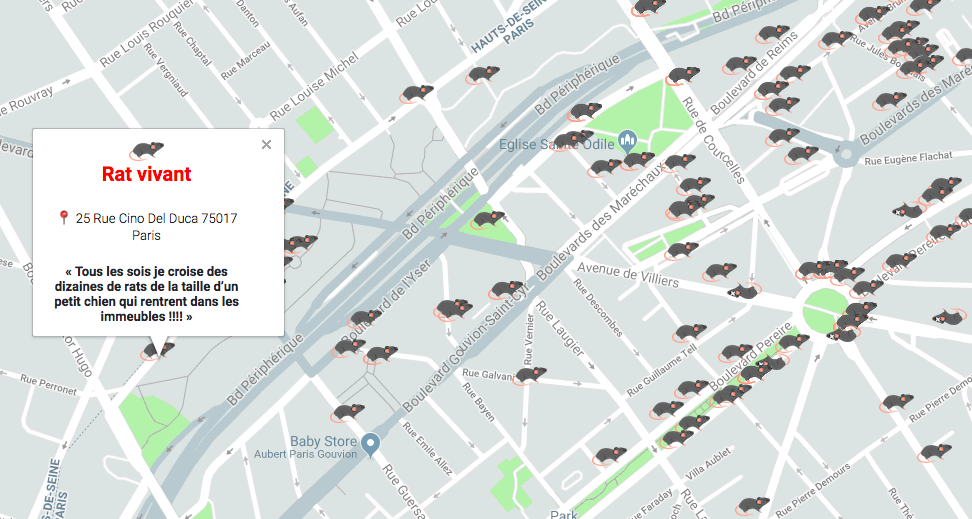 Individual rat sighting.
Story found here on the English-language page at Radio France International.
Strange Maps #914
Got a strange map? Let me know at strangemaps@gmail.com.

(1) The 2007 Pixar movie Ratatouille shines a more positive light on the rats of Paris, but nevertheless confirms the association between the rodents and the French capital.
(2) When Paris was besieged in 1870 and its population on the verge of starvation, Parisians turned to rats as a source of meat. That didn't eliminate the problem either.
New research links urban planning and political polarization.
Pixabay
Politics & Current Affairs
Canadian researchers find that excessive reliance on cars changes political views.
Decades of car-centric urban planning normalized unsustainable lifestyles.
People who prefer personal comfort elect politicians who represent such views.
Progressive America would be half as big, but twice as populated as its conservative twin.
Image: Dicken Schrader
Strange Maps
America's two political tribes have consolidated into 'red' and 'blue' nations, with seemingly irreconcilable differences.
Perhaps the best way to stop the infighting is to go for a divorce and give the two nations a country each
Based on the UN's partition plan for Israel/Palestine, this proposal provides territorial contiguity and sea access to both 'red' and 'blue' America
Science and the squishiness of the human mind. The joys of wearing whatever the hell you want, and so much more.
Flickr / 13winds
Think Again Podcasts
Why can't we have a human-sized cat tree?
What would happen if you got a spoonful of a neutron star?
Why do we insist on dividing our wonderfully complex selves into boring little boxes
Big think's weekly newsletter.
Get smarter faster from the comfort of your inbox.
See our newsletter privacy policy
here
Most Popular
Most Recent
Big think's weekly newsletter.
Get smarter faster from the comfort of your inbox.
See our newsletter privacy policy
here
© Copyright 2007-2018 & BIG THINK, BIG THINK EDGE,
SMARTER FASTER trademarks owned by The Big Think, Inc. All rights reserved.