London's a shallow Christian sea with islands of other faiths​
Although London is predominantly Christian, this map shows an archipelago of different faiths throughout the city.
Frank Jacobs
From a young age, Frank was fascinated by maps and atlases, and the stories they contained. Finding his birthplace on the map in the endpapers of Tolkien's Lord of the Rings only increased his interest in the mystery and message of maps.
While pursuing a career in journalism, Frank started a blog called Strange Maps, as a repository for the weird and wonderful cartography he found hidden in books, posing as everyday objects and (of course) floating around the Internet.
"Each map tells a story, but the stories told by your standard atlas for school or reference are limited and literal: they show only the most practical side of the world, its geography and its political divisions. Strange Maps aims to collect and comment on maps that do everything but that - maps that show the world from a different angle".
A remit that wide allows for a steady, varied diet of maps: Frank has been writing about strange maps since 2006, published a book on the subject in 2009 and joined Big Think in 2010. Readers send in new material daily, and he keeps bumping in to cartography that is delightfully obscure, amazingly beautiful, shockingly partisan, and more.
13 September, 2018
Religions are universal and transcendent, but they're also local and personal. This map shows where in London religious people live—quite often, very close to other people of the same faith.
---
Each dot on the map represents a single religious person. The different colors correspond to that person's faith. Blue is for Christian, turquoise for Muslim, and yellow for Jewish. A purple dot represents a Hindu, an orange one a Sikh, and a green one a Buddhist (red is for "other").
This map was created by cartographer Ben Flanagan, who chose the dot density method to illuminate the clustering of certain faiths in certain areas: "Dot density maps are really effective at normalising data by geographic area. This is because places with fewer people fade away, while densely populated areas become more prominent."
As the map suggests, Christianity is still the biggest faith in London. But Greater London is the least Christian region in the UK: less than half (48.71%) of all Londoners are Christian. London does have the country's highest percentage of Buddhists (1.01%), Hindus (5.05%), Jews (1.84%), and Muslims (12.56%). However, the Midlands has more Sikhs (2.39%) than any other region.
So, if London still looks like a Christian sea, it's a fairly shallow one—and dotted with large islands and archipelagos peopled by other faiths.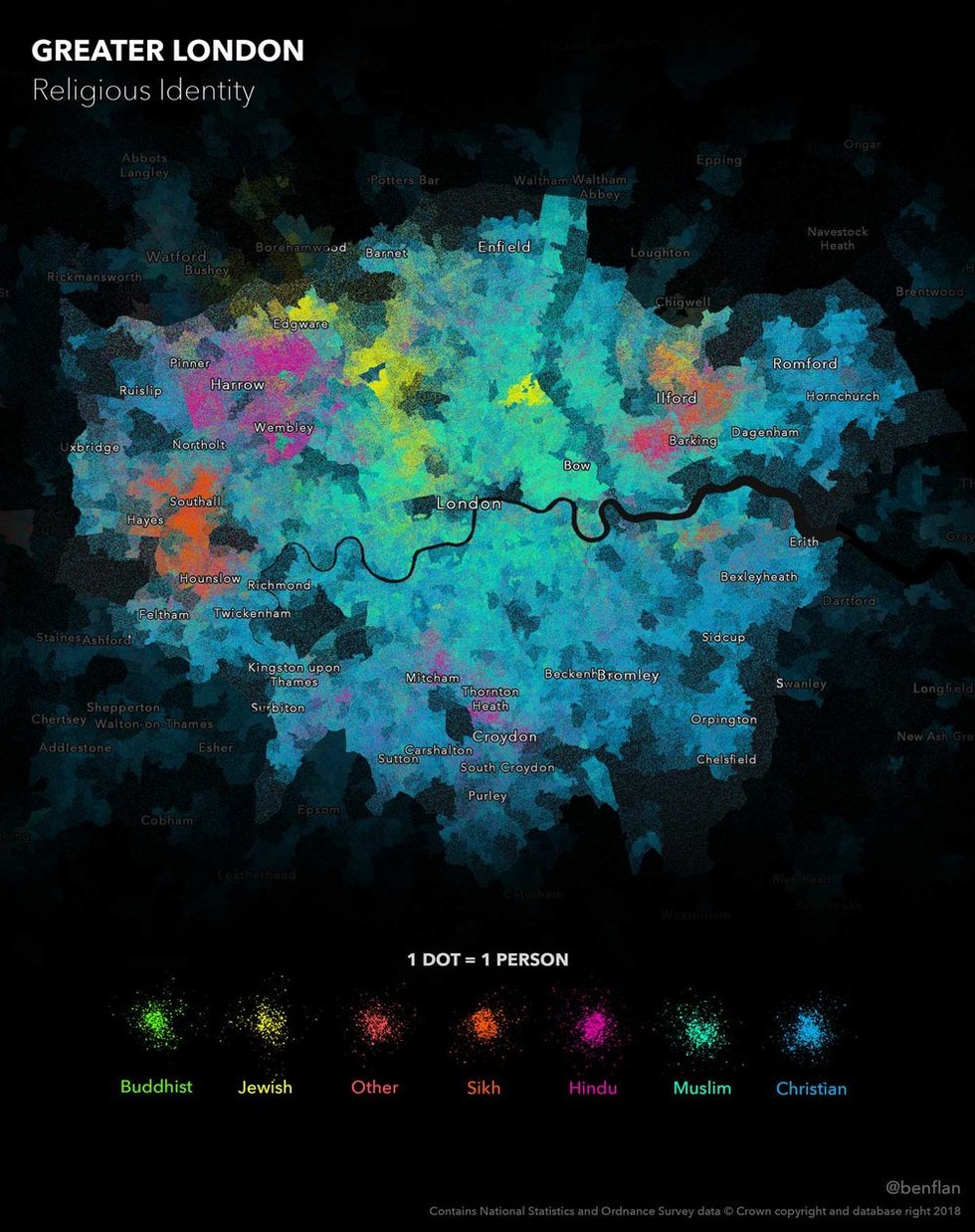 Greenwich has the highest share of Buddhists (1.66%), while Havering has the lowest (0.32%). The most Buddhists live in Barnet (4,521)—a relatively small number, so it's pretty hard to observe those green spots.
London's most Jewish boroughs are Barnet (15.18%), Hackney (6.28%), and Camden (5.10%)—the three yellow centers in the north. The least Jewish borough is Bexley (0.10%). Barnet also has the highest number of Jews (54,084), and Bexley the lowest (234).
Hounslow is the Sikh capital of London in relative terms (8.96%), while neighboring Ealing has the most in absolute terms (26,778); both are clearly visible on the map.
In Harrow—the pink spot in the northwest—just over 1 in 4 is Hindu (25.27%). Harrow also has the highest number of Hindus in absolute terms (60,407, followed by neighboring Brent, with 55,449). Hackney is the least Hindu borough of London (0.64%).
Tower Hamlets is London's most Muslim borough (37.84%), followed by Newham (31.97%), Redbridge (23.30%), and Waltham Forest (21.89%)—together forming the turquoise area in the northeast. In absolute figures, Newham (98,456) is ahead of Tower Hamlets (96,157), Redbridge (64,999), and Brent (58,036). Islam is an inner-city faith in London. The least Muslim boroughs are all on the outskirts: Havering (2.04%), Bexley (2.43%), Bromley (2.53%), and Richmond (3.28%).
Blue may be everywhere, but it is deepest in Havering, the borough furthest east in London, and with the city's greatest concentration of Christians: 66%. Croydon, on the other hand, has the highest number of Christians (205,022). Tower Hamlets has London's lowest percentage of Christians (29.55%).
Not shown on this map are the third of Londoners who indicated in the 2011 Census that they had no religion. The tiny City of London, a.k.a. the Square Mile, is London's central business district. It is almost entirely dedicated to the business of making money, with no more than 7,375 permanent residents. Those also happen to be the most godless bunch of Londoners (34.20%)—although Islington (32.98%) and Camden (29.08%) come a close second and third. Overall, 12 of London's 32 boroughs have more than a quarter of irreligious inhabitants. Just two have unbelievers in the single digits, and then only just: Newham (9.54%) and Harrow (9.57%).
Mr. Flanagan repeated the method for other areas of the UK, including Manchester, Yorkshire, and Tyne and Wear. See more of his work here.
Strange Maps #938
Got a strange map? Let me know at strangemaps@gmail.com.
NASA astronomer Michelle Thaller is coming back to Big Think to answer YOUR questions! Here's all you need to know to submit your science-related inquiries.
Surprising Science
Big Think's amazing audience has responded so well to our videos from NASA astronomer and Assistant Director for Science Communication Michelle Thaller that we couldn't wait to bring her back for more!

And this time, she's ready to tackle any questions you're willing to throw at her, like, "How big is the Universe?", "Am I really made of stars?" or, "How long until Elon Musk starts a colony on Mars?"
All you have to do is submit your questions to the form below, and we'll use them for an upcoming Q+A session with Michelle. You know what to do, Big Thinkers!
If you want to be a better and more passionate communicator, these tips are important.
Calling all big thinkers!
Big think's weekly newsletter.
Get smarter faster from the comfort of your inbox.
See our newsletter privacy policy
here
Most Popular
Most Recent
Big think's weekly newsletter.
Get smarter faster from the comfort of your inbox.
See our newsletter privacy policy
here
© Copyright 2007-2018 & BIG THINK, BIG THINK EDGE,
SMARTER FASTER trademarks owned by The Big Think, Inc. All rights reserved.