In Which Countries Should You Tip, and How Much?
A gratuity is expected in some countries, but taken as an insult in others
Frank Jacobs
From a young age, Frank was fascinated by maps and atlases, and the stories they contained. Finding his birthplace on the map in the endpapers of Tolkien's Lord of the Rings only increased his interest in the mystery and message of maps.
While pursuing a career in journalism, Frank started a blog called Strange Maps, as a repository for the weird and wonderful cartography he found hidden in books, posing as everyday objects and (of course) floating around the Internet.
"Each map tells a story, but the stories told by your standard atlas for school or reference are limited and literal: they show only the most practical side of the world, its geography and its political divisions. Strange Maps aims to collect and comment on maps that do everything but that - maps that show the world from a different angle".
A remit that wide allows for a steady, varied diet of maps: Frank has been writing about strange maps since 2006, published a book on the subject in 2009 and joined Big Think in 2010. Readers send in new material daily, and he keeps bumping in to cartography that is delightfully obscure, amazingly beautiful, shockingly partisan, and more.
16 November, 2017
---
Tip a Japanese waiter, and they'll be insulted. Don't tip an American one, and you'll get the same result. 
A gratuity, the amount paid on top of the actual bill, is typically paid directly to restaurant and bar staff, taxi drivers, hotel workers and other service personnel.
Although essentially a voluntary appreciation of the quality of services rendered, tipping has become customary or even expected in some countries. In others, it's positively frowned upon. So where should you pay – and how much? This map should keep you out of trouble.
Purple: Don't tip – you risk insulting people. This is the case in Japan, South Korea, Georgia and Iceland. 
Light blue: Don't tip – you'll unduly surprise or confuse people. They even might attempt to return your money, creating embarrassment all round. This may happen in Peru, Bolivia, Spain, Kazakhstan, Mongolia and Thailand. 
Dark blue: Don't tip – it's not expected. But if you do, people will react pleasantly surprised, or neutral at worst. That's how it goes in China, Iran, Finland, Norway, Denmark, the Netherlands, Belgium, Switzerland, Croatia, Macedonia, Brazil and Paraguay.
Light green: Rounding up the bill is a nice way to leave a small tip, but this is not expected. This is the case in Ireland, the UK, Portugal, Germany, the Czech Republic, Bosnia and Sweden.
Dark green: Rounding up the bill is expected in France, Italy, Hungary, Greece and Latvia.
Light yellow: You can leave a 5-10% tip, but it is not expected. That's how it is in Ecuador, Argentina, Austria, Albania, Turkey and India.
Dark yellow: That 5-10% tip is expected in Slovenia, Romania, Lithuania and Russia.
Light orange: If you leave a tip, make it around 10%. But don't feel obliged. This is the case in Colombia, Slovakia and Estonia.
Dark orange: Do leave that 10% tip in Cuba, Uruguay and Bulgaria.
Pink(ish): A tip should be around 10-15%, but is not expected, in Serbia.
Red: Leave a tip of around 10-15% in Canada, Mexico, Chile, Poland, Ukraine, Egypt and Armenia.
Dark red: Leave a tip of around 15-20% in the United States.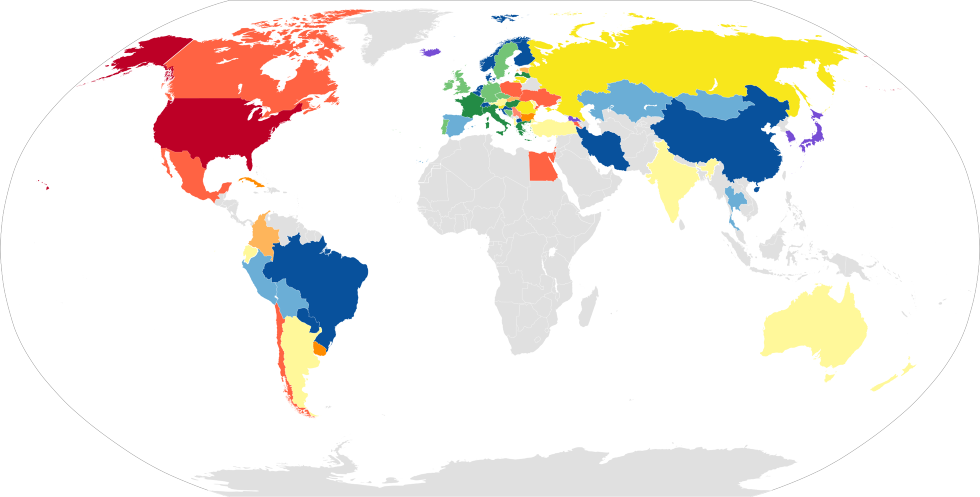 Oh, and remember, in some cases, tipping is illegal: don't ever try to offer a gratuity to government workers – that's bribery! (See #863).
UPDATE - whototip.net is a comprehensive guide to gratuities per country and per sector (restaurants, hotels, tour operators, etc.) It also provides information on whether cash payment is preferred. Thanks, David Weintraub!
Strange Maps #869 
Got a strange map? Let me know at strangemaps@gmail.com.
Giving our solar system a "slap in the face"
Surprising Science
A stream of galactic debris is hurtling at us, pulling dark matter along with it
It's traveling so quickly it's been described as a hurricane of dark matter
Scientists are excited to set their particle detectors at the onslffaught
Bernardo Kastrup proposes a new ontology he calls "idealism" built on panpsychism, the idea that everything in the universe contains consciousness. He solves problems with this philosophy by adding a new suggestion: The universal mind has dissociative identity disorder.
We're all one mind in "idealism." (Credit: Alex Grey)
Mind & Brain
There's a reason they call it the "hard problem." Consciousness: Where is it? What is it? No one single perspective seems to be able to answer all the questions we have about consciousness. Now Bernardo Kastrup thinks he's found one. He calls his ontology idealism, and according to idealism, all of us and all we perceive are manifestations of something very much like a cosmic-scale dissociative identity disorder (DID). He suggests there's an all-encompassing universe-wide consciousness, it has multiple personalities, and we're them.
Once again, our circadian rhythm points the way.
Photo: Victor Freitas / Unsplash
Surprising Science
Seven individuals were locked inside a windowless, internetless room for 37 days.
While at rest, they burned 130 more calories at 5 p.m. than at 5 a.m.
Morning time again shown not to be the best time to eat.
Big think's weekly newsletter.
Get smarter faster from the comfort of your inbox.
See our newsletter privacy policy
here
Most Popular
Most Recent
Big think's weekly newsletter.
Get smarter faster from the comfort of your inbox.
See our newsletter privacy policy
here
© Copyright 2007-2018 & BIG THINK, BIG THINK EDGE,
SMARTER FASTER trademarks owned by The Big Think, Inc. All rights reserved.