How Long is Chile?
"2,653 miles" doesn't quite convey it; these maps do.
Frank Jacobs
From a young age, Frank was fascinated by maps and atlases, and the stories they contained. Finding his birthplace on the map in the endpapers of Tolkien's Lord of the Rings only increased his interest in the mystery and message of maps.
While pursuing a career in journalism, Frank started a blog called Strange Maps, as a repository for the weird and wonderful cartography he found hidden in books, posing as everyday objects and (of course) floating around the Internet.
"Each map tells a story, but the stories told by your standard atlas for school or reference are limited and literal: they show only the most practical side of the world, its geography and its political divisions. Strange Maps aims to collect and comment on maps that do everything but that - maps that show the world from a different angle".
A remit that wide allows for a steady, varied diet of maps: Frank has been writing about strange maps since 2006, published a book on the subject in 2009 and joined Big Think in 2010. Readers send in new material daily, and he keeps bumping in to cartography that is delightfully obscure, amazingly beautiful, shockingly partisan, and more.
25 March, 2016
Pretty long. It is, after all, the longest country in the world. But why is it that long? And how long is it exactly? 
---
Chile is as narrow as it is because of the Andes Mountains, which separate it from Argentina. That's why the country is only 110 miles (177 km) across, on average. The country derives its length from the successful colonial expansion of the Spanish, and independent Chile's own military successes. In 1818, when Chile broke free from Spain, the country comprised only the middle third of its current north-south extension.

In the 1880s, Chile triumphed in the War of the Pacific over Peru and Bolivia. It annexed Peru's southern shoreline, and Bolivia's entire Pacific coast, landlocking the country. Around the same time, Chilean troops pushed south of the Biobio River, conquering the indigenous Mapuche people, which had successfully resisted encroachment by both the Incas and the Spanish. This opened up the road to the southern tip of the continent.
As a result, Chile measures 2,653 miles (4,270 km) from north to south. It is the world's most prominent example of the elongated type of territorial morphology. Other examples include Norway and Vietnam. There are four other types of territorial morphology: compact, prorupt, fragmented and perforated (for more, see #595).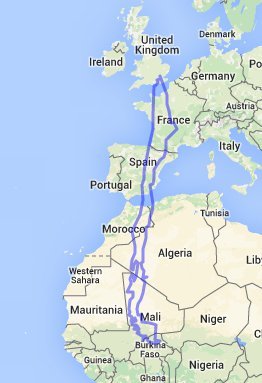 While that distance quoted above is more precise than 'pretty long', it still doesn't quite convey the enormity of Chile's extent. For that, there are these maps.
Travelling from the northern tip of Chile to its deepest south is like travelling from Piccadilly Circus in London to the Rond Point des Nations Unies in Ouagadougou, the capital of Burkina Faso. Few things sound further away than Ouagadougou. With the possible exception of Piccadilly Circus, if you're in Ouagadougou.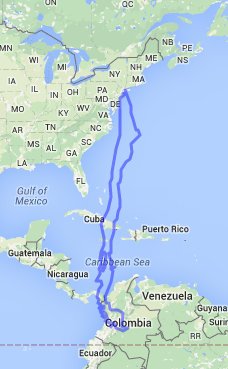 To put things in an American context: imagine you're travelling from New York all the way down to Bogotà, the capital of Colombia. You're flying past the entire East Coast, Cuba, Jamaica and Panama before you land. And when you get off the plane, no need to show your passport: you're still in the same country.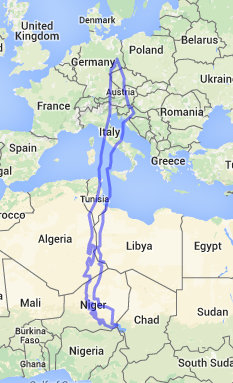 Other bizarre north-south pairings covered by Chile's north-south extremities include a trip from Berlin to Lake Chad, the northern tip of Cameroon, coincidentally one of Germany's former colonial possessions. Or the distance between Moscow and Eritrea, two places also linked by a prevalence of Orthodox Christianity and a robustly un-liberal governmental attitude towards press freedom.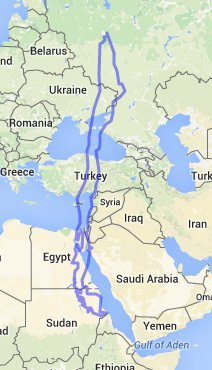 Or the road from Kiev, capital of Ukraine to the Upper Nile state of South Sudan – two countries locked in simmering conflicts with their erstwhile overlords. Or the long voyage from the Cape in South Africa to the Antarctic mainland, two places sharing, eh, well: penguins!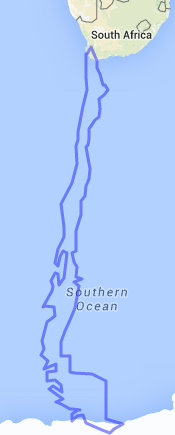 Strange Maps #775 
Got a strange map? Let me know at strangemaps@gmail.com.
Update 23 March 2016 – some interesting reader perspectives on Chile's stretchedness.
→ For an intra-European perspective on Chile's length, Xideral sent in this map, commenting that "Arica, the northernmost city of Chile, could be located at Madrid, and also sharing hot climate. Otherwise, Punta Arenas the southernmost city, could be compared with Moscow, also with same cold climate features".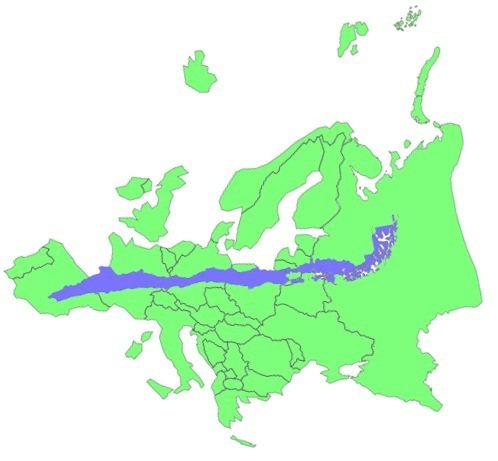 → "For American folks, I tend to explain Chile as the inverted (N-S) 100-mile-wide stretch of land from the top of the Alaska panhandle to the southern point of Baja California", says Pablo Yanez. "This pretty much gets the climate regions that one can see in Chile". Also: "I once had an argument with an Icelander that Chile has more glacier-covered land than Iceland. He wouldn't believe me... but it does, by almost a factor of two".
→ "I had the great privilege of seeing most of Chile's regions, including Patagonia", says Bob Hepokoski, who lived in the country for 15 years. "In my first visit to that extreme region, I remember encountering a surprising sight. Just a few kilometers fron the southernmost tip of the continent, there is a monument marking the geographic center of Chile! It claims to be the north-south midpoint of the nation. The monument is a white obelisk with a map of Chile that includes a wedge of Antarctica reaching to the South Pole".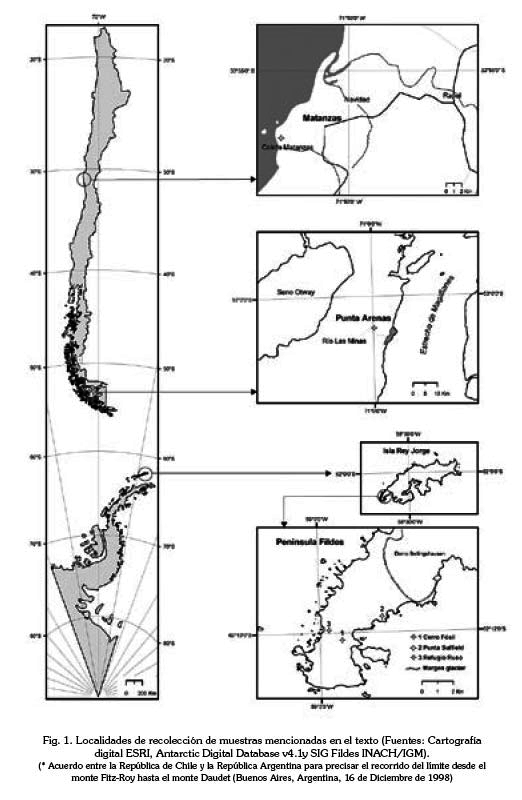 Map of 'Greater Chile' sent in by Mr. Hepokoski.
Chile's claim is not only not recognised internationally, but also overlaps with similar claims by Argentina and the UK. Yet in Chile, Mr. Hepokoski says, official maps include the country's Antarctic claim. "So Chileans boast of their country as being both elongated and fragmented". 
Firefighters in California are still struggling to contain several wildfires nearly one week after they broke out.
(Photo by Elijah Nouvelage/Getty Images)
Politics & Current Affairs
Hundreds of people are still missing after three wildfires spread across Northern and Southern California last week.
48 of the 50 deaths occurred after the Camp Fire blazed through the town of Paradise, north of Sacramento.
On Tuesday night, a fourth wildfire broke out, though it's mostly contained.
We know the dangers of too little sleep. Now for the other side of the story.
Photo: Vladislav Muslakvo / Unsplash
Surprising Science
Western University researchers found that sleeping over eight hours per night results in cognitive decline.
Oversleepers suffer similar difficulties on certain cognitive tests as those who sleep under seven hours.
Not all the news is bad: One night of oversleeping results in a cognitive boost.
Protected animals are feared to be headed for the black market.
(VL.ru)
Politics & Current Affairs
Russian news network discovers 101 black-market whales.
Orcas and belugas are seen crammed into tiny pens.
Marine parks continue to create a high-price demand for illegal captures.
Big think's weekly newsletter.
Get smarter faster from the comfort of your inbox.
See our newsletter privacy policy
here
Most Popular
Most Recent
Big think's weekly newsletter.
Get smarter faster from the comfort of your inbox.
See our newsletter privacy policy
here
© Copyright 2007-2018 & BIG THINK, BIG THINK EDGE,
SMARTER FASTER trademarks owned by The Big Think, Inc. All rights reserved.