Big ideas.
Once a week.
Subscribe to our weekly newsletter.
This is What Our Nearest Exoplanet May Look Like - A Giant Eye Staring at the Sun
The nearest exoplanet ever has been observed, but not yet seen. Is this what the 'Earth Next Door' looks like?
12 September, 2016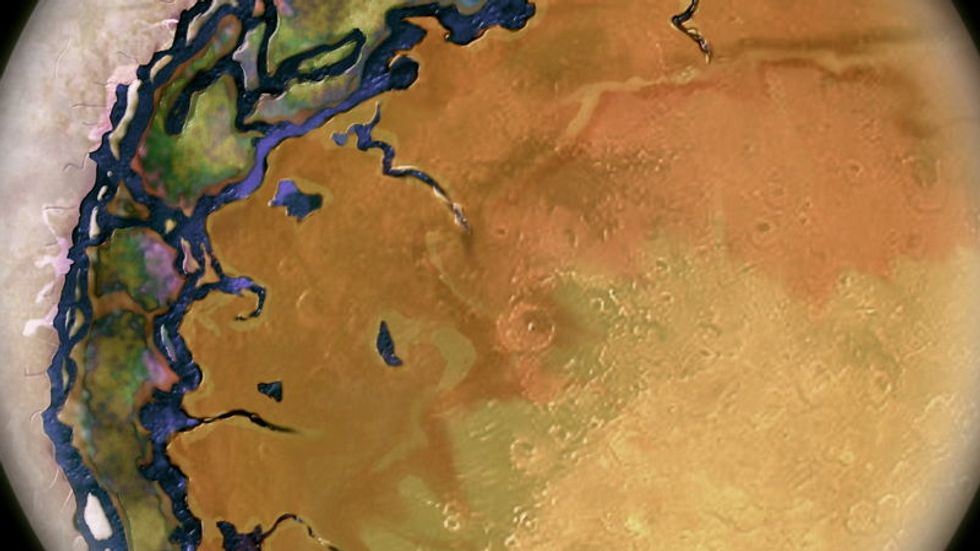 Donald Who? Centuries after this era's headlines are forgotten, 2016 will be remembered as the year we discovered our 'Planet B'. 
---
Because even if we find a billion more Earth-like exoplanets, none will ever be closer to home than Proxima Centauri b, spotted circling our nearest star (1) on August 24th of last year. At a mere 4.25 light-years away, it is close enough for us to contemplate visiting, and perhaps even living there.
One of the few things we know about Proxima b, besides that it is a rocky planet with a mass 1.3 times that of Earth, is that its orbit is in the so-called 'Goldilocks zone' of its sun: not too hot nor too cold for liquid water, making it a potential host for life – alien, human or both.
So what does this 'Earth Next Door' look like? We don't really know. Planet B has only been observed indirectly, via Doppler spectography. If we sent a spacecraft there tomorrow, it would take decades for it to get there and send home pictures. 
But we can speculate. And this is what Proxima B could very well look like: an 'Eyeball Earth'.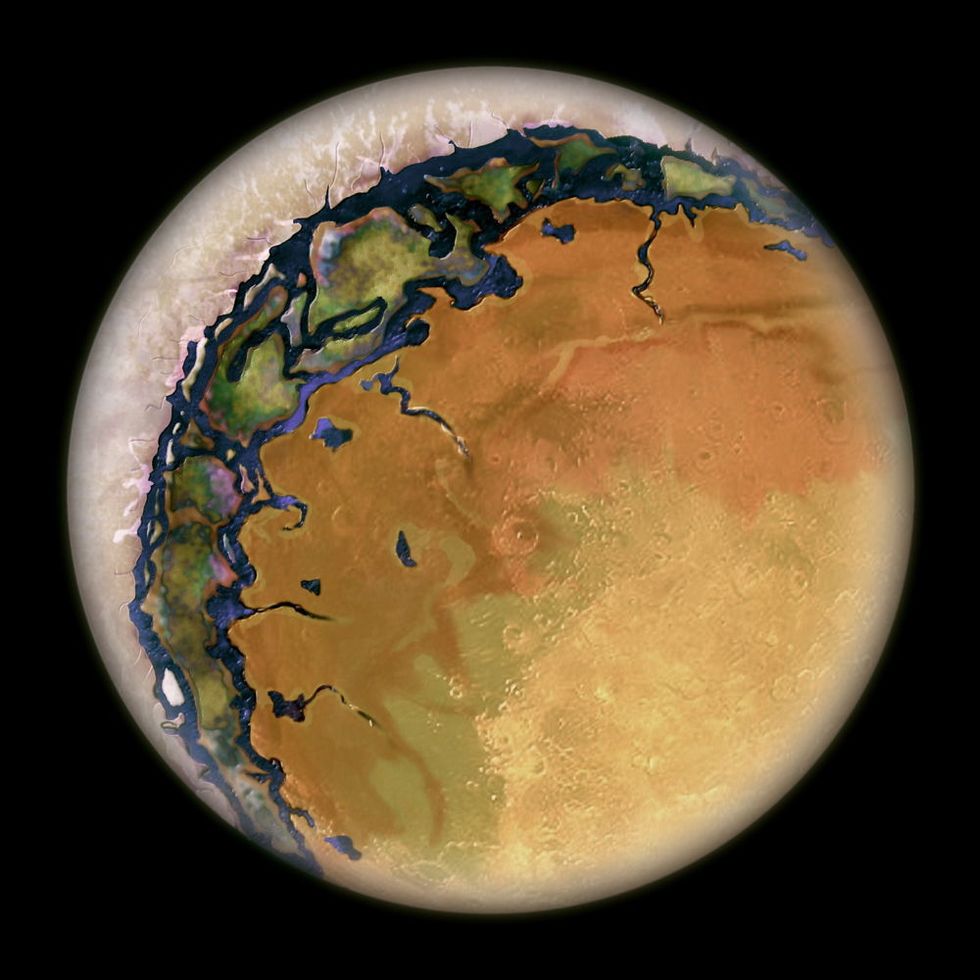 Eyeball Earth: it sounds weird and it is weird. Tidally locked with its sun, an Eyeball Earth consists of three extreme climatic zones – scorchingly hot on the permanent day side, icy cold on the permanent night side. In between, ringing the planet: a thin, potentially habitable strip.
This setup gives the planet the appearance of an eyeball. Permanently staring into the sun.
The concept of an Eyeball Earth was kicked off by the discovery in 2010 of Gliese 581g, in the Goldilocks zone of its parent star, a red dwarf. Scientists speculated this planet type, occurring around red dwarfs, would be the likeliest candidate for life to evolve on. 
Red dwarfs, a.k.a. M stars, make up around 75% of the stars in our galaxy. They are smaller and dimmer than our own sun, so their Goldilocks zone is much closer by than in our case (our sun is a yellow dwarf). Hence the tidal lock (2).
A year on Proxima b only lasts 11.2 Earth days. That's how long the planet takes to revolve around its sun - our nearest star Proxima Centauri, a red dwarf about one-seventh the diameter of our sun, and one-eighth the mass. The planet's distance from its sun is only 7.5 million km, or 1/20th of the Earth's orbit around the sun. So our Planet B could very well be an Eyeball Earth. 
But will we really have to get there to be sure? Some scientists hope that the James Webb Space Telescope, to be launched in 2018,  will be able to deliver some answers. Whether it is in fact tidally locked with its sun, for example. And, crucially, whether it has an atmosphere. If so, life is possible – in that 'ring of habitability', between the planet's hot and cold halves, their extremes mitigated by the atmosphere's redistribution of heat. Without an atmosphere, Proxima b might be a lifeless rock after all. 
Astronomers only started detecting exoplanets – i.e. planets outside our own solar system – in the 1990s. By now, they've identified as many as 3,000, plus another 2,500 possible ones. In 2013, it was estimated there could be about one billion 'Earths' in our galaxy. If the presence of Proxima b at our nearest star is an indication of their prevalence – i.e. at least one around each star – we could be looking at as many as 500 billion 'Earths' in our galaxy.
That's a lot of eyeballs. Next time you're under the stars at night, looking up at the Milky Way, just think of all those stares in your direction. Perhaps even literally. Who knows, in that habitable strip on Proxima b, somebody might be aiming a telescope at us, to check whether our rock has an atmosphere. 
Image by Beau.TheConsortium, found here on Space.com.
Strange Maps #801
Got a strange map? Let me know at strangemaps@gmail.com.
(1) A top ten of closest stars:
1 Proxima Centauri (4.25 ly) – in the same star system as the next two.
2 Alpha Centauri A (4.36 ly) – the main star in Centaurus, a constellation in the southern sky.
2 Alpha Centauri B (4.36 ly) – slightly smaller and less luminous than both our sun and Centauri A.
4 Barnard's Star (5.96 ly) – the closest star in the Northern Hemisphere.
5 Luhman 16A (6.59 ly) – the primary in a binary brown-dwarf constellation, discovered only in 2013.
5 Luhman 16B (6.59 ly) – orbits its companion star at a distance of about 3 AU, with a period of about 25 years.
7 WISE 0855−0714 (7.20 ly) – located in the constellation Hydra, its discovery was announced in 2014 by the people that also brought you #5.
8 Wolf 359 (7.78 ly) – with a cool name like that, it's no wonder this star crops up in lots of sci fi, from Terry Pratchett to Star Trek.
9 Lalande 21185 (8.29 ly) – a red dwarf in the constellation Ursa Major.
10 Sirius A (8.58 ly) – main star of a binary system that is the brightest object in the night sky
10 Sirius B (8.58 ly) – a white dwarf much smaller than Sirius A, with which it is locked in a 50-year orbit.
(2) Like the Moon with the Earth, which is why we only ever see one side of our natural satellite. The Moon's other side gets as much sunlight as the Earth-facing side. It is only 'dark' in the sense that is was unknown for so long (the Soviets had it mapped by 1960).
"You dream about these kinds of moments when you're a kid," said lead paleontologist David Schmidt.
Surprising Science
The triceratops skull was first discovered in 2019, but was excavated over the summer of 2020.
It was discovered in the South Dakota Badlands, an area where the Triceratops roamed some 66 million years ago.
Studying dinosaurs helps scientists better understand the evolution of all life on Earth.
We spend much of our early years learning arithmetic and algebra. What's the use?
Credit
: Antoine Dautry via Unsplash
Technology & Innovation
For the average person, math seems to play little to no role in their day-to-day life.
But, the fanciest gadgets and technologies are all heavily reliant on mathematics.
Without advanced (and often obscure) mathematics, modern society would not be possible.
The following is an adapted excerpt from the book What's the Use? It is reprinted with permission of the author and Hachette Book Group.
What is mathematics for?
What is it doing for us, in our daily lives?
Not so long ago, there were easy answers to these questions. The typical citizen used basic arithmetic all the time, if only to check the bill when shopping. Carpenters needed to know elementary geometry. Surveyors and navigators needed trigonometry as well. Engineering required expertise in calculus.
Today, things are different. The supermarket checkout totals the bill, sorts out the special meal deal, adds the sales tax. We listen to the beeps as the laser scans the barcodes, and as long as the beeps match the goods, we assume the electronic gizmos know what they are doing. Many professions still rely on extensive mathematical knowledge, but even there, we have outsourced most of the mathematics to electronic devices with built-in algorithms.
My subject is conspicuous by its absence. The elephant isn't even in the room.
It would be easy to conclude that mathematics has become outdated and obsolete, but that view is mistaken. Without mathematics, today's world would fall apart. As evidence, I am going to show you applications to politics, the law, kidney transplants, supermarket delivery schedules, Internet security, movie special effects, and making springs. We will see how mathematics plays an essential role in medical scanners, digital photography, fiber broadband, and satellite navigation. How it helps us predict the effects of climate change; how it can protect us against terrorists and Internet hackers.
Remarkably, many of these applications rely on mathematics that originated for totally different reasons, often just the sheer fascination of following your nose. While researching this book, I was repeatedly surprised when I came across uses of my subject that I had never dreamed existed. Often, they exploited topics that I would not have expected to have practical applications, like space-filling curves, quaternions, and topology.

Mathematics is a boundless, hugely creative system of ideas and methods. It lies just beneath the surface of the transformative technologies that are making the twenty-first century totally different from any previous era — video games, international air travel, satellite communications, computers, the Internet, mobile phones. Scratch an iPhone, and you will see the bright glint of mathematics.
Please don't take that literally.
There is a tendency to assume that computers, with their almost miraculous abilities, are making mathematicians, indeed mathematics itself, obsolete. But computers no more displace mathematicians than the microscope displaced biologists. Computers change the way we go about doing mathematics, but mostly they relieve us of the tedious bits. They give us time to think, they help us search for patterns, and they add a powerful new weapon to help advance the subject more rapidly and more effectively.
In fact, a major reason why mathematics is becoming ever more essential is the ubiquity of cheap, powerful computers. Their rise has opened up new opportunities to apply mathematics to real-world issues. Methods that were hitherto impractical, because they needed too many calculations, have now become routine. The greatest mathematicians of the pencil-and-paper era would have flung up their hands in despair at any method requiring a billion calculations. Today, we routinely use such methods, because we have technology that can do the sums in a split second. Mathematicians have long been at the forefront of the computer revolution — along with countless other professions, I hasten to add. Think of George Boole, who pioneered the symbolic logic that forms the basis of current computer architecture. Think of Alan Turing, and his universal Turing machine, a mathematical system that can compute anything that is computable. Think of Muhammad al-Khwarizmi, whose algebra text of 820 AD emphasized the role of systematic computational procedures, now named after him: algorithms.
Most of the algorithms that give computers their impressive abilities are firmly based on mathematics. Many of the techniques concerned have been taken "off the shelf" from the existing store of mathematical ideas, such as Google's PageRank algorithm, which quantifies how important a website is and founded a multi-billion-dollar industry. Even the snazziest deep learning algorithm in artificial intelligence uses tried and tested mathematical concepts such as matrices and weighted graphs. A task as prosaic as searching a document for a particular string of letters involves, in one common method at least, a mathematical gadget called a finite-state automaton.
The involvement of mathematics in these exciting developments tends to get lost. So next time the media propel some miraculous new ability of computers to center stage, bear in mind that hiding in the wings there will be a lot of mathematics, and a lot of engineering, physics, chemistry, and psychology as well, and that without the support of this hidden cast of helpers, the digital superstar would be unable to strut its stuff in the spotlight.
The importance of mathematics in today's world is easily underestimated because nearly all of it goes on behind the scenes. Walk along a city street, and you are overwhelmed by signs proclaiming the daily importance of banks, greengrocers, supermarkets, fashion outlets, car repairs, lawyers, fast food, antiques, charities, and a thousand other activities and professions. You do not find a brass plaque announcing the presence of a consulting mathematician. Supermarkets do not sell you mathematics in a can.
Dig a little deeper, however, and the importance of mathematics quickly becomes apparent. The mathematical equations of aerodynamics are vital to aircraft design. Navigation depends on trigonometry. The way we use it today is different from how Christopher Columbus used it, because we embody the mathematics in electronic devices instead of pen, ink, and navigation tables, but the underlying principles are much the same. The development of new medicines relies on statistics to make sure the drugs are safe and effective. Satellite communications depend on a deep understanding of orbital dynamics. Weather forecasting requires the solution of equations for how the atmosphere moves, how much moisture it contains, how warm or cold it is, and how all of those features interact. There are thousands of other examples. We do not notice they involve mathematics, because we do not need to know that to benefit from the results.
A socially minded franchise model makes money while improving society.
Freethink
Technology & Innovation
A social enterprise in California makes their franchises affordable with low interest loans and guaranteed salaries.
The loans are backed by charitable foundations.
If scaled up, the model could support tens of thousands of entrepreneurs who are currently financially incapable of entering franchise agreements.
The underdog challenging McDonald's & Wall Street | Hard Reset by Freethink www.youtube.com
Social responsibility is becoming a major focus of many businesses. While turning a profit is always the ultimate goal — nobody can eat good intentions, after all — having a positive impact on society is becoming an equally important goal.

A restaurant chain in California, already focused on providing healthy food at a competitive cost, is testing a new way to create more entrepreneurs. Specifically, it is working with charitable foundations to provide business opportunities to those who normally would not have access.
Franchising explained
When a company wants to expand without paying all of the upfront costs itself or taking on the entire risk of operating in a new market, it can enter into a franchise agreement with an entrepreneur. In exchange for a share of the profits (as well as some fees and adherence to certain quality standards), the entrepreneur — now a franchisee — can open their own branch of a larger brand. The entrepreneur enjoys the benefits of owning a business, while the brand owner can cash in on intellectual property.
Everybody wins.
This model is wildly successful. There is a reason you can find fast food joints like McDonald's everywhere from Times Square to Prague (next to the Museum of Communism, no less). According to the International Franchise Association, there were more than 733,000 franchised business establishments in the United States in 2018, accounting for nearly 3 percent of GDP.
The franchise model — in which a local agent keeps some earnings while handing over a portion to a central authority — isn't new. Indeed, variations have been around since the Middle Ages, though it only took off after WWII. Franchising is now a recognized system in many countries and is used in all manner of industries, including restaurants, pet supply stores, automotive repair shops, hotels, and even senior care.
The Catch-22: you have to spend money to make money
The biggest problem with franchising is the high cost of becoming a franchisee.
While the costs vary, opening a restaurant as a franchisee can easily cost $500,000. A franchise car repair shop can require $250,000, and opening a hotel under a franchise's banner can set a person back millions. In some cases, the franchiser also will set a minimum net worth requirement or insist that the money that pays their fees not be borrowed. Even if a person can find a way around that, most new businesses do not turn a profit for quite some time after opening. These limitations essentially rule out all but the wealthy from becoming a franchisee.
As a result, there are some social enterprises that are looking to make franchising more accessible to the less affluent.
Enter Everytable
Everytable
is a social enterprise based out of Los Angeles that is attempting to make rapidly prepared healthy food as affordable as more common, less nutritious options. The company prioritizes both financial and social goals, and it is known for preparing all meals at a central location and driving them to franchise locations in Los Angeles to remove the costs of keeping a kitchen in each store. They also sell meals at widely different prices based on the income of the neighborhood in which the store is located.
As a business that hopes to rapidly expand, they looked to franchising. However, the idea of seeking out a bunch of rich people to support a business like theirs struck CEO Sam Polk as out of step with its vision. So, the company came up with a better idea.
Their Social Equity Franchise Program helps tenured Everytable employees open their own franchise locations through free training and assistance in securing low interest loans to finance the store. To help the entrepreneurs survive the difficult early years, participants in the program are assured an income of $40,000 in their first three years of operations. Repayments on the loans do not begin until after the business is turning a profit.
The capital for all these low interest loans comes from a number of foundations such as the California Wellness Foundation (Cal Wellness). Foundations like these are required to give away a small portion of their endowments every year on causes aligned with their missions. However, most of the rest of it is simply invested in the stock market to assure the endowment continues to exist.
People like Cal Wellness CEO Judy Belk have begun to invest that money elsewhere, like in loans to provide the money needed to open an Everytable franchise. As she explained to FreeThink:

"Cal Wellness and many other foundations are saying, 'I think we can do a little better with that [money]. Why not use that capital to invest in the communities that we're supposed to serve?'"
In the end, Everytable gets a new restaurant that expands the brand, foundations get returns on their investment, and the franchisee gets an opportunity that they likely never would have had without the program.
Everybody wins.
Expanding the Everytable model
If even a small share of the $2 trillion foundations in the U.S. have are invested into this sort of social cause, tens of thousands of loans could be given to those less affluent people who are looking to start a business. While this model likely would lower returns to institutional investors like charities, they could enjoy more tangible results in the communities they exist to serve. According to a report published by the Federal Reserve Bank of Atlanta, local entrepreneurship increases income and employment and decreases poverty.
At the individual level, this would help a lot of people who otherwise never would be able to seriously consider going into business for themselves. By a number of measures, business owners make more than wage workers and can also claim ownership of the assets that comprise the business. Beyond that, many small business owners enjoy the non-financial benefits of their position as well, including the independence and autonomy that often come with business ownership.
When working optimally, good business is good for society.
Mind & Brain
Fintech companies are using elements of video games to make personal finance more fun. But does it work, and what are the risks?
Scroll down to load more…