Big ideas.
Once a week.
Subscribe to our weekly newsletter.
San Francisco is Built on a Ghost Ship Graveyard
Did you know the Metro to Embarcadero Station passes through a buried Gold Rush ship?
09 August, 2016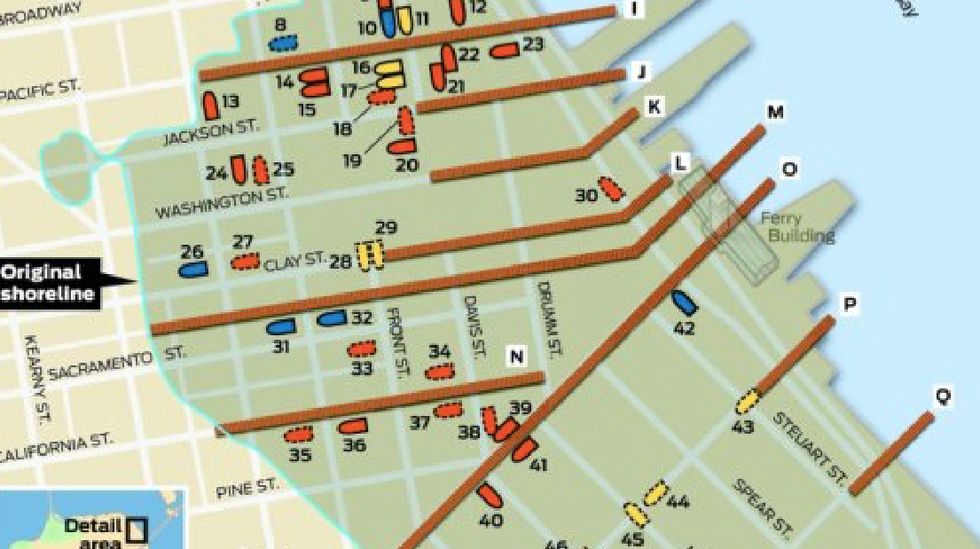 With median house prices at around $1.1 million, San Francisco is the most expensive real estate market in North America. No wonder people are getting creative about where to lay their hat. Unable to buy and unwilling to rent at extortionate rates, some are choosing to live out of trucks and RVs, or make do on boats and in shipping containers.
---
In a way, this spells a return to the city's roots as a Gold Rush boomtown. As this map shows, San Francisco is built on the discarded hulks of mid-19th-century ships once used as storage units, houses and hostels. How long before they come onto the market as 'period rental units', underground lofts kitted out and priced to suit the taste and the wallets of the tech crowd pushing up real estate prices elsewhere in the city?
Until 1848, San Francisco was a sleepy Mexican village of a few hundred souls, lost in the dunes of the peninsula between the Pacific and the Bay. Two events that year dramatically altered the course of history: the U.S. won the war against Mexico, acquiring vast territories including the future U.S. state of California; and gold was discovered in that territory, drawing in thousands of fortune-seekers from all over the world.
This was before planes, trains and automobiles. The overland route from the East Coast to California was shorter, but the sea route was faster. This was also before the Panama Canal, so ships had to round Cape Horn, all the way down on the southern tip of South America. Still, roughly one third chose this route. In 1849, 42,000 Americans flocked to California over land, while 25,000 boarded a ship.
The Gold Rush utterly transformed California's demographics. In 1850 alone, the population of California grew from 18,000, mainly Spanish and natives, to 92,600, with most newcomers from the U.S. but also many from Europe and China. Only a few of the these 'forty-niners' actually struck it rich in the gold fields. Most turned to other trades, transforming San Francisco, the terminus of the sea route to California, into a boom town.
By the estimate of a San Francisco harbourmaster in April 1850, no less than 62,000 people from across the globe had arrived in the city by the Bay in the preceding 12 months. About 500 ships clogged up Yerba Buena Cove and vicinity.
"During the height of the gold excitement, there were at least five hundred ships stranded in the harbor, some without even a watchman on board, and none with a crew sufficiently large to work her. Many of these vessels never sailed again. Some rotted away and sank at their moorings", wrote Herbert Asbury in The Barbary Coast.
This "forest of masts" was both a nuisance, and a business opportunity. Some ships were refurbished and set out to sea again. Others were broken up for scrap metal and wood – either firewood or building material for some of the city's Victorian houses. Many of these ships passed through 'Rotten Row', Charles Hare's ship-breaking yard, operated by Chinese crews. About 200 of the nicer ships were repurposed as storage for coal, flour, water and other goods in high demand; as boarding houses and hotels; and in one case (though not the same case) even as a jail and a church. Eventually, many of the boats that remained were sunk, to secure water lot titles.
Water lots were dispensed on condition that buyers fill them with land. This way, the city wanted to bring the shoreline closer to the deeper part of the Bay, facilitating the delivery of goods. The easiest way to claim a water lot was to scuttle a ship.
Yerba Buena Cove originally stretched all the way to Market and First streets, curving as far inland as Montgomery Street. The dozen or so wharves that stuck out into the Cove served as tendrils for the expansion of San Francisco's shoreline. From 1851, when a giant fire reduced many ships to their water lines, it was filled with sand. The remaining ships were boxed in between roads and houses, stripped of upper works and their hulks then scuttled to make way for landfill.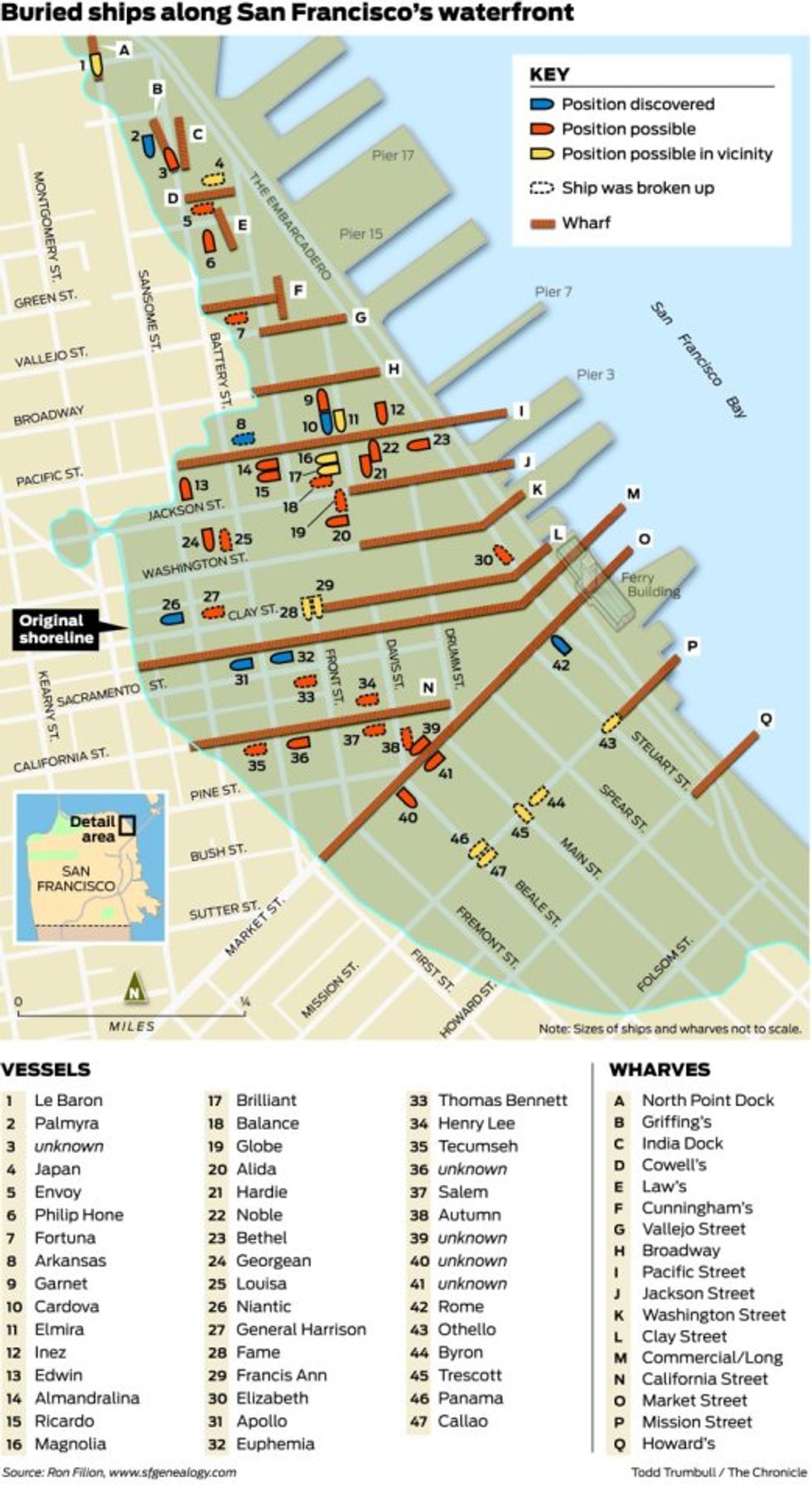 By 1857, some hulks still obstructed the harbour, while others had been overtaken by the expanding waterfront, forming the basement to tenements built on their decks. By the early 1870s, a seawall enclosed the cove along a path concurrent with the present-day Embarcadero. In 1888, a Mr. Bancroft, a local historian, wrote that "even now, remains of the vessels are found under the filled foundations of houses". 
The reclaimed Cove now forms San Francisco's flattest land – the Financial District and the Embarcadero. If in these parts you find yourself going uphill, you're close to the original shoreline. This area is a veritable ship graveyard, although that fact was soon forgotten in the fast expanding city. Some ships have been rediscovered during later construction work, some several times. Around 45 of them are known to lie beneath downtown San Francisco. Some are marked with plaques or an outline on the street, but most ships of this ghost fleet remain forgotten. Marine historian James Delgado suspects some 30 more are still undiscovered, resting beneath a few dozen feet of silt.
This map lists the ones we know of that are still 'anchored' in Yerba Buena Cove, roughly a century and a half after it was filled in. Many more are to be found in a list of over 300 ships, which among the 'sepulchred vessels' also mentions the Cadmus, which brought Lafayette to America in 1824, and the Plover, which sailed the Arctic in search of the doomed Franklin expedition.
Le Baron - Owned by Fairpool & Jonse, lay for a long time near Long Wharf, and finally sunk near North Point dock. 
Palmyra - Inside of India Dock, or what is now Battery, between Greenwich and Filbert, was a small brig. Her position was about what is now the corner of Battery and Greenwich streets.
Japan - Captain Hoyt had the bark Japan. She was finally broken up by Batchelder at Cowell's wharf.
Envoy - The vessel went down north of Union street between Front & Battery streets and when the mud was squeezed up by filling Front street the old hulk reappeared and Burns stripped copper from the Hull selling the metal for 10 a pound.
Philip Hone - A store-ship, named after the Mayor of New York, gradually covered up by the filling in. The houses on Union street, opposite the Union street school, came out in this vessel.
Fortuna - aka Fortune. Used for a period as a hotel on the block now bounded by Battery and Front, Vallejo and Green streets. She was finally broken up by Hare.
Arkansas - aka the Old Ship. The ship was hauled up Pacific street, to near the northeast corner of Battery, and was used for many years as a store ship, and finally her forecastle was used as a tavern. A hotel was finally built over her. These days, you can still get a drink at The Old Ship Saloon, at 298 Pacific Avenue.
Garnet - An American brig.
Cordova - Used as a storeship for some time and finally as a water ship. Water sold for $1 and $2 a bucket in those days.
Elmira - Sunk by Captain Crowell at the corner of Pacific and Davis streets.
Inez - An old New Bedford whaler, sunk at the northwest corner of Pacific and Drumm streets on the line of Drumm, with her bow toward Pacific. 
Edwin - Lay near Pacific Wharf, was made a bonded warehousing ship, built over.
Almandrilina - Owned by captain M.R. Roberts, brought round the Horn in '49. When his wife followed him by way of the Isthmus, Roberts fitted the Almandrilina for her until he completed his residence, on the corner of Washington and Stockton Streets.
Ricardo - Lying next to the remains of the Almandrilina, it was also owned by capt. Roberts and brought round the Horn by him, with full cargoes for the gold fields, afterwards converted into warehouses, and finally into boarding and lodging houses until they were covered over.
Magnolia, Brilliant - Brigs used for storage ships and boarding houses.
Balance - Built in Calcutta of teak wood, 92 years old when she arrived in San Francisco. She was captured from the British in the War of 1812 by James DeWolf's Yankee privateer True Blooded Yankee, who re-christened her the Balance to balance a ship lost by him a short time before captured by a British cruiser. Went into the mud to remain at the corner of Front and Jackson streets.
Globe - Used as a cistern for the storage of water to be used in case of fire.
Alida - A white-painted ship, brought into port by two Norwegians.
Hardie - An English brig, about twenty feet from the Noble and directly opposite Clark street.
Noble - Used as a storage ship.
Bethel - English ship buried at the corner of Drumm and Clark streets. Her bow points toward Drumm.
Georgean - Between Jackson and Washington, west of Battery Street.
Louisa - A schooner, previously a yacht of the King of the Hawaiian Islands. Did storage duty for a time, then broken up.
Niantic - Stranded on the corner of Clay and Sansome, was covered over with a shingle roof and converted into offices and stores on deck, while the hull was divided into warehouses. A hollow pile was driven down through the stern below the salt-water line and about the best water in the town was pumped from that well. After a fire destroyed most of the structure, what remained became the foundation for the Niantic Hotel, which stood until 1872. At its most recent rediscovery, in 1978, most of the stern was destroyed, and numerous artifacts salvaged, including two pistols, a rifle and derringer, 13 bottles of champagne, stoneware ink bottles, leather-bound books, bolts of fabric, cabin doors, hundred-year-old brass paper clips, copper sheeting, and nails.
General Harrison - Uncovered at the northwest corner of Battery and Clay during construction in 2001. An 11-storey hotel now stands over the site. An outline of the hull on the sidewalk memorialises the ship.
Fame - A brig on the corner of Clay and Front Streets, broken up by Hare, and mentioned in 1857 as "fast disappearing".
Francis Ann - On the corner of Clay and Front streets, broken up by Hare.
Elizabeth - Used as a bonded storeship for the port, eventually broken up and sunk about 100 feet along East street, between Clay and Merchant, in about thirty-five feet of water.
Apollo - The rotting hulk was rediscovered several times during construction work in the early 20th century. In it were found coins of 1840, an American penny of 1825, a British penny of 1797, pipes, a large nugget, a sextant, ship's fittings, and more.
Euphemia - Used as San Francisco's first jail and simultaneously as California's first insane asylum, until the asylum was built at Stockton.
Thomas Bennett - Contained a grocery store. At the southwest corner of Sacramento and Front, she lies parallel with Sacramento with her bow pointed towards Battery street.
Henry Lee - Lay for a long time on California Street on the site later occupied by Selby's store.
Tecumseh - On the southwest corner of California and Battery streets, sold by the United States Marshall and broken up.
Salem - Lay for several years on California street on the site of Hooker's store.
Autumn - A storeship, on Davis street, near Market, broken up by Hare.
Rome - A three-masted vessel sunk in 1852 at the southwest corner of Market and East streets, its hulk used as a coal ship. Her bow touched the edge of Market Street. Later, the Ensign saloon was built over her. In the mid-1990s, crews digging an extension to the Muni Metro system rediscovered her. She was deemed too large to remove. Thousands Metro passengers travelling outbound from Folsom Street to Embarcadero Station unwittingly pass through the Rome's forward hull each day.   
Othello - Used as a storeship on Stewart street.
Byron - The bark Byron was broken up at Mission Street near Main street in the early fifties.
Trescott - On the corner of Main and Mission. Goss & White, owners, and Captain L. L. Batchelder, keeper. Finally broken up.
Panama - Converted into Seamen's Bethel, for which she was used for many years. There was a Methodist Church in the Panama, on Davis street, between Washington and Clay, and Father Taylor was the minister. He had a real pretty wife and I think that was the reason that the boys chipped in so liberally. Finally, some parties who did not have the fear of God in them, stole all the pews one fine night, and others carried off the pulpit, and that ended the conversion of sinners on the water front. When religious services were no longer held there she was taken to Beale and Mission and cut up.
Callao - At Mission & Beale Streets, the Calleo was broken up and left there.
Many thanks to Joel Winten for alerting me to maps of San Francisco's ghost fleet. This map found here at SFGate. Description of the ships found mainly in the aforementioned list, found here at SF Genealogy. More on the buried ships in this 1912 article from the San Francisco Call, this article on FoundSF, and this one on Upout (1). 
Strange Maps #795
Got a strange map? Let me know at strangemaps@gmail.com.
(1) In the comments section of this article, one reader mentions discovering a ship with over 320 Chinese skeletons on board while doing construction work in the early 70's, at Fremont and Market: "The other operator, a despicable individual whose name I'll keep anonymous in case he's still alive, worked alongside me, and he was stealing their gold teeth".
A Chinese benevolent society eventually buried the remains at Colma, a curious city south of San Francisco that was founded as a necropolis, with cemeteries for every denomination. An independent city even today, the dead outnumber the living (app. 1,800) by about a thousand to one. Famous burials include Phineas P. Gage, a railroad worker who survived an accident in which a large iron rod was driven completely through his skull, destroying much of his brain; William R. Hearst, the infamous newspaper tycoon;  Wyatt Earp, of O.K. Corrall fame; Levi Strauss, popularizer of blue jeans; Joe DiMaggio, baseball legend; Abigail Folger, heiress of the coffee empire and murder victim of the Manson Family.; and Joshua A. Norton, the so-called Emperor of the U.S.
The young man died nearly 2,000 years ago in the volcanic eruption that buried Pompeii.
Culture & Religion
A team of researchers in Italy discovered the intact brain cells of a young man who died in the Mount Vesuvius eruption in A.D. 79.
The brain's cell structure was visible to researchers (who used an electron microscope) in a glassy, black material found inside the man's skull.
The material was likely the victim's brain preserved through the process of vitrification in which the intense heat followed by rapid cooling turned the organ to glass.
Almost 2,000 years ago, Mount Vesuvius — located on the gulf of what is today Naples in Campania, Italy — erupted, burying the ancient cities of Herculaneum and Pompeii beneath hot ash.
Recently, a team of researchers in Italy discovered the intact brain cells of a young man who died in the disaster in A.D. 79. The team studied remains that were first unearthed in the 1960s from Herculaneum, a city once nestled into the shadow of Mount Vesuvius. The man was around 25 years old when he perished and was discovered lying face-down on a wooden bed in Herculaneum's Collegium Augustalium (the College of the Augustales), located near the city's main street. The building was the headquarters of the cult of Emperor Augustus who was worshipped as a deity, a common Roman tradition at the time.
Discovery of cells
Electron microscope image of brain axons.
Credit: PLOS ONE
Now, subsequent research has described how the researchers, using an electron microscope, discovered cells in the vitrified brain. According to Petrone they were "incredibly well preserved with a resolution that is impossible to find anywhere else." Additionally, the team used another method called energy-dispersive X-ray spectroscopy to determine the chemical compounds of the glassy material. The sample was rich in carbon and oxygen, which indicates that it was organic. The researchers compared those ancient proteins to a database of proteins found in the human brain, and found that all of the discovered proteins are indeed present in human brain tissue.
Additionally, Petrone and his team suspect they also discovered vitrified nerve cells in the ancient victim's spinal cord and cerebellum based on the position of the sample in the mind of the skull and the concentration of the proteins.
Future research
These impeccable preservations of brain tissue are unprecedented and will undoubtedly open the door to new and exciting research opportunities on these ancient people and civilizations that weren't possible until now.
The Italian research team will continue to study the remains to learn more about the vitrification process, including the precise temperatures the victims were exposed to and the cooling rate of the ash. They also, according to Petrone, want to analyze proteins from the remains and their related genes.
New data have set the particle physics community abuzz.
Credit: Stefano Garau / Adobe Stock and Trahko / Adobe Stock
13-8
The first question ever asked in Western philosophy, "What's the world made of?" continues to inspire high energy physicists.
New experimental results probing the magnetic properties of the muon, a heavier cousin of the electron, seem to indicate that new particles of nature may exist, potentially shedding light on the mystery of dark matter.
The results are a celebration of the human spirit and our insatiable curiosity to understand the world and our place in it.
If brute force doesn't work, then look into the peculiarities of nothingness. This may sound like a Zen koan, but it's actually the strategy that particle physicists are using to find physics beyond the Standard Model, the current registry of all known particles and their interactions. Instead of the usual colliding experiments that smash particles against one another, exciting new results indicate that new vistas into exotic kinds of matter may be glimpsed by carefully measuring the properties of the quantum vacuum. There's a lot to unpack here, so let's go piecemeal.
It is fitting that the first question asked in Western philosophy concerned the material composition of the world. Writing around 350 BCE, Aristotle credited Thales of Miletus (circa 600 BCE) with the honor of being the first Western philosopher when he asked the question, "What is the world made of?" What modern high energy physicists do, albeit with very different methodology and equipment, is to follow along the same philosophical tradition of trying to answer this question, assuming that there are indivisible bricks of matter called elementary particles.
Deficits in the Standard Model
Jumping thousands of years of spectacular discoveries, we now have a very neat understanding of the material composition of the world at the subatomic level: a total of 12 particles and the Higgs boson. The 12 particles of matter are divided into two groups, six leptons and six quarks. The six quarks comprise all particles that interact via the strong nuclear force, like protons and neutrons. The leptons include the familiar electron and its two heavier cousins, the muon and the tau. The muon is the star of the new experiments.
The Standard ModelCredit: Cush via Wikimedia Commons licensed under CC0 1.0
For all its glory, the Standard Model described above is incomplete. The goal of fundamental physics is to answer the most questions with the least number of assumptions. As it stands, the values of the masses of all particles are parameters that we measure in the laboratory, related to how strongly they interact with the Higgs. We don't know why some interact much stronger than others (and, as a consequence, have larger masses), why there is a prevalence of matter over antimatter, or why the universe seems to be dominated by dark matter — a kind of matter we know nothing about, apart from the fact that it's not part of the recipe included in the Standard Model. We know dark matter has mass since its gravitational effects are felt in familiar matter, the matter that makes up galaxies and stars. But we don't know what it is.
Whatever happens, new science will be learned.
Physicists had hoped that the powerful Large Hadron Collider in Switzerland would shed light on the nature of dark matter, but nothing has come up there or in many direct searches, where detectors were mounted to collect dark matter that presumably would rain down from the skies and hit particles of ordinary matter.
Could muons fill in the gaps?
Enter the muons. The hope that these particles can help solve the shortcomings of the Standard Model has two parts to it. The first is that every particle, like a muon, that has an electric charge can be pictured simplistically as a spinning sphere. Spinning spheres and disks of charge create a magnetic field perpendicular to the direction of the spin. Picture the muon as a tiny spinning top. If it's rotating counterclockwise, its magnetic field would point vertically up. (Grab a glass of water with your right hand and turn it counterclockwise. Your thumb will be pointing up, the direction of the magnetic field.) The spinning muons will be placed into a doughnut-shaped tunnel and forced to go around and around. The tunnel will have its own magnetic field that will interact with the tiny magnetic field of the muons. As the muons circle the doughnut, they will wobble about, just like spinning-tops wobble on the ground due to their interaction with Earth's gravity. The amount of wobbling depends on the magnetic properties of the muon which, in turn, depend on what's going on with the muon in space.
Credit: Fabrice Coffrini / Getty Images
This is where the second idea comes in, the quantum vacuum. In physics, there is no empty space. The so-called vacuum is actually a bubbling soup of particles that appear and disappear in fractions of a second. Everything fluctuates, as encapsulated in Heisenberg's Uncertainty Principle. Energy fluctuates too, what we call zero-point energy. Since energy and mass are interconvertible (E=mc2, remember?), these tiny fluctuations of energy can be momentarily converted into particles that pop out and back into the busy nothingness of the quantum vacuum. Every particle of matter is cloaked with these particles emerging from vacuum fluctuations. Thus, a muon is not only a muon, but a muon dressed with these extra fleeting bits of stuff. That being the case, these extra particles affect a muon's magnetic field, and thus, its wobbling properties.
About 20 years ago, physicists at the Brookhaven National Laboratory detected anomalies in the muon's magnetic properties, larger than what theory predicted. This would mean that the quantum vacuum produces particles not accounted for by the Standard Model: new physics! Fast forward to 2017, and the experiment, at four times higher sensitivity, was repeated at the Fermi National Laboratory, where yours truly was a postdoctoral fellow a while back. The first results of the Muon g-2 experiment were unveiled on 7-April-2021 and not only confirmed the existence of a magnetic moment anomaly but greatly amplified it.
To most people, the official results, published recently, don't seem so exciting: a "tension between theory and experiment of 4.2 standard deviations." The gold standard for a new discovery in particle physics is a 5-sigma variation, or one part in 3.5 million. (That is, running the experiment 3.5 million times and only observing the anomaly once.) However, that's enough for plenty of excitement in the particle physics community, given the remarkable precision of the experimental measurements.
A time for excitement?
Now, results must be reanalyzed very carefully to make sure that (1) there are no hidden experimental errors; and (2) the theoretical calculations are not off. There will be a frenzy of calculations and papers in the coming months, all trying to make sense of the results, both on the experimental and theoretical fronts. And this is exactly how it should be. Science is a community-based effort, and the work of many compete with and complete each other.
Whatever happens, new science will be learned, even if less exciting than new particles. Or maybe, new particles have been there all along, blipping in and out of existence from the quantum vacuum, waiting to be pulled out of this busy nothingness by our tenacious efforts to find out what the world is made of.
Credit
: William Thomas Cain via Getty Images
Personal Growth
Benjamin Franklin wrote essays on a whole range of subjects, but one of his finest was on how to be a nice, likable person.
Franklin lists a whole series of common errors people make while in the company of others, like over-talking or storytelling.
His simple recipe for being good company is to be genuinely interested in others and to accept them for who they are.
Think of the nicest person you know. The person who would fit into any group configuration, who no one can dislike, or who makes a room warmer and happier just by being there.
What makes them this way? Why are they so amiable, likeable, or good-natured? What is it, you think, that makes a person good company?
There are really only two things that make someone likable.
This is the kind of advice that comes from one of history's most famously good-natured thinkers: Benjamin Franklin. His essay "On Conversation" is full of practical, surprisingly modern tips about how to be a nice person.
Franklin begins by arguing that there are really only two things that make someone likable. First, they have to be genuinely interested in what others say. Second, they have to be willing "to overlook or excuse Foibles." In other words, being good company means listening to people and ignoring their faults. Being witty, well-read, intelligent, or incredibly handsome can all make a good impression, but they're nothing without these two simple rules.
The sort of person nobody likes
From here, Franklin goes on to give a list of the common errors people tend to make while in company. These are the things people do that makes us dislike them. We might even find, with a sinking feeling in our stomach, that we do some of these ourselves.
1) Talking too much and becoming a "chaos of noise and nonsense." These people invariably talk about themselves, but even if "they speak beautifully," it's still ultimately more a soliloquy than a real conversation. Franklin mentions how funny it can be to see these kinds of people come together. They "neither hear nor care what the other says; but both talk on at any rate, and never fail to part highly disgusted with each other."
2) Asking too many questions. Interrogators are those people who have an "impertinent Inquisitiveness… of ten thousand questions," and it can feel like you're caught between a psychoanalyst and a lawyer. In itself, this might not be a bad thing, but Franklin notes it's usually just from a sense of nosiness and gossip. The questions are only designed to "discover secrets…and expose the mistakes of others."
3) Storytelling. You know those people who always have a scripted story they tell at every single gathering? Utterly painful. They'll either be entirely oblivious to how little others care for their story, or they'll be aware and carry on regardless. Franklin notes, "Old Folks are most subject to this Error," which we might think is perhaps harsh, or comically honest, depending on our age.
4) Debating. Some people are always itching for a fight or debate. The "Wrangling and Disputing" types inevitably make everyone else feel like they need to watch what they say. If you give even the lightest or most modest opinion on something, "you throw them into Rage and Passion." For them, the conversation is a boxing fight, and words are punches to be thrown.
5) Misjudging. Ribbing or mocking someone should be a careful business. We must never mock "Misfortunes, Defects, or Deformities of any kind", and should always be 100% sure we won't upset anyone. If there's any doubt about how a "joke" will be taken, don't say it. Offense is easily taken and hard to forget.
Not following Benjamin Franklin's advice.Credit: Ronald Martinez via Getty Images
On practical philosophy
Franklin's essay is a trove of great advice, and this article only touches on the major themes. It really is worth your time to read it in its entirety. As you do, it's hard not to smile along or to think, "Yes! I've been in that situation." Though the world has changed dramatically in the 300 years since Franklin's essay, much is exactly the same. Basic etiquette doesn't change.
If there's only one thing to take away from Franklin's essay, it comes at the end, where he revises his simple recipe for being nice:
"Be ever ready to hear what others say… and do not censure others, nor expose their Failings, but kindly excuse or hide them"
So, all it takes to be good company is to listen and accept someone for who they are.
Philosophy doesn't always have to be about huge questions of truth, beauty, morality, art, or meaning. Sometimes it can teach us simply how to not be a jerk.
Jonny Thomson teaches philosophy in Oxford. He runs a popular Instagram account called Mini Philosophy (@philosophyminis). His first book is Mini Philosophy: A Small Book of Big Ideas.
Surprising Science
A recent study analyzed the skulls of early Homo species to learn more about the evolution of primate brains.
Scroll down to load more…