Dutch Golden Age wasn't all that Dutch
By the late 18th century, up to 70% of the soldiers manning the ships of the Dutch East India Company came from outside the Netherlands
Frank Jacobs
From a young age, Frank was fascinated by maps and atlases, and the stories they contained. Finding his birthplace on the map in the endpapers of Tolkien's Lord of the Rings only increased his interest in the mystery and message of maps.
While pursuing a career in journalism, Frank started a blog called Strange Maps, as a repository for the weird and wonderful cartography he found hidden in books, posing as everyday objects and (of course) floating around the Internet.
"Each map tells a story, but the stories told by your standard atlas for school or reference are limited and literal: they show only the most practical side of the world, its geography and its political divisions. Strange Maps aims to collect and comment on maps that do everything but that - maps that show the world from a different angle".
A remit that wide allows for a steady, varied diet of maps: Frank has been writing about strange maps since 2006, published a book on the subject in 2009 and joined Big Think in 2010. Readers send in new material daily, and he keeps bumping in to cartography that is delightfully obscure, amazingly beautiful, shockingly partisan, and more.
31 August, 2018
The Dutch still call it their Golden Age: in the 17th century, they built a trading empire that spanned the globe and propelled them to the pinnacle of power and influence in Europe. World cities as far apart as New York, Cape Town and Jakarta are all built on Dutch foundations.
---
But the Dutch Golden Age wasn't all that Dutch. As these maps show, the crews manning the ships of the VOC, the Dutch East India Company, came from all over Europe, and indeed from all over the world.
The maps were prepared by Jelle van Lottum, Senior Researcher at the Huygens Institute for the History of the Netherlands in Amsterdam. Specialising in maritime and migration history, Mr. van Lottum traced the places of origin of the soldiers, sailors, and officers crewing VOC ships on a map.
The records span the Company's entire history, from the early 1600s to the late 1700s. "The VOC relied on a highly international labour force, the composition of which changed strongly over time", Mr van Lottum says.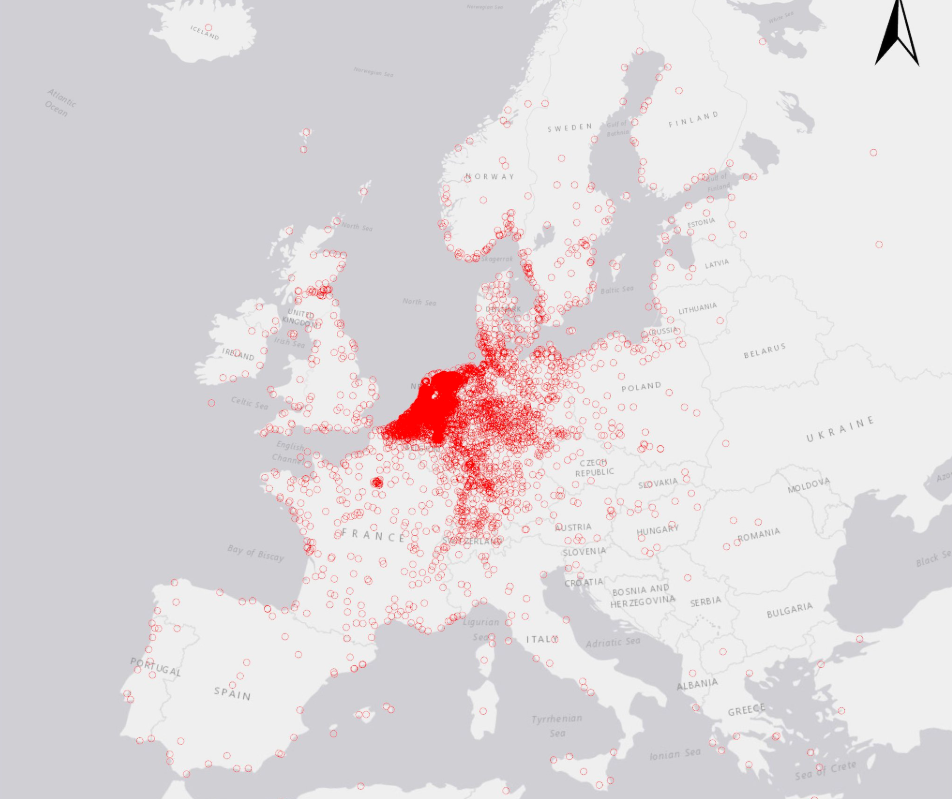 This map shows all traceable places of origin of VOC crews throughout the centuries. Obviously, the Netherlands themselves figure strongly; but almost every other present-day country in Europe contributed manpower to the Dutch maritime effort: from Iceland to Turkey, and from Portugal to Finland.
The rare exceptions are Bosnia, Montenegro, Kosovo, Bulgaria, Moldova, and Belarus. VOC records even show crew originating in North Africa.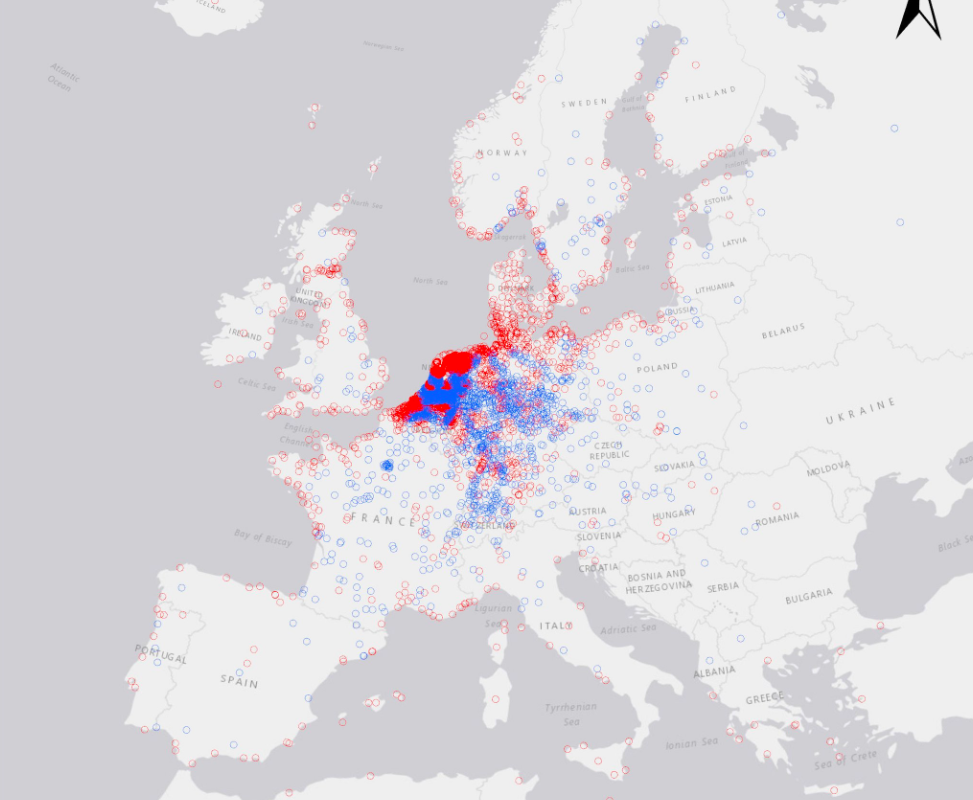 As the years went on, crews came from further inland, throughout the 18th century especially from the West German states.
On this map, places of origin 20 km or less from a major river are marked in blue. It shows how important inland waterways were as a means of transportation, and as conduits for information and migration.
On its ships, which travelled between Europe and Asia, the VOC carried mainly European crews. But there were also men born in Asia and the Americas on board, as the following maps show.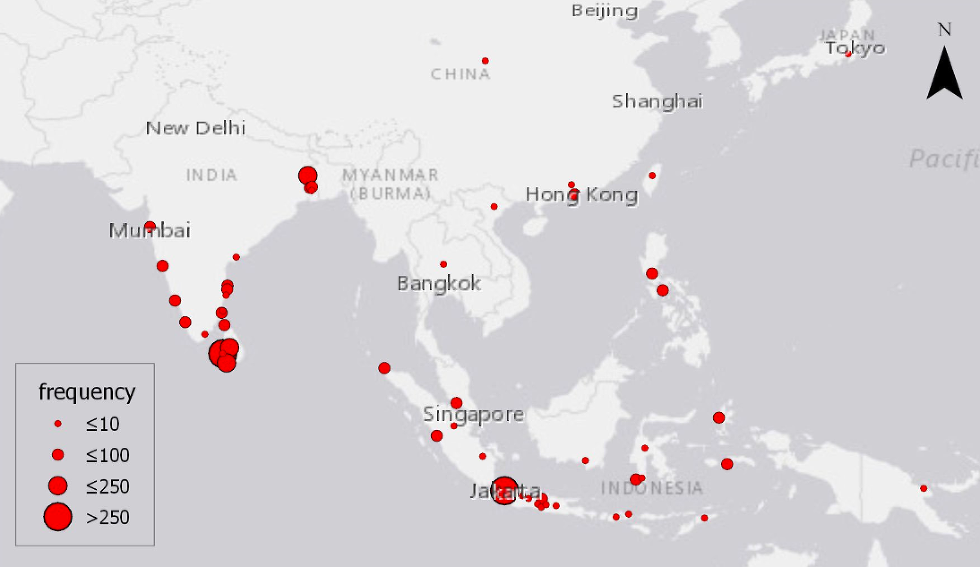 In Asia, present-day Sri Lanka, Indonesia and India were major sources of VOC personnel, but the Dutch East India ships were also crewed by Japanese, Taiwanese, Thai, Chinese and Vietnamese soldiers and sailors.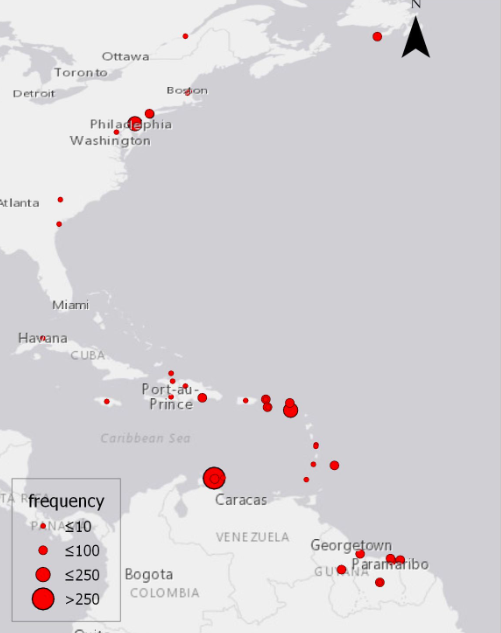 From the Americas, Dutch possessions (in the Caribbean and on the South American mainland) served as major sources for VOC crews, but VOC ships also featured Haitians, Jamaicans – and not a few Philadelphians.
Even from the start, VOC crews were very international. The graph below shows a big dip from 1680 to 1720 – the only period when foreign-born VOC soldiers made up less than half of the total.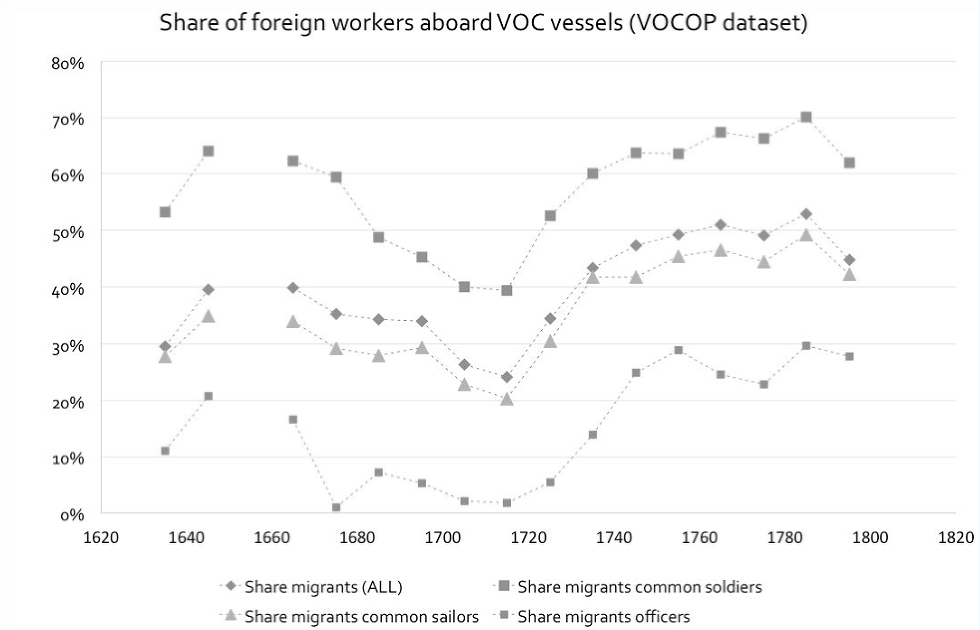 The high point came near the end, around 1790, when no less than 70% of the common soldiery on board VOC ships came from outside the Netherlands, as well as close to half of all common sailors, and even nearly 30% of the ships' officers.
Mr van Lottum's research provides a useful reminder that labor migration in previous centuries was as common - and as economically important - as it is today.

All images © Jelle van Lottum.
Strange Maps #934
Got a strange map? Let me know at strangemaps@gmail.com.
Giving our solar system a "slap in the face"
Surprising Science
A stream of galactic debris is hurtling at us, pulling dark matter along with it
It's traveling so quickly it's been described as a hurricane of dark matter
Scientists are excited to set their particle detectors at the onslffaught
Bernardo Kastrup proposes a new ontology he calls "idealism" built on panpsychism, the idea that everything in the universe contains consciousness. He solves problems with this philosophy by adding a new suggestion: The universal mind has dissociative identity disorder.
We're all one mind in "idealism." (Credit: Alex Grey)
Mind & Brain
There's a reason they call it the "hard problem." Consciousness: Where is it? What is it? No one single perspective seems to be able to answer all the questions we have about consciousness. Now Bernardo Kastrup thinks he's found one. He calls his ontology idealism, and according to idealism, all of us and all we perceive are manifestations of something very much like a cosmic-scale dissociative identity disorder (DID). He suggests there's an all-encompassing universe-wide consciousness, it has multiple personalities, and we're them.
Firefighters in California are still struggling to contain several wildfires nearly one week after they broke out.
(Photo by Elijah Nouvelage/Getty Images)
Politics & Current Affairs
Hundreds of people are still missing after three wildfires spread across Northern and Southern California last week.
48 of the 50 deaths occurred after the Camp Fire blazed through the town of Paradise, north of Sacramento.
On Tuesday night, a fourth wildfire broke out, though it's mostly contained.
Big think's weekly newsletter.
Get smarter faster from the comfort of your inbox.
See our newsletter privacy policy
here
Most Popular
Most Recent
Big think's weekly newsletter.
Get smarter faster from the comfort of your inbox.
See our newsletter privacy policy
here
© Copyright 2007-2018 & BIG THINK, BIG THINK EDGE,
SMARTER FASTER trademarks owned by The Big Think, Inc. All rights reserved.