How Different Cultures Around the World Deal With Emotion and Conflict
Germans are cold and hard. Filipinos are warm and soft. Or is that oversimplifying it?
Frank Jacobs
From a young age, Frank was fascinated by maps and atlases, and the stories they contained. Finding his birthplace on the map in the endpapers of Tolkien's Lord of the Rings only increased his interest in the mystery and message of maps.
While pursuing a career in journalism, Frank started a blog called Strange Maps, as a repository for the weird and wonderful cartography he found hidden in books, posing as everyday objects and (of course) floating around the Internet.
"Each map tells a story, but the stories told by your standard atlas for school or reference are limited and literal: they show only the most practical side of the world, its geography and its political divisions. Strange Maps aims to collect and comment on maps that do everything but that - maps that show the world from a different angle".
A remit that wide allows for a steady, varied diet of maps: Frank has been writing about strange maps since 2006, published a book on the subject in 2009 and joined Big Think in 2010. Readers send in new material daily, and he keeps bumping in to cartography that is delightfully obscure, amazingly beautiful, shockingly partisan, and more.
09 December, 2015
Negotiating with Filipinos? Be warm and personal, but stay polite. Cutting das Deal with Germans? Stay cool as ice, and be tough as nails. So what happens if you're a German doing business in the Philippines?
---
That's not the question this map was designed to answer. This map — actually, a diagram — shows differences in attitudes to business negotiations in a number of countries. Familiarise yourself with them, then burn the drawing. From now on, you're a master international dealmaker.
Vertically, the map distinguishes between countries where it is highly haram to show emotions during business proceedings (Japan being the prime example) and countries where emotions are an accepted part of il commercio (yes, Italians are emotional extroverts — also in business). 
The horizontal axis differentiates countries with a very confrontational negotiating style — think heated arguments and slammed doors — from places where decorum is the alpha and omega of commercial dealings. For an extreme example of the former, try trading with an Israeli company. For the latter, I refer you to those personable but (apparently also) persnickety Filipinos.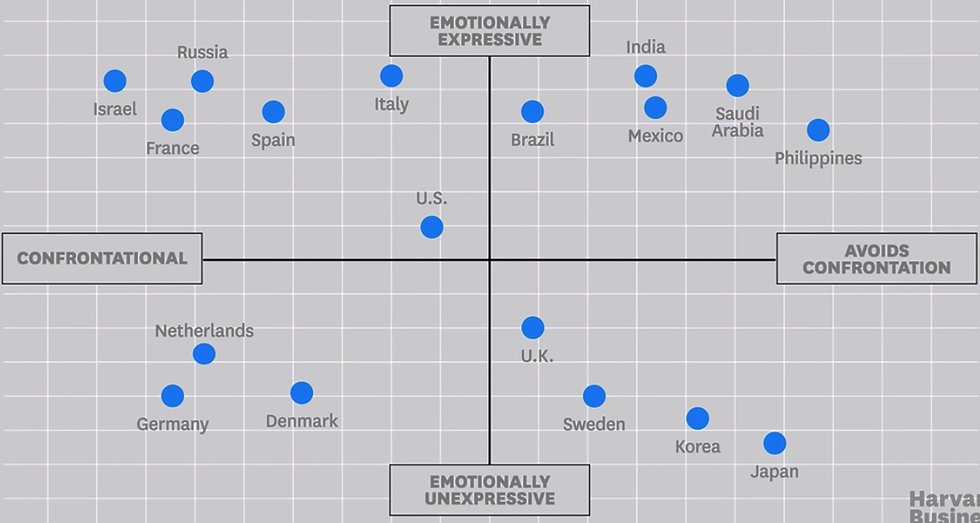 In general, the map says: For cold-as-fish negotiations, go to northern Europe or eastern Asia. If you want hugs and small talk with your deal, go to a Latin country (or a very cold or hot one — e.g., Russia and India). But are Danes really that much more confrontational than Swedes? And shouldn't the Brits — a people who say "Sorry" when you bump into them — be much further to the right?
Along the other axis, the champions of oppositional negotiating are not just the Israelis and the Germans, but also the Dutch, the French, and Spanish. But weren't the Netherlands and Germany the pioneers and champions of negotiated solutions to economic issues — the so-called "Rhineland Capitalism"?
And how is it that the U.S. gets to be in the business version of the Goldilocks zone — not too confrontational, not too conflict-averse; not too cold, but not overly emotional either? Perhaps, from another perspective — say, Korea — Americans are very expressive and confrontational. Could it be that this diagram shares a defect with the earliest world maps: The cartographers unwittingly reveal their origins by placing themselves at the centre of the map?
This map found here at the Harvard Business Review website. The magazine's December issue is dedicated to the finer (and softer) points of business negotiation. 
Strange Maps #753
Got a strange map? Let me know at strangemaps@gmail.com.
Big think's weekly newsletter.
Get smarter faster from the comfort of your inbox.
See our newsletter privacy policy
here