How Different Cultures Around the World Deal With Emotion and Conflict
Germans are cold and hard. Filipinos are warm and soft. Or is that oversimplifying it?
09 December, 2015
Negotiating with Filipinos? Be warm and personal, but stay polite. Cutting das Deal with Germans? Stay cool as ice, and be tough as nails. So what happens if you're a German doing business in the Philippines?
---
That's not the question this map was designed to answer. This map — actually, a diagram — shows differences in attitudes to business negotiations in a number of countries. Familiarise yourself with them, then burn the drawing. From now on, you're a master international dealmaker.
Vertically, the map distinguishes between countries where it is highly haram to show emotions during business proceedings (Japan being the prime example) and countries where emotions are an accepted part of il commercio (yes, Italians are emotional extroverts — also in business). 
The horizontal axis differentiates countries with a very confrontational negotiating style — think heated arguments and slammed doors — from places where decorum is the alpha and omega of commercial dealings. For an extreme example of the former, try trading with an Israeli company. For the latter, I refer you to those personable but (apparently also) persnickety Filipinos.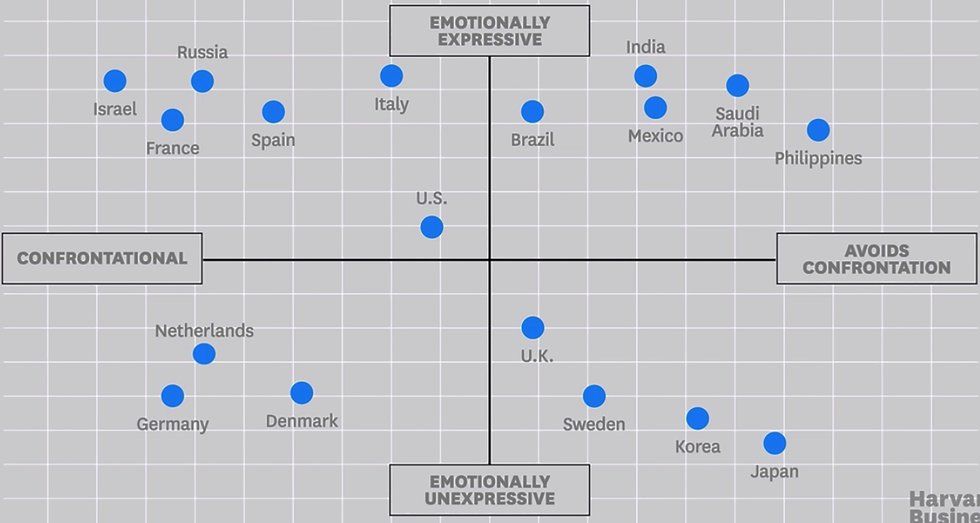 In general, the map says: For cold-as-fish negotiations, go to northern Europe or eastern Asia. If you want hugs and small talk with your deal, go to a Latin country (or a very cold or hot one — e.g., Russia and India). But are Danes really that much more confrontational than Swedes? And shouldn't the Brits — a people who say "Sorry" when you bump into them — be much further to the right?
Along the other axis, the champions of oppositional negotiating are not just the Israelis and the Germans, but also the Dutch, the French, and Spanish. But weren't the Netherlands and Germany the pioneers and champions of negotiated solutions to economic issues — the so-called "Rhineland Capitalism"?
And how is it that the U.S. gets to be in the business version of the Goldilocks zone — not too confrontational, not too conflict-averse; not too cold, but not overly emotional either? Perhaps, from another perspective — say, Korea — Americans are very expressive and confrontational. Could it be that this diagram shares a defect with the earliest world maps: The cartographers unwittingly reveal their origins by placing themselves at the centre of the map?
This map found here at the Harvard Business Review website. The magazine's December issue is dedicated to the finer (and softer) points of business negotiation. 
Strange Maps #753
Got a strange map? Let me know at strangemaps@gmail.com.
Former president of the ACLU Nadine Strossen discusses whether our society should always defend free speech rights, even for groups who would oppose such rights.
Sponsored by Charles Koch Foundation
Former ACLU president Nadine Strossen understands that protecting free speech rights isn't always a straightforward proposition.
In this video, Strossen describes the reasoning behind why the ACLU defended the free speech rights of neo-Nazis in Skokie, Illinois, 1977.
The opinions expressed in this video do not necessarily reflect the views of the Charles Koch Foundation, which encourages the expression of diverse viewpoints within a culture of civil discourse and mutual respect.
Jokesters and serious Area 51 raiders would be met with military force.
Politics & Current Affairs
Facebook joke event to "raid Area 51" has already gained 1,000,000 "going" attendees.
The U.S. Air Force has issued an official warning to potential "raiders."
If anyone actually tries to storm an American military base, the use of deadly force is authorized.
Pugs and bulldogs are incredibly trendy, but experts have massive animal welfare concerns about these genetically manipulated breeds. 
Photo by terriermandotcom.blogspot.com
popular
Pugs, Frenchies, boxers, shih-tzus and other flat-faced dog breeds have been trending for at least the last decade.
Higher visibility (usually in a celebrity's handbag), an increase in city living (smaller dogs for smaller homes), and possibly even the fine acting of Frank the Pug in 1997's Men in Black may be the cause.
These small, specialty pure breeds are seen as the pinnacle of cuteness – they have friendly personalities, endearing odd looks, and are perfect for Stranger Things video montages.
Strangely, the sun showed no sunspots at the time the photo was taken.
Image source: Rainee Colacurcio
Surprising Science
The photo shows the International Space Station as it orbits the Earth, as it does every 90 minutes.
The photo is remarkable because it offers a glimpse of the star at a time when there were no sunspots.
In November, astronauts aboard the ISS plan to grow Española chili pepper plants.