How Different Cultures Around the World Deal With Emotion and Conflict
Germans are cold and hard. Filipinos are warm and soft. Or is that oversimplifying it?
09 December, 2015
Negotiating with Filipinos? Be warm and personal, but stay polite. Cutting das Deal with Germans? Stay cool as ice, and be tough as nails. So what happens if you're a German doing business in the Philippines?
---
That's not the question this map was designed to answer. This map — actually, a diagram — shows differences in attitudes to business negotiations in a number of countries. Familiarise yourself with them, then burn the drawing. From now on, you're a master international dealmaker.
Vertically, the map distinguishes between countries where it is highly haram to show emotions during business proceedings (Japan being the prime example) and countries where emotions are an accepted part of il commercio (yes, Italians are emotional extroverts — also in business). 
The horizontal axis differentiates countries with a very confrontational negotiating style — think heated arguments and slammed doors — from places where decorum is the alpha and omega of commercial dealings. For an extreme example of the former, try trading with an Israeli company. For the latter, I refer you to those personable but (apparently also) persnickety Filipinos.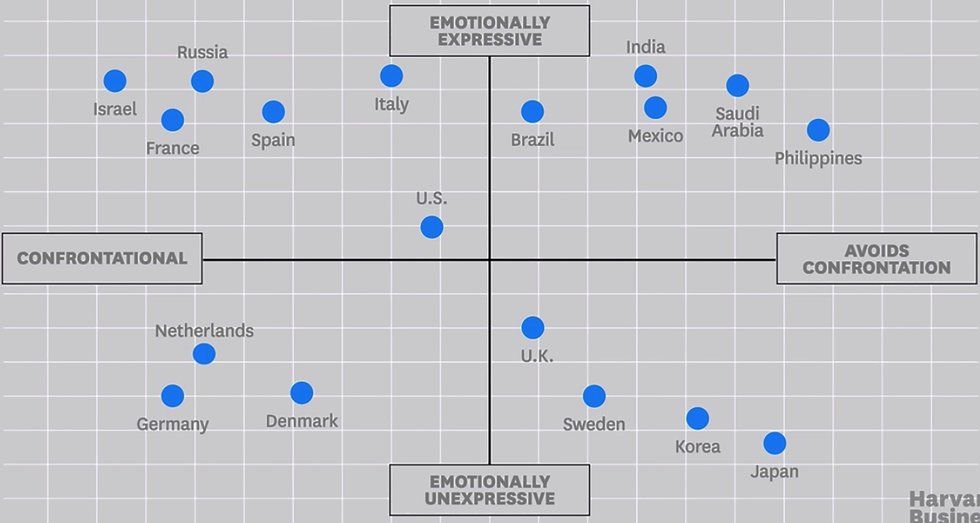 In general, the map says: For cold-as-fish negotiations, go to northern Europe or eastern Asia. If you want hugs and small talk with your deal, go to a Latin country (or a very cold or hot one — e.g., Russia and India). But are Danes really that much more confrontational than Swedes? And shouldn't the Brits — a people who say "Sorry" when you bump into them — be much further to the right?
Along the other axis, the champions of oppositional negotiating are not just the Israelis and the Germans, but also the Dutch, the French, and Spanish. But weren't the Netherlands and Germany the pioneers and champions of negotiated solutions to economic issues — the so-called "Rhineland Capitalism"?
And how is it that the U.S. gets to be in the business version of the Goldilocks zone — not too confrontational, not too conflict-averse; not too cold, but not overly emotional either? Perhaps, from another perspective — say, Korea — Americans are very expressive and confrontational. Could it be that this diagram shares a defect with the earliest world maps: The cartographers unwittingly reveal their origins by placing themselves at the centre of the map?
This map found here at the Harvard Business Review website. The magazine's December issue is dedicated to the finer (and softer) points of business negotiation. 
Strange Maps #753
Got a strange map? Let me know at strangemaps@gmail.com.
What can 3D printing do for medicine? The "sky is the limit," says Northwell Health researcher Dr. Todd Goldstein.
Northwell Health
Sponsored by Northwell Health
Medical professionals are currently using 3D printers to create prosthetics and patient-specific organ models that doctors can use to prepare for surgery.
Eventually, scientists hope to print patient-specific organs that can be transplanted safely into the human body.
Northwell Health, New York State's largest health care provider, is pioneering 3D printing in medicine in three key ways.
Torn between absolutism on the left and the right, classical liberalism—with its core values of compassion and incremental progress whereby the once-radical becomes the mainstream—is in need of a good defense. And Adam Gopnik is its lawyer.
Think Again Podcasts
Liberalism as "radical pragmatism"
Intersectionality and civic discourse
How "a thousand small sanities" tackled drunk driving, normalized gay marriage, and could control gun violence
Irish president believes students need philosophy.
Personal Growth
President of Ireland Michael D. Higgins calls for students to be thought of as more than tools made to be useful.
Higgins believes that philosophy and history should be a basic requirement forming a core education.
The Irish Young Philosopher Awards is one such event that is celebrating this discipline among the youth.
The lost practice of face-to-face communication has made the world a more extreme place.
Videos
The world was saner when we spoke face-to-face, argues John Cameron Mitchell. Not looking someone in the eye when you talk to them raises the potential for miscommunication and conflict.
Social media has been an incredible force for activism and human rights, but it's also negatively affected our relationship with the media. We are now bombarded 24/7 with news that either drives us to anger or apathy.
Sitting behind a screen makes polarization worse, and polarization is fertile ground for conspiracy theories and fascism, which Cameron describes as irrationally blaming someone else for your problems.
Big think's weekly newsletter.
Get smarter faster from the comfort of your inbox.
See our newsletter privacy policy
here
Most Popular
Most Recent
Big think's weekly newsletter.
Get smarter faster from the comfort of your inbox.
See our newsletter privacy policy
here
© Copyright 2007-2019 & BIG THINK, BIG THINK EDGE,
SMARTER FASTER trademarks owned by The Big Think, Inc. All rights reserved.