Chilling maps of lynchings in 1930s America
These sober maps have a chilling topic: the prevalence of lynchings throughout the U.S. from 1930 to 1938.
Frank Jacobs
From a young age, Frank was fascinated by maps and atlases, and the stories they contained. Finding his birthplace on the map in the endpapers of Tolkien's Lord of the Rings only increased his interest in the mystery and message of maps.
While pursuing a career in journalism, Frank started a blog called Strange Maps, as a repository for the weird and wonderful cartography he found hidden in books, posing as everyday objects and (of course) floating around the Internet.
"Each map tells a story, but the stories told by your standard atlas for school or reference are limited and literal: they show only the most practical side of the world, its geography and its political divisions. Strange Maps aims to collect and comment on maps that do everything but that - maps that show the world from a different angle".
A remit that wide allows for a steady, varied diet of maps: Frank has been writing about strange maps since 2006, published a book on the subject in 2009 and joined Big Think in 2010. Readers send in new material daily, and he keeps bumping in to cartography that is delightfully obscure, amazingly beautiful, shockingly partisan, and more.
16 April, 2018
These sober maps have a chilling topic: the prevalence of lynchings throughout the U.S. from 1930 to 1938. They were published by the Association of Southern Women for the Prevention of Lynching (ASWPL), an organization that sought to eradicate the practice by changing attitudes rather than laws.
---
Between 1882 and 1964, 4,745 people were lynched in the United States (1). Most of the lynchings took place in the Deep South. Most of the mobs were white, most of the victims (72.7%) were black (2). As terrifying a practice as 'death by mob' in itself must have been—often involving prolonged torture—it thus also served to affirm the racial hierarchy of white power and black powerlessness.
A curious silence surrounded the practice of lynching. Often attended by large crowds, and even commemorated by postcards, these extrajudicial killings had a terrorizing effect on black populations. Yet they rarely provoked the outraged attention of the wider public or action by the authorities.
In the 1890s, the ground-breaking work of investigative journalist Ida B. Wells—born a slave in 1862—was instrumental in exposing the mechanism behind the systematic lynching of black men. (She's one of the women in The NY Times' series on Overlooked Obituaries).
Lynchings peaked in the late 19th century but continued well into the 20th century. The ASWPL was founded in 1930 to combat a renewed rise in lynchings of blacks (3) across the South (4).
The ASWPL sought to counter the frequent excuse that the extralegal executions were carried out to 'protect white women', pointing out—as Wells had done—that the alleged rapes seldom occurred, and that the true rationale for the lynchings was racial hatred. As an ironic (or infuriating) sign of the times, the ASWPL fought racism along segregated lines. The organization only accepted white women as members, believing that "only white women could influence other white women."
These maps, published in 1939, show the lynchings for each of the preceding years in the 1930s, from starting top left (1930) to bottom left (1933), then top right (1934) to bottom right (1937), with 1938 at the very bottom.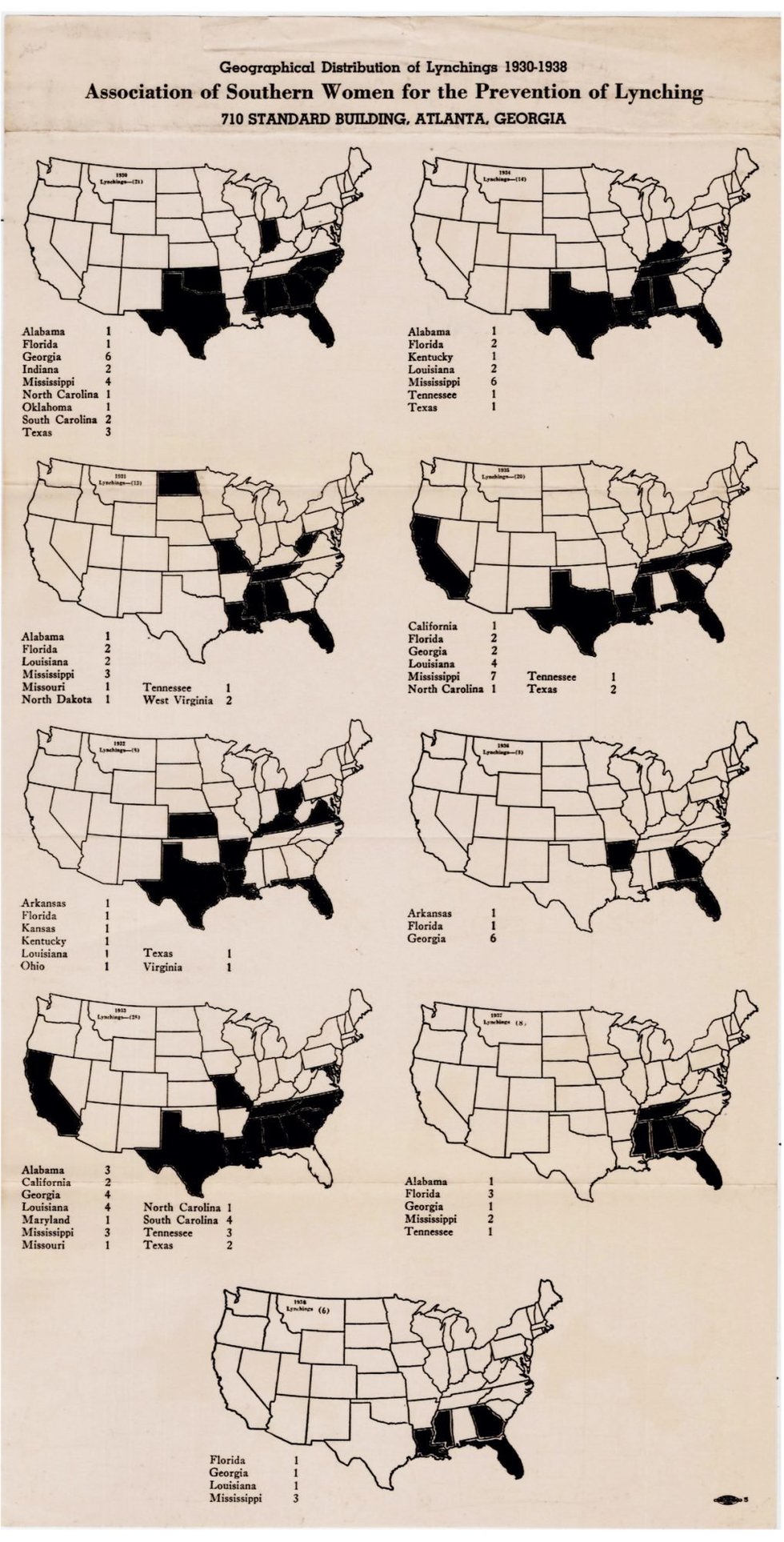 In 1930, there were 21 lynchings reported, across 9 states: 6 in Georgia, 4 in Mississippi, 3 in Texas, 2 in both Indiana and South Carolina, and 1 in Alabama, Florida, North Carolina and Oklahoma each.
In 1931, the total fell to 13 lynchings, in 8 states: 3 in Mississippi, 2 in Florida, Louisiana and West Virginia, and 1 in Alabama, Missouri, North Dakota and Tennessee.
In 1932, 8 lynchings were reported, each a single occurrence in each state: Arkansas, Florida, Kansas, Kentucky, Louisiana, Ohio, Texas and Virginia.
In 1933, the total rose dramatically, to 28 lynchings, in a total of 11 states: 4 in Georgia, Louisiana and South Carolina, 3 in Alabama, Mississippi and Tennessee, 2 in California and Texas, and 1 each in Maryland, Missouri and North Carolina.
In 1934, the total halved again to 14 lynchings, limited to 7 southern states: 6 in Mississippi alone, 2 each in Florida and Louisiana, and 1 each in Alabama, Kentucky, Tennessee and Texas.
In 1935, the figure increased to 20, across 8 states: 7 in Mississippi, 4 in Louisiana, 2 in Florida, Georgia and Texas each, and 1 in California, North Carolina and Tennessee.
In 1936, there were 'only' 8 lynchings, in just 3 states: 6 in Georgia, and 1 each in Arkansas and Florida.
In 1937, another 8 lynchings occurred, spread over 5 states: 3 in Florida, 2 in Mississippi, and 1 each in Alabama, Georgia and Tennessee.
In 1938, there were 6 lynchings, in 4 states: 3 in Mississippi, and 1 each in Florida, Georgia and Louisiana.
The ASWPL established groups in all southern states, which by the early 1940s had a combined membership of 4 million. In May 1940, the organization was able to mark '12 months without a lynching'. In 1942, judging is purpose achieved, the ASWPL disbanded.
Lynchings did continue, however sporadically. The last recorded one occurred in 1981 in Mobile, Alabama. Michael Donald, a young black man, was beaten to death by KKK members. One of the perpetrators was sentenced to death and executed in 1997, the first execution for a white-on-black crime in Alabama since 1913 (5).
Map found here at Boston Rare Maps.
Strange Maps #899
Got a strange map? Let me know at strangemaps@gmail.com.
(1) According to data collected by the Tuskegee Institute (now Tuskegee University)
(2) Between 1882 and 1903, 125 lynchings of blacks by blacks were recorded, and 4 lynchings of whites by blacks.
(3) Blacks were the victims of 20 of the 21 lynchings reported for 1930.
(4) From the 1890s to the 1940s, more than 90% of the lynchings in the U.S. occurred in the South.
(5) Michael Donald's mother sued the United Klans of America for damages and was rewarded $7 million dollars, bankrupting the UKA and setting a precedent for civil action against hate groups.
Here's the science of black holes, from supermassive monsters to ones the size of ping-pong balls.
Videos
There's more than one way to make a black hole, says NASA's Michelle Thaller. They're not always formed from dead stars. For example, there are teeny tiny black holes all around us, the result of high-energy cosmic rays slamming into our atmosphere with enough force to cram matter together so densely that no light can escape.
CERN is trying to create artificial black holes right now, but don't worry, it's not dangerous. Scientists there are attempting to smash two particles together with such intensity that it creates a black hole that would live for just a millionth of a second.
Thaller uses a brilliant analogy involving a rubber sheet, a marble, and an elephant to explain why different black holes have varying densities. Watch and learn!
Bonus fact: If the Earth became a black hole, it would be crushed to the size of a ping-pong ball.
Military recruits are supposed to be assessed to see whether they're fit for service. What happens when they're not?
Politics & Current Affairs
During the Vietnam War, Robert McNamara began a program called Project 100,000.
The program brought over 300,000 men to Vietnam who failed to meet minimum criteria for military service, both physically and mentally.
Project 100,000 recruits were killed in disproportionate numbers and fared worse after their military service than their civilian peers, making the program one of the biggest—and possibly cruelest—mistakes of the Vietnam War.
In a breakthrough for nuclear fusion research, scientists at China's Experimental Advanced Superconducting Tokamak (EAST) reactor have produced temperatures necessary for nuclear fusion on Earth.
Credit: EAST Team
Surprising Science
The EAST reactor was able to heat hydrogen to temperatures exceeding 100 million degrees Celsius.
Nuclear fusion could someday provide the planet with a virtually limitless supply of clean energy.
Still, scientists have many other obstacles to pass before fusion technology becomes a viable energy source.
Big think's weekly newsletter.
Get smarter faster from the comfort of your inbox.
See our newsletter privacy policy
here
Most Popular
Most Recent
Big think's weekly newsletter.
Get smarter faster from the comfort of your inbox.
See our newsletter privacy policy
here
© Copyright 2007-2018 & BIG THINK, BIG THINK EDGE,
SMARTER FASTER trademarks owned by The Big Think, Inc. All rights reserved.