Shrinking, but Still Big: America's Slice of the Global Economic Pie
In 1960, the U.S. accounted for 40% of global economic output. This is where we're at today.
Frank Jacobs
From a young age, Frank was fascinated by maps and atlases, and the stories they contained. Finding his birthplace on the map in the endpapers of Tolkien's Lord of the Rings only increased his interest in the mystery and message of maps.
While pursuing a career in journalism, Frank started a blog called Strange Maps, as a repository for the weird and wonderful cartography he found hidden in books, posing as everyday objects and (of course) floating around the Internet.
"Each map tells a story, but the stories told by your standard atlas for school or reference are limited and literal: they show only the most practical side of the world, its geography and its political divisions. Strange Maps aims to collect and comment on maps that do everything but that - maps that show the world from a different angle".
A remit that wide allows for a steady, varied diet of maps: Frank has been writing about strange maps since 2006, published a book on the subject in 2009 and joined Big Think in 2010. Readers send in new material daily, and he keeps bumping in to cartography that is delightfully obscure, amazingly beautiful, shockingly partisan, and more.
22 October, 2015
The American slice of the global GDP pie is shrinking. In 1960; U.S. GDP represented 40% of the global total. By 2014, that share had shrunk to 22%. The decline is relative — America's economy is much larger now than half a century ago, but other countries have grown much faster. Most notably China, the economy of which trebled over the same period, from close to 5% back then to around 15% now. And, as shown by this recent Voronoi diagram (1), first published in July 2015, the American slice is still by far the biggest one. 
---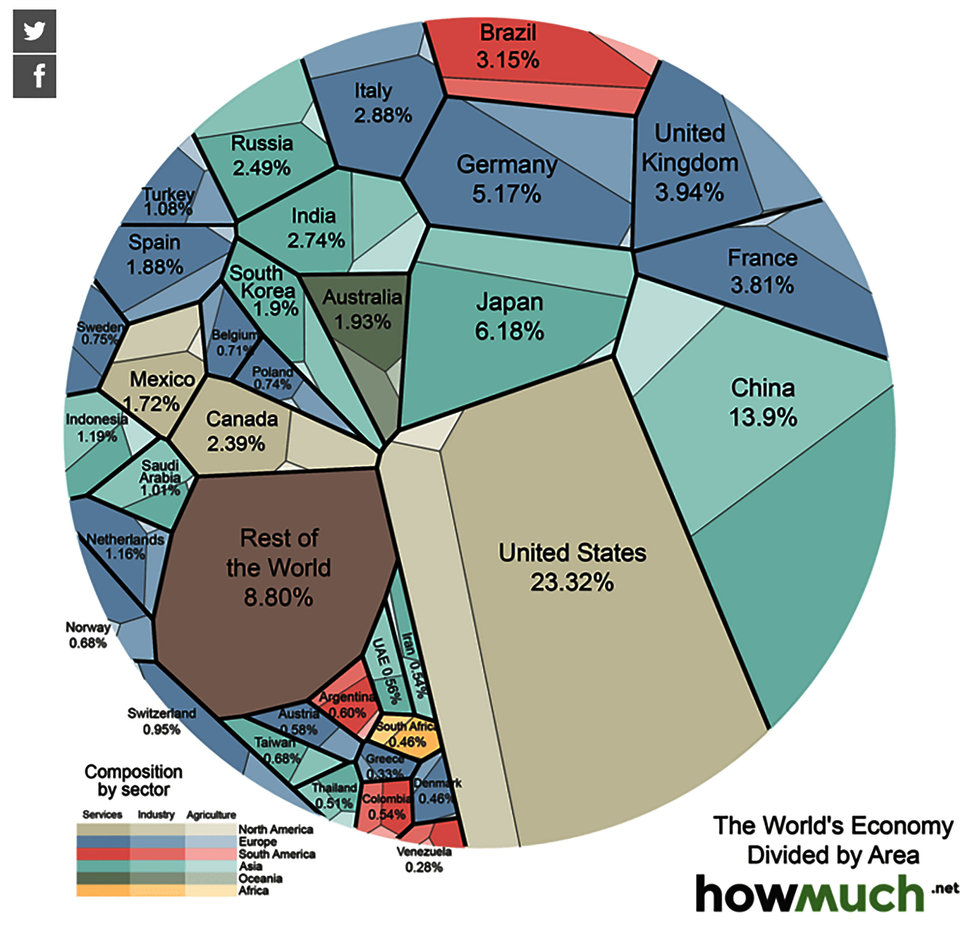 Of course, there are several ways to measure GDP. One could argue that China's share should be bigger by now, or that it has already overtaken the U.S. It certainly has for industrial output — the middle of the three shades contained within each slide. The U.S. is overwhelmingly a service-based economy (darker shade), with a relatively small contribution by the agricultural sector (lighter shade). 
But the point of this cartogram is that it offers the advantage of an at-a-glance overview that is typical for maps, and lacking in mere lists. Here, for comparison, is the ranking of the 38 economies shown on this map:

The map shows even more clearly than the above list how the economic power of the European Union, listed here as separate member states, adds up. It's immediately apparent that the German, British, French, and Italian slices together are bigger than Japan's, and even China's. In fact, those four alone amount to 15.8 percent. Add the other eight member states on the list, and the E.U. slice (22.41 percent) is almost as big as the U.S. one. Since there are 16 more European Union members hidden in the Rest of the World slice (8.80 percent), the European Union's share of this diagram is probably slightly bigger than the U.S. one. 
Of course, Brexit will weaken the overall strength of the EU - and of the U.K. itself. In fact, the mere decision of leaving the E.U. has led to a decline in the value of the British pound that has caused Britain to slip one place in the global economic rankings as listed above, with France overtaking it to assume fifth place. 
Strange Maps #747
Many thanks to Robert Capiot for sending in this map, found here on howmuch.net.
Got a strange map? Let me know at strangemaps@gmail.com.
(1) For more Voronoi joy, see #657.
Giving our solar system a "slap in the face"
Surprising Science
A stream of galactic debris is hurtling at us, pulling dark matter along with it
It's traveling so quickly it's been described as a hurricane of dark matter
Scientists are excited to set their particle detectors at the onslffaught
Bernardo Kastrup proposes a new ontology he calls "idealism" built on panpsychism, the idea that everything in the universe contains consciousness. He solves problems with this philosophy by adding a new suggestion: The universal mind has dissociative identity disorder.
We're all one mind in "idealism." (Credit: Alex Grey)
Mind & Brain
There's a reason they call it the "hard problem." Consciousness: Where is it? What is it? No one single perspective seems to be able to answer all the questions we have about consciousness. Now Bernardo Kastrup thinks he's found one. He calls his ontology idealism, and according to idealism, all of us and all we perceive are manifestations of something very much like a cosmic-scale dissociative identity disorder (DID). He suggests there's an all-encompassing universe-wide consciousness, it has multiple personalities, and we're them.
Once again, our circadian rhythm points the way.
Photo: Victor Freitas / Unsplash
Surprising Science
Seven individuals were locked inside a windowless, internetless room for 37 days.
While at rest, they burned 130 more calories at 5 p.m. than at 5 a.m.
Morning time again shown not to be the best time to eat.
Big think's weekly newsletter.
Get smarter faster from the comfort of your inbox.
See our newsletter privacy policy
here
Most Popular
Most Recent
Big think's weekly newsletter.
Get smarter faster from the comfort of your inbox.
See our newsletter privacy policy
here
© Copyright 2007-2018 & BIG THINK, BIG THINK EDGE,
SMARTER FASTER trademarks owned by The Big Think, Inc. All rights reserved.