How Bitcoin consumes more energy than 159 individual countries
By 2020, Bitcoin mining will consume more energy than the world currently produces
01 December, 2017
---
This map doesn't deal with the phenomenal rise in value of Bitcoin, nor the cryptocurrency's coming crash, which some financial experts say is as inevitable as that of any pyramid scheme. But it does provide another angle on the digital currency, which has shot up in value from $1,000 to more than $10,000 within this year.
The growth of Bitcoin has also led to an exponential increase in 'Bitcoin mining': the computer processing power required to keep the blockchain – the decentralised, encrypted records upon which the value of Bitcoin depends – consistent and unaltered.
According to the Bitcoin Energy Consumption Index (BECI) maintained by Digiconomist, every individual Bitcoin transaction eats up 275 kWh of electricity, and the latest estimate of Bitcoin's total annual energy consumption is in the vicinity of 29.05 TWh (1).
That is the equivalent of 0.13% of the entire world's annual energy consumption. And that is more than the individual energy consumption of 159 of the world's countries. That's the orange on this map: each of those countries uses less electricity per year than it takes to power Bitcoin. In fact, if Bitcoin were a country, it'd rank 61st in the world in terms of electricity consumption.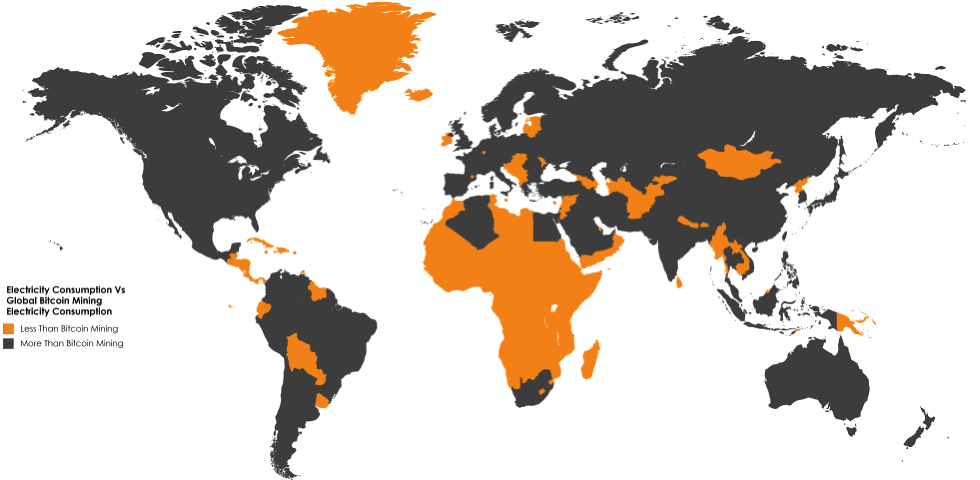 As the map shows, Bitcoin consumes more energy on an annual basis than all but three of the 54 countries in Africa. Only Algeria, Egypt and South Africa out-consume the virtual currency. But not otherwise large and important countries like Nigeria, DR Congo or Kenya.
In the Americas, all Caribbean nations (includeing Cuba) use less electricity than Bitcoin, as do Suriname and Guyana, Uruguay and Paraguay, Bolivia and Ecuador, and each of the six Central American nations (Panama, Costa Rica, Nicaragua, El Salvador, Honduras and Guatemala).
Bitcoin uses up more electricity than Ireland, and several other European nations. Tiny ones like the Vatican, San Marino, Liechtenstein, Andorra, Malta and Luxembourg; and not-so-tiny ones, like Slovakia, Hungary and Albania, all the ex-Yugoslav states (Slovenia, Croatia, Bosnia, Serbia, Kosovo, Montenegro, Macedonia), Cyprus, the three Baltics (Lithuania, Latvia, Estonia), and the three Transcaucasian republics (Georgia, Armenia, Azerbaijan).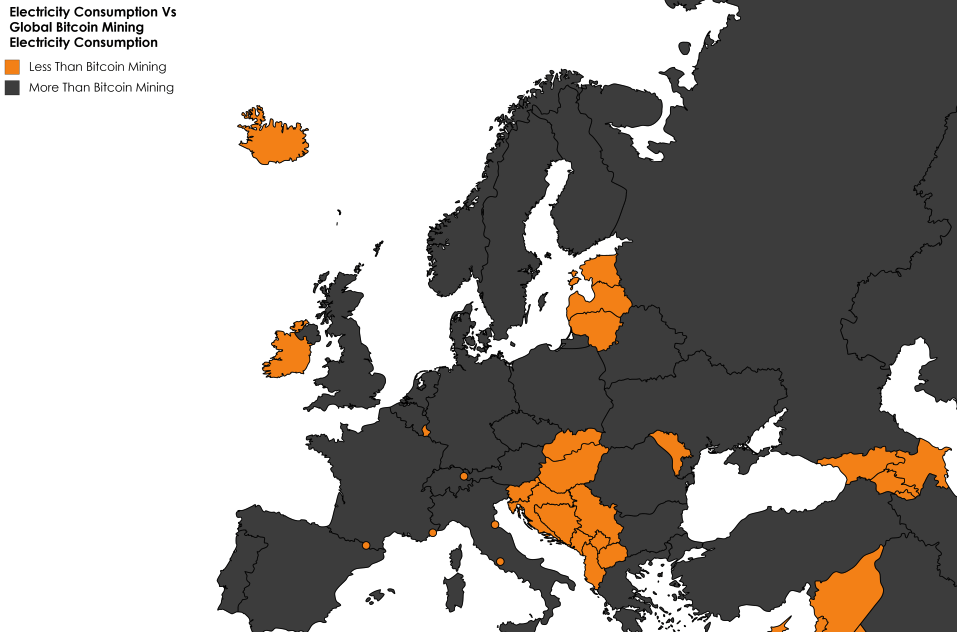 In the Middle East, Bitcoin's electricity consumption is bigger than that of Syria and Jordan, Yemen, Oman and Bahrain. Further in Asia, there's Afghanistan, Turkmenistan, Tajikistan and Kirgizstan; Nepal, Bhutan and Sri Lanka; Burma, Laos and Cambodia; Brunei Mongolia and Papua New Guinea; and (perhaps unsurprisingly; see #218) – North Korea.
The U.S. is the world's #1 electricity-consuming nation, and Bitcoin uses only 0.74% of the electricity America needs in a year. But quite a few states fall below the Bitcoin threshold: Maine, Vermont, New Hampshire and Rhode Island in the northeast; Delaware and DC in the Mid-Atlantic region; Wyoming, Montana, Idaho and the Dakotas in the Plains, and New Mexico in the southwest. And Alaska and Hawaii.
Alaska is the state with the lowest energy consumption in the U.S. Annual Bitcoin mining equals 472% of Alaska's annual electricity needs.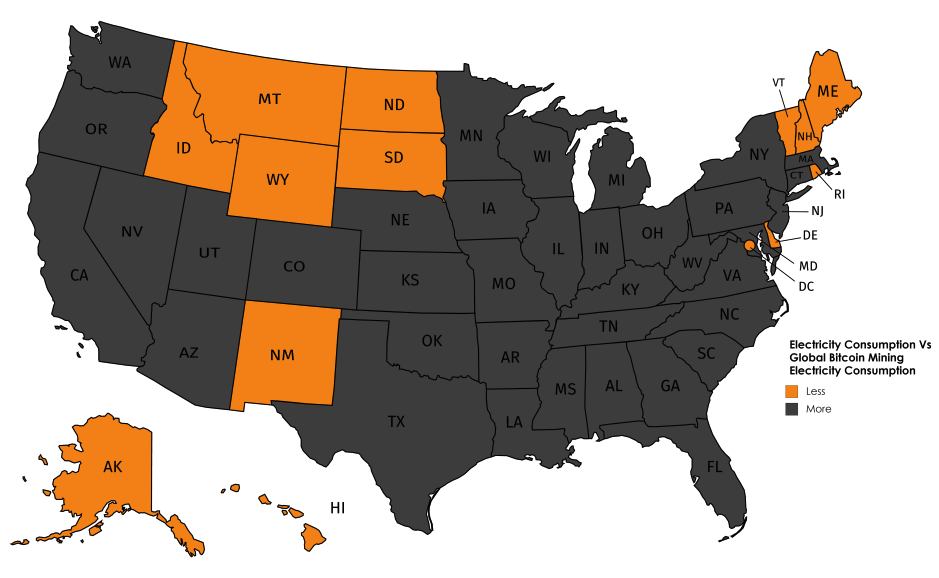 BECI estimates that Bitcoin mining costs about $1.5 billion annually – but only if we assume that the mining occurs where electricity is cheap (some areas of China, for example). At average U.S. electricity prices, the cost would be just over $3 billion. However, with estimated annual revenues of Bitcoin mining currently at $7.2 billion, it remains a very profitable endeavour.
The amount of electricity consumed by Bitcoin mining is already huge, but is still rising fast. In a 30-day period from past October to November, it increased by just under 30%. At this rate (and assuming no new energy-generating capacity is added), Bitcoin mining will require all the electricity produced in the U.S. by July 2019, and all the electricity produced in the entire world by February 2020.
Maps found here at Powercompare.co.uk. Many thanks to Jeremy Hoogmartens and Tom Kittmann. 
Strange Maps #872 
Got a strange map? Let me know at strangemaps@gmail.com.
(1) A watt-hour (Wh) is a unit of energy equal to one watt of power sustained for one hour. A kilowatt-hour (kWh) is a thousand of those units. It can power a 100-watt lightbulb for 10 hours, or a 250-watt flatscreen TV for 4 hours. And a terawatt-hour (TWh) is a billion kilowatt-hours, which is the energy equivalent of 590,000 barrels of oil.
As religious diversity increases in the United States, we must learn to channel religious identity into interfaith cooperation.
Sponsored by Charles Koch Foundation
Religious diversity is the norm in American life, and that diversity is only increasing, says Eboo Patel.
Using the most painful moment of his life as a lesson, Eboo Patel explains why it's crucial to be positive and proactive about engaging religious identity towards interfaith cooperation.
The opinions expressed in this video do not necessarily reflect the views of the Charles Koch Foundation, which encourages the expression of diverse viewpoints within a culture of civil discourse and mutual respect.
Here's why you might eat greenhouse gases in the future.
Technology & Innovation
The company's protein powder, "Solein," is similar in form and taste to wheat flour.
Based on a concept developed by NASA, the product has wide potential as a carbon-neutral source of protein.
The man-made "meat" industry just got even more interesting.
When it comes to sniffing out whether a source is credible or not, even journalists can sometimes take the wrong approach.
Sponsored by Charles Koch Foundation
We all think that we're competent consumers of news media, but the research shows that even journalists struggle with identifying fact from fiction.
When judging whether a piece of media is true or not, most of us focus too much on the source itself. Knowledge has a context, and it's important to look at that context when trying to validate a source.
The opinions expressed in this video do not necessarily reflect the views of the Charles Koch Foundation, which encourages the expression of diverse viewpoints within a culture of civil discourse and mutual respect.