How Bitcoin consumes more energy than 159 individual countries
By 2020, Bitcoin mining will consume more energy than the world currently produces
01 December, 2017
---
This map doesn't deal with the phenomenal rise in value of Bitcoin, nor the cryptocurrency's coming crash, which some financial experts say is as inevitable as that of any pyramid scheme. But it does provide another angle on the digital currency, which has shot up in value from $1,000 to more than $10,000 within this year.
The growth of Bitcoin has also led to an exponential increase in 'Bitcoin mining': the computer processing power required to keep the blockchain – the decentralised, encrypted records upon which the value of Bitcoin depends – consistent and unaltered.
According to the Bitcoin Energy Consumption Index (BECI) maintained by Digiconomist, every individual Bitcoin transaction eats up 275 kWh of electricity, and the latest estimate of Bitcoin's total annual energy consumption is in the vicinity of 29.05 TWh (1).
That is the equivalent of 0.13% of the entire world's annual energy consumption. And that is more than the individual energy consumption of 159 of the world's countries. That's the orange on this map: each of those countries uses less electricity per year than it takes to power Bitcoin. In fact, if Bitcoin were a country, it'd rank 61st in the world in terms of electricity consumption.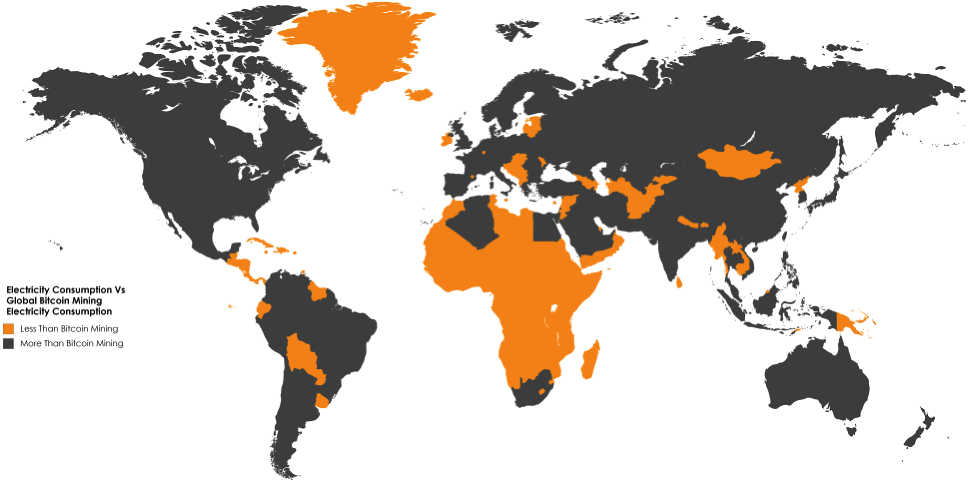 As the map shows, Bitcoin consumes more energy on an annual basis than all but three of the 54 countries in Africa. Only Algeria, Egypt and South Africa out-consume the virtual currency. But not otherwise large and important countries like Nigeria, DR Congo or Kenya.
In the Americas, all Caribbean nations (includeing Cuba) use less electricity than Bitcoin, as do Suriname and Guyana, Uruguay and Paraguay, Bolivia and Ecuador, and each of the six Central American nations (Panama, Costa Rica, Nicaragua, El Salvador, Honduras and Guatemala).
Bitcoin uses up more electricity than Ireland, and several other European nations. Tiny ones like the Vatican, San Marino, Liechtenstein, Andorra, Malta and Luxembourg; and not-so-tiny ones, like Slovakia, Hungary and Albania, all the ex-Yugoslav states (Slovenia, Croatia, Bosnia, Serbia, Kosovo, Montenegro, Macedonia), Cyprus, the three Baltics (Lithuania, Latvia, Estonia), and the three Transcaucasian republics (Georgia, Armenia, Azerbaijan).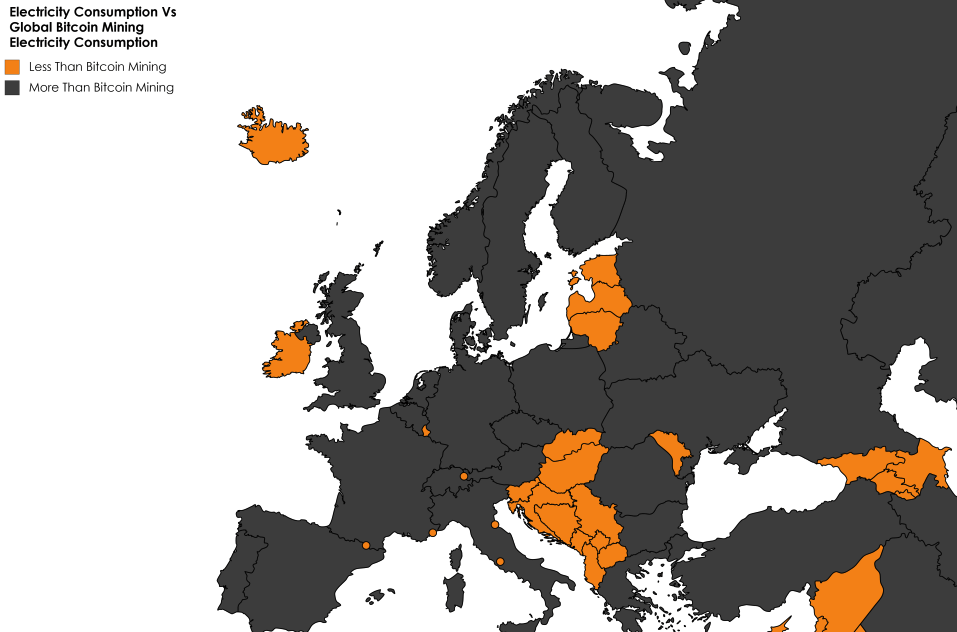 In the Middle East, Bitcoin's electricity consumption is bigger than that of Syria and Jordan, Yemen, Oman and Bahrain. Further in Asia, there's Afghanistan, Turkmenistan, Tajikistan and Kirgizstan; Nepal, Bhutan and Sri Lanka; Burma, Laos and Cambodia; Brunei Mongolia and Papua New Guinea; and (perhaps unsurprisingly; see #218) – North Korea.
The U.S. is the world's #1 electricity-consuming nation, and Bitcoin uses only 0.74% of the electricity America needs in a year. But quite a few states fall below the Bitcoin threshold: Maine, Vermont, New Hampshire and Rhode Island in the northeast; Delaware and DC in the Mid-Atlantic region; Wyoming, Montana, Idaho and the Dakotas in the Plains, and New Mexico in the southwest. And Alaska and Hawaii.
Alaska is the state with the lowest energy consumption in the U.S. Annual Bitcoin mining equals 472% of Alaska's annual electricity needs.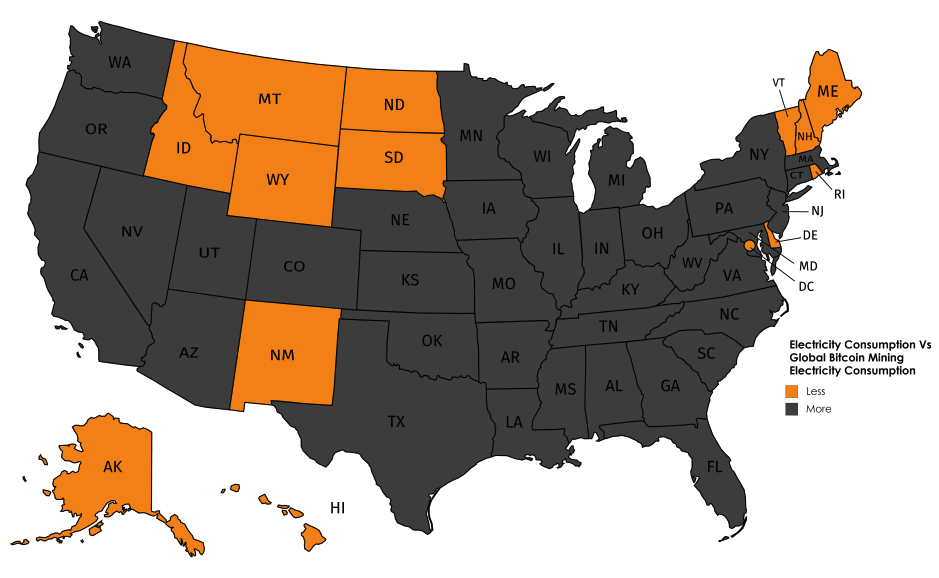 BECI estimates that Bitcoin mining costs about $1.5 billion annually – but only if we assume that the mining occurs where electricity is cheap (some areas of China, for example). At average U.S. electricity prices, the cost would be just over $3 billion. However, with estimated annual revenues of Bitcoin mining currently at $7.2 billion, it remains a very profitable endeavour.
The amount of electricity consumed by Bitcoin mining is already huge, but is still rising fast. In a 30-day period from past October to November, it increased by just under 30%. At this rate (and assuming no new energy-generating capacity is added), Bitcoin mining will require all the electricity produced in the U.S. by July 2019, and all the electricity produced in the entire world by February 2020.
Maps found here at Powercompare.co.uk. Many thanks to Jeremy Hoogmartens and Tom Kittmann. 
Strange Maps #872 
Got a strange map? Let me know at strangemaps@gmail.com.
(1) A watt-hour (Wh) is a unit of energy equal to one watt of power sustained for one hour. A kilowatt-hour (kWh) is a thousand of those units. It can power a 100-watt lightbulb for 10 hours, or a 250-watt flatscreen TV for 4 hours. And a terawatt-hour (TWh) is a billion kilowatt-hours, which is the energy equivalent of 590,000 barrels of oil.
Big Think
Sponsored by Lumina Foundation
Upvote/downvote each of the videos below!

As you vote, keep in mind that we are looking for a winner with the most engaging social venture pitch - an idea you would want to invest in.
Here are 7 often-overlooked World Heritage Sites, each with its own history.
Culture & Religion
UNESCO World Heritage Sites are locations of high value to humanity, either for their cultural, historical, or natural significance.
Some are even designated as World Heritage Sites because humans don't go there at all, while others have felt the effects of too much human influence.
These 7 UNESCO World Heritage Sites each represent an overlooked or at-risk facet of humanity's collective cultural heritage.
Famous physicists like Richard Feynman think 137 holds the answers to the Universe.
Pixabay
Surprising Science
The fine structure constant has mystified scientists since the 1800s.
The number 1/137 might hold the clues to the Grand Unified Theory.
Relativity, electromagnetism and quantum mechanics are unified by the number.
A new method promises to capture an elusive dark world particle.
Surprising Science
Scientists working on the Large Hadron Collider (LHC) devised a method for trapping dark matter particles.
Dark matter is estimated to take up 26.8% of all matter in the Universe.
The researchers will be able to try their approach in 2021, when the LHC goes back online.
Big think's weekly newsletter.
Get smarter faster from the comfort of your inbox.
See our newsletter privacy policy
here
Most Popular
Most Recent
Big think's weekly newsletter.
Get smarter faster from the comfort of your inbox.
See our newsletter privacy policy
here
© Copyright 2007-2019 & BIG THINK, BIG THINK EDGE,
SMARTER FASTER trademarks owned by The Big Think, Inc. All rights reserved.