America's divorce: Left and Right each get half the country
A map of the coming divorce between Left and Right America.
13 April, 2018
Has America's political polarisation reached a point of no return? Jesse Kelly seems to think so. Writing in The Federalist, he proposes to cut the U.S. into two new states: one for the Left, one for the Right.
---
The middle ground in American politics has been shrinking for decades. Ironically, that's one of the few things that Left and Right can still agree on. When immigration, gun control or any other major political issue comes up, both sides reflexively retreat to positions that are not just diametrically opposed, but also mutually exclusive. Meaning that the other side is not just wrong, but stupid, dangerous and evil to boot.
"(The American Left and Right) are now the couple screaming at each other all night, every night, as the kids hide in their room," says Kelly, who identifies firmly with the Right: "The GOP may have the House, Senate, and presidency, but we have completely lost the culture war," he admits, predicting that his side "will only accept this kind of abuse for so long."
As with couples, so with countries: divorce may be painful, but it may be the least bad option. Because "(s)ooner or later, the left-wing rage mob will start coming for the careers (and lives) of any normal American who sees things differently (…) This idea of breaking up the country may seem a bit outlandish now, but you won't think so once real domestic unrest comes to your town."
Despite the disastrous precedent of the Civil War, Kelly argues that breaking up need not be violent or traumatizing, pointing to Czechoslovakia's Velvet Divorce in 1993 (1) as a model for a breakup of the (formerly) United States. A breakup into what, exactly?
Helpfully, he's already figured out the shape of things to come—and provides names for both new countries. "We can and will draw the map and argue over it a million different ways for a million different reasons but draw it we must. I've got my own map, and I suspect the final draft would look similar," Kelly says.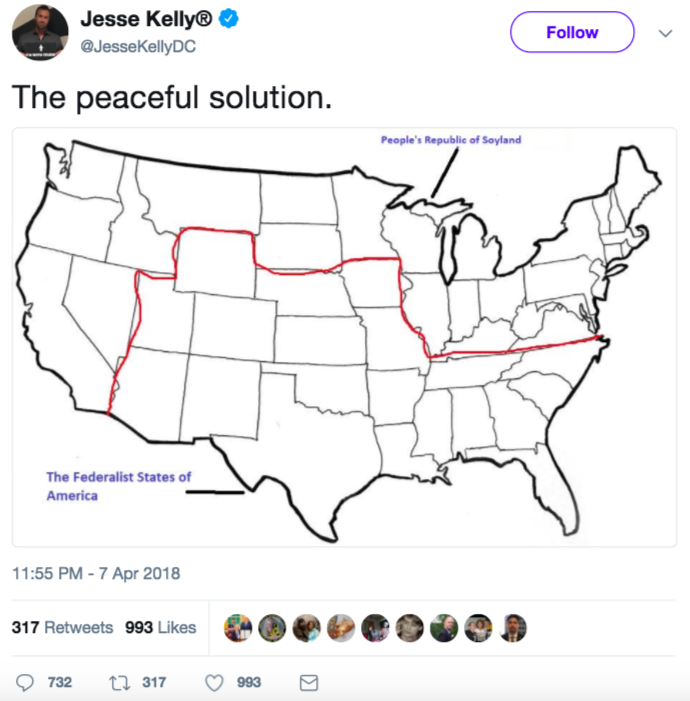 Long story short: the Left gets the north, provisionally called the 'People's Republic of Soyland'. The Right gets the south, labeled the 'Federalist States of America'.
The new south (a.k.a. the FSA) includes almost all of the old Confederacy (Virginia has been abandoned to the northerners) but also a lot of extra states, all the way up to Wyoming. The new north (PRS for short) also includes all of the West Coast and is granted overland access to left-leaning territory back east (i.e. a large part of the Midwest, and the Northeast) via a corridor consisting of the (arguably more right- than left-wing) Dakotas and Montana.
Kelly, a Marine Corps combat veteran and former congressional candidate in Arizona, is not the first to sense that America's ideological differences have a geographic component.
After almost every presidential election, maps pop up showing how the country is divided into places like the United States of Canada and Jesusland (see #3), or Trumpistan and Clintonesia (see #810).
Linking territory to ideology has an even older pedigree. The principle that finally settled the religious wars that had destroyed Germany in the 16th century was called Cuius regio, eius religio: 'Whose realm, his religion'. Meaning that the dominant religion in each of the many states into which Germany was divided back then was decided by the ruler of each state. If you didn't like it, you could move.
Is America moving in that direction? Jesse Kelly hopes so, and sees signs others are hopping aboard his train of thought: "Just last week, a group of lawmakers in South Carolina introduced a bill that would allow the state to secede if the federal government starts seizing guns."
Interesting historical parallel: South Carolina was the first state to secede from the Union back in December 1860.

Jesse Kelly's article and map found here at The Federalist.
Strange Maps #898
Got a strange map? Let me know at strangemaps@gmail.com.
(1) Divorced, but still living together: the Czech Republic and Slovakia are now both full members of the European Union.
Understanding thinking talents in yourself and others can build strong teams and help avoid burnout.
Big Think Edge
Learn to collaborate within a team and identify "thinking talent" surpluses – and shortages.

Angie McArthur teaches intelligent collaboration for Big Think Edge.

Subscribe to Big Think Edge before we launch on March 30 to get 20% off monthly and annual memberships.
Archeologists had been doubtful since no such ship had ever been found.
(Christoph Gerigk/Franck Goddio/Hilti Foundation)
Surprising Science
In 450 BCE, Greek historian Herodotus described a barge that's never been found.
When the ancient port of Thonis-Heracleion was discovered, some 70 sunken ships were found resting in its waters.
One boat, Ship 17, uncannily matches the Herodotus' description.
The blood of horseshoe crabs is harvested on a massive scale in order to retrieve a cell critical to medical research. However, recent innovations might make this practice obsolete.
Credit: Business Insider (video)
Surprising Science
Horseshoe crabs' blue blood is so valuable that a quart of it can be sold for $15,000.
This is because it contains a molecule that is crucial to the medical research community.
Today, however, new innovations have resulted in a synthetic substitute that may end the practice of farming horseshoe crabs for their blood.
The Canadian professor has been on the Joe Rogan Experience six times. There's a lot of material to discuss.
Personal Growth
Jordan Peterson has constantly been in the headlines for his ideas on gender over the last three years.
While on Joe Rogan's podcast, he explains his thoughts on the gender differences in society.
On another episode, Peterson discusses the development of character through competition.
Big think's weekly newsletter.
Get smarter faster from the comfort of your inbox.
See our newsletter privacy policy
here
Most Popular
Most Recent
Big think's weekly newsletter.
Get smarter faster from the comfort of your inbox.
See our newsletter privacy policy
here
© Copyright 2007-2018 & BIG THINK, BIG THINK EDGE,
SMARTER FASTER trademarks owned by The Big Think, Inc. All rights reserved.