Big ideas.
Once a week.
Subscribe to our weekly newsletter.
Africa, uncolonized: a detailed look at an alternate continent
What if the Black Plague had killed off almost all Europeans? Then this is what Africa might have looked like.
11 November, 2014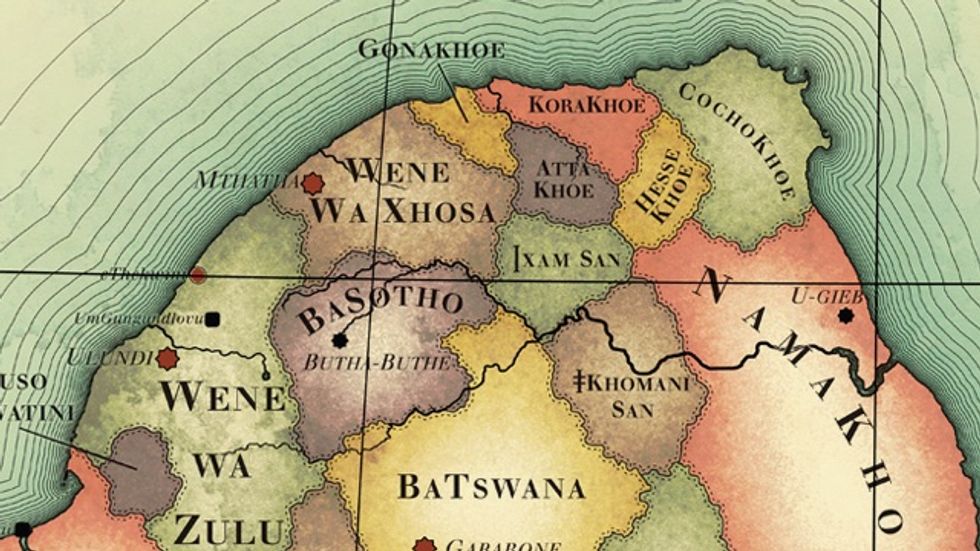 What if the Black Plague had killed off almost all Europeans? Then the Reconquista never happens. Spain and Portugal don't kickstart Europe's colonization of other continents. And this is what Africa might have looked like. 
---
The map – upside down, to skew our traditional eurocentric point of view – shows an Africa dominated by Islamic states, and native kingdoms and federations. All have at least some basis in history, linguistics or ethnography. None of their borders is concurrent with any of the straight lines imposed on the continent by European powers, during the 1884-85 Berlin Conference and in the subsequent Scramble for Africa. By 1914, Europeans controlled 90% of Africa's land mass. Only the Abyssinian Empire (modern-day Ethiopia) and Liberia (founded in 1847 as a haven for freed African-American slaves) remained independent.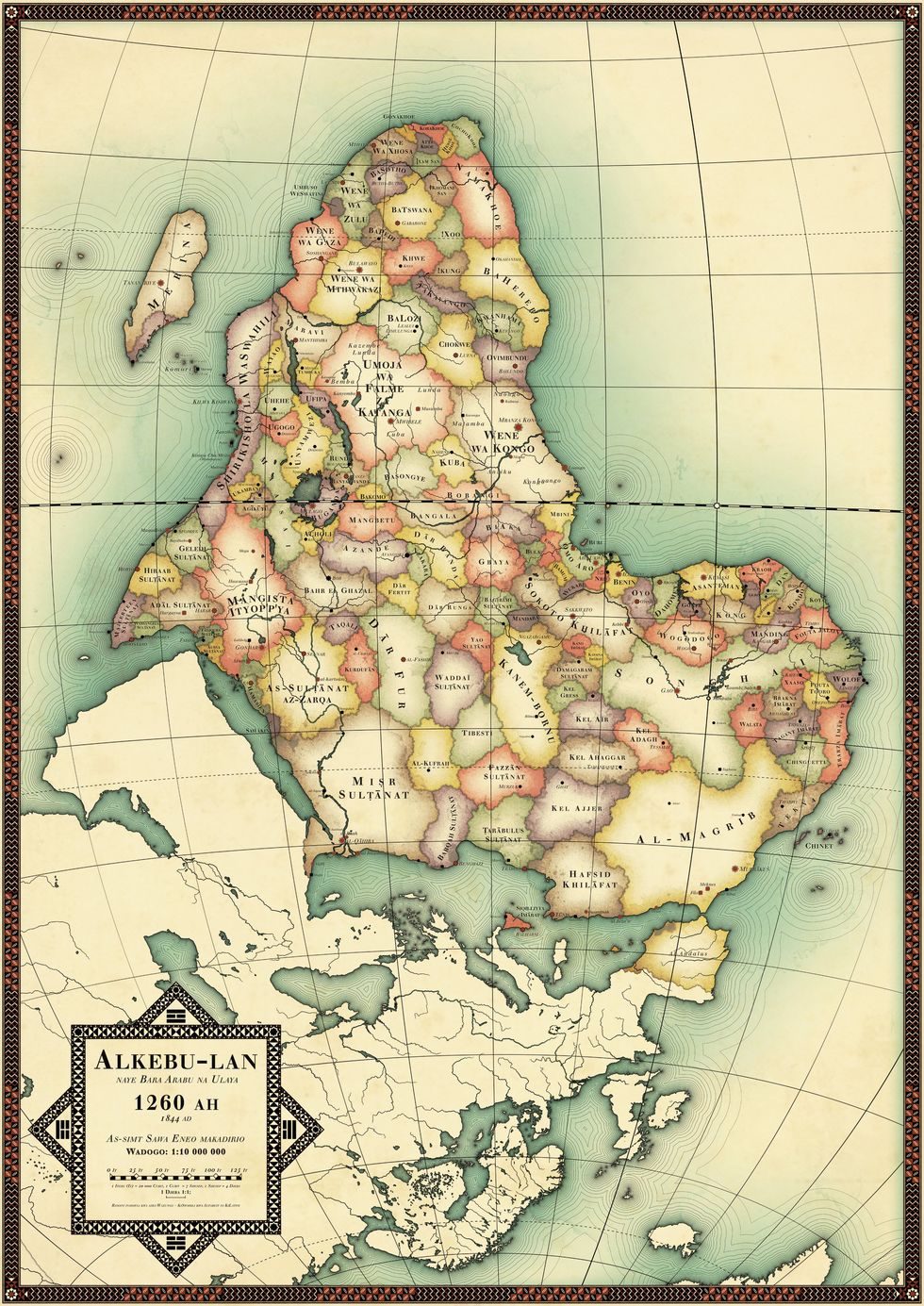 This map is the result of an entirely different course of history. The continent depicted here isn't even called Africa [1] but Alkebu-Lan, supposedly Arabic for 'Land of the Blacks' [2]. That name is sometimes used by those who reject even the name 'Africa' as a European imposition. It is therefore an ideal title for this thought experiment by Swedish artist Nikolaj Cyon. Essentially, it formulates a cartographic answer to the question: What would Africa have looked like if Europe hadn't become a colonizing power? 
To arrive at this map, Cyon constructed an alternative timeline. Its difference from our own starts in the mid-14th century. The point of divergence: the deadliness of the Plague. In our own timeline, over the course of the half dozen years from 1346 to 1353, the Black Death [3] wiped out between 30 and 60% of Europe's population. It would take the continent more than a century to reach pre-Plague population levels. That was terrible enough. But what if Europe had suffered an even more catastrophic extermination – one from which it could not recover?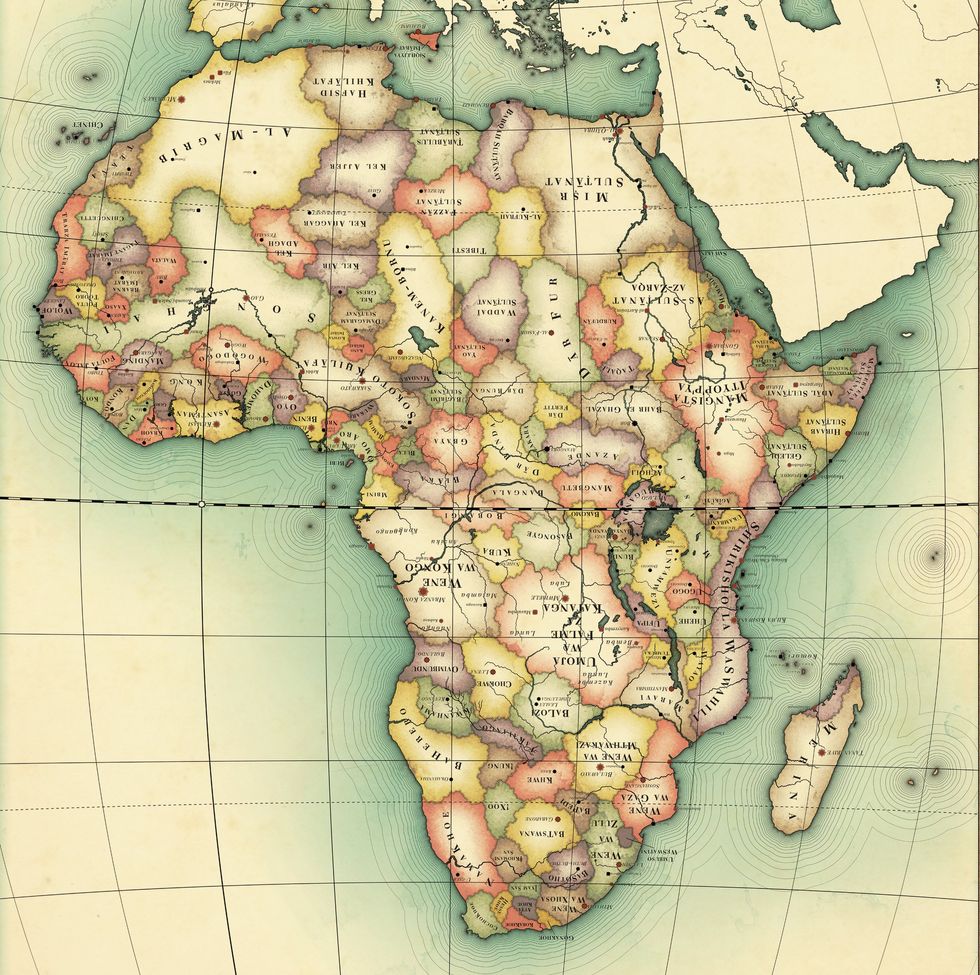 Allohistorical Africa, seen from our North-up perspective. The continent's superstates (at least size-wise): Al-Maghrib, Al-Misr, Songhai, Ethiopia, Kongo and Katanga.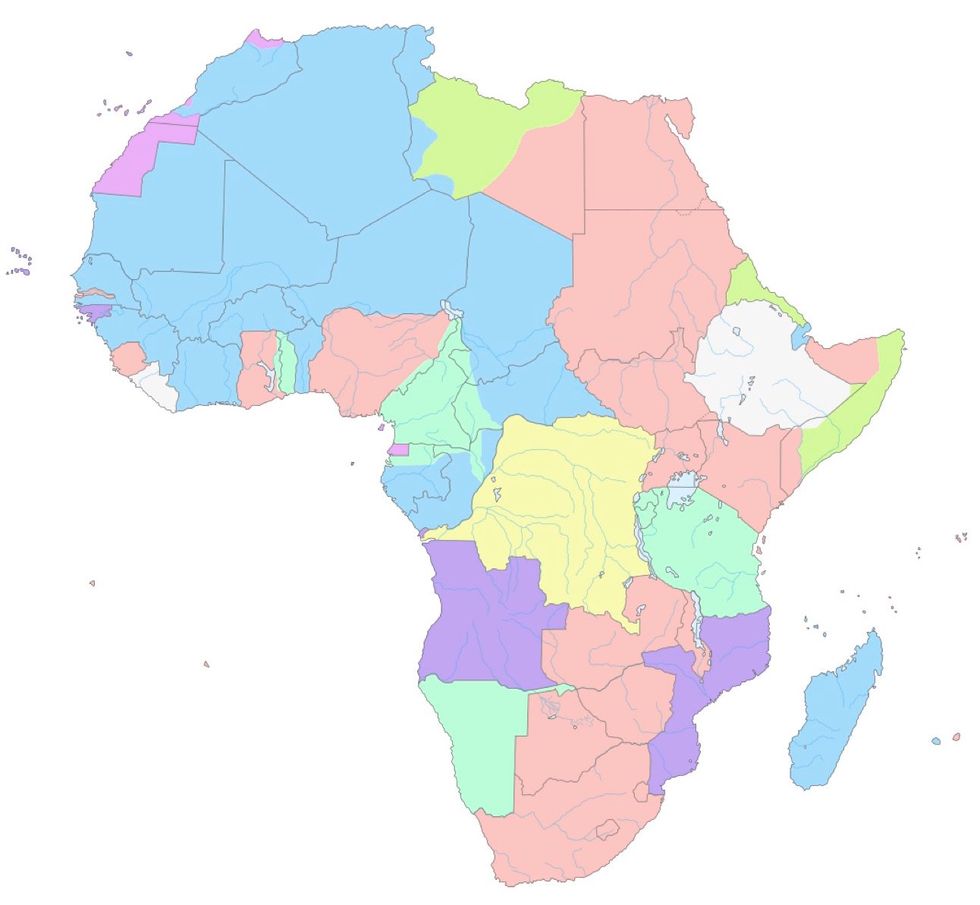 European colonies in Africa in 'our' 1913. Blue: France, pink: Britain, light green: Germany, dark green: Italy, light purple: Spain, dark purple: Portugal, yellow: Belgium, white: independent. Lines reflect current borders.
Cyon borrowed this counterfactual hypothesis from The Years of Rice and Salt, an alternate history novel by Kim Stanley Robinson. The book, first published in 2002, explores how the depopulation of Europe would have altered world history. Robinson speculates that Europe would have been colonized by Muslims from the 14th century onwards, and that the 20th century would see a world war between a sprawling Muslim alliance on the one side, and the Chinese empire and the Indian and native American federations on the other.
Cyon focuses on Africa – or rather, Alkebu-Lan – which in his version of events doesn't suffer the ignomy and injustice of the European slave trade and subsequent colonization. In our timeline, Europe's domination of Africa obscured the latter continent's rich history and many cultural achievements. On the map of Cyon's Africa, a many-splendored landscape of nations and empires, all native to the continent itself, gives the lie to the 19th- and 20th-century European presumption that Africa merely was a 'dark continent' to be enlightened, or a 'blank page' for someone else to write upon. 
Basing himself on Unesco's General History of Africa, Cyon built his map around historical empires, linguistic regions and natural boundaries. His snapshot is taken in 1844 (or 1260 Anno Hegirae), also the date of a map of tribal and political units in Unesco's multi-volume General History.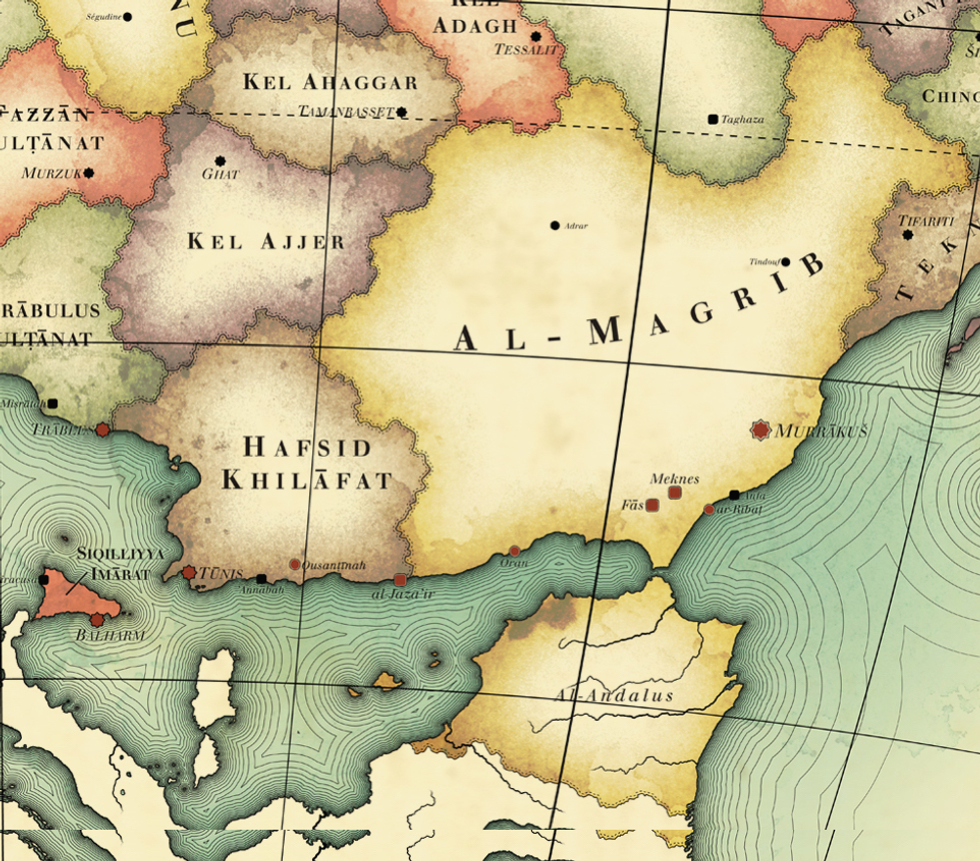 Al-Andalus, in this timeline still a dependency of Al-Maghrib; and the Emirate of Sicily to the left of the map.
Zooming in on the northern (bottom) part of the map, we see an ironic reversal of the present situation: in our timeline, Spain is still holding on to Ceuta, Melilla and other plazas de soberania in Northern Africa. In Cyon's world, most of the Iberian peninsula still called Al-Andalus, and is an overseas part of Al-Maghrib, a counterfactual Moroccan superstate covering a huge swathe of northwestern Africa. Sicily, which we consider to be part of Europe, is colored in as African, and goes by the name of Siqilliyya Imārat (Emirate of Sicily). 
The Arabic is no accident. Absent the European imprint, Islam has left an even more visible mark on large swathes of North, West and East Africa than it has today. Numerous states carry the nomenclature Sultānat, Khilāfat or Imārat. The difference between a Caliphate, Sultanate and Emirate? 
A Caliph claims supreme religious and political leadership as the successor (caliph) to Muhammad, ideally over all Muslims. I spot two Caliphates on the map: Hafsid (centered on Tunis, but much larger than Tunisia), and Sokoto in West Africa (nowadays: northwest Nigeria).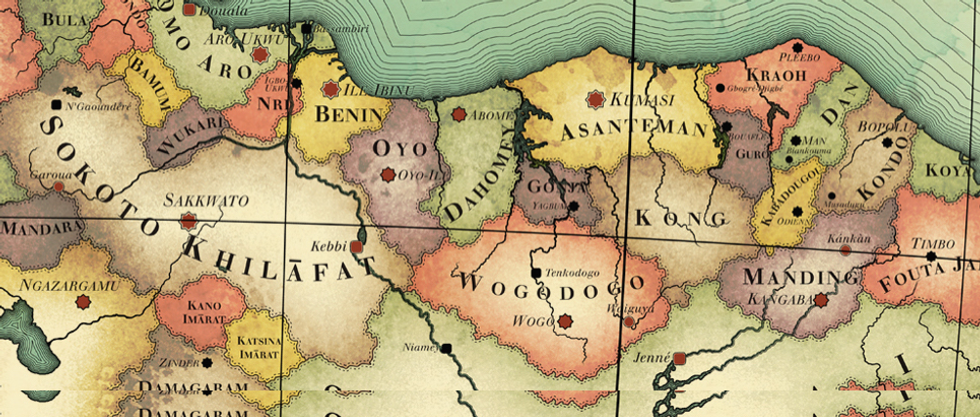 Sokoto, Dahomey, Benin and other states in country-rich West Africa. 
A Sultan is an independent Islamic ruler who does not claim spiritual leadership. Five states in the greater Somalia region are Sultanates, for example: Majerteen, Hiraab, Geledi, Adāl and Warsangele. Others include Az-Zarqa (in present-day Sudan), Misr (Egypt, but also virtually all of today's Israel), and Tarābulus (capital: Tripoli, in our Libya). 
An Emir is a prince or a governor of a province, implying some suzerainity to a higher power. There's a cluster of them in West Africa: Trarza, Tagant, Brakna, all south of Al-Maghrib. But they are elsewhere too: Kano and Katsina, just north of Sokoto. 
Islam of course did not originate in Africa, and some would claim that its dominance of large areas of Africa, at the expense of pre-existing belief systems, is as much an example of foreign cultural imperialism as the spread of Western religions and languages is in our day. But that is material for another thought experiment. This one aims to filter out the European influence.
Neither European nor Arab influence is in evidence in the southern part of Africa – although some toponyms relate directly to states in our timeline: BaTswana is Botswana, Wene wa Kongo refers to the two countries bearing that name. Umoja wa Falme za Katanga is echoed in the name of the DR Congo's giant inland province, Katanga. Rundi, Banyarwanda and Buganda, squeezed in between the Great Lakes, are alternative versions of 'our' Burundi, Rwanda and Uganda.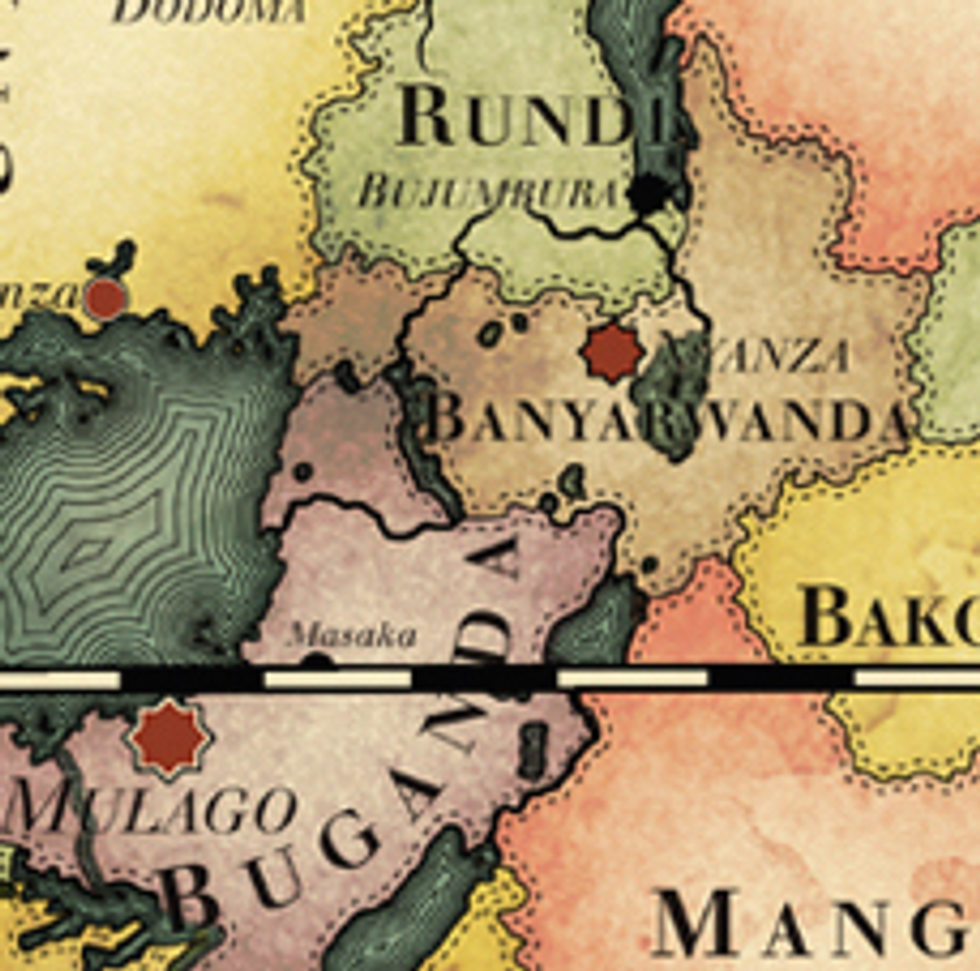 Some familiar-sounding names around the Great Lakes.
There is an interesting parallel to the Africa/Alkebu-Lan dichotomy in the toponymic ebb and flow of Congo and Zaïre as names for the former Belgian colony at the center of the continent. Congo, denoting both the stream and the two countries on either of its lower banks [4], derives from 16th- and 17th-century Bantu kingdoms such as Esikongo, Manikongo and Kakongo near the mouth of the river.
The name was taken up by European cartographers and the territory it covered eventually reached deep inland. But because of its long association with colonialism, and also to fix his own imprint on the country, Congo's dictator Mobutu in 1971 changed the name of the country and the stream to Zaïre. The name-change was part of a campaign for local authenticity which also entailed the Africanisation of the names of persons and cities [5], and the introduction of the abacos [6] – a local alternative to European formal and businesswear.
Curiously for a campaign trying to rid the country of European influences, the name Zaïre actually was a Portuguese corruption of Nzadi o Nzere, a local term meaning 'River that Swallows Rivers'. Zaïre was the Portuguese name for the Congo stream in the 16th and 17th centuries, but gradually lost ground to Congo before being picked up again by Mobutu.
After the ouster and death of Mobutu, the country reverted to its former name, but chose the predicate Democratic Republic to distinguish itself from the Republic of Congo across the eponymous river.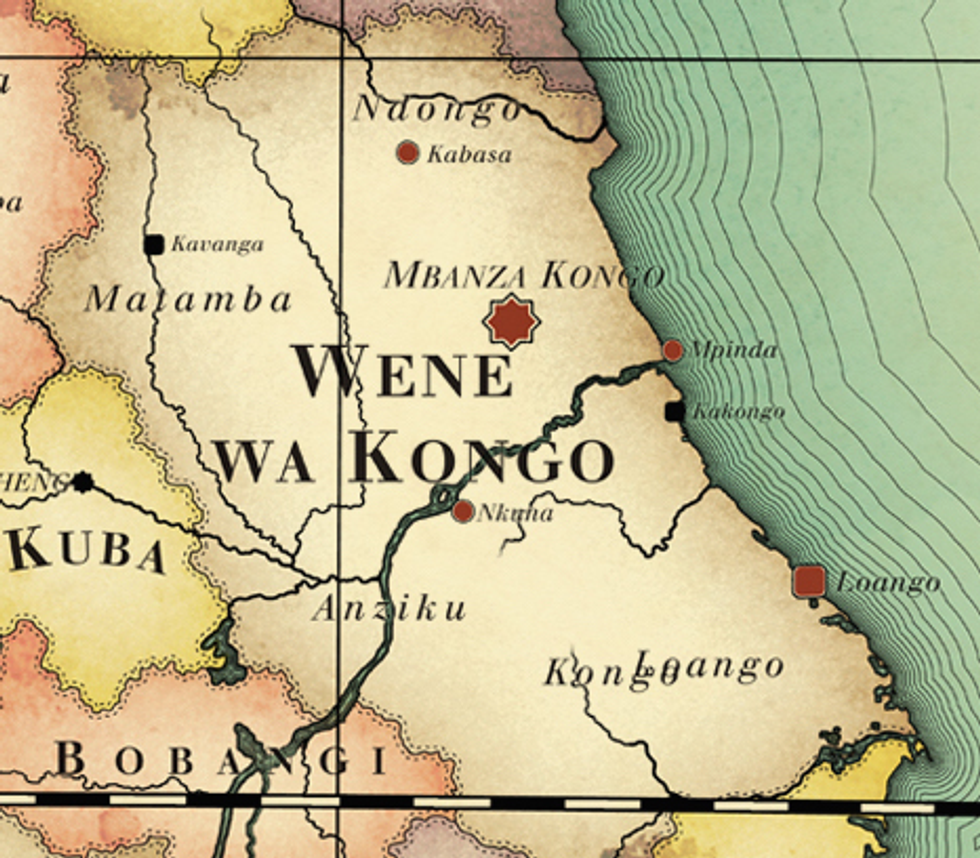 Kongo - a coastal superstate in the alternative timeline.
This particular tug of war is emblematic for the symbolism attached to place names, especially in Africa, where many either refer to a precolonial past (e.g. Ghana and Benin, named after ancient kingdoms), represent the vestiges of the colonial era (e.g. Lüderitz, in Namibia), or attempt to build a postcolonial consensus (e.g. Tanzania, a portmanteau name for Tanganyika and Zanzibar). 
By taking the colonial trauma out of the equation, this map offers a uniquely a-colonial perspective on the continent, whether it is called Africa or Alkebu-Lan.
Map of Alkebu-Lan and excerpts thereof reproduced by kind permission of Nikolaj Cyon. See it in full resolution on this page of his website. Map of Africa in 1913 by Eric Gaba (Wikimedia Commons User: Sting), found here on Wikimedia Commons. 
Strange Maps #688
Got a strange map? Let me know at strangemaps@gmail.com.
[1] A name popularized by the Romans. It is of uncertain origin, possibly meaning 'sunny', 'dusty' or 'cave-y'.
[2] The origin and meaning of the toponym are disputed. The Arabic for 'Land of the Blacks' would be Bilad as-Sudan, which is how the present-day country of Sudan got its name.Other translations offered for Alkebu-Lan (also rendered as Al-Kebulan or Alkebulan) are 'Garden of Life', 'Cradle of Life', or simply 'the Motherland'. Although supposedly of ancient origin, the term was popularized by the academic Yosef A.A. Ben-Jochannan (b. 1918). The term is not a 20th-century invention, however. Its first traceable use is in La Iberiada (1813), an epic poem from 1813 by Ramón Valvidares y Longo. In the index, where the origin of 'Africa' is explained, it reads: "Han dado las naciones á este pais diversos nombres, llamándole Ephrikia los Turcos, Alkebulan los Arabes, Besecath los Indios, y los pueblos del territorio Iphrikia ó Aphrikia: los Griegos, en fin, le apellidaron Libia, y despues Africa, cuyo nombre han adoptado los Españoles, Italianos, Latinos, Ingleses y algunos otros pueblos de la Europa". 
[3] A.k.a. the Plague, a very contagious and highly deadly disease caused by Yersinia pestis. That bacterium infested the fleas that lived on the rats coming over from Crimea to Europe on Genoese merchant ships.
[4] In fact, Brazzaville and Kinshasa, capitals of the Republic of Congo and the Democratic Republic of Congo respectively, are positioned across from each other on the banks of the Congo River – the only example in the world of two national capitals adjacent to each other.
[5] The 'founder-president' himself changed his name from Joseph-Désiré Mobutu to Mobutu Sese Seko Kuku Ngbendu wa za Banga. The capital Léopoldville was renamed Kinshasa, after an ancient village on the same site.
[6] Despite the African-sounding name, abacos is an acronym of à bas costumes, or: 'Down with (Western) suits'.
"You dream about these kinds of moments when you're a kid," said lead paleontologist David Schmidt.
Surprising Science
The triceratops skull was first discovered in 2019, but was excavated over the summer of 2020.
It was discovered in the South Dakota Badlands, an area where the Triceratops roamed some 66 million years ago.
Studying dinosaurs helps scientists better understand the evolution of all life on Earth.
In ancient Greece, the Olympics were never solely about the athletes themselves.
Coronavirus
Because of a dramatic rise in COVID-19 cases, the opening and closing ceremonies of the 2021 Olympics will unfold in a stadium absent the eyes, ears and voices of a once-anticipated 68,000 ticket holders from around the world.
Events during the intervening days will likewise occur in silent arenas missing the hundreds of thousands of spectators who paid US$815 million for their now-useless tickets.
After 48 years teaching classics, I can't help but wonder what the Greeks – who invented the Games nearly 3,000 years ago, in 776 B.C. – would make of such a ghostly version of their Olympic festival.
In many ways, they'd view the prospect as absurd.
In ancient Greece, the Olympics were never solely about the athletes themselves; instead, the heart and soul of the festival was the experience shared by all who attended. Every four years, athletes and spectators traveled from far-flung corners of the Greek-speaking world to Olympia, lured by a longing for contact with their compatriots and their gods.
In the shadow of dreams
For the Greeks, during five days in the late-summer heat, two worlds miraculously merged at Olympia: the domain of everyday life, with its human limits, and a supernatural sphere from the days superior beings, gods and heroes populated Earth.
Greek athletics, like today's, plunged participants into performances that pushed the envelope of human ability to its breaking point. But to the Greeks, the cauldron of competition could trigger revelations in which ordinary mortals might briefly intermingle with the extraordinary immortals.
The poet Pindar, famous for the victory songs he composed for winners at Olympia, captured this sort of transcendent moment when he wrote, "Humans are creatures of a day. But what is humankind? What is it not? A human is just the shadow of a dream – but when a flash of light from Zeus comes down, a shining light falls on humans and their lifetime can be sweet as honey."
However, these epiphanies could occur only if witnesses were physically present to immerse themselves – and share in – the spine-tingling flirtation with the divine.
Simply put, Greek athletics and religious experience were inseparable.
At Olympia, both athletes and spectators were making a pilgrimage to a sacred place. A modern Olympics can legitimately take place in any city selected by the International Olympic Committee. But the ancient games could occur in only one location in western Greece. The most profoundly moving events didn't even occur in the stadium that accommodated 40,000 or in the wrestling and boxing arenas.
Instead, they took place in a grove called the Althis, where Hercules is said to have first erected an altar, sacrificed oxen to Zeus and planted a wild olive tree. Easily half the events during the festival engrossed spectators not in feats like discus, javelin, long jump, foot race and wrestling, but in feasts where animals were sacrificed to gods in heaven and long-dead heroes whose spirits still lingered.
On the evening of the second day, thousands gathered in the Althis to reenact the funeral rites of Pelops, a human hero who once raced a chariot to win a local chief's daughter. But the climactic sacrifice was on the morning of the third day at the Great Altar of Zeus, a mound of plastered ashes from previous sacrifices that stood 22 feet tall and 125 feet around. In a ritual called the hecatomb, 100 bulls were slaughtered and their thigh bones, wrapped in fat, burned atop the altar so that the rising smoke and aroma would reach the sky where Zeus could savor it.
No doubt many a spectator shivered at the thought of Zeus hovering above them, smiling and remembering Hercules' first sacrifice.
Just a few yards from the Great Altar another, more visual encounter with the god awaited. In the Temple of Zeus, which was erected around 468 to 456 B.C., stood a colossal image, 40 feet high, of the god on a throne, his skin carved from ivory and his clothing made of gold. In one hand he held the elusive goddess of victory, Nike, and in the other a staff on which his sacred bird, the eagle, perched. The towering statue was reflected in a shimmering pool of olive oil surrounding it.
During events, the athletes performed in the nude, imitating heroic figures like Hercules, Theseus or Achilles, who all crossed the dividing line between human and superhuman and were usually represented nude in painting and sculpture.
The athletes' nudity declared to spectators that in this holy place, contestants hoped to reenact, in the ritual of sport, the shudder of contact with divinity. In the Althis stood a forest of hundreds of nude statues of men and boys, all previous victors whose images set the bar for aspiring newcomers.
"There are a lot of truly marvelous things one can see and hear about in Greece," the Greek travel writer Pausanias noted in the second century B.C., "but there is something unique about how the divine is encountered at … the games at Olympia."
Communion and community
The Greeks lived in roughly 1,500 to 2,000 small-scale states scattered across the Mediterranean and Black Sea regions.
Since sea travel in summertime was the only viable way to cross this fragile geographical web, the Olympics might entice a Greek living in Southern Europe and another residing in modern-day Ukraine to interact briefly in a festival celebrating not only Zeus and Heracles but also the Hellenic language and culture that produced them.
Besides athletes, poets, philosophers and orators came to perform before crowds that included politicians and businessmen, with everyone communing in an "oceanic feeling" of what it meant to be momentarily united as Greeks.
Egisto Sani/flickr, CC BY-NC
Now, there's no way we could explain the miracle of TV to the Greeks and how its electronic eye recruits millions of spectators to the modern games by proxy. But visitors to Olympia engaged in a distinct type of spectating.

The ordinary Greek word for someone who observes – "theatês" – connects not only to "theater" but also to "theôria," a special kind of seeing that requires a journey from home to a place where something wondrous unfolds. Theôria opens a door into the sacred, whether it's visiting an oracle or participating in a religious cult.
Attending an athletic-religious festival like the Olympics transformed an ordinary spectator, a theatês, into a theôros – a witness observing the sacred, an ambassador reporting home the wonders observed abroad.
It's hard to imagine TV images from Tokyo achieving similar ends.
No matter how many world records are broken and unprecedented feats accomplished at the 2020 games, the empty arenas will attract no gods or genuine heroes: The Tokyo games are even less enchanted than previous modern games.
But while medal counts will confer fleeting glory on some nations and disappointing shame on others, perhaps a dramatic moment or two might unite athletes and TV viewers in an oceanic feeling of what it means to be "kosmopolitai," citizens of the world, celebrants of the wonder of what it means to be human – and perhaps, briefly, superhuman as well.
The ancient Greeks wouldn't recognize some aspects of the modern Olympics.
Vincent Farenga, Professor of Classics and Comparative Literature, USC Dornsife College of Letters, Arts and Sciences
This article is republished from The Conversation under a Creative Commons license. Read the original article.

A new brain imaging study explored how different levels of the brain's excitatory and inhibitory neurotransmitters are linked to math abilities.
Mind & Brain
Glutamate and GABA are neurotransmitters that help regulate brain activity.
Scientists have long known that both are important to learning and neuroplasticity, but their relationship to acquiring complex cognitive skills like math has remained unclear.
The new study shows that having certain levels of these neurotransmitters predict math performance, but that these levels switch with age.
Why do roughly one in five people find math especially difficult?
You might blame teaching methods, which some argue explains why the U.S. lags behind other countries in standardized math test scores. You could point to math anxiety, which affects about 20 percent of students and 25 percent of teachers, according to surveys. And there are also medical conditions that make math difficult, such as dyscalculia, a learning disability that disrupts the normal development of arithmetic skills.
But another explanation centers on neurotransmitters. In a new study published in PLOS Biology, researchers explored how the brain's levels of GABA and glutamate relate to math abilities over time in students of varying ages. The results showed that levels of these neurotransmitters can predict students' performance on math tests. However, this relationship seems to flip as people get older.
GABA and glutamate are responsible for regulating brain activity. In the mature brain, GABA is the brain's main inhibitory neurotransmitter, helping to block impulses between nerve cells in the brain, which can calm feelings of stress, anxiety, or fear. GABA is made from glutamate, the brain's major excitatory neurotransmitter that helps send signals throughout the central nervous system.
Researchers have long known that these neurotransmitters play crucial roles in learning, development, and neuroplasticity. That is partly because they are thought to help trigger developmental windows (or "sensitive periods") during which neural systems become more plastic and better able to acquire certain cognitive skills.
"Importantly, sensitive periods vary for different functions, with relatively simple abilities (e.g., sensorimotor integration) occurring earlier in development, while the sensitive period for acquiring more complex cognitive functions extends into the third decade of life," the researchers wrote.
GABA, glutamate, and math
Still, the exact relationship between GABA, glutamate, and complex cognitive functions has remained unclear. The new study explored that relationship by focusing on associations between the neurotransmitters and math abilities, which "provides a unique cognitive model to examine these questions due to its protracted skill acquisition period that starts already from early childhood and can continue for nearly two decades," the researchers wrote.
For the study, the researchers measured levels of GABA and glutamate in the left intraparietal sulcus (IPS) of 255 students, ranging from primary school to college. The participants completed a math test as their brains were imaged. About a year and a half later, the participants repeated the same process.
"The longitudinal design allowed us to further examine whether neurotransmitter concentration is linked to MA [mathematical abilities] as well as predict MA in the future," the researchers wrote. "Crucially, adopting this design allowed us to discern the selective effect of glutamate and GABA in response to natural (i.e., learning in school) rather than artificial environmental stimulation, thus allowing us to test the knowledge gained from lab-based experiments in high ecological settings."
The results suggest that GABA and glutamate play an important role in math abilities, but that the dynamic switches with age. For the young participants, higher GABA levels in the IPS were associated with higher scores on math tests. The opposite was observed among older students: higher glutamate levels correlated with higher scores. Both results held true on subsequent math tests.
Although the study sheds light on how neurotransmitter levels at different stages of development contribute to learning some cognitive skills, like math, the researchers noted that acquiring other skills may involve different processes.
"Our findings may also highlight a general principle that the developmental dynamics of regional excitation and inhibition levels in regulating the sensitive period and plasticity of a given high-level cognitive function (i.e., MA) may be different compared to another high-level cognitive function (i.e., general intelligence) that draws on similar, albeit not identical, cognitive and neural mechanisms," they wrote.
Scroll down to load more…