Big ideas.
Once a week.
Subscribe to our weekly newsletter.
Africa, uncolonized: a detailed look at an alternate continent
What if the Black Plague had killed off almost all Europeans? Then this is what Africa might have looked like.
11 November, 2014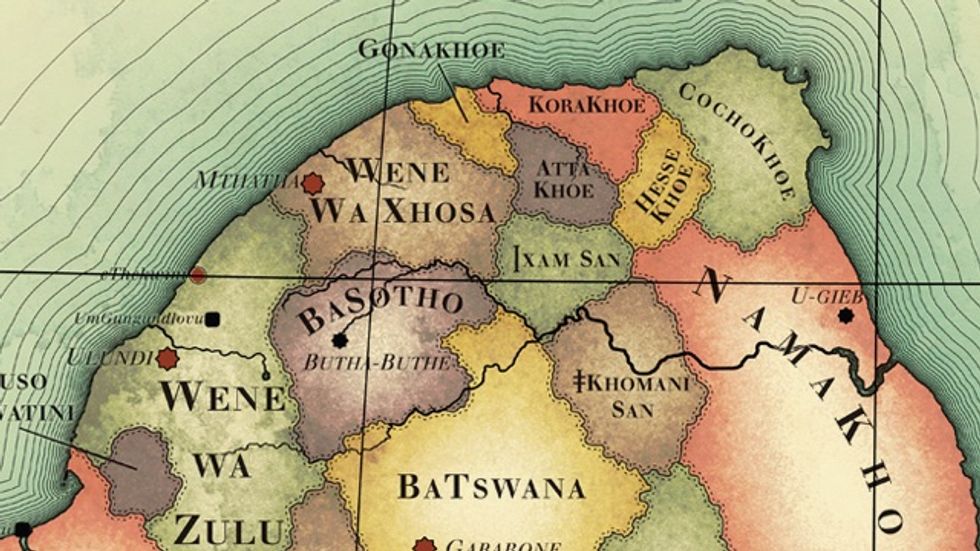 What if the Black Plague had killed off almost all Europeans? Then the Reconquista never happens. Spain and Portugal don't kickstart Europe's colonization of other continents. And this is what Africa might have looked like. 
---
The map – upside down, to skew our traditional eurocentric point of view – shows an Africa dominated by Islamic states, and native kingdoms and federations. All have at least some basis in history, linguistics or ethnography. None of their borders is concurrent with any of the straight lines imposed on the continent by European powers, during the 1884-85 Berlin Conference and in the subsequent Scramble for Africa. By 1914, Europeans controlled 90% of Africa's land mass. Only the Abyssinian Empire (modern-day Ethiopia) and Liberia (founded in 1847 as a haven for freed African-American slaves) remained independent.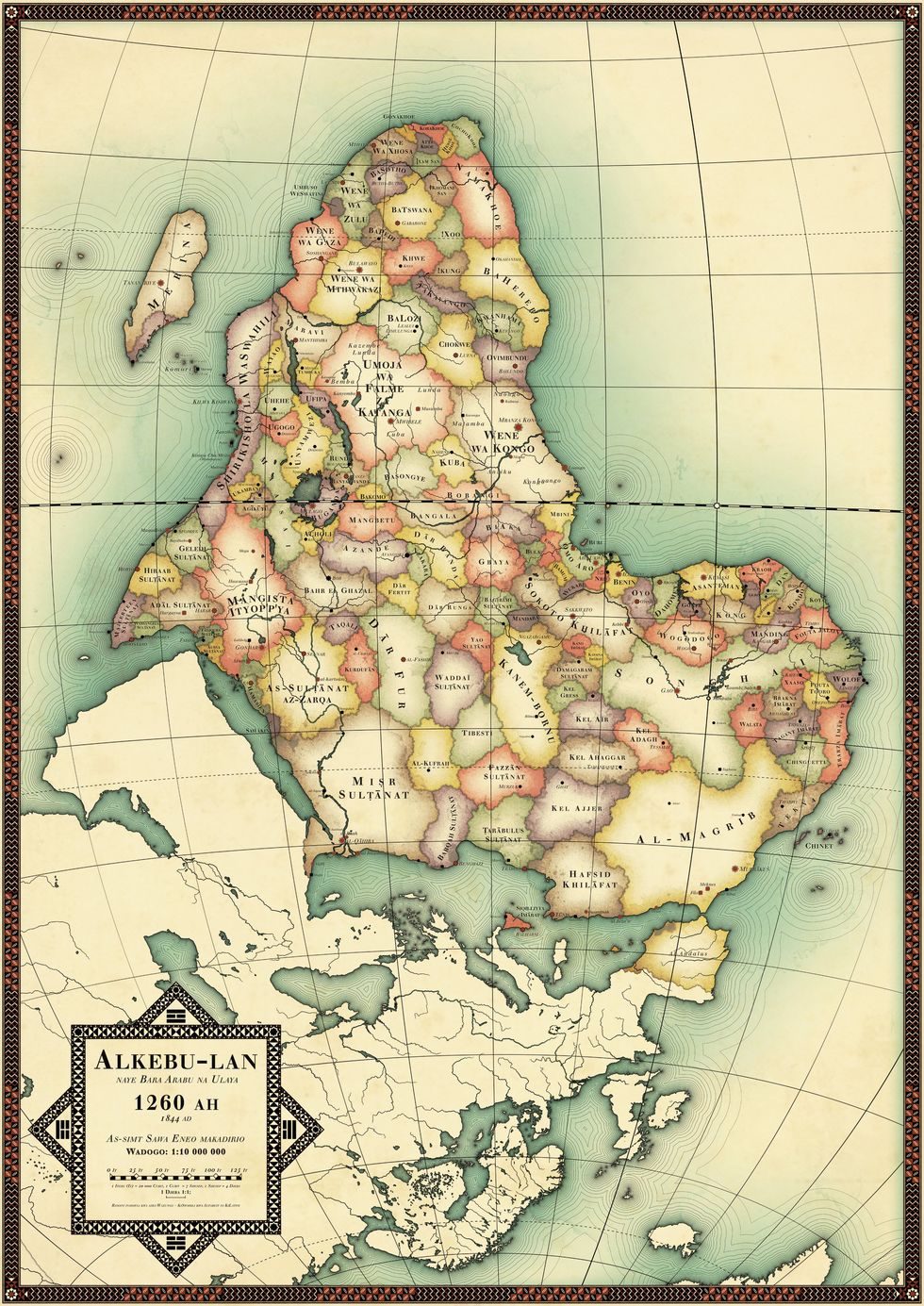 This map is the result of an entirely different course of history. The continent depicted here isn't even called Africa [1] but Alkebu-Lan, supposedly Arabic for 'Land of the Blacks' [2]. That name is sometimes used by those who reject even the name 'Africa' as a European imposition. It is therefore an ideal title for this thought experiment by Swedish artist Nikolaj Cyon. Essentially, it formulates a cartographic answer to the question: What would Africa have looked like if Europe hadn't become a colonizing power? 
To arrive at this map, Cyon constructed an alternative timeline. Its difference from our own starts in the mid-14th century. The point of divergence: the deadliness of the Plague. In our own timeline, over the course of the half dozen years from 1346 to 1353, the Black Death [3] wiped out between 30 and 60% of Europe's population. It would take the continent more than a century to reach pre-Plague population levels. That was terrible enough. But what if Europe had suffered an even more catastrophic extermination – one from which it could not recover?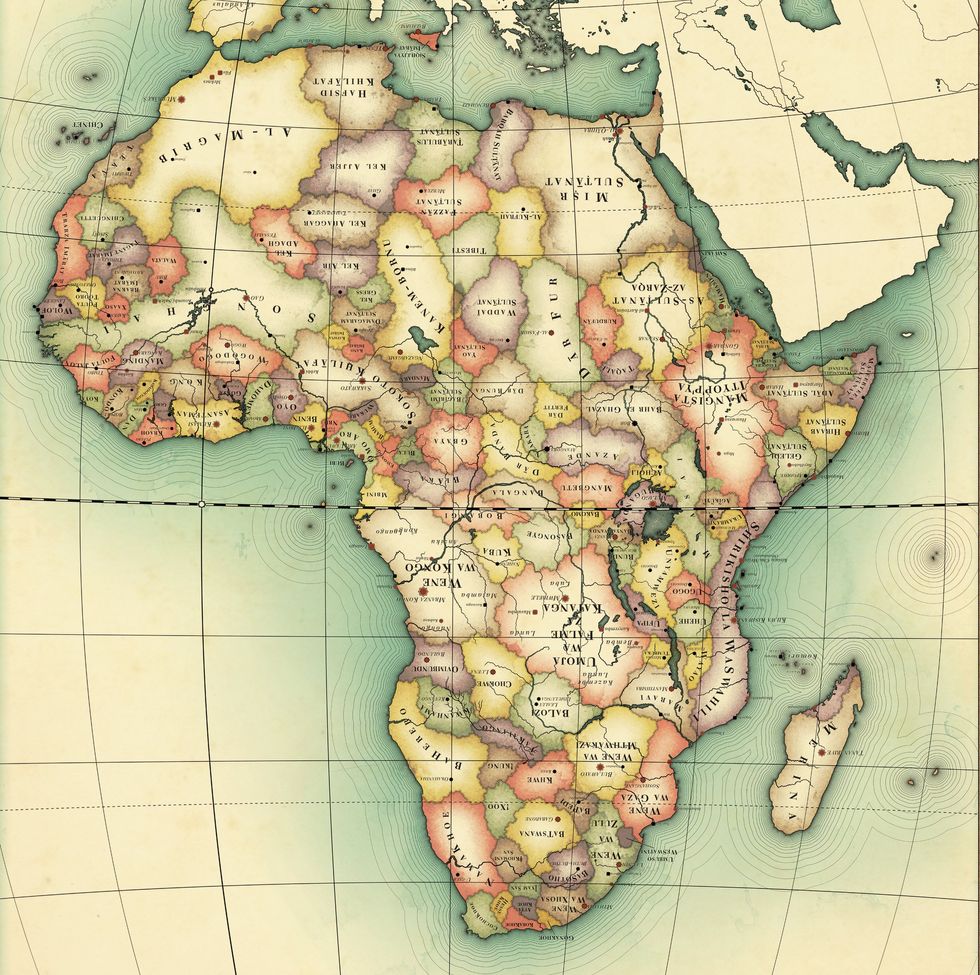 Allohistorical Africa, seen from our North-up perspective. The continent's superstates (at least size-wise): Al-Maghrib, Al-Misr, Songhai, Ethiopia, Kongo and Katanga.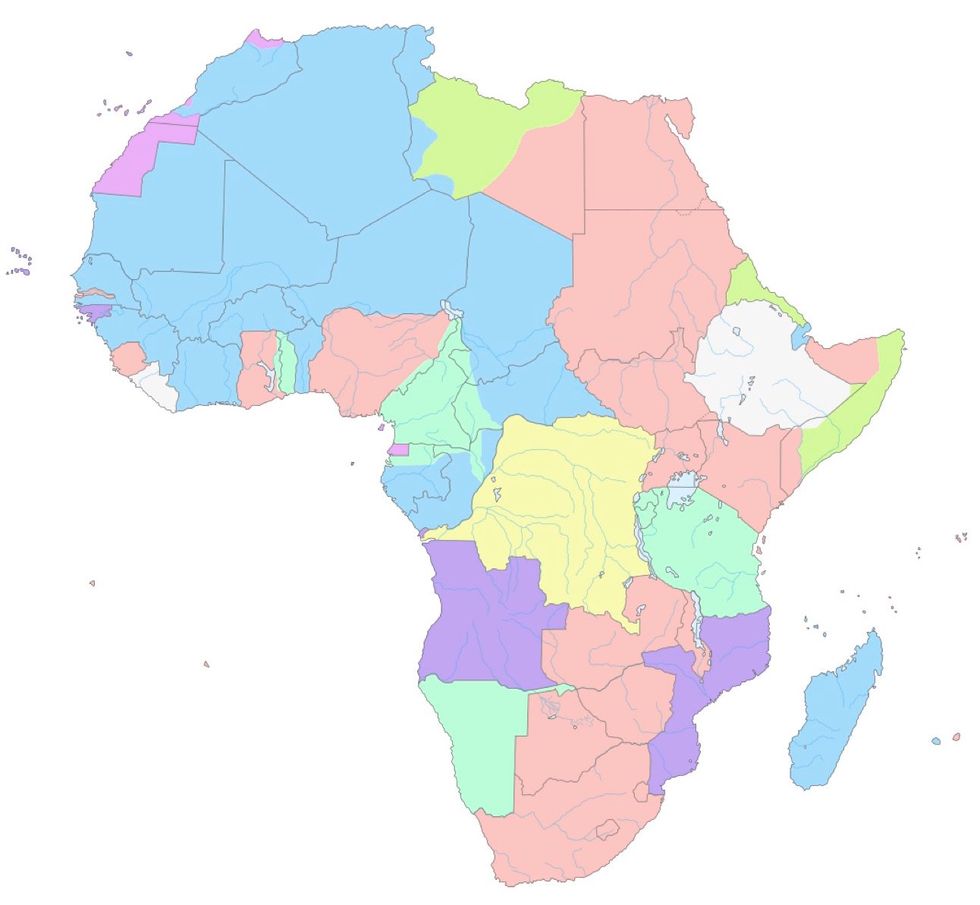 European colonies in Africa in 'our' 1913. Blue: France, pink: Britain, light green: Germany, dark green: Italy, light purple: Spain, dark purple: Portugal, yellow: Belgium, white: independent. Lines reflect current borders.
Cyon borrowed this counterfactual hypothesis from The Years of Rice and Salt, an alternate history novel by Kim Stanley Robinson. The book, first published in 2002, explores how the depopulation of Europe would have altered world history. Robinson speculates that Europe would have been colonized by Muslims from the 14th century onwards, and that the 20th century would see a world war between a sprawling Muslim alliance on the one side, and the Chinese empire and the Indian and native American federations on the other.
Cyon focuses on Africa – or rather, Alkebu-Lan – which in his version of events doesn't suffer the ignomy and injustice of the European slave trade and subsequent colonization. In our timeline, Europe's domination of Africa obscured the latter continent's rich history and many cultural achievements. On the map of Cyon's Africa, a many-splendored landscape of nations and empires, all native to the continent itself, gives the lie to the 19th- and 20th-century European presumption that Africa merely was a 'dark continent' to be enlightened, or a 'blank page' for someone else to write upon. 
Basing himself on Unesco's General History of Africa, Cyon built his map around historical empires, linguistic regions and natural boundaries. His snapshot is taken in 1844 (or 1260 Anno Hegirae), also the date of a map of tribal and political units in Unesco's multi-volume General History.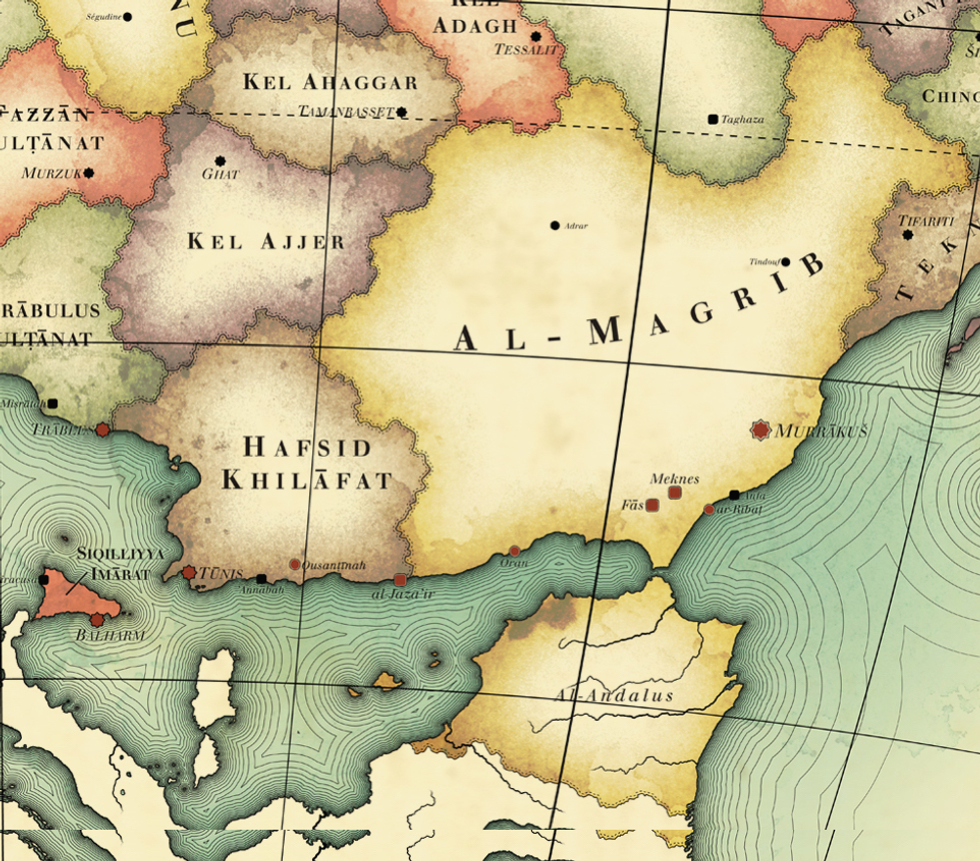 Al-Andalus, in this timeline still a dependency of Al-Maghrib; and the Emirate of Sicily to the left of the map.
Zooming in on the northern (bottom) part of the map, we see an ironic reversal of the present situation: in our timeline, Spain is still holding on to Ceuta, Melilla and other plazas de soberania in Northern Africa. In Cyon's world, most of the Iberian peninsula still called Al-Andalus, and is an overseas part of Al-Maghrib, a counterfactual Moroccan superstate covering a huge swathe of northwestern Africa. Sicily, which we consider to be part of Europe, is colored in as African, and goes by the name of Siqilliyya Imārat (Emirate of Sicily). 
The Arabic is no accident. Absent the European imprint, Islam has left an even more visible mark on large swathes of North, West and East Africa than it has today. Numerous states carry the nomenclature Sultānat, Khilāfat or Imārat. The difference between a Caliphate, Sultanate and Emirate? 
A Caliph claims supreme religious and political leadership as the successor (caliph) to Muhammad, ideally over all Muslims. I spot two Caliphates on the map: Hafsid (centered on Tunis, but much larger than Tunisia), and Sokoto in West Africa (nowadays: northwest Nigeria).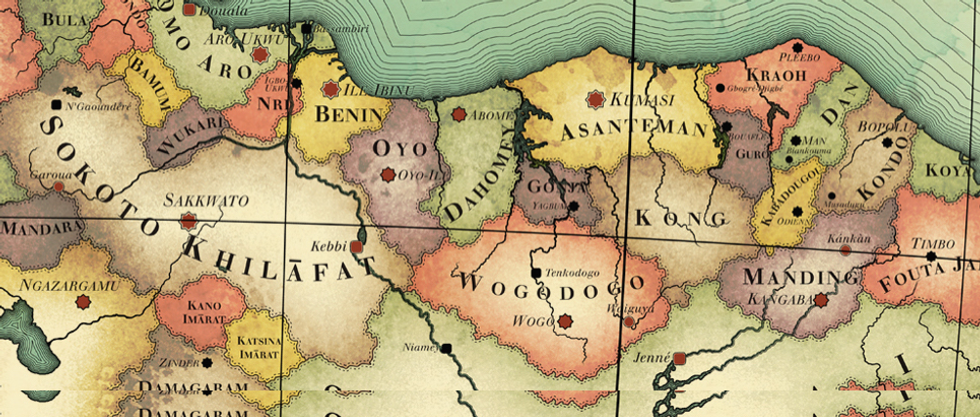 Sokoto, Dahomey, Benin and other states in country-rich West Africa. 
A Sultan is an independent Islamic ruler who does not claim spiritual leadership. Five states in the greater Somalia region are Sultanates, for example: Majerteen, Hiraab, Geledi, Adāl and Warsangele. Others include Az-Zarqa (in present-day Sudan), Misr (Egypt, but also virtually all of today's Israel), and Tarābulus (capital: Tripoli, in our Libya). 
An Emir is a prince or a governor of a province, implying some suzerainity to a higher power. There's a cluster of them in West Africa: Trarza, Tagant, Brakna, all south of Al-Maghrib. But they are elsewhere too: Kano and Katsina, just north of Sokoto. 
Islam of course did not originate in Africa, and some would claim that its dominance of large areas of Africa, at the expense of pre-existing belief systems, is as much an example of foreign cultural imperialism as the spread of Western religions and languages is in our day. But that is material for another thought experiment. This one aims to filter out the European influence.
Neither European nor Arab influence is in evidence in the southern part of Africa – although some toponyms relate directly to states in our timeline: BaTswana is Botswana, Wene wa Kongo refers to the two countries bearing that name. Umoja wa Falme za Katanga is echoed in the name of the DR Congo's giant inland province, Katanga. Rundi, Banyarwanda and Buganda, squeezed in between the Great Lakes, are alternative versions of 'our' Burundi, Rwanda and Uganda.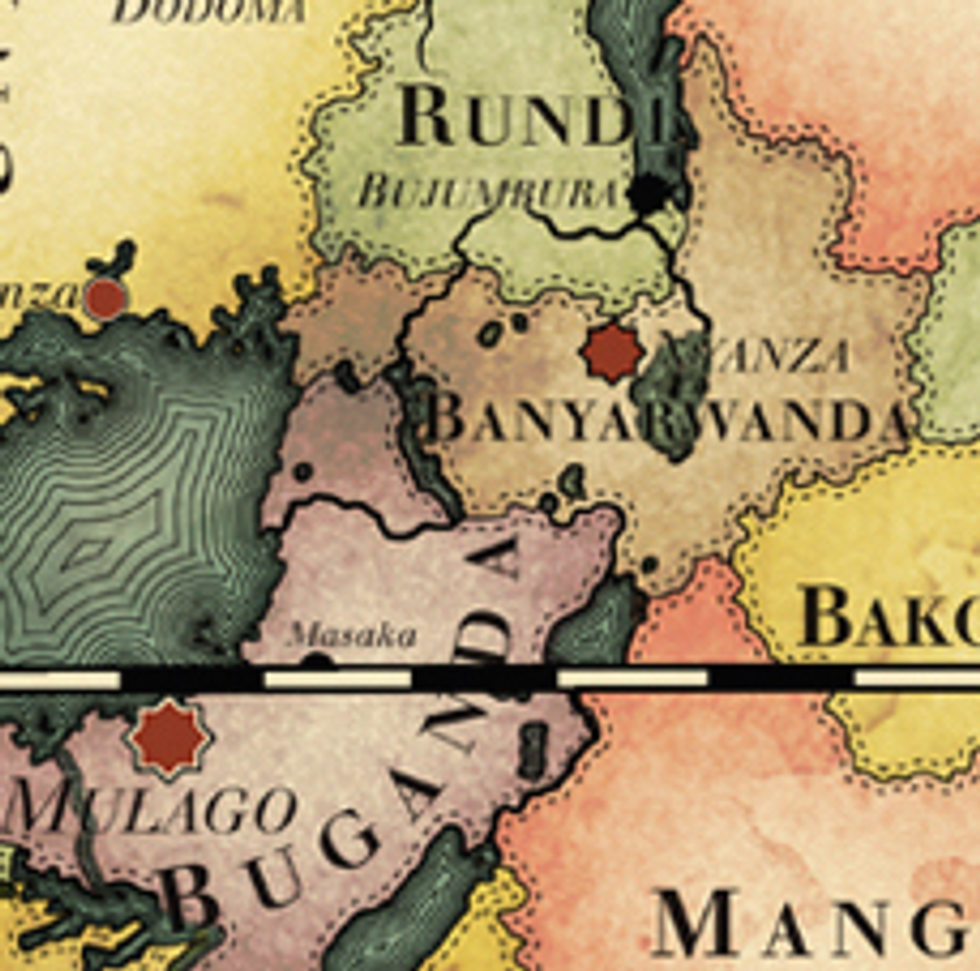 Some familiar-sounding names around the Great Lakes.
There is an interesting parallel to the Africa/Alkebu-Lan dichotomy in the toponymic ebb and flow of Congo and Zaïre as names for the former Belgian colony at the center of the continent. Congo, denoting both the stream and the two countries on either of its lower banks [4], derives from 16th- and 17th-century Bantu kingdoms such as Esikongo, Manikongo and Kakongo near the mouth of the river.
The name was taken up by European cartographers and the territory it covered eventually reached deep inland. But because of its long association with colonialism, and also to fix his own imprint on the country, Congo's dictator Mobutu in 1971 changed the name of the country and the stream to Zaïre. The name-change was part of a campaign for local authenticity which also entailed the Africanisation of the names of persons and cities [5], and the introduction of the abacos [6] – a local alternative to European formal and businesswear.
Curiously for a campaign trying to rid the country of European influences, the name Zaïre actually was a Portuguese corruption of Nzadi o Nzere, a local term meaning 'River that Swallows Rivers'. Zaïre was the Portuguese name for the Congo stream in the 16th and 17th centuries, but gradually lost ground to Congo before being picked up again by Mobutu.
After the ouster and death of Mobutu, the country reverted to its former name, but chose the predicate Democratic Republic to distinguish itself from the Republic of Congo across the eponymous river.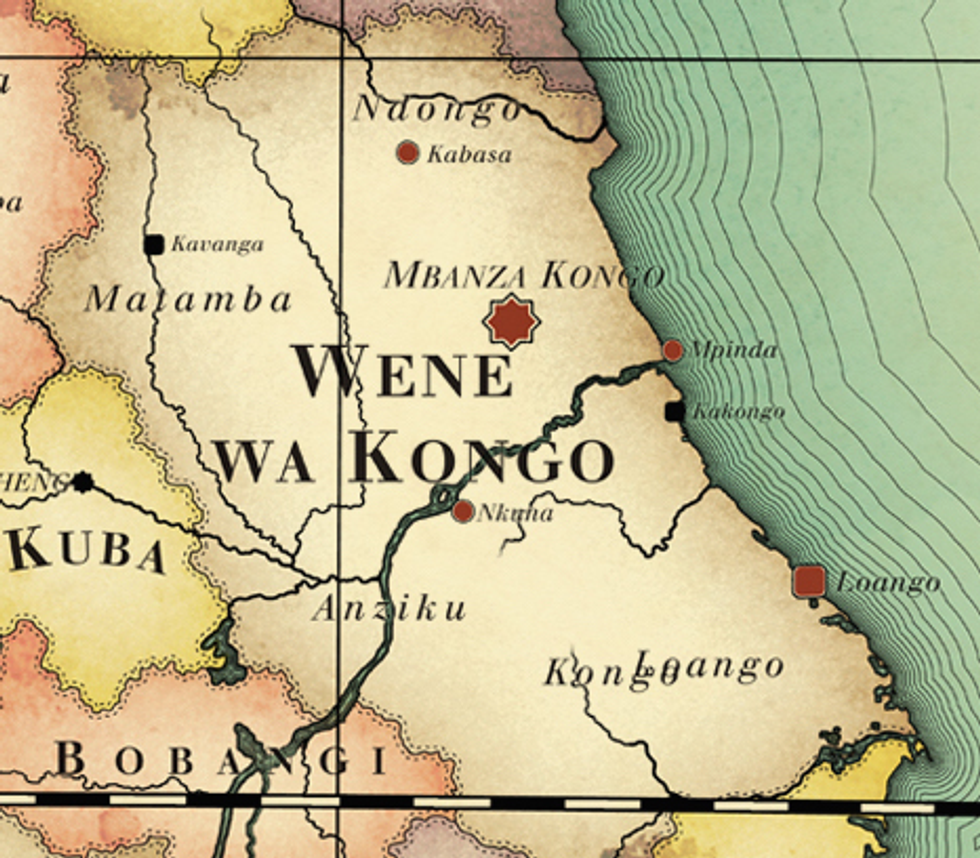 Kongo - a coastal superstate in the alternative timeline.
This particular tug of war is emblematic for the symbolism attached to place names, especially in Africa, where many either refer to a precolonial past (e.g. Ghana and Benin, named after ancient kingdoms), represent the vestiges of the colonial era (e.g. Lüderitz, in Namibia), or attempt to build a postcolonial consensus (e.g. Tanzania, a portmanteau name for Tanganyika and Zanzibar). 
By taking the colonial trauma out of the equation, this map offers a uniquely a-colonial perspective on the continent, whether it is called Africa or Alkebu-Lan.
Map of Alkebu-Lan and excerpts thereof reproduced by kind permission of Nikolaj Cyon. See it in full resolution on this page of his website. Map of Africa in 1913 by Eric Gaba (Wikimedia Commons User: Sting), found here on Wikimedia Commons. 
Strange Maps #688
Got a strange map? Let me know at strangemaps@gmail.com.
[1] A name popularized by the Romans. It is of uncertain origin, possibly meaning 'sunny', 'dusty' or 'cave-y'.
[2] The origin and meaning of the toponym are disputed. The Arabic for 'Land of the Blacks' would be Bilad as-Sudan, which is how the present-day country of Sudan got its name.Other translations offered for Alkebu-Lan (also rendered as Al-Kebulan or Alkebulan) are 'Garden of Life', 'Cradle of Life', or simply 'the Motherland'. Although supposedly of ancient origin, the term was popularized by the academic Yosef A.A. Ben-Jochannan (b. 1918). The term is not a 20th-century invention, however. Its first traceable use is in La Iberiada (1813), an epic poem from 1813 by Ramón Valvidares y Longo. In the index, where the origin of 'Africa' is explained, it reads: "Han dado las naciones á este pais diversos nombres, llamándole Ephrikia los Turcos, Alkebulan los Arabes, Besecath los Indios, y los pueblos del territorio Iphrikia ó Aphrikia: los Griegos, en fin, le apellidaron Libia, y despues Africa, cuyo nombre han adoptado los Españoles, Italianos, Latinos, Ingleses y algunos otros pueblos de la Europa". 
[3] A.k.a. the Plague, a very contagious and highly deadly disease caused by Yersinia pestis. That bacterium infested the fleas that lived on the rats coming over from Crimea to Europe on Genoese merchant ships.
[4] In fact, Brazzaville and Kinshasa, capitals of the Republic of Congo and the Democratic Republic of Congo respectively, are positioned across from each other on the banks of the Congo River – the only example in the world of two national capitals adjacent to each other.
[5] The 'founder-president' himself changed his name from Joseph-Désiré Mobutu to Mobutu Sese Seko Kuku Ngbendu wa za Banga. The capital Léopoldville was renamed Kinshasa, after an ancient village on the same site.
[6] Despite the African-sounding name, abacos is an acronym of à bas costumes, or: 'Down with (Western) suits'.
Welcome to the world's newest motorsport: manned multicopter races that exceed speeds of 100 mph.
Credit: Airspeeder
Technology & Innovation
Airspeeder is a company that aims to put on high-speed races featuring electric flying vehicles.
The so-called Speeders are able to fly at speeds of up to 120 mph.
The motorsport aims to help advance the electric vertical take-off and landing (eVTOL) sector, which could usher in the age of air taxis.
The way you speak might reveal a lot about you, such as your willingness to engage in casual sex.
Surprising Science
A new study finds a deeper voice is associated with self-reported extraversion, dominance, and casual sex.
It was the first study on the topic to objectively measure voice pitch.
The authors suggest that hormones like testosterone might explain their findings.
We make snap decisions about other people based on information that we can gather quickly. One of the many ways that we do this is by making bold conclusions about other people's personalities based on their voices alone. Various studies demonstrate that people associate a deep voice with dominance, but those with higher pitched voices are perceived as nervous or neurotic. Popular culture seems to agree with and reinforce these stereotypes.
Are these perceptions accurate? Maybe. A new study by an international team of researchers with the goal of more accurately determining what our voices reveal about us has demonstrated that there is some connection between how we sound and who we think we are.
The voice-personality connection
Lead author Dr. Julia Stern of the University of Göttingen explained:
"Even if we just hear someone's voice without any visual clues — for instance on the phone — we know pretty soon whether we're talking to a man, a woman, a child, or an older person. We can pick up on whether the person sounds interested, friendly, sad, nervous, or whether they have an attractive voice. We also start to make assumptions about trust and dominance. The first step was to investigate whether voices are, indeed, related to people's personality."
The study included data from 2,000 people from four countries involved in eleven previous independent studies focused on other questions. Each of these studies involved some kind of self-reporting of personality traits and vocal recordings. The recordings were analyzed with Praat, software that determined the frequencies of the participants' speaking voices.
The study is the largest ever conducted on the topic and the first to use an objective measure of pitch rather than subjective rankings such as "high pitched" or "deep." Each participant's vocal pitch was then compared to the self-reported personality data they provided.
Pitch perfect
The findings associated self-reported levels of dominant tendencies, extroversion, and increased interest in and acceptance of sociosexuality (casual sex or sex outside of a relationship) with a lower pitched voice. This was true for men and women of any age. The findings were in line with the previous, less robust studies on the subject.
Other stereotypes, like if a higher pitched voice hints at neuroticism, openness to new experiences, or agreeableness, were impossible to determine with the data at hand.
Voice isn't everything
It should be remembered that the personality traits that this study associates with vocal pitch are self-reported, so there are some serious limitations. For instance, it is entirely possible that vocal pitch is associated with thinking you're extroverted when you actually aren't. Furthermore, all four countries in the study are WEIRD, so the findings probably cannot be universalized.
Additionally, there are plenty of examples of people for whom the voice-personality link doesn't apply. For example, Teddy Roosevelt, an extremely extroverted, dominating man, had a fairly high pitched voice.
The authors do speculate that there could be a connection between testosterone levels in men, their vocal pitch, and their perceived level of dominance that would be supported by previous studies. However, they have no hypothesis explaining why that same relationship exists for women.
The authors suggest that further studies in this area could focus on finding a possible physical connection between these traits and vocal pitch and to determine if they hold for traits which are not self-reported.
Who needs steroids when you have the placebo effect?
Surprising Science
A study suggests that the effectiveness of sports drinks may depend in part on their color.
Runners who rinsed with a pink liquid ran better than those who consumed the same but colorless drink.
Improvement in their performance is likely due to a placebo effect.
The "placebo effect" is real. It's the name for a strange phenomenon that most notably occurs during clinical trials. People who are given an inactive substance, like a sugar pill, often experience the same therapeutic benefit as those who are given actual medicine. It's not their imagination — it really happens. (Even better, recent research suggests that therapeutic benefits occur even when the person knows that they were given a placebo.)

Now, a new study from the University of Westminster (UOW) Centre for Nutraceuticals in London and published in Frontiers in Nutrition suggests that the placebo effect may explain yet another phenomenon: Athletic performance.
The research showed that treadmill runners who rinsed their mouths with a pink liquid increased their performance over runners who swished with exactly the same liquid but without the coloring. Why pink? The color is generally linked to sweetness, and the researchers wondered if that association would subconsciously trick the runners into an expectation of more carbohydrates and thus energy.
Author Sanjoy Deb explains:
"The influence of color on athletic performance has received interest previously, from its effect on a sportsperson's kit to its impact on testosterone and muscular power. Similarly, the role of color in gastronomy has received widespread interest, with research published on how visual cues or color can affect subsequent flavor perception when eating and drinking."
Running for science
Credit: Ryan De Hamer / Unsplash
For the study, the researchers recruited ten healthy adults — six men, four women. All were regular exercisers, with an average age of 30. The participants were told that they would be testing the relative benefits of two commercial sports drinks after watching a brief video explaining the value of such beverages. Previous research found that mid-exercise rinsing with such drinks can reduce the perceived intensity of exercise.

The drinks consisted of 0.12 grams of sucralose dissolved in 500 mL of plain water — an artificially sweetened rinse low in calories. The liquids contained no other additives common to sports drinks such as caffeine. The pink version had non-caloric coloring added but was otherwise identical.
After a 12-minute warmup phase of jogging followed by running, the athletes ran at a difficult pace for 30 minutes, rinsing with their drinks as they ran. Following a brief cool-down, they were interviewed to capture their impressions of the exercise session. (Each runner tested both drinks.)
Think pink
The researchers found that when the volunteers used the pink rinse, they ran an average of 212 meters farther and 4.4 percent faster. They also enjoyed the exercise more.
Deb said, "The findings from our study combine the art of gastronomy with performance nutrition, as adding a pink colorant to an artificially sweetened solution not only enhanced the perception of sweetness, but also enhanced feelings of pleasure, self-selected running speed, and distance covered during a run."
The researchers also plan to dig deeper into the phenomenon by investigating the possibility that the pinkness of the beverage is somehow directly activating the brain's reward areas.
Surprising Science
Like autism, ADHD lies on a spectrum, and some children should not be treated.
Scroll down to load more…