How the World Economy Will Grow through 2024, Country by Country
This is how the world economy will grow through the year 2024, as predicted by Harvard University's Center for International Development (CID).
Frank Jacobs
From a young age, Frank was fascinated by maps and atlases, and the stories they contained. Finding his birthplace on the map in the endpapers of Tolkien's Lord of the Rings only increased his interest in the mystery and message of maps.
While pursuing a career in journalism, Frank started a blog called Strange Maps, as a repository for the weird and wonderful cartography he found hidden in books, posing as everyday objects and (of course) floating around the Internet.
"Each map tells a story, but the stories told by your standard atlas for school or reference are limited and literal: they show only the most practical side of the world, its geography and its political divisions. Strange Maps aims to collect and comment on maps that do everything but that - maps that show the world from a different angle".
A remit that wide allows for a steady, varied diet of maps: Frank has been writing about strange maps since 2006, published a book on the subject in 2009 and joined Big Think in 2010. Readers send in new material daily, and he keeps bumping in to cartography that is delightfully obscure, amazingly beautiful, shockingly partisan, and more.
20 January, 2016
Reading this map requires two leaps of the imagination. First, picture a world in which every country keeps its shape, but all countries have the same size. The Netherlands and Canada, Singapore and Brazil: all equally big. But then, inflate the size of each country to reflect annual economic growth from 2016 to 2024, as predicted by Harvard University's Center for International Development (CID). 
---
That's why India is the biggest country on this map: The CID forecasts an annual growth rate of 6.98 percent for India, more than any other nation on Earth. And more than China, much smaller because it has to content itself with a mere 4.28 percent (at #27).
If you get the impression that Africa looms even bigger on this map than on a normal one, that is no coincidence: eight of the other nine countries in the CID's Top 10 are located in Africa — eastern Africa, in the main. In descending order: Uganda (6.04 percent), Kenya (6.0 percent), Tanzania (5.96 percent), Egypt (5.83 percent), Madagascar (5.78 percent), Senegal (5.77 percent), Malawi (5.66 percent), and Zambia (5.55 percent).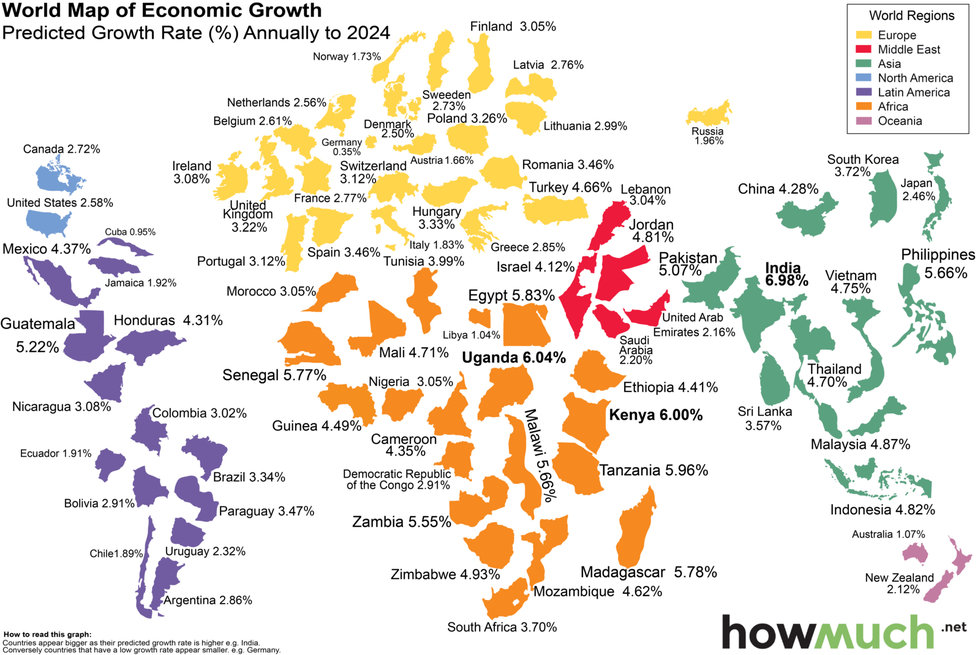 The only other Top 10 country is the Philippines, at #8 with 5.68 percent. Other Asian countries also predicted to perform well over the coming decade are Pakistan (5.07 percent), Malaysia (4.87 percent), Indonesia (4.82 percent), Vietnam (4.75 percent), and Thailand (4.70 percent). 
But even outside South Asia and East Africa, two regions oversized to reflect their growth potential, there are other, often surprising candidates for rapid economic progress. Guatemala (5.22 percent at #11) and Zimbabwe (4.93 percent, at #13), for example. Or Jordan (4.81 percent, at #16). How about Mali (4.71 percent, at #18) and Yemen (4.23 percent, at #28)? 
At the lower, smaller end of the scale, we find many of the "mature" markets that constitute the developed world — for now. The CID predicts Germany will grow by no more than 0.35 percent per year between now and 2024, according it the last but one place in the list, at #120. It is dwarfed even by middle-league neighbours such as Belgium (2.61 percent) and Switzerland (3.12 percent). Australia will fare little better, with 1.07 percent. And even the U.S. (2.58 percent) is bested by Mexico (4.37 percent).
On the other hand, some poor countries will only manage "mature" growing rates, including Cuba (0.95 percent), and Libya (1.04 percent).
It should be pointed out that these predictions were made over a year ago, and thus fail to take in such factors as Brexit and Trump. 
Map sent it by Raul Amoros, found here at howmuch.net. More interesting cartography at the CID's Atlas of Economic Complexity.
Strange Maps #570
Got a strange map? Let me know at strangemaps@gmail.com.
Giving our solar system a "slap in the face"
Surprising Science
A stream of galactic debris is hurtling at us, pulling dark matter along with it
It's traveling so quickly it's been described as a hurricane of dark matter
Scientists are excited to set their particle detectors at the onslffaught
We know the dangers of too little sleep. Now for the other side of the story.
Photo: Vladislav Muslakvo / Unsplash
Surprising Science
Western University researchers found that sleeping over eight hours per night results in cognitive decline.
Oversleepers suffer similar difficulties on certain cognitive tests as those who sleep under seven hours.
Not all the news is bad: One night of oversleeping results in a cognitive boost.
Firefighters in California are still struggling to contain several wildfires nearly one week after they broke out.
(Photo by Elijah Nouvelage/Getty Images)
Politics & Current Affairs
Hundreds of people are still missing after three wildfires spread across Northern and Southern California last week.
48 of the 50 deaths occurred after the Camp Fire blazed through the town of Paradise, north of Sacramento.
On Tuesday night, a fourth wildfire broke out, though it's mostly contained.
Big think's weekly newsletter.
Get smarter faster from the comfort of your inbox.
See our newsletter privacy policy
here
Most Popular
Most Recent
Big think's weekly newsletter.
Get smarter faster from the comfort of your inbox.
See our newsletter privacy policy
here
© Copyright 2007-2018 & BIG THINK, BIG THINK EDGE,
SMARTER FASTER trademarks owned by The Big Think, Inc. All rights reserved.