A Tube-style Map of Roman Roads
How do you say 'Mind the gap' in Latin?
18 June, 2017
---
The Roman Empire would not have been possible without its roads. They connected Rome with the furthest corners of its dominion, from the Scottish border to the Arabian sands. Roads were the veins through which flowed the information, goods and soldiers that kept the empire healthy and strong. 
But Romans were better road-builders than they were map-makers. No contemporary chart of the road network survives; the closest thing is the 13th-century Tabula Peutingeriana, a 1-by-22-foot copy of a now-lost, but certainly equally unwieldy original. Strangely, it takes a decidedly 20th-century cartographic motif to bring the importance of Rome's roads truly into focus.
This map is modelled after the iconic London Underground diagram first produced by Harry Beck in 1931. Borrowing from the rectilinear design of electric circuits, Beck sacrificed geographical accuracy to simplicity and legibility, evenly spacing stations on straight, colour-coded lines – and creating a design icon in the process, the oft-imitated Tube map (see also #603). 
This map, designed by University of Chicago statistics major and admitted "geography and data nerd" Sasha Trubetskoy, is subject to the same Faustian/Beckian deal, surrendering accuracy for effect. But what an effect. Finally, the importance of Rome's road network is visualised.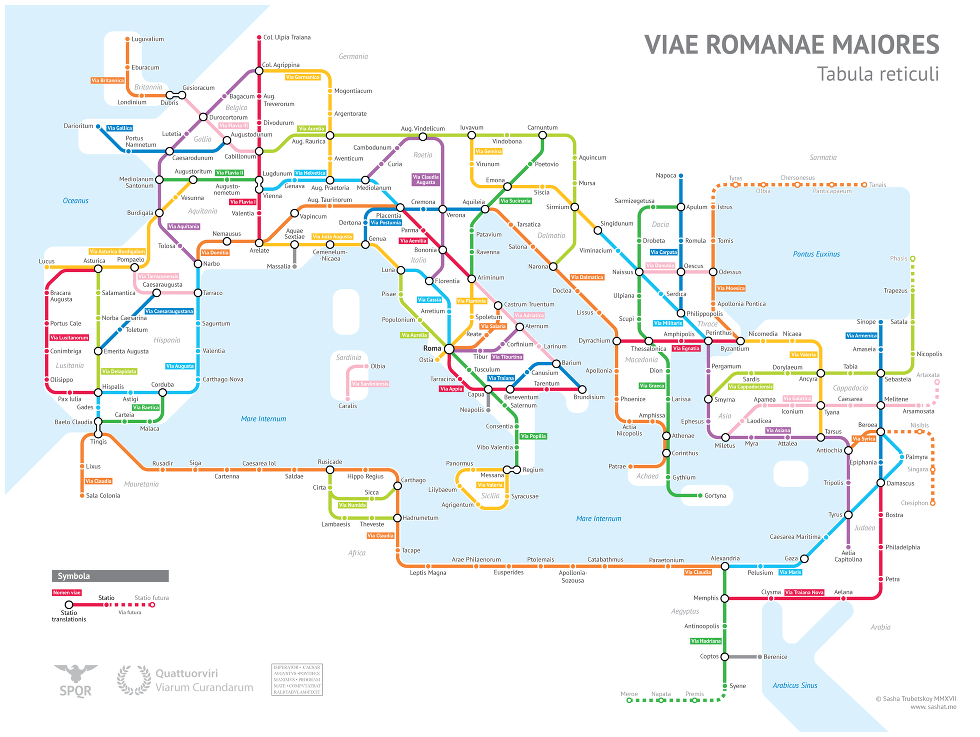 A note on that accuracy-versus-effect thing: the map shows the road system circa 125 AD, and only includes roads that did actually exist. However:
→ At its height, the Roman road network included more than 370 great roads, covering a total distance of more than 400,000 km (250,000 mi) of roads, over 80,500 km (50,000 mi) of which were stone-paved. Only a selection of main roads, and of major cities are shown here. 
→ While many roads are named and indicated as they existed (e.g. Via Appia and Via Delapidata), some roads have been merged (e.g. the Via Latina, from Rome to Capua, was subsumed into the Via Popilia, from Capua to Regium).
→ The name of some roads has been stretched to cover a greater distance (e.g. the Via Aquitania only referred to the stretch between Narbo and Burdigala, but here refers to the road all the way up to Colonia Agrippina).
→ Some roads for which no name survives have been given an invented name (e.g. Via Claudia in North Africa, after the emperor who commissioned it).
→ Ireland is not included on the map because it was not part of the Roman Empire, and thus did not contain any Roman roads.
Those caveats being understood, it is a joy to use this 'Tube map' as a guide for imaginary travels across the Roman Empire, from Rome, the caput mundi (i.e. capital of the world) itself, to Eburacum (York) for instance. You take the Via Aurelia to Luna (a former city in Etruria), thence the Via Julia Augusta to Arelate (Arles, in France), then north on the Via Flavia I, switching to the westbound Via Flavia III at Cabillonum (Chalon-sur-Saône). At that road's terminus in Gesoriacum (Boulogne-sur-Mer), you cross the Channel to Dubris (Dover), where you rush north on the Via Brittanica past Londinium for the last stretch.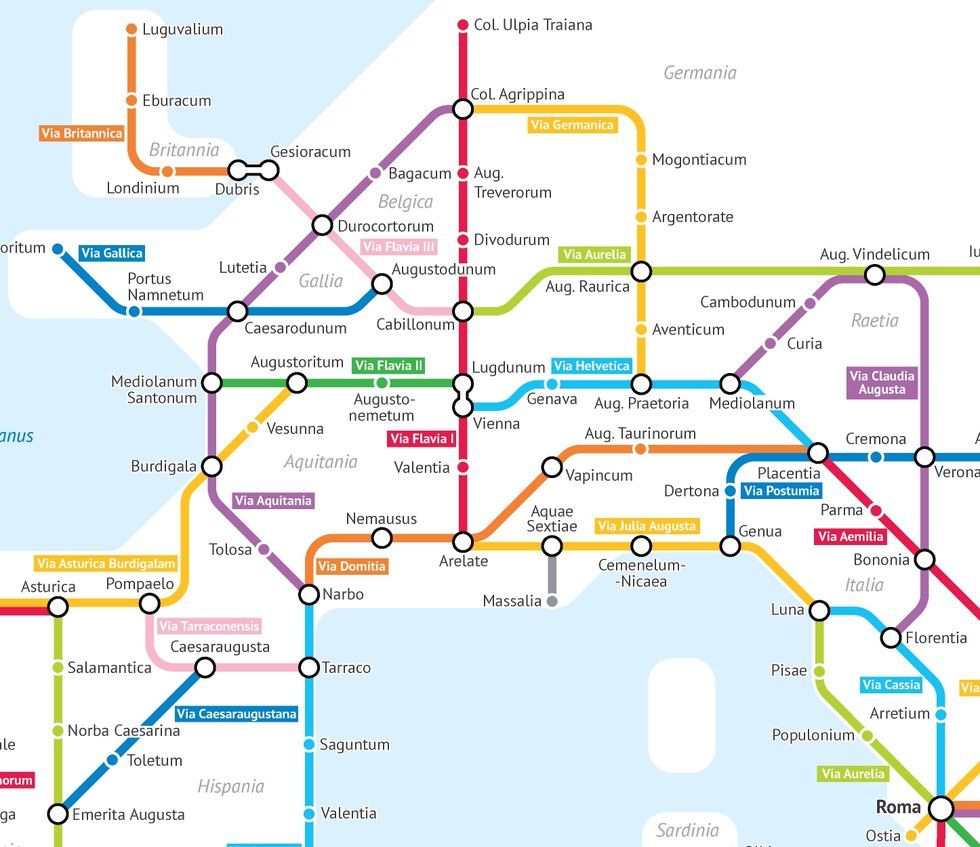 Add some dice and chance cards for attack by Gaulish brigands (two stops back), roadside promotion to centurion (one stop forward) and rebelling natives (skip one turn), and you've got yourself a cool new board game!
The map does not include sailing routes, which would be the preferred way to cross the Mediterranean. In summer, Rome to Byzantium would take two months on foot, one month on horseback and about 25 days by ship. Roman Roads is a work in progress; Sasha plans to publish an updated version soon.
Check out the map (and/or order high-res prints) at this page of Sasha Trubetskoy's website, which offers many more cool maps, including a map comparing the population of Moscow to that of other Russian cities, one showing the distance of Hawaii to the nearest land mass, and one showing the conurbations spanning the U.S.-Mexican border.
For more detailed, interactive views of the Roman road network, visit Omnes Viae, a Roman routeplanner; and Orbis, the Stanford Geospatial Network Model of the Roman World.
The Ancient Paths by Graham Robb offers a fascinating (though not entirely believable) theory of the pre-Roman, Celtic road network covering Europe.
For more on roads leading to Rome, check out #754 on this blog.
Many thanks to all who sent in this map, including Theo Dirix, Leif G. Malmgren, David van der Werf and Irene Carrión Álvarez (I'm sure I'm forgetting a few).
Strange Maps #845
Got a strange map? Let me know at strangemaps@gmail.com.
What can 3D printing do for medicine? The "sky is the limit," says Northwell Health researcher Dr. Todd Goldstein.
Northwell Health
Sponsored by Northwell Health
Medical professionals are currently using 3D printers to create prosthetics and patient-specific organ models that doctors can use to prepare for surgery.
Eventually, scientists hope to print patient-specific organs that can be transplanted safely into the human body.
Northwell Health, New York State's largest health care provider, is pioneering 3D printing in medicine in three key ways.
Shutterstock
Big Think Edge
Generational differences always pose a challenge for companies.
How do you integrate the norms and expectations of the new generation with those of the old?
Social psychologist Jonathan Haidt points out that Gen Z—the cohort born after 1995—differs sharply from the Millennial generation before it and offers some advice for understanding and working with a generation in some ways more sheltered and less independent than any before it.
A new study shows that some men's reaction to sex is not what you'd expect, resulting in a condition previously observed in women.
Credit: Pixabay
Sex & Relationships
A new study shows men's feelings after sex can be complex.
Some men reportedly get sad and upset.
The condition affected 41% of men in the study
Big Think Edge
There's a crisis in the workplace. According to a 2016 Gallup Poll, 70% of people are disengaged at work. And a whopping 18% are actively repulsed by what they do for a living.
This is clearly no good for the workers themselves. But it's also no good for the companies they serve.
What makes us happy is fairly well understood, as is the fact that happy workers work harder, make fewer mistakes, and invest creative energy in making companies successful.
Big think's weekly newsletter.
Get smarter faster from the comfort of your inbox.
See our newsletter privacy policy
here
Most Popular
Most Recent
Big think's weekly newsletter.
Get smarter faster from the comfort of your inbox.
See our newsletter privacy policy
here
© Copyright 2007-2019 & BIG THINK, BIG THINK EDGE,
SMARTER FASTER trademarks owned by The Big Think, Inc. All rights reserved.
//This will actually fire event. Should be called after consent was verifed