Big ideas.
Once a week.
Subscribe to our weekly newsletter.
A Pyramid Map of the World's Biomes
How location, temperature and moisture create the world's biomes
26 September, 2017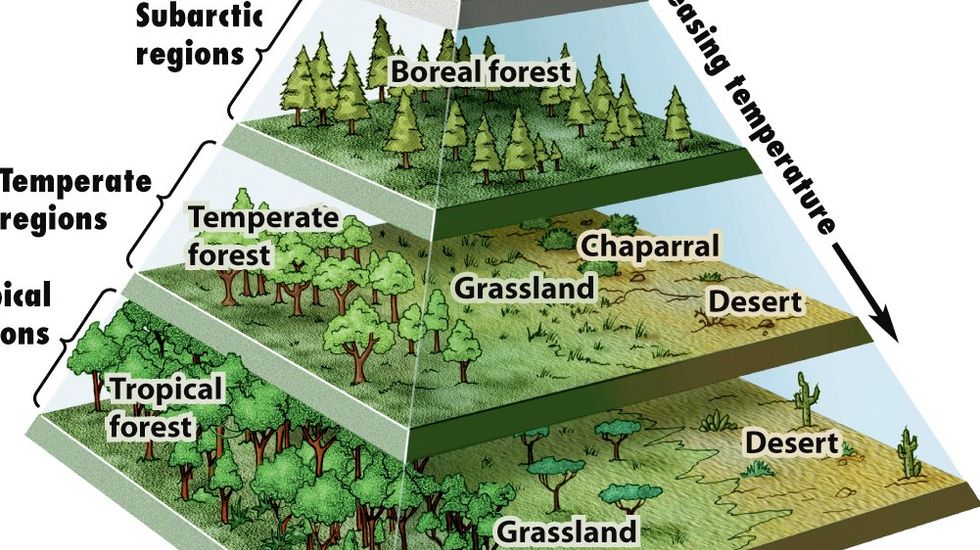 Pyramids don't occur naturally (1). But this strange pyramid maps a lot of things that do. They're called biomes, and they are arranged pyramidally to show where, why and how they occur.
---
A biome is a biological community of flora and fauna that has formed in response to a certain climate type. Add 'em all up, and you have a biosphere - our biosphere. As indicated below and to the right of the pyramid, the two main determinants for each biome are temperature (hot/cold) and moisture (wet/dry). 
The temperature factor has to do with a biome's longitudinal location: hotter near the equator, colder near the poles (and also with its altitude: higher means colder). The moisture factor has the greatest impact on biome diversity near the equator, least near the poles - hence the diminishing area of each pyramid level towards the top. 
This pyramid is an abstract rendition of either half of the globe: the same biomes can occur in both the northern and southern hemispheres. One could argue that a 'southern' pyramid would have to be inversed. 
Tundra, at the top of this (northern-hemisphere) pyramid, derives from Russian (but ultimately Sami) and originally described zones in the extreme north of Russia where temperatures were too low and growing seasons too short for trees to grow. But the same treeless plains also occur in Kerguelen (see also #519), close to the South Pole. 
The next level of the pyramid is occupied by boreal forests, also known as taiga (loaned by Russian from Yakut, where it means 'impassable forest'). These vast forests of pines, spruces and other coniferous trees constitute the world's largest biome (if we leave aside the oceans). They cover much of Scandinavia and Russia, Alaska and Canada.
There are also boreal forests in the Scottish Highlands, northern Mongolia and Hokkaido (see also #777). There is, however, no boreal forest in the southern hemisphere. Scientists speculate this is because there is not enough land mass in the southern hemisphere far enough from the sea for the climate to be cold enough for this type of biome.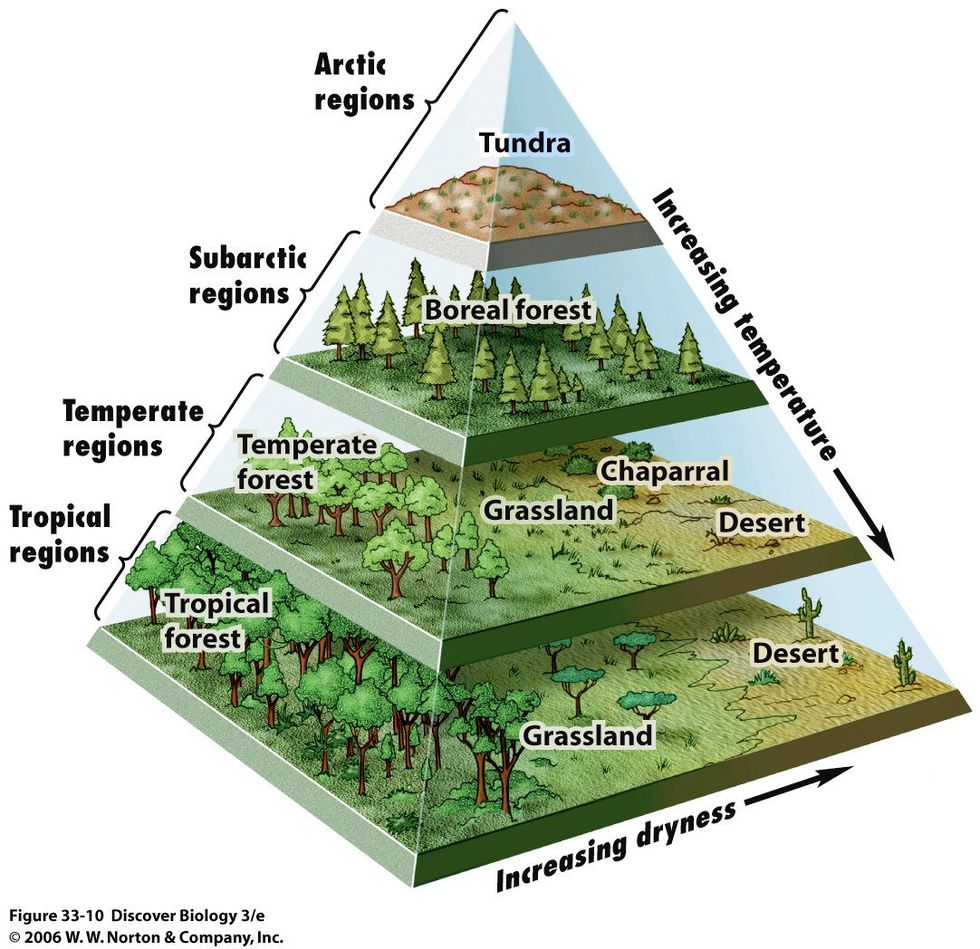 Although all trees on this level of the pyramid are covered by the same definition ('boreal forest'), the ones on the left look visibly taller than their stunted cousins on the right - a foreshadowing of the effect that the difference in moisture will have on the next level of vegetation. These are the temperate regions, and here we have no less than four different biomes. The temperate forests are well-watered, the grasslands less so, the high chaparral even less and the desert least of all. 
The discrepancy is widest in the tropical regions: on the one hand, the lushness of tropical forests, on the other, the deadly environment of the tropical desert. In between, the grasslands, where life is hard and trees are rare. And to make matters even worse, there's a giant pyramid hovering menacingly overhead.
Map, originally from a biology textbook by W.W. Norton & Co., found here at CookLowery16. 
Strange Maps #859
Got a strange map? Let me know at strangemaps@gmail.com.
(1) One counter-example: the so-called Bosnian Pyramids. Although they came to prominence because a local amateur archaeologist claimed they were relics of a lost civilisation, it appears these intriguingly symmetrical hills near Sarajevo are natural in origin.
Certain water beetles can escape from frogs after being consumed.
Surprising Science
A Japanese scientist shows that some beetles can wiggle out of frog's butts after being eaten whole.
The research suggests the beetle can get out in as little as 7 minutes.
Most of the beetles swallowed in the experiment survived with no complications after being excreted.
In what is perhaps one of the weirdest experiments ever that comes from the category of "why did anyone need to know this?" scientists have proven that the Regimbartia attenuata beetle can climb out of a frog's butt after being eaten.
The research was carried out by Kobe University ecologist Shinji Sugiura. His team found that the majority of beetles swallowed by black-spotted pond frogs (Pelophylax nigromaculatus) used in their experiment managed to escape about 6 hours after and were perfectly fine.
"Here, I report active escape of the aquatic beetle R. attenuata from the vents of five frog species via the digestive tract," writes Sugiura in a new paper, adding "although adult beetles were easily eaten by frogs, 90 percent of swallowed beetles were excreted within six hours after being eaten and, surprisingly, were still alive."
One bug even got out in as little as 7 minutes.

Sugiura also tried putting wax on the legs of some of the beetles, preventing them from moving. These ones were not able to make it out alive, taking from 38 to 150 hours to be digested.
Naturally, as anyone would upon encountering such a story, you're wondering where's the video. Thankfully, the scientists recorded the proceedings:
The Regimbartia attenuata beetle can be found in the tropics, especially as pests in fish hatcheries. It's not the only kind of creature that can survive being swallowed. A recent study showed that snake eels are able to burrow out of the stomachs of fish using their sharp tails, only to become stuck, die, and be mummified in the gut cavity. Scientists are calling the beetle's ability the first documented "active prey escape." Usually, such travelers through the digestive tract have particular adaptations that make it possible for them to withstand extreme pH and lack of oxygen. The researchers think the beetle's trick is in inducing the frog to open a so-called "vent" controlled by the sphincter muscle.
"Individuals were always excreted head first from the frog vent, suggesting that R. attenuata stimulates the hind gut, urging the frog to defecate," explains Sugiura.
For more information, check out the study published in Current Biology.
New research from the University of Granada found that stress could help determine sex.
Photo: Romolo Tavani / Adobe Stock
Surprising Science
A new study found that women with elevated stress before, during, and after conception are twice as likely to deliver a girl.
One factor could be that sperm carrying an X chromosome are better equipped to reach the egg under adverse conditions.
Another factor could be miscarriage of male fetuses during times of stress.
Stress in the modern world is generally viewed as a hindrance to a healthy life.
Indeed, excess stress is associated with numerous problems, including cardiovascular disease, high blood pressure, insomnia, depression, obesity, and other conditions. While the physiological mechanisms associated with stress can be beneficial, as Kelly McGonigal points out in The Upside of Stress, the modern wellness industry is built on the foundation of stress relief.
The effects of stress on pregnant mothers is another longstanding area of research. For example, what potential negative effects do elevated levels of cortisol, epinephrine, and norepinephrine have on fetal development?
A new study, published in the Journal of Developmental Origins of Health and Disease, investigated a very specific aspect of stress on fetuses: does it affect sex? Their findings reveal that women with elevated stress are twice as likely to give birth to a girl.
For this research, the University of Granada scientists recorded the stress levels of 108 women before, during, and after conception. By testing cortisol concentration in their hair and subjecting the women to a variety of psychological tests, the researchers discovered that stress indeed influences sex. Specifically, stress made women twice as likely to deliver a baby girl.
The team points out that their research is consistent with other research that used saliva to show that stress resulted in a decreased likelihood of delivering a boy.
Maria Isabel Peralta RamírezPhoto courtesy of University of Granada
Lead author María Isabel Peralta Ramírez, a researcher at the UGR's Department of Personality, Evaluation and Psychological Treatment, says that prior research focused on stress levels leading up to and after birth. She was interested in stress's impact leading up to conception. She says:
"Specifically, our research group has shown in numerous publications how psychological stress in the mother generates a greater number of psychopathological symptoms during pregnancy: postpartum depression, a greater likelihood of assisted delivery, an increase in the time taken for lactation to commence (lactogenesis), or inferior neurodevelopment of the baby six months after birth."
While no conclusive evidence has been rendered, the research team believes that activation of the mother's endogenous stress system during conception sets the concentration of sex hormones that will be carried throughout development. As the team writes, "there is evidence that testosterone functions as a mechanism when determining the baby's sex, since the greater the prenatal stress levels, the higher the levels of female testosterone." Levels of paternal stress were not factored into this research.
Previous studies show that sperm carrying an X chromosome are better equipped to reach the egg under adverse conditions than sperm carrying the Y chromosome. Y fetuses also mature slowly and are more likely to produce complications than X fetuses. Peralta also noted that there might be more aborted male fetuses during times of early maternal stress, which would favor more girls being born under such circumstances.
In the future, Peralta and her team say an investigation into aborted fetuses should be undertaken. Right now, the research was limited to a small sample size that did not factor in a number of elements. Still, the team concludes, "the research presented here is pioneering to the extent that it links prenatal stress to the sex of newborns."
--
Stay in touch with Derek on Twitter and Facebook. His most recent book is "Hero's Dose: The Case For Psychedelics in Ritual and Therapy."
The world's 10 most affected countries are spending up to 59% of their GDP on the effects of violence.
Mario Tama/Getty Images
Politics & Current Affairs
Conflict and violence cost the world more than $14 trillion a year.
That's the equivalent of $5 a day for every person on the planet.
Research shows that peace brings prosperity, lower inflation and more jobs.
Just a 2% reduction in conflict would free up as much money as the global aid budget.
Report urges governments to improve peacefulness, especially amid COVID-19.
What is the price of peace?
Or put another way, how much better off would we all be in a world where armed conflict was avoided?
Around $14.4 trillion in 2019, according to the Institute for Economics and Peace (IEP) which crunched the numbers. That's about $5 a day for every person on the planet.
To give some context, 689 million people - more than 9% of the world's population - live on less than $1.90 a day, according to World Bank figures, underscoring the potential impact peace-building activities could have.
Just over 10% of global GDP is being spent on containing, preventing and dealing with the consequences of violence. As well as the 1.4 million violent deaths each year, conflict holds back economic development, causes instability, widens inequality and erodes human capital.
Putting a price tag on peace and violence helps us see the disproportionately high amounts spent on creating and containing violent acts compared to what is spent on building resilient, productive, and peaceful societies.
—Steve Killelea, founder and executive chairman, Institute for Economics & Peace (IEP)
The cost of violence
In a report titled "The Economic Value of Peace 2021", the IEP says that for every death from violent conflict, 40 times as many people are injured. The world's 10 most affected countries are spending up to 59% of their GDP on the effects of violence.
Grounds for hope
But the picture is not all bleak. The economic impact of violence fell for the second year in a row in 2019, as parts of the world became more peaceful.
The global cost dropped by $64 billion between 2018 and 2019, even though it was still $1.2 trillion higher than in 2012.
In five regions of the world the costs increased in 2019. The biggest jump was in Central America and the Caribbean, where a rising homicide rate pushed the cost up 8.3%.
Syria, with its ongoing civil war, suffered the greatest economic impact with almost 60% of its GDP lost to conflict in 2019. That was followed by Afghanistan (50%) and South Sudan (46%).
The report makes a direct link between peace and prosperity. It says that, since 2000, countries that have become more peaceful have averaged higher GDP growth than those which have become more violent.
"This differential is significant and represents a GDP per capita that is 30% larger when compounded over a 20-year period," the report says adding that peaceful countries also have substantially lower inflation and unemployment.
"Small improvements in peace can have substantial economic benefits," it adds. "For example, a 2% reduction in the global impact of violence is roughly equivalent to all overseas development aid in 2019."
Equally, the total value of foreign direct investment globally only offsets 10% of the economic impact of violence. Authoritarian regimes lost on average 11% of GDP to the costs of violence while in democracies the cost was just 4% of GDP.
And the gap has widened over time, with democracies reducing the cost of violence by almost 16% since 2007 while in authoritarian countries it has risen by 27% over the same period.
The report uses 18 economic indicators to evaluate the cost of violence. The top three are military spending (which was $5.9 trillion globally in 2019), the cost of internal security which makes up over a third of the total at $4.9 trillion and homicide.
Peace brings prosperity
The formula also contains a multiplier effect because as peace increases, money spent containing violence can instead be used on more productive activities which drive growth and generate higher monetary and social returns.
"Substantial economic improvements are linked to improvements in peace," says the report. "Therefore, government policies should be directed to improving peacefulness, especially in a COVID-19 environment where economic activity has been subdued."
The IEP says what it terms "positive peace" is even more beneficial than "negative peace" which is simply the absence of violence or the fear of violence. Positive peace involves fostering the attitudes, institutions & structures that create and sustain peaceful societies.
The foundations of a positively peaceful society, it says, are: a well functioning government, sound business environment, acceptance of the rights of others, good relations with neighbours, free flow of information, high levels of human capital, low levels of corruption and equitable distribution of resources.
The World Economic Forum's report Mobilizing the Private Sector in Peace and Reconciliation urged companies large and small to recognise their potential to work for peace quoting the former Goldman Sachs chair, the late Peter Sutherland, who said: "Business thrives where society thrives."
Reprinted with permission of the World Economic Forum. Read the original article.
Surprising Science
The lush biodiversity of South America's rainforests is rooted in one of the most cataclysmic events that ever struck Earth.
Scroll down to load more…