A Children's Map of the World
As this stark map shows, domestic violence against children is still legal in most of the world.
Frank Jacobs
From a young age, Frank was fascinated by maps and atlases, and the stories they contained. Finding his birthplace on the map in the endpapers of Tolkien's Lord of the Rings only increased his interest in the mystery and message of maps.
While pursuing a career in journalism, Frank started a blog called Strange Maps, as a repository for the weird and wonderful cartography he found hidden in books, posing as everyday objects and (of course) floating around the Internet.
"Each map tells a story, but the stories told by your standard atlas for school or reference are limited and literal: they show only the most practical side of the world, its geography and its political divisions. Strange Maps aims to collect and comment on maps that do everything but that - maps that show the world from a different angle".
A remit that wide allows for a steady, varied diet of maps: Frank has been writing about strange maps since 2006, published a book on the subject in 2009 and joined Big Think in 2010. Readers send in new material daily, and he keeps bumping in to cartography that is delightfully obscure, amazingly beautiful, shockingly partisan, and more.
30 August, 2016
This world map is not a prediction of the catastrophic effects of rising sea levels in some distant future. It is a map of the here and now, albeit using a fanciful parameter. The fifty-something countries on this map have outlawed corporal punishment of children. In almost three times as many countries, at least some form of violence against children remains legal. And thus they remain submerged below the waves of this Barnens Världskarta – Swedish for Children's World Map.
---
The map is produced by the Swedish organisation Rädda Barnen (Save the Children), which updates the map each time another country emerges from the Ocean of Child Abuse. In 1979, Sweden itself was the first country in the world to outlaw corporal punishment of children at home – thus becoming the first, lonely island in the world ocean.
By now, a few archipelagos have emerged, notably in Europe and South America. "We are working for there to be more countries", says the organisation's website, which mentions U.N. research that shows that 80% of the world's children are subjected to corporal punishment at home.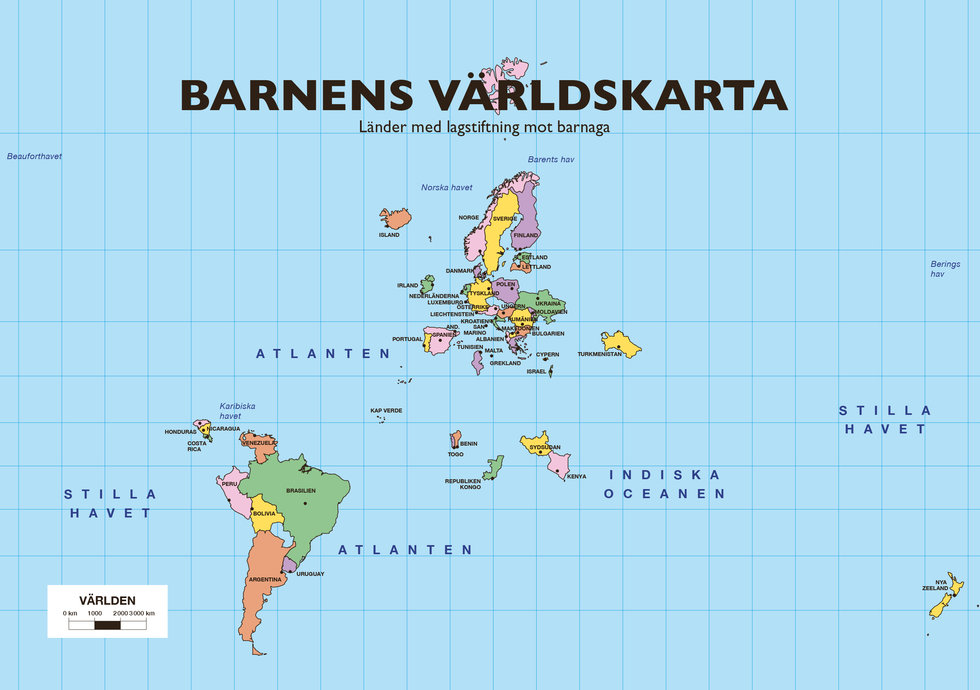 "Parental freedom should not take precedence over children's rights", says the organisation. According to this stunning map, most countries still disagree – among which the entirety of North America, and most of Africa, Asia and Oceania. Even in Europe and South America, there are still some gaping absences: France and the UK in the former case, and Chile and Colombia in the latter.
The world map above dates from last year; since then, Rädda Barnan has updated the map, which is now an interactive globe, with each country shown now clickable for more information. Fortunately, a few more countries have joined the dry land: Paraguay, Lithuania and Mongolia (see below). Over time, thanks in part to the groups continuous lobbying, other countries are likely to follow suit. How long will it take for this children's world map to resemble a normal one?

Map found here at Rädda Barnen.
Strange Maps #799 
Got a strange map? Let me know at strangemaps@gmail.com.
New research links urban planning and political polarization.
Pixabay
Politics & Current Affairs
Canadian researchers find that excessive reliance on cars changes political views.
Decades of car-centric urban planning normalized unsustainable lifestyles.
People who prefer personal comfort elect politicians who represent such views.
Progressive America would be half as big, but twice as populated as its conservative twin.
Image: Dicken Schrader
Strange Maps
America's two political tribes have consolidated into 'red' and 'blue' nations, with seemingly irreconcilable differences.
Perhaps the best way to stop the infighting is to go for a divorce and give the two nations a country each
Based on the UN's partition plan for Israel/Palestine, this proposal provides territorial contiguity and sea access to both 'red' and 'blue' America
Science and the squishiness of the human mind. The joys of wearing whatever the hell you want, and so much more.
Flickr / 13winds
Think Again Podcasts
Why can't we have a human-sized cat tree?
What would happen if you got a spoonful of a neutron star?
Why do we insist on dividing our wonderfully complex selves into boring little boxes
Big think's weekly newsletter.
Get smarter faster from the comfort of your inbox.
See our newsletter privacy policy
here
Most Popular
Most Recent
Big think's weekly newsletter.
Get smarter faster from the comfort of your inbox.
See our newsletter privacy policy
here
© Copyright 2007-2018 & BIG THINK, BIG THINK EDGE,
SMARTER FASTER trademarks owned by The Big Think, Inc. All rights reserved.