A Map of the World as a Cloverleaf
A beautiful map from the time when symbolic cartography was giving way to the Age of Discovery
23 July, 2010
Heinrich Bunting (1545-1606) was perfectly aware that the continents weren't really shaped like a cloverleaf. There are enough maps in his works (such as Itinerarium Sacrae Scripturae) to indicate he knew the continents had an irregular, and not a symbolic shape.
---
Yet he delighted in drawing other symbolic maps, examples of which can be anthropomorphic (Europe as a virgin) or hippomorphic (Asia as a winged horse). This particular map is a tribute to Buntings hometown Hanover, as the text above the map indicates: The Whole World in a Cloverleaf, Which Is The Coat of Arms of Hannover, My Dear Fatherland.
The map shows a world divided into three parts (Europe, Asia and Africa), connected at a single central point: Jerusalem. This is essentially still the same symbolic map of the world as the one first devised by Saint Isidore in the seventh century. Isidore's 'T and O'-shaped map, itself inspired by Scripture, influenced Christian European mapmaking up until the age of discovery.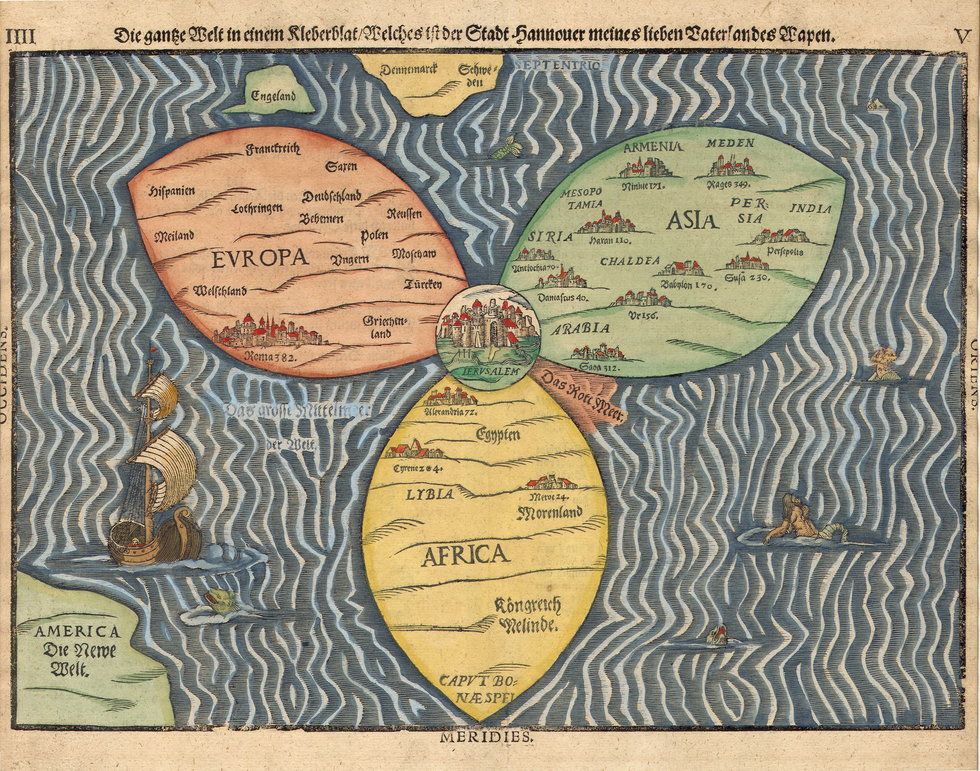 That age would be the one Bunting grew up in. He and his contemporaries were among the first generations of Europeans to know Isidore was wrong – but it's almost impossible to resist imagining how this centuries-old archetype of a map took a while to be erased out of the common memory of cartographers.
Bunting's map is nice in that it combine symbolism with realism: in the bottom left corner a piece of land is named America. Strange is that a similar detached piece of territory at the top of the map is labelled Denmark and Sweden. Bunting must have known that Denmark was contiguous with the European Continent.
Some named countries and places on the three continents are, left to right:
Europe: Hispanien (Spain), Mailand (Milan), Welschland (Welsh? Walloon? Country), Frankreich (France), Lothringen (Lorraine), Roma (Rome), Deutschland (Germany), Ungarn (Hungary), Polen (Poland), Preussen (Prussia), Griechenland (Greece), Türken (Turks)

Africa: Lybia, Egypten, Morenland (Land of the Moors), Königreich Melinde (Kingdom of Melinde) , Caput Bonae Spes (Cape of Good Hope)

Asia: Siria, Arabia, Mesopotamia, Armenia, Chaldea, Persia, India
Strange Maps #87
Got a strange map? Let me know at strangemaps@gmail.com.
Big Think Edge
The meaning of the word 'confidence' seems obvious. But it's not the same as self-esteem.
Confidence isn't just a feeling on your inside. It comes from taking action in the world.
Join Big Think Edge today and learn how to achieve more confidence when and where it really matters.
The team caught a glimpse of a process that takes 18,000,000,000,000,000,000,000 years.
Image source: Pixabay
Surprising Science
In Italy, a team of scientists is using a highly sophisticated detector to hunt for dark matter.
The team observed an ultra-rare particle interaction that reveals the half-life of a xenon-124 atom to be 18 sextillion years.
The half-life of a process is how long it takes for half of the radioactive nuclei present in a sample to decay.
The controversial herbicide is everywhere, apparently.
Surprising Science
U.S. PIRG tested 20 beers and wines, including organics, and found Roundup's active ingredient in almost all of them.
A jury on August 2018 awarded a non-Hodgkin's lymphoma victim $289 million in Roundup damages.
Bayer/Monsanto says Roundup is totally safe. Others disagree.
A scientific look into a ubiquitous phenomenon.
Big think's weekly newsletter.
Get smarter faster from the comfort of your inbox.
See our newsletter privacy policy
here
Most Popular
Most Recent
Big think's weekly newsletter.
Get smarter faster from the comfort of your inbox.
See our newsletter privacy policy
here
© Copyright 2007-2019 & BIG THINK, BIG THINK EDGE,
SMARTER FASTER trademarks owned by The Big Think, Inc. All rights reserved.