A Map of the World as a Cloverleaf
A beautiful map from the time when symbolic cartography was giving way to the Age of Discovery
Frank Jacobs
From a young age, Frank was fascinated by maps and atlases, and the stories they contained. Finding his birthplace on the map in the endpapers of Tolkien's Lord of the Rings only increased his interest in the mystery and message of maps.
While pursuing a career in journalism, Frank started a blog called Strange Maps, as a repository for the weird and wonderful cartography he found hidden in books, posing as everyday objects and (of course) floating around the Internet.
"Each map tells a story, but the stories told by your standard atlas for school or reference are limited and literal: they show only the most practical side of the world, its geography and its political divisions. Strange Maps aims to collect and comment on maps that do everything but that - maps that show the world from a different angle".
A remit that wide allows for a steady, varied diet of maps: Frank has been writing about strange maps since 2006, published a book on the subject in 2009 and joined Big Think in 2010. Readers send in new material daily, and he keeps bumping in to cartography that is delightfully obscure, amazingly beautiful, shockingly partisan, and more.
23 July, 2010
Heinrich Bunting (1545-1606) was perfectly aware that the continents weren't really shaped like a cloverleaf. There are enough maps in his works (such as Itinerarium Sacrae Scripturae) to indicate he knew the continents had an irregular, and not a symbolic shape.
---
Yet he delighted in drawing other symbolic maps, examples of which can be anthropomorphic (Europe as a virgin) or hippomorphic (Asia as a winged horse). This particular map is a tribute to Buntings hometown Hanover, as the text above the map indicates: The Whole World in a Cloverleaf, Which Is The Coat of Arms of Hannover, My Dear Fatherland.
The map shows a world divided into three parts (Europe, Asia and Africa), connected at a single central point: Jerusalem. This is essentially still the same symbolic map of the world as the one first devised by Saint Isidore in the seventh century. Isidore's 'T and O'-shaped map, itself inspired by Scripture, influenced Christian European mapmaking up until the age of discovery.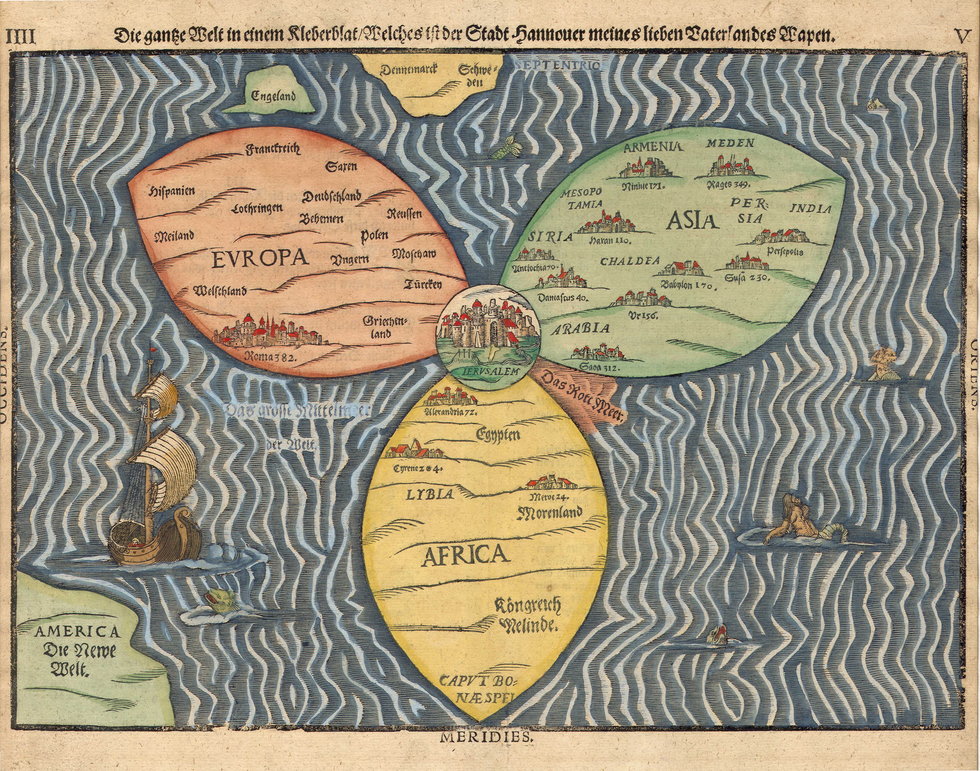 That age would be the one Bunting grew up in. He and his contemporaries were among the first generations of Europeans to know Isidore was wrong – but it's almost impossible to resist imagining how this centuries-old archetype of a map took a while to be erased out of the common memory of cartographers.
Bunting's map is nice in that it combine symbolism with realism: in the bottom left corner a piece of land is named America. Strange is that a similar detached piece of territory at the top of the map is labelled Denmark and Sweden. Bunting must have known that Denmark was contiguous with the European Continent.
Some named countries and places on the three continents are, left to right:
Europe: Hispanien (Spain), Mailand (Milan), Welschland (Welsh? Walloon? Country), Frankreich (France), Lothringen (Lorraine), Roma (Rome), Deutschland (Germany), Ungarn (Hungary), Polen (Poland), Preussen (Prussia), Griechenland (Greece), Türken (Turks)
Africa: Lybia, Egypten, Morenland (Land of the Moors), Königreich Melinde (Kingdom of Melinde) , Caput Bonae Spes (Cape of Good Hope)
Asia: Siria, Arabia, Mesopotamia, Armenia, Chaldea, Persia, India
Strange Maps #87
Got a strange map? Let me know at strangemaps@gmail.com.
Giving our solar system a "slap in the face"
Surprising Science
A stream of galactic debris is hurtling at us, pulling dark matter along with it
It's traveling so quickly it's been described as a hurricane of dark matter
Scientists are excited to set their particle detectors at the onslffaught
The climate change we're witnessing is more dramatic than we might think.
Surprising Science
A lazy buzz phrase – 'Is this the new normal?' – has been doing the rounds as extreme climate events have been piling up over the past year. To which the riposte should be: it's worse than that – we're on the road to even more frequent, more extreme events than we saw this year.
Once again, our circadian rhythm points the way.
Photo: Victor Freitas / Unsplash
Surprising Science
Seven individuals were locked inside a windowless, internetless room for 37 days.
While at rest, they burned 130 more calories at 5 p.m. than at 5 a.m.
Morning time again shown not to be the best time to eat.
Big think's weekly newsletter.
Get smarter faster from the comfort of your inbox.
See our newsletter privacy policy
here
Most Popular
Most Recent
Big think's weekly newsletter.
Get smarter faster from the comfort of your inbox.
See our newsletter privacy policy
here
© Copyright 2007-2018 & BIG THINK, BIG THINK EDGE,
SMARTER FASTER trademarks owned by The Big Think, Inc. All rights reserved.