85 - Inside the Hollow Earth
Frank Jacobs
From a young age, Frank was fascinated by maps and atlases, and the stories they contained. Finding his birthplace on the map in the endpapers of Tolkien's Lord of the Rings only increased his interest in the mystery and message of maps.
While pursuing a career in journalism, Frank started a blog called Strange Maps, as a repository for the weird and wonderful cartography he found hidden in books, posing as everyday objects and (of course) floating around the Internet.
"Each map tells a story, but the stories told by your standard atlas for school or reference are limited and literal: they show only the most practical side of the world, its geography and its political divisions. Strange Maps aims to collect and comment on maps that do everything but that - maps that show the world from a different angle".
A remit that wide allows for a steady, varied diet of maps: Frank has been writing about strange maps since 2006, published a book on the subject in 2009 and joined Big Think in 2010. Readers send in new material daily, and he keeps bumping in to cartography that is delightfully obscure, amazingly beautiful, shockingly partisan, and more.
23 July, 2010
If the Earth is hollow, where does all that magma spewing out of all those volcanoes come from? Somebody must have a half-convincing answer to that question, presumably that handful of people who still believe the Earth is an empty shell. The idea seems quite ludicrous now, but in pre-scientific times, it at least appeared to make sense: if Heaven was a place in the skies above, where else would Hell be than somewhere deep below our feet?
---
Harder to understand is why the idea survived several centuries of scientific progress, including the powerful notion of nature's horror vacui. In a 1692 scientific paper, Edmund Halley – yes, he of comet fame – put forth the idea that Earth consists of a shell about 800 km thick, and of two inner concentric shells and an innermost core with about the same diameter as the planet Mars.
Halley did have scientific grounds for his rather bizarre thought-construct. It tried to explain why compass readings could be so anomalous: each of the inner spheres had their own magnetic poles and rotated at differing speeds. To compound his error, Halley proposed that the inner spheres might be inhabited and that the inner atmosphere was made up of luminous gases that, when escaping outward, cause the Aurora borealis.
Later theorists came up with variations to Halley's model. In the seventeenth century, Leonhard Euler proposed a single-shell hollow Earth with a small sun (1.000 km across) at the centre, providing light and warmth for an inner-Earth civilisation. Others proposed two inner suns, and even named them: Pluto and Proserpine.
In the early eighteenth century, American John Cleves Symmes Jr supplemented the theory with the suggestion of 'blowholes': openings about 2.300 km across at both poles. Symes apparently was utterly convinced by his own theories: he campaigned for an expedition to the North Pole.  The intervention of president Andrew Jackson was needed – to stop it, that is.
Quite unbelievably, the hollow Earth idea persisted into the twentieth century, when the study of plate tectonics and the like made it obvious that the Earth couldn't be hollow. Yet hollow Earth books and theories multiplied, many based on Symmes' work. In 1913, Marshall Gardner wrote A Journey to the Earth's Interior, even built a working model of his hollow Earth – and patented it.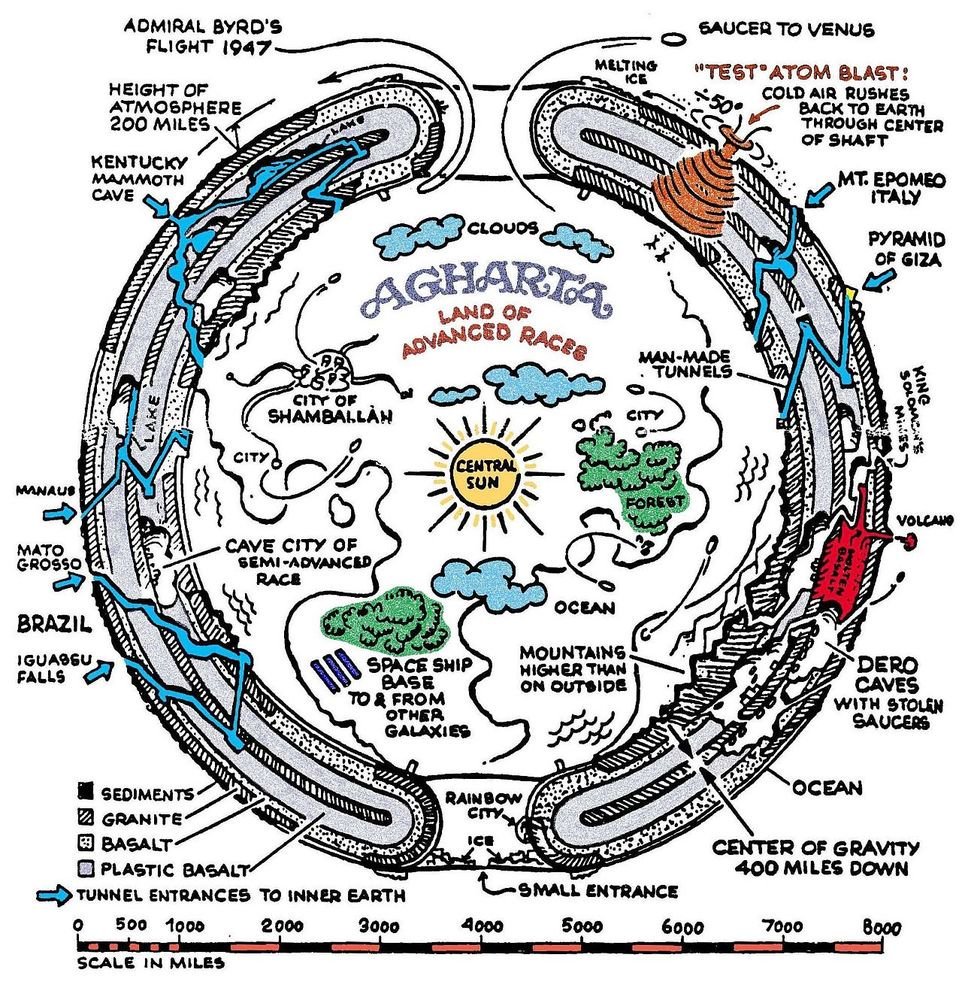 More recent theories suggest a hollow Earth inhabited by the creatures that fly UFOs across our skies, or by dwarves, dragons, other 'lost races' or 'ascended masters' of esoteric wisdom. Some proposed new 'blowholes' are located in Mount Shasta (California), Mammoth Cave (Kentucky), the Mato Grosso (Brazil), Mount Epomeo (Italy) and the pyramid of Giza (Egypt).
The pulp science fiction magazine Amazing Stories ran with a fantastic tale called the Shaver Mystery from 1945 to 1949. It entailed a series of supposedly factual stories by Richard Sharpe Shaver, claiming a superior prehistoric race had built subterranean caves, now inhabited by the 'Dero', their degenerate descendants. These 'Dero' use the advanced machinery inherited from their superior forefathers to torment us on the surface of the planet.
The hollow Earth theory was quite popular in twentieth-century Germany; it's even claimed that Adolf Hitler gave the Hohlweltlehre credence in so far as that he ordered an expedition to spy on the British fleet by aiming cameras at the sky – a claim without historical proof, however. An even crazier theory holds that Hitler and other top Nazis escaped the Allies by fleeing to the inner Earth via an entrance in Antarctica.
The hollow Earth theory has a particularly strong hold on the imagination of writers (such as E.A. Poe, Jules Verne, E.R. Burroughs, H.P. Lovecraft and Umberto Eco, who have all used the idea in their fiction). A sub-genre postulating a hollow Moon seems to have died out after the 1969 moon landing.
In some hollow Earth theories, there is a city or civilisation at the core of the Earth called Agartha (sometimes spelled Agartta, Agharti or Agarttha). This seems to derive from Aryavartha, which to the Hindus is the place of origin of the Vedas. An alternative name for this city is Shamballa (or Shambalah), which is Sanskrit for 'place of peace'. Chinese, Russian and Kirgiz folklore all have their own names for a similar place. Sometimes, both names are used simultaneously (as in this map), with Agartha designating the whole interior and Shamballa the main city.
Despite its age, the name of Agartha pops up in relatively recent popular culture, indicating that is was popularised probably only in the twentieth century. 'Agartha' is the name of a Miles Davis album, a song by Afrika Bambaataa, and is mentioned in Umberto Eco's book 'Foucault's Pendulum'.
This map taken from this page at 2012 Unlimited, apparently an Australian website providing information on several esoteric and/or futuristic subjects.
The controversy around the Torah codes gets a new life.
Michael Drosnin
Surprising Science
Mathematicians claim to see a predictive pattern in the ancient Torah texts.
The code is revealed by a method found with special computer software.
Some events described by reading the code took place after the code was written.
Pfizer's partnerships strengthen their ability to deliver vaccines in developing countries.
Susan Silbermann, Global President of Pfizer Vaccines, looks on as a health care worker administers a vaccine in Rwanda. Photo: Courtesy of Pfizer.
Sponsored
Community healthcare workers face many challenges in their work, including often traveling far distances to see their clients
Pfizer is helping to drive the UN's sustainable development goals through partnerships.
Pfizer partnered with AMP and the World Health Organization to develop a training program for healthcare workers.
Orangutans join humans and bees in a very exclusive club
Surprising Science
Orangutan mothers wait to sound a danger alarm to avoid tipping off predators to their location
It took a couple of researchers crawling around the Sumatran jungle to discover the phenomenon
This ability may come from a common ancestor
Big think's weekly newsletter.
Get smarter faster from the comfort of your inbox.
See our newsletter privacy policy
here
Most Popular
Most Recent
Big think's weekly newsletter.
Get smarter faster from the comfort of your inbox.
See our newsletter privacy policy
here
© Copyright 2007-2018 & BIG THINK, BIG THINK EDGE,
SMARTER FASTER trademarks owned by The Big Think, Inc. All rights reserved.