Big ideas.
Once a week.
Subscribe to our weekly newsletter.
The Free and Independent Republic of West Florida
23 July, 2010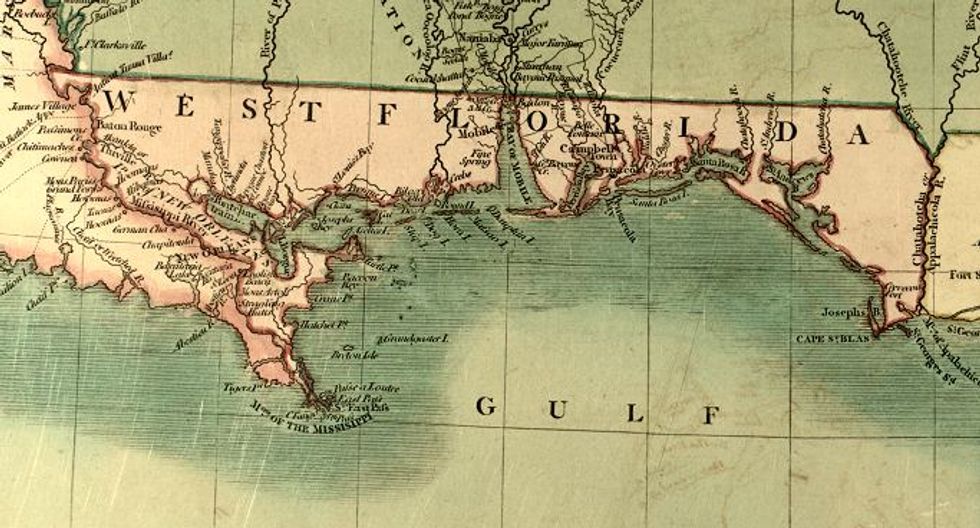 ---
"West Floriday, that lovely nation,

Free from king and tyranny,

Thru' the world shall be respected,

For her true love of Liberty!" 
So goes a marching song that never got to mature into a national anthem. Too brief was the independence of a smallish North American state calling itself the Free and Independent Republic of West Florida (the spelling 'Floriday' was just for rhyming purposes). This plucky little country was the original 'Lone Star State', long before Texas usurped the title (and the star). By then, West Florida had been unceremoniously annexed by the US.
The historical-geographical term West Florida describes a contested region with varying borders on the north shore of the Gulf of Mexico. Sovereignty over the territory was equally fleeting, drifting from French and Spanish to British to Spanish again. The brief spell of self-government gave way to US sovereignty, which apart from the Confederate years continues to this day. Nowadays, unless applied to the western panhandle of the present-day state of Florida, 'West Florida' is a term without meaning. The former territory is split up and incorporated into parts of the states of Louisiana, Mississippi, Alabama and Florida.
Until 1763, West Florida was partly Spanish (with a garrison at Pensacola) and partly French (with Mobile an outpost of the French colony of Louisiana). In that year, the treaty concluding the Seven Years' War awarded to Britain all of Spanish Florida and that part of French Louisiana that lay between the Mississippi and Perdido rivers and north of Lake Pontchartrain. The British reorganised all this new land on the Gulf of Mexico into East Florida (most of present-day Florida) and West Florida, bounded on the west by Lake Pontchartrain and the Mississippi River, on the north by the thirty-first parallel and on the east by the Apalachicola River. British West Florida's capital was Pensacola.
In 1764, the British extended the northern border of West Florida to 32°28', encompassing the southern third of present-day Mississippi and Alabama. The 1783 Treaty of Paris, which ended the American War of Independence, saw both British Floridas transferred back to Spain – but without specifying the borders.
Naturally, Spain wanted the border extended to the north in 1764, while the newly independent US insisted on the border at the thirty-first parallel. Spain recognised the former position at the 1795 Treaty of San Lorenzo.
But there was more wrangling over West Florida. France had ceded its gigantic Louisiana Territory to Spain in 1763, but Spain returned it to France in the secret Treaty of San Ildefonso in 1800.
Three years later, the US bought that giant territory from France in what became known as the Louisiana Purchase. The US claimed the territory between the Mississippi and Perdido Rivers, as it had been part of French Louisiana prior to 1763. Spain insisted it had not returned that territory to France in 1800 and continued to administer it.
Meanwhile, new American settlers in the territory united with 'old' settlers from the British era to resist Spanish rule, leading to a rebellion in 1810. On September 23, 75 West Floridian rebels overcame a Spanish garrison of 28 (sleeping) soldiers at Baton Rouge, replacing the Spanish colours with the Bonnie Blue Flag (a single white star on a blue field) of the new nation. The fight left two dead and five wounded – sources aren't clear whether these were rebels or soldiers. Independence was formally declared three days later - and would last a grand total of 74 days.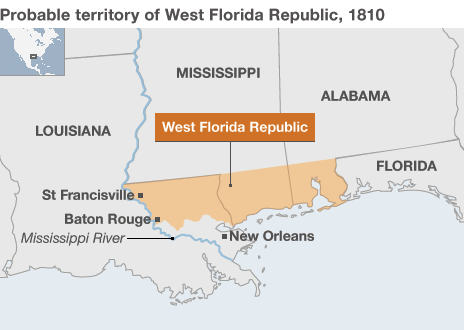 The town of St. Francisville was established as the new capital. The nation's borders were the thirty-first parallel to the north, the Perdido River to the east and the Mississippi River to the west. None of present-day Florida was part of the new republic, whose official name nonetheless was, simply, 'State of Florida'.
Apparently the West Floridians weren't so keen on independence as on absorption by the US. Their first and only 'president' was Fulwar Skipwith, a former American consul general to France under Jefferson who had successfully negotiated the Louisiana Purchase, and who mentioned in his inaugural address: "(…)the blood which flows in our veins (…) will return (…) to the heart of our parent country." Previously, he had supported self-rule for West Florida as "the best way to turn the captured province over to the United States."
Yet on October 27 of 1810, the US annexed the region by a simple proclamation, claiming the territory was part of the original Louisiana Purchase. This did not sit well with the West Floridians themselves, who would have preferred to enter the Union on their own terms. The rebels threatened to rebel again, Governor Skipwith even stated he was ready to "die in defense of the Lone Star Flag" when William C.C. Claiborne, sent by Washington to take possession of the territory, refused to recognise his government. He eventually backed down and accepted American annexation.
The western part of West Florida was attached to Orleans Territory in 1810, the rest, known as the Mobile District to the Mississippi Territory in 1812. Spain continued to dispute the US annexation until it ceded all of (East) Florida to the US in 1819, which was organised into the Florida Territory in 1822.
Today, those parts of Louisiana once part of West Florida are still known as the Florida Parishes. In 1993, the Louisiana State Legislature renamed I-12 through these parishes the 'Republic of West Florida Parkway'. In 2002, the great-granddaughter of governor Skipwith donated the original copy of the West Floridian Constitution to the Louisiana State Archives. The State of Florida itself incorporates only a small slice of former West Florida.
West Florida maps found here and here.
Strange Maps #84 
Got a strange map? Let me know at strangemaps@gmail.com.
So much for rest in peace.
Credit: fergregory via Adobe Stock
Surprising Science
Australian scientists found that bodies kept moving for 17 months after being pronounced dead.
Researchers used photography capture technology in 30-minute intervals every day to capture the movement.
This study could help better identify time of death.
We're learning more new things about death everyday. Much has been said and theorized about the great divide between life and the Great Beyond. While everyone and every culture has their own philosophies and unique ideas on the subject, we're beginning to learn a lot of new scientific facts about the deceased corporeal form.
An Australian scientist has found that human bodies move for more than a year after being pronounced dead. These findings could have implications for fields as diverse as pathology to criminology.
Dead bodies keep moving
Credit: Flickr
Researcher Alyson Wilson studied and photographed the movements of corpses over a 17 month timeframe. She recently told Agence France Presse about the shocking details of her discovery.
Reportedly, she and her team focused a camera for 17 months at the Australian Facility for Taphonomic Experimental Research (AFTER), taking images of a corpse every 30 minutes during the day. For the entire 17 month duration, the corpse continually moved.
"What we found was that the arms were significantly moving, so that arms that started off down beside the body ended up out to the side of the body," Wilson said.
The researchers mostly expected some kind of movement during the very early stages of decomposition, but Wilson further explained that their continual movement completely surprised the team:
"We think the movements relate to the process of decomposition, as the body mummifies and the ligaments dry out."
During one of the studies, arms that had been next to the body eventually ended up akimbo on their side.
The team's subject was one of the bodies stored at the "body farm," which sits on the outskirts of Sydney. (Wilson took a flight every month to check in on the cadaver.)
Her findings were recently published in the journal,
Forensic Science International: Synergy.
Implications of the study
The researchers believe that understanding these after death movements and decomposition rate could help better estimate the time of death. Police for example could benefit from this as they'd be able to give a timeframe to missing persons and link that up with an unidentified corpse. According to the team:
"Understanding decomposition rates for a human donor in the Australian environment is important for police, forensic anthropologists, and pathologists for the estimation of PMI to assist with the identification of unknown victims, as well as the investigation of criminal activity."
While scientists haven't found any evidence of necromancy. . . the discovery remains a curious new understanding about what happens with the body after we die.
Being mortal makes life so much sweeter.
Personal Growth
Since the beginning of time, humans have fantasized over and quested for "eternal life."
Lobsters and a kind of jellyfish offer us clues about what immortality might look like in the natural world.
Evolution does not lend itself easily to longevity, and philosophy might suggest that life is more precious without immortality.
One of the oldest pieces of epic literature we have is known as the Epic of Gilgamesh. It's easy to get lost in all the ancient mythology — talking animals and heroic battles — but at its heart lies one of the most fundamental and universal quests of all time: the search for immortality. It's all about Gilgamesh wanting to live forever.
From Mesopotamian poetry to Indiana Jones and the Last Crusade, from golden apples to the philosopher's stone, humans, everywhere, have wanted and sought after eternal life.
And yet, perhaps the secret to immortality is not as elusive as we might think. Rather than holy objects or science fiction, we need only look to the animal world to see how nature, that most magical of places, might be able to answer one of the oldest questions there is.
Eternal crustaceans
If you ever find yourself at Red Lobster or about to munch into a lobster roll, take a moment to consider that you might just be eating a clue to perpetual youth. To see why, we have to know a tiny bit about aging.
As you get older, it's impossible not to notice how everything creaks a little more, how easy jobs now require great effort, and how hangovers are no longer a laughing matter. Our bodies are designed to degrade and wear away. This deterioration, known as "senescence" in biology, occurs at the cellular level. It's when the cells in our body stop dividing, yet remain in our body, active and alive. We need our cells to divide so that we can grow and repair. For instance, when we cut ourselves or lift weights in the gym, it is cell division that replaces and rebuilds the damage done. But, over time, our cells just stop dividing. They stay around to do the best they can, but like the macroscopic humans they make up, cells get slower and more error-prone — and so, we age.
The Fountain of Youth (1546)Credit: Lucas Cranach the Elder via Wikipedia / Public domain
But not lobsters. In normal cases of cell division, the shields at the end of our chromosomes — called telomeres — are remade a bit smaller, and so a bit less effective after each subsequent cell division at protecting our DNA. When this reaches a certain point, the cell enters senescence and will stop dividing. It won't self-destruct but will just carry on and wallow as it is. Lobsters, though, have a special enzyme (unsurprisingly, called telomerase) which makes sure that their cells' telomeres remain as long and brilliant as they've always been. Their cells will never enter senescence, and so a lobster just won't age.

However, what evolution giveth with one hand, it taketh with another. As crustaceans, their skeleton is on the outside, and having a constantly growing body means they are always outgrowing their exoskeletal homes. They need to abandon their old shells and regrow a new one all the time. This, of course, requires huge reserves of energy, and as the lobster reaches a certain size, it simply cannot consume enough calories to build the shell equivalent of a mansion. Lobsters do not die from old age but exhaustion (as well as disease and New England fisherman).
The jellyfish that reverses its life cycle
Although lobsters might not have perfected immortality, perhaps there's something to learn.

But there's another animal that does even better than the lobster, and it's the only creature recognized to be properly immortal. That's the jellyfish known as Turritopsis dohrnii. These jellyfish are tiny — about the size of a fly at their biggest — but they've mastered one ridiculous trick: they can reverse their life cycle.
An embryonic jellyfish starts as a fertilized egg before hooking onto some kind of surface to then grow up. In this stage, they will stretch out to look like any other jellyfish. Eventually, they will break away from this surface to become a mature, fully developed jellyfish, which is in turn ready to reproduce. So far, so normal.
Yet Turritopsis dohrnii does something remarkable. When things get tough — like the environment becomes hostile or there's a conspicuous absence of food — they can change back to one of the earlier stages in their lifecycle. It's like a frog becoming a tadpole or a fly becoming a maggot. It's the human equivalent of a mature adult saying, "Right, I've had enough of this job, that mortgage, this stress, and that anxiety, so I'm going to turn back into a toddler.". Or, it's like an old man deciding to become a fetus again, for one more round.
Obviously, a fingernail sized jellyfish is not immortal as we'd probably want the word to mean. They're as squishable and digestible as any animal. But, their ability to change back to earlier forms of life, ones which are better adapted to certain environments or where there are fewer food sources, means that they could, in theory, go on forever.
Why do we want to live forever?
Although the quest for immortality is as old as humanity itself, it's surprisingly hard to find across the diverse natural world. Truth be told, evolution doesn't care about how long we live, so long as we live long enough to pass on our genes and to make sure our children are vaguely looked after. Anything more than that is redundant, and evolution doesn't have much time for needless longevity.
The more philosophical question, though, is why do we want to live forever? We're all prone to existential anguish, and we all, at least some of the time, fear death. We don't want to leave our loved ones behind, we want to finish our projects, and we much prefer the known life to an unknown afterlife. Yet, death serves a purpose. As the German philosopher Martin Heidegger argued, death is what gives meaning to life.
Having the end makes the journey worthwhile. It's fair to say that playing a game is only fun because it doesn't go on forever, a play will always need its curtain call, and a word only makes sense at its last letter. As philosophy and religion has repeated throughout the ages: memento mori, or "remember you'll die."
Being mortal in this world makes life so much sweeter, which is surely why lobsters and tiny jellyfish have such ennui.
Jonny Thomson teaches philosophy in Oxford. He runs a popular Instagram account called Mini Philosophy (@
philosophyminis
). His first book is
Mini Philosophy: A Small Book of Big Ideas
Quantum theory has weird implications. Trying to explain them just makes things weirder.
Credit: dani3315 / 269881579 via Adobe Stock
13-8
The weirdness of quantum theory flies in the face of what we experience in our everyday lives.
Quantum weirdness quickly created a split in the physics community, each side championed by a giant: Albert Einstein and Niels Bohr.
As two recent books espousing opposing views show, the debate still rages on nearly a century afterward. Each "resolution" comes with a high price tag.
Albert Einstein and Niels Bohr, two giants of 20th century science, espoused very different worldviews.
To Einstein, the world was ultimately rational. Things had to make sense. They should be quantifiable and expressible through a logical chain of cause-and-effect interactions, from what we experience in our everyday lives all the way to the depths of reality. To Bohr, we had no right to expect any such order or rationality. Nature, at its deepest level, need not follow any of our expectations of well-behaved determinism. Things could be weird and non-deterministic, so long as they became more like what we expect when we traveled from the world of atoms to our world of trees, frogs, and cars. Bohr divided the world into two realms, the familiar classical world, and the unfamiliar quantum world. They should be complementary to one another but with very different properties.
The two scientists spent decades arguing about the impact of quantum physics on the nature of reality. Each had groups of physicists as followers, all of them giants of their own. Einstein's group of quantum weirdness deniers included quantum physics pioneers Max Planck, Louis de Broglie, and Erwin Schrödinger, while Bohr's group had Werner Heisenberg (of uncertainty principle fame), Max Born, Wolfgang Pauli, and Paul Dirac.
Almost a century afterward, the debate rages on.
Einstein vs. Bohr, Redux
Two books — one authored by Sean Carroll and published last fall and another published very recently and authored by Carlo Rovelli — perfectly illustrate how current leading physicists still cannot come to terms with the nature of quantum reality. The opposing positions still echo, albeit with many modern twists and experimental updates, the original Einstein-Bohr debate.
Albert Einstein and Niels Bohr, two giants of 20th century science, espoused very different worldviews.
I summarized the ongoing dispute in my book The Island of Knowledge: Are the equations of quantum physics a computational tool that we use to make sense of the results of experiments (Bohr), or are they supposed to be a realistic representation of quantum reality (Einstein)? In other words, are the equations of quantum theory the way things really are or just a useful map?
Einstein believed that quantum theory, as it stood in the 1930s and 1940s, was an incomplete description of the world of the very small. There had to be an underlying level of reality, still unknown to us, that made sense of all its weirdness. De Broglie and, later, David Bohm, proposed an extension of the quantum theory known as hidden variable theory that tried to fill in the gap. It was a brilliant attempt to appease the urge Einstein and his followers had for an orderly natural world, predictable and reasonable. The price — and every attempt to deal with the problem of figuring out quantum theory has a price tag — was that the entire universe had to participate in determining the behavior of every single electron and all other quantum particles, implicating the existence of a strange cosmic order.
Later, in the 1960s, physicist John Bell proved a theorem that put such ideas to the test. A series of remarkable experiments starting in the 1970s and still ongoing have essentially disproved the de Broglie-Bohm hypothesis, at least if we restrict their ideas to what one would call "reasonable," that is, theories that have local interactions and causes. Omnipresence — what physicists call nonlocality — is a hard pill to swallow in physics.
Credit: Public domain
Yet, the quantum phenomenon of superposition insists on keeping things weird. Here's one way to picture quantum superposition. In a kind of psychedelic dream state, imagine that you had a magical walk-in closet filled with identical shirts, the only difference between them being their color. What's magical about this closet? Well, as you enter this closet, you split into identical copies of yourself, each wearing a shirt of a different color. There is a you wearing a blue shirt, another a red, another a white, etc., all happily coexisting. But as soon as you step out of the closet or someone or something opens the door, only one you emerges, wearing a single shirt. Inside the closet, you are in a superposition state with your other selves. But in the "real" world, the one where others see you, only one copy of you exists, wearing a single shirt. The question is whether the inside superposition of the many yous is as real as the one you that emerges outside.

To Einstein, the world was ultimately rational... To Bohr, we had no right to expect any such order or rationality.
The (modern version of the) Einstein team would say yes. The equations of quantum physics must be taken as the real description of what's going on, and if they predict superposition, so be it. The so-called wave function that describes this superposition is an essential part of physical reality. This point is most dramatically exposed by the many-worlds interpretation of quantum physics, espoused in Carroll's book. For this interpretation, reality is even weirder: the closet has many doors, each to a different universe. Once you step out, all of your copies step out together, each into a parallel universe. So, if I happen to see you wearing a blue shirt in this universe, in another, I'll see you wearing a red one. The price tag for the many-worlds interpretation is to accept the existence of an uncountable number of non-communicating parallel universes that enact all possibilities from a superstition state. In a parallel universe, there was no COVID-19 pandemic. Not too comforting.
Bohm's team would say take things as they are. If you stepped out of the closet and someone saw you wearing a shirt of a given color, then this is the one. Period. The weirdness of your many superposing selves remains hidden in the quantum closet. Rovelli defends his version of this worldview, called relational interpretation, in which events are defined by the interactions between the objects involved, be them observers or not. In this example, the color of your shirt is the property at stake, and when I see it, I am entangled with this specific shirt of yours. It could have been another color, but it wasn't. As Rovelli puts it, "Entanglement… is the manifestation of one object to another, in the course of an interaction, in which the properties of the objects become actual." The price to pay here is to give up the hope of ever truly understanding what goes on in the quantum world. What we measure is what we get and all we can say about it.
What should we believe?
Both Carroll and Rovelli are master expositors of science to the general public, with Rovelli being the more lyrical of the pair.
There is no resolution to be expected, of course. I, for one, am more inclined to Bohr's worldview and thus to Rovelli's, although the interpretation I am most sympathetic to, called QBism, is not properly explained in either book. It is much closer in spirit to Rovelli's, in that relations are essential, but it places the observer on center stage, given that information is what matters in the end. (Although, as Rovelli acknowledges, information is a loaded word.)
We create theories as maps for us human observers to make sense of reality. But in the excitement of research, we tend to forget the simple fact that theories and models are not nature but our representations of nature. Unless we nurture hopes that our theories are really how the world is (the Einstein camp) and not how we humans describe it (the Bohr camp), why should we expect much more than this?
Surprising Science
Maybe eyes really are windows into the soul — or at least into the brain, as a new study finds.
Scroll down to load more…