669 - Digital Monkeys and Virtual Ducks: What to Call the @
Frank Jacobs
From a young age, Frank was fascinated by maps and atlases, and the stories they contained. Finding his birthplace on the map in the endpapers of Tolkien's Lord of the Rings only increased his interest in the mystery and message of maps.
While pursuing a career in journalism, Frank started a blog called Strange Maps, as a repository for the weird and wonderful cartography he found hidden in books, posing as everyday objects and (of course) floating around the Internet.
"Each map tells a story, but the stories told by your standard atlas for school or reference are limited and literal: they show only the most practical side of the world, its geography and its political divisions. Strange Maps aims to collect and comment on maps that do everything but that - maps that show the world from a different angle".
A remit that wide allows for a steady, varied diet of maps: Frank has been writing about strange maps since 2006, published a book on the subject in 2009 and joined Big Think in 2010. Readers send in new material daily, and he keeps bumping in to cartography that is delightfully obscure, amazingly beautiful, shockingly partisan, and more.
24 July, 2014
The emergence of email catapulted the @ from typographical obscurity onto everybody's keyboard. Now the thing had to have a name fit for the digital age. 
---
Despite an early proliferation of alternatives (including each, vortex, whorl, cyclone, rose, cabbage and commercial at), English settled on at sign, or simply at. A nomenclature that gets top marks for brevity if not wit, and is becoming common in other languages as well now.
Which is a bit of a shame, as other European languages had a bit more fun with the curly letter. As this map shows, the @ is called by many different names across the 28 member states of the EU – mainly animals. The map also locates curious clusters in which these animals congregate, as if certain climates are more favourable to certain imaginary creatures than to others. Electronic elephants seem to thrive only in Scandinavia, for example.
The Romance languages by and large stuck to the inanimate arroba, the pre-digital name for the @ sign in Spanish and Portuguese. That name is derived from the Arabic ar-rub, meaning a quarter – in this case, a measure of weight: 25% of what a donkey (or mule) could carry. In Spain, the customary weight of an arroba was 25 pounds (11.5 kg), in Portugal, 32 pounds (14.7 kg). On the map, we see these weights proliferate throughout the Iberian peninsula, but also in France and French-speaking Belgium (as arobase).
Continental Europe is otherwise dominated by digital monkeys, due to the likeness of the @ to a monkey tail curling around a tree branch. In Germany and Austria, the symbol is referred to as Klammeraffe. The word translates as 'spider monkey' – an American genus of monkey noted for its long tail. Klammer on its own can mean 'bracket', 'staple' or 'paperclip'. The Klammeraffe shares Germany and Austria with the ordinary at. But in Poland, the małpa ('monkey') has the country to itself.
Dutch speakers in the Netherlands and Belgium refer to the @ as apenstaart(je), '(little) monkey tail'. In Luxembourgish, that becomes Afeschwanz.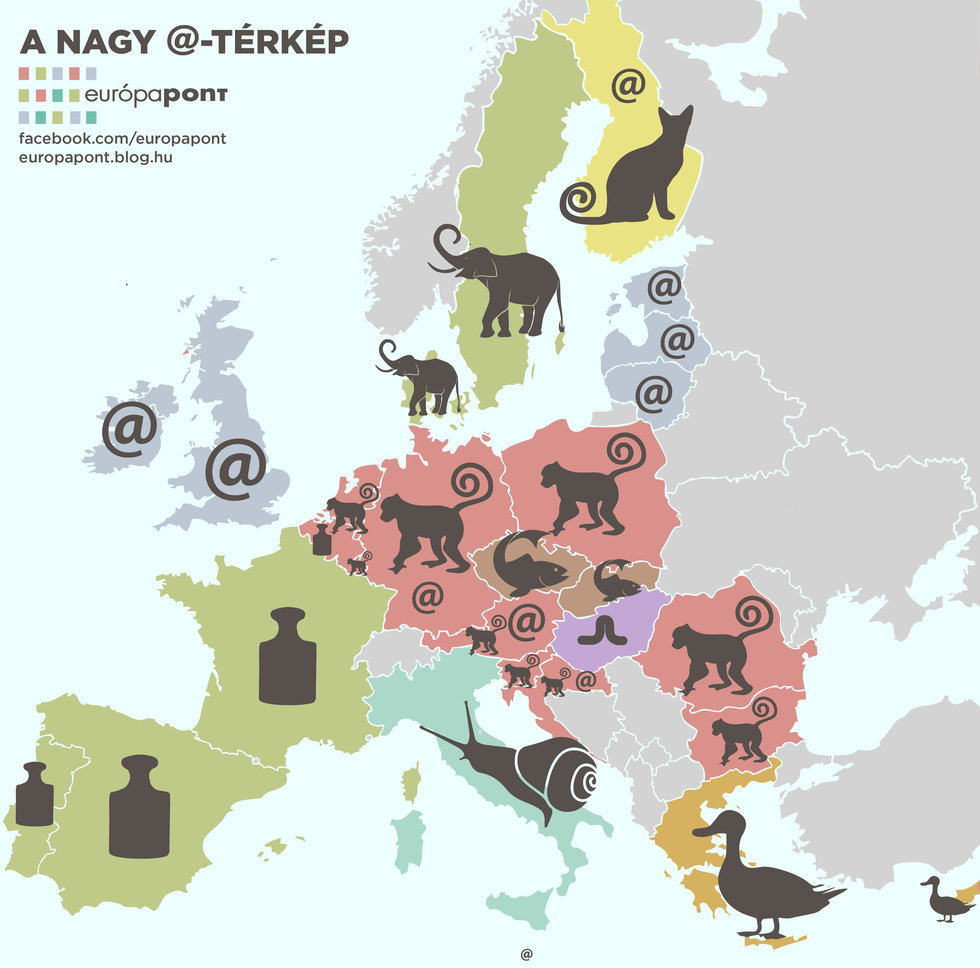 The simian simile also proliferates throughout the Balkans: in Romanian, the @ is called coadă de maimuţă ('monkey tail'), in Bulgarian маймунка (maimunka – 'little monkey'). Croatians either use at or manki, a direct loan from the English 'monkey' (rather than the Croatian word for monkey, majmun). Their Slovenian neighbours call it an afna ('little monkey').
In Scandinavia, the elephant was seen as an apt metaphor for the curly a. In both Danish and Swedish, the @ is called snabel-a, with snabel meaning '[elephant's] trunk'. Their Finnish neighbours offically call it at-merkki, but colloquially either kissanhäntä ('cat's tail') or miukumauku ('meow-meow').
Czechs and Slovaks are united in their fishy metaphor for the @, finding in its curly appearance a similarity to zavináč, or 'rollmops' (rolled pickled herring fillets).
Italy, in a weird echo of post #599, is dominated by a chiocciola ('snail') riding up its boot. In Greece and Cyprus, the @ is rather enigmatically compared to a παπάκι (papaki – 'duckling').
The Baltics follow the English fashion, and say at. Not very imaginative perhaps, but less impalatable than the Hungarians, who say kukac, or 'maggot'.
That concludes all the fauna on this delightfully weird map, but here are some other remarkable names for @ in other languages:
Armenian:

shnik

('puppy');

Chinese:

xiao laoshu

('little mouse');

Japanese:

naruto

(after the tidal whirlpools in Naruto bay);

Kazakh: aykulak ('moon's ear');

Norwegian:

krøllalfa

('curly alpha');

Russian:

sobaka

('dog');

Ukrainian:

vukho

('ear')
_______
Many thanks to János Vargha for sending in this map, found on this page of Europapont, a Hungarian-language online meeting place dedicated to European culture.
The controversy around the Torah codes gets a new life.
Michael Drosnin
Surprising Science
Mathematicians claim to see a predictive pattern in the ancient Torah texts.
The code is revealed by a method found with special computer software.
Some events described by reading the code took place after the code was written.
Pfizer's partnerships strengthen their ability to deliver vaccines in developing countries.
Susan Silbermann, Global President of Pfizer Vaccines, looks on as a health care worker administers a vaccine in Rwanda. Photo: Courtesy of Pfizer.
Sponsored
Community healthcare workers face many challenges in their work, including often traveling far distances to see their clients
Pfizer is helping to drive the UN's sustainable development goals through partnerships.
Pfizer partnered with AMP and the World Health Organization to develop a training program for healthcare workers.
Orangutans join humans and bees in a very exclusive club
Surprising Science
Orangutan mothers wait to sound a danger alarm to avoid tipping off predators to their location
It took a couple of researchers crawling around the Sumatran jungle to discover the phenomenon
This ability may come from a common ancestor
Big think's weekly newsletter.
Get smarter faster from the comfort of your inbox.
See our newsletter privacy policy
here
Most Popular
Most Recent
Big think's weekly newsletter.
Get smarter faster from the comfort of your inbox.
See our newsletter privacy policy
here
© Copyright 2007-2018 & BIG THINK, BIG THINK EDGE,
SMARTER FASTER trademarks owned by The Big Think, Inc. All rights reserved.