656 - Look Who's Back
06 May, 2014
German writer Timur Vermes's 2012 bestseller is titled Er ist wieder da ('Look Who's Back'). The cover illustration leaves no doubt as to who the protagonist is: the trademark curtained hair and toothbrush moustache are enough to identify Adolf Hitler.
---
The Führer's hairstyle choices (among a few other idiosyncracies) made him an easy target of ridicule, except of course in Germany from 1933 and the rest of Nazi-dominated Europe until 1945. Just how much the dictator was identified with the country he led – even decades after his defeat and damnatio memoriæ, can be gleaned from this clever double map cartoon, dating from 1966. 
Reflecting the deep suspicion that (West) Germany's politics had not entirely shaken off the extremist attitudes and tendencies that had permeated the culture before 1945, it shows how much Hitler's legacy still permeates the country: so much so that his face completely coincides with a map of Germany. If only you know where to look.
The cartoon actually shows two maps: the one on the left a relatively non-suspect depiction of West Germany as it appeared after the Fall of Berlin in 1945 and the Fall of the Berlin Wall in 1989. Striking details are the Berlin exclave in the east (surrounded by East Germany, the borders of which are not shown), and Bavaria, in West Germany's south: A state with a strong, separate and highly conservative identity.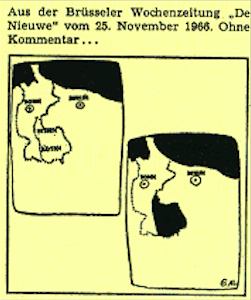 By colouring Bavaria black, the innocuous map changes into a profile picture of Hitler. His eyes are represented by Berlin, and West Germany's capital at the time, Bonn. The hair curtain is represented by Schleswig-Holstein and Denmark as the parting, and apposite bits of the North and Baltic seas as the hair itself. The inner-German border gives Hitler his brow and nose, while Bavaria – probably the focus of the story behind the cartoon – provides the signature moustache under Hitler's nose.
The design is so basic, so recognisable that it could have been a cover design for the Timur Vermes book.
Unfortunately, the context of the cartoon is not alluded to. It originally appeared in the now-defunct Belgian weekly magazine De Nieuwe, but is reproduced here from Der Spiegel. Supposedly as an example of European persistence in seeing Germans as closet Nazis even more than 20 years after the war. Hence the words: Ohne Kommentar ('no comment').
This cartoon is by no means the only projection of a Hitler moustache on post-war Germans. Others examples include the Muskatnuss scene from the Louis de Funes film Le grand restaurant, and this awkward coincident during German chancellor Angela Merkel's recent visit to Israel.
___________ 
Cartoon found on this page of DBNL, the digital library of Dutch-language literature.
The way that you think about stress can actually transform the effect that it has on you – and others.
Big Think Edge
Stress is contagious, and the higher up in an organization you are the more your stress will be noticed and felt by others.
Kelly McGonigal teaches "Reset your mindset to reduce stress" for Big Think Edge.

Subscribe to Big Think Edge before we launch on March 30 to get 20% off monthly and annual memberships.
Three scientists publish paper proving that not Venus but Mercury is the closest planet to Earth
Strange Maps
Earth is the third planet from the Sun, so our closest neighbour must be planet two of four, right?
Wrong! Neither Venus nor Mars is the right answer.
Three scientists ran the numbers. In this YouTube video, one of them explains why our nearest neighbour is... Mercury!
The blood of horseshoe crabs is harvested on a massive scale in order to retrieve a cell critical to medical research. However, recent innovations might make this practice obsolete.
An Atlantic horseshoe crab in an aquarium. Photo: Domdomegg via Wikimedia Commons.
Surprising Science
Horseshoe crabs' blue blood is so valuable that a quart of it can be sold for $15,000.
This is because it contains a molecule that is crucial to the medical research community.
Today, however, new innovations have resulted in a synthetic substitute that may end the practice of farming horseshoe crabs for their blood.
The distance between the American dream and reality is expressed best through literature.
American novelist, writer, playwright, poet, essayist and civil rights activist James Baldwin poses at his home in Saint-Paul-de-Vence, southern France, on November 6, 1979. (Photo: Ralph Gatti/AFP/Getty Images)
Literature expands our ability to feel empathy and inspires compassion.
These ten novels tackle some facet of the American experience.
The list includes a fictional retelling of the first Native American to graduate from Harvard and hiding out in inner city Newark.
Big think's weekly newsletter.
Get smarter faster from the comfort of your inbox.
See our newsletter privacy policy
here
Most Popular
Most Recent
Big think's weekly newsletter.
Get smarter faster from the comfort of your inbox.
See our newsletter privacy policy
here
© Copyright 2007-2018 & BIG THINK, BIG THINK EDGE,
SMARTER FASTER trademarks owned by The Big Think, Inc. All rights reserved.