Big ideas.
Once a week.
Subscribe to our weekly newsletter.
Purist Among the Pure: the Forgotten Inventor of Pakistan
The man who coined the country's name was expelled from it, and died in exile
05 March, 2014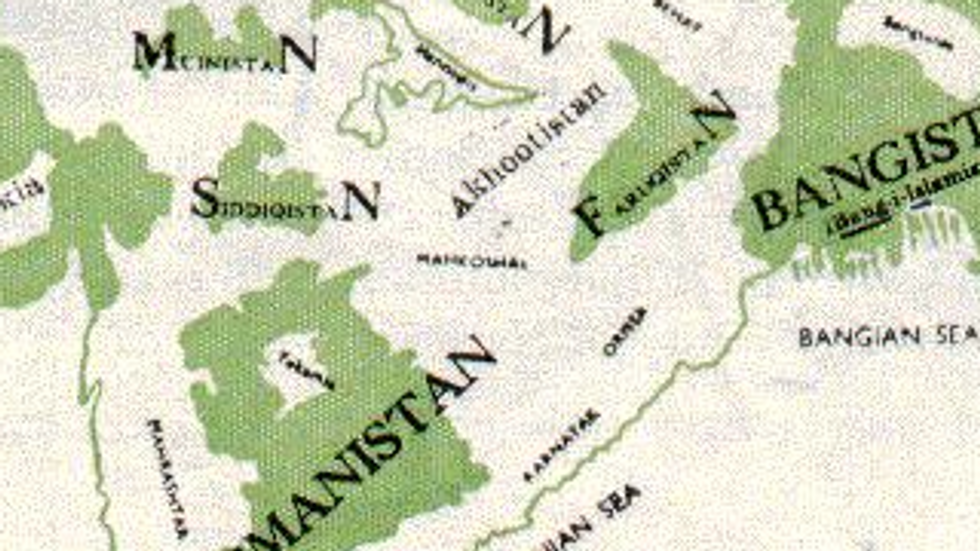 Pakistan was born on the top deck of a London bus. Or on a walk along the Thames – different witnesses, different stories. What's more certain, is the time: the early 1930s; and the place where that place-name was first committed to paper: a modest boarding house at 3 Humberstone Road [1] in Cambridge.
---
That was the correspondence address on Chaudhari Rahmat Ali's first and best-known pamphlet. In Now or Never: Are We to Live or Perish Forever?, he first commits that fateful toponym to paper. The neologism, entirely of his own making, becomes a runaway success, and the basis for a 'Pakistan Movement'.
If Rahmat Ali [2] himself is now largely forgotten, it is perhaps because of the querulant passion of the purist with which he propagated his plan for the post-independence future of Muslims in British India. His vision of a commonwealth of faith-based homelands, which he called Dinia, now has the ring of fantastic fiction to it. 
As so often with purists, he ended up the sole defender of his ideas, even as the name 'Pakistan' became the rallying cry for a slightly different cause. Broke and alone, Rahmat Ali died in Cambridge on 3 February 1951, during an influenza epidemic.
His obituary in the Emmanuel College Magazine later that year reads: "[T]his obscure and single-handed undergraduate of Emmanuel College [...] has influenced world events, and may yet influence the future, more than falls to the lot of most men […] By mere accident, we may have made the College a place of pilgrimage to the faithful or the curious, and have added another name to be misunderstood by the guide books. This College was the College of the founder of Pakistan - If a guide were to be overheard in such a story it would be a much truer one than many which are heard today in our Front Court about John Harvard [3]". 
Rahmat Ali was born in 1895 in the Punjabi town of Balachaur, graduated from Islamia College in Lahore in 1918 before teaching at that city's Aitchison College, moving to Punjab University to study law and then to Cambridge to join Emmanuel College. He came from a devout family: his father only gave him permission to go to England if he promised he would refrain from dancing. Throughout his life, Rahmat Ali performed the five daily prayers required of Muslims.
In 1933, he obtained his BA and in 1940 his MA from Cambridge. Rahmat Ali was called to the bar from Middle Temple in London in 1943. But the passionate young man's ambition lay not with the law, but with nation-building. As the aforementioned obituary would later note, "the subject which he had […] made his life" was "the defence of Islam against Hindu nationalism".
In his pamphlets, Rahmat Ali waged a "grim and fateful struggle against political crucifixion and national annihilation" on behalf of his co-religionists. He was convinced that "Our brave but voiceless nation [was] being sacrificed on the altar of Hindu Nationalism not only by the non-Muslims, but also, to their lasting shame, by our own so-called leaders with a reckless disregard of our protests and in utter contempt of the warnings of history".
By which he referred to an agreement at the so-called Round Table Conference, where campaigners against British rule in India had agreed to an All-India Federation. This would have maintained the territorial integrity of the British Raj post independence, but – Rahmat Ali feared – would fatally minoritise Muslims in a Hindu-dominated state.
Being a devout Muslim, he sought inspiration in early Islamic history. Rahmat Ali believed that, after the example of the Prophet Muhammad's success in uniting various Arab tribes under the banner of Islam, Muslim Indians had to reform and regroup to become an independent entity within India – to adopt their religion as their nationality, irrespective of the multitude of their languages and cultures.
In Now or Never, which was published on 28 January 1933, Rahmat Ali proposed a separate territorial entity for the Indian subcontinent's Muslim population. Originally spelled Pakstan, the name for that entity has a double meaning. Literally, it is the 'Land of the Pure' ('pak' in both Persian and Urdu). It is also an acronym for the 5 majority-Muslim areas that it would comprise: P for Punjab, A for the North-West Frontier Province (often called Afghania), K for Kashmir, S for Sindh, and -tan from Baluchistan. The -i- was later interposed to facilitate pronunciation. 
In the same year, Rahmat Ali also founded the Pakistan National Movement. But the high point of this revolutionary career was the coining of the future country's name. Pakistan became the rallying cry of other, more successful groups – most notably the Muslim League of Ali Jinnah, who would lead Pakistan to independence and is still revered as the country's Quaid-i-Azam ('Great Leader'). 
In contrast, the Pakistan National Movement was a one-man operation: Rahmat Ali continued to draft and meticulously redraft his pamphlets, distributing them from a string of Cambridge boarding houses to intellectuals and newspapers in India and England, often quarrelling with correspondents and eventually falling out with his landladies and secretary. 
Rahmat Ali had a great sense of honour and duty, but was also quarrelsome and paranoid – he was always afraid of being robbed or murdered, and was convinced someone had tried to poison him while visiting Pakistan. He also believed he possessed healing powers, and could cure chickenpox by reciting a few lines of the Quran over the patient.
The coiner of Pakistan had few good things to say about its founding, which he called the 'Great Betrayal'. Its founder Jinnah he called Quisling-e-Azam [4]. No doubt Rahmat Ali was traumatised by the violence and bloodshed at Partition. In a darkly ironic twist of fate, he also lost his ancestral lands and the associated income in the chaos that gave birth to Pakistan. And he was bitter that he wasn't acknowledged as the progenitor of the country's name. Quite the contrary: in April 1948, Rahmat Ali returned home to Pakistan, but Prime Minister Liaqat Ali Khan expelled him from the country that bore his name.
But mainly, Rahmat Ali opposed Pakistan as a twisted, reduced version of his maximalist dream (even though at its inception it also included what is now Bangladesh, then an exclaved East Pakistan). In his book Pakistan: the Fatherland of the Pak Nation, he outlined (and mapped) other Muslim-majority areas in the subcontinent as candidates for self-determination. Not content with fathering Pakistan, he also provided these with names of his own coinage.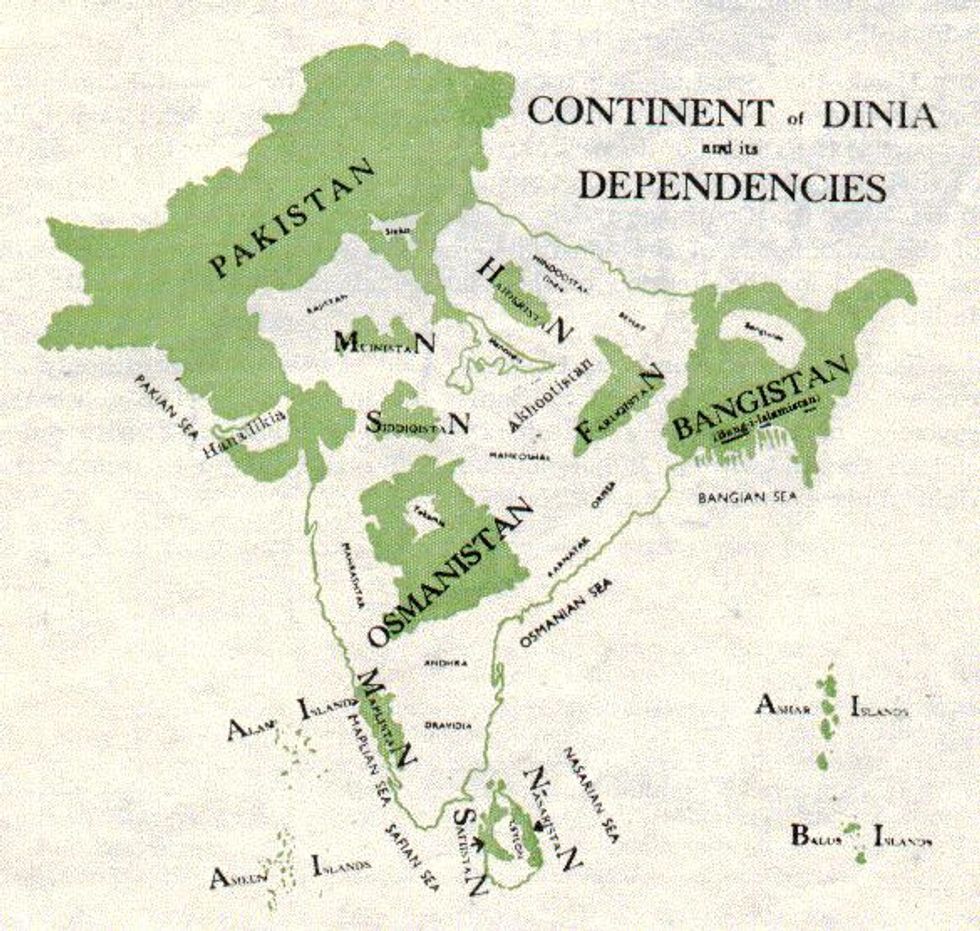 These Muslim islands in the Hindu sea included Bangistan (almost contiguous with what was later to become Bangladesh), Osmanistan (in the Deccan) and smaller autonomous Muslim homelands which he named Haideristan, Siddiqistan, Faruqistan, Muinistan, Maplistan, Safiistan and Nasaristan (the latter two on Sri Lanka), among others.
Even the oceans were to be renamed: the Bay of Bengal was to become the Bangian Sea, that part of the Arabian Sea that laps the Pakistani coast was to be called the Pakian Sea and the Laccadive Sea the Safian Sea.
The map also shows how Rahmat Ali envisioned Pakistan's borders: not only including all of Kashmir, but also, as great and ancient centres of Muslim civilisation, Delhi and Agra.
The overarching federation Rahmat Ali called Pakasia, but more often Dinia – again, a name with a double meaning: not just a reconfiguration of the word India, but also a reference to the Arab concept of Deen, 'religion'.
Rahmat Ali conceived of this Muslim/non-Muslim configuration not as a Western-style federation of totally independent states, but saw it through the prism of the Muslim millet system, whereby each confessional community would have legal autonomy for matters pertaining to personal law (i.e. Sharia courts for Muslims, and parallel systems for Hindus, Christians, Sikhs, etc.)
Ironically, the millet system implies a single, overarching political system for the entire subcontinent for all matters transcending the personal and/or spiritual. If Rahmat Ali's entire message had been heard instead of just that single word, he might not have been the obscure inventor of Pakistan, but the celebrated father of an All-India Federation, with religious autonomy for Muslims, Hindus and other faiths.
But no. Rahmat Ali died estranged from all his friends but one, the elusive Dr. Ezzat Abu Hindia of the Royal Geographic Society (India), who reportedly was with him when he passed away. 
He was buried at Newmarket Road cemetery in Cambridge, at the expense of Emmanuel College; perhaps as a tribute to its spiritual father, or in recognition of its debt to the man, the government of Pakistan later reimbursed the College for its expenses.
More information on Chaudhary Rahmat Ali in this article from the Pakistani paper The News on Sunday, and this page of the Shelley Family website. Image taken here from Wikipedia.
Strange Maps #647
Got a strange map? Let me know at strangemaps@gmail.com.
[1] The house is the object of a small but steady trickle of Pakistani pilgrims, curious to see the address associated with the pamphlet, which became known as the Pakistan Declaration. Humberstone Road has another claim to fame. Not only is it the birthplace of a nation, it also has the shortest double yellow (no parking) lines in the UK – just over a foot long. 
[2] Chaudhari, also spelled in various other ways, including Chaudri, Chowdhury, and Caudhari, is a hereditary honorific, now also used as a common surname, first conferred by the Delhi Sultanate on local nobility required to collect taxes and allowed to retain a quarter of the revenue instead of the usual 10%. (The name literally means 'holder of [a] four[th]').
[3] John Harvard (1607-1638) is both one of the most famous and one of the most obscure graduates of Emmanuel College. His stained-glass portrait in Emmanuel's chapel is a longer-haired likeness of Milton. He is famous only for giving his name to the eponymous university in America – and not, as often erroneously reported, by founding it, but by bequeathing it with his library of 400 books, and half of his estate: £1,700, back then a considerable sum, and one that allowed the college to survive. 
[4] After the Norwegian Nazi leader Quisling, whose name became a byword for traitor.
Geologists discover a rhythm to major geologic events.
Surprising Science
It appears that Earth has a geologic "pulse," with clusters of major events occurring every 27.5 million years.
Working with the most accurate dating methods available, the authors of the study constructed a new history of the last 260 million years.
Exactly why these cycles occur remains unknown, but there are some interesting theories.
Our hearts beat at a resting rate of 60 to 100 beats per minute. Lots of other things pulse, too. The colors we see and the pitches we hear, for example, are due to the different wave frequencies ("pulses") of light and sound waves.
Now, a study in the journal Geoscience Frontiers finds that Earth itself has a pulse, with one "beat" every 27.5 million years. That's the rate at which major geological events have been occurring as far back as geologists can tell.
A planetary calendar has 10 dates in red
Credit: Jagoush / Adobe Stock
According to lead author and geologist Michael Rampino of New York University's Department of Biology, "Many geologists believe that geological events are random over time. But our study provides statistical evidence for a common cycle, suggesting that these geologic events are correlated and not random."

The new study is not the first time that there's been a suggestion of a planetary geologic cycle, but it's only with recent refinements in radioisotopic dating techniques that there's evidence supporting the theory. The authors of the study collected the latest, best dating for 89 known geologic events over the last 260 million years:
29 sea level fluctuations
12 marine extinctions
9 land-based extinctions
10 periods of low ocean oxygenation
13 gigantic flood basalt volcanic eruptions
8 changes in the rate of seafloor spread
8 times there were global pulsations in interplate magmatism
The dates provided the scientists a new timetable of Earth's geologic history.
Tick, tick, boom
Credit: New York University
Putting all the events together, the scientists performed a series of statistical analyses that revealed that events tend to cluster around 10 different dates, with peak activity occurring every 27.5 million years. Between the ten busy periods, the number of events dropped sharply, approaching zero.

Perhaps the most fascinating question that remains unanswered for now is exactly why this is happening. The authors of the study suggest two possibilities:
"The correlations and cyclicity seen in the geologic episodes may be entirely a function of global internal Earth dynamics affecting global tectonics and climate, but similar cycles in the Earth's orbit in the Solar System and in the Galaxy might be pacing these events. Whatever the origins of these cyclical episodes, their occurrences support the case for a largely periodic, coordinated, and intermittently catastrophic geologic record, which is quite different from the views held by most geologists."
Assuming the researchers' calculations are at least roughly correct — the authors note that different statistical formulas may result in further refinement of their conclusions — there's no need to worry that we're about to be thumped by another planetary heartbeat. The last occurred some seven million years ago, meaning the next won't happen for about another 20 million years.
Brain cells snap strands of DNA in many more places and cell types than researchers previously thought.
Mind & Brain
The urgency to remember a dangerous experience requires the brain to make a series of potentially dangerous moves: Neurons and other brain cells snap open their DNA in numerous locations — more than previously realized, according to a new study — to provide quick access to genetic instructions for the mechanisms of memory storage.
The extent of these DNA double-strand breaks (DSBs) in multiple key brain regions is surprising and concerning, says study senior author Li-Huei Tsai, Picower Professor of Neuroscience at MIT and director of The Picower Institute for Learning and Memory, because while the breaks are routinely repaired, that process may become more flawed and fragile with age. Tsai's lab has shown that lingering DSBs are associated with neurodegeneration and cognitive decline and that repair mechanisms can falter.
"We wanted to understand exactly how widespread and extensive this natural activity is in the brain upon memory formation because that can give us insight into how genomic instability could undermine brain health down the road," says Tsai, who is also a professor in the Department of Brain and Cognitive Sciences and a leader of MIT's Aging Brain Initiative. "Clearly, memory formation is an urgent priority for healthy brain function, but these new results showing that several types of brain cells break their DNA in so many places to quickly express genes is still striking."
Tracking breaks
In 2015, Tsai's lab provided the first demonstration that neuronal activity caused DSBs and that they induced rapid gene expression. But those findings, mostly made in lab preparations of neurons, did not capture the full extent of the activity in the context of memory formation in a behaving animal, and did not investigate what happened in cells other than neurons.
In the new study published July 1 in PLOS ONE, lead author and former graduate student Ryan Stott and co-author and former research technician Oleg Kritsky sought to investigate the full landscape of DSB activity in learning and memory. To do so, they gave mice little electrical zaps to the feet when they entered a box, to condition a fear memory of that context. They then used several methods to assess DSBs and gene expression in the brains of the mice over the next half-hour, particularly among a variety of cell types in the prefrontal cortex and hippocampus, two regions essential for the formation and storage of conditioned fear memories. They also made measurements in the brains of mice that did not experience the foot shock to establish a baseline of activity for comparison.
The creation of a fear memory doubled the number of DSBs among neurons in the hippocampus and the prefrontal cortex, affecting more than 300 genes in each region. Among 206 affected genes common to both regions, the researchers then looked at what those genes do. Many were associated with the function of the connections neurons make with each other, called synapses. This makes sense because learning arises when neurons change their connections (a phenomenon called "synaptic plasticity") and memories are formed when groups of neurons connect together into ensembles called engrams.
"Many genes essential for neuronal function and memory formation, and significantly more of them than expected based on previous observations in cultured neurons … are potentially hotspots of DSB formation," the authors wrote in the study.
In another analysis, the researchers confirmed through measurements of RNA that the increase in DSBs indeed correlated closely with increased transcription and expression of affected genes, including ones affecting synapse function, as quickly as 10-30 minutes after the foot shock exposure.
"Overall, we find transcriptional changes are more strongly associated with [DSBs] in the brain than anticipated," they wrote. "Previously we observed 20 gene-associated [DSB] loci following stimulation of cultured neurons, while in the hippocampus and prefrontal cortex we see more than 100-150 gene associated [DSB] loci that are transcriptionally induced."
Snapping with stress
In the analysis of gene expression, the neuroscientists looked at not only neurons but also non-neuronal brain cells, or glia, and found that they also showed changes in expression of hundreds of genes after fear conditioning. Glia called astrocytes are known to be involved in fear learning, for instance, and they showed significant DSB and gene expression changes after fear conditioning.
Among the most important functions of genes associated with fear conditioning-related DSBs in glia was the response to hormones. The researchers therefore looked to see which hormones might be particularly involved and discovered that it was glutocortocoids, which are secreted in response to stress. Sure enough, the study data showed that in glia, many of the DSBs that occurred following fear conditioning occurred at genomic sites related to glutocortocoid receptors. Further tests revealed that directly stimulating those hormone receptors could trigger the same DSBs that fear conditioning did and that blocking the receptors could prevent transcription of key genes after fear conditioning.
Tsai says the finding that glia are so deeply involved in establishing memories from fear conditioning is an important surprise of the new study.
"The ability of glia to mount a robust transcriptional response to glutocorticoids suggest that glia may have a much larger role to play in the response to stress and its impact on the brain during learning than previously appreciated," she and her co-authors wrote.
Damage and danger?
More research will have to be done to prove that the DSBs required for forming and storing fear memories are a threat to later brain health, but the new study only adds to evidence that it may be the case, the authors say.
"Overall we have identified sites of DSBs at genes important for neuronal and glial functions, suggesting that impaired DNA repair of these recurrent DNA breaks which are generated as part of brain activity could result in genomic instability that contribute to aging and disease in the brain," they wrote.
The National Institutes of Health, The Glenn Foundation for Medical Research, and the JPB Foundation provided funding for the research.
Reprinted with permission of MIT News. Read the original article.
Research shows that those who spend more time speaking tend to emerge as the leaders of groups, regardless of their intelligence.
Credit: Adobe Stock / saksit.
Surprising Science
A new study proposes the "babble hypothesis" of becoming a group leader.
Researchers show that intelligence is not the most important factor in leadership.
Those who talk the most tend to emerge as group leaders.
If you want to become a leader, start yammering. It doesn't even necessarily matter what you say. New research shows that groups without a leader can find one if somebody starts talking a lot.
This phenomenon, described by the "babble hypothesis" of leadership, depends neither on group member intelligence nor personality. Leaders emerge based on the quantity of speaking, not quality.
Researcher Neil G. MacLaren, lead author of the study published in The Leadership Quarterly, believes his team's work may improve how groups are organized and how individuals within them are trained and evaluated.
"It turns out that early attempts to assess leadership quality were found to be highly confounded with a simple quantity: the amount of time that group members spoke during a discussion," shared MacLaren, who is a research fellow at Binghamton University.
While we tend to think of leaders as people who share important ideas, leadership may boil down to whoever "babbles" the most. Understanding the connection between how much people speak and how they become perceived as leaders is key to growing our knowledge of group dynamics.
The power of babble
The research involved 256 college students, divided into 33 groups of four to ten people each. They were asked to collaborate on either a military computer simulation game (BCT Commander) or a business-oriented game (CleanStart). The players had ten minutes to plan how they would carry out a task and 60 minutes to accomplish it as a group. One person in the group was randomly designated as the "operator," whose job was to control the user interface of the game.
To determine who became the leader of each group, the researchers asked the participants both before and after the game to nominate one to five people for this distinction. The scientists found that those who talked more were also more likely to be nominated. This remained true after controlling for a number of variables, such as previous knowledge of the game, various personality traits, or intelligence.
How leaders influence people to believe | Michael Dowling | Big Think www.youtube.com
In an interview with PsyPost, MacLaren shared that "the evidence does seem consistent that people who speak more are more likely to be viewed as leaders."

Another find was that gender bias seemed to have a strong effect on who was considered a leader. "In our data, men receive on average an extra vote just for being a man," explained MacLaren. "The effect is more extreme for the individual with the most votes."
13-8
The great theoretical physicist Steven Weinberg passed away on July 23. This is our tribute.
Scroll down to load more…