Big ideas.
Once a week.
Subscribe to our weekly newsletter.
626 - A Ghost of May Days Past: East Germany Rises Again!
07 October, 2013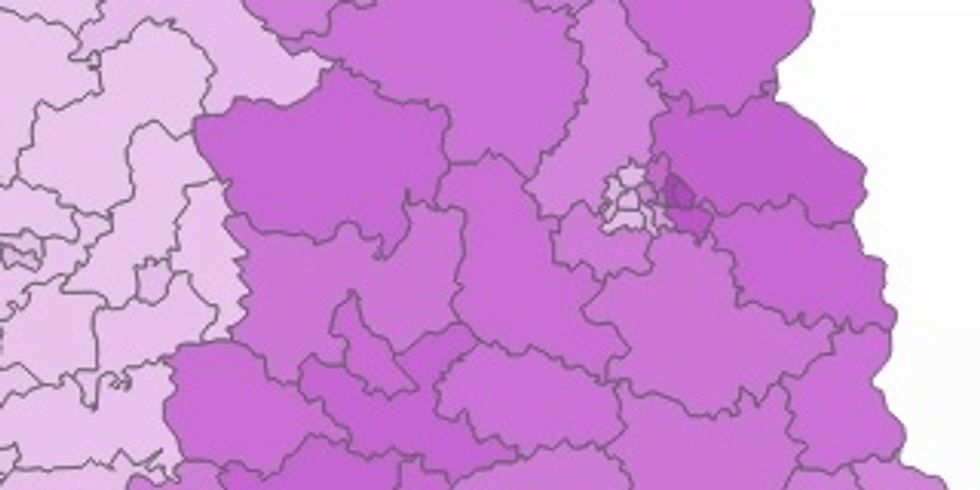 If you're a cartography nerd, you're probably also a bit of an election geek. Because nothing beats election night on TV. Exit polls, voting patterns and the results of previous elections are all projected onto maps, and debated until the cows come home. 
---
The framework for each map is the same: the familiar set of national and state borders, and their estranged cousins, the electoral district boundaries. These can be so lugubriously gerrymandered [1] that you understand why they're only let out on election day, kept behind lock and key at the Institute for Suspicious and Malicious Cartography the rest of the year.
But what keeps mapheads glued to the screen is not those electoral districts, but the constantly varying pattern of primary colours that fill them.
There should be enough political parties to require a rainbow of political colours, but not so many that the mapmakers have to resort to dotted, stripy or cross-hatched fills. Those are the parameters of interesting political cartography - and perhaps also of a healthy democracy.
As the colourful patterns of representative democracy flicker across the screen in wild or subtle variations, they alternate with talking heads who mine them for meaning - cartomancers [2] who conjure victories out of voting patterns, or extrapolate the loss of a single district to a nationwide defeat.
But some electoral maps don't require analysis. Unprompted by the pundits, they tell a story entirely on their own. The voting pattern they represent manages to resurrect a forgotten fault line, decades or even centuries old. Like this map, which immediately prompts the viewer to freeze frame.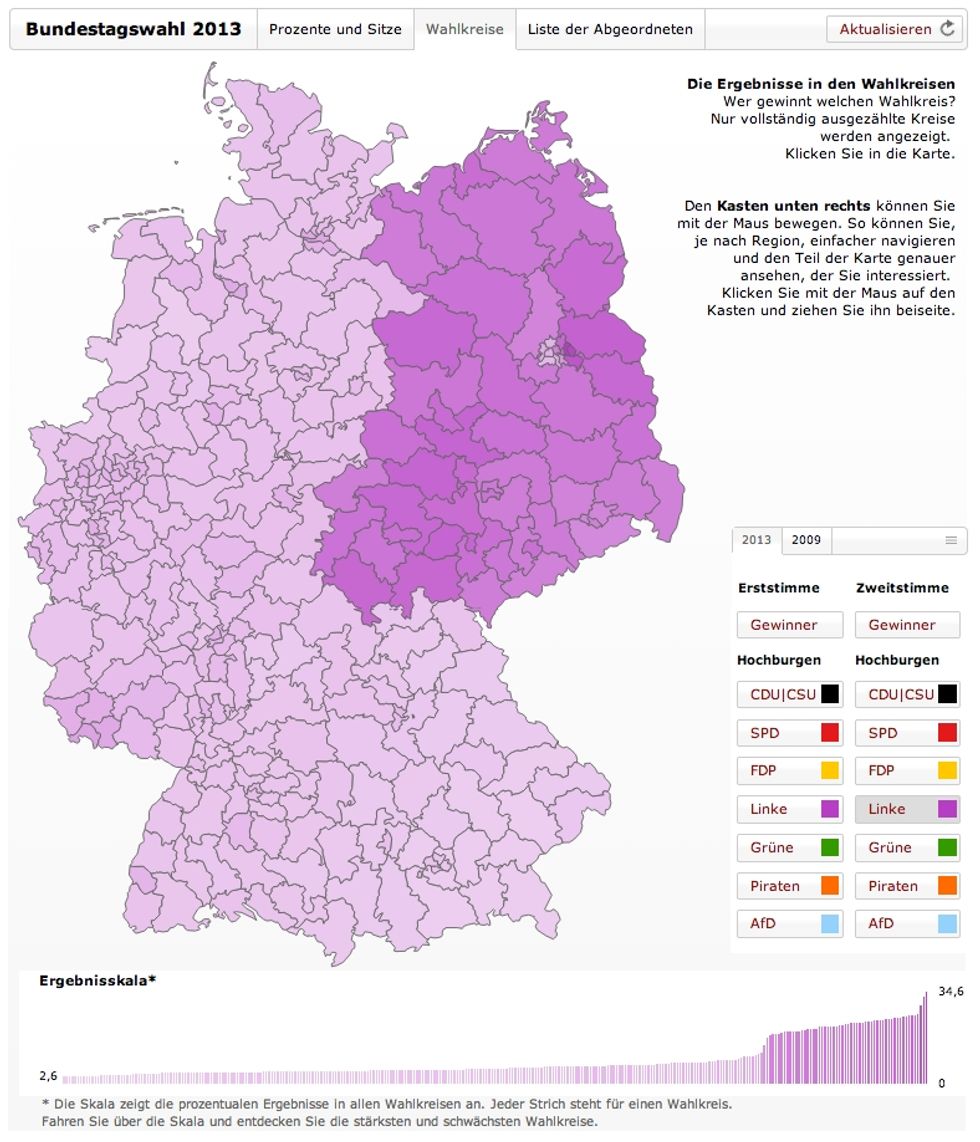 Long time, no see: the DDR resurfaces - on a 2013 electoral map.
Because we've seen this map before. It was current for about 40 years, but has been defunct for over two decades. It now belongs in a historical atlas. This is a palimpsest [3], an older map peeking out from under a current one. 
This palimpsest surfaced in the German parliamentary elections [4] last month. It plots out the percentages of Zweitstimme [5] going to Die Linke, a party to the left of the SPD, the social democratic party that is the traditional, mainstream leftist force in German politics - and before that in West German politics.
But what it actually, and rather accurately shows is… East Germany! Almost a quarter century after the dissolution of the DDR [6], there it is again: its borders - once so heavily guarded - are crisp and clear once more, exactly where they had been between 1949 and 1990, the year in which East Germany was absorbed by the West [7].
How is it possible that the outline of this failed experiment in 'Socialism on German Soil' [8] is still visible after all these years?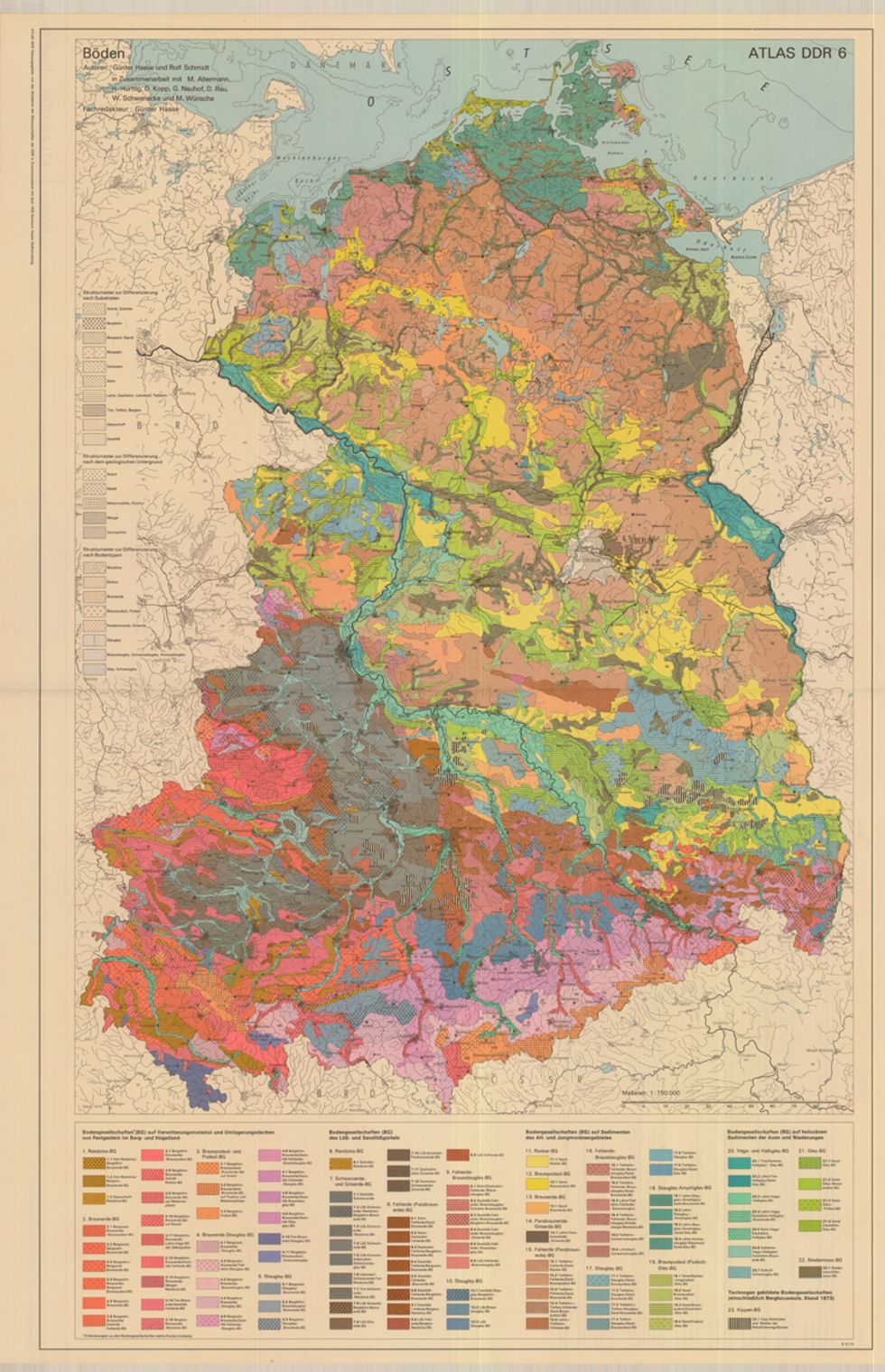 East Germany in all its geological glory.
Both the president of Germany and its chancellor [9] were citizens of East Germany. And a generation of Germans now well into their twenties has known nothing else but a unified Germany. And if there was one question dominating the German elections, it was not the East's place in Germany, but how to deal with Germany's dominant position in Europe. 
Estimates for the price tag of German Unification range from €1.7 and €2 trillion [10]. Far from crippling the German economy, that investment has not stopped Germany from becoming the continent's economic powerhouse.
But it has also not eradicated the economic imbalance inside the unified Germany. Unemployment in the East is consistently double that in the West (11% vs. 6% in 2012), while the average household income is €7,000 lower (€17,000 vs. €24,000).
This failure to lift East Germany up to the level of the West seems like an echo of a more publicised split in Europe - between the rich North and the poor South. The split also has political consequences: the electorate is more likely to vote for a party that promises to replace capitalism with democratic socialism. That party is Die Linke.  
Die Linke came into being in 2007, after the merger of WASG and Linkspartei.PDS - the latter being the successor to the SED, the former ruling party in East Germany. The party's Council of Elders is still presided over by Hans Modrow [7]. Some elements of its current programme seem lifted straight out of an SED policy paper. Among its foreign policy goals, for example, are the abolition of NATO, the closing of all remaining US bases in Europe, and the creation of a continent-wide security system that would include Russia. Because of their membership of organisations deemed extremist, fully one-third of Die Linke's current MPs are under observation by the Verfassungsschutz.
Die Linke has managed to make some inroads in the West, winning seats in the regional parliaments of Saarland, Hessen, Bremen and Hamburg. But for the most part, it has fallen below the 5% threshold necessary for representation. Except in the East, where Die Linke has mass appeal. The party even participates in the government of the Land of Brandenburg.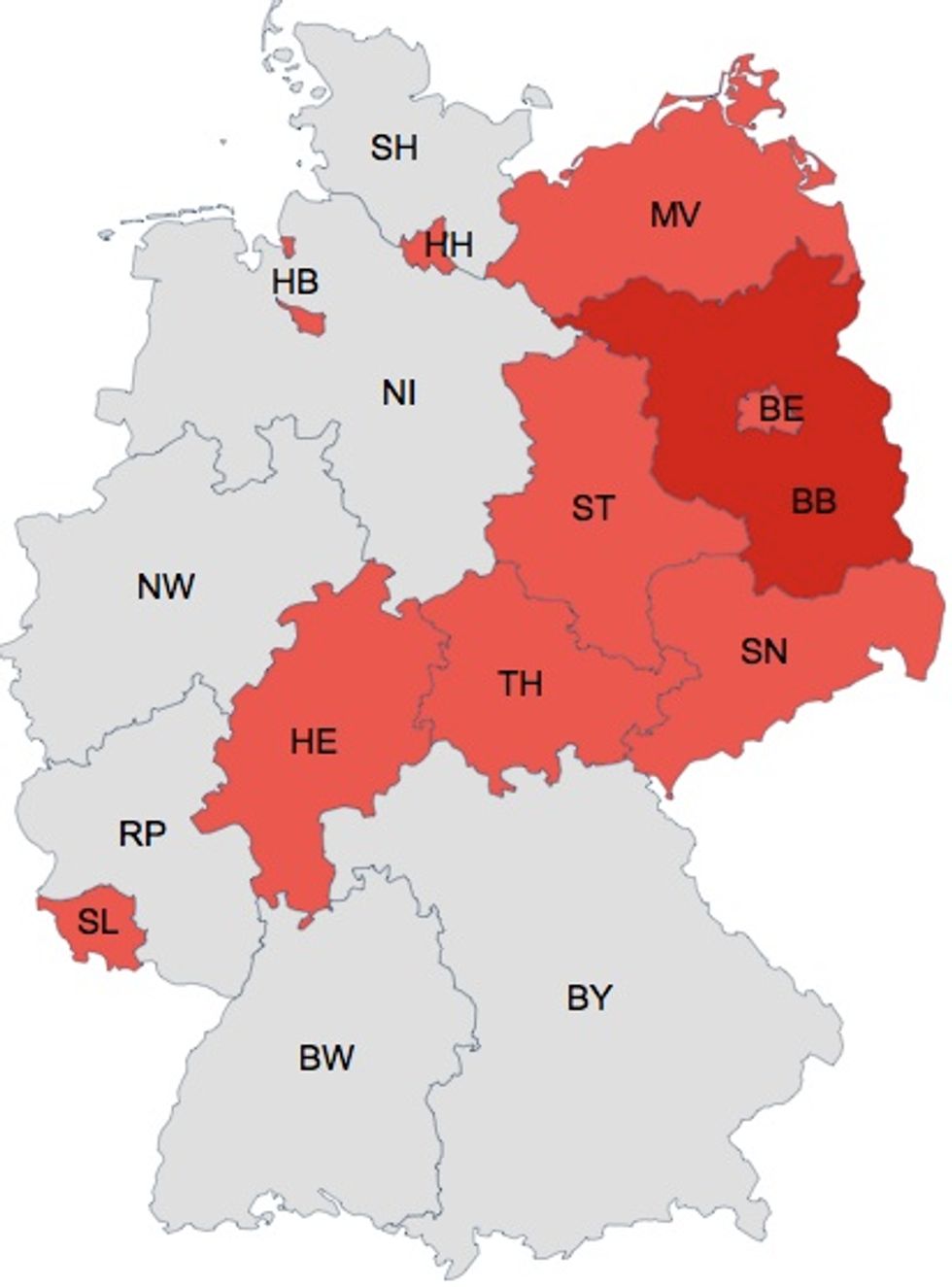 Honecker's Revenge: a map of where Die Linke is represented regionally.
Consequently, Die Linke profits both from its historic embeddedness in the East, and from the region's continued economic misfortune. It polled significantly higher in the East, gaining an absolute majority in 4 Berlin constituencies. Since the ejection of the FDP and because it nudged ahead of the Greens, Die Linke, with 64 out of a total of 630 MPs, is now the third-largest party in the Bundestag, after CDU and SPD [10].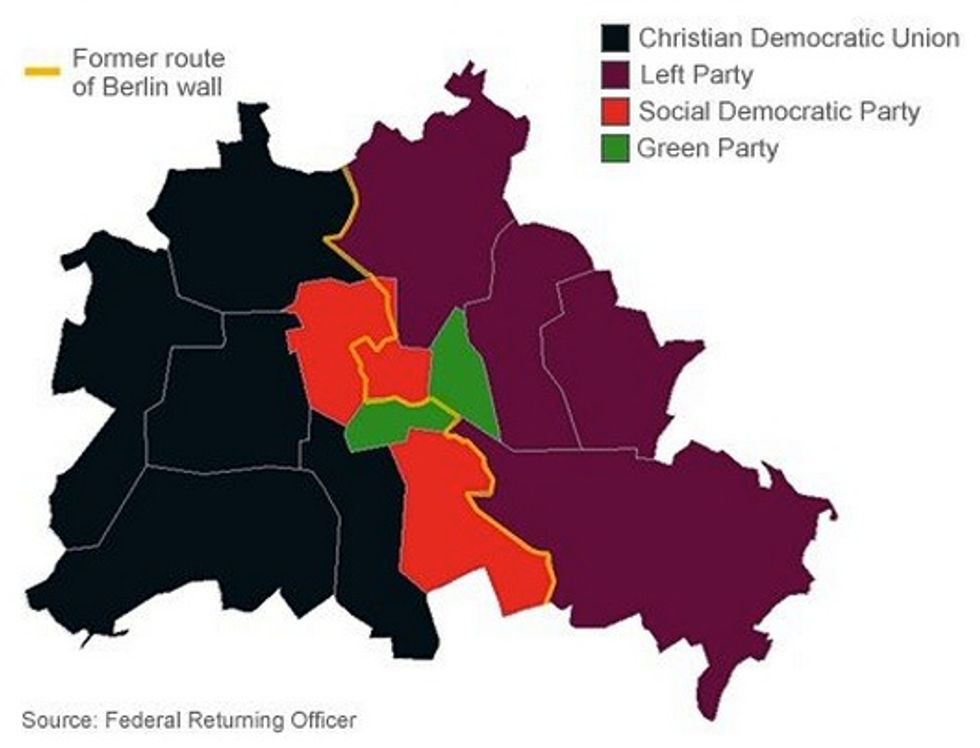 Mauer im Kopf: the results for Berlin.
This map illustrates Die Linke's geographical dichotomy - the darker hues indicate a score of 14% of over for the party: corresponding exactly with the territory of the former DDR, even in Berlin (which remains split in East and West as to levels of support for Die Linke). The Wall may have been torn down almost a quarter of a century ago, but, as this map demonstrates, die Mauer im Kopf [11] still seems alive and well.
Many thanks to Philip Van Der Veeken and Hildoceras for pointing out this map, found on the website of one of the major newspapers (I forget which). Geological map of the 'Old DDR' taken here from Greifswald University. The Berlin map taken from this article on the BBC News website. The map of Die Linke's regional representation found here on Wikimedia Commons.
__________
[1] Named after Elbridge Gerry, who in his long and distinguished political career, was a signer of the Declaration of Independence, the governor of Massachusetts, and Vice President of the United States. Unfortunately for him, his name will remain attached mainly to the herding of likely voters into improbably-shaped electoral districts. See also #53. ↩
[2] Cartomancy is usually understood to mean divination by playing cards, but why not stretch the concept to include maps? ↩
[3] More on electoral palimpsests at #108, #330 and #348.  ↩
[4] On 22 September, for the Bundestag, the federal legislative chamber. Chancellor Angela Merkel's centre-right CDU (and its Bavarian sister party CSU, together called Die Union) won 42% of the votes, and almost 50% of the seats. But as Merkel's coalition partner, the liberal FDP, sank below the 5% threshold, they are no longer represented, forcing her to look to the socialist SPD or to the Greens in order to achieve a majority in the Bundestag.  ↩
[5] In every Bundestag election, Germans get to vote twice. Their Erststimme (First Vote) goes to the candidate they deem the best choice to represent their district in parliament. Half the Bundestag is composed this way, by candidates who got the most votes in each of the 299 Wahlkreise (constituencies) throughout Germany. The other 299 members of parliament are chosen via Zweitstimme (Second Vote), which is cast for the party the voter thinks would best represent the district. Parties get seats in proportion to the percentage of votes they received nationwide - but only if this is more than 5%. If not, they are excluded. This 5%-threshold is meant to prevent the fragmented political landscape that paralysed politics in 1920s Germany. ↩
[6] DDR stands for Deutsche Demokratische Republik, the common local acronym for German Democratic Republic (GDR), East Germany's official name. ↩
[7] In a last, desperate attempt to spin German Unity as something other than the West's takeover of the East, the DDR's leaders proposed that a unified Germany should have a different look and feel from either of its parent states. See for example the title of a book by Hans Modrow, East Germany's last communist prime minister: Für ein neues Deutschland, besser als DDR und BRD ('For a New Germany, Better than DDR and BRD'). ↩
[8] Der Sozialismus auf Deutschem Boden - East Germany's utopian epithet, subliminally encapsulating the communist narrative that the evils of nazism had been overcome by its benign opposite. See also the title of the DDR's national anthem: Auferstanden aus Ruinen ('Arisen from Ruins').  ↩
[9] Joachim Gauck, since March 2012; and of course Angela Merkel. ↩
[10] Or $2.3 to $2.7 trillion. Which, to put it in perspective, is only twice the US's military budget for 2012. ↩
[11] 'The [Berlin] Wall in the head'. ↩
Certain water beetles can escape from frogs after being consumed.
Surprising Science
A Japanese scientist shows that some beetles can wiggle out of frog's butts after being eaten whole.
The research suggests the beetle can get out in as little as 7 minutes.
Most of the beetles swallowed in the experiment survived with no complications after being excreted.
In what is perhaps one of the weirdest experiments ever that comes from the category of "why did anyone need to know this?" scientists have proven that the Regimbartia attenuata beetle can climb out of a frog's butt after being eaten.
The research was carried out by Kobe University ecologist Shinji Sugiura. His team found that the majority of beetles swallowed by black-spotted pond frogs (Pelophylax nigromaculatus) used in their experiment managed to escape about 6 hours after and were perfectly fine.
"Here, I report active escape of the aquatic beetle R. attenuata from the vents of five frog species via the digestive tract," writes Sugiura in a new paper, adding "although adult beetles were easily eaten by frogs, 90 percent of swallowed beetles were excreted within six hours after being eaten and, surprisingly, were still alive."
One bug even got out in as little as 7 minutes.

Sugiura also tried putting wax on the legs of some of the beetles, preventing them from moving. These ones were not able to make it out alive, taking from 38 to 150 hours to be digested.
Naturally, as anyone would upon encountering such a story, you're wondering where's the video. Thankfully, the scientists recorded the proceedings:
The Regimbartia attenuata beetle can be found in the tropics, especially as pests in fish hatcheries. It's not the only kind of creature that can survive being swallowed. A recent study showed that snake eels are able to burrow out of the stomachs of fish using their sharp tails, only to become stuck, die, and be mummified in the gut cavity. Scientists are calling the beetle's ability the first documented "active prey escape." Usually, such travelers through the digestive tract have particular adaptations that make it possible for them to withstand extreme pH and lack of oxygen. The researchers think the beetle's trick is in inducing the frog to open a so-called "vent" controlled by the sphincter muscle.
"Individuals were always excreted head first from the frog vent, suggesting that R. attenuata stimulates the hind gut, urging the frog to defecate," explains Sugiura.
For more information, check out the study published in Current Biology.
New research from the University of Granada found that stress could help determine sex.
Photo: Romolo Tavani / Adobe Stock
Surprising Science
A new study found that women with elevated stress before, during, and after conception are twice as likely to deliver a girl.
One factor could be that sperm carrying an X chromosome are better equipped to reach the egg under adverse conditions.
Another factor could be miscarriage of male fetuses during times of stress.
Stress in the modern world is generally viewed as a hindrance to a healthy life.
Indeed, excess stress is associated with numerous problems, including cardiovascular disease, high blood pressure, insomnia, depression, obesity, and other conditions. While the physiological mechanisms associated with stress can be beneficial, as Kelly McGonigal points out in The Upside of Stress, the modern wellness industry is built on the foundation of stress relief.
The effects of stress on pregnant mothers is another longstanding area of research. For example, what potential negative effects do elevated levels of cortisol, epinephrine, and norepinephrine have on fetal development?
A new study, published in the Journal of Developmental Origins of Health and Disease, investigated a very specific aspect of stress on fetuses: does it affect sex? Their findings reveal that women with elevated stress are twice as likely to give birth to a girl.
For this research, the University of Granada scientists recorded the stress levels of 108 women before, during, and after conception. By testing cortisol concentration in their hair and subjecting the women to a variety of psychological tests, the researchers discovered that stress indeed influences sex. Specifically, stress made women twice as likely to deliver a baby girl.
The team points out that their research is consistent with other research that used saliva to show that stress resulted in a decreased likelihood of delivering a boy.
Maria Isabel Peralta RamírezPhoto courtesy of University of Granada
Lead author María Isabel Peralta Ramírez, a researcher at the UGR's Department of Personality, Evaluation and Psychological Treatment, says that prior research focused on stress levels leading up to and after birth. She was interested in stress's impact leading up to conception. She says:
"Specifically, our research group has shown in numerous publications how psychological stress in the mother generates a greater number of psychopathological symptoms during pregnancy: postpartum depression, a greater likelihood of assisted delivery, an increase in the time taken for lactation to commence (lactogenesis), or inferior neurodevelopment of the baby six months after birth."
While no conclusive evidence has been rendered, the research team believes that activation of the mother's endogenous stress system during conception sets the concentration of sex hormones that will be carried throughout development. As the team writes, "there is evidence that testosterone functions as a mechanism when determining the baby's sex, since the greater the prenatal stress levels, the higher the levels of female testosterone." Levels of paternal stress were not factored into this research.
Previous studies show that sperm carrying an X chromosome are better equipped to reach the egg under adverse conditions than sperm carrying the Y chromosome. Y fetuses also mature slowly and are more likely to produce complications than X fetuses. Peralta also noted that there might be more aborted male fetuses during times of early maternal stress, which would favor more girls being born under such circumstances.
In the future, Peralta and her team say an investigation into aborted fetuses should be undertaken. Right now, the research was limited to a small sample size that did not factor in a number of elements. Still, the team concludes, "the research presented here is pioneering to the extent that it links prenatal stress to the sex of newborns."
--
Stay in touch with Derek on Twitter and Facebook. His most recent book is "Hero's Dose: The Case For Psychedelics in Ritual and Therapy."
The world's 10 most affected countries are spending up to 59% of their GDP on the effects of violence.
Mario Tama/Getty Images
Politics & Current Affairs
Conflict and violence cost the world more than $14 trillion a year.
That's the equivalent of $5 a day for every person on the planet.
Research shows that peace brings prosperity, lower inflation and more jobs.
Just a 2% reduction in conflict would free up as much money as the global aid budget.
Report urges governments to improve peacefulness, especially amid COVID-19.
What is the price of peace?
Or put another way, how much better off would we all be in a world where armed conflict was avoided?
Around $14.4 trillion in 2019, according to the Institute for Economics and Peace (IEP) which crunched the numbers. That's about $5 a day for every person on the planet.
To give some context, 689 million people - more than 9% of the world's population - live on less than $1.90 a day, according to World Bank figures, underscoring the potential impact peace-building activities could have.
Just over 10% of global GDP is being spent on containing, preventing and dealing with the consequences of violence. As well as the 1.4 million violent deaths each year, conflict holds back economic development, causes instability, widens inequality and erodes human capital.
Putting a price tag on peace and violence helps us see the disproportionately high amounts spent on creating and containing violent acts compared to what is spent on building resilient, productive, and peaceful societies.
—Steve Killelea, founder and executive chairman, Institute for Economics & Peace (IEP)
The cost of violence
In a report titled "The Economic Value of Peace 2021", the IEP says that for every death from violent conflict, 40 times as many people are injured. The world's 10 most affected countries are spending up to 59% of their GDP on the effects of violence.
Grounds for hope
But the picture is not all bleak. The economic impact of violence fell for the second year in a row in 2019, as parts of the world became more peaceful.
The global cost dropped by $64 billion between 2018 and 2019, even though it was still $1.2 trillion higher than in 2012.
In five regions of the world the costs increased in 2019. The biggest jump was in Central America and the Caribbean, where a rising homicide rate pushed the cost up 8.3%.
Syria, with its ongoing civil war, suffered the greatest economic impact with almost 60% of its GDP lost to conflict in 2019. That was followed by Afghanistan (50%) and South Sudan (46%).
The report makes a direct link between peace and prosperity. It says that, since 2000, countries that have become more peaceful have averaged higher GDP growth than those which have become more violent.
"This differential is significant and represents a GDP per capita that is 30% larger when compounded over a 20-year period," the report says adding that peaceful countries also have substantially lower inflation and unemployment.
"Small improvements in peace can have substantial economic benefits," it adds. "For example, a 2% reduction in the global impact of violence is roughly equivalent to all overseas development aid in 2019."
Equally, the total value of foreign direct investment globally only offsets 10% of the economic impact of violence. Authoritarian regimes lost on average 11% of GDP to the costs of violence while in democracies the cost was just 4% of GDP.
And the gap has widened over time, with democracies reducing the cost of violence by almost 16% since 2007 while in authoritarian countries it has risen by 27% over the same period.
The report uses 18 economic indicators to evaluate the cost of violence. The top three are military spending (which was $5.9 trillion globally in 2019), the cost of internal security which makes up over a third of the total at $4.9 trillion and homicide.
Peace brings prosperity
The formula also contains a multiplier effect because as peace increases, money spent containing violence can instead be used on more productive activities which drive growth and generate higher monetary and social returns.
"Substantial economic improvements are linked to improvements in peace," says the report. "Therefore, government policies should be directed to improving peacefulness, especially in a COVID-19 environment where economic activity has been subdued."
The IEP says what it terms "positive peace" is even more beneficial than "negative peace" which is simply the absence of violence or the fear of violence. Positive peace involves fostering the attitudes, institutions & structures that create and sustain peaceful societies.
The foundations of a positively peaceful society, it says, are: a well functioning government, sound business environment, acceptance of the rights of others, good relations with neighbours, free flow of information, high levels of human capital, low levels of corruption and equitable distribution of resources.
The World Economic Forum's report Mobilizing the Private Sector in Peace and Reconciliation urged companies large and small to recognise their potential to work for peace quoting the former Goldman Sachs chair, the late Peter Sutherland, who said: "Business thrives where society thrives."
Reprinted with permission of the World Economic Forum. Read the original article.
Surprising Science
The lush biodiversity of South America's rainforests is rooted in one of the most cataclysmic events that ever struck Earth.
Scroll down to load more…