This First Map of a Gerrymander Will Make You Angry
Our familiarity with "gerrymandering" comes from the United States revising the boundaries of electoral districts every 10 years, in order to keep up with demographic change.
Frank Jacobs
From a young age, Frank was fascinated by maps and atlases, and the stories they contained. Finding his birthplace on the map in the endpapers of Tolkien's Lord of the Rings only increased his interest in the mystery and message of maps.
While pursuing a career in journalism, Frank started a blog called Strange Maps, as a repository for the weird and wonderful cartography he found hidden in books, posing as everyday objects and (of course) floating around the Internet.
"Each map tells a story, but the stories told by your standard atlas for school or reference are limited and literal: they show only the most practical side of the world, its geography and its political divisions. Strange Maps aims to collect and comment on maps that do everything but that - maps that show the world from a different angle".
A remit that wide allows for a steady, varied diet of maps: Frank has been writing about strange maps since 2006, published a book on the subject in 2009 and joined Big Think in 2010. Readers send in new material daily, and he keeps bumping in to cartography that is delightfully obscure, amazingly beautiful, shockingly partisan, and more.
23 July, 2010
The painter Gilbert Stuart was inspired by the awkward shape of an electoral district on a map he saw in a newspaper editor's office. He decorated the snake-shaped district with a head, a set of wings and claws, making it out to be some kind of antediluvian monster. "That will do for a salamander," he said to the editor. "Gerrymander!", replied he to Stuart.
---
For the man responsible for the odd shape of that electoral district, in eastern Massachusetts, was Elbridge Gerry, governor of the state. His Democratic-Republican partisans had stitched together the district in such a way as to assure the electoral victory of their candidate and therefore the defeat of the candidate for the other main party, the Federalists. The year was 1812, and the first of many recorded uses of the term occurred that spring.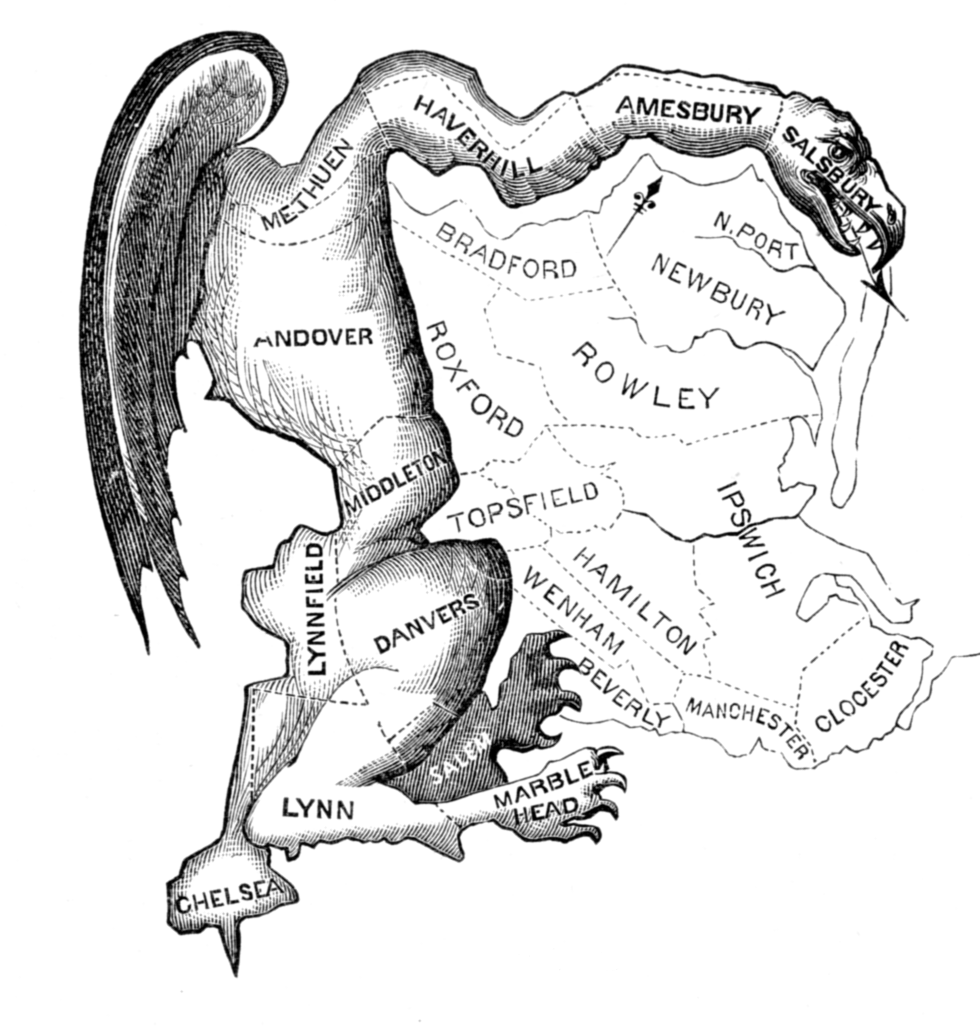 The continued popularity of the term – and relevance up to the present day – stems from the practice in the United States of revising the boundaries of electoral districts every 10 years, in order to keep up with demographic change. A very wise provision, and many of those districts do in fact change, but not always with the accurate representation of the electorate in mind.
In fact very often the redistrictings perversely reflect the attempts of one party or another to gain a 'safe' seat, in which the other side can't win. Legal maybe, but hardly very democratic. The term is also relevant in the United Kingdom, as in other countries that elect their officials via the 'first past the post' system. Gerrymandering is less relevant in countries with a system which emphasises proportional representation.
This cartoon dates from 1812, and depicts the very first 'gerrymander' – if you're a stickler for historical accuracy, please pronounce with a hard g, just like the name of the governor. The word has since been in use as a verb and a noun, depicting the action of redistricting with intent of political gain, as well as the resultant unlikely-shaped district.
--
Strange Maps #53
Got a strange map? Let me know at strangemaps@gmail.com.
Map here at Wikimedia Commons.
Related Articles
The surprisingly simple treatment could prove promising for doctors and patients seeking to treat depression without medication.
Photo by Luis Marina/Flickr
Mind & Brain
A new report shows how cold-water swimming was an effective treatment for a 24-year-old mother.
The treatment is based on cross-adaptation, a phenomenon where individuals become less sensitive to a stimulus after being exposed to another.
Getting used to the shock of cold-water swimming could blunt your body's sensitivity to other stressors.
Maybe try counseling first before you try this, married folks.
Surprising Science
The study looks at cannibalism in fish.
If it doesn't look like the brood is going to be 'productive,' it might get eaten.
Don't try this at home. Seriously, don't. Human beings deserve love and respect.
Why self-control makes your life better, and how to get more of it.
Buddhist monks of all nations mediate in Thailand. Monks are well known for their self-discipline and restrictive lifestyle. Is it possible that this leads them to happiness?
(Photo by Geem Drake/SOPA Images/LightRocket via Getty Images)

Personal Growth
Research demonstrates that people with higher levels of self-control are happier over both the short and long run.
Higher levels of self-control are correlated with educational, occupational, and social success.
It was found that the people with the greatest levels of self-control avoid temptation rather than resist it at every turn.
Big think's weekly newsletter.
Get smarter faster from the comfort of your inbox.
See our newsletter privacy policy
here
Most Popular
Most Recent
Big think's weekly newsletter.
Get smarter faster from the comfort of your inbox.
See our newsletter privacy policy
here
© Copyright 2007-2018 & BIG THINK, BIG THINK EDGE,
SMARTER FASTER trademarks owned by The Big Think, Inc. All rights reserved.